Since they launched their first earbuds in 2017, up-and-coming manufacturer Anker has continually refined their products. Last month, in October, 2019, they held a press conference in New York to announce the release of not one, but six brand new earbuds. Some of these were new offerings, while others were upgrades to their existing offerings.
The Soundcore Liberty 2 is the newer version of Anker's original Liberty, which was a well-reviewed earbud in and of itself. But the latest iteration has received some significant upgrades. That said, this is an in-ear earbud, not an over-the-ear headphone.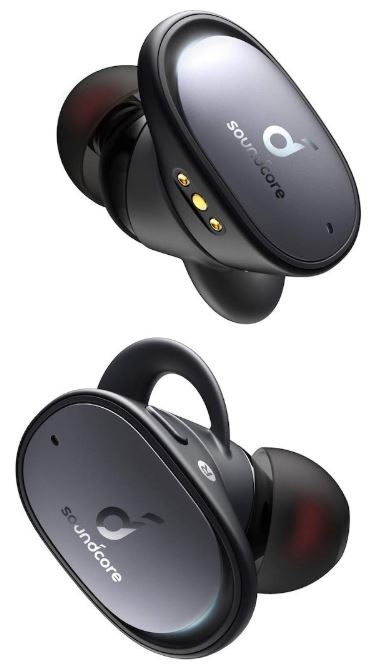 If you want the immersive experience that an over-the-ear headphone offers, take a look at our review of the Corsair HS headset series. There are three different sets of headphones in this series: the HS50, the HS60, and the HS70. The HS50 and HS60 are designed for mobile electronics, game consoles, PCs, and any other audio source you can imagine. However, the HS70 is designed specifically for PC use, so avoid that particular model if you're not a PC gamer. That said, it's time to look at the Soundcore Liberty 2. Let's dig in!
Design Overview
So, what do you see when you first open the box? And what were our first impressions?

Along with the Liberty 2 Pro, you'll find seven extra pairs of silicone ear tips. If you're looking for versatility, this is it. Most wireless earbuds only offer you three different tip sizes, and even some of the most highly-rated earbuds come with five sets. With seven different sizes, these earbuds are truly universal. Not only that, but they include three different sets of ear wings. These small plastic flaps space the earbud out from your ear canal, and they also help keep your earbud from slipping downwards. Thus, a precise fit is essential, and we're glad to see that the Liberty 2 Pro offered one.
The package also includes a USB Type-C charging cable. This allows for quick charging, which we'll discuss later. But it's nice to get everything you need without the requirement to go out and buy yourself a charging cable.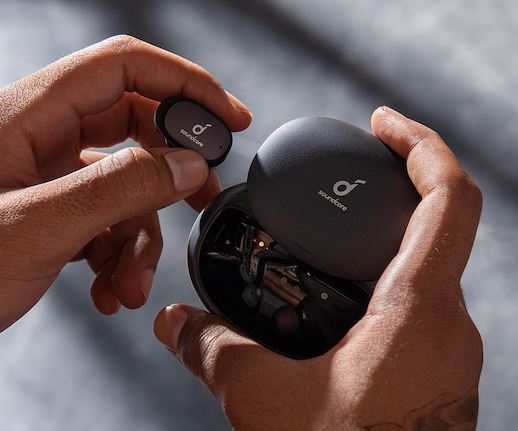 The design itself is compact, with a tight shape that fits easily into your ear canal. Provided you've chosen the right sized ear tips and wings, you'll have a fit that's both comfortable and sturdy, so it won't come loose even during the most intense workout session.
These earbuds aren't as waterproof as many models. They're only rated to IPX4 standard, which means that they can stand up to rain, but they aren't sweat-proof. With exposure to salt or skin oil, outer components will easily corrode. In other words, they're fine for running in the rain, but you'll want to rinse them off if you're using them for most workout purposes.
Connection and Compatibility
When it comes to connectivity, the Liberty 2 Pro will connect to virtually any device, but it's optimized for mobile. It supports the AAC, aptX, and SBC audio codecs that are most commonly deployed by these systems. In particular, the AAC and aptX codecs offer exceptionally high quality for mobile use.
The Liberty 2 Pro also allows for very easy Bluetooth connectivity. It supports Bluetooth 5.0, but it's equally adept at connecting to devices that only support previous versions of the Bluetooth profile. This makes it compatible with virtually any device, whether it's brand new or whether you just picked it up from Best Buy.
These earbuds have a unique control scheme. Each earbud has a single control button, which can be used to pause music, skip a track, or activate Siri or Alexa. This single-function button leaves a lot to be desired, but it makes the control scheme easy to understand. Alternatively, you can reprogram the controls using the Soundcore app.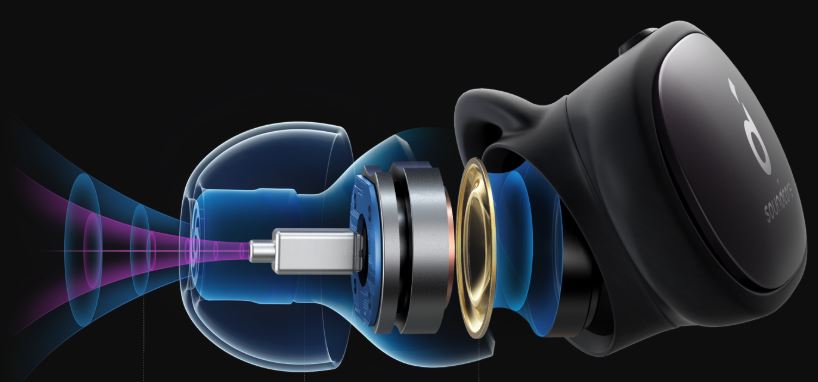 Portability and Extra Features
The Soundcore Liberty 2 is built with an eye towards aesthetics, which puts it a cut above your average mid-range earbud. This is obvious when you look at the case, which has a smooth, oval shape with no harsh lines or protruding parts.
On the front of the case, you'll see three LED lights. These serve as a battery meter, so you know how much charge your station has. On the rear, there's a USB-C charging port, which is covered by a water-resistant rubber flap. That said, you can also recharge these USB earbuds wirelessly. Simply place them on a Qi charging pad and you're ready to go.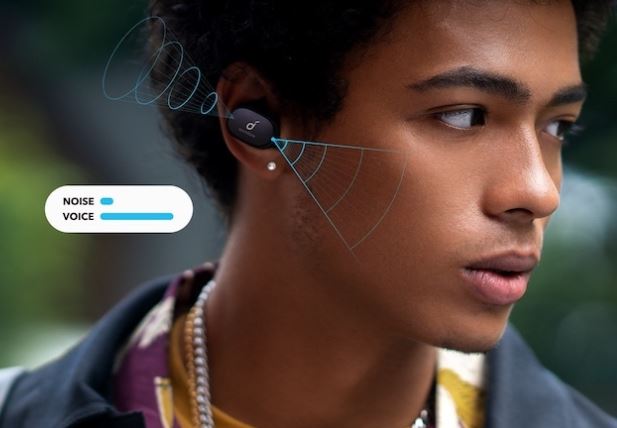 The earbuds themselves provide up to eight hours of battery life, although this can vary based upon your usage. But the charging case offers four additional charges, which means your earbuds can reach up to 40 hours of total battery life. That's an impressive achievement! Furthermore, the case also offers quick charging. Set your earbuds in the dock for 15 minutes, and you'll receive a full two hours of play time. If you're in a pickle in the run-up to a workout, this makes the Liberty 2 a great choice.
In addition, the case is easy to open, but also secure against accidental opening. Instead of a hinge, the Liberty 2 Pro's case features a sliding lid. Simply press down and slide left or right, and the earbuds will come loose. Inside your carry-on bag, backpack, or briefcase, these earbuds will stay right where they belong.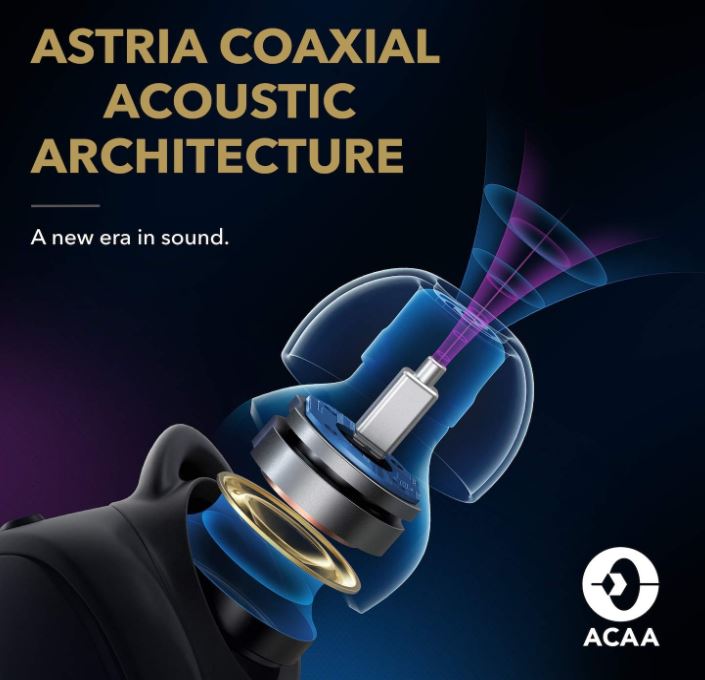 Of course, you might be looking for a more affordable set of earbuds. If you're willing to sacrifice a little bit of quality for a better price, the Letsfit T22 might be right up your alley. These are inexpensive earbuds that still have a lot to offer. Not only do they provide a long battery life, they also provide great sound quality for earbuds of this price. The mids and highs are both well-represented, but the bass isn't quite as punchy. But that said, most earbuds of this price offer poor bass response.
Sound Quality
Now that we've looked at the general design, let's look at where the rubber meets the road: sound quality. These are dual-driver earbuds, and the drivers are arranged in Soundcore's patented Astria Coaxial Acoustic Architecture. What this means is that both the tweeter and the larger driver are aligned in a stacked configuration, which allows for synchronous sound across all frequencies.
And speaking of frequencies, the Soundcare Liberty 2 provides excellent performance across all of them. These earbuds aren't just a plain flat-response set of speakers. Instead, they're designed to provide a lot of bass, no matter the situation. The treble is also accentuated, with a lot of response in cymbals and other high-frequency instruments.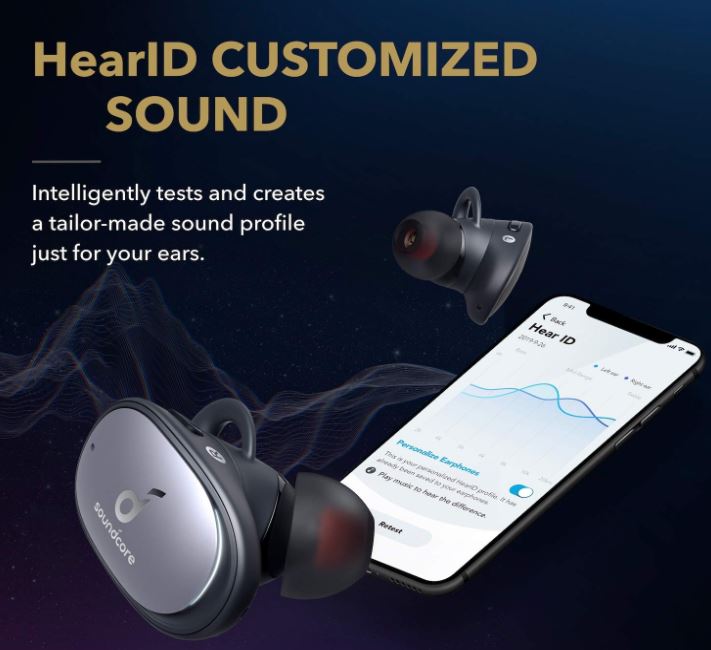 This V-shape is popular among sound mixers, because it provides maximum separation between instruments with different frequencies. On the downside, it tends to underplay vocals, which makes it a poor choice for rap or other genres that are heavy on vocals. But if you're looking for powerful bass response, the Liberty 2 Pro excels. For dance music, hip hop, hard rock, and any other genre that relies on lots of deep tones, you're definitely going to get your money's worth.
That said, you also get access to the Soundcore app, which is available for free download on both Apple and Android systems. This app allows you to set your own EQ on each earbud. In other words, if you're not happy with the default V-shaped EQ, you can always adjust it to your heart's content at a later date.
Sound reproduction is also very precise. If you're listening to an audiobook or radio play, beware of sound effects. You're liable to think they're happening in the real world. We read one review where the reviewer listened to a radio play where a character kept knocking on a door. In the process of listening, the reviewer kept having to get up and check for visitors. We haven't quite experienced that level of realism, but the Liberty 2 Pro is certainly faithful enough to the original sound that we can imagine a similar experience.
These earbuds also offer active noise reduction, which is an unusual feature on in-ear earbuds – as opposed to over-the-ear earphones, where this feature is common. This function is powered by four built-in microphones, which constantly monitor surrounding noise levels and compensate accordingly. Whether you're listening in a crowded area or alone in your bedroom, your listening experience will be uninhibited. That said, the quality of noise reduction will depend on the ear piece seal, so make sure you've fitted the Liberty 2 Pro appropriately.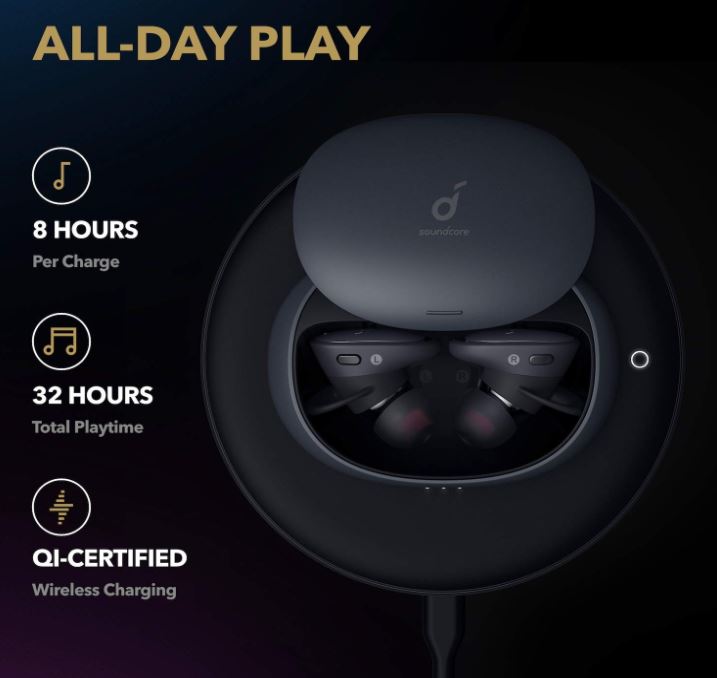 When it comes to call quality, these earbuds are also near the top of the pack. Not only do they ensure that you aren't distracted by surrounding noises, they also guarantee a clear signal for the person you're talking to. They use Qualcomm's CVC 8.0 technology, which is an algorithm that mutes background noise and puts the focus where it belongs: on what you're saying.
Not only that, but the Soundcore Liberty 2 Pro comes with Anker's HearID technology. This software is designed to work with Soundcore's mobile app. It gives you a personal hearing exam, then measures how well you can hear sounds on each frequency. Depending on what you hear best, it will automatically adjust your EQ to compensate. Since everyone's hearing is different, and everyone has different tolerances for different frequencies, this app provides you with a truly customized sound profile. That's just not something you see every day.
For even better bass response, read our review of SoundPEATS TruePods. These earbuds are built with a cellulose diaphragm, which is exceedingly thin, but which also flexes easier than a standard diaphragm. In return, you get exceptional bass response, without the need to sacrifice mid or high range response. In addition, the TruePods' charging base provides over 20 hours of additional battery life.
Final Verdict
As you can see, we're clearly fans of the Soundcore Liberty 2 Pro. But why wouldn't we be? There's a lot to like!
To begin with, the battery charge is respectable, and offers enough life to get through several workouts. The price is also reasonable; it's middle of the road, but you get much more than what you'd expect. In addition, the sound quality is just about unbeatable for the price. All in all, it's a great buy.
Meet Derek, "TechGuru," a 34-year-old technology enthusiast with a deep passion for tech innovations. With extensive experience, he specializes in gaming hardware and software, and has expertise in gadgets, custom PCs, and audio.
Besides writing about tech and reviewing new products, Derek enjoys traveling, hiking, and photography. Committed to keeping up with the latest industry trends, he aims to guide readers in making informed tech decisions.