Recently, Soundpeats has been making waves with their True line of earbuds. These include the TruEngine 2 and the TruEngine SE, both of which we've reviewed recently.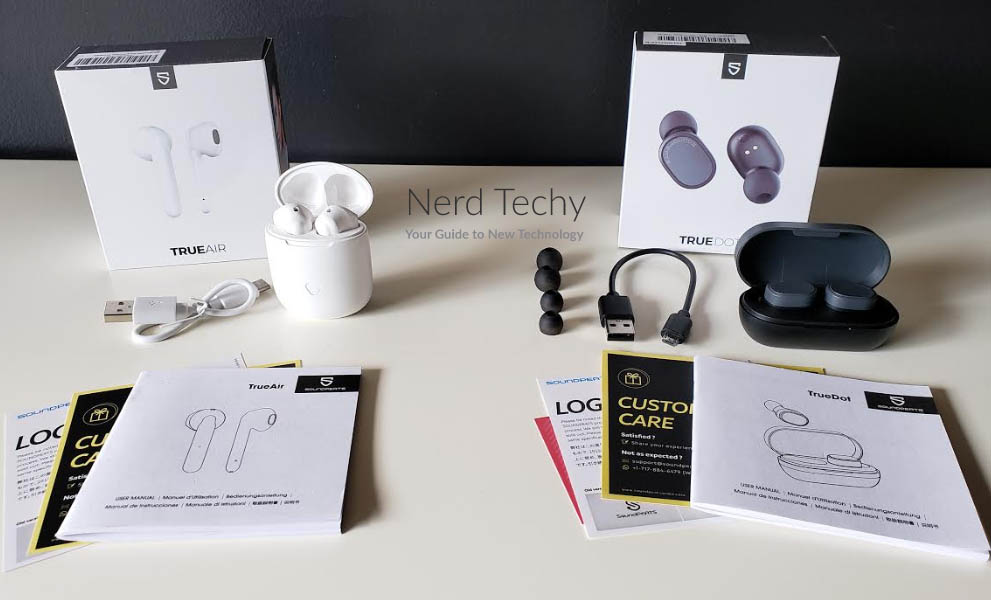 Today, we'll be looking at two of the other earbuds in the True line: the TrueDot and the TrueAir. They both come from the same manufacturer, but don't let that fool you. They're very different from each other, with their own features, benefits, and drawbacks. So why not compare the two? Let's begin!
Soundpeats TrueDot
The Soundpeats TrueDot earbuds are the more affordable of the two sets we'll be reviewing today. The overall design should be fairly familiar. The buds themselves are small and black, with an oval design that should rest easily in your outer ear. The rubber tips are designed to fit securely in your ear canals. This keeps them from falling out, and also provides a small amount of protection from outside noise. They come with 2 extra sets of ear tips, each in a different size. With a correct fit, they're very comfortable, so take your time and find the tips that work best for you. And at only 0.12 ounces per earbud, they're light enough that you'll barely even notice they're there.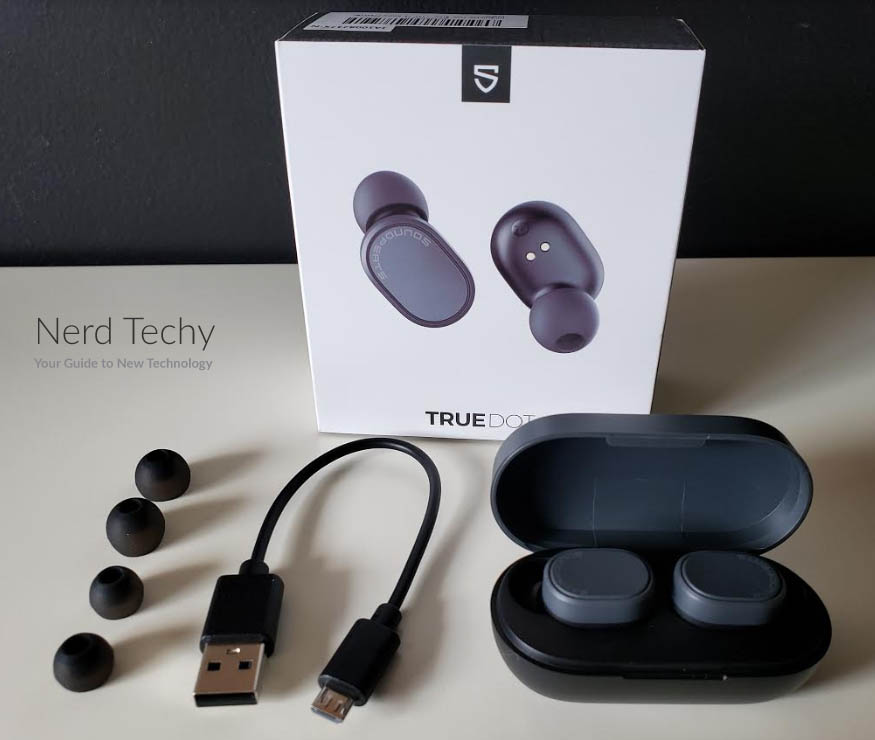 The TrueDot's charging case has a clamshell design. The spring-loaded lid stays closed in your pocket or backpack. It has a cutaway that makes it easy to open with one hand. The earbud wells, however, are not magnetic like some others on the market. If the case is open and gets knocked over, the TrueDot earbuds can and will fall out. Keep the case closed, and you won't have any problems.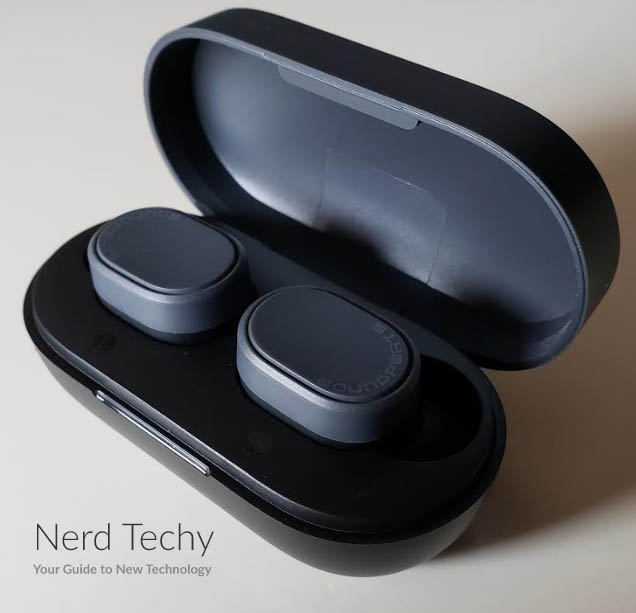 Both the earbuds and the case are IPX4 water-resistant. This means they're rated for light rain or sweat. However, a torrent of water, such as a shower, can potentially do damage. But for workouts and everyday use, IPX4 is more than good enough. If you have any problems, you can take advantage of Soundpeats' 12-month manufacturer's warranty.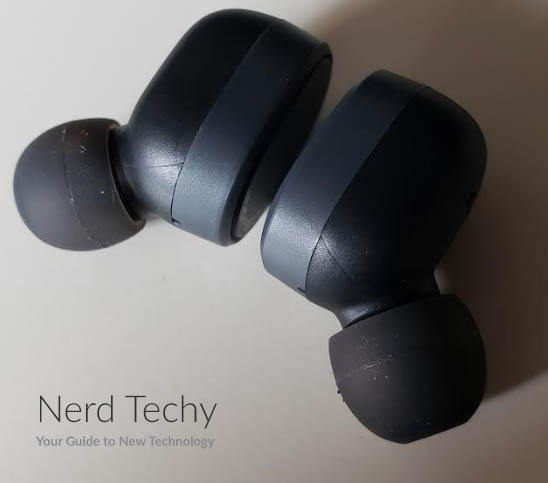 The soft touch controls are very convenient to use. The buttons are easy to press, and won't cause you to knock the earbuds out of your ears. That said, they have a multi-function operation that's commonplace on wireless earbuds. Because all wireless earbuds works differently, it might take a few days to get the hang of the controls.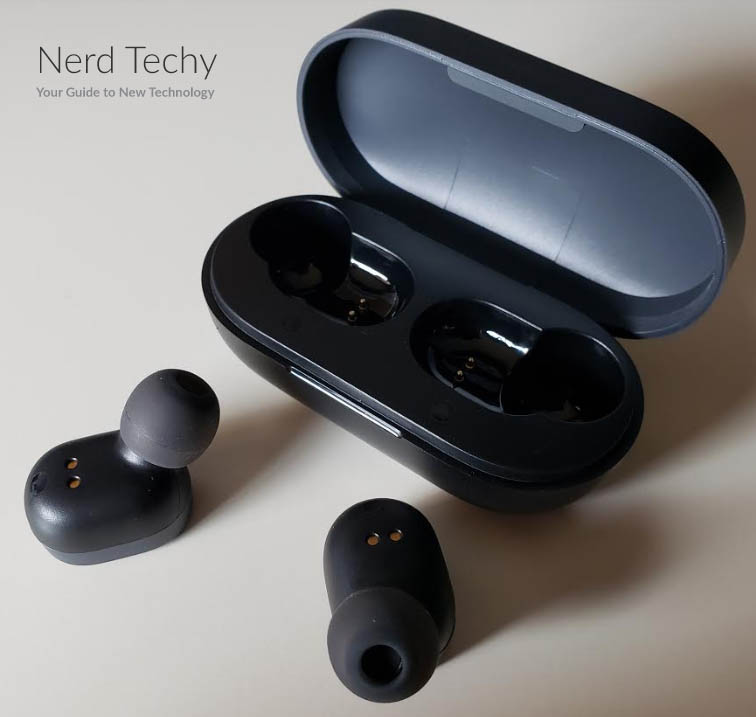 Battery & Charging
TrueDot earbuds offer about 4 hours of battery life between charges. As always, your actual results will vary, depending on your volume and bit depth. If you've got the sound cranked up to the maximum, you can expect more in the area of 3 hours. That's less than many earbuds, but it's enough for most people to get through the day. For travel, you'll also have plenty of extra juice. The case has a built-in power supply, which carries enough power for 3 additional charges. Be aware, though, that the case itself charges fairly slowly. It only accepts a 1-amp charge via Micro USB. As a result, you can expect about a 2-hour charge time even on a fast-charging outlet.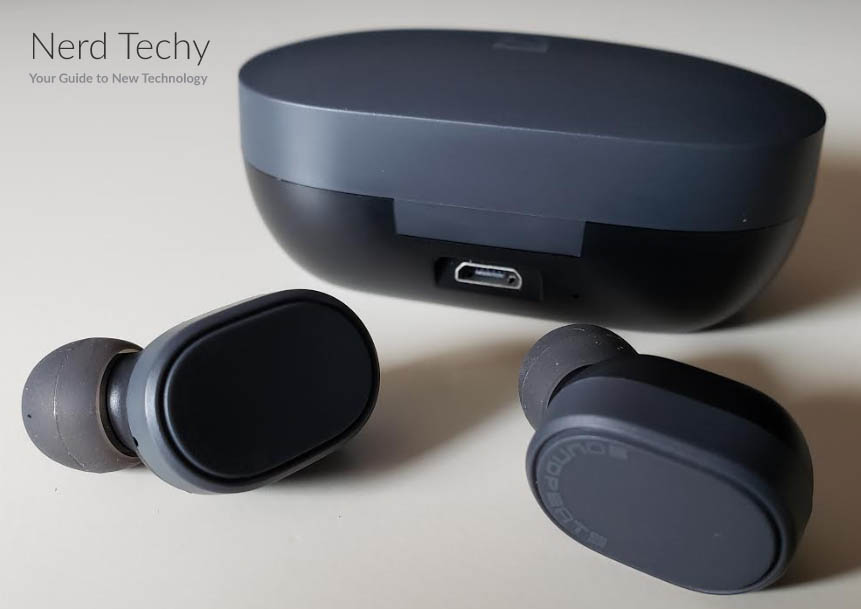 Connection Options
The TrueDot connects via Bluetooth 5.0. This is the latest version of Bluetooth, and it's more or less standard these days. It's backwards compatible with devices that use Bluetooth 4.0 or later. As a result, you can use the TrueDot even with an older device. Once you've paired your earbuds, they will pair automatically when you remove them from the charging case. If you want, you can use a single earbud to improve your situational awareness. However, this works with the right earbud only. To re-pair both earbuds, you'll need to put them both in the charging case and wait for a few minutes.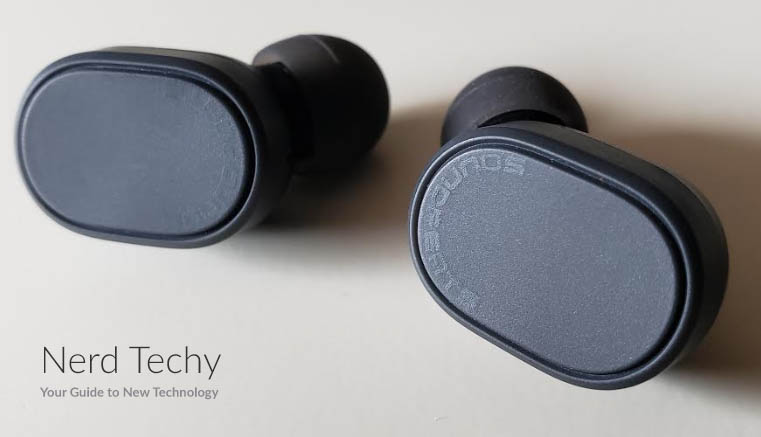 The TrueDot is also compatible with voice assistants and voice-activated calling. Tapping the soft-touch button on the left earbud will allow you to do this. We're not sure why Soundpeats made this choice, since the left earbud can't be used on its own. For hands-free calling, the right earbud would have made more sense.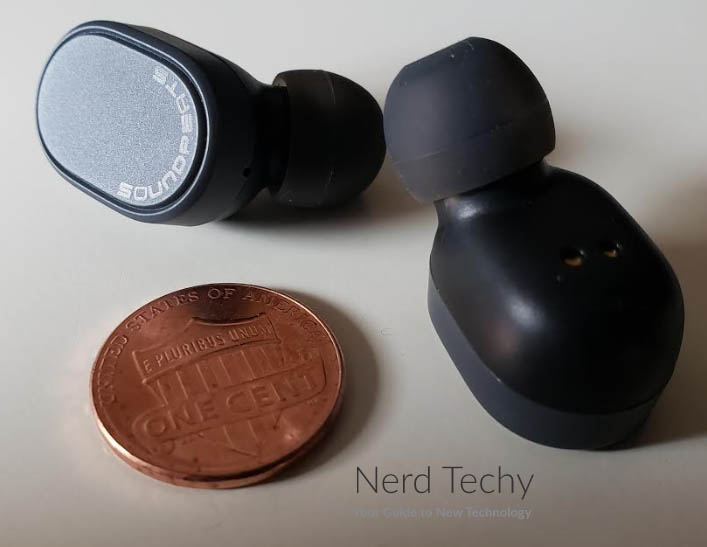 Sound Quality
The TrueDot uses a pair of 7.2mm dynamic drivers. These are fairly standard-sized for a set of wireless earbuds, and deliver plenty of volume. The trebles and mids are clear. In particular, you'll get excellent vocal quality, which is perfect for vocal-heavy genres like rap and hip-hop. Similarly, the treble is nice and shimmery for classical instrumental music. But the drivers are a bit too small to deliver punchy bass. Don't get us wrong. The quality is good. But even with your bass cranked all the way up in your equalizer, it won't be very loud.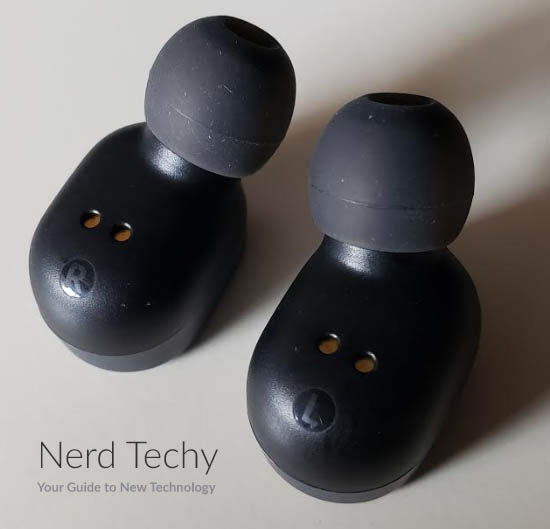 The mic quality would best be described as "okay". You'll come across clearly, and the other person won't have any trouble hearing you under most circumstances. However, there's no noise cancelling, so wind or crowded areas can make you harder to hear.
Soundpeats TrueAir
TrueAir earbuds are a little pricier than the TrueDot. They're Soundpeats' answer to the Apple Air Pod, and they have a similar design. They're white instead of black, with extended, cylindrical battery sections that extend down near your earlobe. The charging case also follows Apple's lead, with a vertical design and a clamshell top. While the earbud charging wells aren't magnetic, they're very well shaped. And the lid is not likely to come open by accident.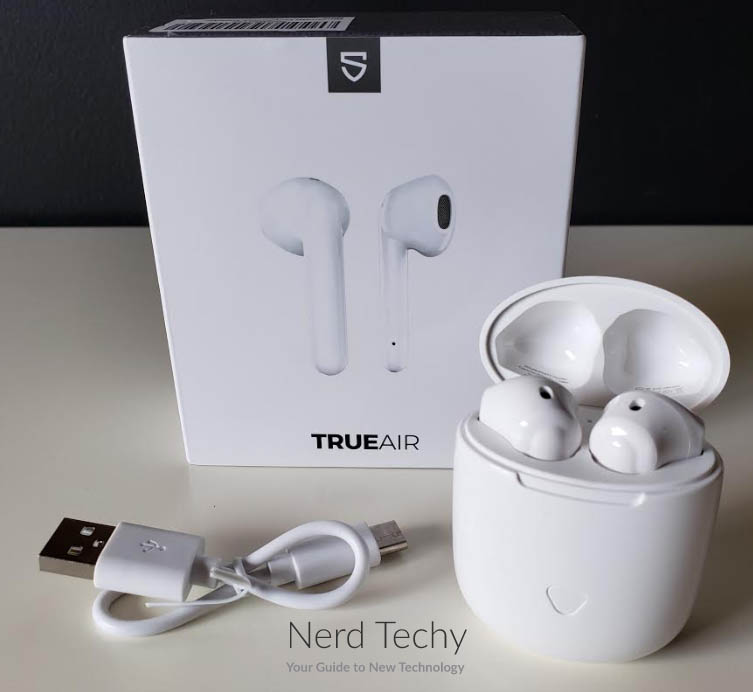 The earbuds themselves have an ergonomic design, made to rest gently in the opening of your ear. There are no rubber tips, but they're really not necessary. For most people's ears, the buds are quite comfortable. And at only 0.13 ounces, they're only negligibly heavier than the TrueDot buds. They're also IPX5-rated for water resistance. That's still not sufficient for submersion, but it can stand up to a torrent of water. You also get the same 12-month warranty that Soundpeats offers on all their earbuds. Even if something goes wrong, they've got you covered.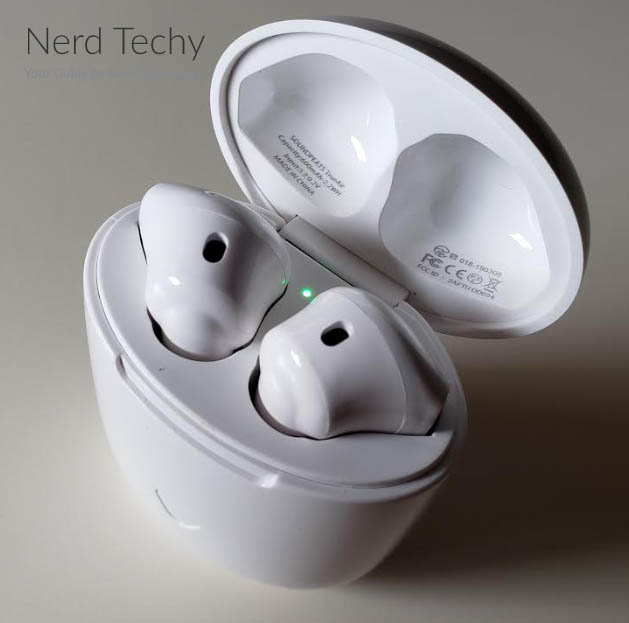 Battery & Charging
When it comes to battery life, the TrueAir outshines the TrueDot. The earbuds themselves offer 5 hours of use, more than double the life of their little brother. Standby time is also excellent. They'll last up to 150 hours, which is just a few hours short of a full week. The case is also a significant upgrade. The 600mAh battery is sufficient for 5 recharges, which allows for 30 hours of play time without plugging in.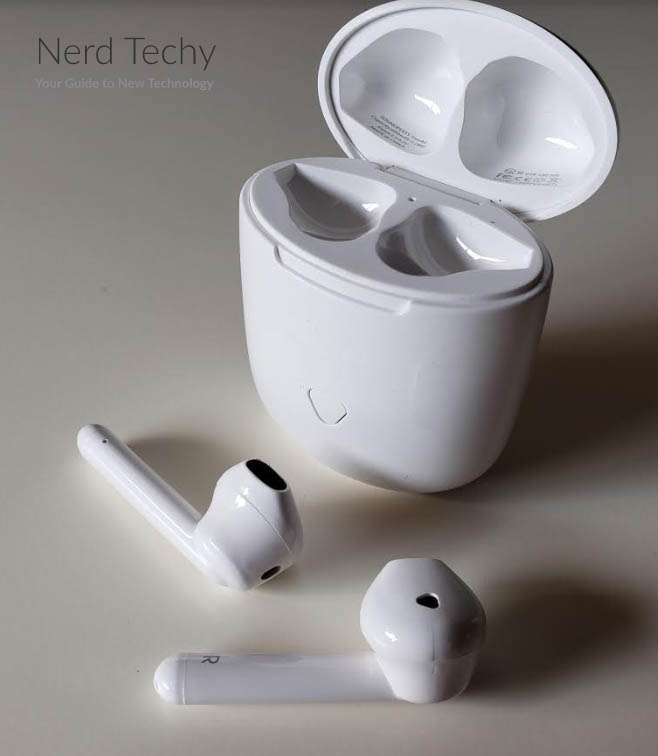 The charging case utilizes a USB Type-C charging cord, and features an indicator light that shows its status. It goes from red to yellow to green as your case charges, which takes about 2.5 hours from an empty battery. The light blinks while you're charging, and turns solid green when you've reached 100 percent.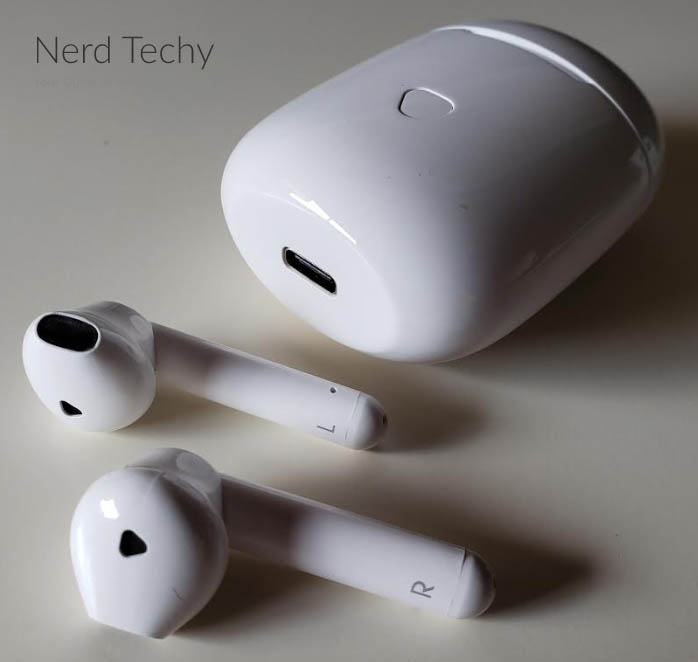 Connection Options
Like the TrueDot, the TrueAir earbuds utilize the latest Bluetooth 5.0 protocol. This allows for easy pairing with virtually any modern audio device. They can be paired together, or you can use the left or right earbud independently. This is ideal if you're only using your earbuds for hands-free calling. You can effectively double your total battery life by using one earbud at a time. To re-pair both earbuds, just put them both in the charging case, and hold the case button for 3 seconds. When the LED flashes white, you're ready to go back to stereo.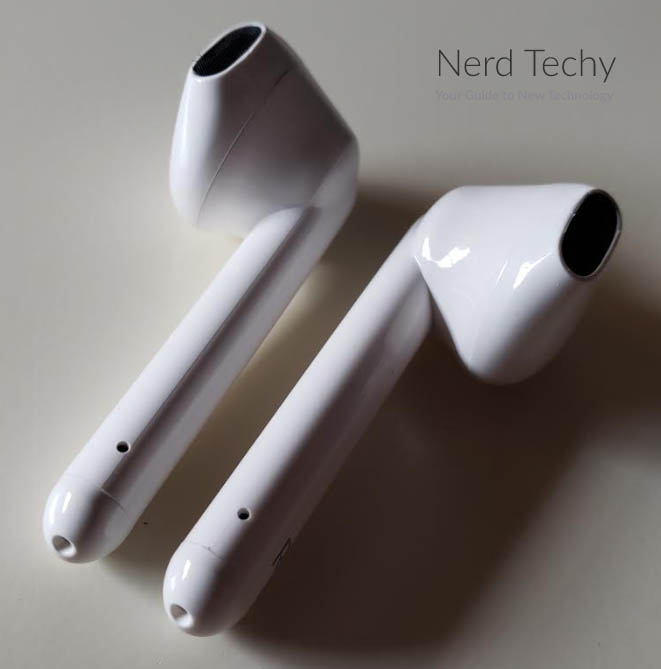 The soft touch controls make hands-free calling easy. They also allow you to use other voice assistants, such as Siri, Alexa, or Google Assistant.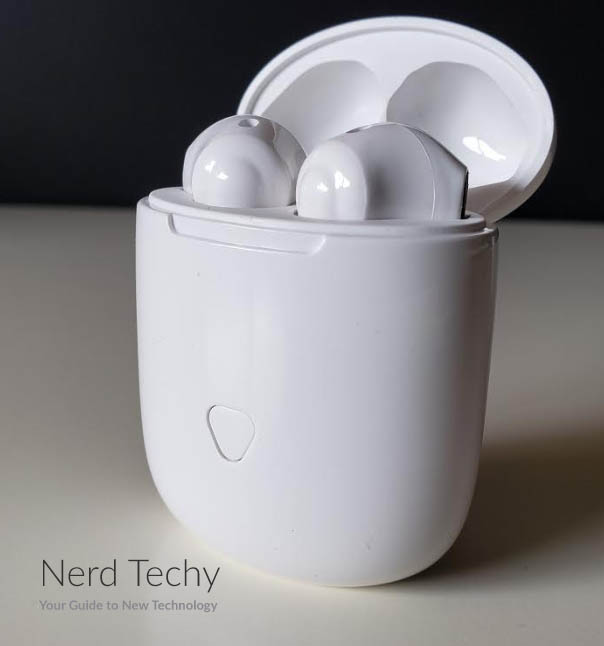 Sound Quality
The sound quality on the TrueAir earbuds is excellent. They utilize large, 14.2mm diaphragm drivers that are significantly more powerful than those on the TrueDot. You'll get the full spectrum of sound, from rich bass to shimmering treble. The treble and mids are both front and center, with plenty of clarity in vocals and strings. Cymbals also shine. But the bass was what impressed us the most. As you probably know, bass is hard to get right on a pair of earbuds, and Soundpeats has delivered. It's not studio quality, but that's frankly impossible in an earbud. But it's significantly more present than you'd typically expect. If you rely in powerful bass and dance music to drive your workout, the TrueAir will deliver what you crave.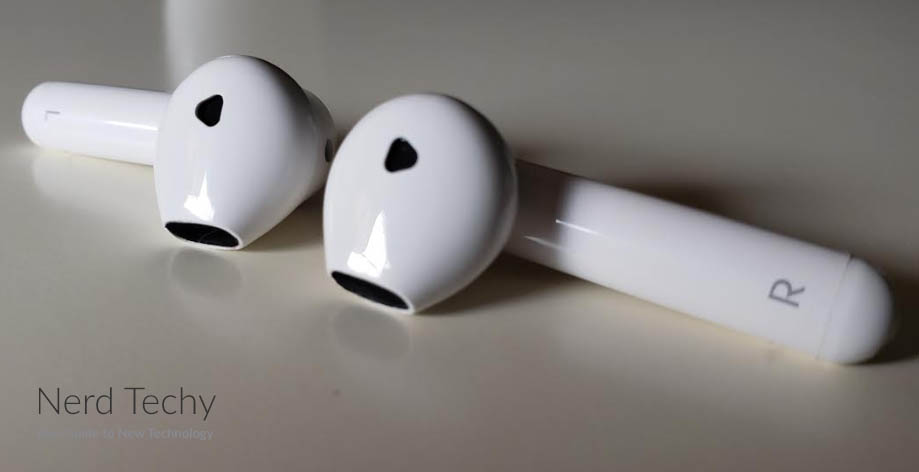 The TrueAir's built-in mic uses aptX noise cancellation to improve clarity. This helps filter out background noise such as wind and crowds. You won't notice any difference on your end of the call, since it doesn't affect incoming audio. However, the person you're talking to will definitely notice the difference. And they'll appreciate being able to hear you more clearly.
If you prefer Mpow earbuds to Soundpeats, never fear. We recently reviewed the Mpow Fly and M10, both of which are great choices. For an alternative to Soundpeats at a similar price point, you'll be hard-pressed to do any better.
Final Verdict
When comparing two different sets of earbuds, you've really got to ask yourself what it is you're looking for. The most obvious difference between these two earbuds is the price. As a result, you'd think the TrueAir would be better. And by many standards, they are.
Let's start with audio quality. The TrueAir's 14.2mm drivers are almost twice as large as the TrueDot's. This allows for absolutely stunning bass, which is a significant improvement over 90 percent of earbuds on the market. Not only that, but you'll be seriously impressed by the battery life. They offer 30 hours of total performance – 60 if you're using one earbud at a time. If you need to take your earbuds on the road, they're an excellent choice. Finally, the built-in microphone is excellent. It offers excellent clarity, ideal for hands-free use.
That said, the TrueDot also has a few things going for it. Primarily, it offers better noise cancelling for music. Neither of these earbuds uses active noise cancelling, but the rubber tips on the TrueDot provide a better seal. Many people will also find the TrueDot more comfortable. While TrueAir earbuds simply rest in your ears, TrueDot earbuds seat securely in your ear canal. Provided you've got the right ear tips attached, you'll barely even notice you're wearing them.