When Sony debuted curved televisions a few years ago, they hit the market with a resounding thud. Nobody wanted them. The reason for this is that there's simply no reason to use a curved television. At any significant distance, there's no benefit to a curved screen. Yes, modern movie theater screens are curved, but they're enormous! At the size of a home television, there's no purpose to a curved screen. The same cannot be said for monitors.
Why is this? The answer is viewing distance. When you view your computer monitor, you're typically sitting just a couple of feet away. On a large screen – anything bigger than 27 inches – this can cause distortion. Due to the short viewing distance, the difference in distance between the center and edges of the screen distorts shapes. The way to compensate for this is to use a curved monitor. Contrary to popular belief, a curved monitor doesn't cause distortion; it actually eliminates it. This means you can use much larger monitors than in the past. Today, we'll be reviewing 34-inch monitors, but manufacturers are even producing 43-inch and 49-inch models. Wow!
We're about to look at three 34-inch curved 21:9 ultra-wide monitors. The first is the LG 34WL850-W 34-Inch 21:9 Curved UltraWide QHD IPS Monitor. This is a more basic option, but still punches well above its weight considering the price. The second is the Samsung 34-Inch CJ791 Ultrawide Curved Gaming Monitor. This monitor has an advanced VA panel, albeit at a steep price point. Finally, we'll examine the Alienware AW3420DW. This option falls between the other two, with a high refresh rate on an IPS panel. Let's take a closer look at each monitor, and see how they stack up!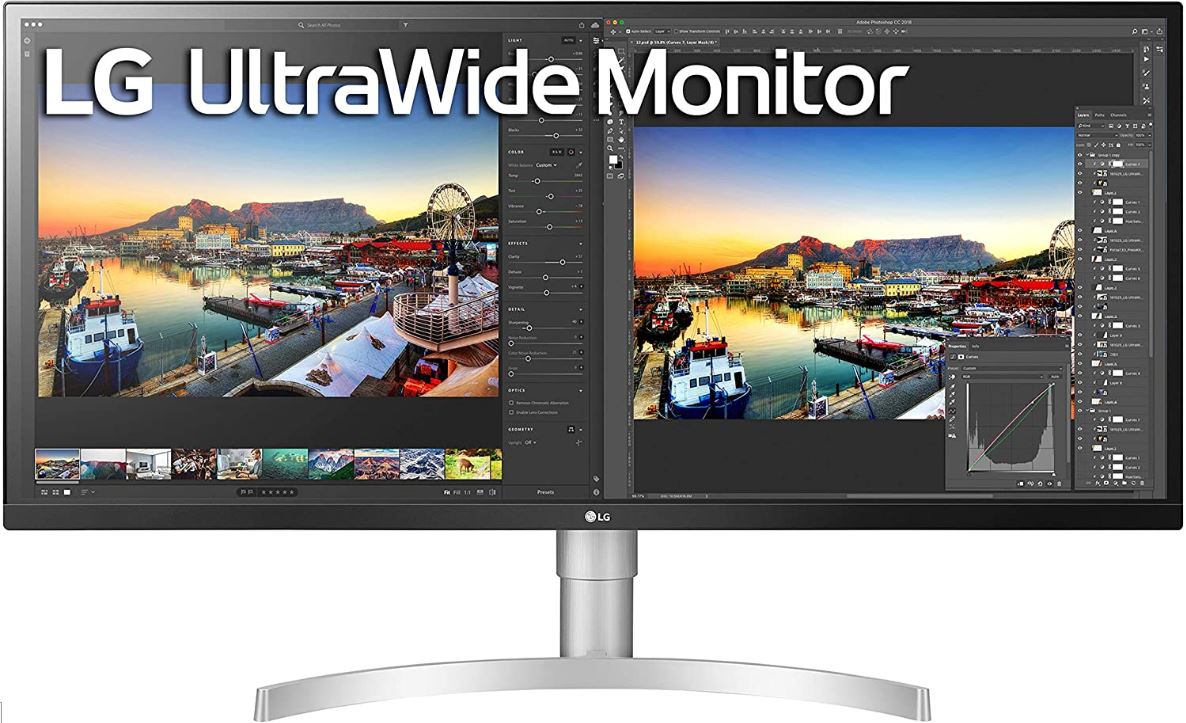 LG 34WL850-W 34-Inch 21:9 Curved UltraWide QHD IPS Monitor
The LG 34WL850-W has a similar design to other LG monitors. The frame has a narrow black bezel around the screen, with a small, silver LG logo at the bottom. This frame doesn't interfere with viewing, and doesn't distract from the display. It rests on a stainless steel stand, which has an attractive brushed finish. It has a minimalist appearance, but it's actually quite sturdy. You can adjust the height by telescoping the vertical support, and tilt the screen for a more comfortable viewing angle.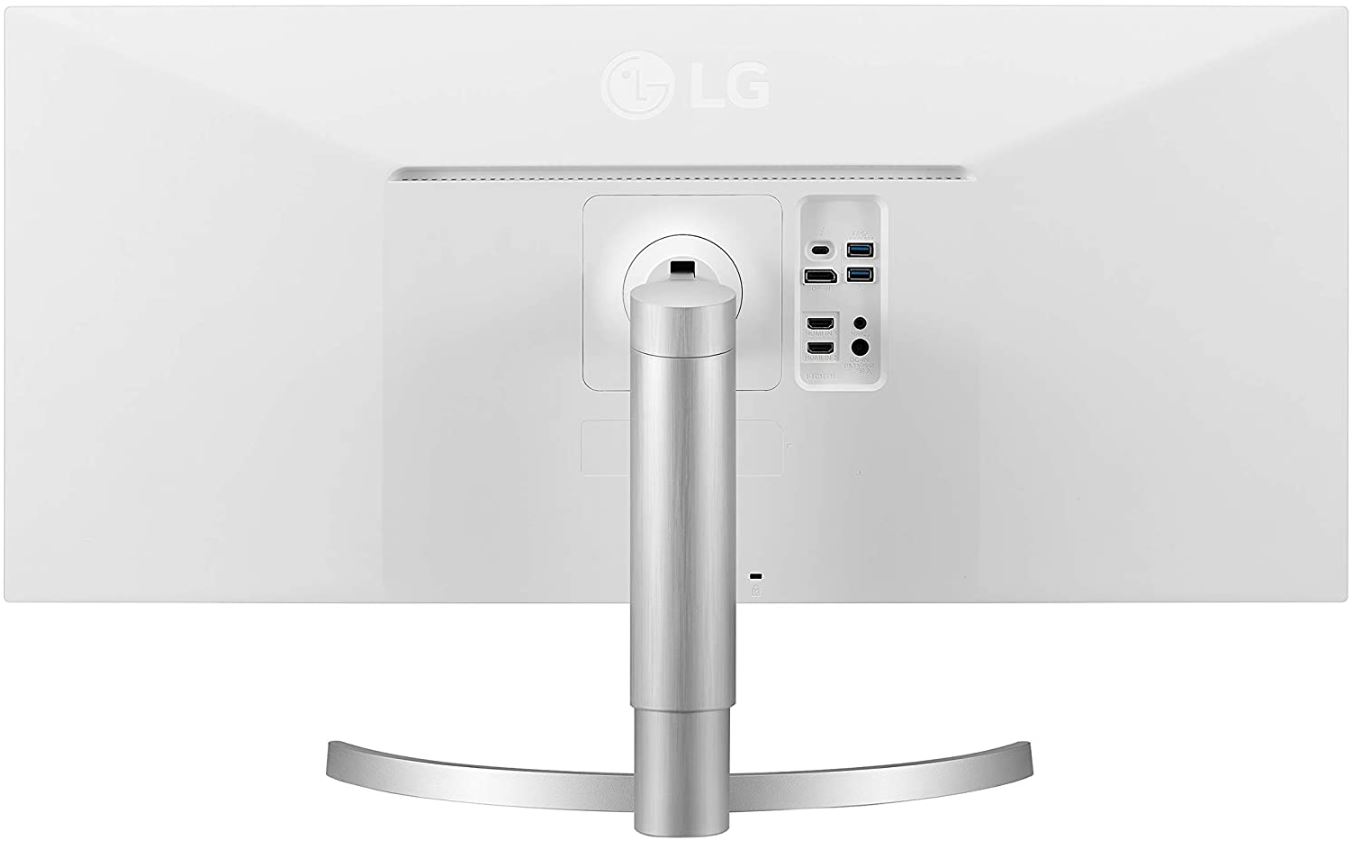 The back and sides of the frame have a brushed steel finish, which matches the stand nicely. On the back, you'll find all of the input jacks, located in a recessed input panel. The standard HDMI input should work well for most people. However, there are also a pair of Thunderbolt 2.0 inputs for dual or triple PC support. These inputs are only compatible with Windows machines. If you have a Mac, you'll be limited to the single HDMI input.
In addition to the inputs, you'll also find a pair of USB 3.0 quick charge ports. These aren't useful for display purposes. However, they make it easy to rapidly charge your smartphone while you're working or gaming. With a quick charge-compatible cable, you can fully charge an iPhone X or Samsung Galaxy S8 in under an hour.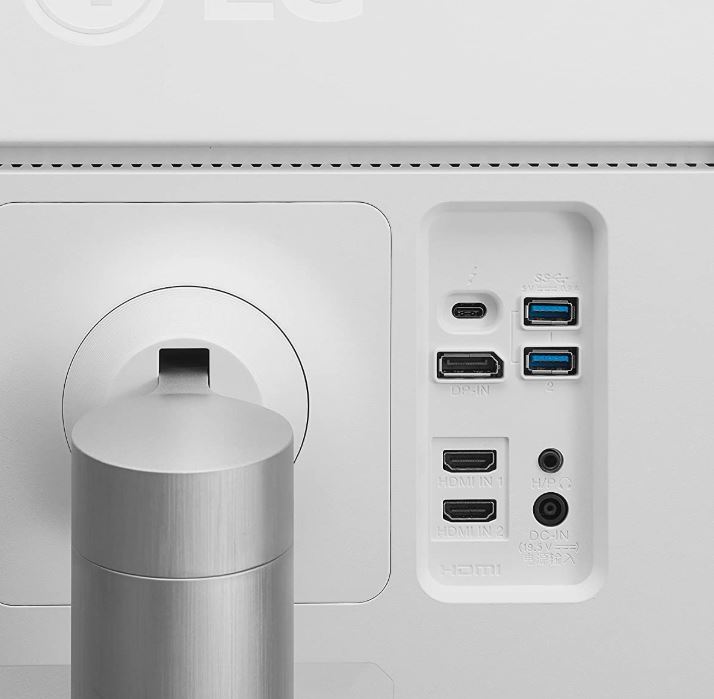 Image Quality and Color Gamut
The LG 34WL850-W 34-Inch 21:9 Curved UltraWide QHD IPS Monitor has a refresh rate of 60 Hz, or 60 FPS. This might not be satisfactory for some hardcore gamers who want to max out their graphics card. But for most people 60 FPS is going to be more than enough. The screen resolution is 3440 x 1440 pixels, so you get the experience you expect from a big, curved monitor. If you're a gamer, this means you'll get a wider field of view, giving you a crucial edge in shooters. Moreover, the screen supports split screen mode or picture-in-picture mode. This is a major benefit for content creators, since you'll have plenty of space for both displays.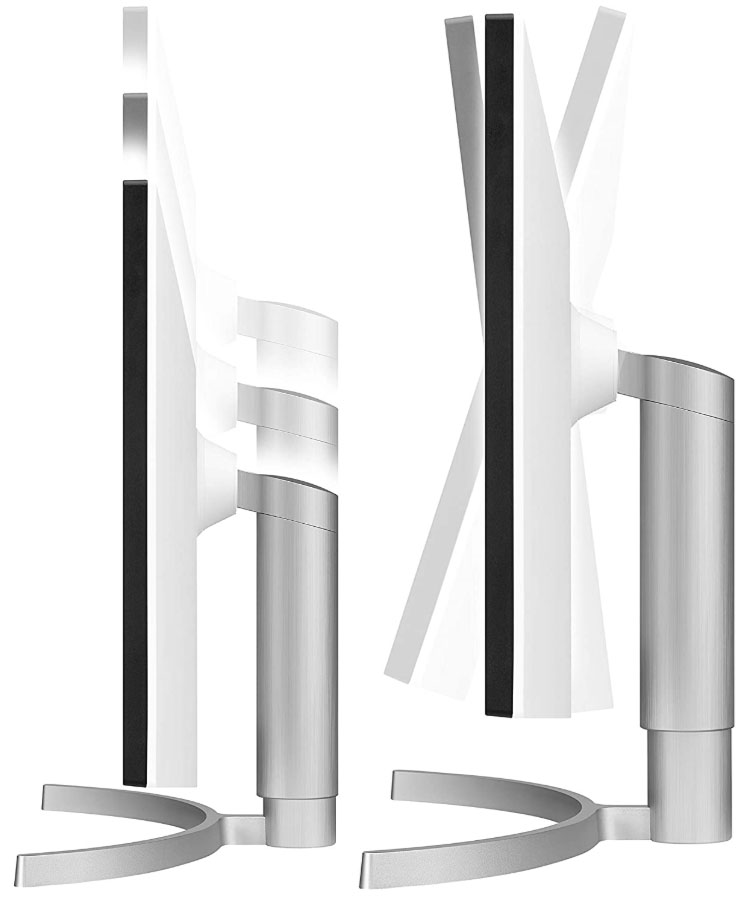 The contrast ratio of the LG 34WL850-W is 1000:1. Contrast ratio refers to the difference between the brightest and darkest colors. At 1000:1, you're looking at a good, but not great, contrast ratio. You aren't going to have any significant problems here. But if you're dealing with lots of blacks and dark colors, you might have some trouble distinguishing them. The color gamut is 99 percent of the SRGB spectrum, which is better than most monitors. You'll get high-fidelity video, without any color distortion. Finally, the IPS panel allows for a viewing angle of 178 degrees. If you work on a team with people looking over your shoulder, this is an essential feature.
The LG 34WL850-W also supports a specialized gaming mode. You can switch between pre-set FPS and RTS settings, or set your own custom mode. These modes tweak the monitor settings for ideal performance in different games. For example, the FPS mode reduces streaking and tearing, while the RTS mode maximizes color contrast.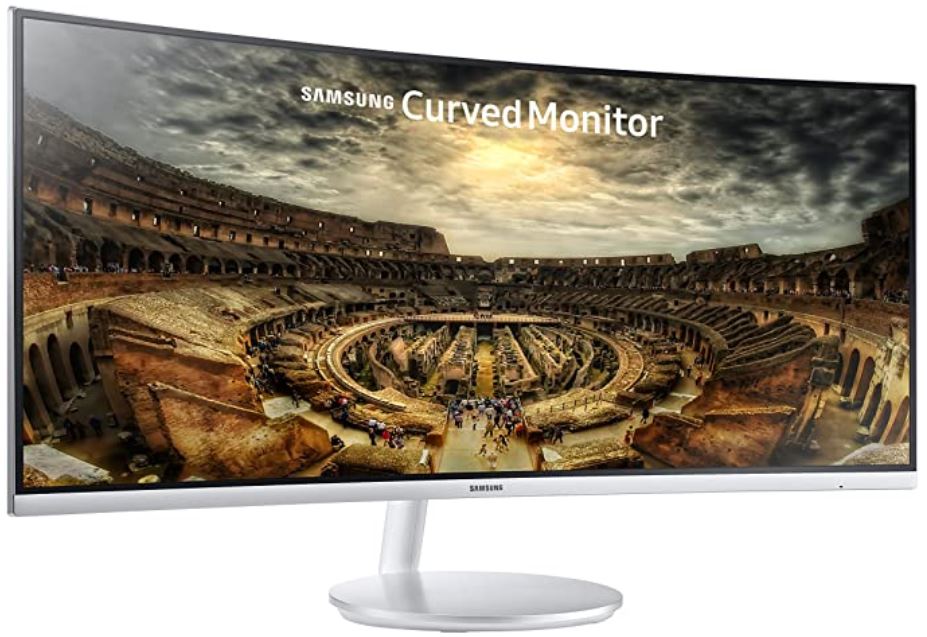 Samsung 34-Inch CF791 Ultrawide Curved Gaming Monitor
The Samsung 34-Inch CF791 is designed for office use more than for gaming. It has an all-steel frame, with a wide silver bottom bezel with a Samsung logo. That said, the sides and top have no bezel whatsoever, so it's not as distracting as it might sound. The stand has an understated metal disc base, with a solid vertical support. It's height-adjustable, with a groove in the back of the screen that allows for vertical movement. You can also pivot the screen forward or backward, allowing for a variety of viewing angles.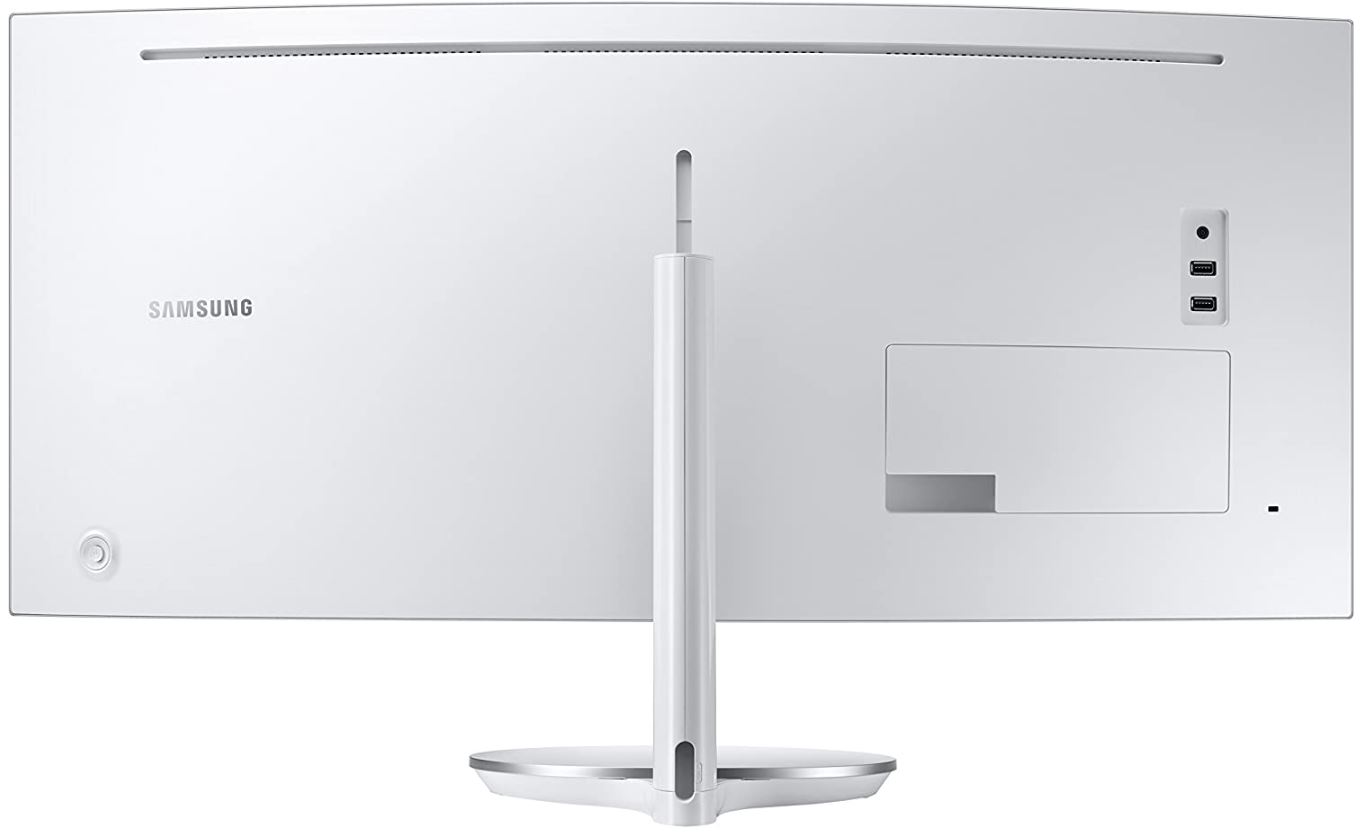 The rear panel is a glossy white, which is easy to wipe down and keep clean. There, you'll see a small removable panel that covers the display inputs. There's an HDMI and Display Port input, just as you'd expect. In addition, there's a pair of USB 3.0 inputs, so you can potentially connect up to four devices at once. In the same area, you'll see a 3.5mm audio jack. This allows you to connect your computer to the built-in 7-watt speakers. They're not incredibly powerful, but the sound quality is better than you'd expect. If nothing else, there a good added value.
There are also a pair of Thunderbolt 3 charging ports, located towards the top right. These provide up to 85 watts of power each, so you can keep your MacBook charged while you work. In this same area, there's a headphone jack, so you can easily switch between headphones and speakers.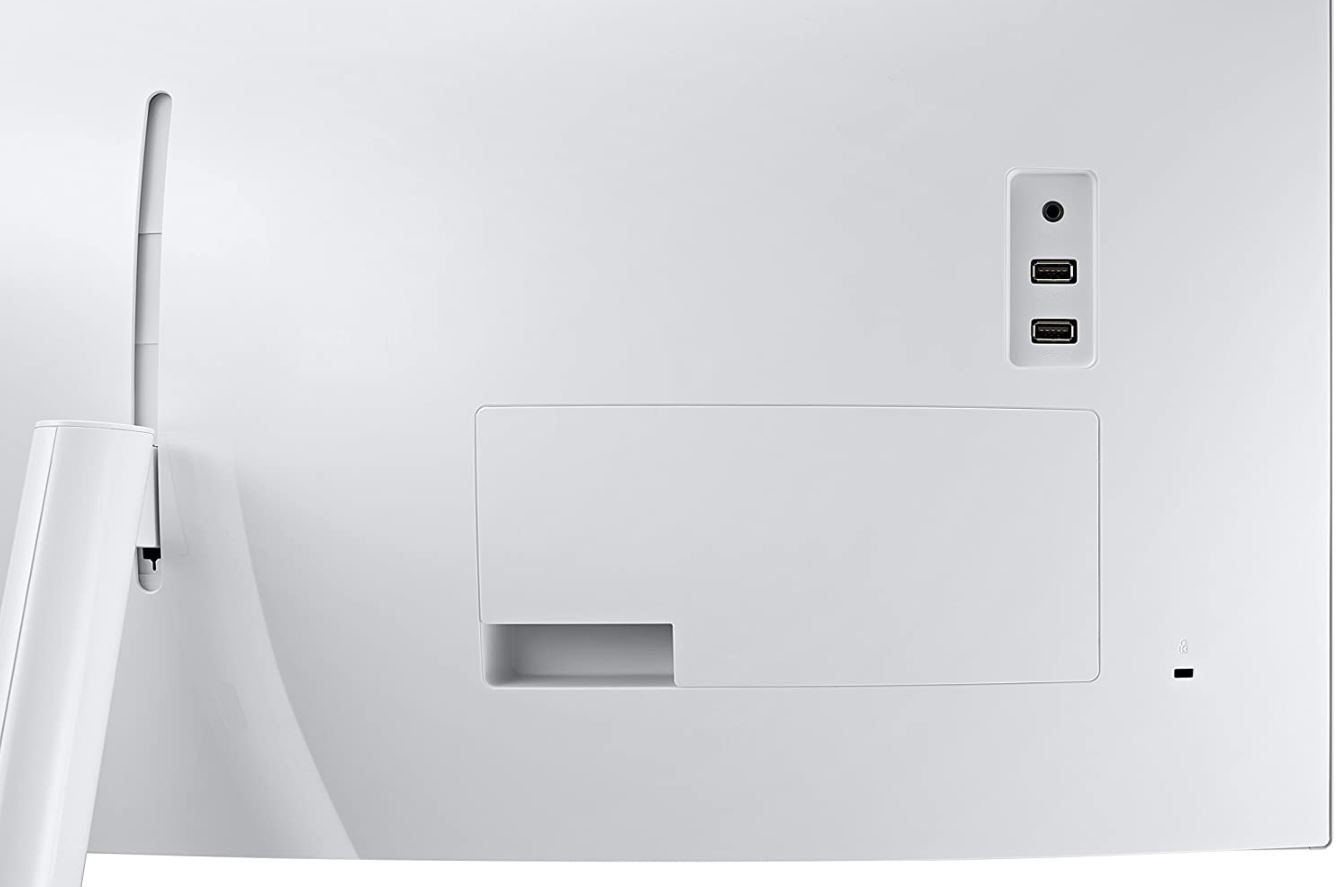 Image Quality and Color Gamut
Like the other monitors on our list, the Samsung CF791 has a resolution of 3440 x 1440 pixels. This gives you a wide field of view for gaming, and plenty of real estate for content creation. In addition, you get a 100 Hz refresh rate, or 100 FPS. If you want to crank your graphics settings up, this monitor will support it. You also get access to AMD FreeSync, which minimizes motion blur and tearing. As with the LG monitor we just looked at, you also get multiple game modes.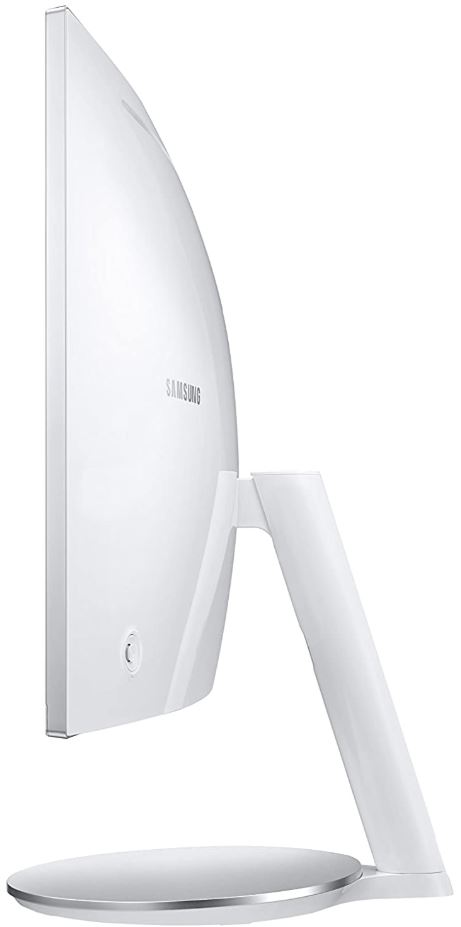 The VA panel itself is very impressive. It offers better performance than most IPS panels, with advanced quantum dot technology. This allows for the same 178-degree viewing angle as an IPS panel, but without any drop-off in contrast ratio. The CF791 has a contrast ratio of 3000:1, among the best on the market. Some monitors advertise a higher ratio, but 3000:1 reaches the limit of human vision. Anything more is basically meaningless. The color gamut here is impressive, encompassing 125 percent of the SRGB color space. This is a good feature for content creators, who depend on a high degree of color accuracy.
Like most ultra-wide monitors, the CF791 supports picture by picture mode. In this mode, you can display two screens simultaneously, so you can easily work with dual devices. In addition, you can use picture in picture mode, which lets you resize the second screen. This second screen can be resized to 25 percent of the screen, a useful function for a secondary display.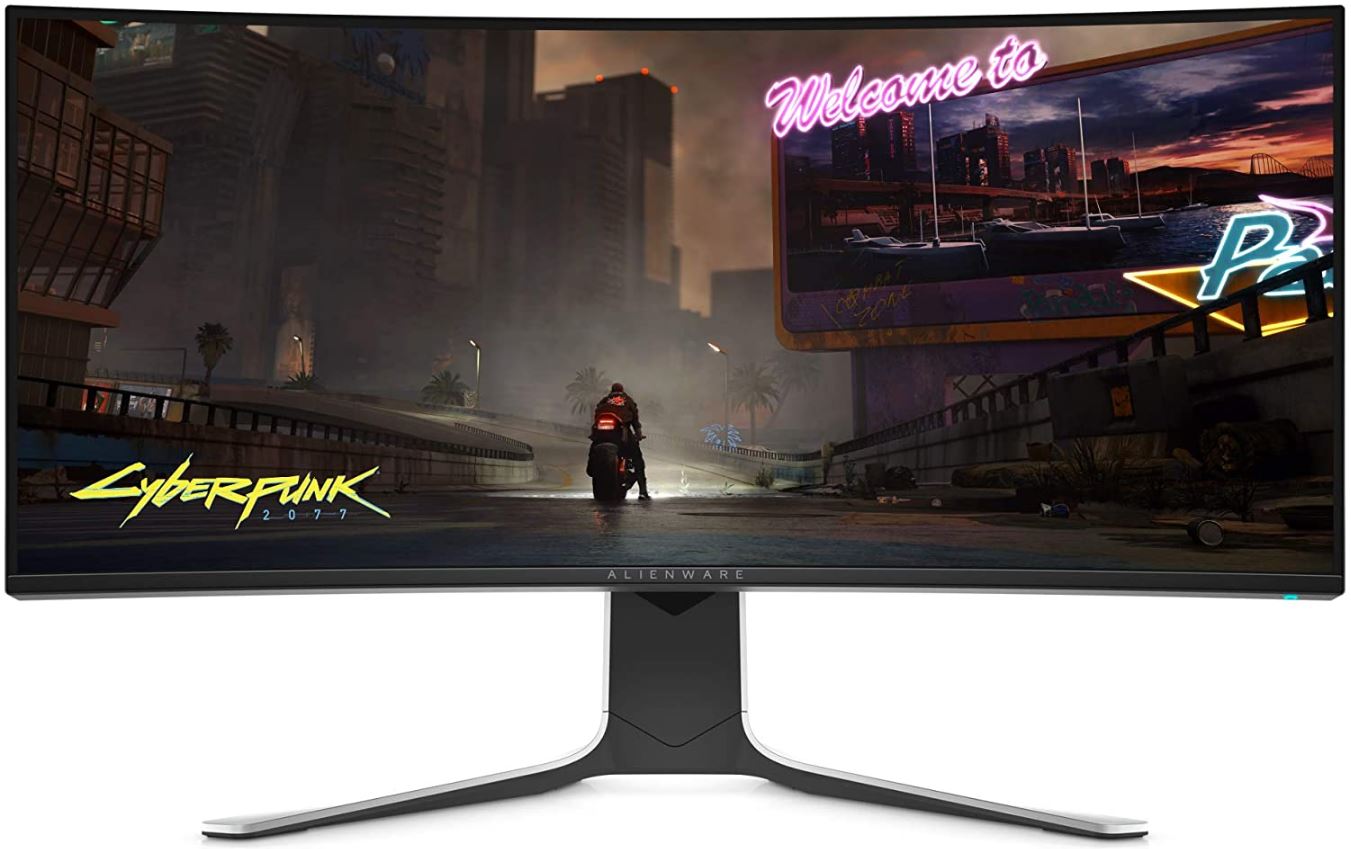 Alienware AW3420DW
The Alienware AW3420DW has a sleek black look, as befits a monitor that was designed specifically for gamers. It has a narrow black bezel, with a grey Alienware logo at the bottom that won't distract you from gaming. The stand is black on the front, which also won't distract you. By contrast, the back of the stand and the screen have a white finish. Like the other monitors we've looked at, the screen height is adjustable and the monitor can be tilted. However, you can also swivel the screen from side to side, so off-center placement is a non-issue.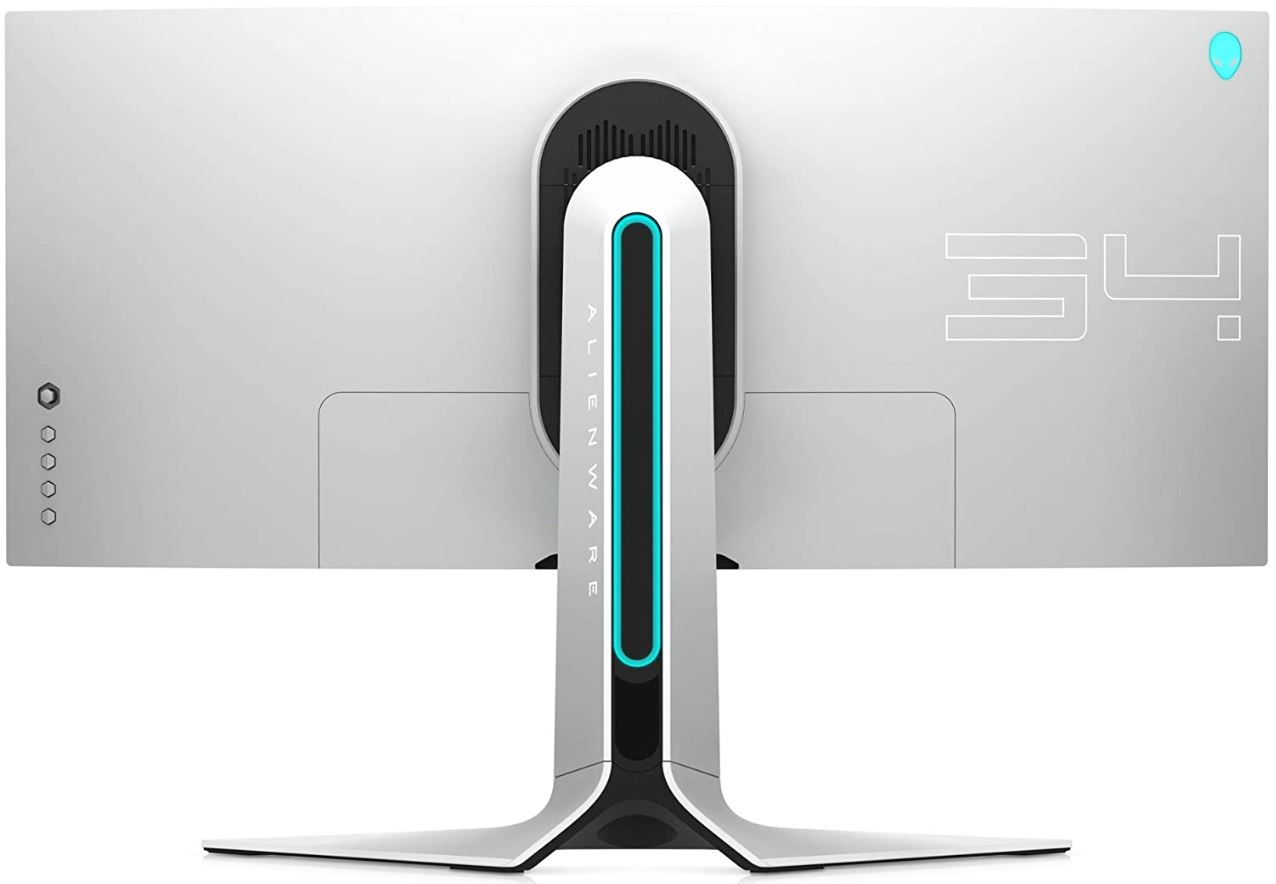 On the back, there's a removable input panel cover that allows you to pass cables through the bottom. Inside, you'll find both an HDMI and a Display Port input. This allows for dual inputs if you want to use more than one computer. You'll also get four additional USB inputs, which can be used for additional machines. Finally, there's an audio in and audio out port, so you can route your audio through the monitor. There's even a USB out port which can be used for charging your smartphone.
One feature the AW3420DW offers that others don't is a customizable lighting system. The back of the monitor has four different lighting zones, which can be customized for different games. You can even download lighting profiles for 145 different games. This lighting scheme is great if you're playing in a dark room. Furthermore, Alienware's AlienFX technology intelligently adjusts to what's on your screen. This ensures a comfortable viewing experience under almost any circumstances.

Image Quality and Color Gamut
As befits a premium gaming monitor, the Alienware AW3420DW has an impressive 120 Hz refresh rate. This is almost unheard-of for an IPS panel, since IPS panels typically offer lower refresh rates than other panel types. As with our other selections, the resolution is 3440 x 1440. This is a huge advantage for gamers, since it gives you a wider field of view than most opponents. It's also worthwhile for content creators who frequently work with a dual display. You can put both displays on-screen at once without any issues.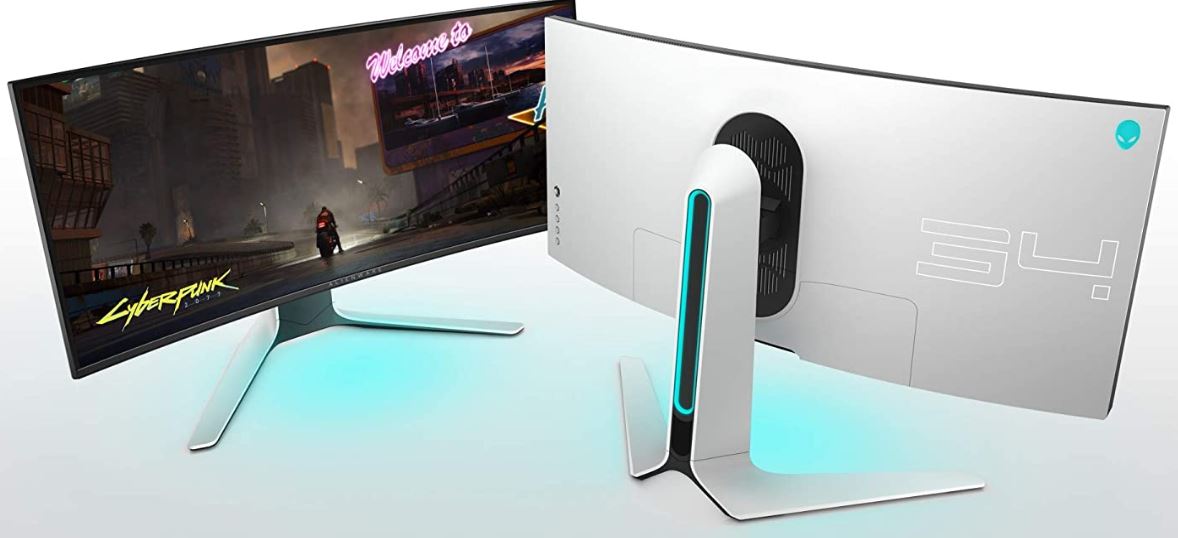 The contrast ratio of the AW3420DW is 1000:1. As we said before, this isn't the best of the best. But it's good enough for most purposes, including gaming. In addition, you get a color gamut of 98 percent of the DCI-P3 color space. This is a much wider color space than SRGB, and is used by professional movie editors. As a result, you'll get some of the best color fidelity on the market. And with a 178-degree viewing angle, putting your monitor to one side is a viable option. Moreover, the monitor utilizes G-sync technology, which eliminates motion blur by displaying frames only when your monitor is ready.
Final Verdict
So, which one of these monitors is the best? Let's start at the beginning. The LG 34WL850-W 34-Inch 21:9 Curved UltraWide QHD IPS Monitor is our budget option. And we're talking in relative terms here. All of these monitors are a bit pricey compared to your typical flat monitor. Nonetheless, it offers plenty of bang for your buck, with a wide color gamut and strong contrast ratio.
On the other end of the spectrum, we have the Samsung 34-Inch CF791 Ultrawide Curved Gaming Monitor. This is a top-tier monitor with a VA panel and 3000:1 contrast ratio. And with a 100 Hz framerate, your FPS are not going to be a problem. That said, with the silver/white body, it's better for content creators than it is for gamers.
Finally, we have the Alienware AW3420DW, which is purpose-built for gamers. With its black case and LED backlighting, it's perfect for gaming in a dark room. Not to mention, it offers a framerate of 120 frames per second. If you want to push your graphics card to the limit, it's an obvious choice.
Meet Derek, "TechGuru," a 34-year-old technology enthusiast with a deep passion for tech innovations. With extensive experience, he specializes in gaming hardware and software, and has expertise in gadgets, custom PCs, and audio.
Besides writing about tech and reviewing new products, Derek enjoys traveling, hiking, and photography. Committed to keeping up with the latest industry trends, he aims to guide readers in making informed tech decisions.