Just a few short years ago, Bluetooth was nothing more than a novelty. Now, it's the standard method of transmitting audio between devices. If you're picking up a new portable speaker or a pair of headphones, there's almost no reason to stick with a wired model. These devices are pretty cheap on their own, so upgrading isn't a big deal.
Unfortunately, we can't say the same thing about our home audio systems. If you've already invested in a high-end home theater system, upgrading your receiver to a model that supports Bluetooth can be an expensive venture. Even if your receiver does support Bluetooth, you'll probably have noticed poor reception and high compression levels. Only the latest Bluetooth standard supports high quality wireless audio, and even devices manufactured just a year or two ago will suffer from noticeable audio degradation.
Note: At no extra cost to you, we may earn a commission for purchases using our links. Learn more.
Fortunately, there is a solution. Bluetooth audio receivers allow you to bridge the gap between the wired and the wireless, letting you enjoy your music without having to plug your phone in. Many of the latest models have brought some impressive features to the table. Let's take a look and see the top 3 models that you can buy today.
Etekcity Wireless Bluetooth 4.0 Receiver
With a large number of consumer electronics on the market, Etekcity works to solve problems. Their products are simple in design, but highly functional. Despite its low price, this Bluetooth receiver has a couple of great features.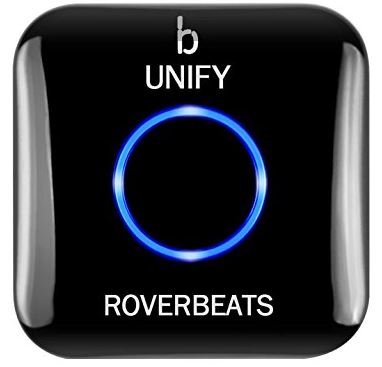 Design
The first thing we noticed about the Etekcity Wireless Bluetooth 4.0 Receiver is how small it is. It measures a little under 2 inches on each side, and is roughly an inch thick. This is extremely handy to have if you're going to be bringing it with you on-the-go. The design is quite simple. In the center, you've got a single round button that turns the device on and off. When powered on, the stylish LED ring will glow either red or blue. Red means that no devices are connected, and blue means that there is an active connection. It's got two ports on the back, a 3.5mm jack for audio output, and a Micro-USB port for charging. If you're looking for simplicity, you can't get any simpler than this.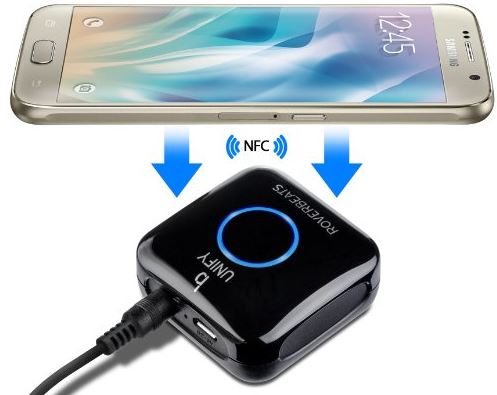 Audio Quality
The most important thing we look for in a Bluetooth receiver is the latest compression standards. This receiver supports both Bluetooth 4.0 and EDR (enhanced data rating) meaning that it provides a higher bandwidth connection then older models. When it comes to audio quality, the more data you have, the clearer your signal is. It can use both the A2DP and AVRC compression standards, allowing for near-lossless transfer of your audio files.
It's clear that the digital audio streaming from your phone to the receiver is high quality, but what about the analog signal from the receiver to your amplifier? This receiver has a built-in amplifier, improving the quality in certain situations. If you're plugging it into a set of computer speakers or your vehicle, you'll be provided with a much louder, fuller sound. However, if you are plugging this receiver into a very high end audio system, you might find yourself a little disappointed. The sound is certainly good, but it's not quite Audiophile grade.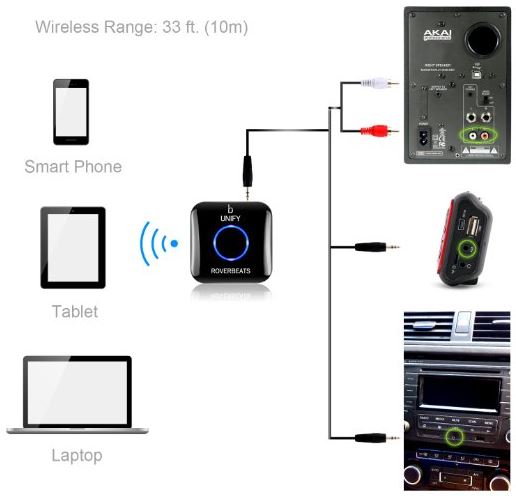 Battery Life
This receiver has a 200 mAh battery, providing it with up to 10 hours of non-stop audio playback. This is pretty impressive considering its compact size and built in amplifier. If you find yourself running out of juice, it has a fast charger included. This can take it from completely dead to fully charged in only 2 hours, so you'll never be caught without it. It's also capable of charging while it's in use, so you can always plug it into any standard Micro-USB charger.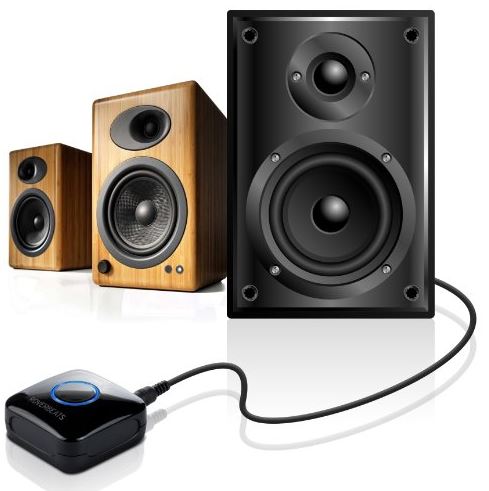 Performance
In order to keep the battery life long and the size small, they cut down on the transmission power of the radio. It can receive a signal from up to 33 feet away. For almost all users, this will be more than enough. As long as you stay in the same room as the receiver, you should always have a clear signal.
It also has NFC built in. With almost any modern smartphone, this means that all you have to do is quickly tap your phone against the receiver to sync it. It literally couldn't be easier!
Logitech 980-000910 Bluetooth Audio Adapter
When you want reliability above all else, you're going to have to purchase a brand name product. If there is one brand we've been consistently impressed with, it's Logitech. They've been manufacturing highly regarded Bluetooth mice and audio gear for many years, so it's only natural that they'd release a Bluetooth Audio adapter.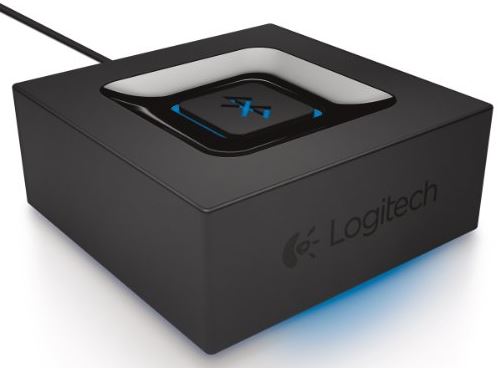 Design
The Logitech 980-000910 Bluetooth Audio Adapter was clearly designed with style in mind. Despite its compact size, it's guaranteed to make a statement on your desk. The sharp, square edges have a very modern appeal to them, and the soft rubbery coating makes it feel solid in the hand. This is one of those products that you don't feel worried about when you pick it up. The bright blue LEDs that illuminate the bottom and the Bluetooth logo are nothing more than striking. We can't say that we expected such a simple device to have such a high-class design, but you'll certainly appreciate it if you're pairing it with your high-end audio equipment.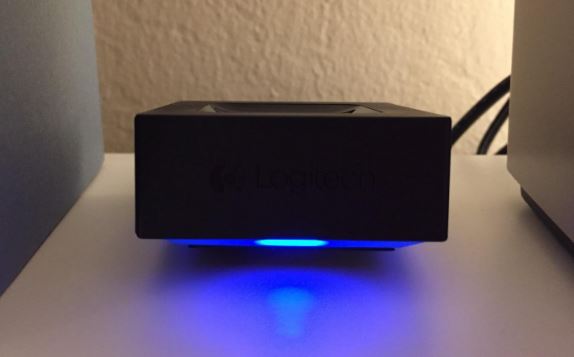 Audio Quality
If you're using Bluetooth to connect to a high-end audio device, then this is the receiver you want. It goes without saying that it supports every modern standard and compression available. Where this receiver shines is with its DAC. The DAC, or digital to analog converter, is what is responsible for producing the output. This one produces crystal clear audio, and delivers it over a high-quality RCA connection. If you like, there is also a 3.5mm port as well. However, RCA will give you the best possible audio quality with no compromises.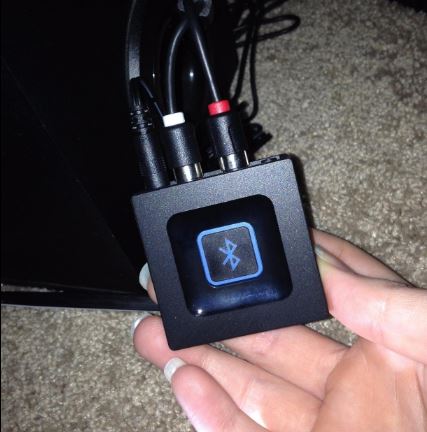 Power
Because it has such powerful hardware, this is not a battery-operated device. It includes a wall adapter, so you'll need to have it plugged in at all times. The benefit of all this power is the additional signal quality you get out of it. It's capable of reaching up to 50 feet without any degradation of quality. Want to throw on some music in the living room while you do the dishes? No problem, the signal will easily travel through walls, doorways, or other basic obstructions. Chances are, you won't be able to hear the audio long before you lose connection.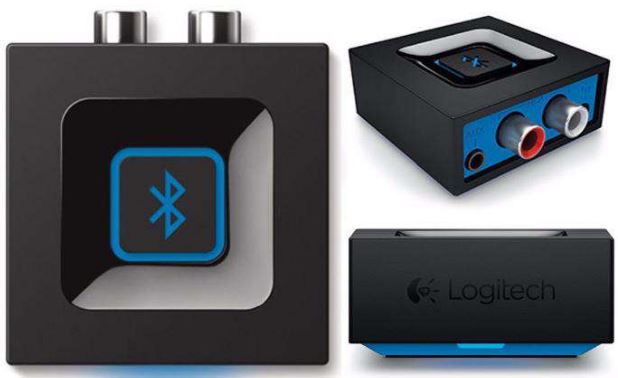 Performance
Like many modern Bluetooth receivers, this model allows you to pair with through NFC. All you have to do is touch your phone to the top of the device, and you'll automatically be paired up and ready to go.
What sets this receiver apart is the fact that it has multi-point Bluetooth connectivity. It can connect to multiple devices at the same time. This means that you can have both your smartphone and tablet paired. All you have to do is start playing audio on one, and the music will fire up right away. We never thought we'd find something easier than NFC, but we are sure glad we did!
HomeSpot NFC-Enabled Bluetooth Audio Receiver
Homespot produces affordable gadgets that don't cut any corners. This isn't the cheapest Bluetooth receiver on the market, but it's not the most expensive either. For most users, you'll find that it's the perfect balance between price and quality.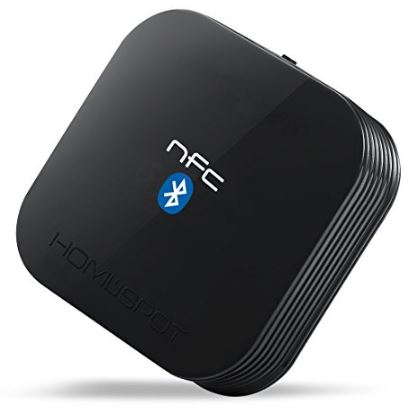 Design
The HomeSpot NFC-Enabled Bluetooth Audio Receiver is designed to find a balance between functionality and appearance. It's not over the top in terms of looks, but there are a few subtle design trends that make it stand out. The ridged sides make it easy to hold in the hand, and give it a tough look that make it appear much like a premium product. On the top, you've got a shiny plastic face that has a premium appeal. Despite these design elements, it doesn't draw any unnecessary attention to itself. It will blend in with your media center, making it suitable for almost any purpose.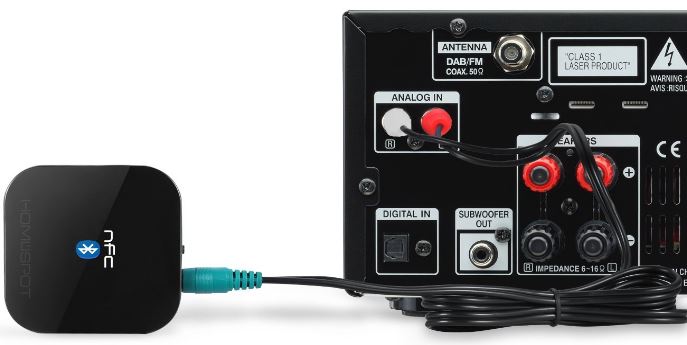 On the back you've got two inputs and a button. The button activates the Bluetooth broadcast, allowing you to pair your devices for the first time. Once they've been paired, they'll be added to one of the 8 memory slots. From this point, all you have to do is tap your phone on the NFC sensor, and you'll be hooked up and ready to go.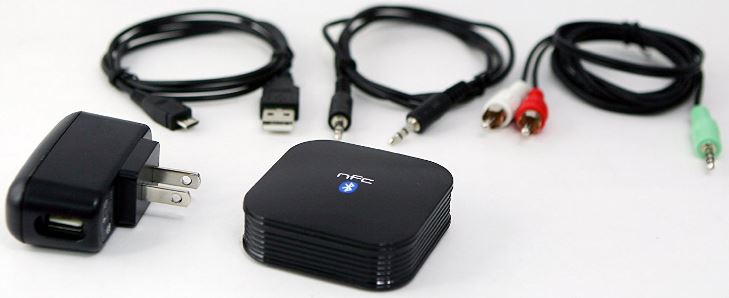 Audio Quality
Just like all of the Bluetooth receivers we've reviewed, this one supports Bluetooth 4.0 and A2DP. If you're using some older devices, you'll be happy to know that it's fully backwards compatible with Bluetooth 2.1 and older standards. These older standards won't produce the same premium audio quality you get from modern devices, but you'll still have the ability to use the best possible standard available.
For any modest home stereo, the included DAC is more than competent. It's powerful, reliable, and produces a crystal-clear audio signal. Unless you're using a $500+ stereo, you'll never notice any degradation.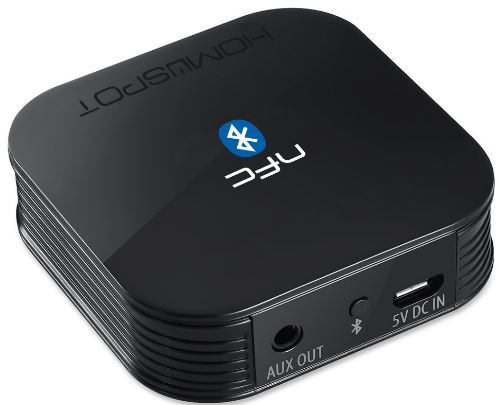 Performance
As a wired device, this Bluetooth receiver is capable of full power transmission. They advertise it at 66 feet of range, which is approaching the theoretical maximum that Bluetooth is capable of. If you have a direct line of site, 66 feet is possible. But for most users, there will probably be at least one obstruction between yourself and the receiver. In our tests, we found the range to be comparable to that of the Logitech. You can pretty much walk freely around your house, although you'll lose reception if you go more than a couple rooms beyond where the receiver is.
Which Bluetooth Audio Receiver is Right for Me?
Each of these Bluetooth audio receivers is great in their own regard, but without knowing how you intend to use it, we can't say which one is the best.
For users who are on-the-go, we suggest giving the Etekcity Wireless Bluetooth 4.0 Receiver a try. It's built in battery means you aren't tethered to a wall. Because it's so small, you can quickly throw it in your pocket until it's needed. The built-in amplifier means that it will work best with low-power speakers. A pair of computers speakers or your cars home stereo are the perfect application for this receiver, and you'll surely notice how much better this model sounds.
If you're looking to add Bluetooth functionality to a high-end audio receiver, we'd suggest picking up the Logitech 980-000910. This high-end receiver has the best DAC that we've reviewed. Combined with the RCA output, you'll get the best possible sound quality from a Bluetooth connection.
For general purpose home use, the HomeSpot NFC Enabled Bluetooth Audio Receiver is a great choice. It's a wired device, so you've got a much longer range than competing models. If you don't have a particularly high end audio system, you'll just be wasting your money on the Logitech. This model will save you a few dollars, and still give you high quality sound.
Please consider sharing:
Note: At no extra cost to you, we may earn a commission for purchases using our links. Learn more.