With each passing day, we use more and more electronic devices. We also depend on them more than ever. For instance, think about your smartphone. Now think about how many apps you have on it. Many people use their smartphones for ordering food, paying bills, and even doing their banking. When your battery dies, many everyday tasks are effectively out of reach. Thankfully, there are plenty of power banks on the market that can keep you up and running. But what about your other devices? For instance, your laptop needs power, too. And when you don't have access to power, a small smartphone power bank isn't going to cut the mustard.
Thankfully, a new generation of power banks are addressing that need. But how do you choose an option that's worth your while? We're here to help you out. Today, we'll be reviewing the MAXOAK AC10 Portable Charger. This is a high-capacity charger that's designed to recharge devices with high power demands. It's powerful enough to meet just about any needs. But is it the right choice for you? We're about to look at all its features. We'll start with the physical construction. Then we'll move on to the battery and charging capabilities. Finally, we'll take a quick look at what devices it's compatible with. Let's get started!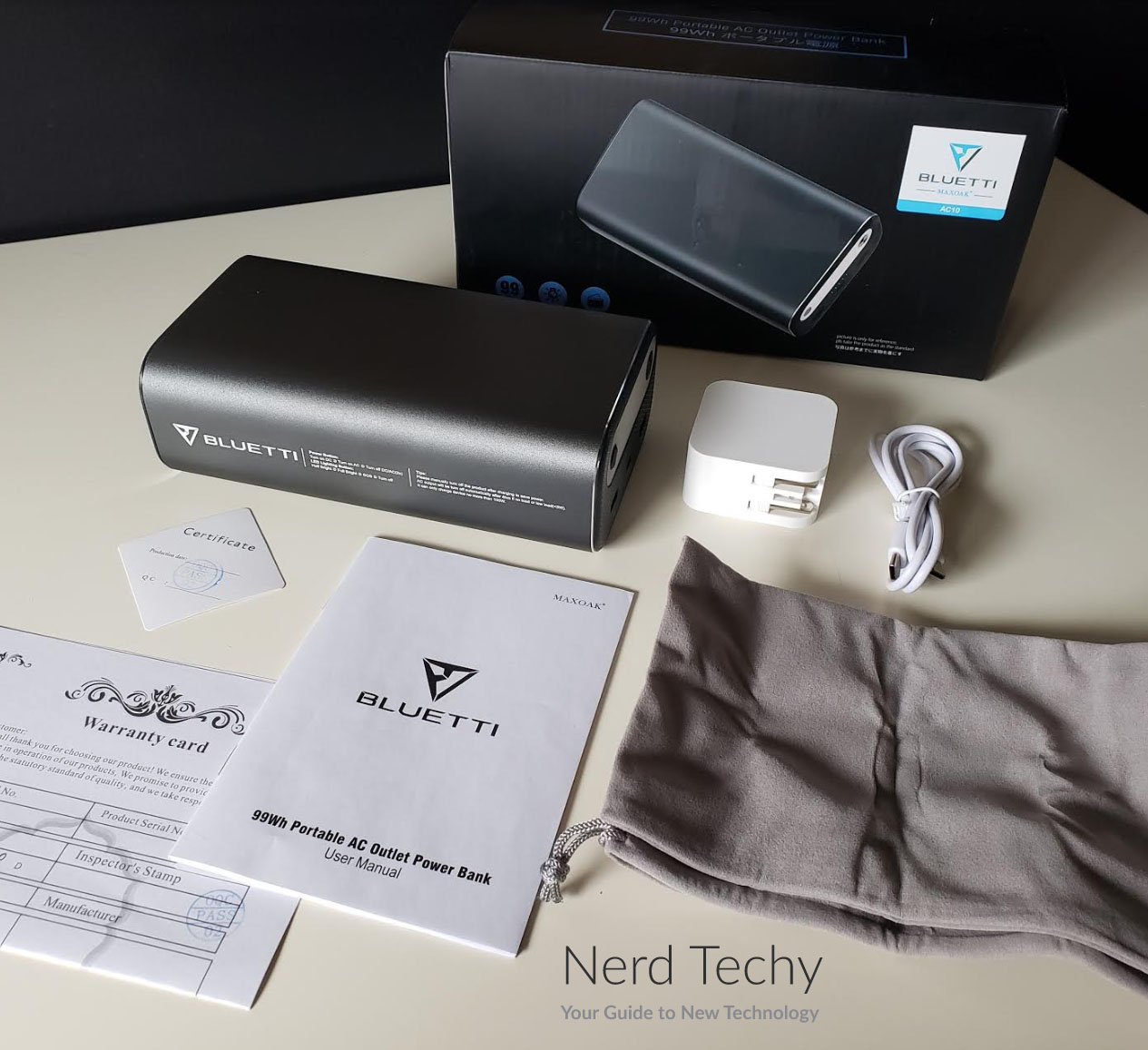 Overall Design
The Bluetti MAXOAK AC10 Portable Charger is designed to be rugged and durable. Instead of ABS plastic, it's constructed from tough anodized aluminum. This makes it durable enough to withstand bumps, shocks, and the rigors of travel. It has an attractive black finish, with rounded corners that won't damage other objects in your suitcase. In all, it measures 7.1 inches in length, 3.9 inches in width, and 2.75 inches in thickness. And it tips the scales at only 2.75 pounds. For a power bank with this kind of capacity, that's pretty impressive.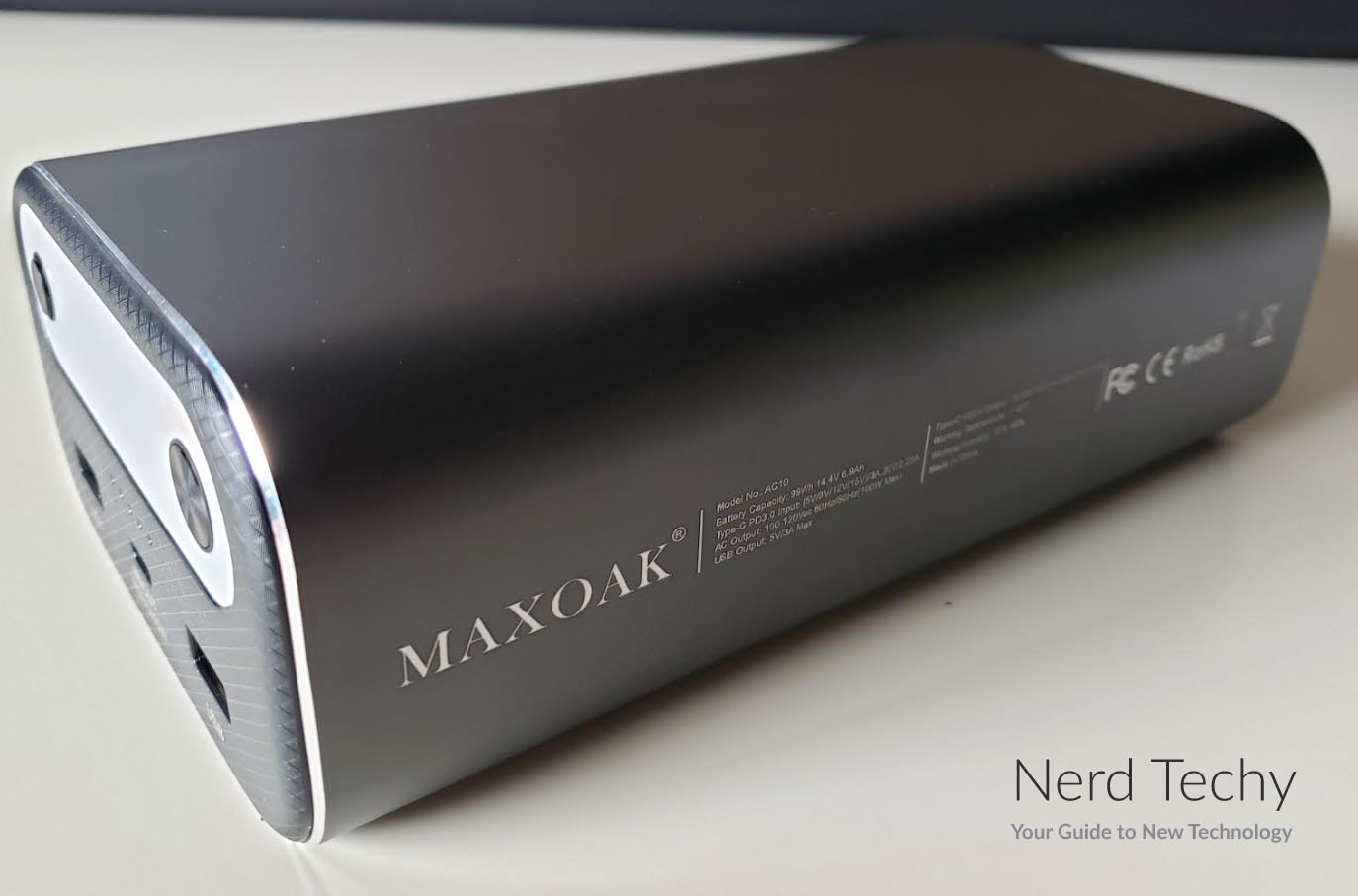 On one side of the device, you'll find a white MAXOAK logo, along with all the unit's specifications. On the front, you'll find all but one of the power ports. There's a pair of standard USB Type-A ports, with a USB Type-C port in the middle. On the back of the unit, you'll find a 3-prong AC port for charging non-USB devices. This makes the AC10 more versatile than just about any other charger on the market. Both the front and the back of the unit are vented, with mesh screens. This allows for plenty of air flow, keeping the power bank cool under even the most demanding conditions. It also eliminates the need for a cooling fan, so you don't have to worry about any noise during operation.
Use code "bluetti10" for 23% off when you order from Amazon
One nice feature of the MAXOAK AC10 is that it's TSA-approved for air travel. The TSA puts a limit of 100 watt-hours on any portable charging device. Beyond that limit, you're going to need a special waiver. The AC10 is designed with a capacity of 99 watt-hours, just under this limit. Given the large capacity in milliamp-hours, this is very impressive.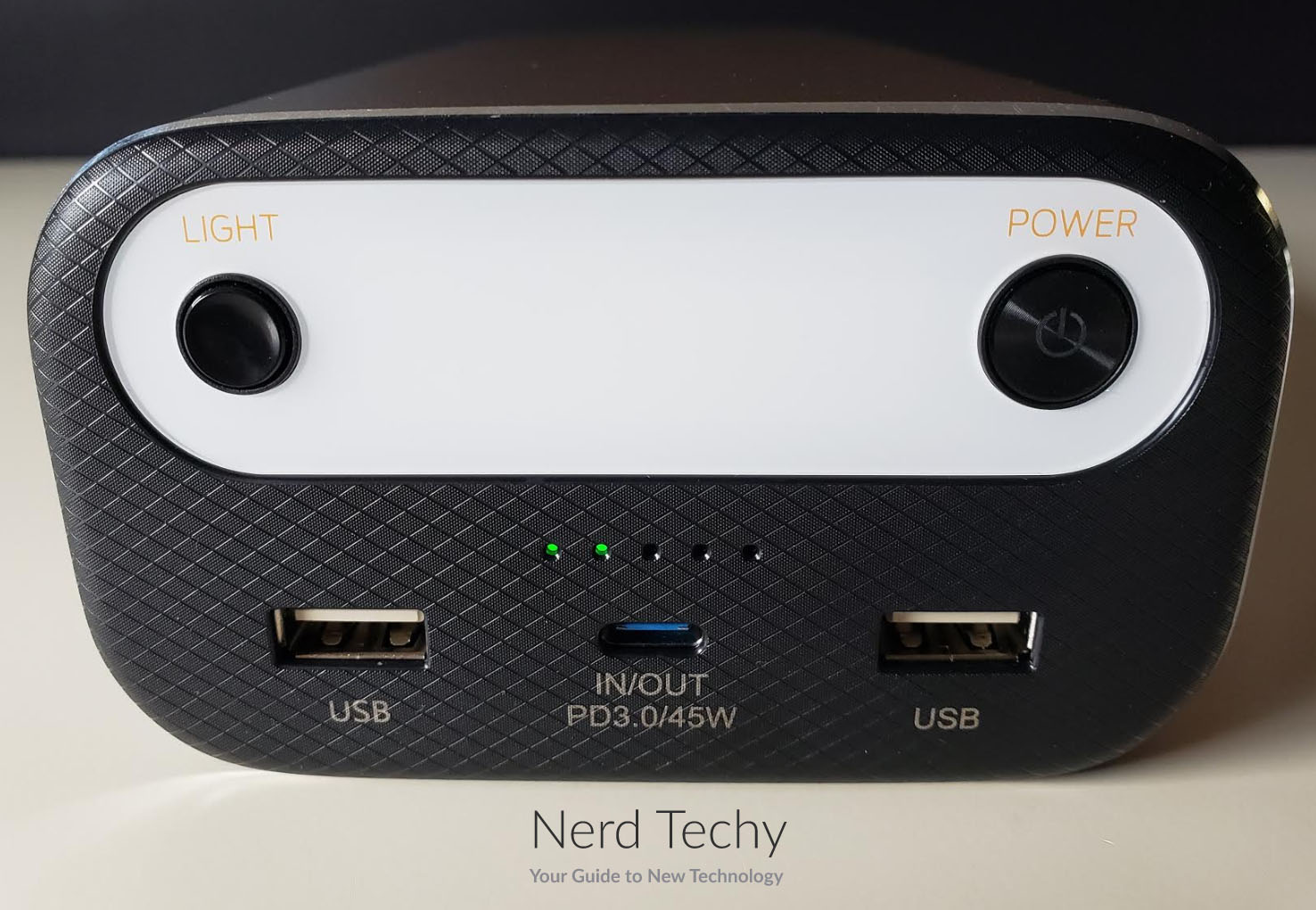 In addition to functioning as a charger, the AC10 also works as an emergency LED light. On the front, above the USB ports, there's an LED light bar. It functions in three modes: full brightness, half brightness, and an SOS mode. Use it to light up your tent or your campsite. Or use it at home when the power goes out and you need a little illumination. And the SOS mode functions as an emergency beacon. Keep in mind that using the AC10 in this fashion will drain the battery, reducing its usefulness as a charger. Then again, it's great to have an emergency backup option.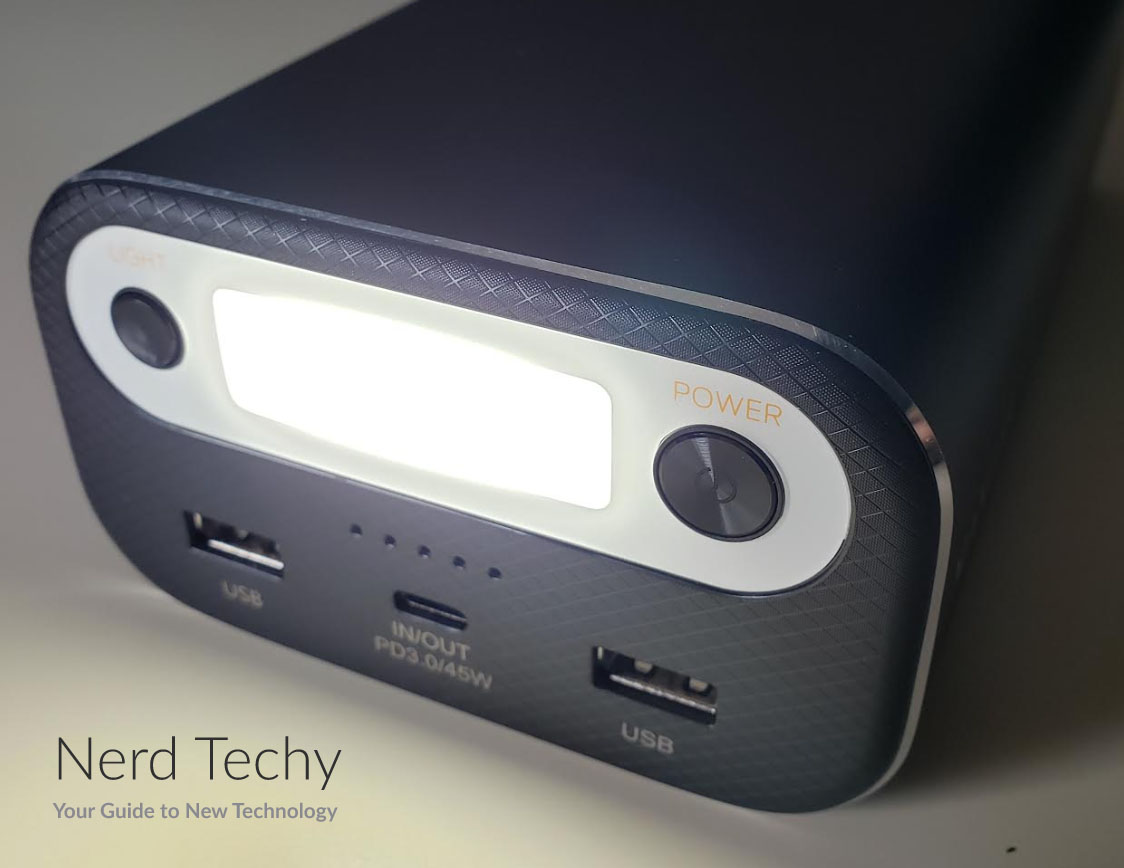 In addition to the charger itself, you also get a few accessories. First off, you get a 30-watt PD AC adapter for wall charging. Unlike other power banks, you don't need to buy accessories just to charge your battery. You also get a USB Type-C cable. Primarily, this is used in conjunction with the AC adapter to charge the AC10. However, it can also be used to charge your devices if you lost another cable. Finally, you get a lightweight nylon carrying bag. This bag isn't designed to be crush-proof, and it's not waterproof. But it's good enough to keep your charger and accessories together when you're packing. All of this is protected by a 12-month manufacturer's warranty, so you don't have to worry about manufacturing defects.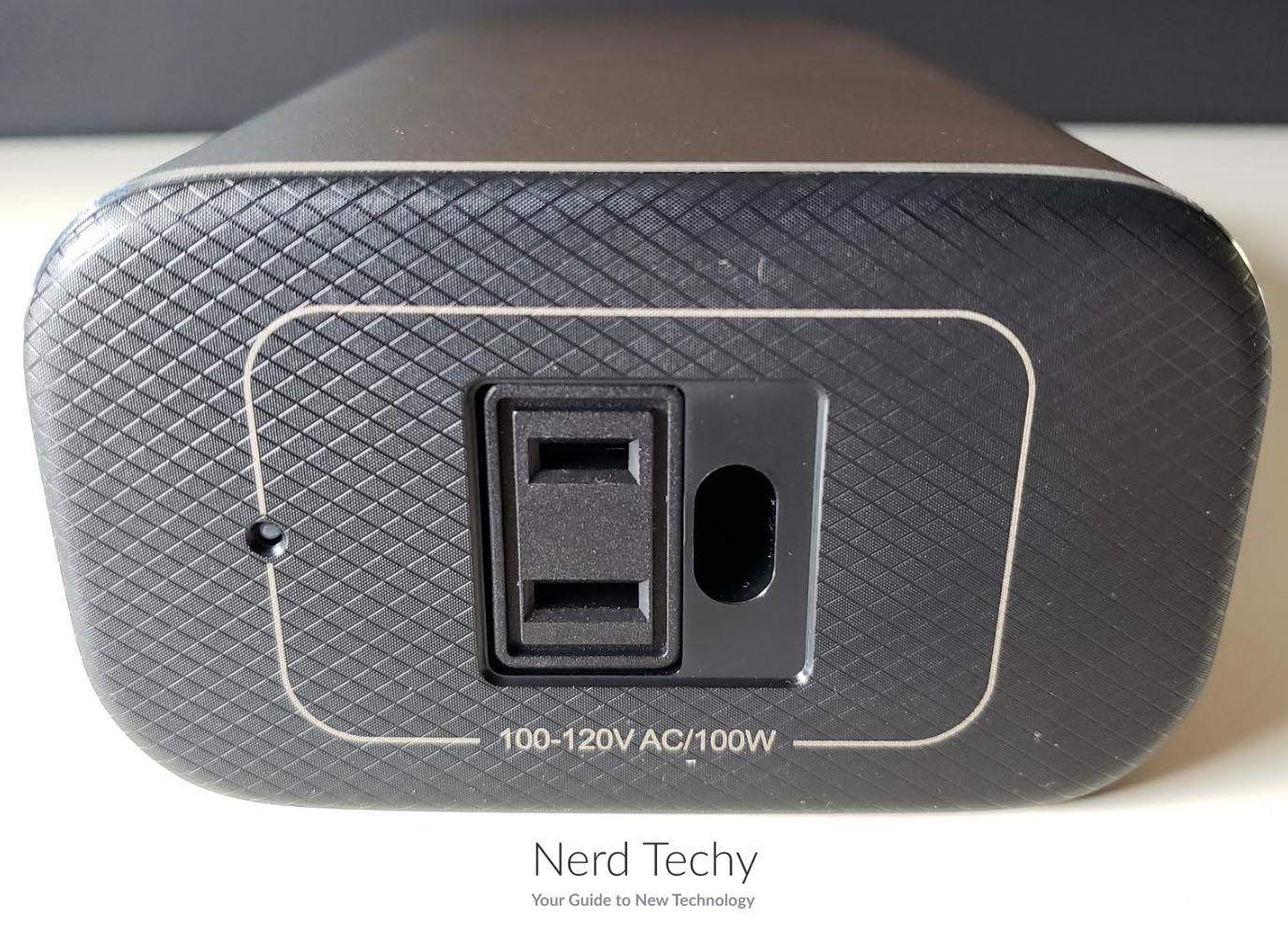 With all of that being said, the BluettiMAXOAK AC10 is definitely larger than most power banks. This is necessary, since it offers so many features. But suppose you need a smaller unit? In that case, consider the RAVPower PD Pioneer 20000mAh 80W Power House. It's significantly smaller, but it has a correspondingly smaller capacity, and no AC charger.
Battery Performance and Capacity
So, we've established that the Bluetti MAXOAK AC10 is built like a brick house. But what's on the inside? How well does it perform when you actually plug something into it? To begin with, let's look at the battery. It has an impressive capacity of 26,756mAh. This is enough to recharge just about any laptop that money can buy. It's also enough to recharge any cell phone several times. If you're looking for maximum capacity from your power bank, it's hard to do better. And if you do get more capacity, you can forget about flying with your power bank.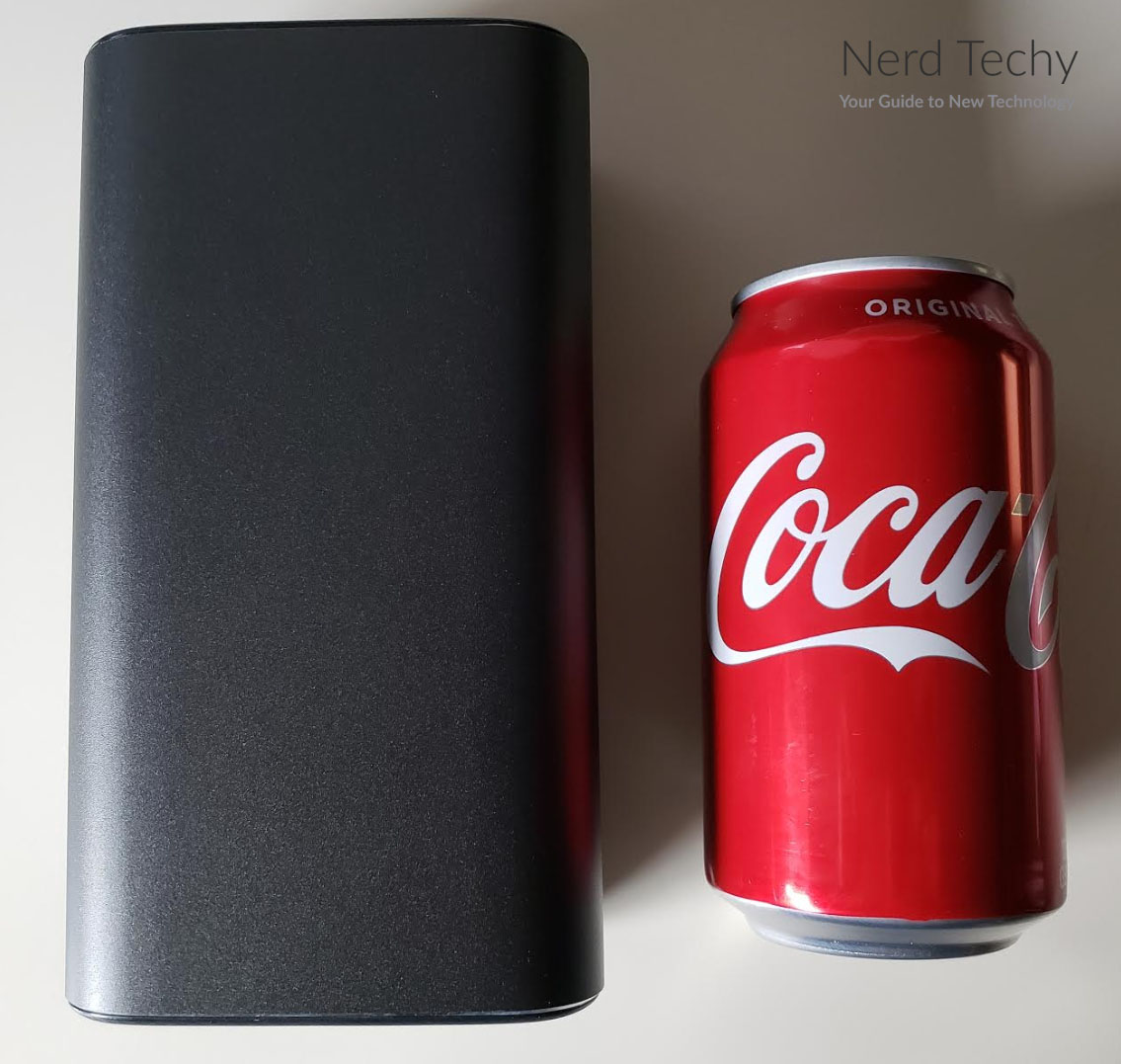 The battery itself is an automotive-quality battery cell. This allows for more durability and charge/discharge cycles than most portable power banks. You can charge up to four devices simultaneously, with up to 100 watts of total output. The two USB Type-A ports feature a normal, 15-watt power output. The center USB Type-C port is a PD port, and provides up to 45 watts of total output. The AC outlet can output at a full 100 watts. Keep in mind that this is the maximum for the entire power bank. If you're charging multiple devices, your wattage on the AC port is going to drop. Still, this is more functionality than you'll get from most portable power banks.
As we mentioned, the Bluetti MAXOAK AC10 charges via a 30-watt wall adapter. Assuming the battery is totally dead, you can recharge to 100 percent in only four hours. You can also recharge from a car power outlet. However, you'll need to buy a car power inverter in order for this to work. The AC10 also allows for pass-through charging, which means you can charge it while it's in operation. Keep in mind, though, that this will occupy the USB Type-C PD port. Your charging wattage is also limited to 30 watts. So if you're running a laptop while you charge, the battery level will still slowly drop. But if you're only charging a cell phone, or even two cell phones, this won't be an issue.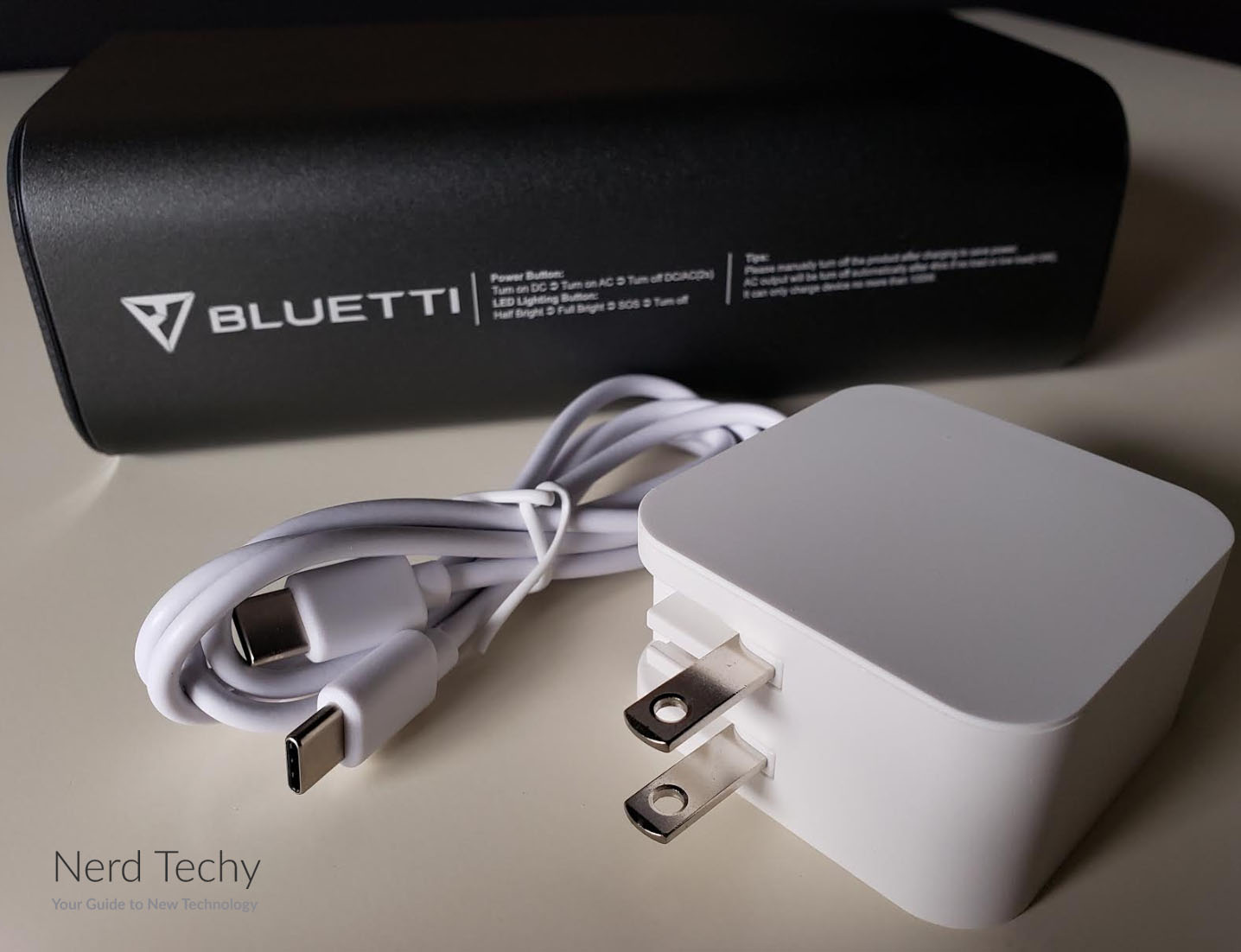 Use code "bluetti10" for 23% off when you order from Amazon
Compatibility
So, what can a power bank with this kind of capacity accomplish? Let's start with the AC outlet, since that's the AC10's biggest feature. It's a great choice for laptops, due to the large capacity. With 100 watts of output, you can even charge a MacBook Pro 16" while you're using it. In total, you can charge a MacBook Air twice, a MacBook 12" twice, or a MacBook Pro 15" once. Even then, you're going to have some battery reserve left over for your smartphone. Moreover, you can charge a wider variety of laptops than you can with most other portable chargers. Because you're not limited to a USB Type-C output, you can even charge a laptop with a barrel-style adapter.
In addition to laptops, the AC10 can be used to charge other AC devices. For instance, many drones won't accept a USB charger. No worries. As long as the required wattage is 100 watts or less, your drone will charge just fine. This is the case for pretty much every drone that money can buy.

No portable power bank would be complete without the ability to charge your smartphone. The PD USB Type-C port can be used for charging most modern smartphones. You can charge an iPhone X or Samsung Galaxy S8 in less than an hour. And with the large battery capacity, you can charge your iPhone X nine times. If you need to charge other devices, you can plug them into the USB Type-A ports. These are simply standard USB ports, with a total power of 15 watts. They're not absurdly fast, but they'll get the job done if you have multiple devices.
If you just need to charge a USB Type-C smartphone, you might want to choose a smaller power bank. For instance, the iWALK Link Me 4 is a solid choice. It can charge a modern smartphone about 1 ½ times, and it attaches directly to your phone.
Final Verdict
So, is the Bluetti MAXOAK AC10 Portable Charger worth your hard-earned money? If you need an extra-powerful charger, absolutely! With its 26,756mAh capacity, it has enough juice to recharge even the most powerful laptop. And with up to 100 watts of power output, it can keep up with even the MacBook Pro 16". All in all, that's not too shabby. And considering the fact that you also get three USB ports, you can charge just about anything. From smartphones to drones, the AC10 will provide for all of your charging needs.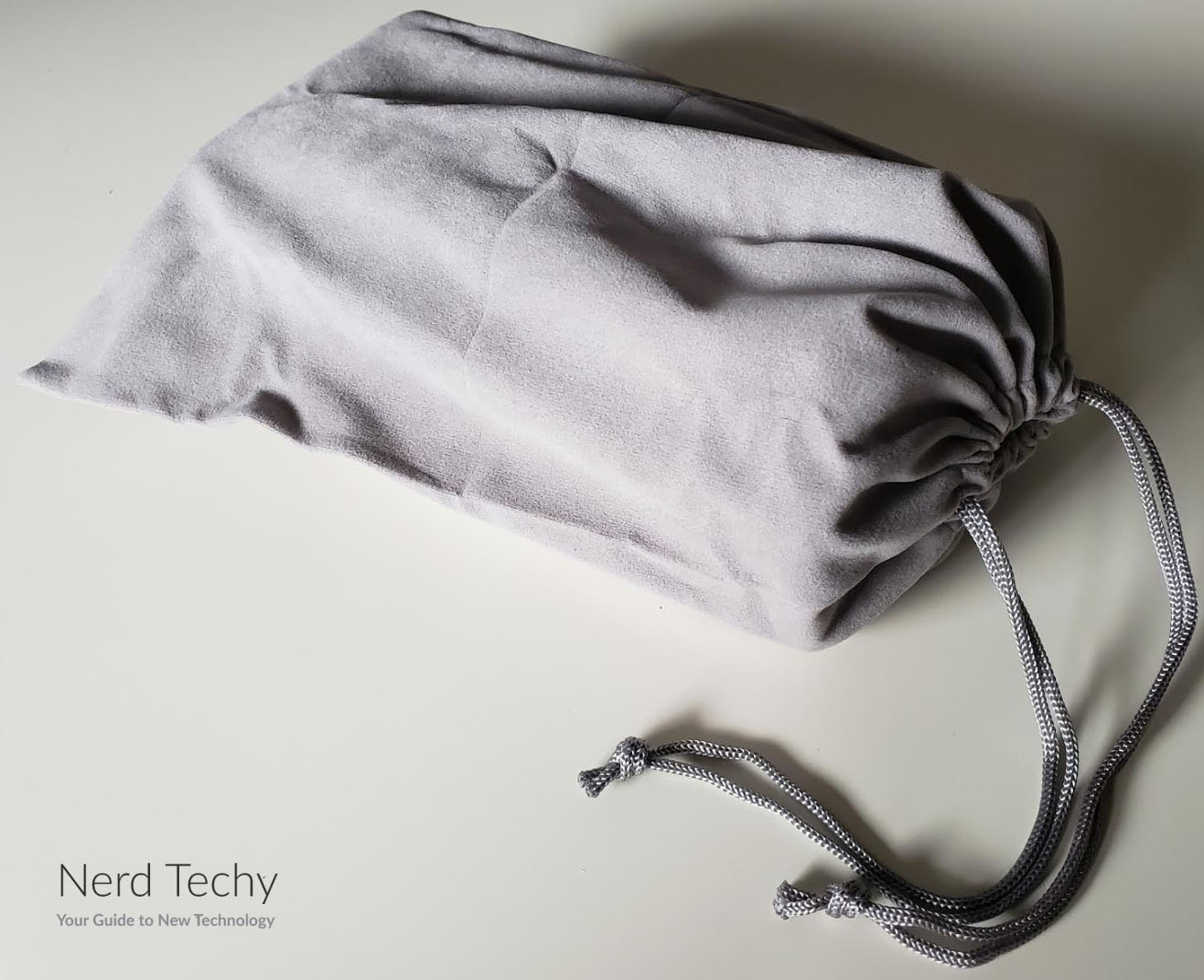 The one major downside of the AC10 is its size. It's a bit larger than most other chargers, but that comes with the territory. That said, it's exceptionally durable. You won't find many portable power banks with this degree of ruggedness. The aluminum case is also attractive, and allows for plenty of heat dissipation. Beyond that, you also get the built-in flashlight. This isn't the primary purpose of a power bank, but it's still a nice touch. Finally, even with this capacity, MAXOAK has managed to make the AC10 flight-approved. If you need to travel with your power bank, the AC10 is a solid choice.
Meet Derek, "TechGuru," a 34-year-old technology enthusiast with a deep passion for tech innovations. With extensive experience, he specializes in gaming hardware and software, and has expertise in gadgets, custom PCs, and audio.
Besides writing about tech and reviewing new products, Derek enjoys traveling, hiking, and photography. Committed to keeping up with the latest industry trends, he aims to guide readers in making informed tech decisions.