For a number of years, TV-sized monitors were impractical. But technology moves fast. These days, you can find enormous monitors that perform on par with smaller ones. You can even find a few with price tags that won't bring you to tears. Whether you're looking for productivity above all else, gaming features, or a different range of color space, people have more options than ever before.
Philips 499P9H 49″ SuperWide Curved Monitor
When you're not using an ultrawide monitor, the largest screens tend to be about 27" in total. Why? It mostly has to do with price. Without going ultrawide, and without having a pretty hefty budget to play with, 27" panels are the sweet spot.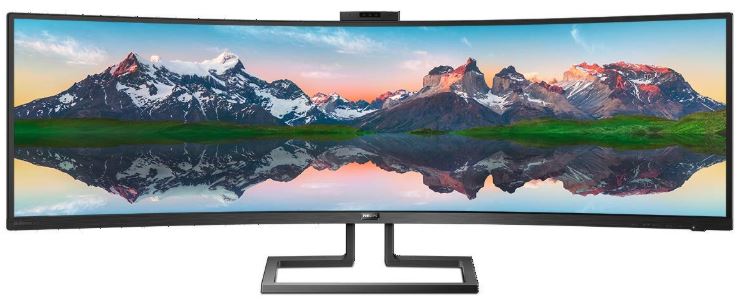 But what happens when you want to replace a pair of 27" panels with a single monitor? The Philips 499P9H answers that question with their SuperWide Curved Monitor. Though this monitor is obviously beautiful enough to be used in a wide variety of different applications, it was actually constructed as a business class monitor for professionals.
As such, it supports a variety of both pretty and practical features. For instance, it offers HDR400 support for inky shadows and dazzling color, which is fantastic for helping to bring images to life. But looking good is only part of the picture, especially when you're constructing enterprise quality equipment like the Philips 499P9H.

Build & Design
Aesthetically speaking, the 499P9H is a bit bland. That's probably because this monitor was intended to be used in a professional capacity. You'll notice the base, rear cover, and front bezel are all constructed from a highly standard black chassis. Though the black chassis was texturized rather than made into a standard glossy design, so it does have a modestly distinct appearance.
Clearly this panel is relatively huge. However, it only weighs about 33lbs with the stand, or 24lbs without. Considering its size, it actually feels pretty light. You still want to use two people to carry it around, but only because the monitor is so large that it's awkward and unwieldy when you're trying to hold it.
True to its name, this SuperWide monitor is exceptionally wide. Because the 49" body was essentially made to replace a pair of 27" monitors. How can that be? If you start doing some napkin math, it doesn't look like two 27" monitors would equal 49"; but remember these measurements are taken diagonally. When measured straight across, a 27" monitor is closer to 24". Add two together, and you end up with the 499P9H.
And then there's the curvature. The 1800R curve looks pretty steep when viewed from above, but it's actually rather gentle when viewed head on. Curvature is something that people are divided about. Some people love it, other people are indifferent. Whenever you're sitting within ordinary viewing distances, it's hard to deny that it's great for an engaging visual experience.
The only place you really don't want to use curved panels is when you're going to be using a wall-mounted monitor for the sake of displaying static menus. For instance, if you wanted to hang a monitor above staff members at a front desk. In those circumstances, you'd be better off with something flat. You probably wouldn't pick a monitor like the Philips 499P9H for that kind of application.
The Monitor Stand
Monitors over the $500 price point tend to have much better stands. The Philips 499P9H 49" SuperWide Curved Monitor is no exception. Rather than sitting on two extended arms, like an ordinary stand, this monitor stand uses a rather unique square design. From an aesthetic standpoint, it's pretty stylish.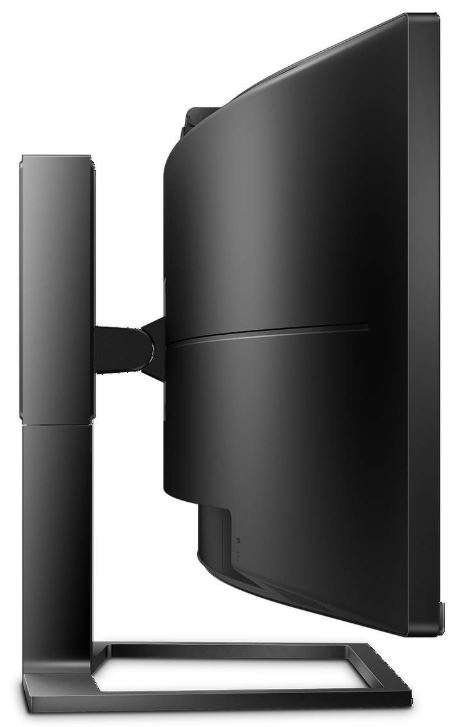 From a practical standpoint, it doesn't take up much desk space. And it provides much better adjustability than you'll find on most stands. In fact, there's just over five inches of height adjustment, as well as left-to-right swiveling 20° in either direction. The tilt is similarly powerful, moving 15° in either direction. Even if the tilt and swivel were much weaker, the fact this is a VA panel helps keep your effective viewing angles right where you need them.
Audio Quality
Similar to most panels in this price range, there are a pair of 5W speakers on the backside of this monitor, which totals to 10W of audio output. Surprisingly, these are some of the better speakers you'll ever find on a computer monitor. And their superiority mostly has to do with the size of this panel. Bigger screens provide more physical building space, which means more opportunities for shoving stereo equipment inside unobtrusively.
However, these speakers still encounter many of the same fundamental flaws as other monitor speakers. For instance, the sound really isn't getting pushed in the right direction. You're better off replacing them if possible, but used in a pinch, it's nice to have them onboard. They certainly outshine the 3W-5W speaker setups you see so commonly inside 27" panels.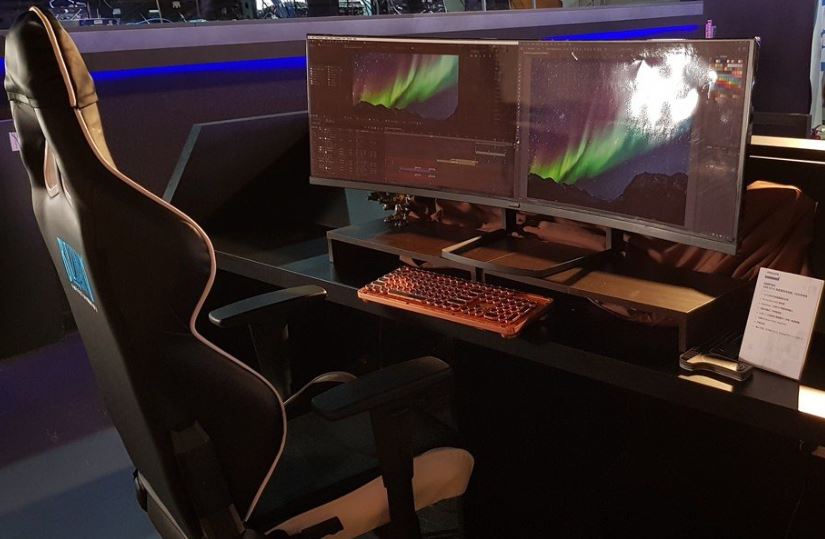 Webcam & Microphone
Part of the business orientation of this monitor is the hidden pop-up webcam built-in to chassis. It emerges from the topside of the unit, revealing itself once you push down lightly, and then hiding itself once you push it again. Pretty cool design for people concerned about privacy.
The cam itself is pretty good, too. Because even though it's an ordinary 1080p webcam, it provides thorough support for biometric logins, including IR biometrics. The camera also has a pretty decent microphone, though the mic doesn't incorporate any special noise cancelling technologies.
Typically, built-in webcams can be pretty hit or miss. This one is certainly above average. But if you were looking for an improvement, it would be easy to make one with all your port options
Connections & Ports
With respect to ports, essentially all your bases are covered. Among them you'll find a DisplayPort 1.4 input, a pair of HDMI 2.0 ports, and three Type-A USB 3.0 ports. Moving a bit further in, you'll find a headphone jack, and a single USB-C port. Because that USB-C port is using 3.1 Gen2 technologies, it's great for docking purposes.

Additionally, that special USB-C port is capable of pushing 65W, which is enough for operating and charging most laptops. You'll probably encounter problems if you're trying to operate laptops 16" or larger because they tend to draw close to 85W. But smaller machines should provide no barrier to entry.
Speaking of connections and ports, another part of the business alignment of this panel is the included KVM switch. Pretty handy for people who are using several PCs alongside a single monitor, and it's easy to take advantage of those kind of setups when you're using a screen this large. Same story with the included GbE controller, which makes setup of your network a little bit simpler.
Video Quality
Ultrawide screens almost always look great. The 499P9H is an amazingly wide 49" display, but how does it look? For starters, you have to think about how this panel is running a 32:9 aspect ratio. Pretty unusual. That ratio is matched with an equally unusual 5120 x 1440-pixel resolution.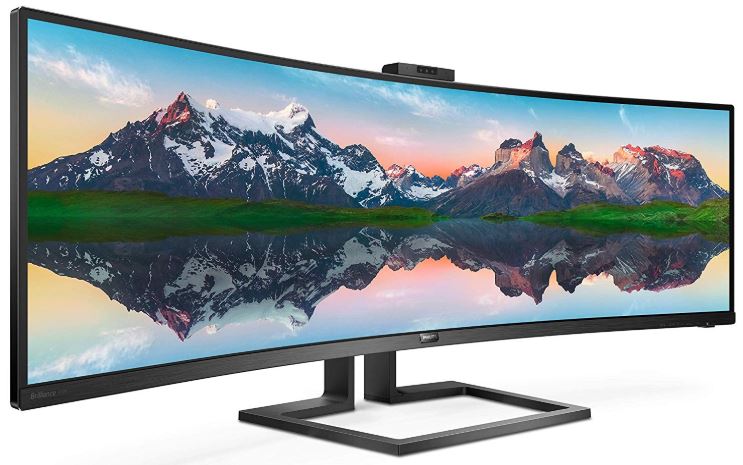 And as a result of all that stretching on the screen, you end up with pixel density of about 109ppi. That's comparable to the presentation of a 25" monitor running 1080p, with a viewing distance of about 2 feet. Nothing short of pristine when it comes to clarity, and things look just as bright when turning to colors.
Because this monitor was built around a VA panel, and provides the viewing angles typical of VA panels. It also provides many of the other advantages pertaining to its VA alignment. For instance, brightness runs out to an impressive 450nits, which is partially responsible for the stunning 3000:1 contrast ratio.
And though this is only an 8-bit panel, it does support a slightly expanded color gamut. In fact, it covers a total of 121% of the sRGB color space, or about 91% of Adobe color spaces, which helps it achieve DisplayHDR400 certification. Admittedly, that's one of the lower HDR certifications. But it's still a full step above panels with a standard color space.
Gaming Considerations
This panel can't get beyond its native 60Hz refresh rate, which isn't really much of an issue. This panel wasn't made for gaming, after all. Plus, the 60Hz refresh rate is still palatable for console gamers who want to treat this display like a large TV. It's only PC gamers who would really turn up their noses at the idea of playing at 60Hz.
Interestingly, the Philips 499P9H supports AMD's FreeSync feature. If you're not familiar, it lets you keep your framerate in lock-step with the refresh rate of the panel. And in the near future, FreeSync is supposed to start working with G-Sync enabled cards for people who aren't using AMD technology.
Other Considerations
It should almost go without saying for a screen of this size, but the Philips 499P9H includes a couple of picture-in-picture modes. They allow you to chop the display into several separate sections, so it can be effectively used by several different PCs, or provide several separate workspaces for a single PC.
Though this isn't exactly a designer monitor made for people who work with colors, it does ship with factory color calibration. Philips color calibration is done within professional grades of accuracy, so the 499P9H already looks its best from the moment you flip it on.
This monitor includes support for standard VESA mounting. It includes an HDMI cable, DP cable, USB-A to B cable, USB-C to C cable, USB-C to A cable, and a power cable. The power brick was built inside of the screen, which partially explains the weight of the monitor.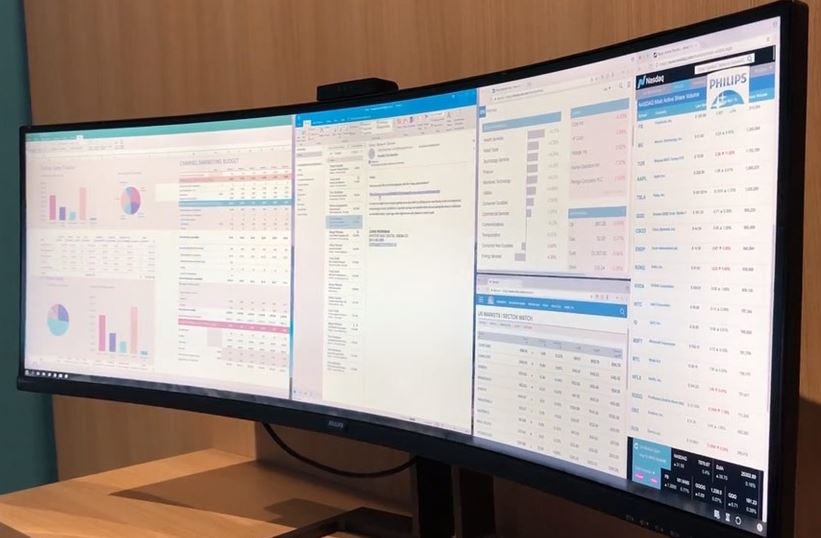 Who Should Choose the Philips 499P9H 49″ SuperWide Curved Monitor?
The Philips 499P9H has a lot to offer. When it comes to expanded color space, this monitor isn't quite at the professional level. But having a greater-than-average color space is easy to appreciate. Things look not just clear, but vivid. Having that HDR400 certification is the kind of feature you have a hard time living without after you've become familiar with seeing it.
What really distinguishes this screen is the business-class features. Things like the pop-up webcam and KVM switch. It might be hard to call the 499P9H a value-oriented monitor, but if you can see yourself making use of those features, it's easy to get a lot of value out of a monitor like this. It has almost everything, right down to adaptive sync features. If you're looking to replace a pair of 27" screens with a single display, look no further than the 499P9H.