It's a balancing act. Portability, battery life, comfort, audio quality, connectivity, and even style. You might want a dozen different things from Bluetooth headphones. Finding the right pair is about striking a balance between all your various needs.
When you value battery life, comfort, and audio quality above all else, then you almost certainly want over ear headphones. Compared to in-ear and on-ear headphones, they tend to provide far superior comfort, especially over longer periods of time. They even sound better because they can be made with full-sized audio drivers, not tiny drivers you've got to shove inside your ear.
iTeknic Over Ear Bluetooth Headphones
However, on that lengthy list of strengths, you don't normally see noise isolation. Because in order to get noise isolation from over-ear headphones, you typically need a lot of squeezing force to help build a physical barrier between your ears and external noise. Squeezing your head isn't very comfortable, which is why you don't see many headsets built that way.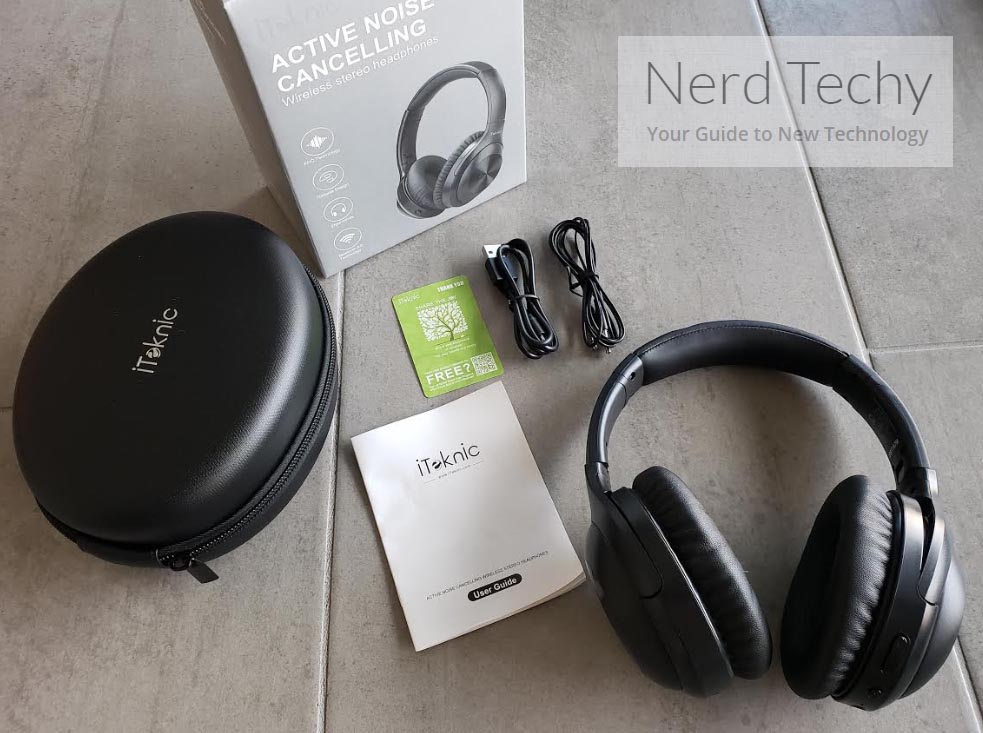 Which brings us to iTeknic Over Ear Bluetooth Headphones. While ANC technology has been around for about half a decade already, it's taken a while for the price of this technology to drop into a reasonable range. It's also taken a while for the quality to go up, as the earliest generations of ANC headphones that were created by generic brands like iTeknic, with few exceptions, were pretty grotesque.
But with good ANC, is it possible to add noise isolation to the long list of things that over ear headphones are great at providing? That's really the question these headphones set out to answer for people who are shopping in the $50 range. The difference between iTeknic Over Ear Bluetooth Headphones and a random $25 pair of headphones is almost entirely the result of ANC.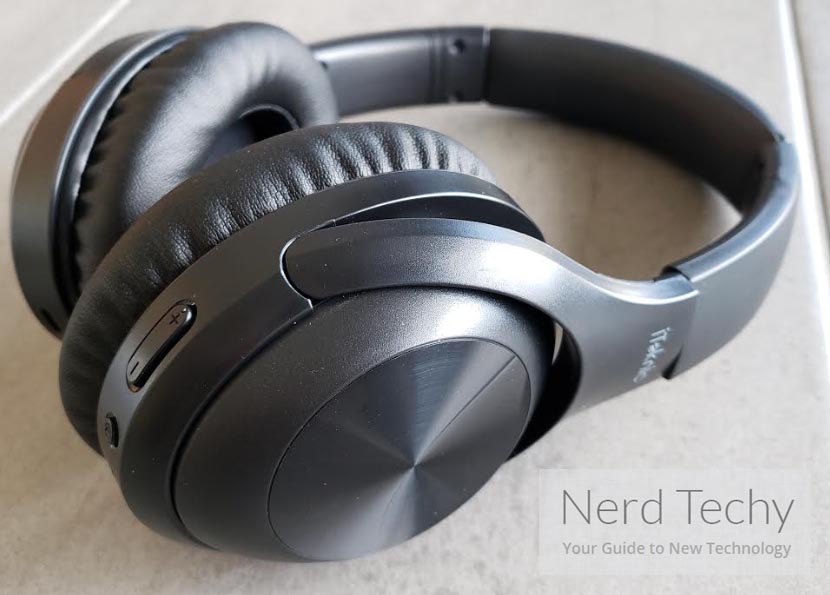 Build & Design
From a style perspective, iTeknic Bluetooth headphones look professional, if a bit simple. It's a little bit like iTeknic headphones are trying to copy someone else's style. But even though they have a vacant style, there's nothing that feels generic or cheap about their design.
In fact, the foldable headband is highly respectable. You can bend and twist these headphones in almost any direction, and they'll accommodate the motion with ease. Pretty useful for throwing your headphones into a bag and not having to worry about them being destroyed. It seems like iTeknic spent all their time trying to create a functional headset, and then didn't spend any of their time trying to figure out how to make it pretty.
But there's always a little room for complaint. Sadly, these headphones are slightly on the weighty side. Weight can create problems for people who are trying to listen with their headphones for hours on end, which is actually possible to do with these headphones due to their enormous battery capacity. But admittedly, their weightiness comes with its own advantages. You need a stronger battery if you're going to run ANC, after all.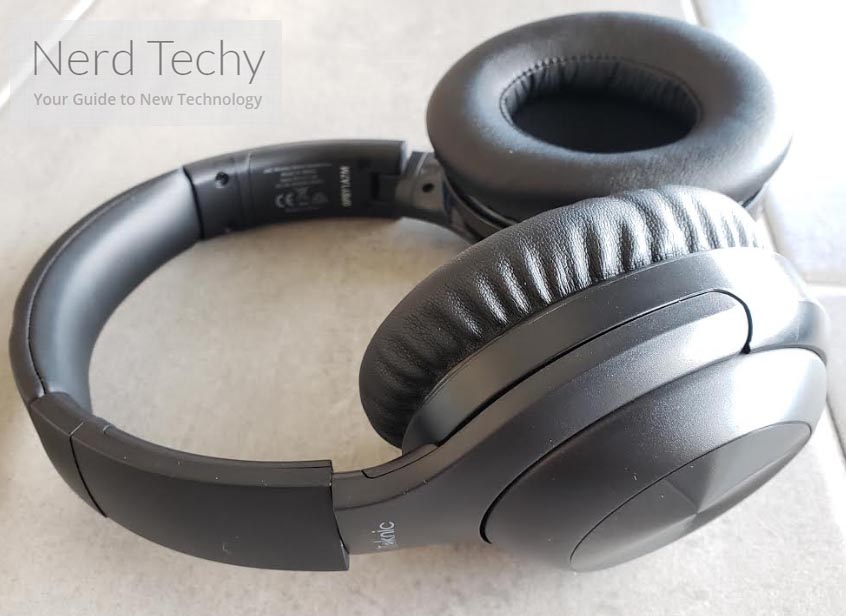 Comfort & Adjustability
Along with great adjustability, you'll find little trouble getting comfort from over-ear headphones. And these ear cups are almost fully adjustable. You can turn them in a 90° angle, which is ideal comfort, travel, and durability concerns. It even helps keep their padding pushed firmly against the sides of your head.
Speaking of padding, the ear cups are covered in a soft synthetic fabric. Heat can sometimes be a problem for over-ear headphones because they tend to trap larger quantities of air, and they cover more skin. But this fabric was made to be breathable for lengthy listening sessions, so heat won't become an issue.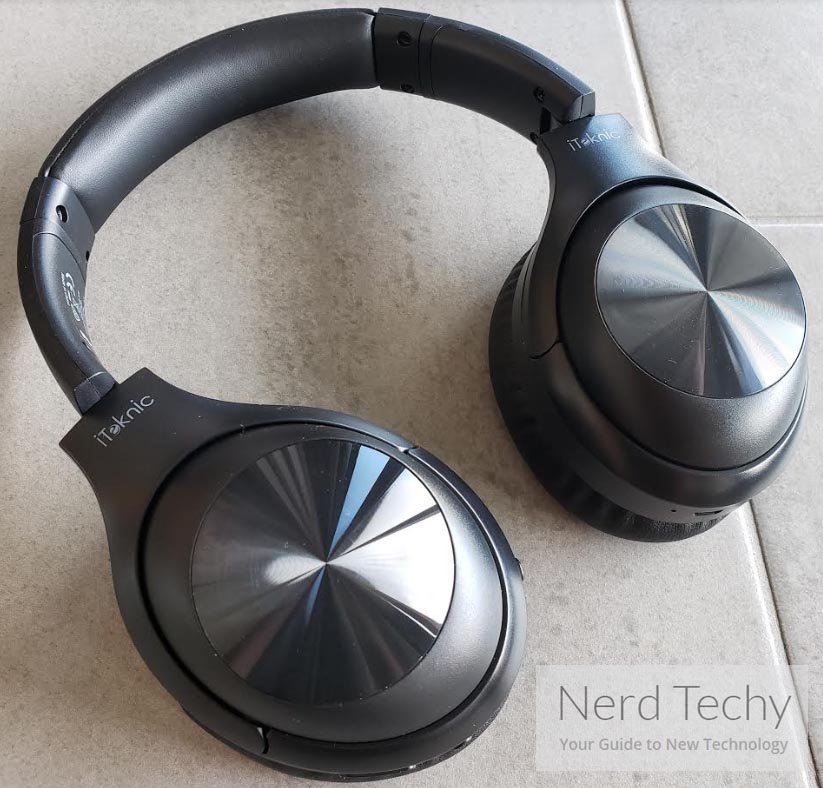 Active Noise Cancelling (ANC)
As their most distinguishing feature, iTeknic Over Ear Bluetooth Headphones make use of active noise canceling technology. If you're not familiar, it basically works by detecting the noise in your environment, and then creating sound waves in your ear canal to physically cancel-out environmental noise. Because it works by actually creating sound, running ANC requires battery life to operate. Its power consumption is about on par with running Bluetooth.
How well does it perform? Well, ANC technologies are pretty good at eliminating certain types of noise. For getting rid of bass tones, they're absolutely fantastic. If you happen to be sitting next to a roaring engine, you can rid yourself of nearly all the noise. Which is why ANC is used on many of the best aviation headsets.
But they do almost nothing for the treble range. If there's a small dog sitting next to you, and it starts unleashing a fury of shrill yapping, then you're going to hear it every noise. Fortunately, there aren't many noises in our natural environment that really strike the upper treble range that often.
When it comes to blocking out voices, you get mixed results. The intensity of voices is reduced, but not all tones are scrubbed evenly. You can't blame iTeknic for that because it's just another characteristic of the ANC technology. People sound a little bit fainter, but you can still hear them. Because you're really only removing a part of their voice, and how large that part is depends on the speaker.
Sometimes, people get headphones just for ANC. Making effective standalone ANC is actually tough. Most people seem to believe that the only brand that can do it, for the time being, is Bose. And iTeknic Over Ear Bluetooth Headphones are not an exception to this rule. But that doesn't mean the ANC underperforms. Actually, when you use the ANC while playing music, it's virtually indistinguishable from the best ANC on the market.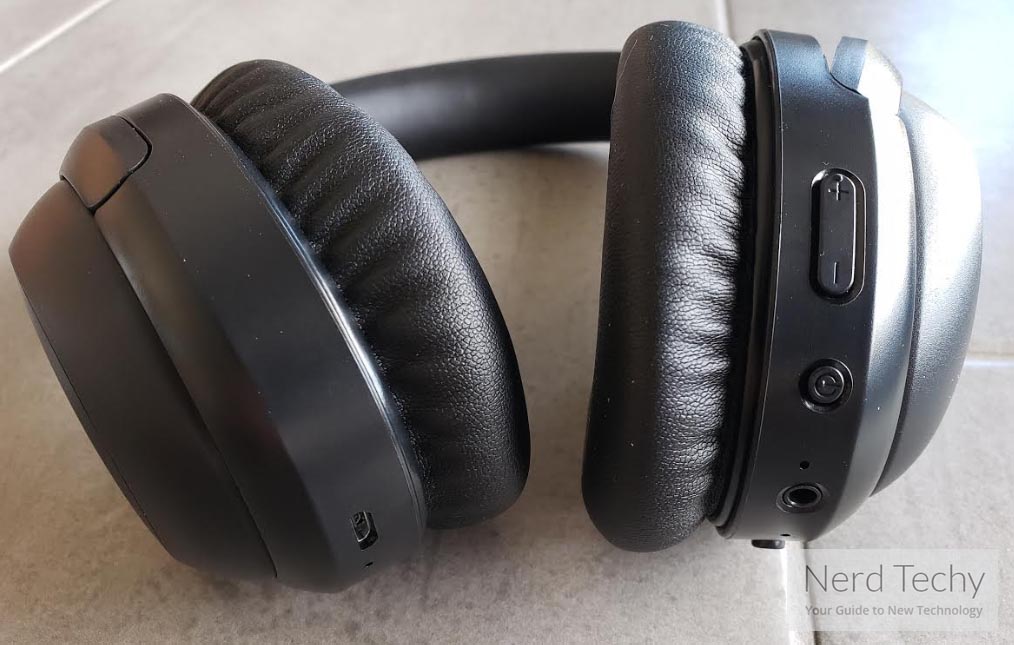 Battery Lifespan
iTeknic Over Ear Bluetooth Headphones have some pretty interesting rapid charge features, too. In about five minutes, you're able to pull nearly three hours of playtime from a charger. Even if you're using a slower USB port, your time total creeps towards eight minutes instead of five.
With a full hour spent charging, you can reach a maximum playtime of about 20 hours. However, that 20-hour estimate begins to fall towards 15-hours after you start to think about all the different variables involved here. Throw on the ANC? That's going to take 25% of your battery life and push you towards 15hrs. Raise your volume to 100% with the ANC in operation? You might see as few as 13hrs of playtime.
You can work that number back up towards 20-hours by switching to wired operation. Using the included aux cord, you can swap over to wired mode anytime you want. That means you can stop running Bluetooth, and instantly reclaim 2-3 hours of battery life. Depending on your circumstances, of course.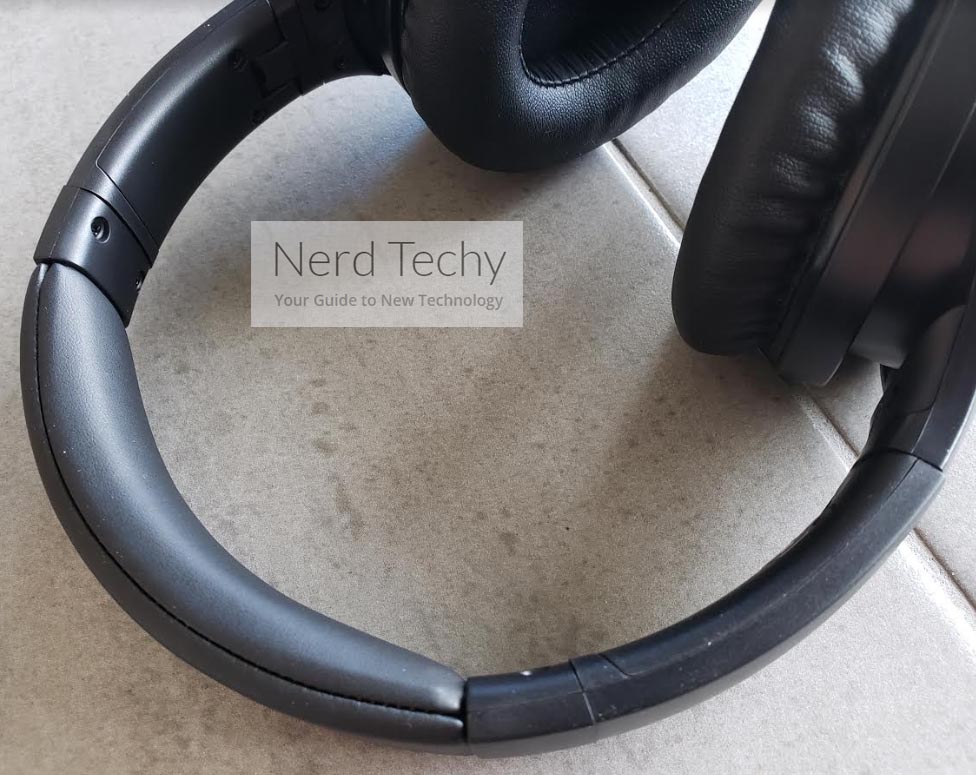 Audio Quality
Your music sounds better when you can hear it. With iTeknic Over Ear Bluetooth Headphones, you don't even have to raise your volume to drown out environmental noises. Just throw on the ANC and it all disappears.
Which leaves your ears in the capable hands of 44mm audio drivers. That's actually about average sized for over ear headphones. But combined with Bluetooth 5, for HD audio codecs, there's something enviable about this audio quality.
The soundstage isn't particularly wide, that's just a flaw inherent to any pair of headphones that cost less than a few hundred dollars. But there's a warmth and clarity to the bass you typically don't get from headphones in this modest price range. The treble and mid-tones come out sounding about average, but experientially they feel cleaner because of the ANC.
If you're not running the ANC, you'll save a ton of battery life. But unless your environment is without noise, you'll also notice a subtle drop in audio quality. That's something to keep in mind when thinking about how much battery life to expect from these headphones.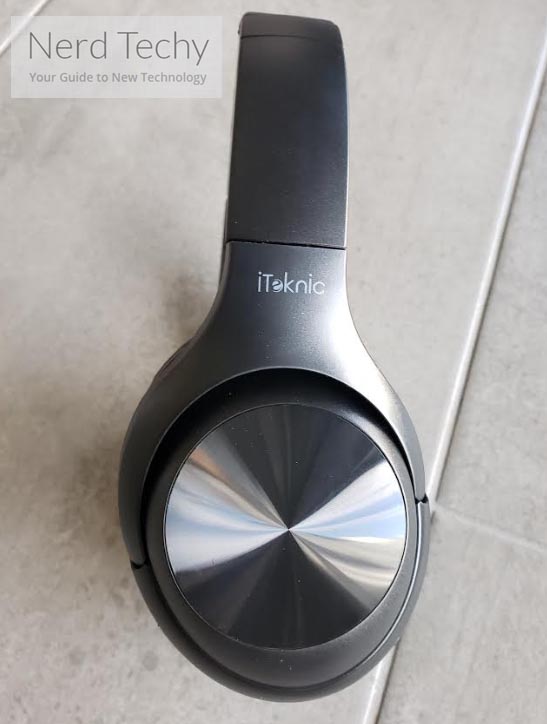 Microphone Quality
iTeknic Over Ear Bluetooth Headphones were constructed with a pretty basic Bluetooth microphone. But it does come with a few handy extras. For instance, it's supported by cVc 6.0 noise cancelling technology. That's great for calling someone without having to worry about ambient noise in your environment becoming a disturbance.
Additionally, these headphones incorporate a number of basic hands-free calling features. Most of them are universal features, but because iTeknic is a lesser known brand, it's probably worth mentioning that these features do exist. For instance, you can enjoy music without having to worry about missed calls. When a call is over, your music will pick up right where it left off.
Other Considerations
One more thing to note about the ANC. It's capable of working while these headphones are in either wired or wireless mode. That's usually not the case with headphones like this, and this isn't a trivial detail. Because ANC is a power-hungry feature that can really wear down your battery lifespan, so it only makes sense to want to have the option to use a wired connection.
This kit includes the headphones, a nylon carrying case, a 3.5mm aux cable, and a USB to micro USB charging cable. It includes a user guide, but if you've ever owned a device with a built-in battery, you won't find anything very insightful in the guide. iTeknic also includes a 12-month warranty, and you can double the length of the warranty if you go register your purchase with iTeknic.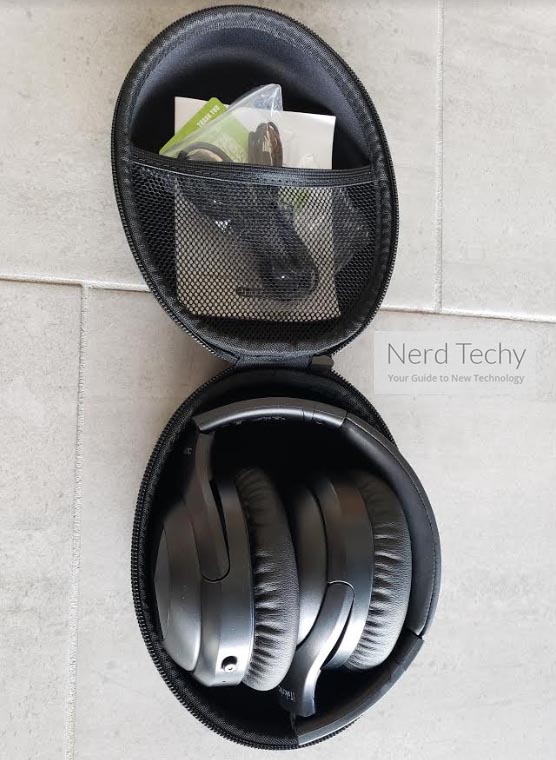 Who Should Choose iTeknic Over Ear Bluetooth Headphones?
The iTeknic Over Ear Bluetooth Headphones are good way for someone to try out ANC. Some people fall in love with it, and can never use another pair of headphones without it. Other people find it a little off-putting. These headphones are an inexpensive way to find out how you feel about it.
Apart from ANC, there's plenty to like about these headphones. They've got an excellent rapid charge feature, so you can get a few hours' worth of playtime in only a couple of minutes. And they shine because of technologies like ANC and CVC 6.0 noise cancelling can work together for better audio presentation.
If you want standalone ANC, you have to be willing to spend two or three times as much. But for otherwise impressive over ear headphones on a tight budget, these are certainly worth a look.
Use the 20% off discount code for Amazon US: U2B97NA6 or Amazon UK: HEADFONE20OF.