For a couple of years, the best choice for a low cost 4K camera was the GoPro. But technology can move fast. An increasing number of GoPro-type competitors are emerging from the woodwork. For people who know what kind of features they're looking to find, these cheaper alternatives can be an even more impressive value.
APEMAN Trawo Action Camera
Among those many new competitors, one of the latest is the APEMAN Trawo A100 Action Camera. The body of this camera actually resembles a GoPro, and in more than a trivial way. The specs are pretty similar, too. Which is what enables the Trawo to capture some pretty impressive 4K content in an array of versatile conditions.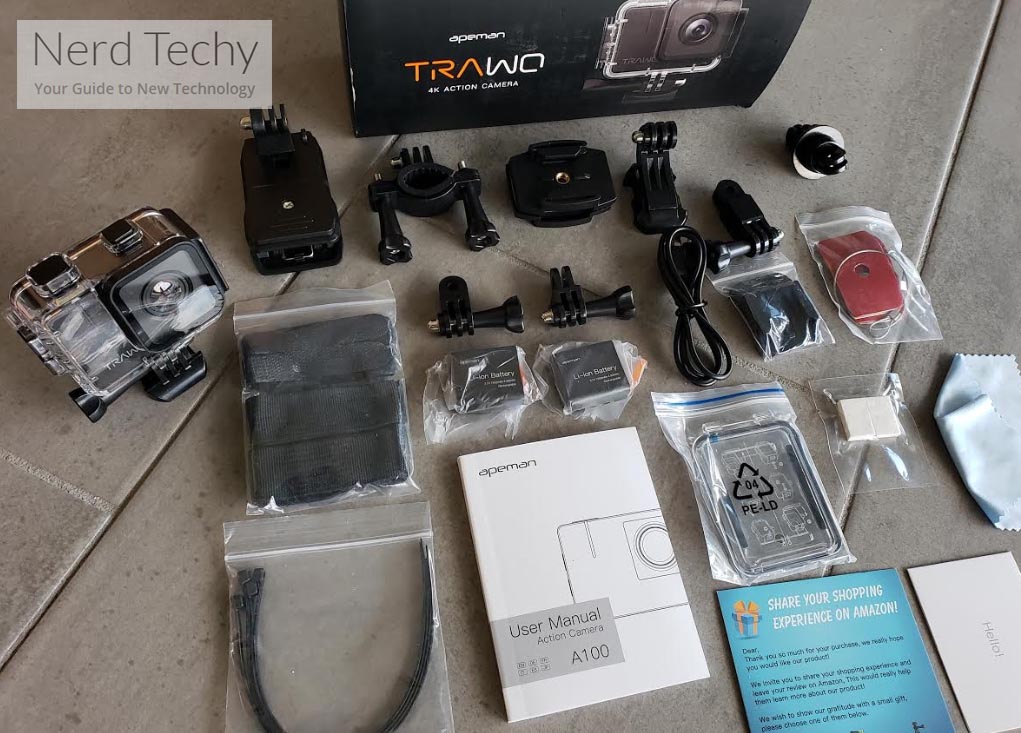 Another thing that helps distinguish the APEMAN Trawo is all of the included accessories. It includes a waterproof case, rear case cover, micro USB cable, microfiber cleaning cloth, wire strap, double sided tape, and some Velcro straps. It also includes seven case mounts, and three base mounts with standard ¼" 20mm female sockets.
Those mounts are pretty versatile, too. For instance, you could shove the APEMAN Trawo into the role of a dash cam with ease. Though when you try that, you'll find a few reasons why this camera wasn't made to be used as a dash cam. Most of those advantages have to do with performance in the sun. But whether you're inside a car or under the sea, Trawo can perform pretty well.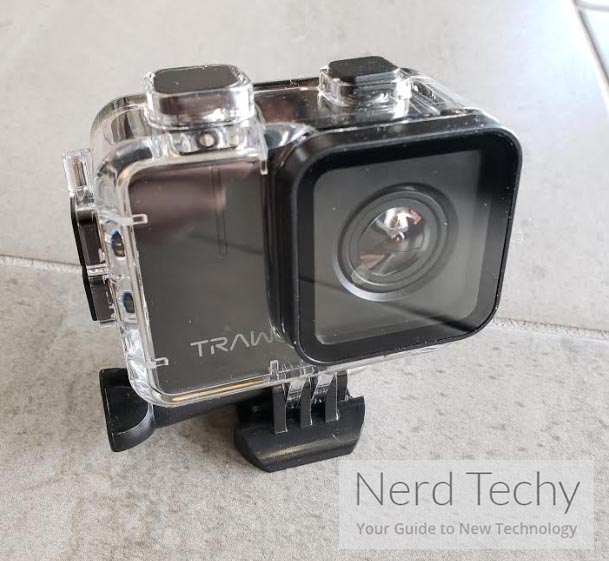 Build & Design
Is this a waterproof camera? Sort of. In order to go underwater, you've got to put on the waterproof housing first. The good news is that housing is included. The bad news? Having to take the extra step of putting it on is a bit tedious.
Worse still, once it's on, the waterproofing armor also obliterates audio quality. That's hard to blame on APEMAN, but it does mean that you'll want to think about running a second microphone if you're interested in higher resolution audio.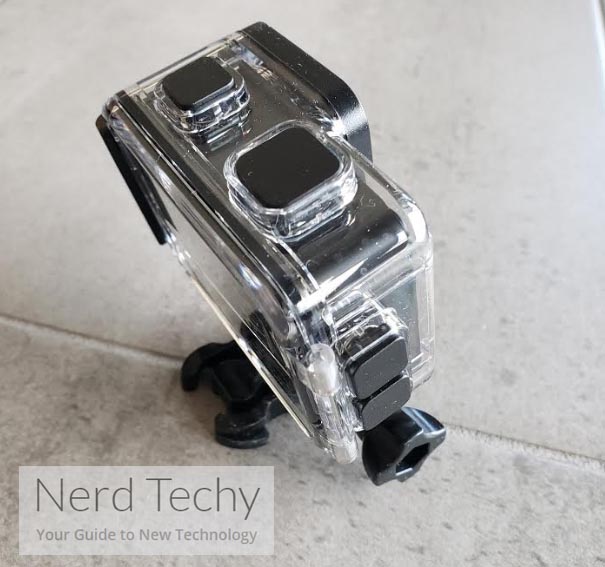 The camera measures about 2.25 x 1.75 x 1 inches. Once inside the waterproof casing, it extends out towards 3 x 2.5 x 1.25 inches. Still fairly small and certainly hand-sized, which makes it easy to shove into a pocket or bag. It certainly has similar portability when compared to a smartphone.
The onboard LCD looks crystal clear, but there is one problem. Its size is limited by the relatively small proportions of the camera itself. As such, the display measures about 1.5 x 1.25 inches. Pretty big when compared to the rest of the camera. It basically takes up the entire backside of the device. But pretty small when looked at on a more objective way.
Fortunately, the relatively small size of the display is less of an egregious problem than it might otherwise be. Because unlike many types of similar 4K capture devices, you're not really going to be using this display as a touch interface.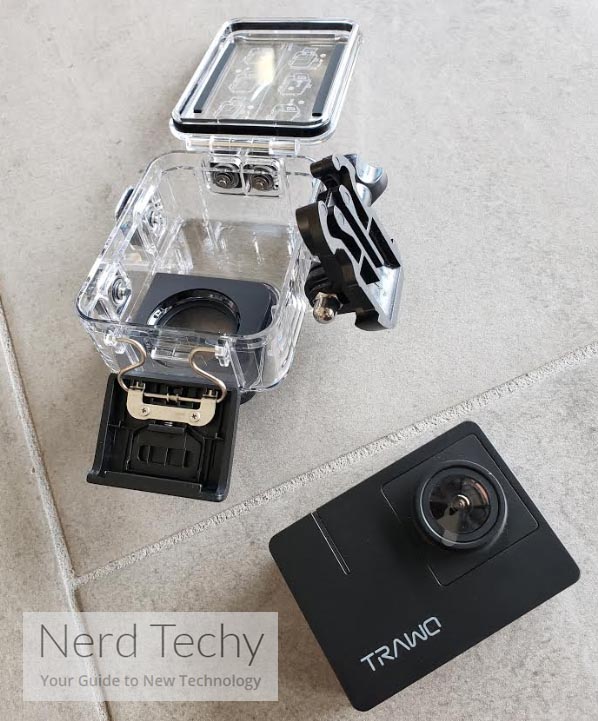 Controls and Input Ports
For actually using the APEMAN Trawo A100, controls are positioned along the side of the unit. While the camera is pointed forward, the button in the position of the shutter button actually has two functions.
Adjacent to that, there is a power button, and a button that lets you move between the various settings and modes. The recording button is actually matched alongside the shutter button. This layout can take some getting used to. It feels a little unnatural at first.
Along the left portion of the camera, you'll find a removable cover. If you pop it off, beneath there is a micro SD card slot, micro USB port, and micro HDMI port. You need to keep this sealed up in the interests of basic waterproofing and protection. Fortunately, the port covering they used is pretty amenable to being moved around. It's not a hassle to remove.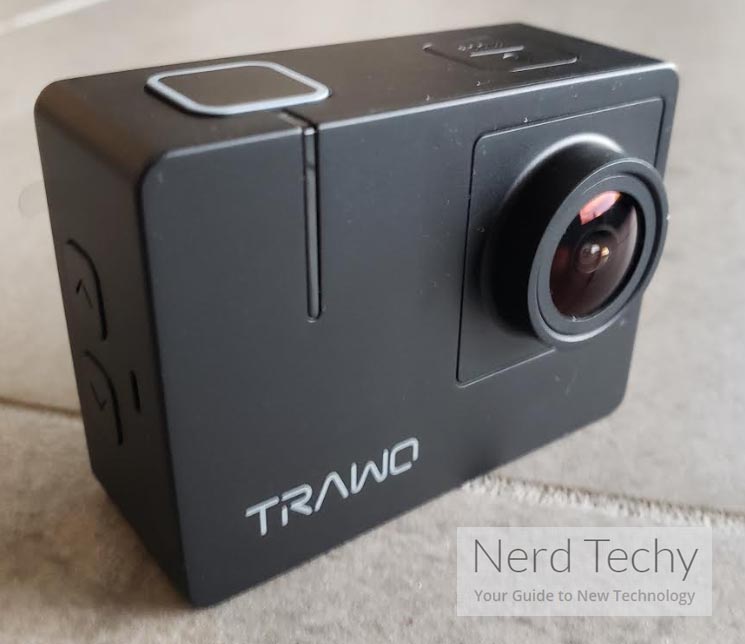 The waterproofing case includes some water-sealed buttons, which allow you to operate the camera while you're using the device underwater. Trawo is waterproof to a depth of 40 meters, which is about 130 feet. People who want to go deeper than 130ft will need cameras made to endure incredible crushing pressures.
Video Capture
How does the APEMAN Trawo A100 Manage to do so well in such versatile conditions? Part of the reason why is a seven-layer lens. Along with UV protection and an infrared filter, this lens is fantastic at helping filter out unwanted sources of light. It's great for reducing unwanted color dispersion, and even for correcting color issues. The result is a more true-to-life picture of the world.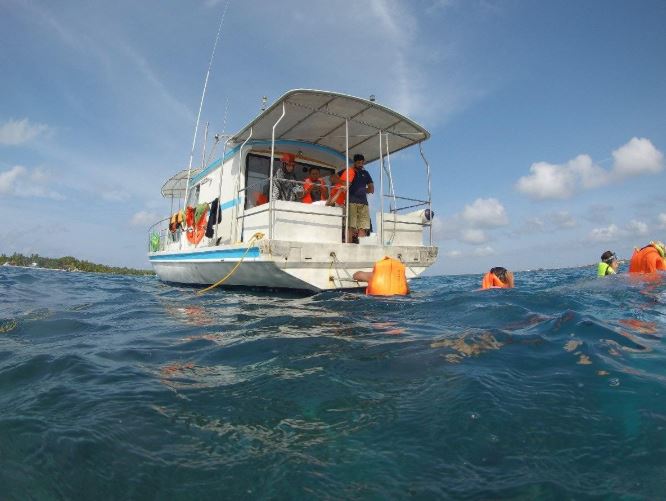 The Trawo shoots with a Hisilicon Hi3559 chip, which has been paired with an equally impressive Panasonic MN32120 sensor. Together, that hardware is capable of recording 4K content at 30 frames per second. Pretty respectable. Photos look great, too. That's largely on account of the 20-megapixel sensor behind this camera, allowing you to capture moments with incredibly crisp details intact.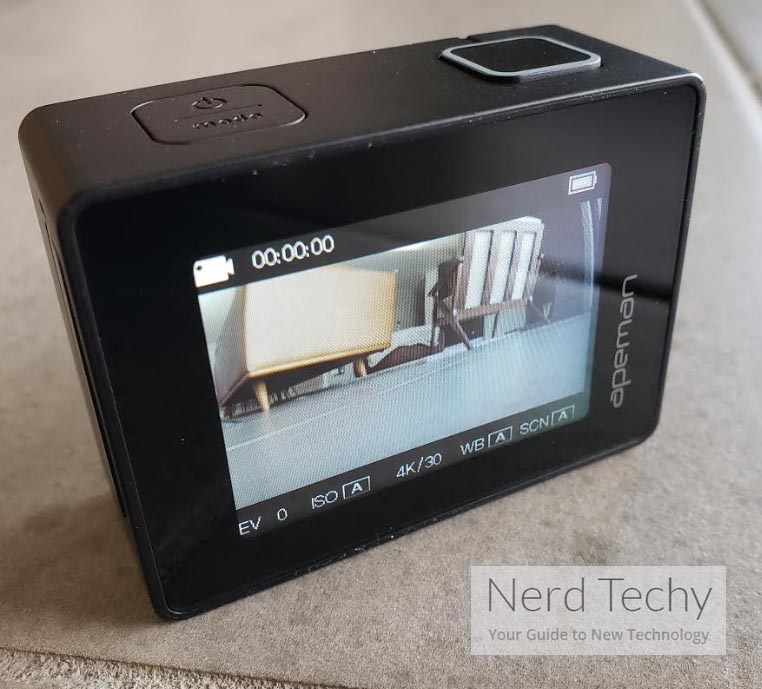 You can drop to 1440p for 60fps, too. Actually, for slow motion content, you're able to reduce your output to 720p. Once there, the sensor is capable of taking in as many as 120fps. Getting to 120fps isn't quick enough to be able to make incredibly slow-motion shots. But it's pretty smooth, and likely smooth enough for someone who's not trying to record some kind of slow motion explosion.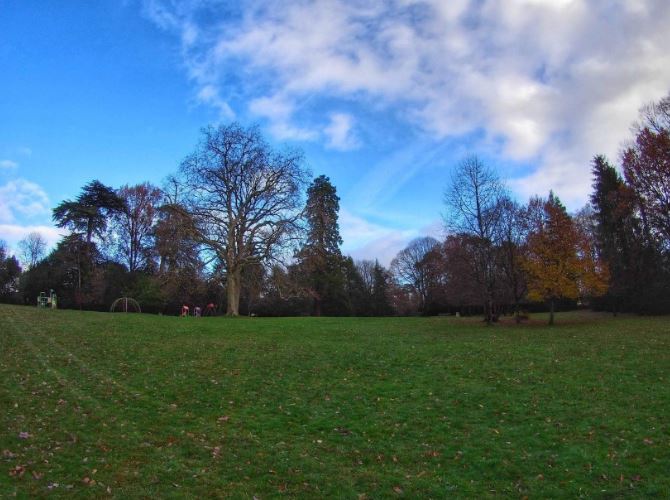 Likewise, there are a number of highly effective white balance effects that help make your life a little easier. You can shift between color temperature and light brightness settings to establish different styles within your shot. Looking for something a bit dark and moody? Trying to make your nature shots look bright and vibrant? The Trawo can help you make those changes.
Lighting & Video Features
The camera actually has a number of built-in motion sensors which can detect movements and shakes. Once detected, it can proceed to compensate for those motions. The result are smoother and steadier shots, even when you're enduring subpar environmental conditions.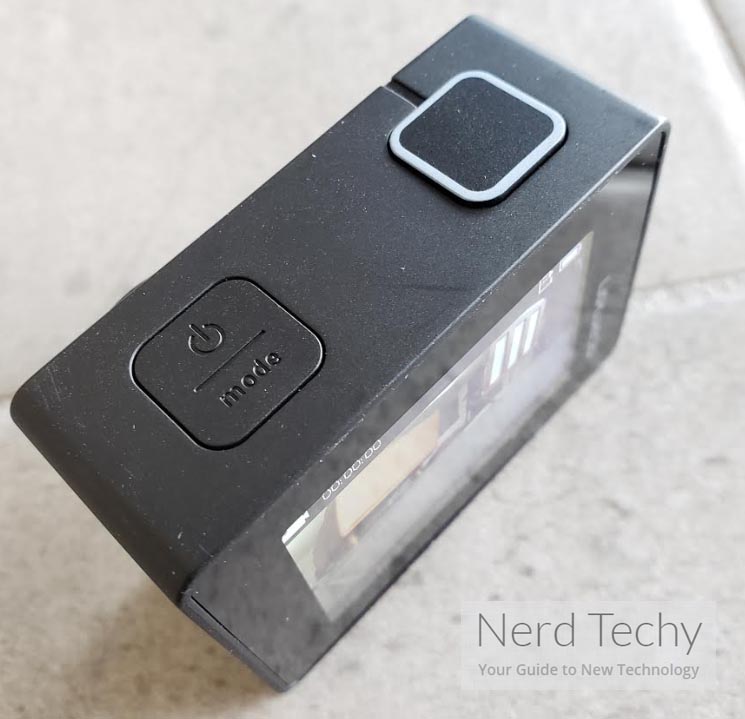 To put that in perspective, think about underwater shots for a moment. When you're underwater, you're going to find your shots look terribly dull compared to reality. Because the water strips certain colors, and emphasizes others.
And you don't have to hop into a submarine to achieve this kind of lighting effect. Shooting in the morning instead of shooting in the afternoon can impact your shots. The APEMAN Trawo Action Camera was built to help settle out these kinds of environmental effects. The onboard ISO control allows you to annually adjust each setting to help get better control for whatever lighting conditions you happen to be in at the moment.
Video Settings
Like you would expect, the F 1.8 wide aperture is fantastic for setting an enhanced depth of field. It's just as effective at taking in more light over a shorter period of time, which has a positive impact on shutter speed. Trawo's lens is capable of capturing content in a 170-degree angle, essentially a panoramic view.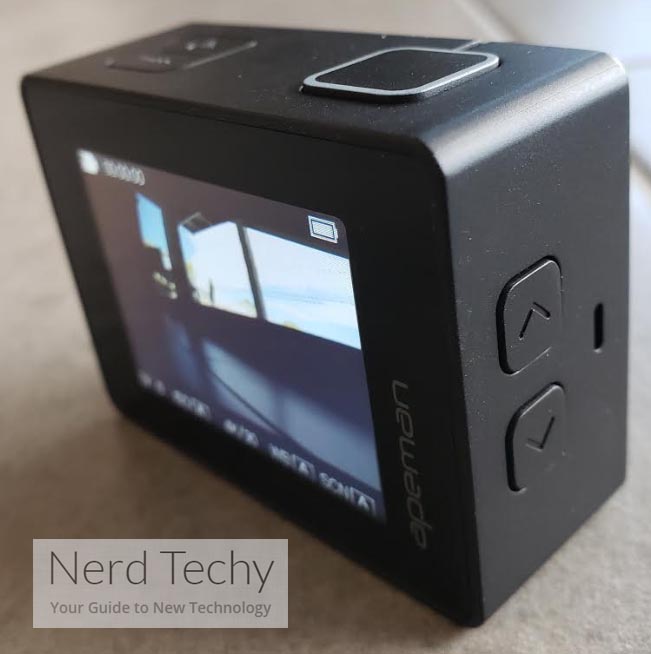 Other features include loop recording, burst shooting, time-lapse, and a basic shooting timer. It's pretty funny, millennials seem to have forgotten that cameras timers are something that exist. With all the selfie photos people are taking, camera timers have almost fallen by the wayside.
But the APEMAN Trawo A100 takes them seriously. The included timer doesn't restrict you to one or two presets, you can pretty much make it as lengthy or as quick as you need. It also has some pretty useful selfie modes that can make your self-shots more centered while you're taking them.
Battery Problems
Everything is looking okay so far, right? Unfortunately, the Trawo Action Camera actually starts to stumble a bit when it comes to battery capacity. Battery life is low-average. After about 30 minutes of active use, you'll find the battery will be approaching its last legs. However, having a low-average battery isn't that much of a problem.
After all, the batteries used by the Trawo Action Camera is a very common 1350mAh lithium-ion cell battery. They're quite easy to replace, and quite easy to grab extras for on the internet.
In fact, two separate batteries are actually included with the Trawo cam. So if you find the 30-minutes playtime estimate a little underwhelming, you can rest assured that having another battery on hand can even things out quickly.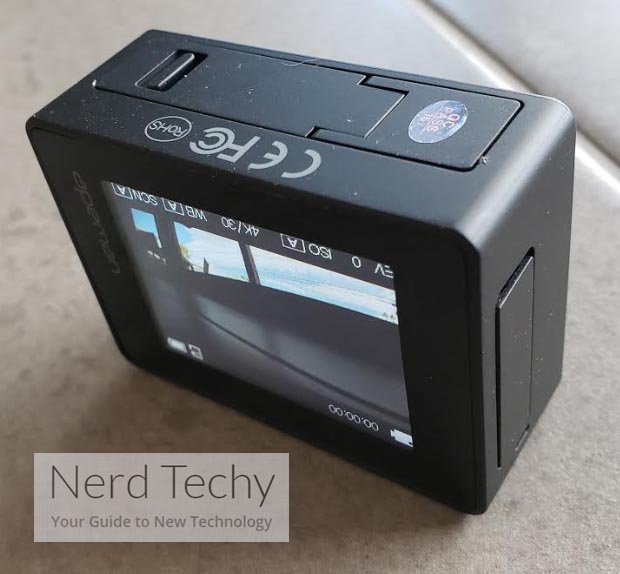 Other Considerations
Similar to a number of other cameras, you can remotely control the APEMAN Trawo Action Camera using a free app. The app lets you sort through the pictures on the camera, watch your videos, and even establish folders where you can place your favorites. It can also be used to initiate recording, of course.
But the app doesn't really provide much in the way of sharing your content, or much in the way of substantially editing your content. In fact, the faults of this camera might be better summarized as a list of things that it does not provide. For instance, you don't get seamless wireless connectivity between your camera and a Bluetooth/Wi-Fi interface.
Who Should Pick the APEMAN Trawo Action Camera?
The APEMAN Trawo A100 Action Camera is a fraction of the cost of a GoPro. And in many ways, its performance is comparable. For someone looking for a budget-oriented aquatic-ready camera, the Trawo provides an enormous amount of possibilities. From underwater viewing, to burst shots, to panoramic nature shots, it's all on the table.
If you are some kind of photographic professional, then you probably would be better off investing a couple more bucks for a camera with high-end features. This camera has nice features, but they have dire limits. For instance, the slow motion caps out at 120fps. 4K recording caps out at 30fps. For an ordinary person taking photos as a hobby, that's perfectly adequate. For some types of professional shooting, it isn't.
Some pros will find this camera more than adequate, especially for a compact waterproof in this price range. Though the batteries are a little underwhelming, there are worse places where corners could have been cut. At least in this case, if the low battery lifespan bothers you, then you can always buy spare batteries. With that in mind, it's easy to recommend the APEMAN Trawo for someone trying to capture 4K on a budget.