The headphone industry is flooded with options to choose from. If you've been searching for a pair to own, you've likely come across Mpow. They're a brand that's been making headways in the affordable headphone industry for the past several years. In fact, it seems like they have a new release every few weeks. Truth be told, we can't say that there's any manufacturer more committed to creating headphones with the ideal balance between style and performance, that's priced right.
When it comes to the best ANC (Active Noise Cancelling) options, you're going to be looking at over-ear style headphones. These tend to be crafted with sound-enhancing capabilities and much more comfort than your standard pair. While they may not be the smartest choice for workouts, they're clearly the ideal type for long hours of consistent listening.
One of Mpow's latest release is the H17 ANC Bluetooth Headphones. Offering improved features over the previous H12 and H10 versions, they're crafted with premium technologies and sound quality in mind. Today we'll be taking a close look at them, see exactly what they offer and ultimately determine if they're worth considering.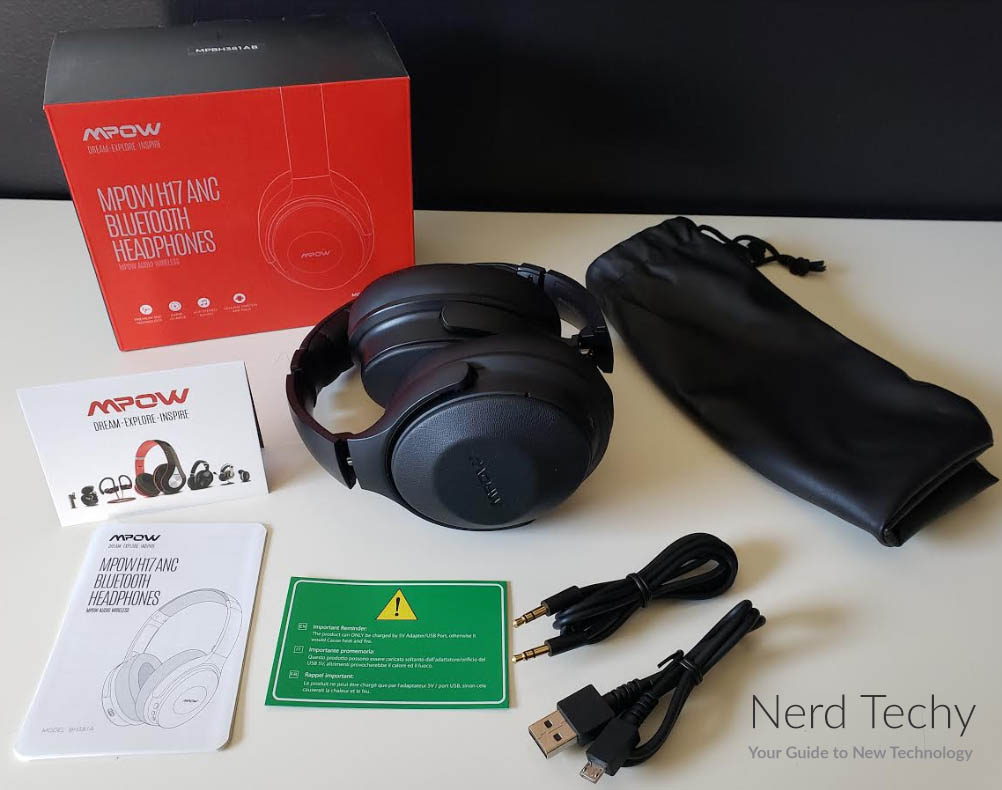 Unboxing & First-Look
Upon their arrival, we were quite excited to check them out for the first time. Included in the box is a plethora of accessories. Namely, a micro-USB charging cable, auxiliary cable, instruction manual and the H17 headphones enclosed in a soft carrying case.
Handling the headphones for the first time, it's easy to notice a pliable yet sturdy design was implemented. They fold into themselves with hinges at each earcup that pivot 90 degrees and tilt generously. Next, you'll see soft protein foam used in not only the earcups but the neckband and outer earcups as well. This gives it a aesthetically soft feel while maintaining a firm structure throughout.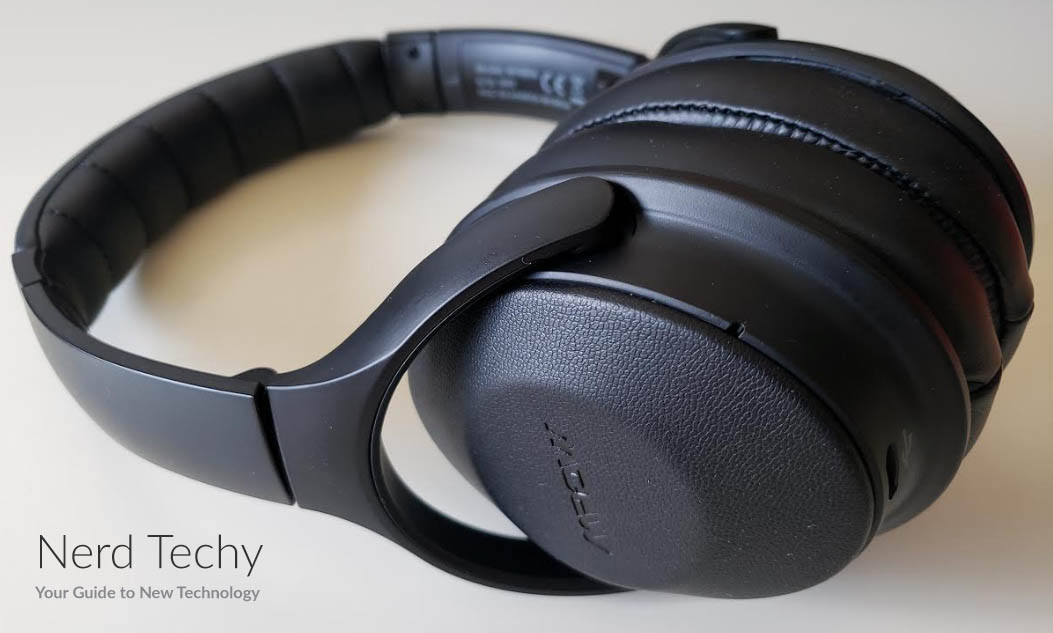 While the majority of the build is comprised of hard plastic, they still feel sturdy and built-to-last, thanks to the internal rigid steel frame. From first glance, it may be difficult to discern how they're worn. Take a closer look on the inner headband and you'll see a small "L" and "R" indicating which is the left and right side. Next, place them over your head and adjust the retractable band so each cup completely encapsulates your ear.
Comfort and Controls
Once you have them on your head and adjusted them to your liking, the H17 headphones are clearly enjoyable. The headband seems to provide the ideal amount of pressure – not too weak but strong enough to keep them snug. Retracting the band is easy as it locks into position without any added strain. Additionally, the earcups provide a large diameter, meaning your ears are completely surrounded by soft foam. This not only adds an element of comfort, but will isolate sound and restrict outside noise from becoming a distraction.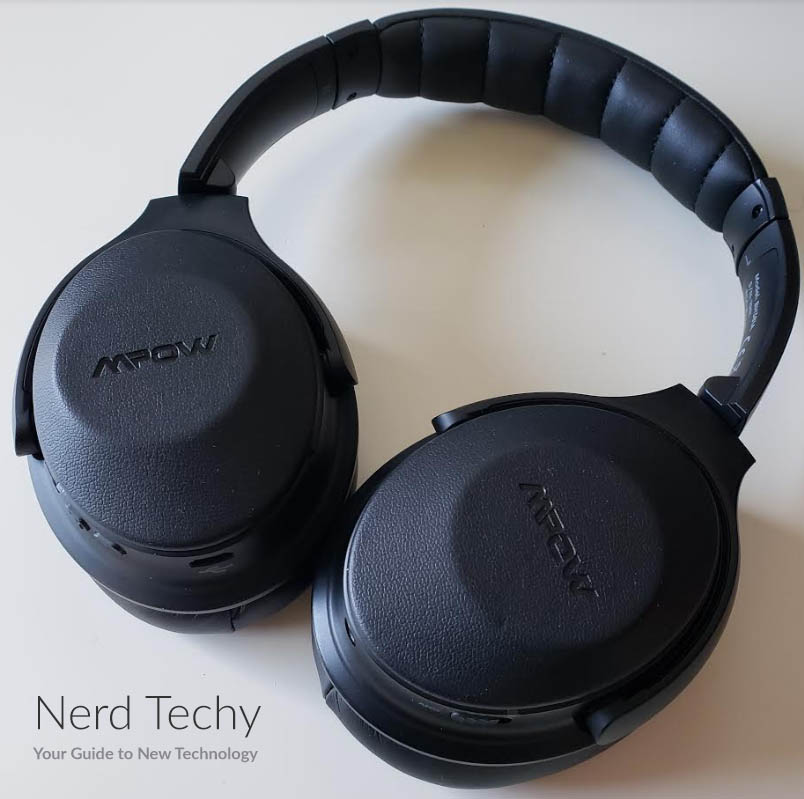 On the external side of the right earcup, you have all of the functionality at your fingertips. There's a tiny LED indicator and three buttons alongside the Micro-USB input for the charging cable. These buttons control the power, pause/play, adjust volume and skip tracks.
On the left earcup, you'll notice a small "ANC" switch that controls the noise cancelling feature. Simply keep it switched on at all times if you prefer the best listening experience. Right next to that, you'll find a small input for the auxiliary cable. While it's not required, this input is essential for those who want to wire the H17 headphones into an older device that isn't Bluetooth compatible.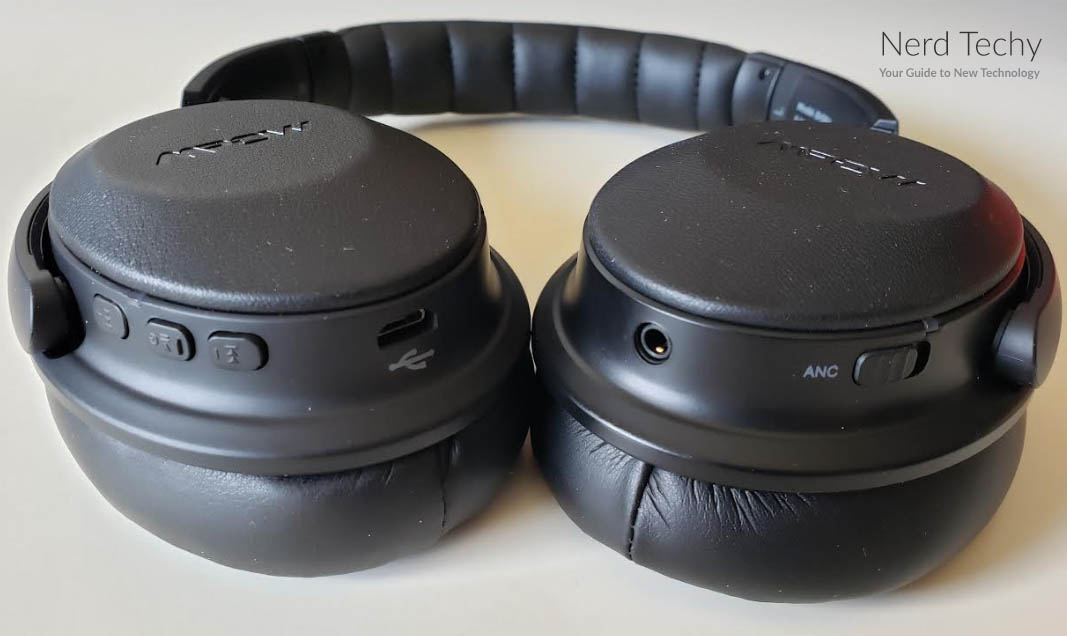 Speaking of Bluetooth, pairing them for the first time is a piece of cake. First, make certain that Bluetooth is activated on your smartphone, tablet or whichever device you're wanting to pair them with. Next, simply hold down the "play/power" button the right earcup for 2 seconds. At this time, you'll audibly hear "pairing". Scroll down to the list of available Bluetooth connections on your device and select "Mpow H17". Finally, you'll be greeted with an audible voice that says "connecting". That's it!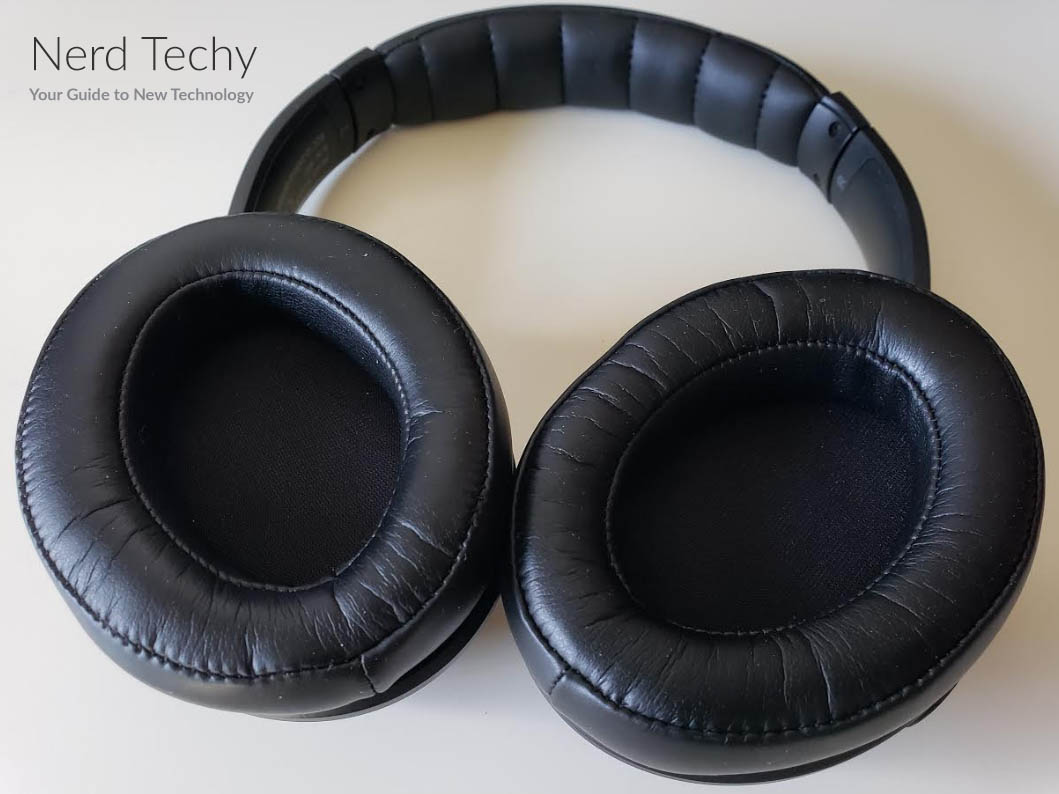 Sound Quality
Likely the most important factor, right up their with comfort is sound quality. After all, a comfortable pair of headphones are useless without decent sound. Firing up the H17's for the first time was an exhilarating experience. We were absolutely impressed with the sound-stage that they provide. Let us explain further…
Equipped with 40mm drivers, it's immediately apparent that Mpow went above and beyond to make certain they sound exceptional. We turned on Spotify and put on our favorite playlist. Needless to say, we loved the amount of depth and vibrance that the music had. Bass was on-point with deep and resonating "thumps" and "booms". That, in conjunction with the clear, balanced treble seemed to be the perfect blend of sound. While you can't individually adjust the sound through an equalizer or special settings, we have to take our hats of to Mpow and applaud them for providing the perfect balance.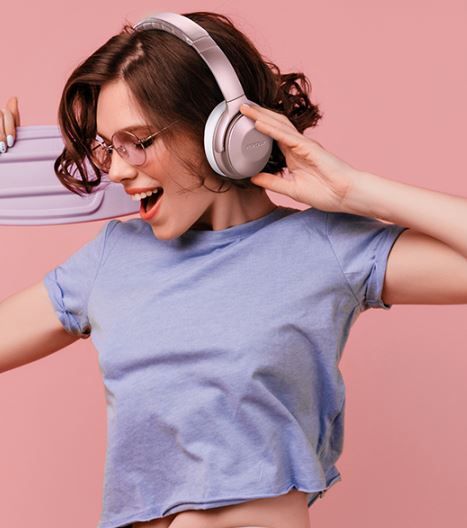 Best of all, there's a way to make everything sound even more superb. By switching ANC to it's on position, we noticed even better sound quality than we were initially pleased with. The vocals seem to move ahead of the bass and the bass gets even deeper and more impactful. Of course, this is all really difficult to describe in writing, but take our word for it. We've tried thousands of headphones in the past and must say – these are downright awesome when it comes to sound quality.
Active Noise Cancellation seems to make all the difference. When listening to the H17's, you can't hear anything around you – just the music coming out of them. It's really easy to be completely engulfed in the music; exactly what you want with any pair of ANC headphones.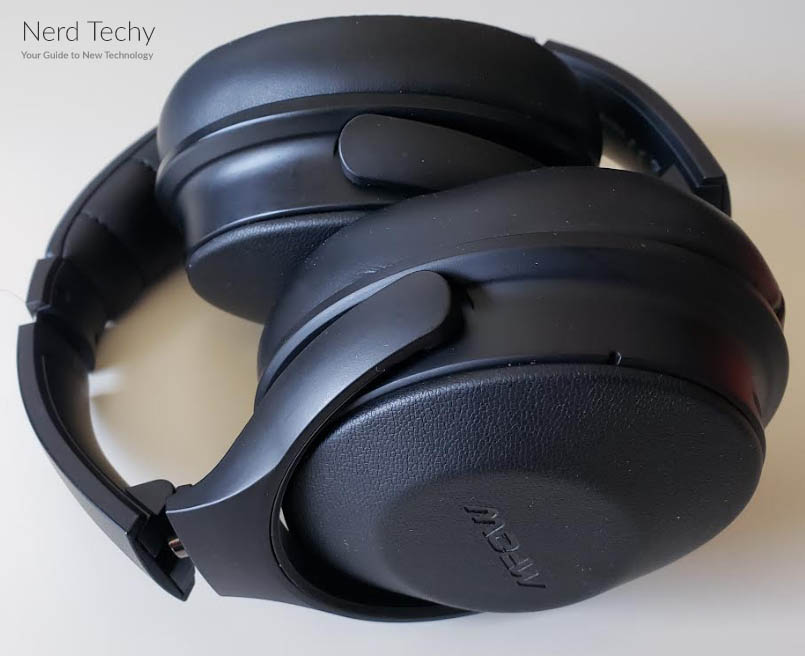 Battery and Charging
Internally, the Mpow H17 ANC Headphones are equipped with a 650 mAh capacity rechargeable battery. This offers a supposed 30 hour battery life; much more battery life than your average pair of wireless headphones. While the previous Mpow H12 had a 500 mAh capacity it claimed the same 30 hour estimate which we originally thought was a bit exaggerated.
It's common knowledge that ANC, high volume and environmental conditions can adversely effect battery performance. With the larger battery capacity on the H17's, it's more-geared toward actually achieving a full 30 hours of playtime before needing a charge. In fact, we wanted to test this claim ourselves. After we achieved a full charge on the H17's, we set them to a medium volume with ANC turned on. After about 28 hours of continuous playtime, we were indicated by a "low battery" warning. Pretty impressive in our opinion and downright ridiculous (in a good way) compared to most other brands/models on the market.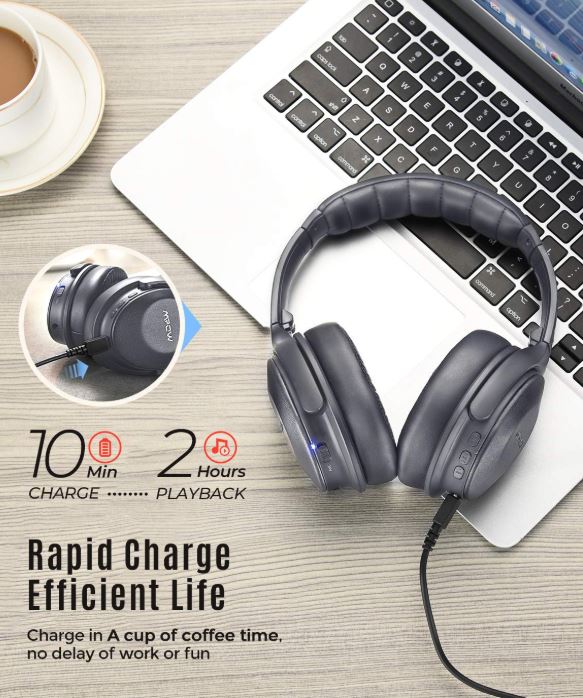 Even some of the most expensive and sought-after Bluetooth headphones don't come near 28 hours of battery life. The added 150 mAh over the previous H12 version seems to make all the difference in playtime longevity.
Charging them up is easy, too. Just plug-in the provided micro-USB cable and they'll be ready to go shortly after. Incredibly quick actually. Thanks to RapidCharge technology, with a simple 10 minute charge time, it equates to 2 hours of playtime. Knowing this, in about 2 hours the H17's can go from completely dead to nearly 30 hours of playtime. Pretty dang impressive if you ask us!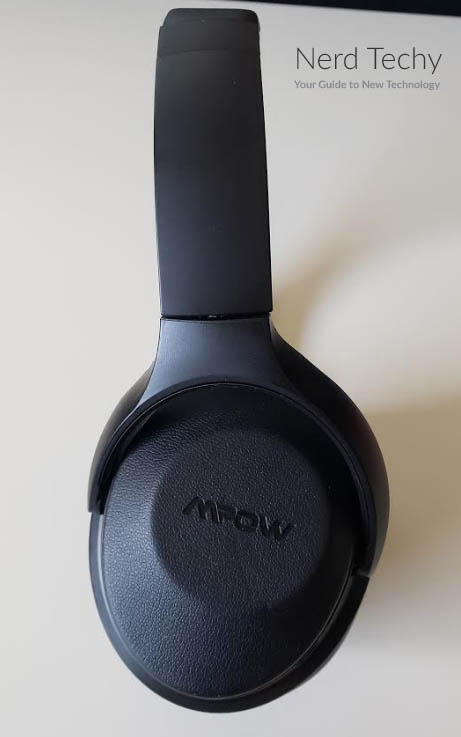 Microphone
Although it's quite difficult to tell, there's a tiny pinhole-sized microphone located at the front of the right-outside earcup. While a lot of people will never use it, it's nice to have it included. This small microphone is used to make phone calls easy and effortless. Whether you have an incoming call or you'd like to make an outgoing call, it seems to pickup voice without issue and keep out unwanted background noise as well.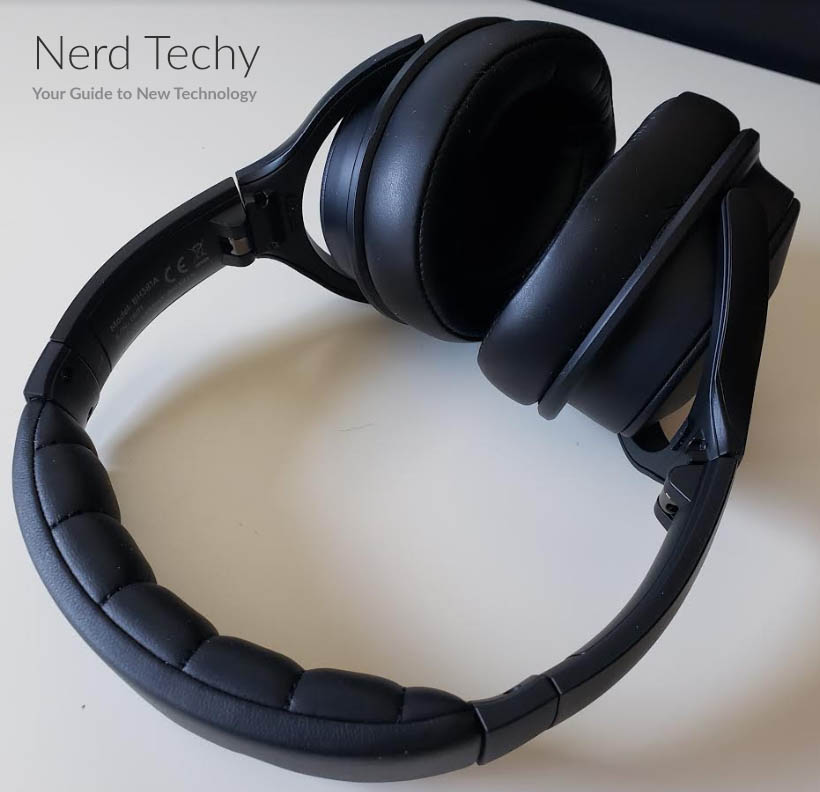 This is in-part, thanks to the CVC 6.0 noise reduction technology that's incorporated into the design. It smartly picks up your own voice while leaving out distractions that can become a nuisance to whoever you're talking to on the other end of the phone call.
We tested out the microphone on multiple occasions and were quite impressed with it. All of our phone calls were loud and clear, even in public environments like a busy sidewalk in downtown Las Vegas.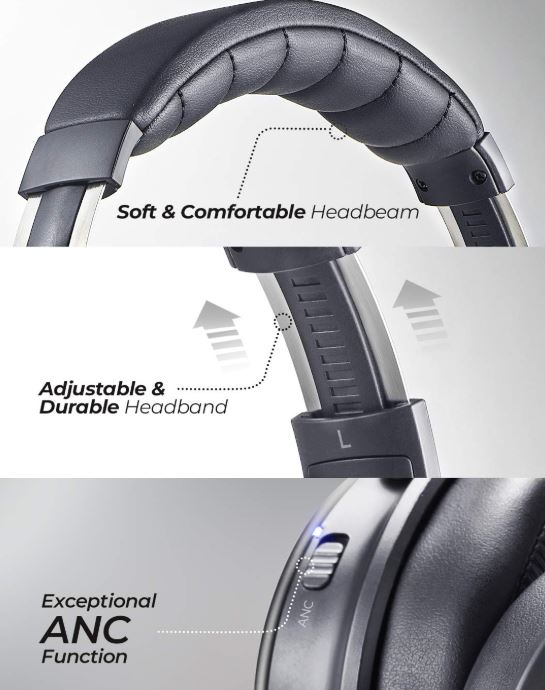 Final Thoughts
With improved aesthetics and added battery capacity over the ever-popular H12 headphones, the Mpow H17 ANC Headphones provide everything we could ask for (and more) at this price range. Their lightweight and streamlined designed bode well with daily music-listeners and entry-level audiophiles. They feel good in your hands and even better after wearing them for continuous hours on end. The comfort comes naturally and without any fuss. Extra bells and whistles aren't necessary as they surely provide an exceptional experience immediately out of the box.
Turning on the ANC feature really brings them to life. Deep thumping bass and rich vocal clarity created the ideal blend of quality for any style of music. They're ideal for those looking for exciting sound quality and all-day comfort. In the end, they're made well and provide everything they promise. We wouldn't hesitate to recommend them to anyone looking for an affordable, feature-rich pair of headphones.