For some people, earbuds are one of the most important tech accessories they own. How else are they supposed to listen to their favorite tracks while on their daily commute? Unfortunately, those little silicone end-tips on your earbuds are pretty easy to lose, and without them, you won't be able to use your earbuds comfortably.
Luckily though, earbud foam tips are easy to replace and the standard foam size will fit around 90% of earbuds out there. It's also very easy to put the actual tip on the earpiece. There are a lot of different types of earbud tips, made out of rubber, silicone, and foam. Memory foam earbud tips are a relatively new thing. The memory foam is unique because over time it molds to the unique shape of your ear, so you get a tight custom fit.
So today we're going to take a look at replacement memory foam earbuds and consider some top contenders in the market. We're going to look at Comply Isolation T-200, RIYO Premium Memory Foam Earbuds Tips, and Lanwow's Premium Memory Foam Tips for AirPods. Each product we chose has a different forte so we will cover each of them.
Why Have Replacement Earbud Tips?
So if you have ever been using your earbuds and lost the foam tip, you know how annoying it can be if you do not have any replacements. Not only will tip-less earbuds not fit comfortably in your ear, but they'll also not sound as good. One thing the foam tip does is create a seal against the foam and your ear that improves noise isolation. So if one of your tips accidentally slips off, it would probably be wise to have some extras on hand.
Earbuds can also guard against ear wax build-up, which can make your earbuds lose their fit. Foam earbuds, in particular, are known for making airtight sears and great isolation from external sounds. Foam earbud tips are also particularly good at transducing low sounds, so they provide good bass tones.
In some cases, your earbud tips might be a bit too long for your comfort. Thankfully, you can modify them on your own. In most cases, you can actually cut excess foam if you need to get a tighter fit. In other cases, careful application techniques and rolling back excess foam can make them fit better. Memory foam earbud tips, in particular, are designed to permanently take on the shape of your ear canal. Every person's ear canal is shaped differently, and your left and right ear canals are not even the same, they're actually asymmetrical. So earbuds that can be custom-fit to your unique ear shape are typically better than any other kind of earbud.
So it takes a bit of time to break them in but foam memory buds are probably the most comfortable kind that you can get. Additionally, having replacement earbuds might be useful if earbuds do not fit both of your ears the same. Most people have slightly asymmetrical ear canals so your right might be slightly larger than the left and vice versa. So replacement tips allow you to customize your earbud experience for each ear.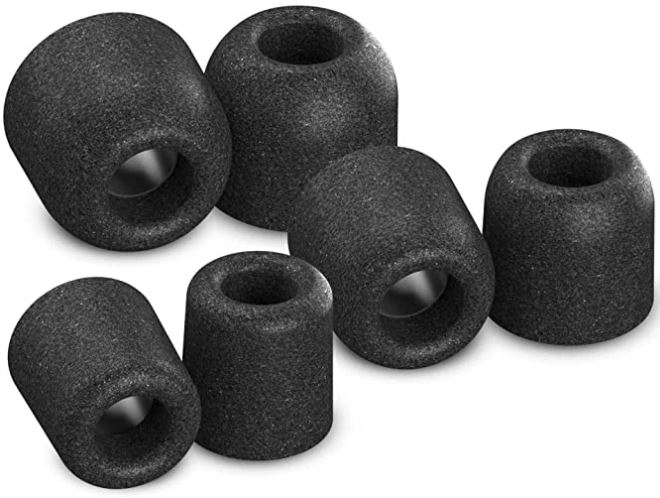 Comply Isolation T-200 Memory Foam Earphone Tips
First up, we are going to take a look at the Comply Isolation T-200 Memory Foam Earphone Tips. These replacement tips are made from a super soft memory foam that's designed for ultimate comfort and to reduce irritation and fatigue from wearing for long periods. These foam earbuds are up to 30x softer than silicone tips of comparable size and use body-activated heat technology to adapt to your ear canal. The longer you wear them, the more comfortable they become as they take on the permanent shape of your ears. This custom-fit design ensures that they maintain a good sound seal between you and the environment.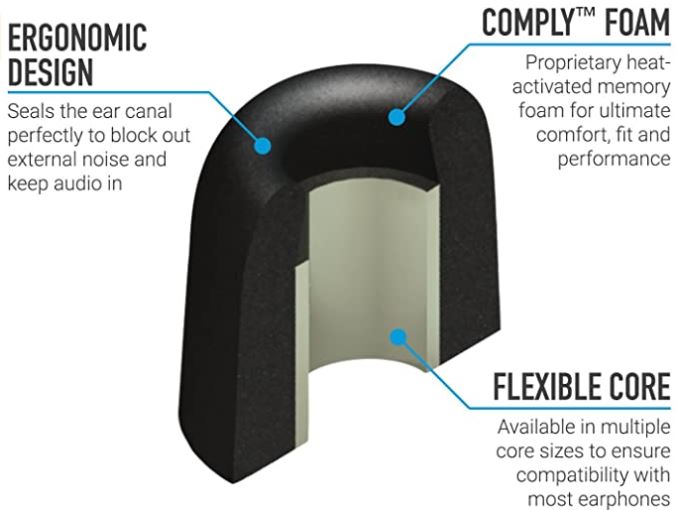 In addition to the custom-fit seal, these tips are designed to enhance bass sounds. The foam structure transduces the vibrations through the stiff rubber core that fits around the earpiece. The memory foam is a proprietary blend that is engineered specifically to pick up low sounds. This particular offering comes with 6 replacement tips, including some large, medium, and small ones so you can switch things up if you feel like it. Each size has a different core size so if your earbuds have a larger core than normal you will have options.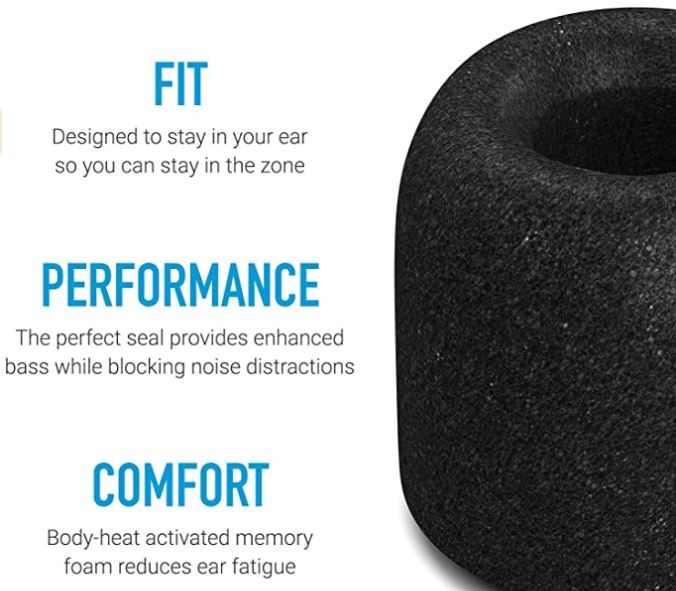 The memory foam has a very strong grip as well so your earbuds won't fall out. You can wear them while working out or going for a run. Best of all, the foam material also resists moisture so the tips won't get damaged from water or wetness.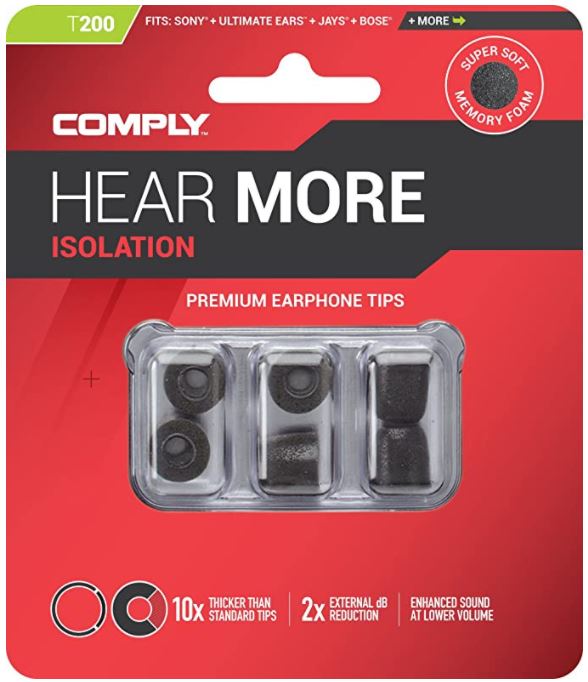 Judging from the reviews that we found, the Comply Isolation earbud tips are great at canceling noise and fit comfortably in the ears. Many reviewers talk about wearing them for hours at a time with little to no discomfort. Many reviewers also comment on how much the tips improve sound quality by enhancing bass tones. So the Comply Isolation T-200 would probably be a good choice if you listen to a lot of bass-heavy music like rap or EDM.
The only consistent criticism we found was that many people reported that they sometimes come off the earbud. Specifically, a lot of people say that after about 6 months, the tips can come off if you take them out of your ears too quickly. They are also a bit more expensive than you would expect a replacement earbud tip set to be. The foam material is quality engineered but some people may not be willing to spend this much on a set of earbud tip replacements.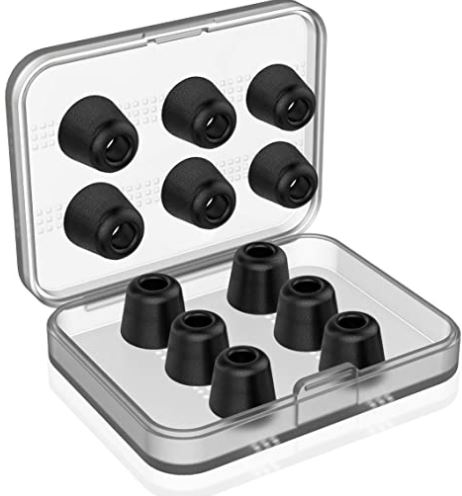 RIYO Premium Memory Foam Tips
Up next we are looking at RIYO Premium Memory Foam Tips. These ear tips are designed for 5mm-7mm earbuds which basically cover the majority of popular brands. One pack comes with 12 replacement pieces and you can choose between small, medium, and larger varieties. The pieces in each set have different core sizes so you can match your headphones. You also get a convenient clear carrying case with nodes to keep the pieces in place when not being used. Available color options include black, gray, and red.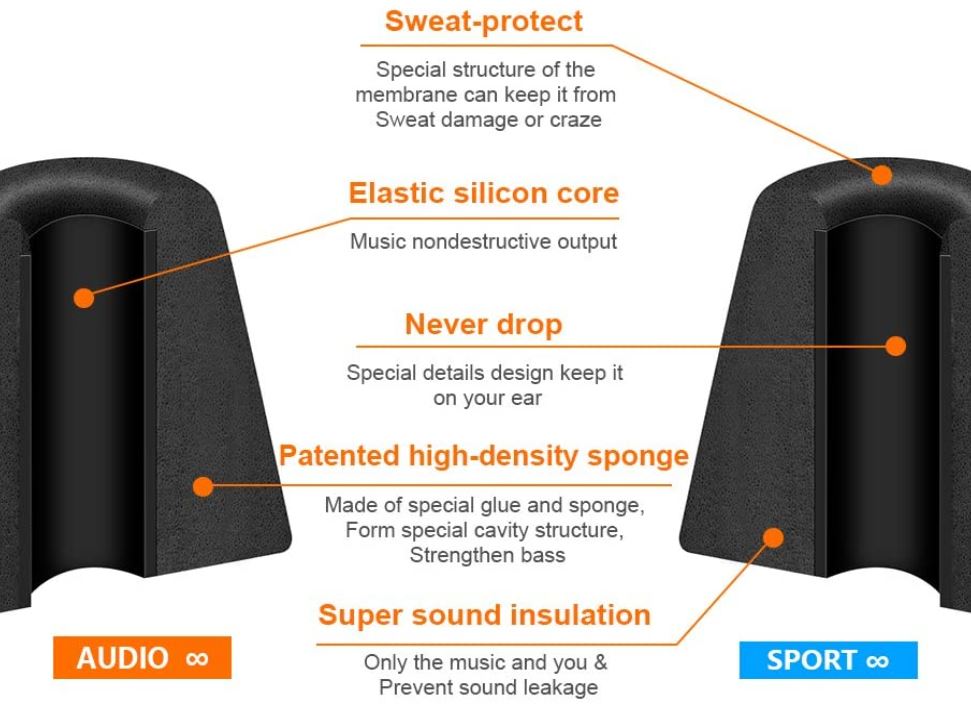 These earbud tips are made from a patented "viscoelastic" memory foam. Like most memory foam, it will mold to the shape of your ear canal and gets softer over time. It's also body heat-activated, so it adapts to any temperature. The foam material is designed to enhance audio feedback and block external noise. Most people who use these earbuds claim that they give an enhanced bass experience.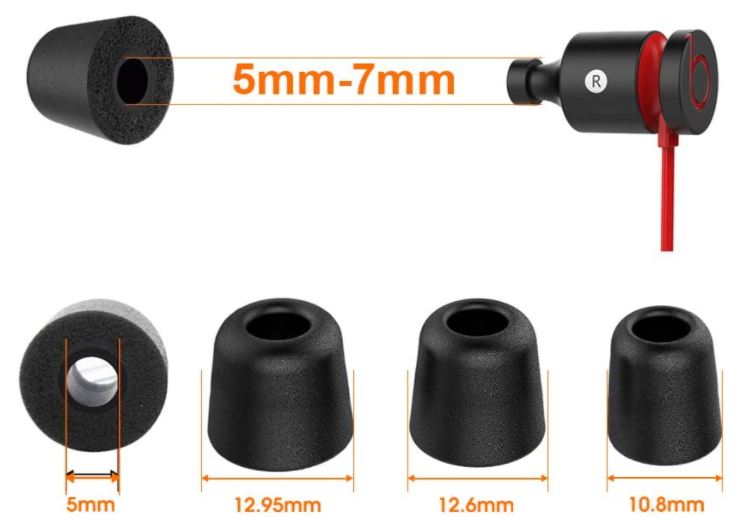 The viscoelastic foam is supposedly 30 times softer than comparable brands and there is no ear fatigue. But they are very soft, which means they might have a bit of trouble staying in while working out. They're easy to clean however and can easily be removed for cleaning. If they get dirty, a bit of soap and water can be used to clean the interior and exterior. The foam is made from a special polymer that is supposed to be resistant to moisture so you don't have to worry about sweat while wearing them.
RIYO also offers "24 hour service" which presumably means that you can contact their support if you have any questions or problems with the product. To be frank, they're so cheap that you might not even care enough to go through the effort of trying to get them replaced, but it's still nice to know that you can address your complaint somewhere.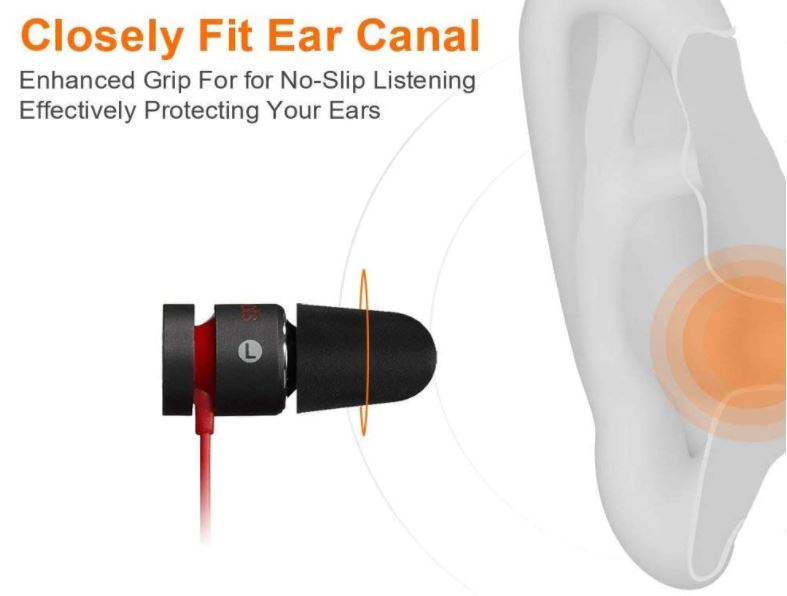 One issue that we found that many people commented on was cracking around the edges. Although the viscoelastic material is described as moisture-resistant, heavy moisture and sweat will damage the material, dry it out, and cause cracking. So these earbuds might not be a good choice if you plan to wear them while exercising a lot.
Overall though, the RIYO's are a good choice and will enhance your earbud music experience. They're well-made, form-fitting, and are easy to put on and take off. They're also very inexpensive and you get 12 of them at once. So if we're talking just about price vs quality, then then this product definitely fits that bill.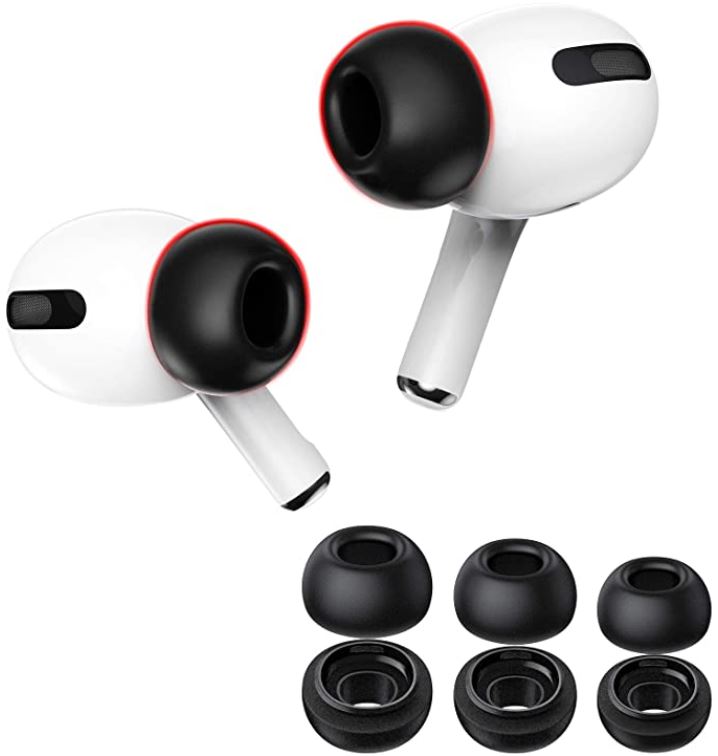 Lanwow Premium Memory Foam Tips for AirPods Pro
Last but not least are these memory foam tips made specifically for the AirPods Pro. Apple's wireless earbuds are popular but one thing a lot of people complain about is that they do not have any kind of foam or silicone covering. The Lanwow Premium Memory Foam Tips are here to fill that niche. They fit directly onto the AirPods Pro and do not require any special adhesive material. They're made from a durable memory foam that is much more pliable than traditional silicone tips. The soft earbuds mold to fit the shape of the ear canal and are designed to reduce ear pain and ear fatigue.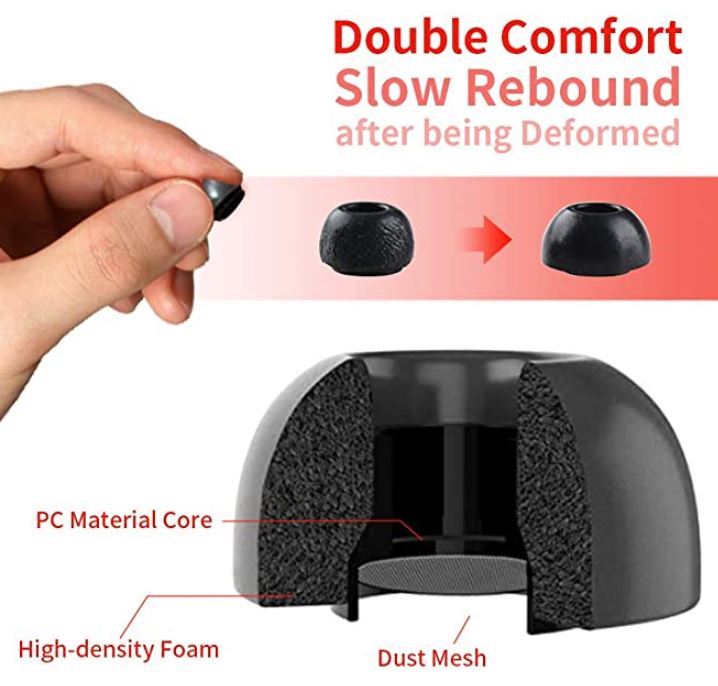 These tips also have a built-in screen to keep dust and dirt out. The mesh filter is embedded directly into the foam sidewall and keeps out dust, hair, ear way, and anything else that could get it dirty. They're available in 3 sizes (S/M/L) so you can get the maximum sound isolation and blockage. What's more, the foam is activated by body-heat to change shape so it forms a secure seal for sound isolation.
These tips are designed specifically for the AirPods Pro so they won't work as well with other headphones. Plainly put, you'll need some AirPods if you want to use these. One cool feature is that they're built to stay on when the headphones are in the charging case So you don't have to worry about taking them on and off constantly when you put the earbuds away for charging.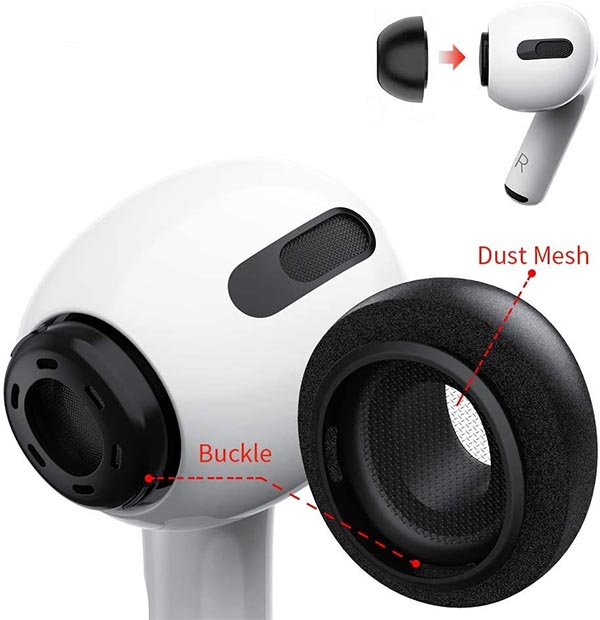 Additionally, you can remove the tips if you need to clean them. The creators suggest removing and cleaning with a damp cloth and that you should avoid soaking them in water or using any solutions like alcohol for cleaning. One feature we noticed is that these tips are very secure and keep the pod in your ear. Ultimately, they would be a good choice if you like to have your AirPods Pro in while you're running.
Final Verdict
So, which one of these replacement earbud tips are the best choice? As you might expect, the best choice depends on what, exactly, you need. The first entry on our list is probably the overall most well-rounded choice. The Comply Isolation eartips are designed for an all-around wearing experience and for being worn for long periods of time. If you listen to a lot of music and always have your earbuds on hand, these would be an excellent choice as they often last longer and don't produce any ear fatigue. They'll also permanently change shape to fit the contour of your ears.
As far as the RIYO premium eartips go, these are a good choice if you need a budget pick that has a lot of options. A single pack of these tips has 12 and there are 3 sizing options. The RIYOs are not incredibly durable but they're highly customizable and can be fit onto several types of earbuds. One criticism of these is that they do not stay in as well while exercising.
Last we covered the . These are more of a niche pick because they're designed specifically for use with Apple AirPods Pro model. They're made from a durable material that's highly stable. Additionally, they stay in your ears very securely so they would be a good pick if you own the AirPods Pro and like to exercise a lot.
Picking the proper earbud tips is important because bad tips can ruin your earbud experience. So this guide can serve as a starting point to find earbud tips that work well for you.