Just a few short years ago, almost the entire electronic world ran on AA batteries. Many of us have vivid childhood memories of stealthily robbing the remote control for two good batteries that could earn you a few extra hours with your walkie talkies, or the frustration that came when your Walkman ran out of juice midway through your favorite mix tape.
While many consumer electronics have moved towards lithium ion battery packs, there are still many things that run on AA & AAA batteries. Toys, the remote control for your television, and even your clock likely require at least one battery to operate.
Even though these batteries are still in use, the demand is no longer great enough for most of us to keep a large stash of them on hand. For the electronics that do require them, the constant cost associated with replacing batteries is downright frustrating.
Thanks to modern technology, disposable batteries are a thing of the past. Nickel-metal Hydride (Ni-MH) is a special type of rechargeable battery that is similar in operation to the nickel-cadmium cells of the past. Unlike the older style, Ni-MH batteries do not suffer from the "memory" effect where unused batteries could never fully recharge. Additionally, they often have several times the capacity of a standard cell.
But not all batteries are alike. Ever since the first rechargeable AA's hit the market, there have been countless knockoffs and poorly designed batteries that fail to provide the same benefits.
We took an in-depth look at the best rechargeable Ni-MH AA & AAA batteries. If you're thinking about upgrading your battery-sucking gadgets to the 21st century, read on to find out which will best suits your needs.
AmazonBasics High-Capacity
Amazon's "AmazonBasics" brand is known for providing consumers with low cost alternatives to high markup products. Most of the items in the basics line are simple in nature, and they spend very little time on marketing and packaging. This no-frills approach allows Amazon to sell high quality products at a surprisingly low price. But as with any affordable product, we wanted to find out what consumers would miss out on over the brand name.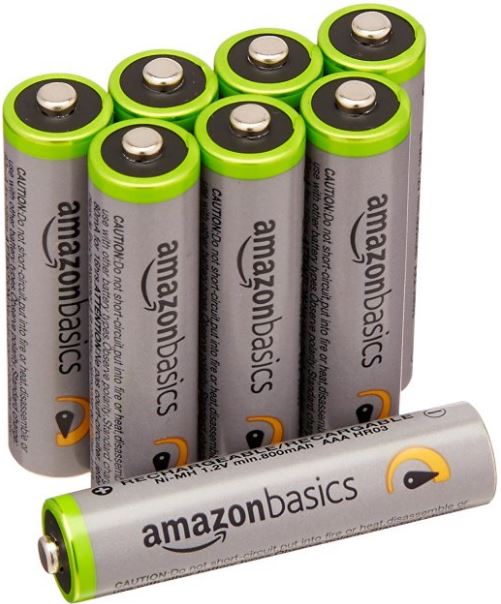 Capacity
Battery capacity is measured in mAh (milliamp hours.) Amperage is a measure of electrical flow. If you were to use a device that draws 100 milliamps for 2 hours, you would use 200 milliamp hours of battery capacity. Alkaline batteries (the standard disposable AA batteries) have 200 to 300 mAh of total capacity. But the Amazon Basics High-Capacity batteries have a maximum capacity of 2400 mAh.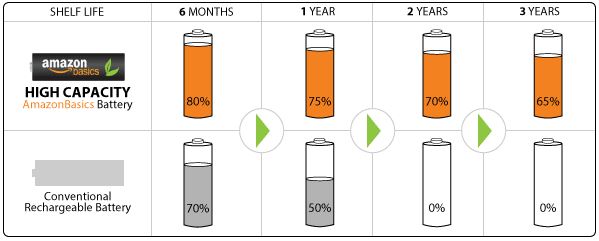 Unfortunately, battery capacity isn't always this simple. Some types of batteries are more efficient with low power electronics than others. It may sound odd, but a 2400 mAh battery may not be able to power a 2400 mA device for one hour. When put under extreme load, many batteries heat up and suffer a 15 to 20 percent loss.
Fortunately, the Amazon Basics Batteries are specially designed to handle high current loads, making them the perfect choice for devices like flashlights, digital cameras, and remote control toys. This isn't to say that these batteries won't work on low power devices. They still support long discharge rates and a high number of cycles, providing consumers with a good balance between price and performance.

Charging
These batteries can work with any standard Ni-MH charger. They support a wide range of charging styles from trickle charging (a slow rate of charge) to high speed charging. It is worth noting, however, that you won't be able to reach the full state of charge with a high-speed charger. They can charge up to 2200 mAh at high speed, but the final 200 mAh can take a little extra time. For most consumers, this just means that you should make an effort to leave them in the charger overnight. But if you need them in a hurry, you won't see much of a disadvantage by taking them off the charger before they're done.

Durability
These batteries are made in Japan, one of the countries known for its high standard for battery chemistry. This allows these batteries to perform well in some conditions that other batteries would find challenging. They work very well in the cold, with almost no discernible loss of power from low temperatures.
Another benefit of this particular formulation is the fact that the batteries do not lose their capacity over time. Older styles, when left off of the charger, will eventually lose their ability to be charged. But even if you were to leave these on the shelf for three years, they'd still hold 80% of their charged capacity.
These batteries are rated for 500 recharge cycles. Even daily users should get several years out of the batteries, making them a solid long term investment.
Panasonic Eneloop
The Eneloop series batteries were some of the first to hit the market. Despite a much more competitive environment, these are still some of the top selling batteries available. While they do cost a little more, they're still some of the longest lasting batteries that money can buy.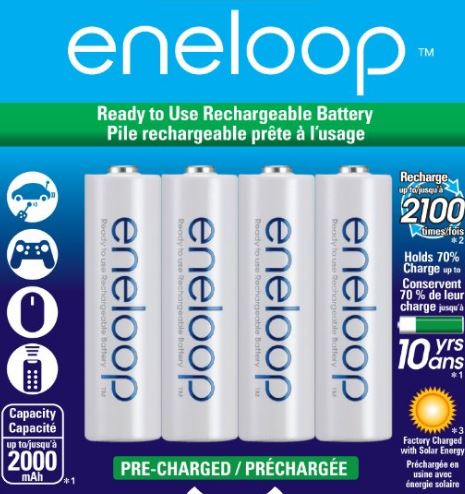 Capacity
The Panasonic Eneloop Batteries have a total capacity of 2000mAh under most conditions. Even with a high rate of discharge in a cold environment, our tests still determined that we were getting 1900 mAh of battery life.
A 2000 mAh capacity means that these batteries have nearly three times the capacity of Amazon's basic model, and nine times the capacity of a standard AA battery.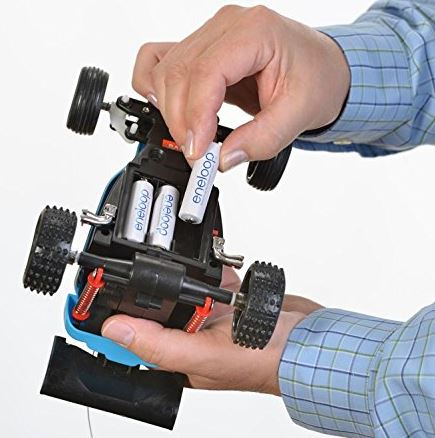 Charging
The Panasonic Eneloop batteries will work with any standard Ni-MH charger, but you should be prepared for a longer charging time. A standard charger uses the same current, so with three times the capacity you can expect three times the charge time. For most users, this probably won't be a big deal. But if you don't already have a charger, you might want to consider Panasonic's Advanced Individual Cell charger. There are two reasons you'd be better off using this specific charger. First, it supports the higher current afforded by these high capacity cells. This provides a 50% increase in charge rate for the Eneloop batteries, but can still charge at the regular rate if you have other rechargeables.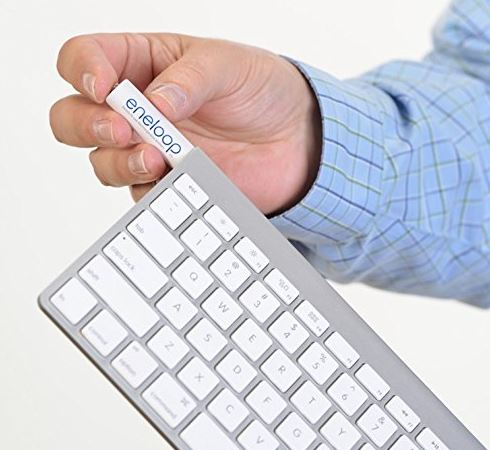 But perhaps one of the most important features is the fact that it charges individual cells. Imagine that you're using these batteries in a few different devices. You've got three in your camera, and one in your remote. These batteries will be discharged at different rates. Three of them may be completely flat, but one might have 30% of its capacity remaining. If a charger was to charge all three of these batteries together, it would either overcharge the partially full cell (which can cause damage) or undercharge the three dead cells (reducing life). The individual cell charger is really four chargers in one. It treats every battery separately, ensuring that every single cell gets a complete and safe charge.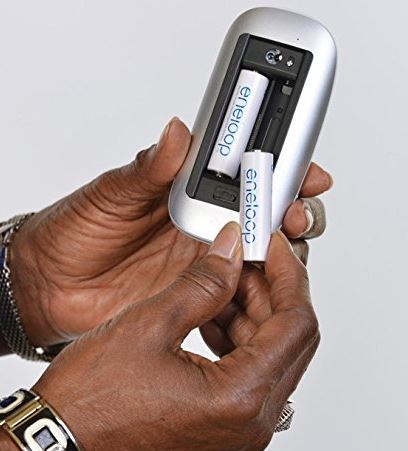 Durability
While rechargeable batteries are much more useful than disposable ones, unfortunately they can't last forever. All batteries degrade over time. With each recharge, they lose a tiny bit of their capacity. As they age, they also lose their ability to hold a charge. While this is unavoidable, the Eneloop come as close to everlasting as any battery we've seen. They're rated for 2100 recharge cycles. If you had to recharge these batteries every single day (which is unlikely since they last so much longer than standard batteries) you would still get 5.7 years of use out of them. If you leave them sitting on a shelf, you'll still find that they retain 80% of their capacity after 3 years. This makes these some of the most durable batteries we've come across.
Energizer Recharge Power Plus
"It just keeps going and going and going" was their slogan in the 90s. Considering the fact that Energizer is still one of the top battery manufacturers in the world, they've stayed true to their name. Even though the marketing has changed over the years, Energizer has continued to focus on producing affordable products that suite the needs of most consumers. But with these being some of the cheapest Ni-MH batteries on the market, can they hold their own against higher priced brands?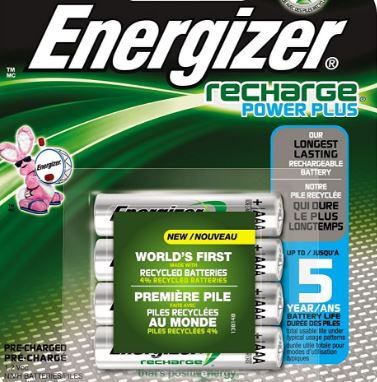 Capacity
The Energizer Recharge Power Plus Batteries are rated for 2000 mAh of capacity, which is in range of most higher end rechargeables. Just a single battery holds enough for 230 digital camera images. But where these batteries excel is with lower current devices. Remote controls, clocks, and other simple devices can last for upwards of a year on just one of these batteries. They'll still work for high current devices, but they aren't necessarily the best choice.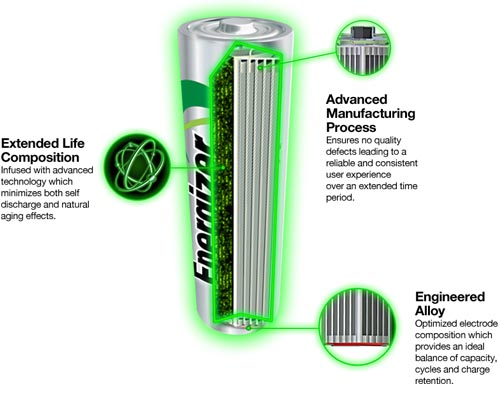 Charging
Browsing through Energizers product line, you might notice that they have a large number of batteries on the market. Even though Alkaline batteries are older technology, and Lithium AA's have limited use, they're all still available through Energizer. If you have a few different types of batteries in the house, you probably have a charger already. The Recharge Power Plus are designed to work with any battery charger, so you can use your existing model with these batteries.

Durability
The biggest advantage of these batteries is their low discharge rate while not in use. They can last up to five years without losing more than 20% of their charged capacity, making them perfect for use in devices that only see occasional use.
Which Rechargeable Ni-MH Batteries Should You Get?
Which batteries you choose depends primarily on what devices you want to use them with. The Energizer Recharge Power Plus are best for devices that use low power draw. They can last up to five years without losing much of their capacity. They're also the most affordable option on our list. You can easily pick a few up and throw them in a draw until you need them.
If you're a heavy user, consider the Panasonic Eneloop batteries. They can be recharged up to 2100 times, making them the first choice for high power draw devices that need a massive charge.
If you're looking for batteries that can support the high current draw of camera flashes or audio devices, the Amazon Basics High Capacity Rechargeables should be ideal. They have highest capacity on our list. Even though the number of recharge cycles isn't quite as high as some, the additional power handling allows them to perform better in challenging conditions.
Even though there are small differences between these, they pale in comparison to the improvements that have taken place in both AA and AAA batteries over the years. If you're still using alkaline cells, upgrading to either of these rechargeables will give you a significant performance improvement and a drastic reduction in longtime costs.
Meet Derek, "TechGuru," a 34-year-old technology enthusiast with a deep passion for tech innovations. With extensive experience, he specializes in gaming hardware and software, and has expertise in gadgets, custom PCs, and audio.
Besides writing about tech and reviewing new products, Derek enjoys traveling, hiking, and photography. Committed to keeping up with the latest industry trends, he aims to guide readers in making informed tech decisions.