Take a moment and imagine your dream PC. You've got the latest processor jacked into the best Z270 motherboard, four GTX-1080's in quad-SLI and even the most over-clockable DDR4 RAM, topped off with the liquid cpu cooler. Finally, you've spent the last couple days tweaking your overclock to achieve peak performance. Even after all this work, you check the online benchmarks and find that there are still a few users who's systems out clock yours.
How is this possible? Maybe it's just luck of the draw, and they happened to come across an i7 with a more powerful stepping? Maybe they've modified their cooling system beyond what your average consumer is capable of?
Note: At no extra cost to you, we may earn a commission for purchases using our links. Learn more.
Chances are, the answer is much simpler than that. When you read write-ups explaining how users achieve record breaking performance, you'll often find that they spend a lot of time talking about case selection and fan layout. To some, this will sound basic. But even though a high-performance CPU cooler is very effective at removing heat from the chip itself, they do not do much to remote the heat from the case. To do that, you need a proper cooling fan.
Believe it or not, a couple extra fans can quickly drop your temperatures by several degrees. This can be the difference between your CPU running in turbo mode under load, and the same CPU being throttles.
120mm fans are often the number one choice for enthusiasts. While they aren't the biggest fans on the market, most cases are designed to accept these fans. Often, they're viewed as offering the best price to performance ratio. But there is a huge difference in performance between a high-quality fan and a lazily designed knockoff.
We wanted to find out if there was much of a difference between one high end fan to another. We picked up the most popular fans on the market, and put them to the test to see which ones we liked the best. In this guide, we'll be taking a look at our three favorite fans. After we explore the differences, we'll help you find out if any of these fans are right for your case.
Noctua NF-F12
Just ask any enthusiast, Noctua is one of the most known and respected brands in the cooling industry. We found in our CPU air cooler review that their dual tower system performed the best under load, and a major part of their system was the high-end fan. If you're trusting Noctua coolers to keep your CPU frosty, it would make sense that you use one of their high quality Noctua NF-F12 120mm fans to keep the airflow steady.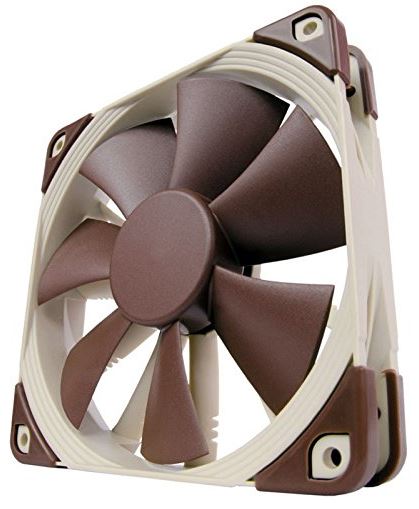 Design
With just a quick glance, you can always tell when somebody is using Noctua fan. Their unique two-tone beige and brown is unique in the cooling industry, and is sure to stand out from the competition. The combination of light and dark tones mean that it looks good in almost any case. In a world where the majority of enthusiast-grade products are designed with a very 'in your face' look, the professional design of Noctua's fans are refreshing, and we're sure you'll agree.
Technology
At first, this might appear to be 'just another fan.' But there was a lot of innovation put into this product, and it requires a close look to notice. The first thing you'll see is that there is what appears to be two sets of blades. You'll notice that the smooth curves of the dark brown blades are the actual fan itself, and the tan blades behind it are called stator guide vanes. The purpose of these vanes is to stabilize the air coming out of the fan, reducing noise and allowing it to disperse more effectively.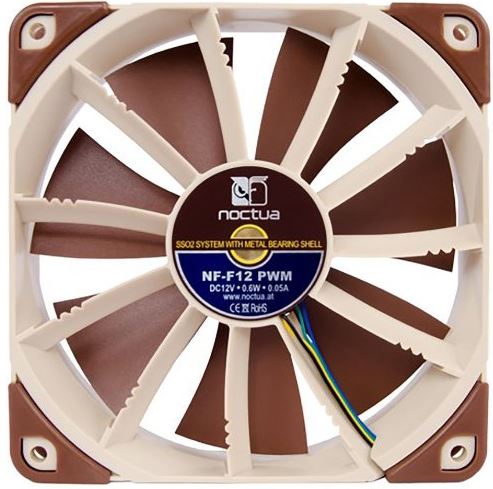 There are three little notches in each of these vanes. If you've ever paddled a canoe, you've likely noticed the little whirlpools that appear next to your paddle during each stroke. This is called a vortex, and the same thing happens with air when the direction is changed rapidly. The three notches in these fans are able to reduce vortexes and improve the effectiveness of the vanes.
While you can't see it from the face, the bearing that connects the fan to the motor has also seen some improvements in this generation. Noctua is calling it the SSO2 bearing, and the primary difference is the placement of the magnet. It's mounted much closer to the axis of the fan, providing more stability. This keeps the fan from producing micro vibrations. A stable fan is able to more effectively cut through the air, something that is essential when you want to push large volumes of air with low levels of sound.
These two improvements may seem simple, but Noctua has addressed the two biggest issues with cooling fans. From these updates alone, we expect to see significant improvements in both performance and noise.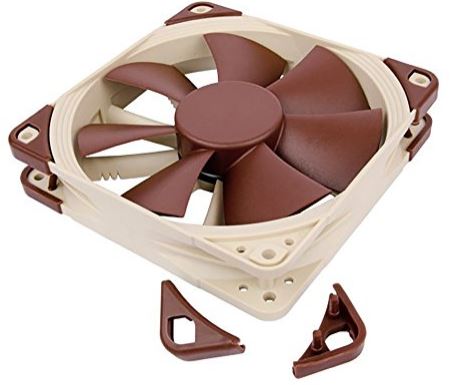 Air Flow
This fan uses a technology known as pulse width modulation. Imagine you're driving a car. If you were to floor the gas pedal, you'd probably go pretty fast. But let's say that you modulated your foot so it was on the gas for one second, and off the gas for another second. Even though your foot is only on the gas half the time, you wouldn't travel at half the speed. PWM operates on a similar principle, only several times per second. This allows the fan to spin at 1500 RPM and push a very large volume of air. Because of the PWM technology, this speed isn't incredibly accurate. Speed can vary up to 10% depending on air flow conditions. The end result is that the fan creates a pressure of 2.61 mm H20, enough to produce a pretty significant amount of air flow.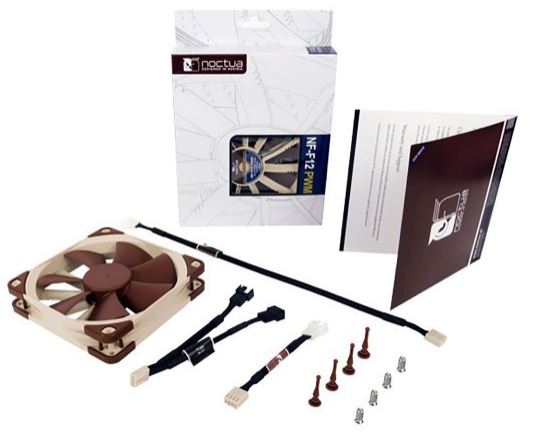 Noise
At low or medium speeds, we could barely hear the sound of the fan running. It was only at the highest speed, 1500 RPM, that we noticed a soft whirring sound. Unless you're pushing serious temperature, not all consumers will need to run at this speed. So Noctua has included a small adapter that can be connected in series with the fan. When attached, it will drop the maximum fan speed to 1200 RPM. At this rate, you can enjoy virtually silent air cooling.
Corsair Air Series SP120
The only company that can compete directly with Noctua is Corsair. Their products tend to be a little more on the affordable side, but still provide enough performance for most consumers.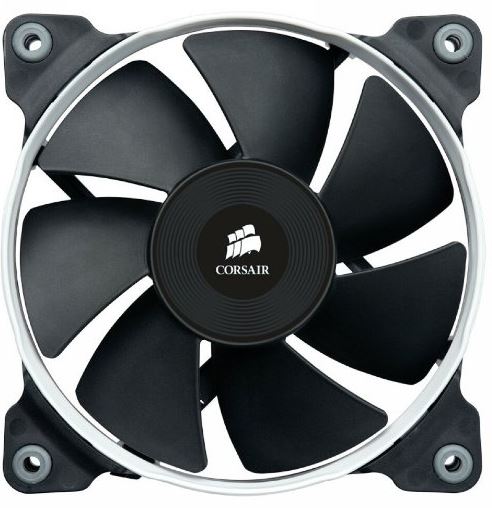 Design
The Corsair Air Series SP120 is, for the most part, a black fan. But the round bezel that surrounds the blade is highlighted with a splash of color, allowing it to look great in both dark and lightly colored cases. One of our favorite design elements is the rounded design. You're not just getting a typical square fan, it looks more like a completely circular fan with mounting points. In our case, the design of the fan provided a very professional look. It's something that you can't fully appreciate until you see it for yourself.
The colored ring itself is actually just a plastic cover. This can be removed or changed as you see fit. This design also allows for some creativity with placement. You can easily remove the ring and attach two fans together, doubling the air flow through a single vent.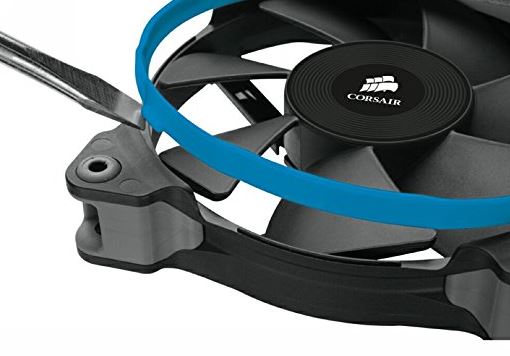 Technology
The SP120 is available in four separate packages. You can get a single, or a dual model as we described above. Each of these models is available pre-configured for high pressure, or low noise. This allows corsair to use a single speed fan motor, increasing stability at high speeds.
Air Flow
With a maximum air pressure of 3.1 mm H2O, this might seem like it's one of the most powerful fans on our list. But the blade design means that the pressure is greater towards the edge of the blades. Combined with the round fan guard, this makes for a very effective way to push air. The end result is over 62 CFM of airflow, one of the highest ratings we've seen.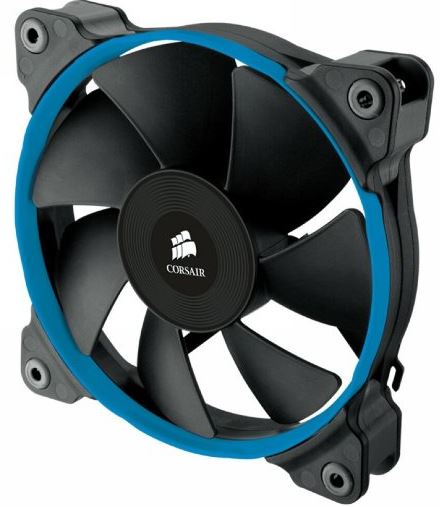 Noise
Such impressive airflow comes at the price of silence. But even though the fan wasn't completely silent, we were still pretty impressed with how quiet it was. The fan was certainly much quieter than our stock cooler, although you'll definitely notice if you're paying attention.
Rosewill 120mm Long Life Sleeve Case Fan
When we're looking for affordable PC accessories, Rosewill has always been one of our go to brands. With a large selection of PC cases on the market, it makes sense that Rosewill would also sell the fans to go along with them.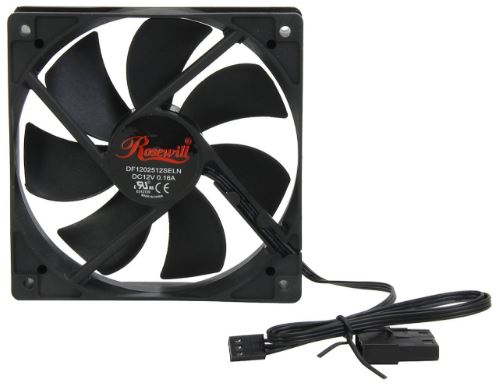 Design
The Rosewill 120mm Long Life Sleeve Case Fans are your "average joe" fans. Rosewill wanted to make a product that was available at a rock bottom price, and the obviously weren't willing to compromise on quality. Unfortunately, this means that any elements of fancy design went out the window. Instead, what you get is a plan black fan that is made with high quality components. The plastic mounting holes are all reinforced, allowing you to screw them in tight without damaging anything. If your fans are going to be tucked away in the nether regions of your computer, you might as well slap a Rosewill fan where nobody will see it.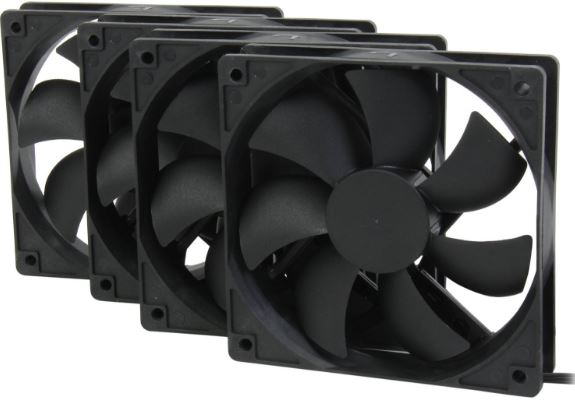 Technology
The reason that such a basic fan made our list was durability. The thing with most basic fans is that the sleeve (the plastic sheath that attaches the bearing to the fan blades) is generally made from very thin plastic to reduce weight. Over time, this sleeve wears out and the fan begins to vibrate. Rosewill uses a long-life bearing, allowing them to last many years without wearing out.
Air Flow
At 38.2 CFM, this isn't the highest performance fan on the market. But they give you four in a pack for a reason. These fans should be used primarily as exhaust or inlet fans. They aren't designed designed with complicated pressures or airflows in mind. You place a couple of these fans at the front of the case, drawing cool air in towards your graphics cards. Then one or two of them are placed at the top, providing an exhaust for the hot air. While the numbers might not look great on paper, this system can provide you with 80% of the cooling capacity of a high-end setup.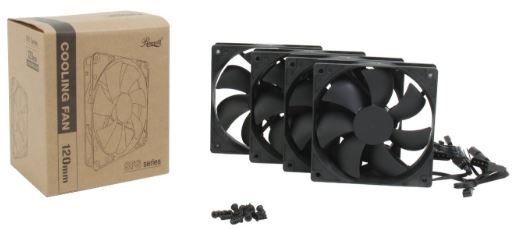 Noise
The benefit of low speed fans is that there is very little noise. While these fans aren't exactly silent while running on full, a high maximum RPM means that these fans will spend very little time on high speed. Without spending the big bucks, you can still get a virtually silent cooling system.
Which 120mm Cooling Case Fan is Right for Me?
Fortunately, choosing the right fan is a simple process. Looking for the ultimate in cooling capacity with minimal noise? The Noctua NF-F12 is your only choice. This line has consistently been the best performing on the market, and the latest edition is no different.
Looking for a stylishly good look and surprisingly competitive? Be sure to check out the Corsair Air Series SP120. This is one of the most unique looking fans on the market, and Corsair backs up its looks with impressive performance that will improve the cooling in any enthusiast level case.
If you're scoffing at the price of these fans, you can rest easy. For the same price as just one of the above fans you can pick up a stack of Rosewill Long Life Sleeve Case Fans that perform almost as good as the top end brand, with very little markup.
Please consider sharing:
Note: At no extra cost to you, we may earn a commission for purchases using our links. Learn more.