Improving the performance of your computer is easy. Just open your settings, tweak a few settings, and enjoy a faster computer!
If you're scoffing at that sentence, you're likely familiar with how challenging it can be to get your computer to run at its peak. The thing is, most computers have no problem running well above their specified rating. It's keeping them stable that's the problem. The more work your CPU does, the more heat it generates. When it starts to generate too much heat, your motherboard will throttle it until it cools down.
Even people running stock settings often find that, on a hot summer day, their games will start to lag the moment things get intense. In almost all cases of throttling, heat is the issue. And the best way to solve heat problems is with better cooling.
Currently, there is nothing on the market that is more effective than water cooling. Water is extremely effective at absorbing heat, and it's easy for us to pull hot water away from our chips while feeding them a steady supply of cool water.
If you're ready to drop some coin on a water cooling system, the first question you're going to ask yourself is "which one do I buy?"
Let us answer that question for you. We'll be taking a look at the three best water cooling systems on the market. First, we'll go in-depth and explore all the features. After, we'll put them to the test and let the numbers do the talking. Finally, we'll wrap it up by showing you which of these coolers is right for your application.
Corsair Hydro Series H100i
Corsair is one of the most prominent manufacturers of computer equipment. From high end power supplies to cases to the coolers inside, their entire business is built around keeping your hardware running efficiently and effectively. The H100i is an updated version of their bestselling midrange liquid cooler. This particular product is popular due to how easy it is to use. There are no custom water lines to cut and no complicated installation necessary. You just plug it in, attach the plate and go.

Design
The Corsair Hydro Series H100i is a very subdued looking piece of equipment. The black and grey color scheme isn't particularly eye-catching from a distance, but up close the subtle details really start to stand out. The smooth ridges in the center of the fan, the gentle taper of the metal cold plate, and the threaded cover that's slipped over the waterlines are, in a way, indicative of the precision engineering that went into the cooler. But at the end of the day, this isn't going to be another large chunk of hardware you're shoving into your case. With the air cooler removed, our case looked much cleaner and more professional. The H100i just slipped into the background, did its job, and allowed the focus of our PC to go back to our graphics card and lighting system.
If you're not into the grey appearance, you can actually swap out these fans for any standard 120mm versions. This gives you the option of having brightly colored or LED illuminated fans, if you're interested in that look.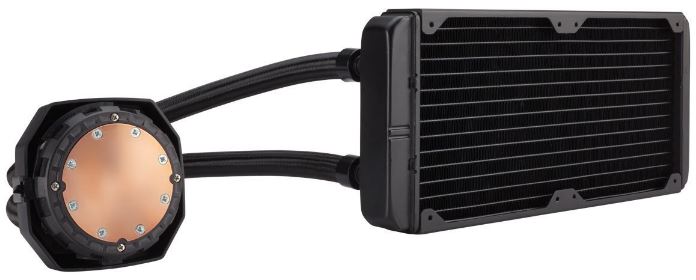 Radiator
At the heart of every liquid cooling system is the radiator. Just like the radiator in your car, heated fluid is sent through a fine mesh of tubes with a very large surface area, and air is passed over them to improve cooling speed. The two main factors in how well a cooling system works is the amount of surface area, and the volume of air that is passed through it. Currently, the H100i is one of the best in both these regards.
The dual fans each measure 120mm, and the aggressive pitching of the blades allows them to push a lot of air. But even though they move more air, they actually make less noise than most 120mm fans. The curved shape of the blades allows them to gently scoop air, creating more gradual transition that reduces turbulence. Most of the surface area is positioned perpendicularly to the blades. This makes the radiator itself act a lot like a sharpened blade cutting through the airflow, keeping it whisper quiet.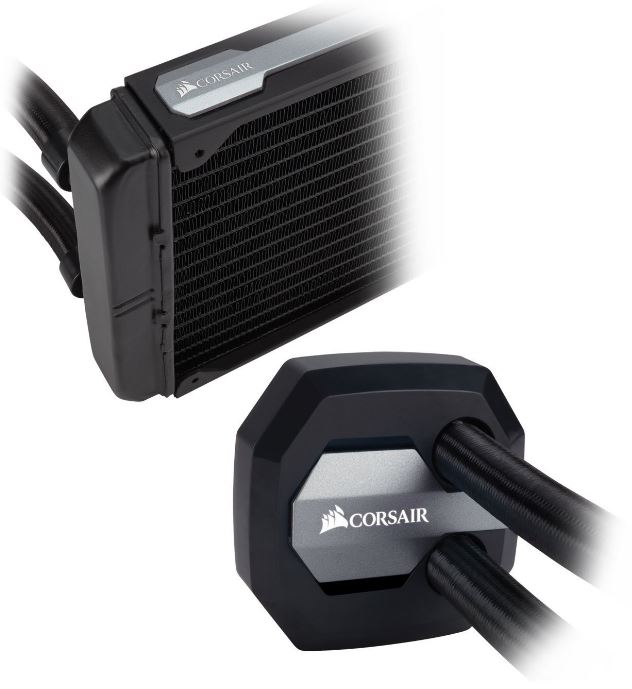 Cooling Plate
That small little block on the end is the part that actually attaches to your CPU. These cooling blocks are expertly crafted, and have historically done a great job at what they do. A poorly designed plate will reduce the performance of your entire system, so Corsair uses this same high quality one for almost all of its coolers.
There are a few wire leads coming out the side. These are the temperature sensors. Taking the temperature right at the source gives better data to the software, allowing it to do a better job at controlling the fan speed. At each corner, there is a small extrusion that's used for mounting. Because of the way these mounts are spaced, this cooler can be used with almost any modern CPU socket on the market.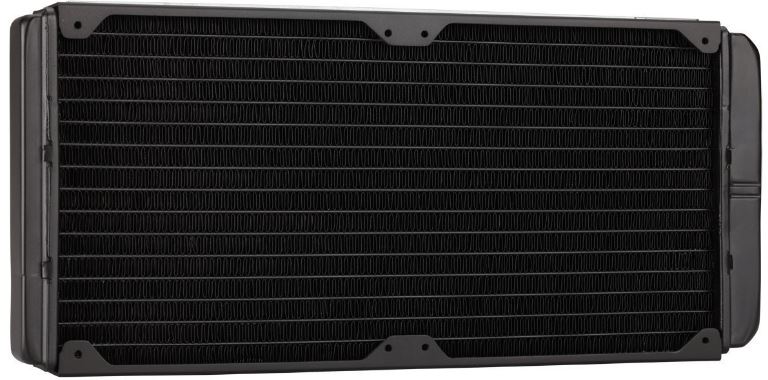 Installation
getting this cooler set up in our system was as easy as we could have hoped for. The box comes complete with all the adapters, screws, and mounts that we could hope for. A quick browse through the helpful startup guide helped us identify which mounting plate to use with our board. From there, we just had to attach four screws to the motherboard, and mount the radiator at the front of our case where it had good airflow. To make the most of this system, you should use a case that was designed for liquid cooling. But if you don't have one, the top of your case will work alright for the time being.
Thermaltake Water 3.0
Like Corsair, Thermaltake is another company that started out in cases, but moved into CPU coolers as a way to expand. Since their first product hit the market, they've grown a loyal following of enthusiasts who trust them to keep their computer running efficiently.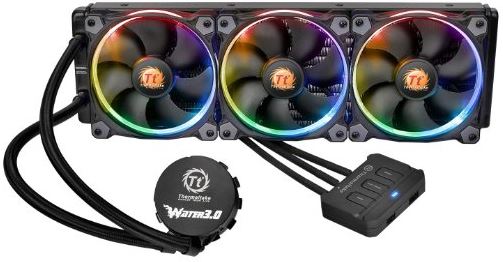 Design
The massive radiator of the Thermaltake Water 3.0 doesn't just stand out, it demands attention. The RGB LED ring includes a controller that lets you choose from one of five different lighting modes. Much like RGB LED internal lighting, they are capable of producing 2.5 different colors in a way that is sure to give your case a unique look.

Radiator
Even without the LEDs, the radiator would be the most stand out feature of this cooler. With a total of 360mm of fans, this cooler is capable of pushing more air than any other cooler on the market. This latest version includes updated fans that have extremely high static pressure. They're not the quietest on the market, but they more than make up for it with improved performance.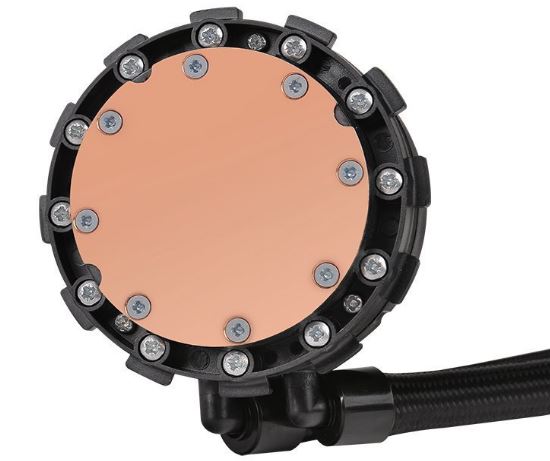 Cooling Plate
The unique bottle cap look of the cooling plate on the Water 3.0 system isn't just a design choice. It's actually an intelligent way to ensure that this system can outlast most of the hardware in your computer. CPUs need cooling in the center of the chip. What Thermaltake does is create enclosures that go around this pad and bolt down onto your motherboard. Even if CPUs are released with a radically different shape that makes every other cooler obsolete, all you'll need to do is buy a cheap bracket and you'll be able to mount your existing cooler in place.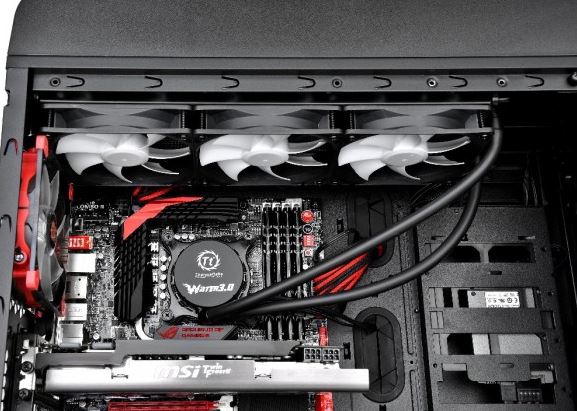 Installation
Although installation is similar to the Corsair system, there are a few extra steps. The first thing you'll want to do is insert the cooling plat into the included bracket. We were sure to be careful to line it up correctly, as misplacing it would require you to scrape off and replace the thermal place. But once we got it on, screwing it down and installing the radiator was just as easy as we expected. The last thing you'll want to do is install the RGB LED controller on the top of your case. Thermaltake includes a free mounting pad to stick it on, so you can change the look with the touch of a button.
NZXT Kraken X62
NZXT made their mark on the industry with a wide range of cunning edge gear targeted towards the high-performance marketplace. The X62 is one of their first high end cooling systems, so we wanted to see if it could compete with the major brands.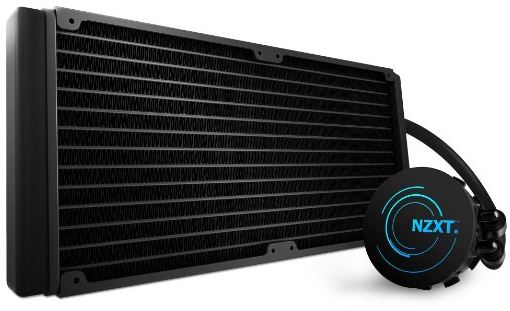 Design
The NZXT Kraken X62 opted for a high contrast design that helps it remain subtle, while still standing out. The core of the cooler is done up in a minimalist black tone, but it's heavily accented by the smooth white fans and the blue NZXT logo on the cooling plate.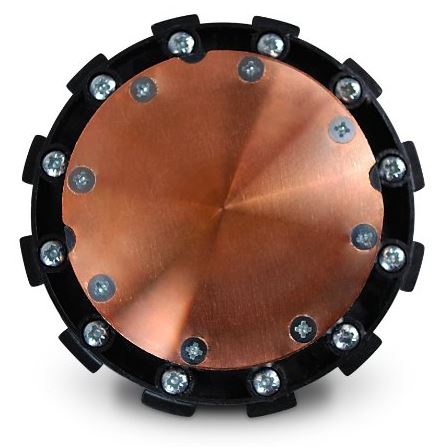 Radiator
Even though the radiator is just a dual fan model, it's actually much larger than most dual fan systems on the market. They use 140mm fans with heavily pitches blades that produce a large amount of airflow. The radiator is thicker than most, as are the air gaps in between the fins. This allows cooling to happen a little more gradually, drastically improving the temperature drop as water circulates through. This also allows the fans to run a little slower, providing superior air flow without the noise.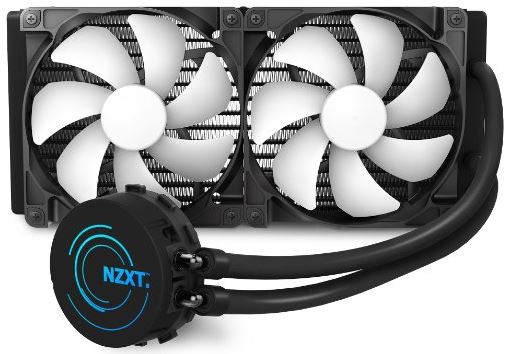 Cooling Plate
While the plate is similar in design to Thermaltake's design, it's a little thicker and with sharper edges. This allows for a greater internal water reservoir and better heat transfer. The copper base itself is also a little larger. While this is likely overkill for today's use, it will be useful to anyone who's using Xeon processors, or for future processors which may have a larger die size.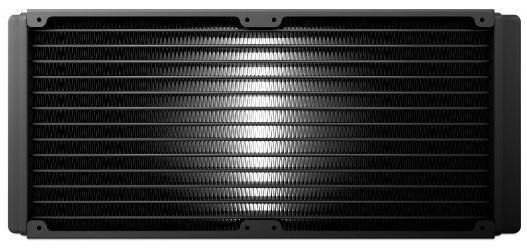 Installation
Surprisingly, this was one of the easiest coolers to install. The cooling plate clicks into the bracket, so you don't have to struggle lining it up. The water lines themselves are also made of a softer material, which made routing them easier. After the four quick bolts to attach the radiator, we were ready to test.
Benchmark
To find out which liquid CPU cooler has the best performance, we wanted to pit them against each other in an identical test. We noticed that many benchmarks use a stock CPU to keep things relevant to consumers, but we decided that it would be more effective to see how they performed in a challenging environment. We had an Intel i7 4790k that we'd managed to overclock to 4.5 Ghz, but this was approaching the upper range of its limit. Because it was producing so much heat, this test will be indicative of how these coolers will work when you're pushing your hardware to the limit.
The temperature in the testing room was about 17 degrees Celsius at the time these tests took place. We'd fire up our computer, wait for temperatures to settle out, then take an idle temperature. After, we'd run a stress test and see how much the temperatures rose.
At idle, the best performers were neck and neck. The NZXT Kraken X62 came out ahead at 30 degrees, with the Corsair H100i coming up just behind it at 31 degrees. Surprisingly, the most expensive cooler on our list was the warmest. At 34 degrees, we weren't sure if the Thermaltake Water 3.0 was going to make our list.
But when we cranked things up a notch, we found that the results changed quite a bit. Under 100% load, the Water 3.0 system was actually our best performer at 66 degrees. The Corsair H100i GTX, once again, came in second place at 68 degrees, and the NZXT Kraken X62 lagged behind at 69 degrees.
Which Liquid CPU Cooler is Right for Me?
If you're not sure what to make of those numbers, we can break it down for you. Anyone who's overclocking should purchase the Thermaltake Water 3.0. This cooler isn't just designed for high temperatures, it works best under load.
Meanwhile, the NZXT Kraken X62 is the exact opposite. This cooler is designed for people for want to reduce the time throttling under heavy load, but aren't planning anything more than a mild overclock. It's still a great performer, but this is reduced when temperatures get too high for the slower fans to keep up.
If you want the best of both worlds, the Corsair H100i is the cheapest cooler we reviewed, but it still managed to hold its own against more expensive coolers.