Finding a good set of wireless earbuds can feel like looking for a needle in a haystack. This is because there are just so darned many of them on the market. And for every quality piece of audio technology, there's an identical-looking Chinese knockoff ready and willing to take your money. Thankfully, we're here to help you sort out the wheat from the chaff.
Today, we'll be looking at the Dudios Tic Wireless Earbuds. These earbuds are known primarily for their small size and ease of operation. But how about the sound quality, or the battery? We're going to take a close look, and tell you everything you need to know to make a sound decision.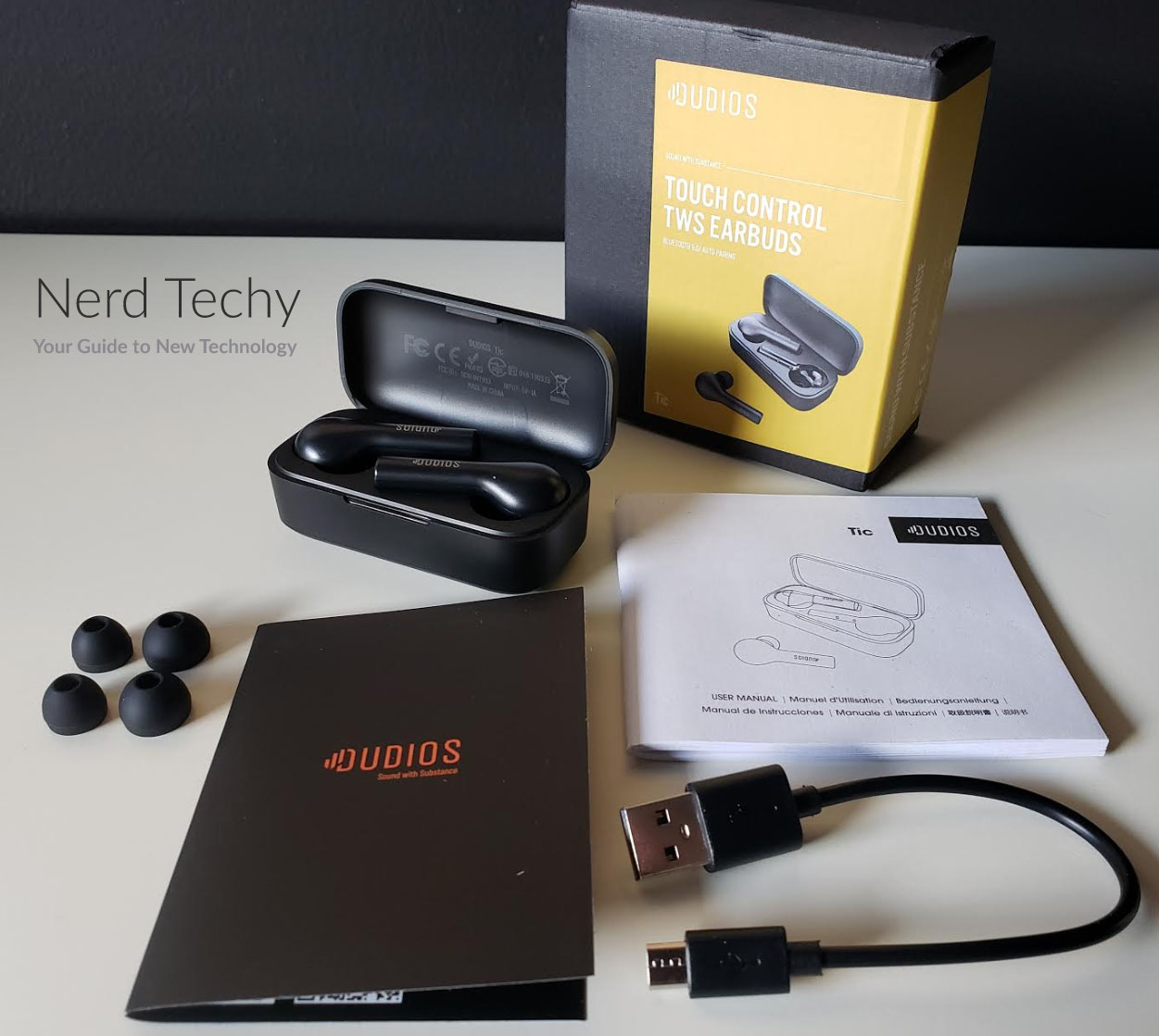 Overall Design
Like most wireless earbuds, the Dudios Tic Wireless Earbuds consist of two parts. First, there's the earbuds themselves. Secondly, there's a carrying case that doubles as a charger. This design dates back to Apple's original AirPods, and it works so well that everyone is using it.
The actual Tic earbuds are exceptionally compact, measuring less than an inch in width and under two inches long. They're constructed from black ABS plastic, with a white "Dudios" logo on the sides. There are also small LEDs at the base. The LEDs remain off during normal operation, but light up when the earbuds are charging. As a result, you'll never have to wonder whether your Tic earbuds are actually getting a charge. Because they're so small, the extended bottoms don't stick out from your ears like many other models. They hang tight to the side of your ears, so they're not likely to get knocked out during physical activity.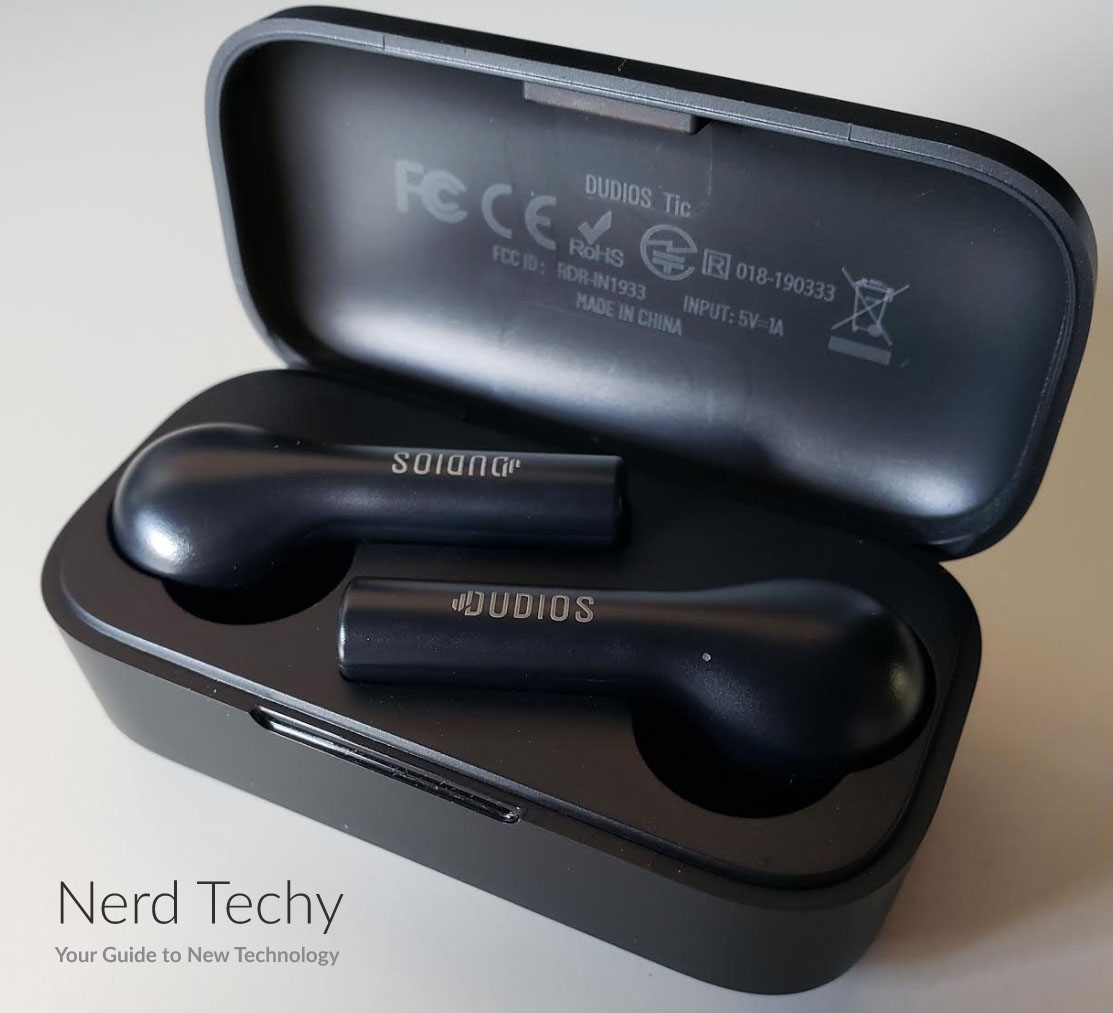 Because the Tic earbuds are so compact and light, they're a great choice if you have sensitive ears. The overall fit is very comfortable. If you find that they're too tight or too loose, try swapping out the silicone ear tips. There are 3 different sizes included in the package, so you can customize the fit for your needs. Operation is also very comfortable. The buttons on the back of the earbuds have a soft-touch design, so you don't need to press too hard. Just give them a light tap to perform a variety of functions.
The charging case is also constructed from ABS plastic, with a spring-loaded lid. It's not magnetic, but given the small size, this isn't really necessary. The spring is more than sufficient to keep the lid closed. It's not going to pop open in your pocket, backpack, or laptop case. Inside the case, there are two molded wells for charging your buds. Each well contains two prongs for delivering a charge, which makes it easy to seat the earbuds securely. The USB charging port is on the back of the case, but the kit's 6-inch charging cable is awfully short. As a result, you'll need to keep the case close to a USB port, or buy a longer cable.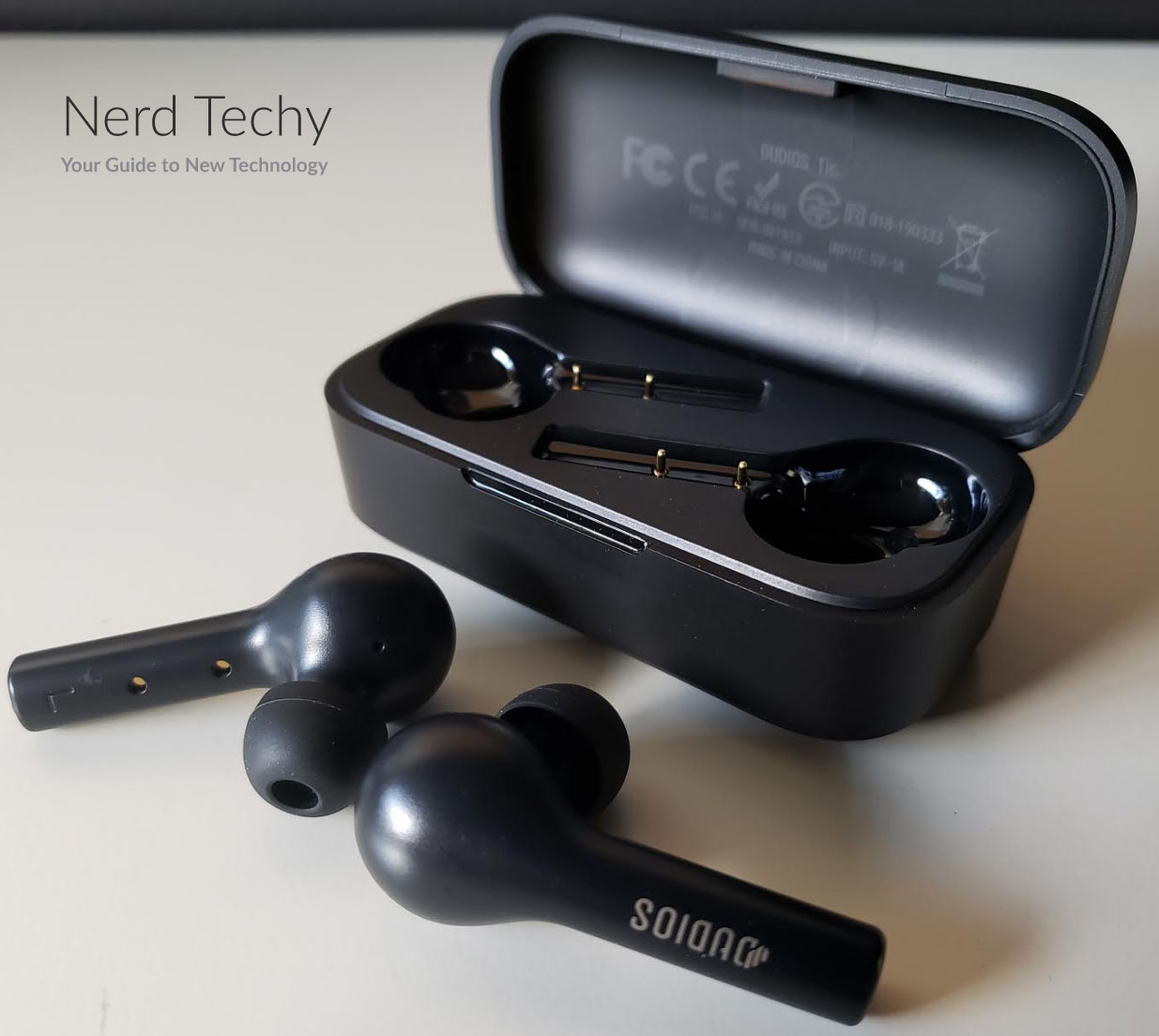 The Dudios Tic earbuds and case have an IPX4 water-resistance rating. This means that they're not suited for very wet conditions, such as a shower or rain storm. However, it's a sufficient rating for sweat resistance. You can wear the Tic earbuds during an intense workout, and not have to worry about them shorting out.
For even better security, you might want to think about earbuds with a neck strap. With this design, you don't have to worry about plugs or tangled cord, and the earbuds are harder to lose. The FIIL Driifter Plus is a great example. The neck strap also offers improved battery life, since the battery is located in the strap.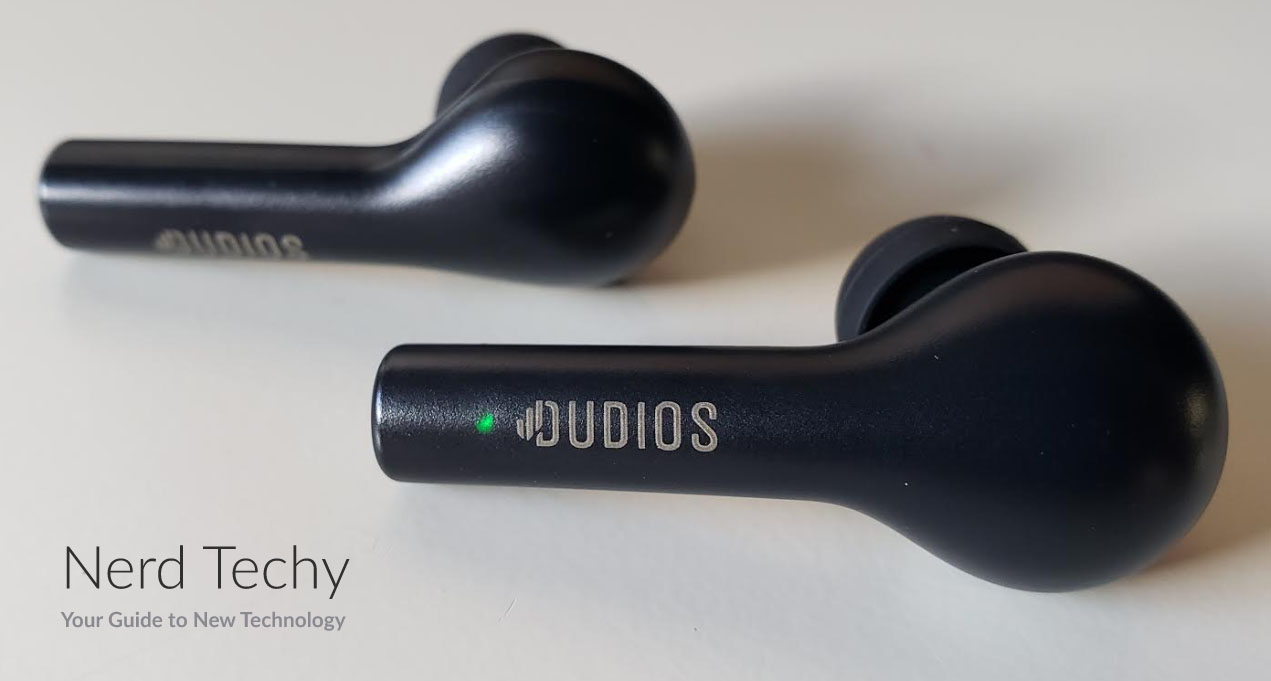 Battery & Charging
When you first receive your earbuds, the first thing you'll want to do is plug them in and fully charge them. This is necessary, since you don't know how long ago they were manufactured and how much juice they've lost. Ideally, this should only take a few minutes, since the earbuds are fully charged at the factory. But even when you've run them completely dry, they'll charge to 100 percent in only 2 hours. The charging case also charges in 2 hours from a totally dead battery. This is longer than we'd expect from a USB Type-C charger, but it's par for the course for Micro USB.
The earbuds themselves offer 4.5 hours of playtime with a full charge. This is a manufacturer's rating, based on testing at medium volume. At full volume, you can expect 3.5 to 4 hours depending on bitrate and other variables. This isn't terrible. It's enough for most people's back and forth daily commute, with time to spare. But it's not as good as a lot of other earbuds on the market. The charging case provides 4 additional charges, for a total rated usage time of 22.5 hours. Again, this isn't super impressive, but it's enough to get the job done for most people.
That said, you may be looking for longer battery life, for travel, camping, or other situations. In this case, check out our review of the Anker Soundcore Life P2. They offer a total 40 hours of battery life, which is some of the best available on today's market.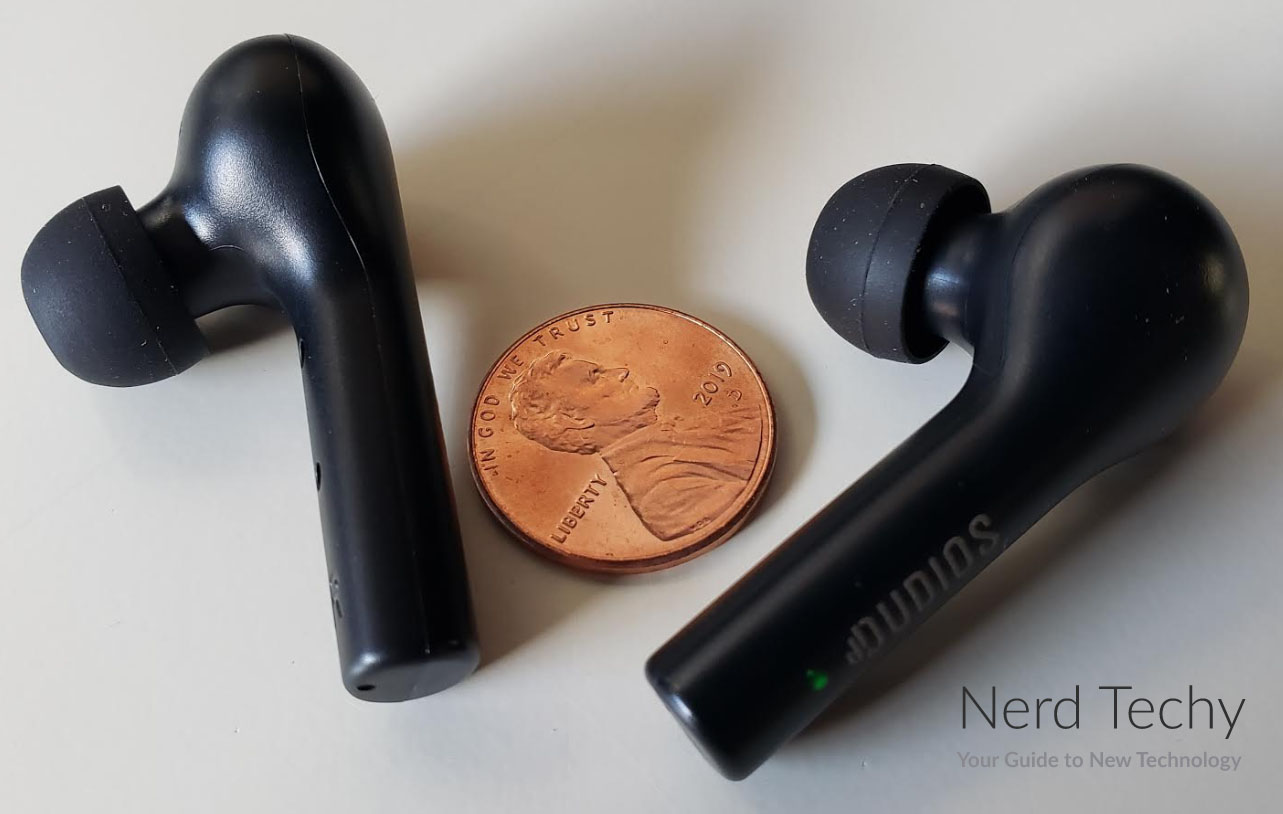 Sound Quality
Sound quality is the meat and potatoes of any pair of earbuds. After all, it doesn't matter how good the other features are if your music is thin and reedy. Thankfully, the Dudios Tic earbuds are up to the challenge. The overall balance is good, with plenty of separation between frequencies. Vocals, guitars, synths, and drums all come through clearly, without any muddiness or rattling. Now, keep in mind that we're grading on a curve. These are earbuds, not headphones. They don't offer a ton of punch on the low end. But the bass is present, which is acceptable when you consider the compact size and small drivers.
The Dudios Tic earbuds don't offer any active noise cancelling (ANC). The noise cancelling is passive, meaning that a good ear tip seal will block out outside noise. This is fairly standard for earbuds, as opposed to headphones. However, it's important to get a good fit with a secure seal. Otherwise, outside sound is going to bleed through.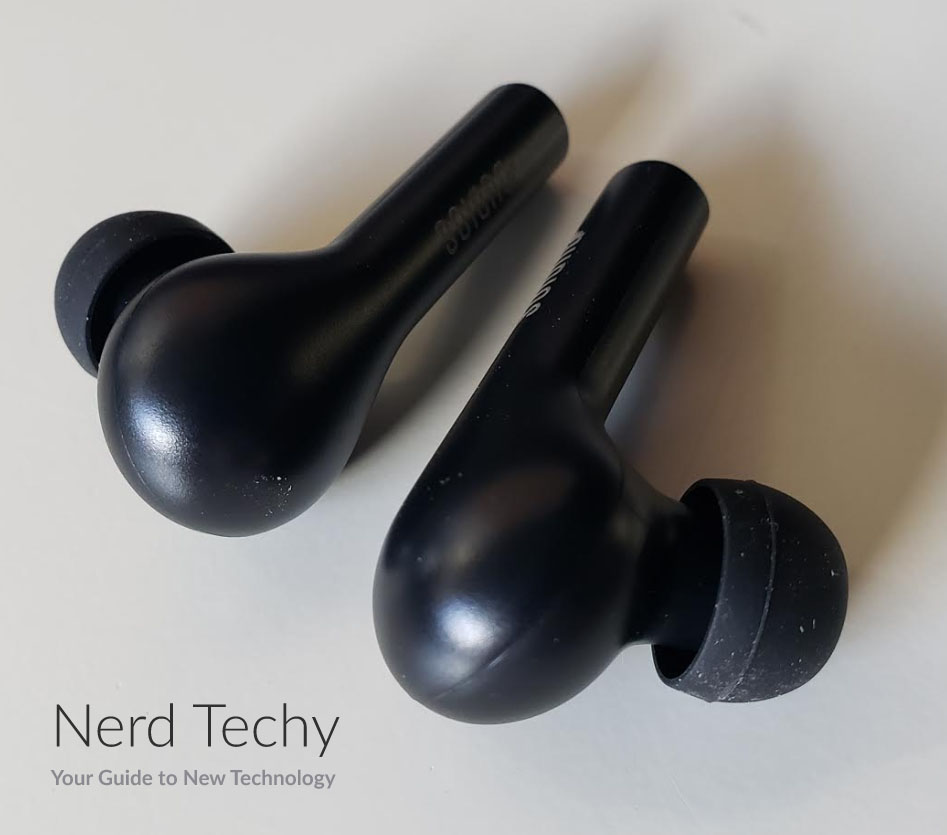 Call quality on the Tic earbuds would best be described as "reasonable". It's good enough to get the job done under the majority of circumstances. But keep in mind that, once again, there's no active noise cancelling, even on the mic. If you're talking on the phone in a loud environment, the person on the end might have trouble hearing you.
One feature we appreciated was the Tic's "Game Mode" function. This mode reduces latency to near zero, at the expense of some battery life. The idea is that you can play games or watch videos without the audio lagging behind the video. To activate this mode, just triple-tap one of the earbuds' soft-touch buttons. Make sure to turn it off when you're listening to music, though. Otherwise, you're just wasting battery life.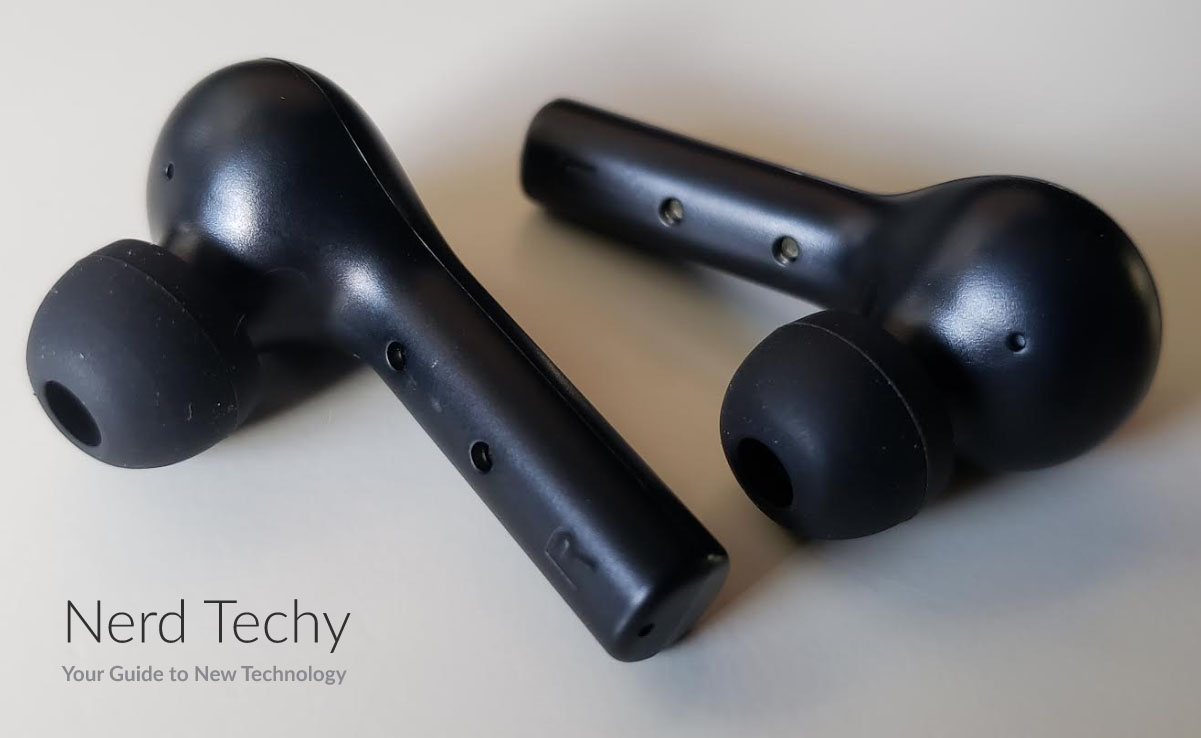 Active noise cancelling isn't regularly available in wireless earbuds. They're just too small to contain the necessary technology, unless you're willing to pay a significant premium. But if you want the best ANC, there are options available. One good choice is the TaoTronics SoundLiberty 79. They don't have the best battery life, but they do a great job of blocking out background noise.
Connectivity & Extras
Dudios Tic earbuds use the Bluetooth 5.0 protocol. This protocol allows for minimal latency, as well as better clarity and stability than older protocols. That said, the range is limited. Your signal will cut out if you're more than 33 feet away from your phone or MP3 player. Then again, how often are you listening to music without one of those things in your pocket?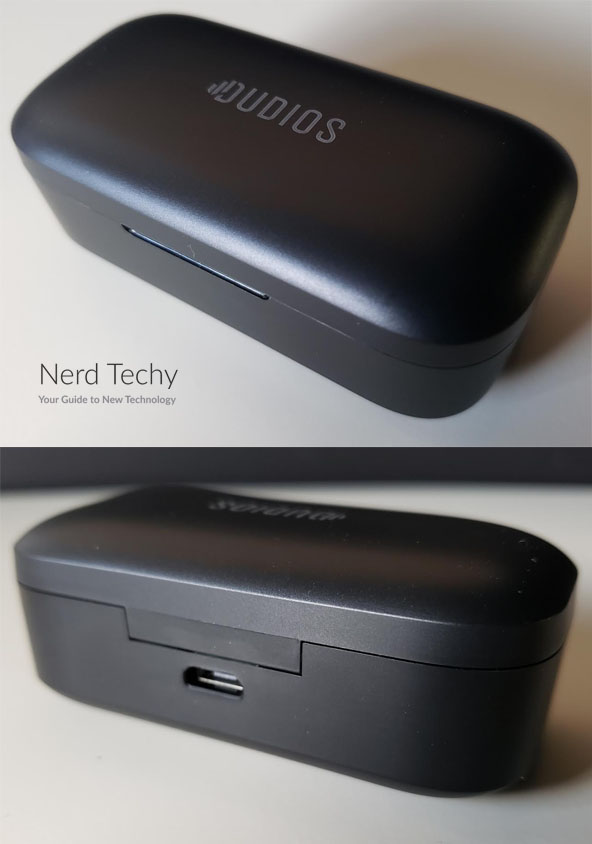 One thing we did appreciate is that there's no master/slave restriction on the Tic earbuds. What this means is that you can easily pair a single earbud, simply by removing it from the case. You can do this with either the left or the right channel, effectively doubling your battery life. Of course, a single earbud isn't ideal for listening to music, but it's just fine for phone calls. To return to stereo mode, simply place both earbuds in the case, then remove both of them. At that point, they'll automatically re-sync as a pair.
Final Verdict
The Dudios Tic Earbuds are a quality pair, albeit with some battery limitations. The main attraction, for us, is the optional game mode. It offers minimal latency, while allowing you to maximize battery life when latency isn't an issue. They're also comfortable to wear, and the sound quality is reasonably good for a pair of wireless earbuds. Best of all, Dudios offers a 30-day no-questions-asked satisfaction guarantee. There's really no risk in giving them a try to see if they work for you.