Quick Analysis
Pros
Has multiple types of drivers.
Wide range of good sound.
Noise-cancelling is effective.
Very comfortable.
Magnetized ends for storage.
Cons
Phone call quality is iffy.
Cord may not be long enough.
A bit expensive for some.
When it comes to top-tier wireless headphones, you want something worth your money. More than that, you want something that regular wired headphones can't already provide. After all, wireless headphones tend to be significantly more expensive. All that extra cost needs to go somewhere worthwhile.
Wireless headphones are normally sought after because they are easier to use with multiple devices. In addition, they often have wireless functionality to facilitate phone call reception or other neat features. At the same time, many subpar wireless headphones don't have the best sound projection. Even those with so-called noise-canceling technology are poor compared to larger over-ear headphones.
So how do the Fiil Driifter DNC Plus Digital Noise Canceling Headphones compare? Good news; we're about to find out! In this detailed review, we'll look at everything that these wireless headphones have to offer. By the end, you'll know for sure if the headphones are right for you or if you should keep looking. Let's get into it!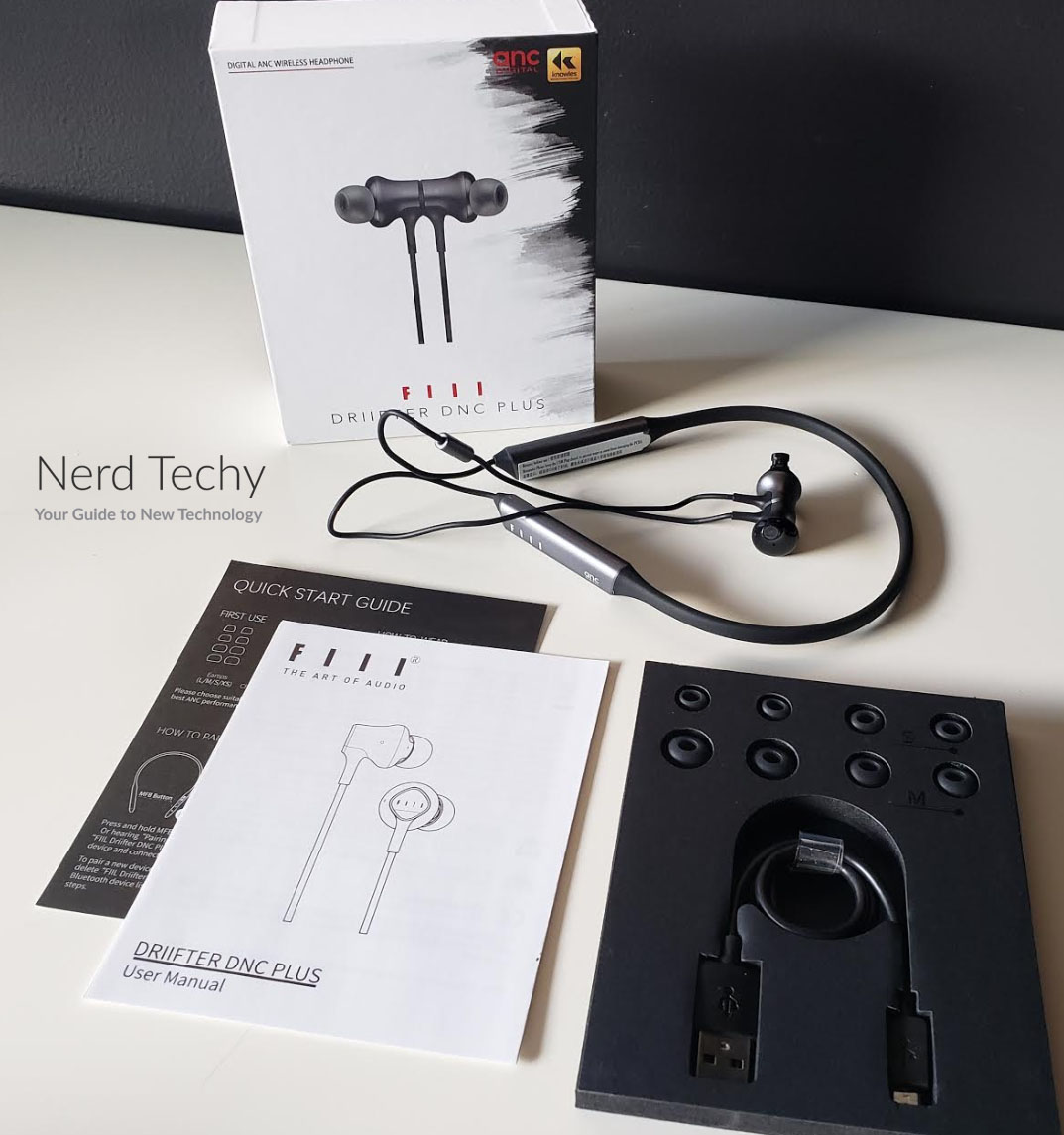 High-Quality Sound
The Fiil Driifter DNC Plus Digital Noise Canceling Headphones offer a great listening experience for anyone who picks them up. Embedded within each headphone, you'll benefit from the sound produced by custom design dynamic drivers. These are 10 mm in size, appropriate for producing excellent bass and mid-range sounds. Tracks and artists that like to produce their best works within this sound zone will be excellent to experience as a result. But high-range sounds aren't left out.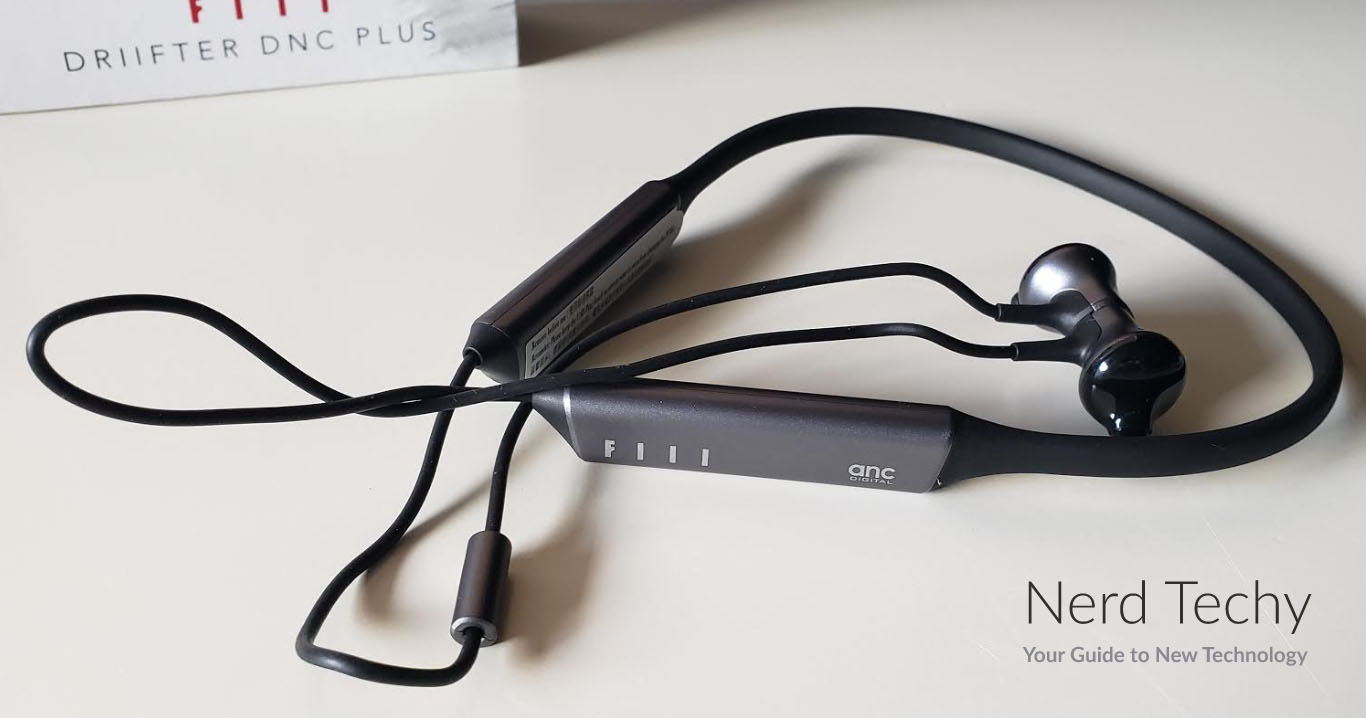 An addition special driver – called the Knowles Balanced Armature Driver – takes care of them. This extra driver reproduces natural sounding high tones. When all of the drivers are working in tandem with one another, the resulting musical reproduction is fulfilling and robust.
We're noting this design choice in particular because many headphones don't incorporate multiple types of drivers. Granted, these headphones are quite pricy, but this is the end result. You won't get the same listening experience from headphones without multiple drivers handling multiple types of sound.
This does mean that you should always focus on checking for driver updates from the manufacturer. Such updates will help the drivers work the best that they can. It'll keep the headphones on the cutting edge for a lot longer.
Noise-Canceling Tech
However, a great listening experience is only partially provided by good sound reproduction. The other half of the equation lies within the quality of a pair of headphones' noise-canceling technology. These headphones have another great solution. Deeper inside each ear piece, you can also find a tiny microphone. These microphones are built with specific, high-sensitivity circuitry.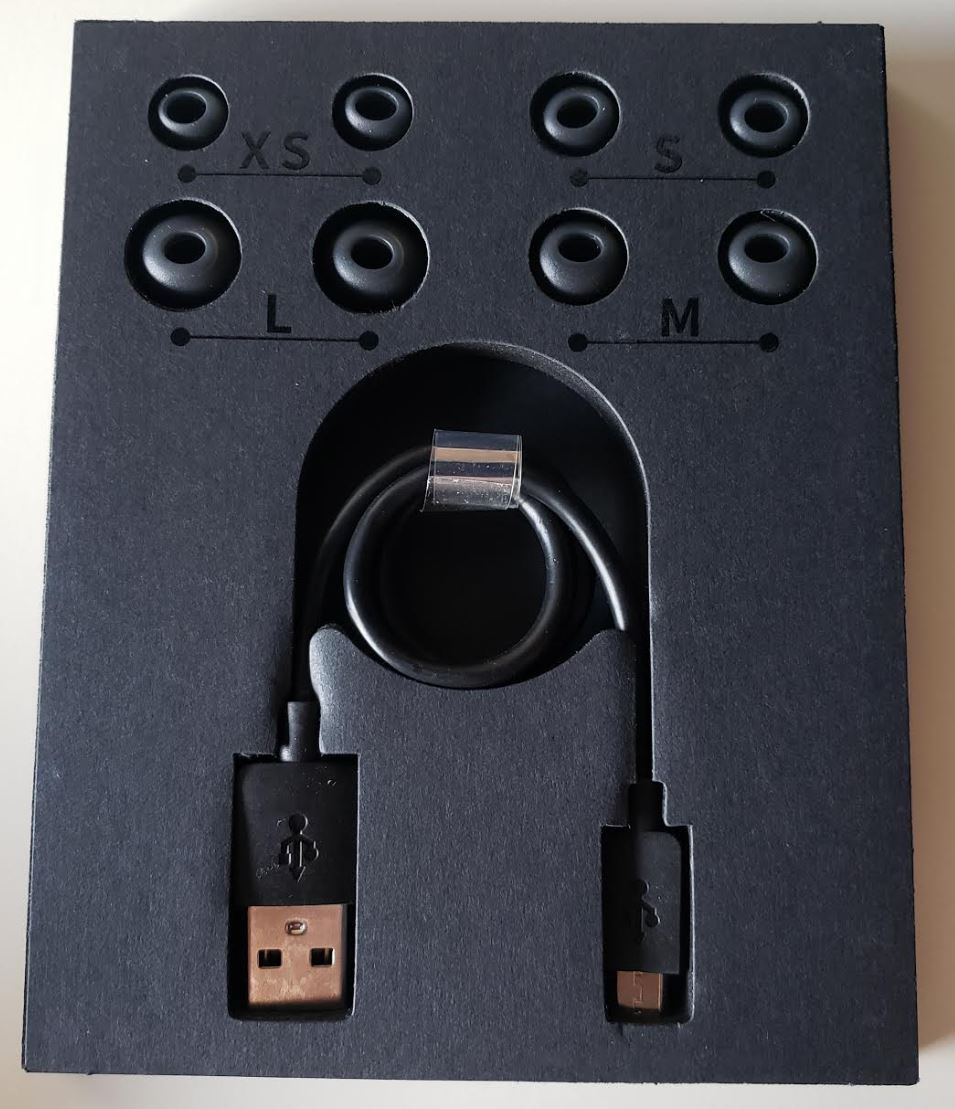 It's a bit complicated, but in a nutshell, this circuitry produces opposing soundwaves through the microphones when they detect sound coming from outside. The noise-canceling tech basically pushes back against incoming noise. The result? About 98% of ambient noise from outside the headphones is either eliminated or reduced. It's an excellent noise-canceling solution that you can find in many similar headphones these days.
We think that these headphones do a phenomenal job of canceling ambient soft noise like stuff on the streets or in the gym. The noise-canceling capabilities aren't so deep as to truly insulate you from your environment. That kind of performance is better left to bulkier Bose headphones. Still, it's a good effect, especially for smaller audio devices.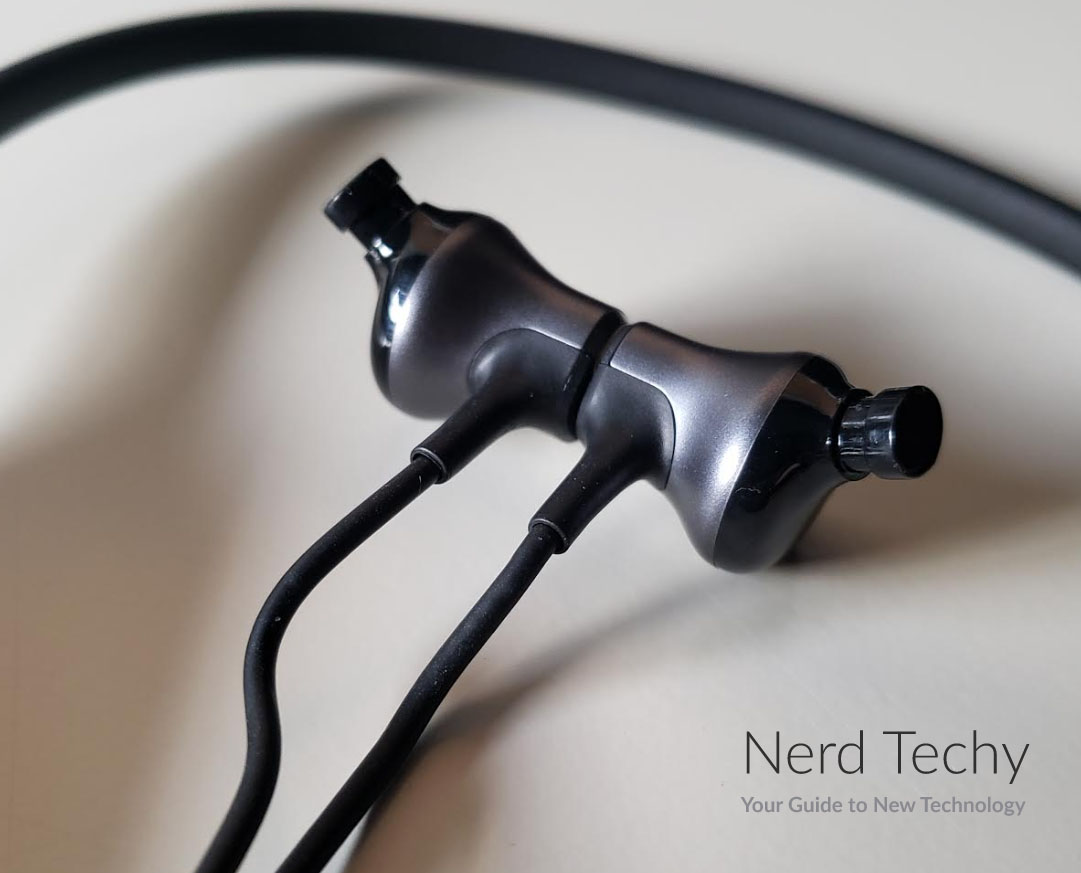 Sound Filtering
In fact, there are many people who argue that true noise canceling can be dangerous. Take walking around on the street with your headphones in or going for a run. You won't be able to hear a car honking at you or someone trying to get your attention if all outside noise is canceled. So many of the best noise-canceling headphones of all varieties only partially block sound. Others will use a special noise-canceling mode to let you maintain some audio awareness of your surroundings.
That's the solution that the Fiil Driifters use. Their unique monitoring mode can be activated by pressing the MFC button three times. This button is located on the main control rod some ways down the wire. Once you activate this monitoring mode, airline or subway announcements will be clearly heard. At the same time, most other ambient soft or noise will still be filtered out.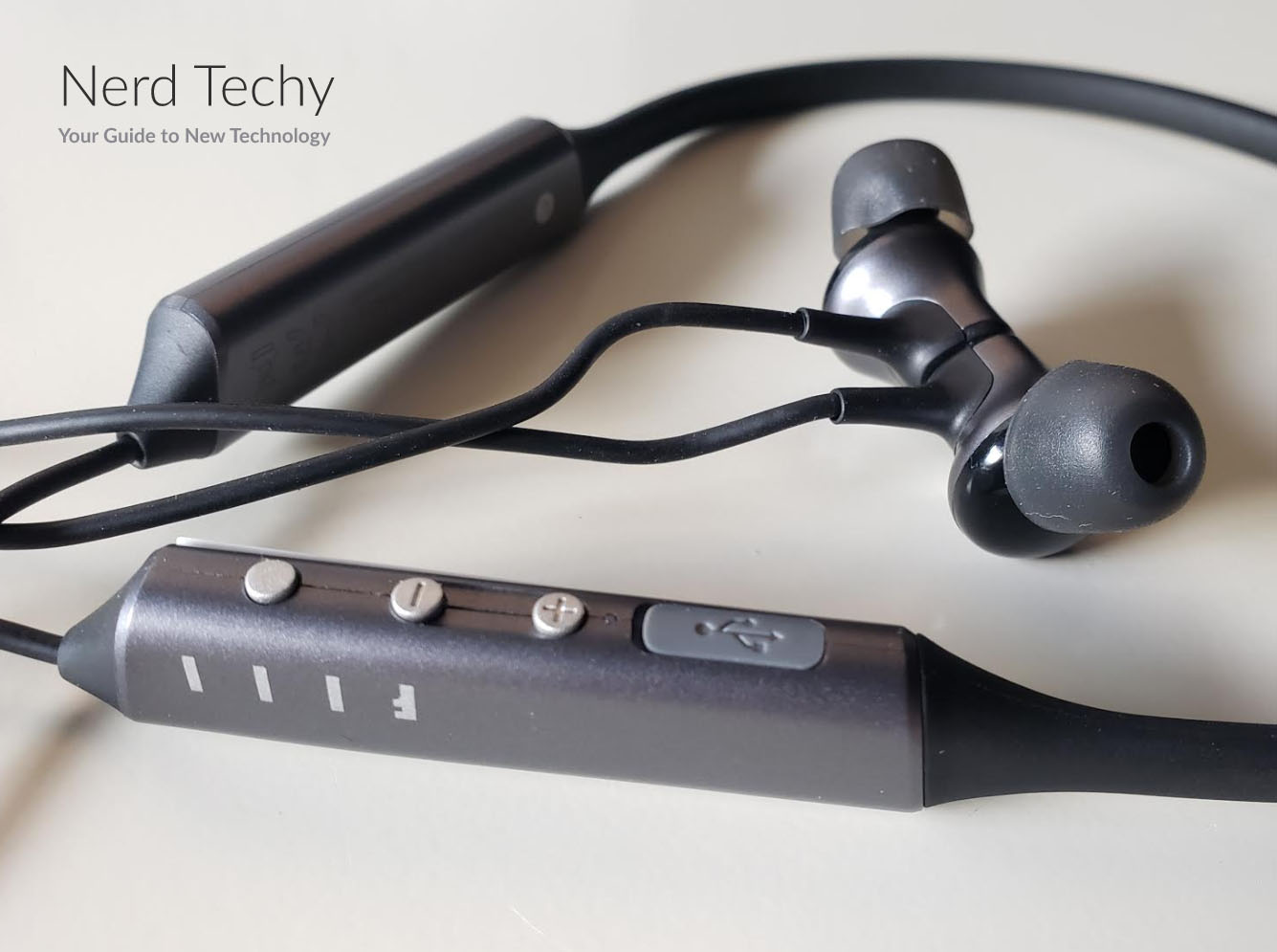 It's a nice way to peacefully enjoy a walk through a busy city street without endangering yourself or others. It's also a much better solution than having to remove your headphones every time you need to change direction. Uninterrupted tunes are a certainty!
Connectivity and Calls
The microphones serve an additional purpose. As these headphones are Bluetooth compatible, you can use them to take your phone calls and have a conversation uninterrupted. The built-in microphones are decently clear, though they don't do the best job of blocking out noise for your conversation partner.
Even so, having the ability to make a phone call without changing your setup is a nice touch. The microphones also provide intelligent voice tips, like alerting you to your battery. They'll also tell you when you've reached maximum or minimum volume so you don't keep spamming the button.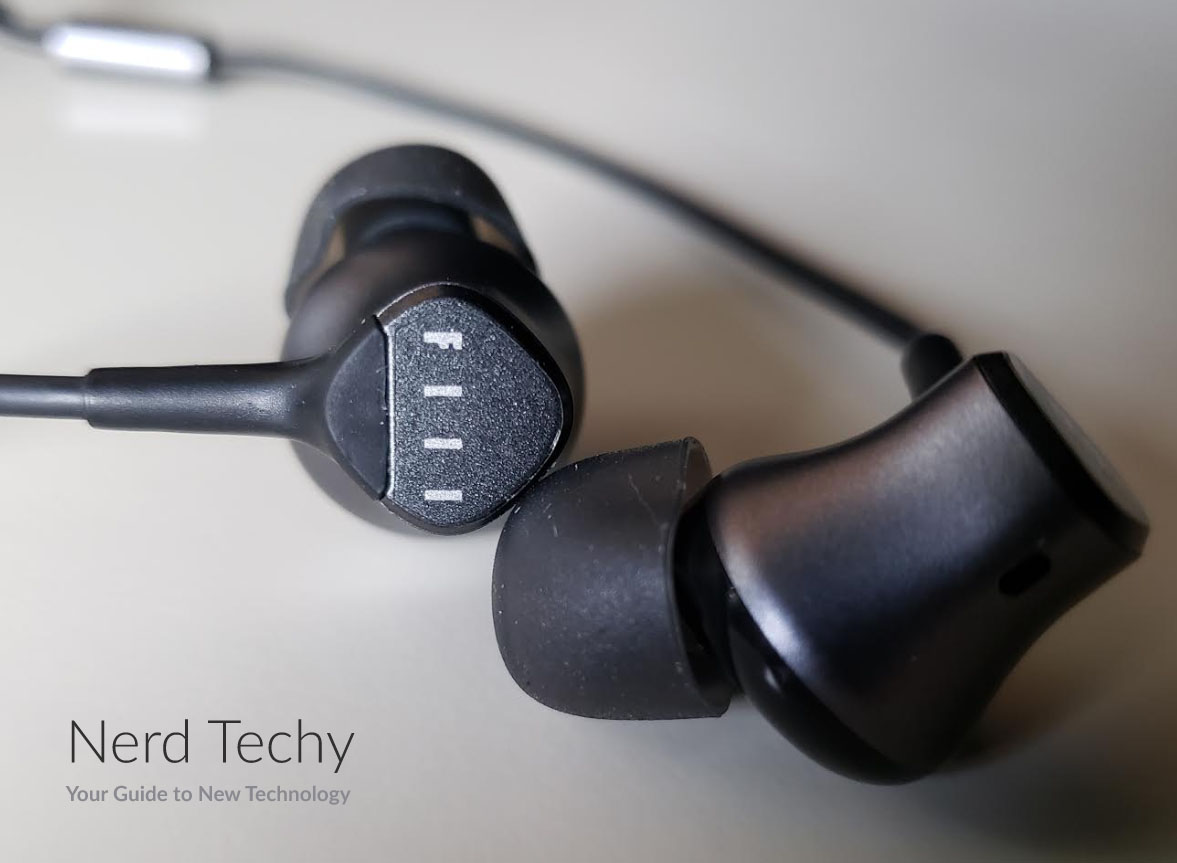 The aforementioned control rod has three buttons down its length. The first is the MFC button we mentioned before. The second and third buttons are combined volume and track control switches, letting you swap between songs and volume with ease. There's also a covered USB port. This is where you'll charge the headphones when they are not in use.
Battery and Comfort
Speaking of charging, these headphones can last for up to 10 hours if you fully charge the battery. Since charging only takes about two hours, having these ready to go before a school or workday isn't difficult. Even if you don't have that kind of time, a 15-minute quick charging session can give you an hour of playtime.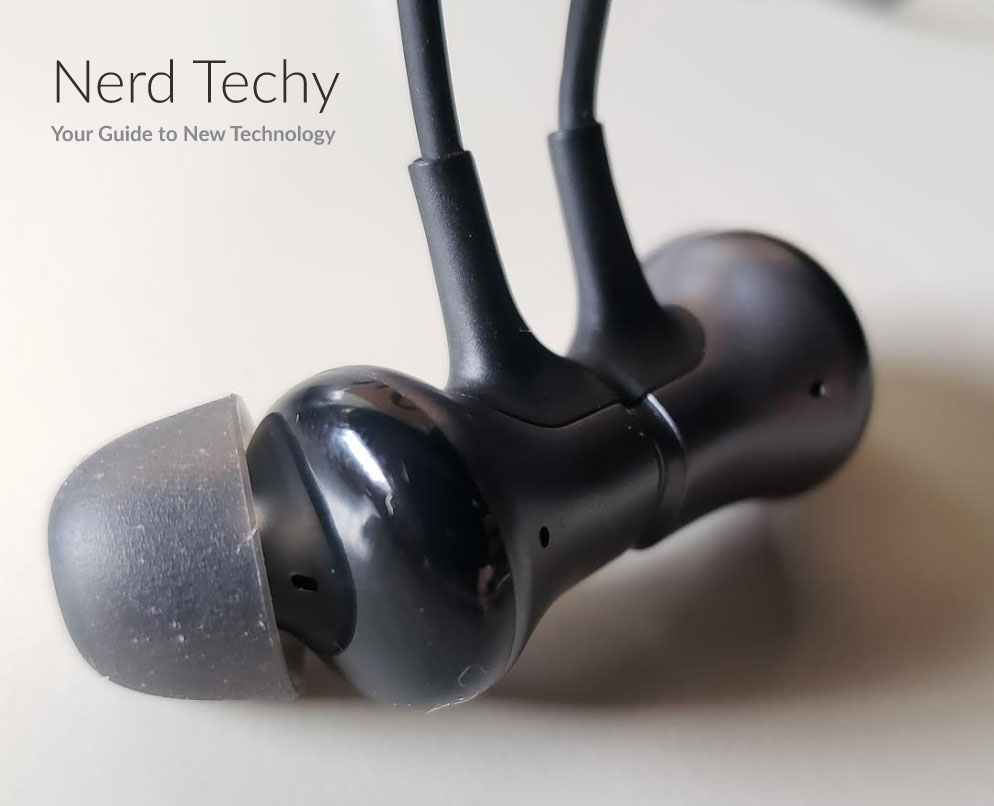 Charging is really easy due to the USB port that we mentioned earlier. You can use many USB cables with these headphones and they'll work just fine. Overall, these charging values are great even when you compare these headphones to others like them on the market.
These headphones are also excellent in terms of comfort. For starters, they're pretty lightweight as all earbud-based headphones are. But the contoured neckband is also lighter than many others on the market. The neckband rests gently on the back of your neck, preventing muscle fatigue or discomfort. The soft outer shell of the band will eventually fade away until you aren't aware of it at all.
While the band is comfortable, what about the ear tips? These headphones come with four optional silicone ear tip sizes for you to choose between. Each tip size is ideal for different types or shapes of ear canal. This kind of flexibility is pretty standard amount headphone purchases these days, but it's still nice to see. You might need to mess around with the included tips to find the one perfect for your ears.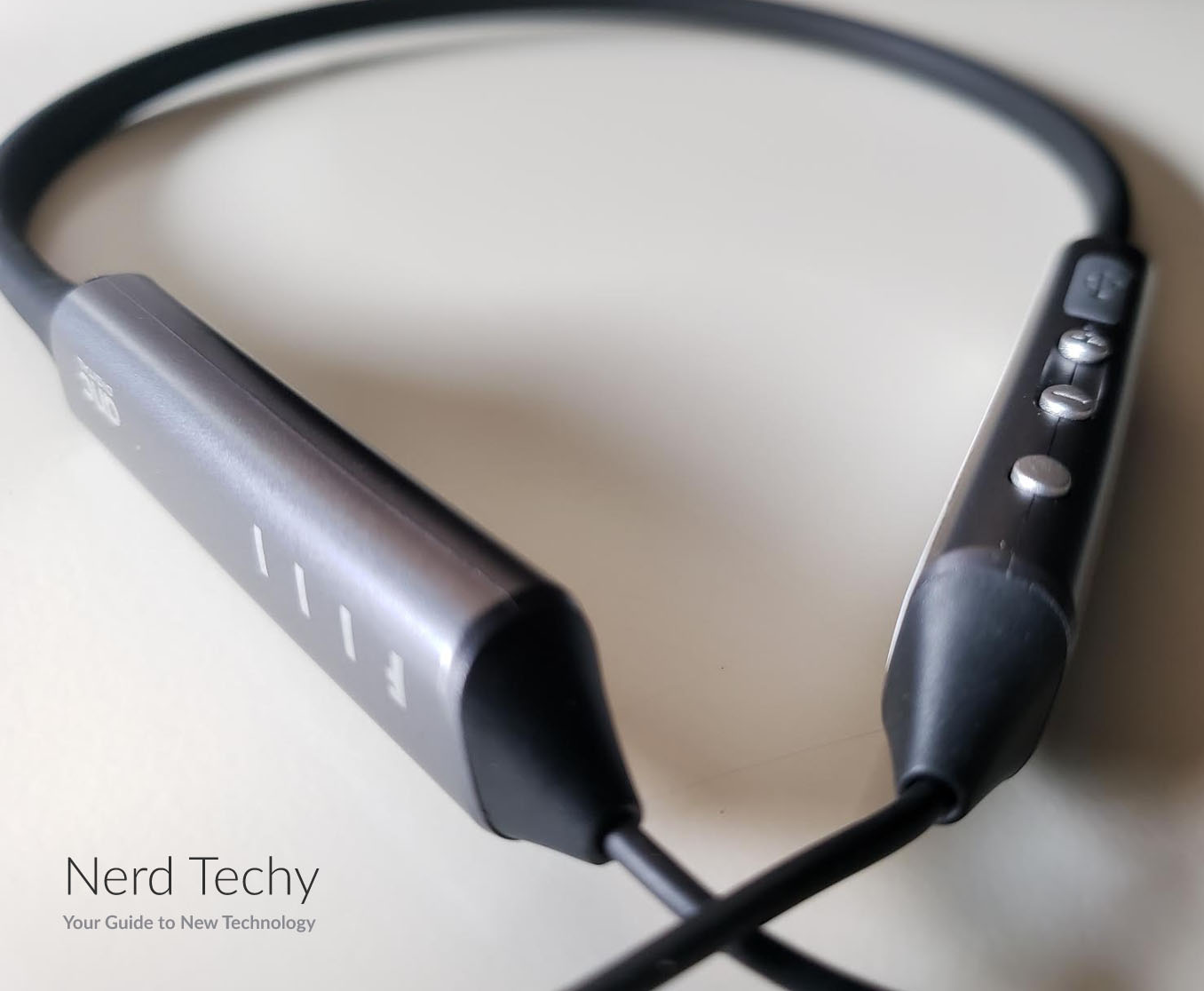 Regardless of the one you choose, each tip is comfortable and molds to the inner shape of your ear. As the tips fill out the extra space, they'll have their own passive noise cancellation to the mix. Extra value from smart design is always an advantage in our books.
There's another benefit we haven't yet mentioned. Each headphone has a separate magnet on the other flat surface – the side away from the ear tips. These magnets are attracted to one another. So you can easily attach them together for multiple purposes.
For one, it's a lot better than having them dangle separately across your chest. For another, it prevents the earbuds from falling away or getting loose. Having them hang like a connected necklace is much more secure and safe. It's also a better solution than tangling the cord and stuffing it all into your pocket.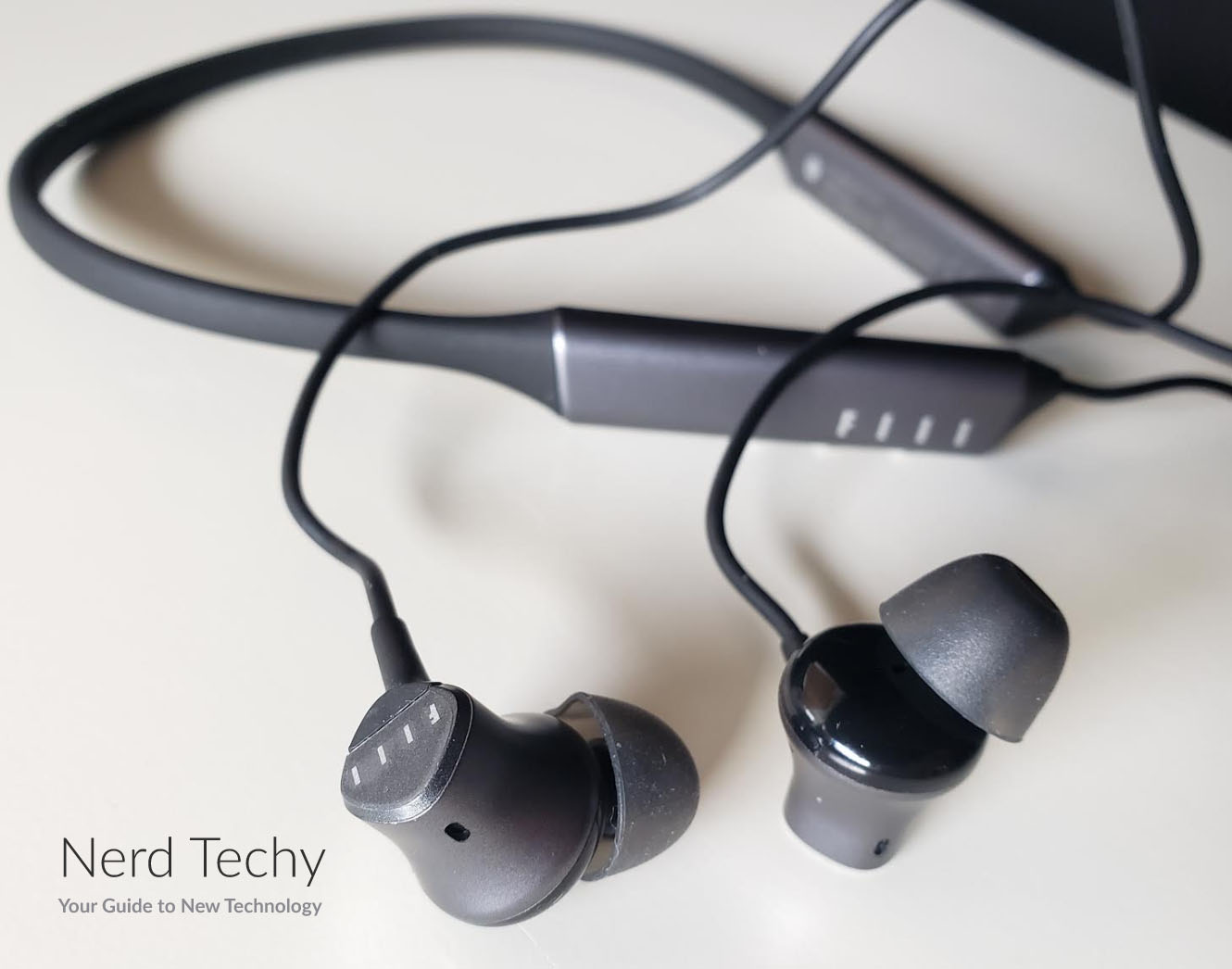 Final Verdict
Overall, the Fiil Driifter DNC Plus are a solid pair of headphones with only a few small downsides. Their primary advantages are their sound quality and their excellent magnetized ends. These are an innovative design choice we'd be happy to see repeated by other manufacturers in the industry. The noise-canceling tech is also really good, especially with the alternative mode you can engage. Nothing says user-friendliness like providing you with noise-canceling tech without endangering your safety!
Still, the relatively low cord length and the lack of excellent phone call quality are notable negatives. In the end, these cause us to recommend the headphones for music listeners above all. Those who like to take calls frequently with the same pair of headphones as they listen to music might want to move on. But for anyone else? We'd have to give these headphones a big thumbs up!
Meet Derek, "TechGuru," a 34-year-old technology enthusiast with a deep passion for tech innovations. With extensive experience, he specializes in gaming hardware and software, and has expertise in gadgets, custom PCs, and audio.
Besides writing about tech and reviewing new products, Derek enjoys traveling, hiking, and photography. Committed to keeping up with the latest industry trends, he aims to guide readers in making informed tech decisions.