So, you want to build a gaming PC or make a new computer that can work as the centerpiece for your entire home entertainment system? But you don't want to invest in an ultra-bulky set up with a massive tower that takes up tons of space on your desk or on the floor by your chair. This problem is one that lots of computer builders face every day. For this reason and more, people are starting to notice the quality and flexibility of mini-ITX computer cases.
Mini-ITX computer cases offer phenomenal performance per square inch when combined with capable components and a great build. They're houses for PCs that work with mini-ITX motherboards. Even though they're smaller than ATX boards, these motherboards are more than enough to handle the components needed for a serious gaming machine or the graphics cards necessary to provide entertainment for the whole family no matter how complicated your set up is. Mini-ITX computer cases are also usually built with a modular and well-ventilated design; these aspects ensure that the cases continue to function even with cluttered motherboards or when heating up, respectively.
But finding the best mini-ITX computer cases can be an exercise in futility if you don't know where to look. Thankfully, we've already found three phenomenal cases for your consideration. While they can each handle mini-ITX motherboards just fine, they each have specific differences that can make them ideal for different needs or purposes. Let's examine each more closely and see what they can provide.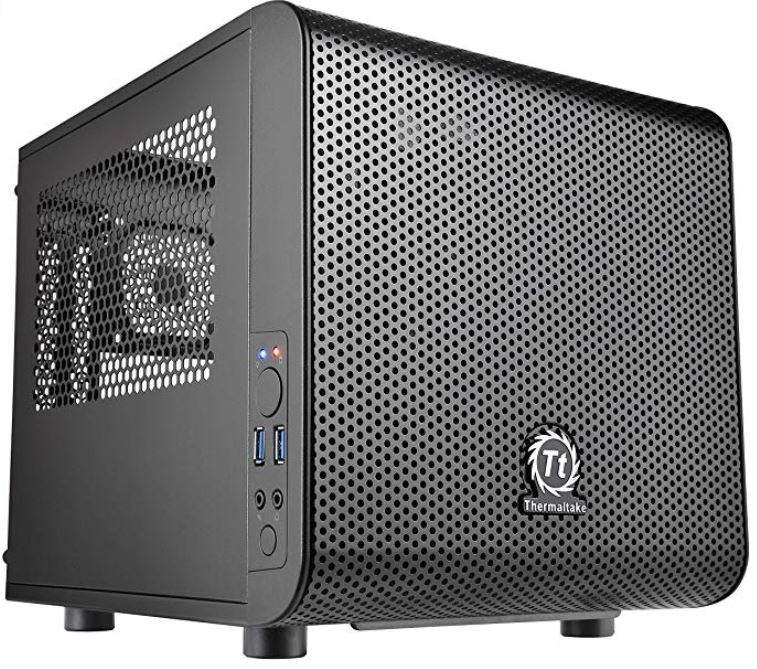 Thermaltake Core V1 SPCC Mini ITX Cube Gaming Computer Case Chassis
The ThermalTake Core V1 SPCC Mini ITX Cube Case is a specialized case design, notably lacking compatibility for ATX or E-ATX motherboard like many other Mini-ITX cases allow. But this specialization pays off in dividends for the user. The case is equipped with tons of ports to facilitate multiple activities and functions, such as twin USB 3.0 ports, a headphone and front microphone port, and an additional HD audio port.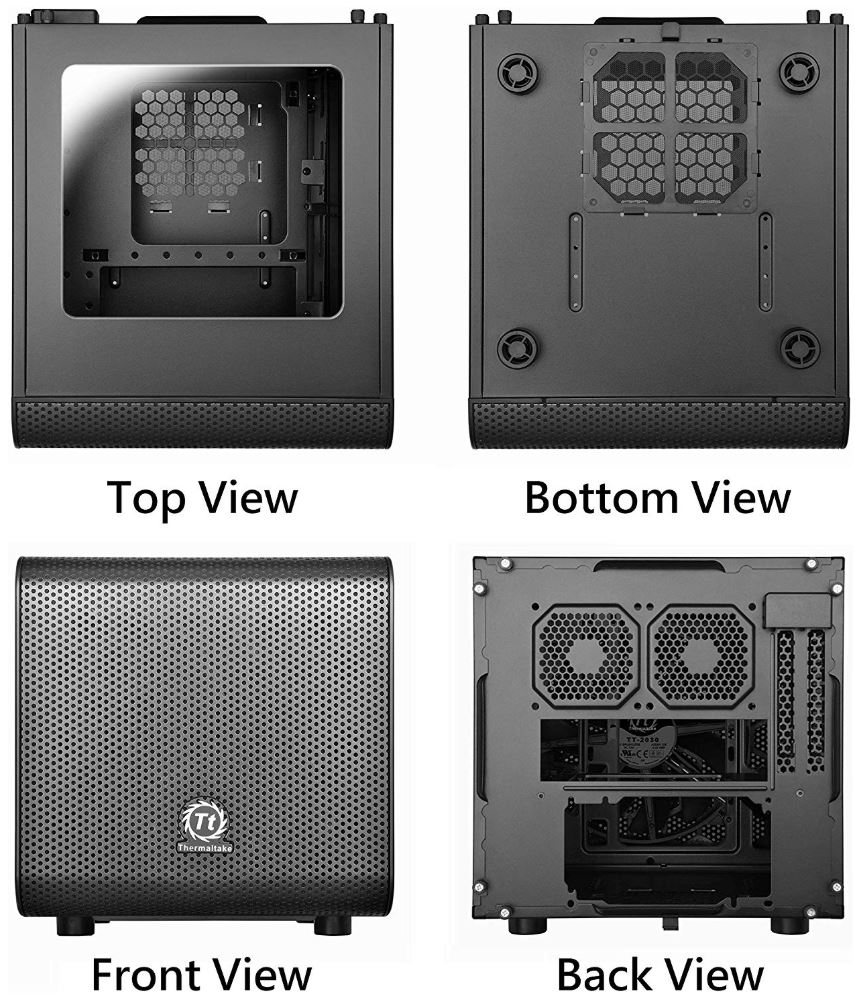 All told, it can hold a VGA with a maximum length of 285 mm and a CPU cooler with a maximum height of 140 mm. The exterior features a mesh design that allows for great ambient cooling without having to use an advanced cooling system. This is fantastic not only because it provides passive cooling action, but it also stops dust from collecting quite as aggressively. There's also a removable PSU dust filter to allow for easier maintenance and cleaning every so often. The bottom of the case features shockproof rubber feet to improve durability and prolong PSU usage. Finally, the case is equipped with symmetrical and interchangeable side panels to let you alternate which side of your build is visible through the mesh surfaces.
Opening and tinkering with the case is easy because of the tool-less drive bay design and easy-access exterior panels. You'll only ever need to work with a few screws to open things up. In fact, this case provides even more ease-of-use because it combines the power and reset buttons on the front side of the main panel, making them quick to reach.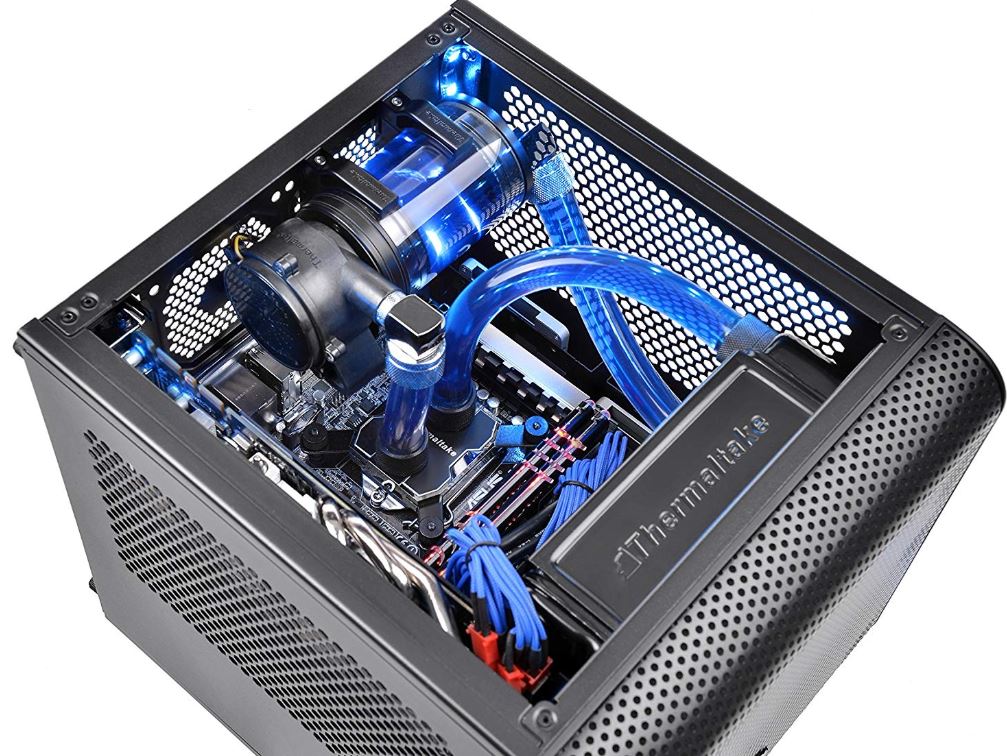 Interior Design
The ThermalTake case uses a special "chambered" concept of space management for the interior, with the upper chamber design for excellent cooling performance and efficiency and the lower chamber being better equipped for superior cable management and PSU storage. You can, of course, use these chambers as you prefer, but the intended use is the above setup.
This design allows gamers to install up to two separate data storage devices, utilizing the modular drive racks installed on the interior. This drive bay design can provide tinkerers or gamers with specific builds in mind all of the customization choices they might desire; use one or both drive racks, as it's all up to you! All of this extra space allows for truly excellent ventilation. You won't ever need to worry about your components overheating with this mini-ITX case! There's enough room for several fans: one at the front and two at the rear, ranging in size from 80 mm to 200 mm. A single 200 mm black front fan is already included with the purchase, so you don't need to spend extra for decent cooling immediately.
But this case also supports other cooling systems, such as water cooler radiators or DIY/AIO liquid cooling systems. Ultimately, it's a case that is designed to withstand the significant heating one can expect from high-performance gaming components.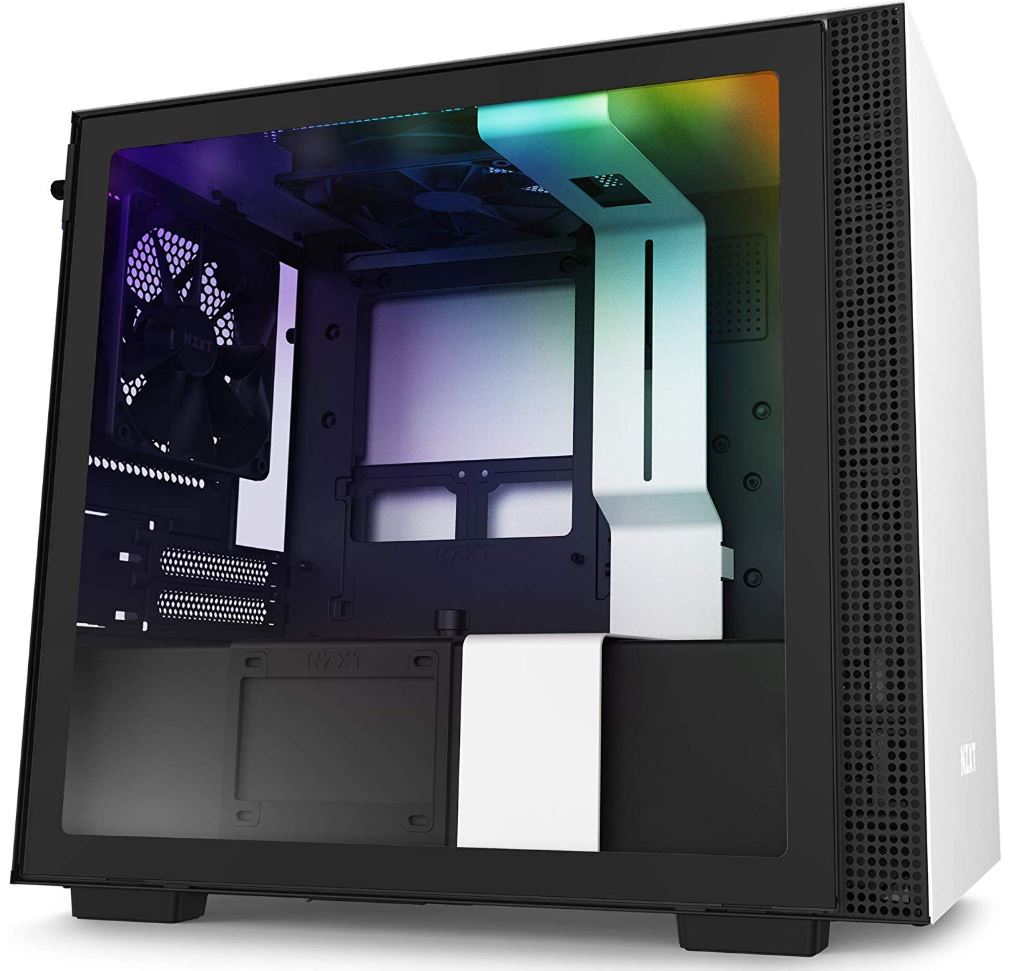 NZXT H210 Mini ITX PC Gaming Case
The NZXT H210 Mini ITX PC Gaming Case blurs the line between a classic mini-ITX case and a taller case for a modern gaming PC. It measures 14.7″ x 8.3″ x 13.7″ and weighs 15.1 pounds with a black and white-colored exterior. This streamlined aesthetic is both clean and stylish and can work just as well on a desk as it can it while hidden beneath your gaming battle station or an entertainment center. The case is designed with a tempered glass panel to provide you with a window into the inner workings of your PC, as well as a special patented cable management system that allows you to properly store your components' cables behind an ITX motherboard tray.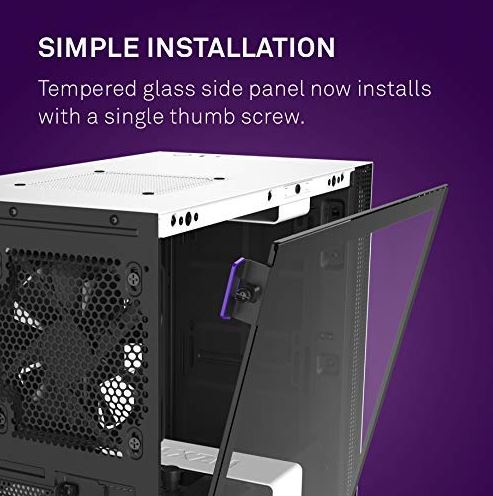 The interior of this ITX gaming case takes the task of cooling quite seriously, as any gaming PC case should. For starters, there's a removable radiator mounting bracket that you can either use or dispose of if you'd like to free up space for better airflow or because you will primarily rely on fans. Speaking of fans, this case comes with a back fan already installed, although it can support two frontal fans at either 100 2140 mm, one top fan at 120 or 140 mm, in addition to the single rear back and that measures at 120 mm.
If you do decide to use the radiator bracket, it can support two front cooling radiators and a single push/pull rear radiator to facilitate even better cooling power. To provide even greater customization options, this case can work with both SFX and ATX power supplies. This allows you to choose all of your parts from the greatest selection of sources.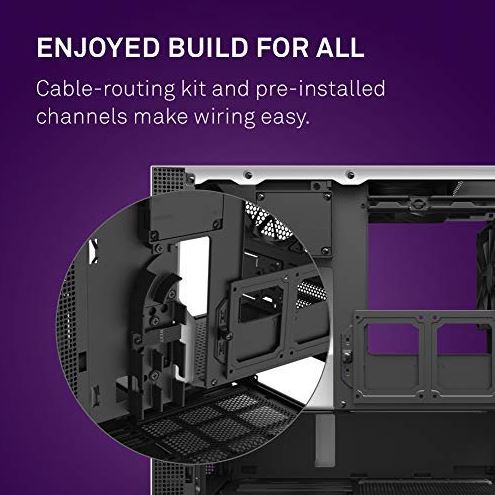 Interior Design
But how does the interior work? This case has a raised platform on which the ITX motherboard can be mounted, and behind which plenty of space will remain either for installing additional components or for carefully storing the cables so they are not in your way. All that extra space will allow for even greater cooling power from whatever fan or radiator system you use.
The case can support classic mini-ITX, Micro-ATX, or ATX and E-ATX motherboards up to 272 mm. Talk about options! In terms of drive bays, the NZXT H210 has three 2.5-inch drive bays and a single 3.5-inch drive bay, which provides you with plenty of component installation options.
Installing all of your components is incredibly easy because of the aforementioned tempered glass side panel. This can be installed with a single thumbscrew and just as easily removed, allowing you easy access to the depths of your build while letting you keep an eye on how things are running at the same time. Ultimately, this sleek and simplistic mini-ITX gaming computer case is a phenomenal example of merging modern gaming PC case design with special considerations for mini-ITX motherboards taken into account.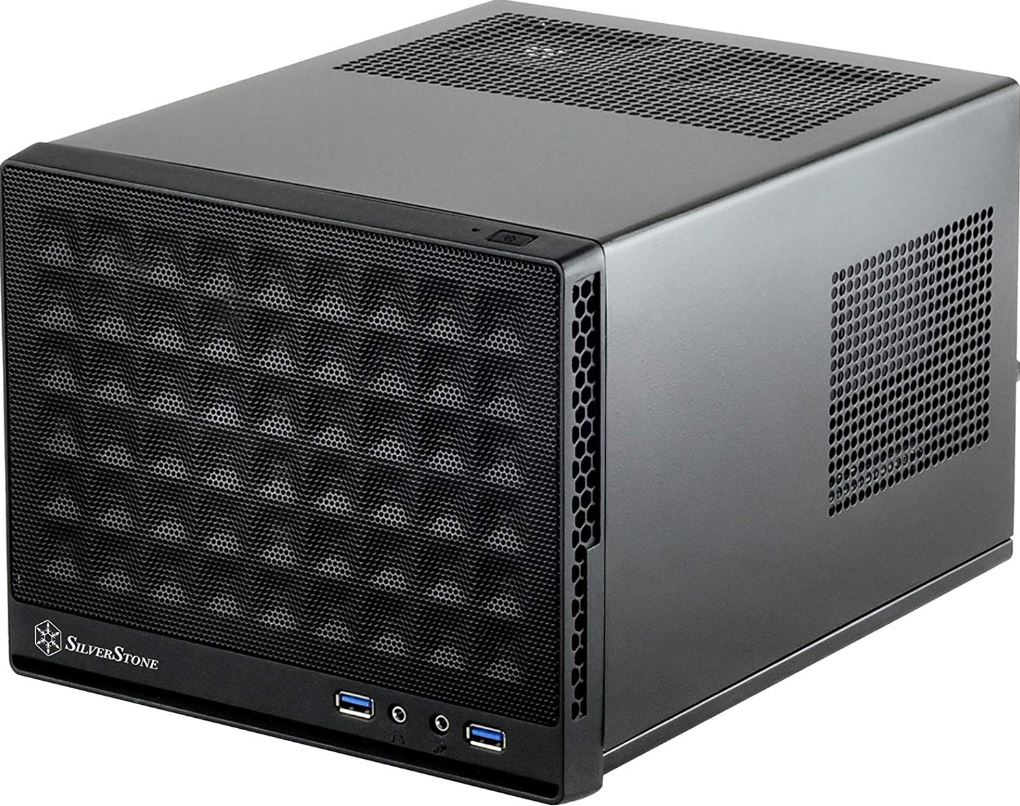 SilverStone Technology Ultra Compact Mini-ITX SG13 Computer Case
The SilverStone Technology Ultra Compact Mini-ITX Computer Case is a boxy case designed to lie more horizontally than vertically, although this orientation does little to impact its appropriateness for mini-ITX motherboards. Indeed, it uses an elevated standoff design to allow for airflow for components on the backside of the motherboard. Its overall dimensions clock in at 8.74" x 7.13" x 11.22". Its depth enables it to accommodate video cards up to 10.5 inches long, which should make it suitable for many gamers or those more concerned with graphical fidelity than other aspects of their experience. It also only weighs 5.44 pounds, making it one of the lightest mini-ITX cases you can find.
The case is dominated by either a black or black on white aesthetic depending on your preferences. Either choice comes with two front panel types, as well: the first is a mesh panel to promote maximum airflow and will likely be the panel of choice for gamers, while the second is a solid panel that promotes quiet operation. This latter choice will likely be popular for those who want to use the case for home theater systems, as it also adds a bit of subtle class to the build as a whole.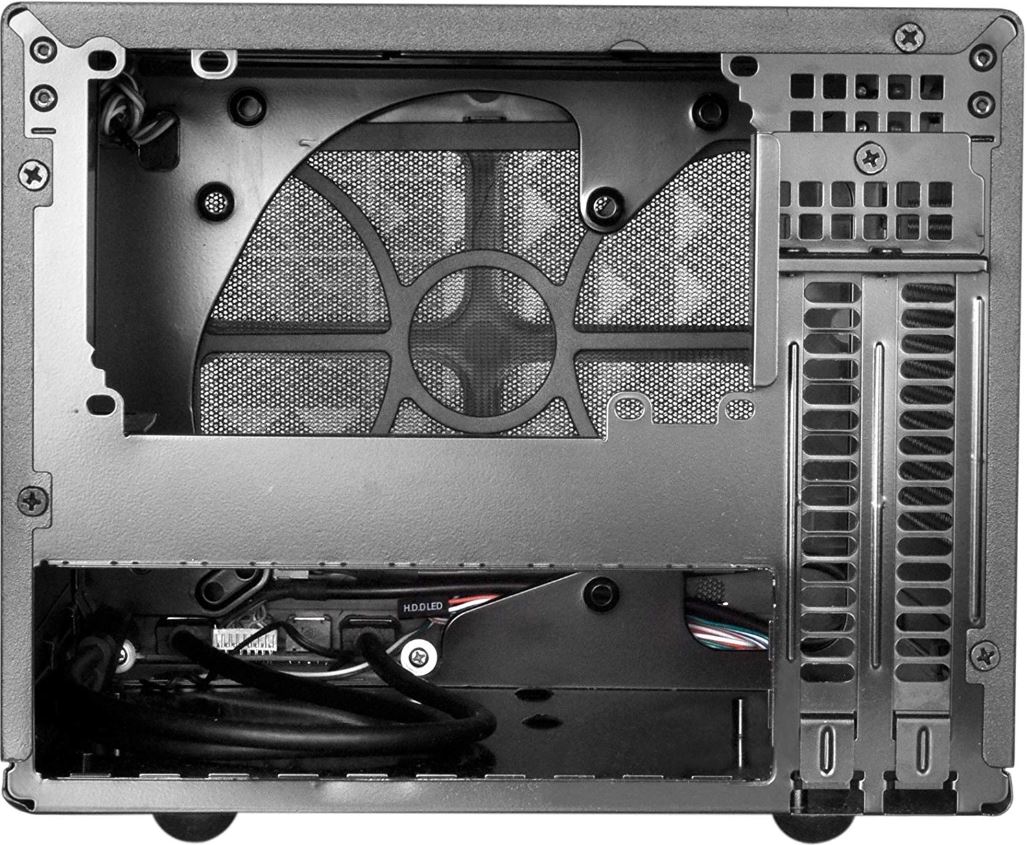 The SG13 case comes with an ATX compatible power supply mount and is capable of fitting power supplies of the SFX type up to 150 mm long. You will need the universal ATX-to-SFX adaptor from SilverStone to do this, though. In terms of cooling, this case can accommodate either a 120 mm or 140 mm single fan or an all-in-one liquid cooling system. This does limit its applicability for gaming to a mild degree, as a lack of multiple cooling systems working in tandem will severely temper your ability to dissipate heat from overclocked components.
Interior Design
Now let's take a look at this case's interior design. Once the back panel has been opened, you'll see the interior is segmented largely into two major compartments. The first compartment houses the motherboard and all the major components, as well as the drive bays. The bottom compartment is perfect for managing all your cables by placing them out and away from the major delicate parts. This seems initially cramped, but it actually affords decent cable collection given the size of the components you'll use for a mini-ITX build.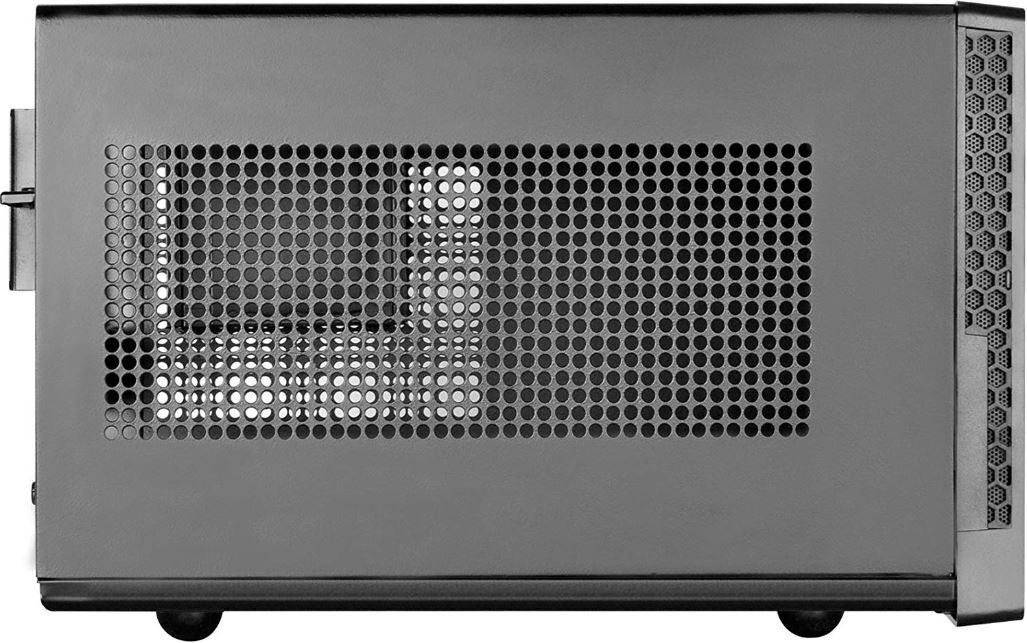 The SG13 does give PC builders several storage options. The interior capacity has enough room out of the box to fit a single 3.5-inch drive plus a single 2.5-inch drive. Alternatively, you can combine three 2.5-inch drives if that suits your style better. You can use the smaller SFX power supply with the SilverStone adaptor to squeeze even more room out of this compact case's main compartment. Doing this will give you an extra 21 mm of space, which you can use either for CPU coolers up to 82 mm tall or for additional components.
Final Verdict
If each of these three computer cases is a good choice, which should you go within the end? Let's compare them head-to-head and point out which is best for what situation. Firstly, the ThermalTake Core V1 SPCC Mini ITX Cube Case is an incredibly advanced piece of equipment. Its most notable feature is the chambered, modular design that sets you up for success. In addition, its ability to fit multiple fans and radiators, especially in conjunction, makes it a perfect mini-ITX case for serious gamers or PC builds that run the risk of overheating.
The NZXT H210 Mini ITX PC Gaming Case provides several excellent features, such as a tempered glass side panel to allow you to easily access the PC's internal components and tinker with its cooling processes. While it is also excellent for keeping things cool, its primary value comes from being able to fit multiple sizes of motherboards – even some smaller ATX ones. The extra space and several hard drive bays make this a good choice for general PC users that will both game and stream in equal measure.
Finally, the SilverStone Technology Ultra Compact Mini-ITX Computer Case is the most aesthetically unique of the bunch. It provides several cable management options thanks to its secondary bottom compartment, plus the ability to use an SFX power source and free up even more room for additional cooling components or hard drives. Ultimately, this case will likely be very popular with experienced PC craftsmen who like being able to keep most of their favorite components from other builds within a very compact case that won't take up much room at all.