When you're building a gaming PC, you can't discount the value of a top-tier full tower case. The quality of your PC's case will determine how well your components are organized, how cluttered your wires are and how well they rest, and, most importantly, how well your chosen cooling system actually protects your components from overheating. Gaming even somewhat seriously is liable to expose your computer to significant heat damage if you don't have the right fans or radiators in place to effectively dissipate heat.
To that end, finding the best full tower cases for gaming will involve locating cases that can both effectively dissipate heat and provide excellent cable management. You'll also probably want to find a tower case that has lots of space for our drive installation and other ports; every gamer knows that the best experiences come from combining a great PC with the right accessories.
So do these excellent tower cases exist? We're pleased to say that they do! Below, you'll find our full reviews on three top tower cases for gaming. Each of these has its positives and negatives, but we'll examine each one in more detail to see how they differ from one another and who they'll be best for. Let's get started.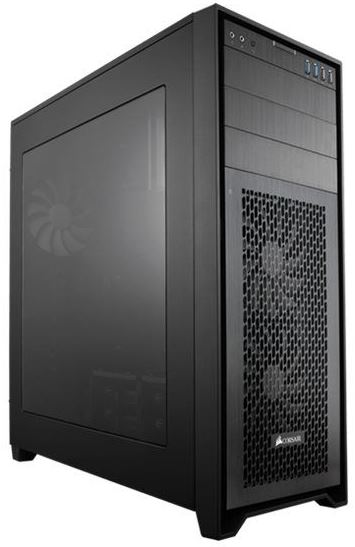 Corsair Obsidian 750D Full-Tower Case – Airflow Edition
The Corsair Obsidian 750D Full-Tower Case is a top-tier gaming PC sheathe, built from the ground up to facilitate multiple cooling options and lots of customizability. Out of the box, it measures 21.5" x 9.3" x 22". It also weighs 21.4 pounds by itself, which may or may not result in a heavier-than-average build depending on the components you combine with the case.
This weight is due to the exterior being built with solid steel and brushed aluminum. Not only does this provide the case with superior durability, but it also provides a clean and sleek look to the tower as a whole. The aesthetic value shouldn't be understated; it'll be particularly good to pair it with minimalist computer gaming desks and chairs. Despite its weight and thickness, it has lots of room on the interior for high-performance components and several cooling systems that we'll get into below.
The tower case has a modular drive cage system that doesn't require that you use tools to move or remove different drive bays. What this means for practical purposes is that you can use only the drive bays you need for your storage requirements and remove extraneous ones to keep the build light and provide extra space for different components and increase airflow potential.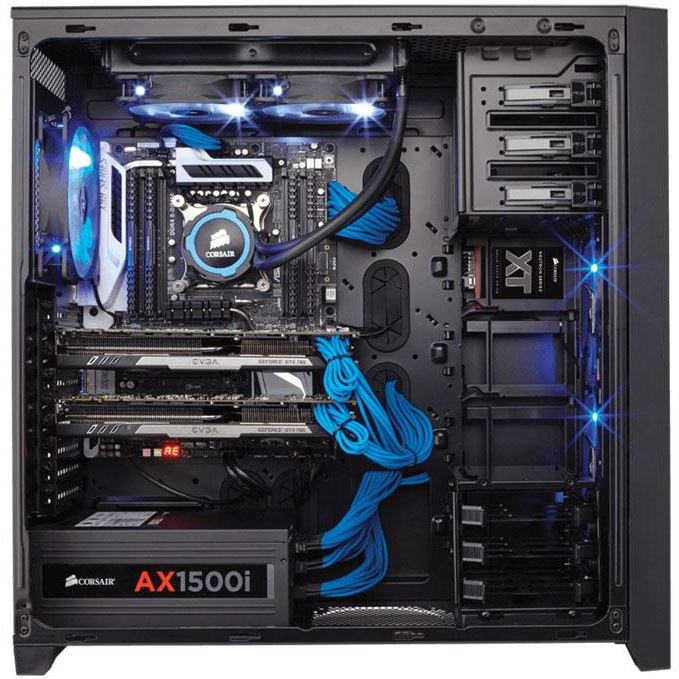 The interior is truly optimized in terms of space, making it a great choice for experienced PC builders who want to min/max their system's potential. There are nine PCI-E expansion slots in total, and some excellent cable routing pathways already integrated into the case. The removable side panel measures 20.4"h x 20.1"w, providing you the ability to easily maintain the interior or tinker with the components currently installed.
Cooling Capacity and Support
The Corsair Obsidian 750D Full-Tower Case is actually a variant of the main Obsidian Tower Case designed for increased airflow and cooling capabilities. It's only slightly more expensive but is leagues more appropriate for serious gaming builds, especially since certain graphics cards and processor setups can rack up the temperature of your PC dramatically. Part of what makes it so appropriate for gaming is the high airflow front smash design integrated into the casing.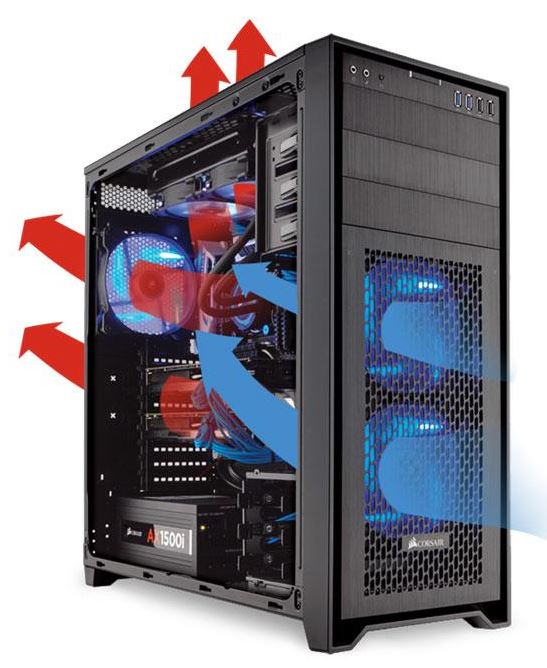 This front panel features dual 140 mm front intake fans, plus a low resistance mesh panel. Both cooling options combined provide quiet but effective cooling action for heating components on the interior of the tower build. The fans are optimally placed to circulate air around your GPU and DRAM systems, both of which can get hot while gaming.
If the included cooling system isn't enough for your build, you can combine this case with other Corsair Liquid Coolers, providing even greater cooling capabilities and ensuring top-tier performance no matter how hot you run your PC. Adding more coolers won't even raise the case's noise, as the steel and aluminum casing muffles the sound to a tremendous degree.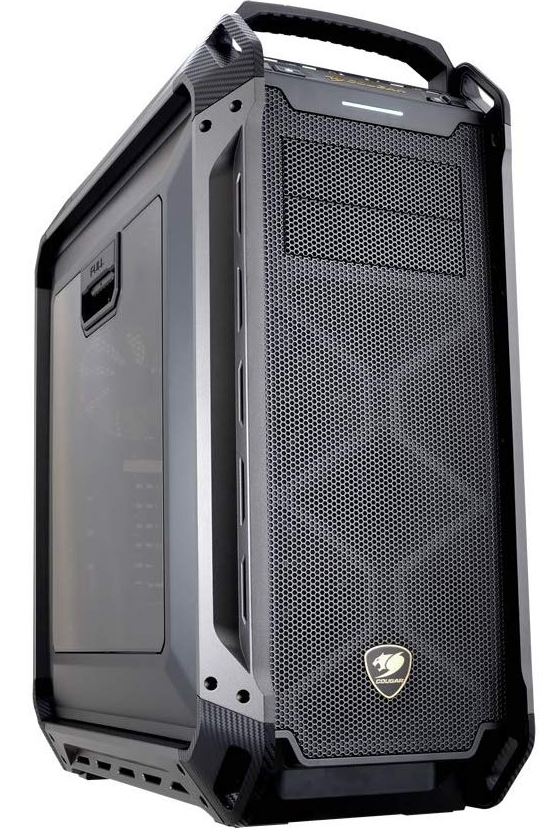 Cougar Panzer Max Ultimate Full Tower Gaming Case
The Cougar Panzer Max Ultimate Tower Gaming Case is another ideal choice if you're sure your PC is going to be running hot playing all of the newest and most graphically intense games on the market. Right off the bat, you'll notice the military-style aesthetic that incorporates a durable handle at the front of the case to let you easily move the PC anywhere you need to. It's capable of supporting 35 kg before showing signs of stress. The Panzer Max is the highest capacity in the Panzer line of tower cases, providing ultimate space on the interior and lots of motherboard customization freedom.
Indeed, it can support six different motherboard form factors and up to four double slot graphics cards measuring 390mm. That's a lot of graphical power you can bring to bear on your favorite games! Additionally, spaces for six storage devices are located on the interior of the case. These can be mixed-and-matched to your heart's content, so you'll always have total control over the fine details of your build. Speaking of customization, the Panzer Max doesn't require any tools to open any of the covers, so minor adjustments here and there upon initial set up are easy rather than frustrating.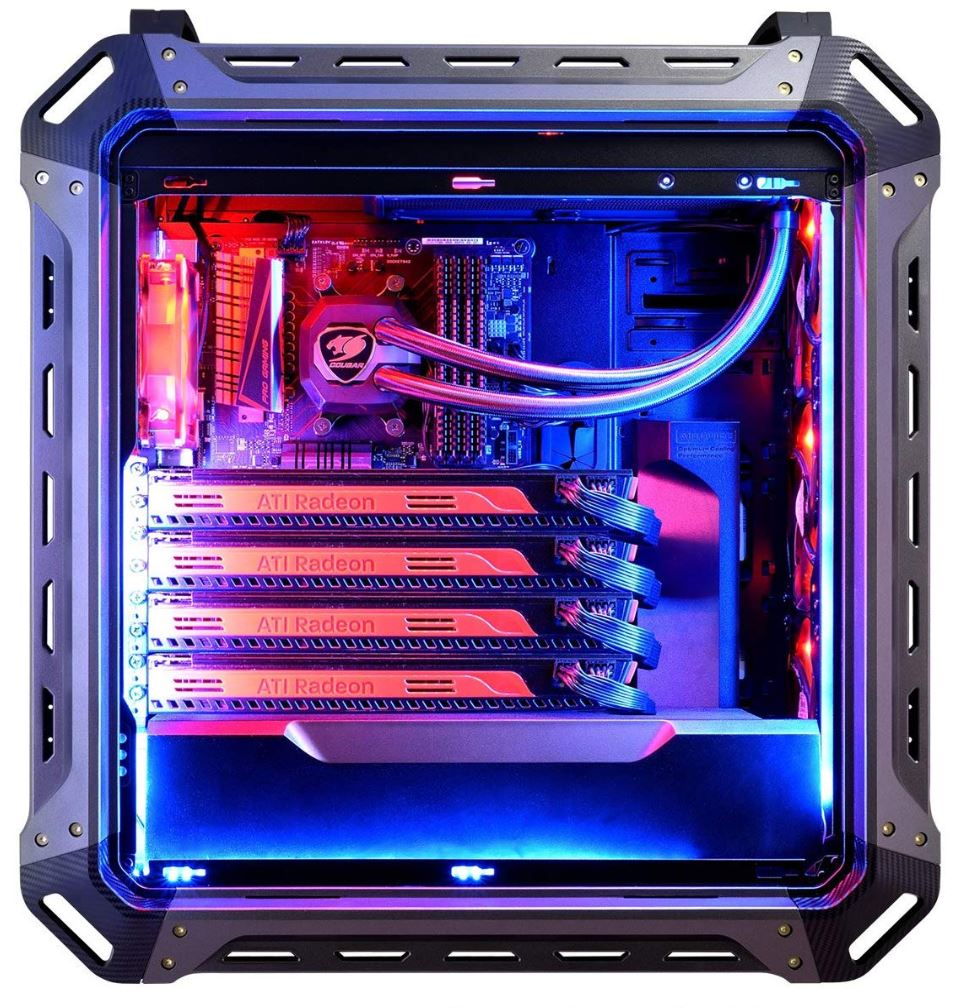 But that's not all. This tower case features a metallic aesthetic and a huge side window that can be illuminated and provide you with a high level of visibility any time you want to check on the interior of your case. It's a techy, cyberpunk look that many will truly enjoy. There are a number of other excellent features to make this case worthwhile, such as four USB ports and a dedicated headphone hook located at the side of the case.
Cooling Capacity and Support
To be a tower case for a gaming PC, you have to have significant cooling capabilities. The Panzer Max definitely has that, coming built with support for up to eight separate fans and four dedicated water-cooling radiators. All of that cooling action can keep even the hottest running computers running safely and their components performing smoothly.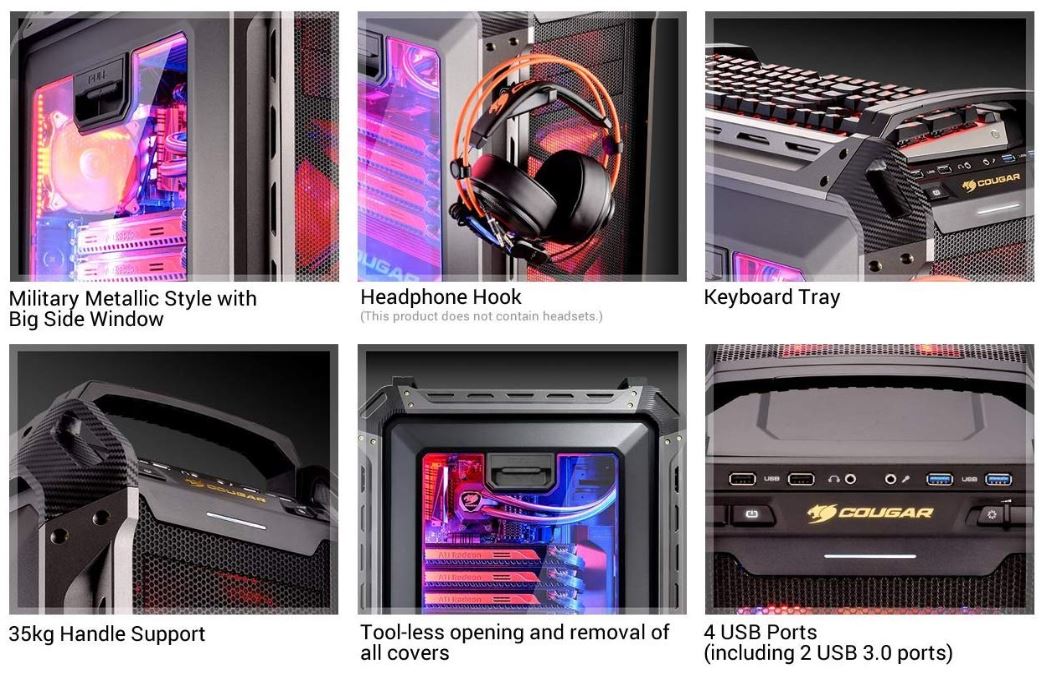 While you might imagine that combining so many fans and cooling radiators together can make for a messy or tangled case interior, the Panzer Max features an intelligent cable management system. Essentially, this lets you store all of the cables for the fans or other components behind the motherboard tray. This allows air to flow unobstructed and effectively dissipate the heat generated by your PC's components.
This dedication to superior cooling is even seen in the dual front fans that come with the purchase right out of the box; a portion of the front fans' airflow is automatically redirected toward the motherboard tray's back segments, which are traditionally less tended to by cooling systems. This way, even if you decide not to purchase additional cooling fans or radiators immediately, your motherboard should be protected with the fans included in the purchase. One final thing to note is the fan speed control switch located on the exterior of the case; this can help you keep the sound to a minimum when your PC isn't running on maximum power.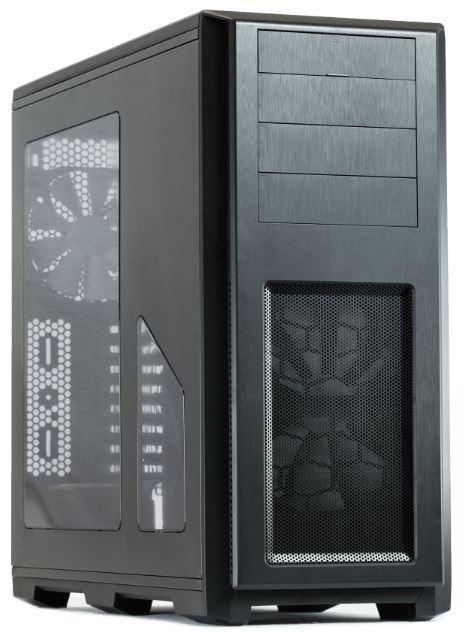 Phanteks Enthoo Pro Full Tower Chassis with Window Cases
The Phanteks Enthoo Pro Full Tower Chassis is an affordable and versatile case that can work with a wide variety of builds. This budget-friendly case has a brushed plastic exterior, although it looks just like aluminum or metal cases. This aesthetic twist is nice if you're looking for something more affordable for your PC build but don't want to feel a bit overshadowed by other PC cases at the local LAN party. Out of the box, the case measures 235 mm x 535 mm x 550 mm and weighs just 11.4 kg.
On the outside, it appears relatively simplistic and sleek, without a bunch of protruding buttons or bulky extensions. A set of transparent windows on the side gives you a peek into the belly of the case, though this is not illuminated by default. Despite the front's relative simplicity, the back has a set of standard ports: 2 for USB 2.0 and 3.0 each, along with a microphone and 3.5 mm audio jack. On the inside, things get more interesting. There's a removable "Drop-n-Lock" SSD bracket that you can install in two different locations. There's also a set of removable dust filters located behind the fans and another dust collecting locations. You can remove these to easily clean them and maintain your build without having to blast dust deeper into the motherboard components.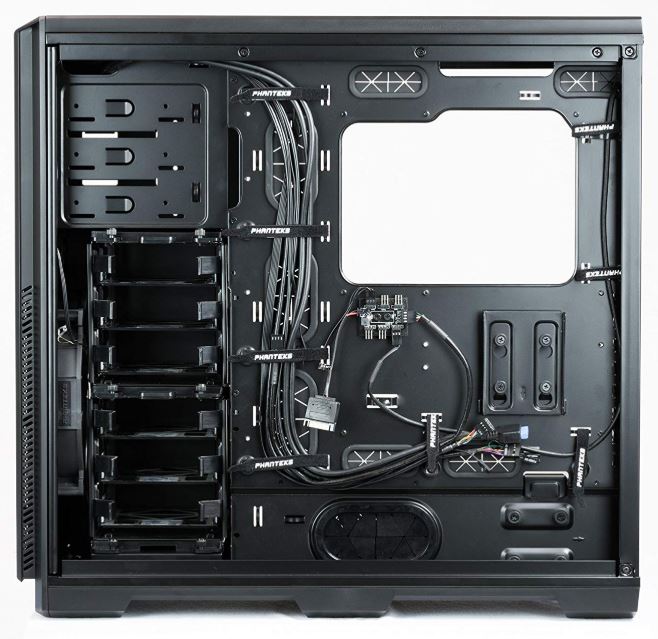 This case also comes with a set of pre-installed cable management tools located directly behind the motherboard tray. These cable management tools allow you to fasten the cables you'll need for your components in economics fashions with ease, while also allowing you to quickly modify your cable set up by releasing them instantly. The interior also has a few "stealth" compartments to let you store an extra HDD.
Cooling Capacity and Support
Despite its affordability, this case offers tremendous cooling support. It already comes with two fans built into the case upon your purchase: a 200 mm fan in the front end of 140 mm fan in the back. It has support for additional fans of the Phantek series. No matter how many fans you choose to install, you can use the included control hub to modify the fan speed or power settings as a whole group. It's a very user-friendly design.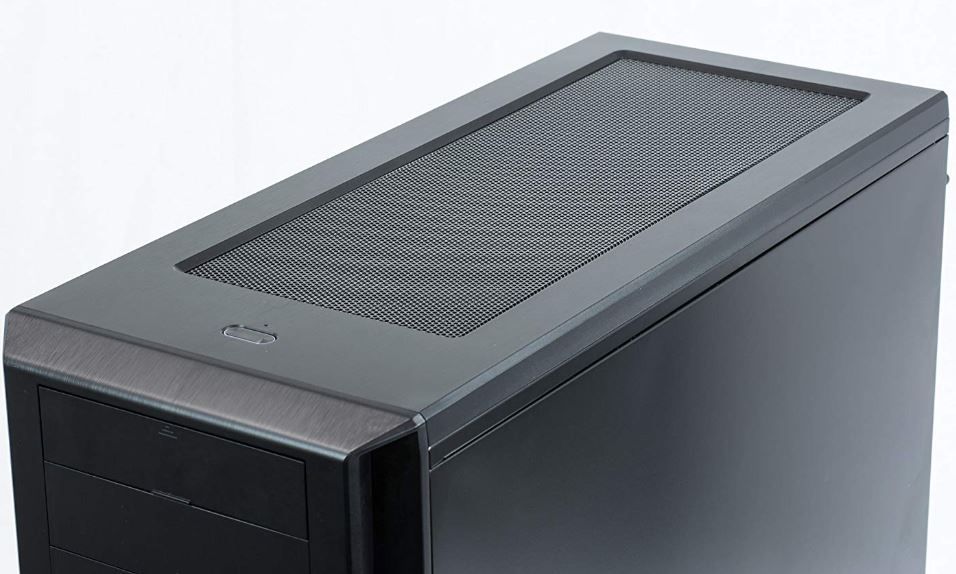 This case also provides extensive water-cooling support. There are four separate installation areas in which you can set water cooling radiators. Some of these areas can only hold one radiator while others can hold all three; experienced PC builders will be able to make the most of this versatility and install more water cooler radiators in particularly hot areas or sections that aren't reached as capably by the installed fans.
There's also a set of liquid cooling mounts built into the interior chassis, so chasing after this extra bit of cooling is also possible. While it's not the coolest on the market without investing some extra cash, this case does provide phenomenal value for money and easily enough cooling (with a few extra fans or radiators) for even high-end PC builds.
Final Verdict
Now that we've seen these excellent gaming tower cases in their full glory, which one should you choose? The Corsair Obsidian 750D Full-Tower Case is a serious gaming piece of equipment, with a modular drive bay system to let you add or remove hard drive space based on your existing components' needs or your maximum airflow capacity. It also has a fantastic set of fan and liquid cooling radiator mounts, so it's phenomenal when it comes to keeping your components appropriately chilled. This is a phenomenal choice if you prefer being able to customize how your case's interior space is used.
The Cougar Panzer Max Ultimate Tower Gaming Case is a bulkier casing, featuring a durable handle and a huge amount of space on the interior. There's plenty of customization here, as well. The interior is well-equipped for excellent fan and radiator cooling support. This, plus its extra space on the backside of the motherboard, makes this full tower gaming case a top-tier choice for cooling and cable management above all other factors.
The Phanteks Enthoo Pro Full Tower Chassis is our last choice, and it's a budget-friendly option with an aesthetically pleasing exterior that is nonetheless made of plastic. Despite the low asking price, it has multiple options for cooling and, most importantly, a set of pre-installed cable management tools. These make wrangling your cables into the correct orientation easier than with most other cases. This pick is a great choice for those looking for a high-quality full tower case for gaming without breaking the bank.