True wireless stereo (TWS) provides the best possible sound quality for wireless earbuds. Whether you're looking for overall balance or a better sense of space, no other protocol even comes close. As a result, it should come as no surprise that all of today's top earbuds are using this technology. Today, we're going to be reviewing two of them. First, we'll take a look at the Bluedio Hi(Hurricane), an AirPod clone that's looking to make waves. Then, we'll look at the VEATOOL, a compact pair of earbuds with a monster power pack. We'll see how they compare to the market, as well as to each-other.
Bluedio Hi(Hurricane)
As we mentioned, the Bluedio Hi(Hurricane) Earbuds look and feel a lot like the Apple AirPod. They have similar extensions, which hang down and forward out of your ears. The case is also very similar, with a vertical design. The earbuds drop inside bottom first, and it's easy to tell when they're fully inserted. This is a common design for wireless earbuds, and it's easy to understand why. Apple AirPods were the market leader for some time, so it's no surprise that others have copied their design.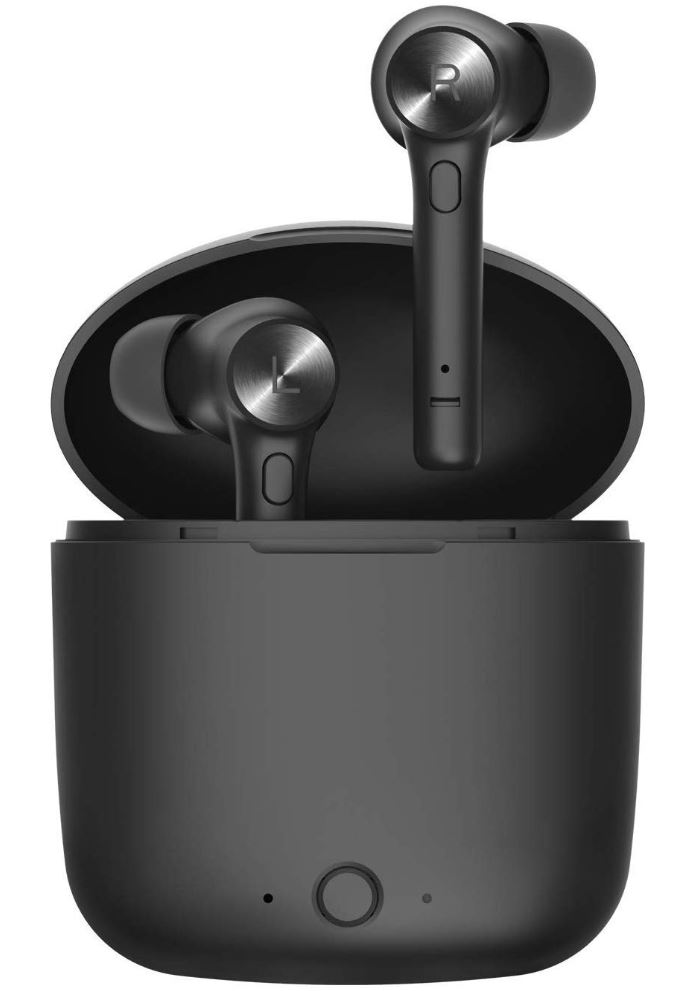 The earbuds themselves each have a single, multi-function button that's near the top of the extension. The buttons have a soft touch, but they're true buttons, not a touch-sensitive surface. This gives you the best of both worlds. On the one hand, most people won't feel any discomfort when pressing the buttons. On the other hand, there's enough resistance that you receive some tactile feedback. To ensure a comfortable fit, the Hi(Hurricane) comes with three additional sets of ear tips. Each set is a different size, which allows the Hi(Hurricane) to accommodate just about anyone's ears.
The Hi(Hurricane) charging case measures 2.66 inches high, 2.36 inches wide, and 1.46 inches thick. At 6.4 ounces, it's medium weight, and feels well-constructed in your hand. There's a small power button on the front, with an LED indicator that illuminates when the earbuds are charging. The USB Type-C charging port is discreetly located in the back of the case. And in one striking difference between the Hi(Hurricane) and AirPods, the Hi(Hurricane) is black instead of white. If you like a matte black finish, you'll appreciate the overall look and feel.
A charging cable is included with the kit. However, the Hi(Hurricane) is not water or sweat-resistant. This means that the earbuds are susceptible to water damage even from an intense workout. Get caught out in the rain, and you're even more likely to have issues.
If fit is a concern, you may want to consider some earbuds with more sets of tips. In that case, the Anker Soundcore Life P2 is an excellent choice. These earbuds are similar in quality to the Hi(Hurricane), but they come with 5 sets of tips.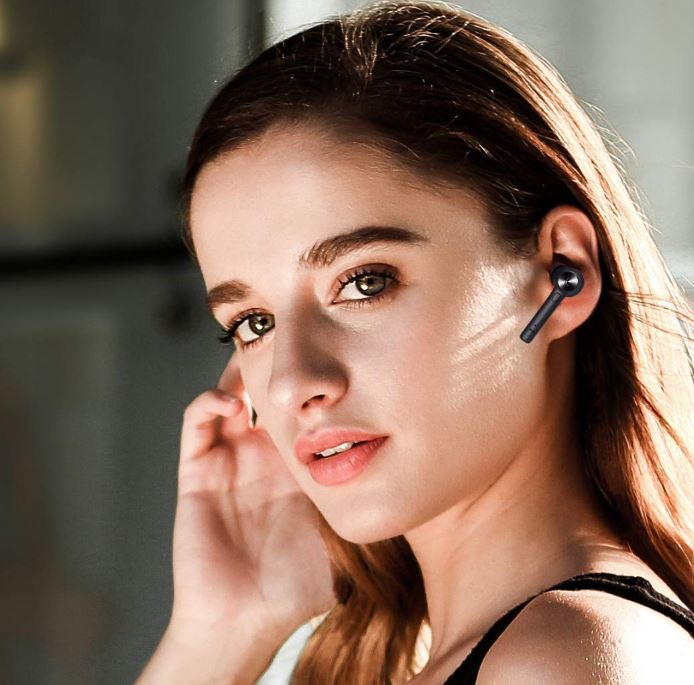 Battery and Connectivity
The Hi(Hurricane)'s batteries will last for about 5 hours when fully charged. This obviously depends on several factors, including volume and bitrate, so your mileage may vary. At the very least, you'll have more than enough juice for your daily commute. Charging the earbuds takes about an hour, assuming the batteries are dead when you start. The charging case is capable of recharging the earbuds 4 times. This gives you a maximum total battery life of 25 hours, enough to take a road trip without needing a cord. And when you do need to plug the charging case in, it will fully recharge from a dead battery in 2 hours.
The Hi(Hurricane) connects to your phone or MP3 player via the Bluetooth 5.0 protocol. The earbuds have a range of 33 feet, enough that you can set your phone down while you're listening. They support all of the latest codecs, including A2DP, HSP, HFP, and AVRCP. This allows for excellent audio quality from a wide variety of sources. Furthermore, the connection is very stable, and has only a few milliseconds of latency. Pairing is easy, and the Hi(Hurricane) earbuds will automatically re-sync when they're removed from the case. If you have any issues, just turn on both earbuds and hold the button on each one for three seconds. Then, put the earbuds back in the case, close it, and press the charging button. Simply clear the earbuds from your device's memory, then turn them back on and re-sync manually.
If battery life is your most important criterion, there are earbuds that are designed specifically for that. The Tronsmart Spunky Beat earbuds, for example, offer 7 hours of use on a single charge. They're also compact and lightweight.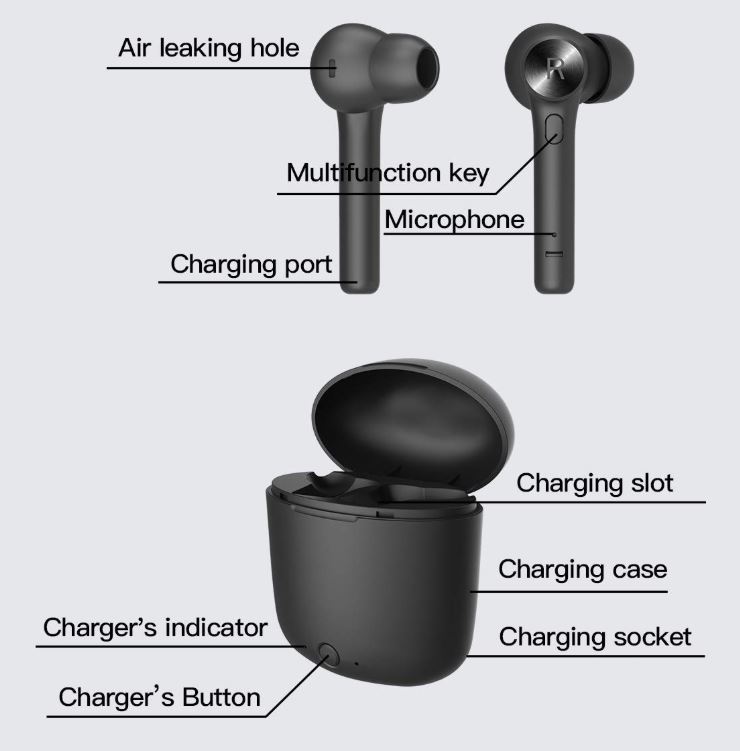 Sound Quality
The Hi(Hurricane) earbuds have 13mm drivers, which are fairly large for a pair of earbuds. This impressive size provides powerful, full-spectrum sound. We spend a lot of time talking about mids and highs, but the bass on these buds is equally good. Now, these are budget-priced earbuds. You're obviously going to get better quality if you spend a few more bucks. But considering the low price point, you're getting great quality across the spectrum. There's no active noise cancelling, but that's to be expected. Only the very highest-end earbuds currently offer ANC. Provided you've fitted the ear tips properly, you should have a pretty good passive seal against outside noise.
One unique feature of the Hi(Hurricane) is the built-in touch sensor. This chip senses when the right earbud is inserted in your ear. When you remove the right earbud, your music will automatically pause until it's re-inserted. This is a nifty feature if you often wear your earbuds while you're out and about. Just pop out the right earbud for a quick conversation, then put it back in and get on with your day.
When making phone calls, the quality is also quite good. While there's no noise cancelling, there are microphones in both earbuds. This helps to improve clarity for the person on the other end of the line. There's also no native support for your smart assistant, but that's par for the course with budget buds.
VEATOOL True Wireless Earbuds
The VEATOOL True Wireless Earbuds have a small, compact form factor that's designed to rest discreetly in your ears. The backs of the ABS plastic buds feature soft-touch buttons, and are red and blue color-coded for left and right. The buttons are used to control volume, skip tracks, answer, reject, or end phone calls, and to activate smartphone assistants. This can make them hard to figure out at first, but they're easy to use once you get the hang of it. The earbuds are also IPX5-rated for water resistance. They won't handle full immersion, but they'll withstand sweat or rain with no issues.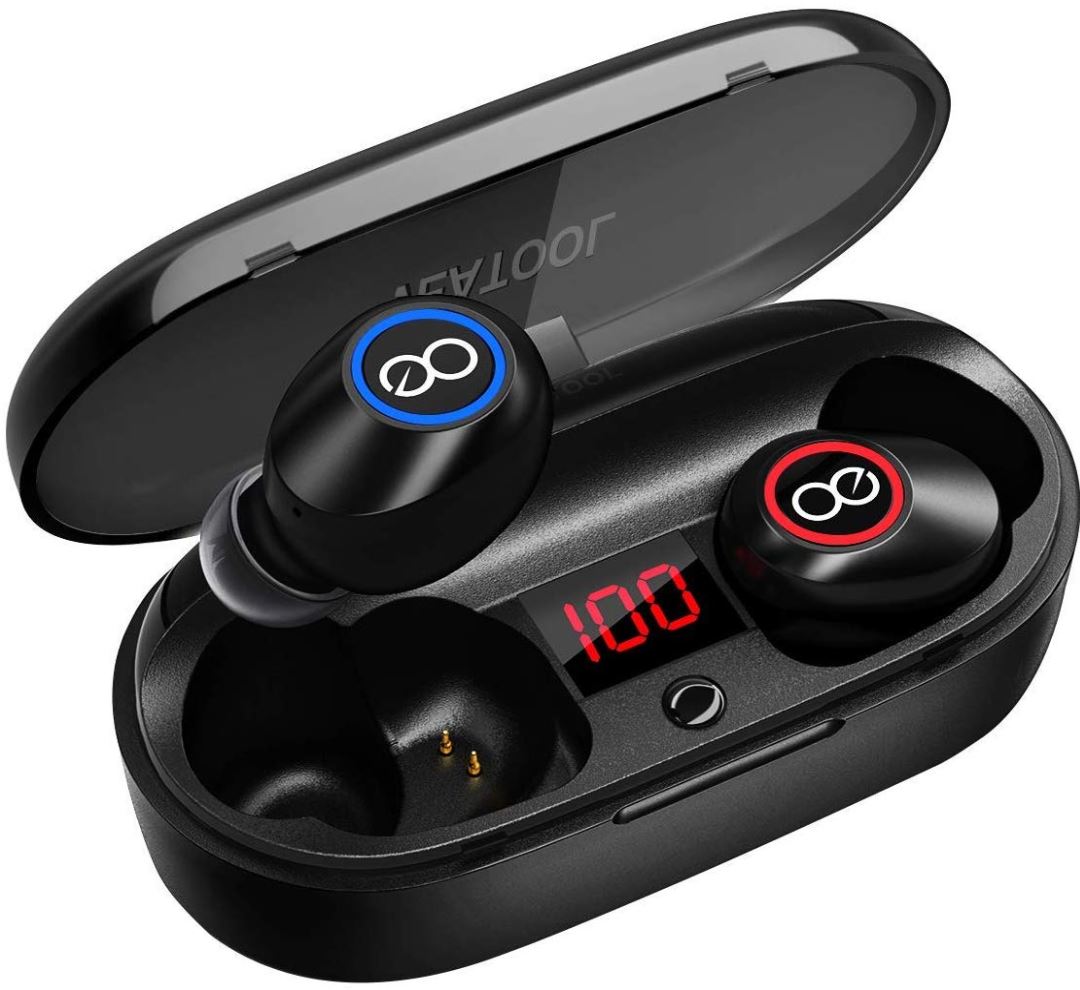 The charging case is long and narrow, measuring 3.15 inches long, 1.61 inches deep, and 1.22 inches tall. At this slim size, it weighs only 2.4 ounces, making it easy to carry in your pocket. It has a clamshell design, with two charging wells for your earbuds. In-between, there's a button for activating the charger, along with an LCD battery display. The display is a simple 1-100 percentage of the charge, so you won't have to decipher a set of lights. The USB Type-C charging port is located in the back of the case, and a charge cable is included.
If you have trouble finding a secure fit, you might prefer a set of earbuds with wings. The Soundpeats TrueWings fit the bill. They have rubberized wings that wrap around your ears, so even if they pop out, they won't fall off.
Battery and Connectivity
VEATOOL True Wireless Earbuds offer about 4 hours on a full charge. This assumes medium volume, but even on high volume they're good for 3 ½ hours. The charging case offers an additional 5 ½ charges, bringing your total battery life to a potential 26 hours. All in all, that's pretty impressive.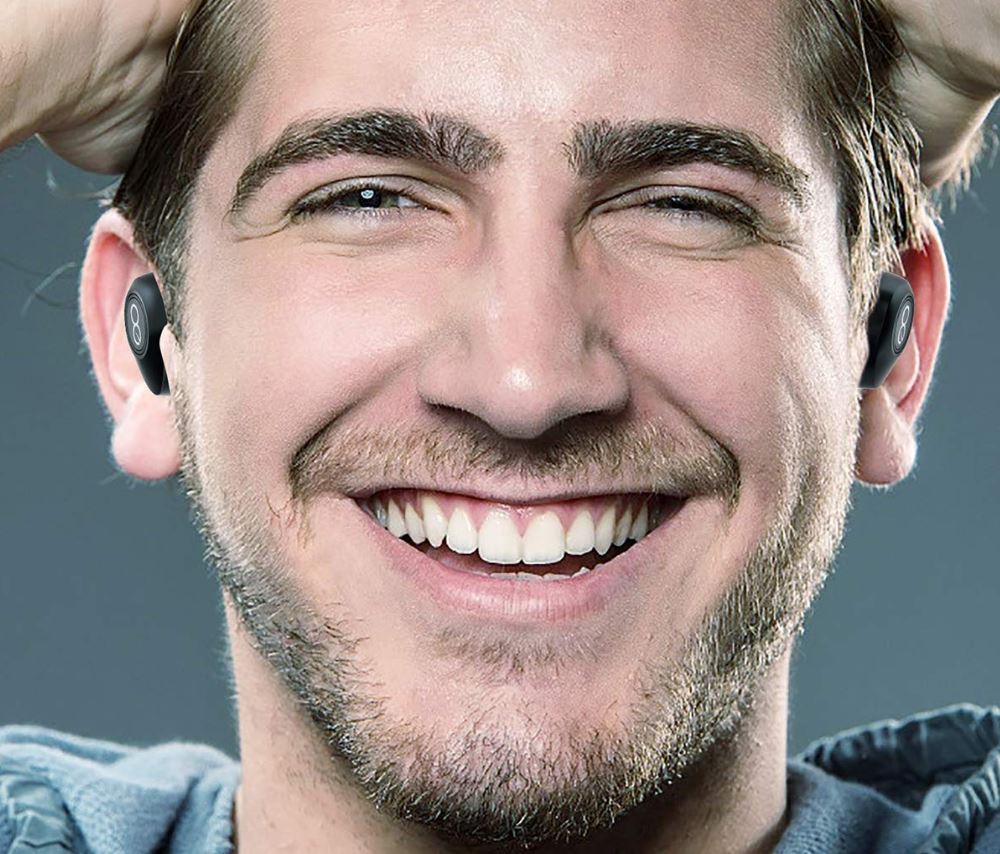 These earbuds use the Bluetooth 5.0 protocol, with a range of 33 feet. Like the Hi(Hurricane), they offer a low-latency connection with support for high-bitrate music. However, we've noticed fewer pairing issues. Simply sync the VEATOOL earbuds for the first time, and they will automatically re-sync whenever they're removed from the case.
Sound Quality
The VEATOOL's drivers push out a quality, full-spectrum signal. Highs are clear and shimmering, with plenty of space and no interference. Mids are equally good, producing clear vocals that don't get muddy even in a crowded mix. The bass is present, but it's about what you'd expect from a pair of earbuds at this price point. In general, the better your ear tip seal, the better the bass response is going to be. What the VEATOOL earbuds do offer is active noise cancelling (ANC). ANC is virtually unheard-of in mid-range earbuds, and its presence is much appreciated.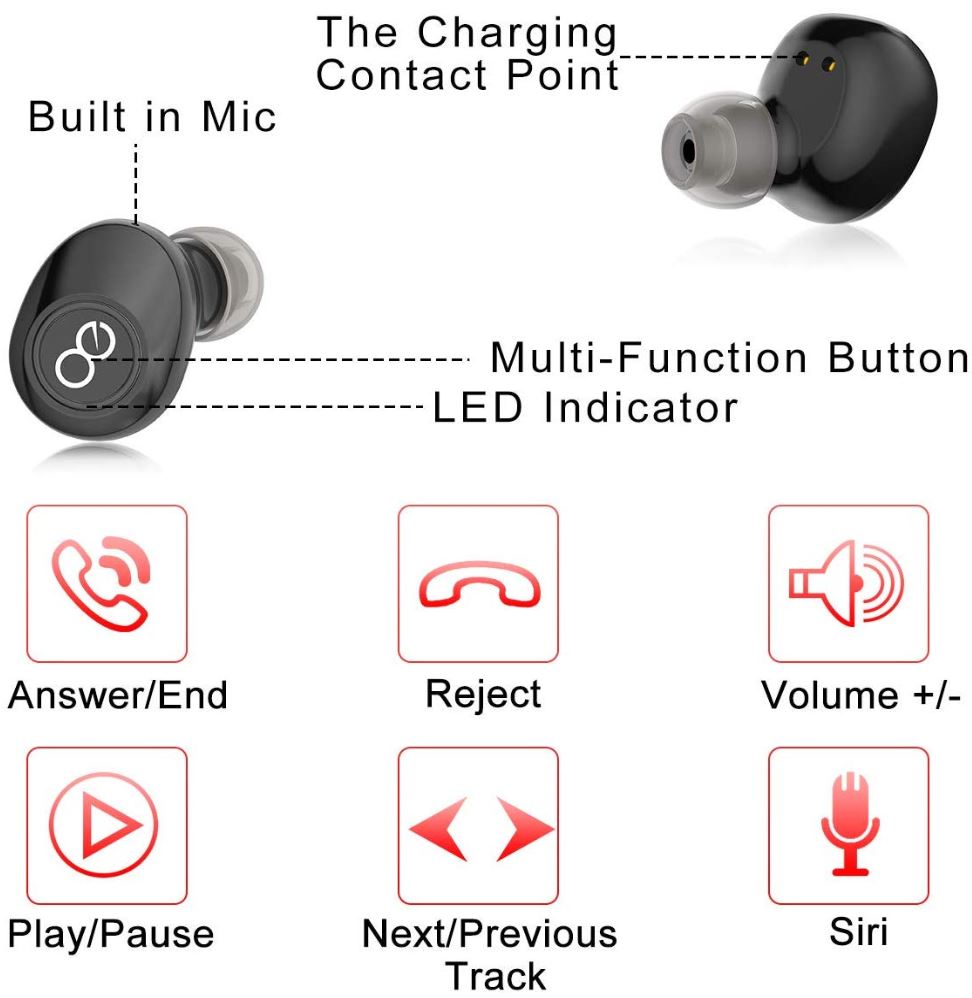 VEATOOL earbuds can also be used individually for voice calls. This is both a good and a bad thing. On the one hand, using your earbuds individually can double your battery life. On the other hand, you'll only be using one microphone instead of two. This can lead to reduced sound quality for the person on the other end.
Final Verdict
So, which of these earbuds is the best? They're both reasonably priced, and both of them deliver excellent audio quality for what you pay. They also have comparable battery life, although the VEATOOL has a slight edge.
That said, there are several things that make the VEATOOL Earbuds stand out. The first is the relatively compact case. The Hi(Hurricane)'s is a bit large, and at that size we would have expected a more powerful battery. The second is the clear, easy-to-read battery meter. The 1-100 display is innovative, and much less ambiguous than a row of lights. in addition, the VEATOOL earbuds offer active noise cancelling. Just put them in, and you'll be in your own personal world. Finally, they're also better for phone calls. And the ability to use them individually is a nice bonus.