There are plenty of good keyboards on the market, and we've reviewed a number of them. But most keyboards share the same kryptonite. No, we're not talking about rough typing, although that can be a problem on some models. We're talking about water. For example, suppose you've just bought a nice mechanical keyboard for gaming. And suppose you like to enjoy a meal at your desk between matches. At some point, you're going to spill food or a beverage on your keyboard. If you're lucky enough to unplug it in time, you can wash it.
But the process will involve removing all the keycaps, and carefully cleaning the electronics with alcohol. Then you'll need to wait for the keycaps and electronics to dry completely before you reassemble your keyboard. Congratulations, you just missed out on a whole day of gaming. And if you rely on your keyboard for work, the problem can get even cost you money.
One alternative is to buy a waterproof, washable keyboard. Spill ketchup or Pepsi? No problem! Just grab a damp washcloth and wipe down your keyboard. You'll be back in action in mere seconds. Today, we'll be looking at three different models: the Logitech K310, the Sungwoo Foldable Silicone Keyboard, and the Adesso 630UB. We'll look at all of their features, and see how they compare. Let's get started!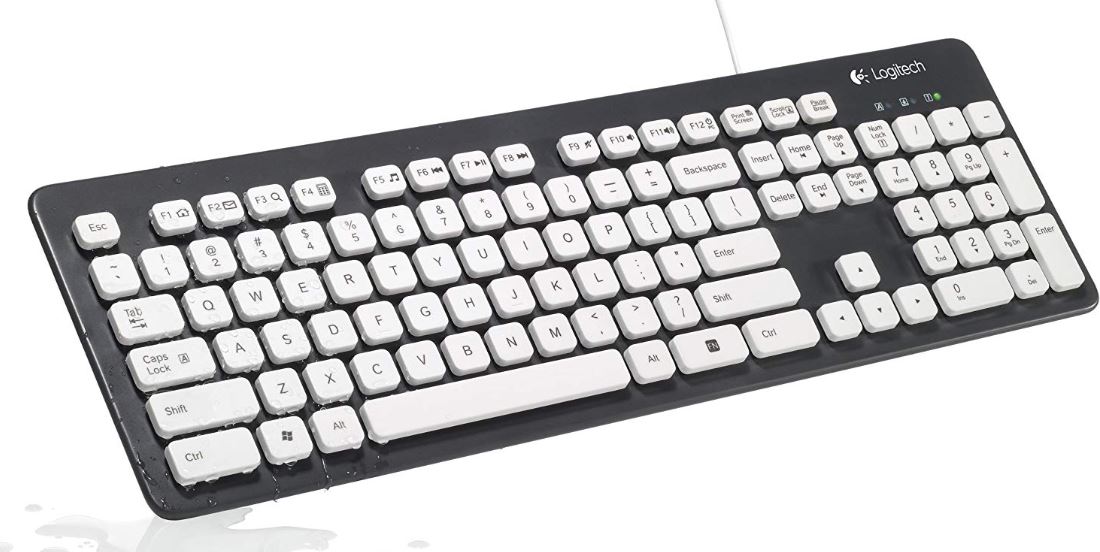 Logitech K310 Washable Wired Keyboard
The Logitech K310 is a full-sized keyboard that measures 18.66 inches wide, 5.75 inches high, and 1.38 inches thick. The keyboard case is constructed from ABS plastic, with high-visibility white keys that really pop. The standard layout includes a full set of media controls built into the function keys. There's even a power button, so you can turn your PC on or off without taking your hands off the keyboard. When you need to move the K310 from place to place, it's easy to do. At only 5.29 ounces, you'll barely notice the extra weight in your backpack or laptop bag.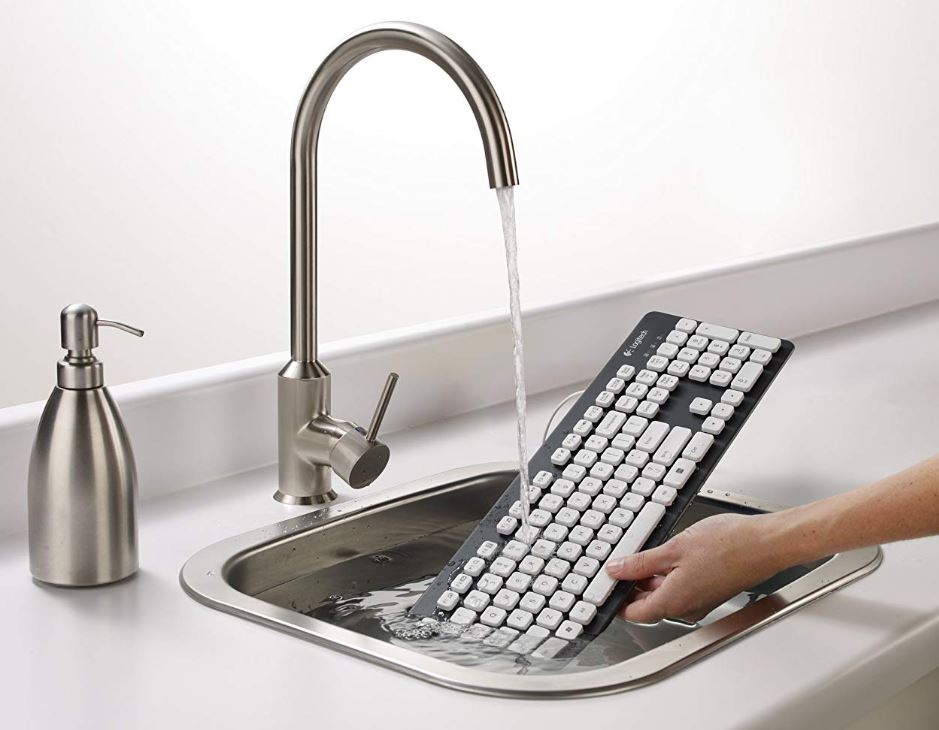 The K310 is entirely washable. Logitech doesn't list an IP rating, so we wouldn't try submerging it. That said, it's rated for hand washing, so you can take a wet cloth to it with no issues. That's really all you should ever need, so it's more than good enough for us. In addition, the keys are very durable. They're laser printed, with a UV-resistant coating. Not only will they last for millions of keystrokes, but they won't fade over time. The keys themselves are easy to operate, with a medium travel and plenty of spring. Between the full-sized design and the comfortable key response, the K310 is ideal for typing all day. It's also a solid choice for gaming.
Connectivity & Extra Features
The K310 is designed to be plug and play. It has a USB cord, so it will connect to any modern computer. And thanks to this design, it doesn't require any batteries. This means your gaming session won't get interrupted by a dead battery or flaky connection. It also ensures that you won't need to install any drivers. If you want to buy a keyboard today and use it right out of the box, the K310 is a solid choice.

One thing we should point out is that the product description advertises rubber dome keys. This is a misprint. They're standard square chicklet keys. As we already mentioned, they're very responsive and have a nice touch. And, coming from a manufacturer with Logitech's pedigree, you can be assured that they're tough and durable. But if you were looking for rubber dome keys, you'll want to look elsewhere.
Speaking of keys, nothing beats the feel of a chunky mechanical keyboard. If that sounds more like your speed, read our review of the Keychron K4. This is a beefy mechanical keyboard with a wireless connection that's very reliable.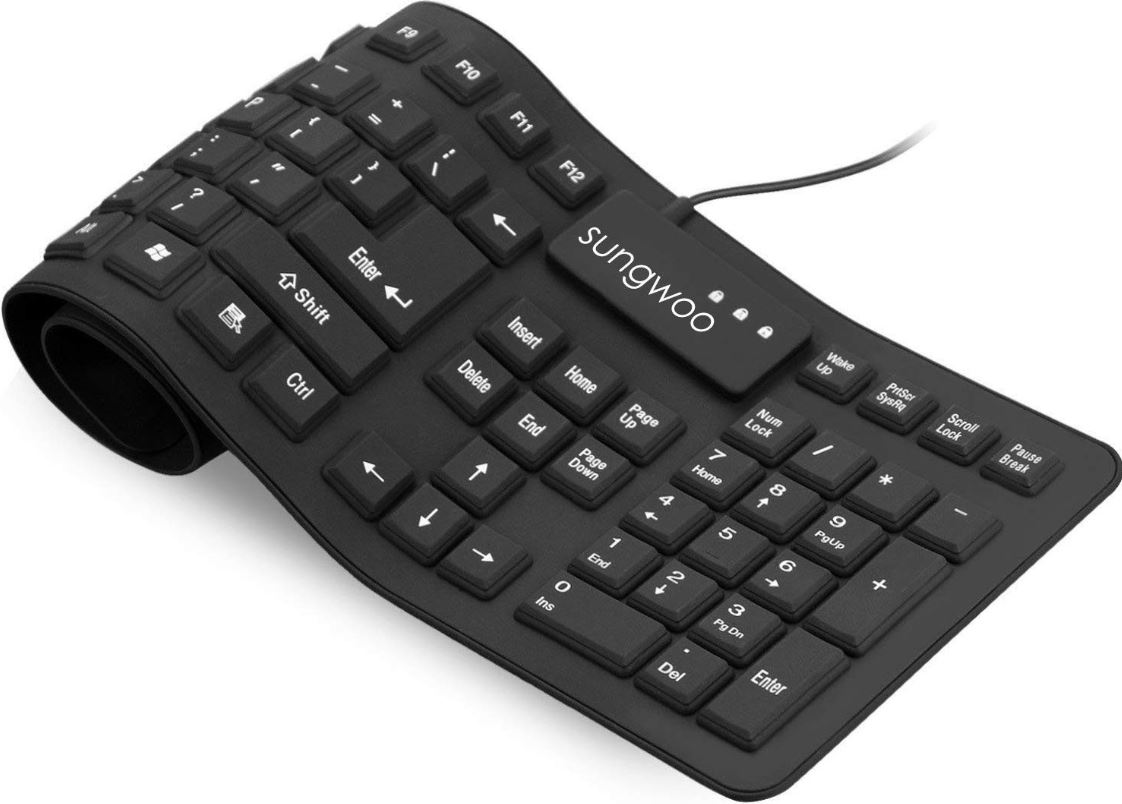 Sungwoo Foldable Silicone Keyboard
The Sungwoo Foldable Silicone Keyboard has a unique design. It's a full-sized keyboard, measuring 17.72 by 5.51 by 0.39 inches. And it's incredibly lightweight for the size, tipping the scales at only 7.05 ounces. At this point, you're probably wondering how Sungwoo managed to make their keyboard so light. The answer is that they didn't use standard ABS plastic or even rugged aluminum. Instead, they built their keyboard out of silicone. This material isn't just lightweight. It's also flexible. You can literally roll the Sungwoo keyboard up like a movie poster, and unroll it again for use. This makes it easy to transport. Just fold it, roll it, or otherwise collapse it, and shove it in your backpack or laptop bag. If you're a frequent traveler, you'll love this feature.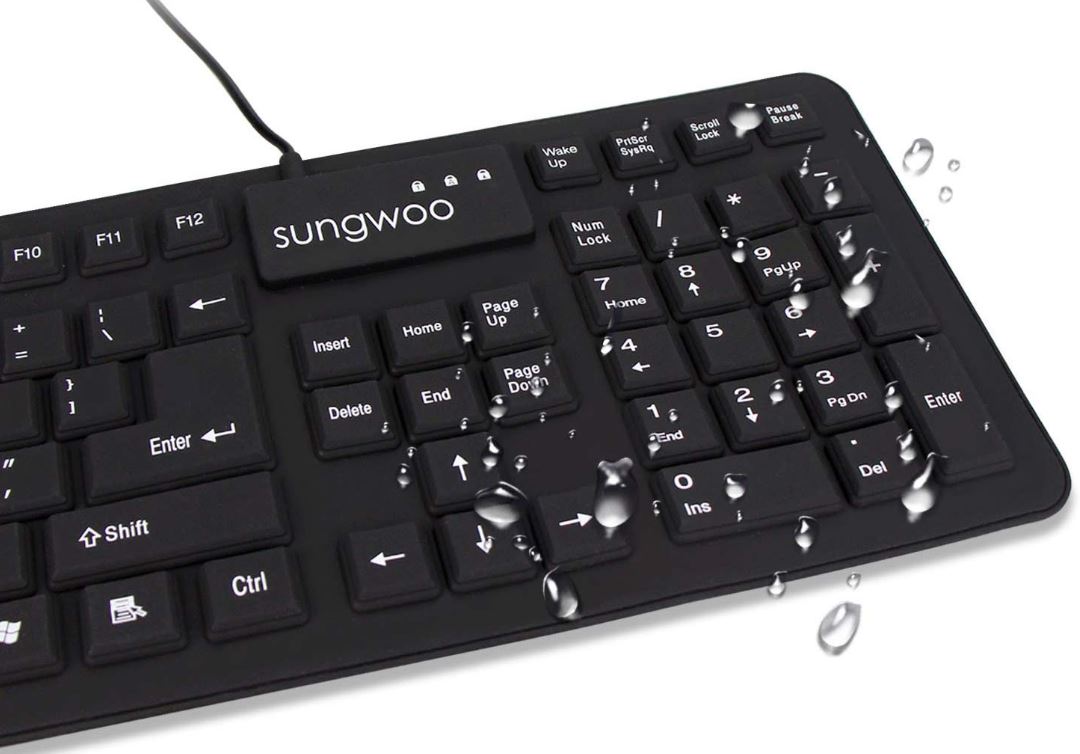 The feel of the keystroke is about as good as you can expect from a silicone keyboard. This is to say, it requires a firm touch. If you try to use a light touch like you would with a mechanical or chiclet keyboard, you'll have issues. To type effectively, you'll need to maintain a firm touch. This will ensure that the Sungwoo registers each keystroke. It takes some time to get used to, but it's surprisingly easy to operate once you've gotten the hang of it. One thing we did appreciate is just how quiet the Sungwoo is. Even if you're in a shared workspace or a library, you won't bother others who are working nearby.
The Sungwoo is both waterproof and dustproof. You can clean it easily with water or alcohol, without any other complications. The foldable design also makes it easy to clean. If you've gotten sauce or soda into one of the grooves next to the keys, you can spread the gap wider. With a kitchen washcloth and a few Q-tips, you can get the Sungwoo as clean as it was on arrival.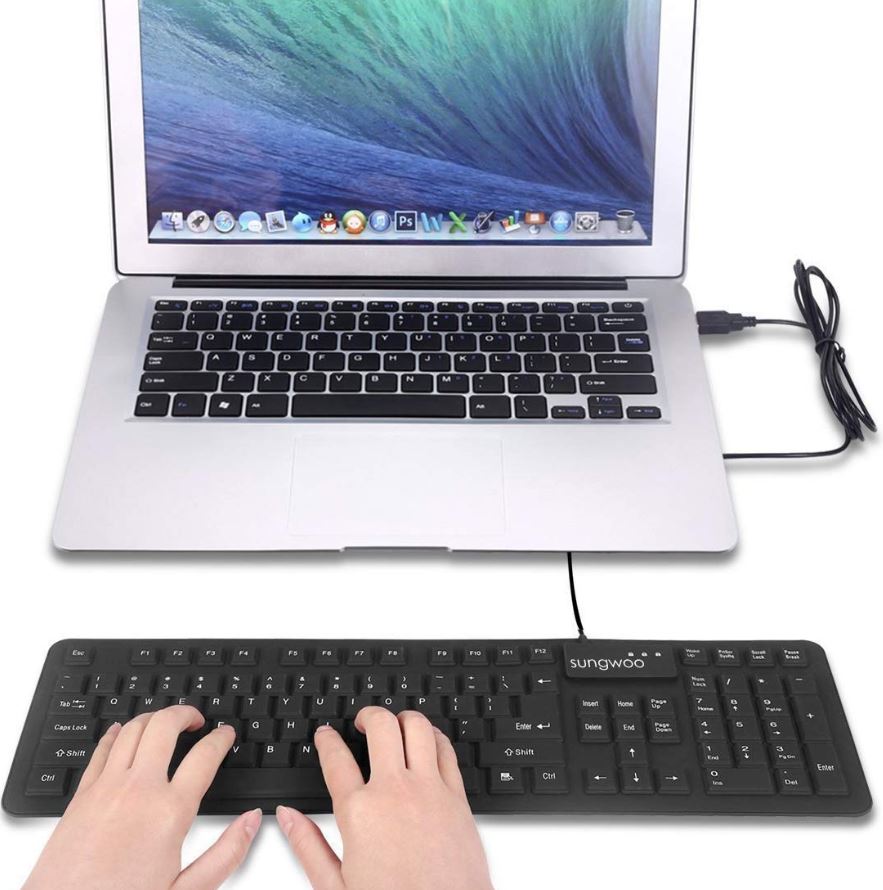 Connectivity & Extra Features
Like the Logitech K310, the Sungwoo uses a basic USB connection. It's designed for plug and play use, which ensures that you can use it with just about any computer. With no drivers to install, you won't need to worry about long setup times. In addition, you won't need to worry about battery life, wireless dongles, and other complications.
The only downside of the Sungwoo is that you can't use them on your lap or another soft surface. This is an unfortunate side effect of their flexible design. On a soft surface, they'll flex too easily, and you won't be able to type comfortably. Some keys may even be completely unusable in this type of setup. As a result, you'll need to use the Sungwoo on a desk, a table, or a lap desk.
Of course, there are other keyboards that offer the Sungwoo's portability. If you want a portable keyboard, but you're not sold on the flexible design, consider a split keyboard. They give you the best of both worlds: portability when you need it, and rigidity when you need reliable operation.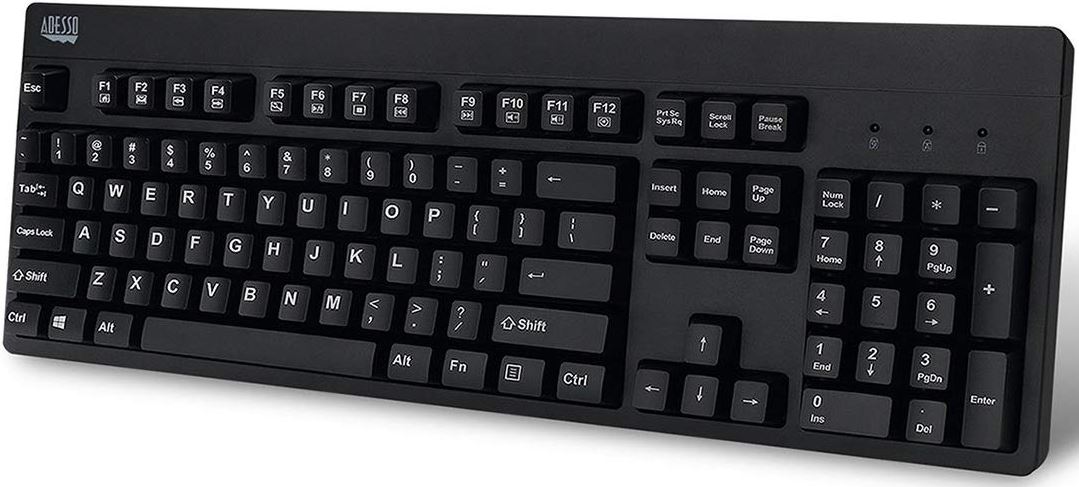 Adesso 630Ub Easy Touch
The Adesso 630Ub Easy Touch is a washable keyboard that has a fairly traditional design. Rather than soft-touch or chiclet keys, it uses traditional, high-rise keycaps. The keys are designed with oversized print, which allows for easy visibility. Touch typers, of course, won't care about this feature. But if you're not a touch typer, you'll appreciate the ability to locate keys easily. This is particularly true if your vision is less than stellar, or if you're working in low-light conditions. In addition to being easy to read, the 630Ub's keys are also easy to type with. They have a nice, medium feel with good tactile feedback. This isn't exactly on the same level as a mechanical keyboard, but it's excellent for what you're buying. In addition, the 630Ub has a full spread of media and internet hotkeys. They're built into the function keys, which makes them easy to operate during normal keyboard use.
The overall size of the 630Ub is 18.5 inches wide, 6.5 inches deep, and 1.5 inches thick. It weighs 2.9 pounds, which is a bit heavier than the other options we've looked at. You can still throw it in a bag for easy transport, but you'll feel the weight. On the other hand, the case is made of anodized aluminum, not plastic. This makes it exceptionally durable. Drop it, bump it, or put it in your checked luggage, and it will still work just fine on the other end.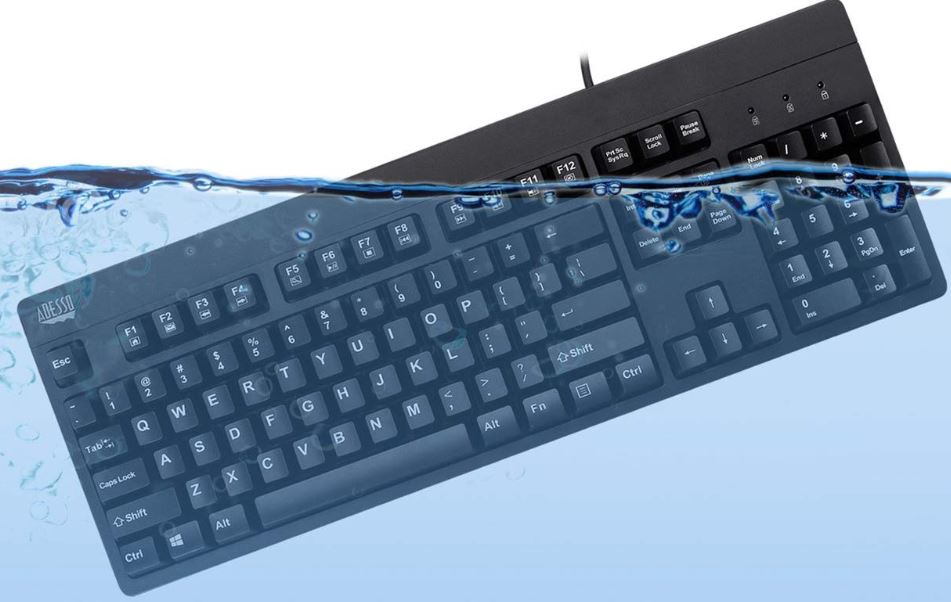 Unlike the other keyboards on our list, the 630Ub is fully waterproof. It carries a rating of IP67. Not only is it dust-proof, but it can withstand submersion. This makes it suitable for even the messiest keyboard users. Go ahead and game away while you're eating a plate of barbecue ribs. You can wash the 630Ub in your bathtub, and let it drip dry, without having to remove all the keycaps. And for less serious messes, you can still use a wet washcloth for easier operation.
Connectivity & Extra Features
Like the Logitech K310 and the Sungwoo, the Adesso 630Ub uses a USB connection. It requires no drivers on most computers. Just plug it in, and you'll be ready to start typing or playing your favorite games. And battery life simply won't be a concern. You can play all day, and your keyboard will still be going strong when you go to bed.
The K310 uses membrane key switches. When compared with traditional tactile or mechanical switches, they're much more durable. They don't "click" like mechanical keys, so they're relatively quiet. But the keys are still spring-loaded, which means you'll still get plenty of feedback. As a result, you'll be just fine working in a space where quiet is expected. The K310 also stays in place when you need it to. The foot stands have a rubberized finish, which keeps them from sliding around. The bottom of the keyboard also has small rubber pads to keep it in place. Even if you're a rough typer, you're not going to have to worry about your keyboard shifting around during use.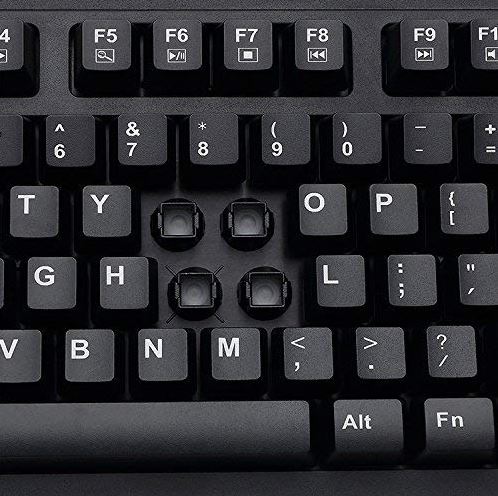 The K310 also has an antimicrobial finish on all the keys and other surfaces. This ensures that bacteria and other pathogens won't grow there. This makes the K310 well-suited for a shared PC. Even if the person before you is suffering from a bad cold, you won't have to worry about getting sick. Well, you might have to worry. But if you do, it won't be because of your keyboard.
If you're a hardcore gamer, you might prefer a keyboard with RGB lighting. The bad news is that you won't find one that's waterproof; at least not yet. But there are plenty of good options on the market. Read our review of the Corsair K57 to learn about one of the best. It offers a lot of features for gamers,
Final Verdict
So, how do all of these washable keyboards compare with each-other? Each of them has different features to offer, and has its own benefits and drawbacks.
To begin with, the Logitech K310 comes from a reputable brand. Just about everybody is familiar with Logitech, and there's a reason they're such a successful company. The keyboard is easy to use, and lightweight enough to throw in a bag for easy transport. The built-in media keys are also a nice touch. And the keys have a comfortable look and feel.
The Sungwoo Foldable Silicone Keyboard is a unique creature. It combines the benefits of a foldable keyboard with the ease of use of a traditional keyboard. This means you can use the Sungwoo anytime, anywhere. That said, there are a couple of drawbacks. For one thing, you'll need to use it on a firm surface. For another thing, the keys require a firm touch.
Finally, the Adesso 630Ub is the most water-resistant of all of our choices. It's rated for submersion, which means you can easily clean up even the worst messes. The keys also have an excellent touch. And they have an antimicrobial finish, so your keyboard won't spread any germs.
Meet Derek, "TechGuru," a 34-year-old technology enthusiast with a deep passion for tech innovations. With extensive experience, he specializes in gaming hardware and software, and has expertise in gadgets, custom PCs, and audio.
Besides writing about tech and reviewing new products, Derek enjoys traveling, hiking, and photography. Committed to keeping up with the latest industry trends, he aims to guide readers in making informed tech decisions.