Everyone who owns a computer or works at a computer knows that keyboards are important. You've likely seen a full-sized keyboard, a 60% keyboard, or maybe even a 40% keyboard. One style that is far less common, however, is an ergonomic split keyboard.
These are extremely unique, as they basically take what you'd expect from a normal keyboard and cut it into two pieces. These pieces are then usually joined together via a cord or just connect to each other and the computer wirelessly. Since they are so unique, there are a few different things you need to keep in mind when looking for the best option for yourself.
Design and Aesthetic
The overall design and aesthetic are important with these keyboards. Some are pretty normal looking (besides the fact that they're cut in half), while others lean into their uniqueness and look really different. Regardless, their design is usually unique in order to improve upon their ergonomics and work efficiency.
Layout
The layout is important because it will determine how many different kyes you have to work with and where they are. Since split keyboards are designed to be optimized for both hands independently, there are a wide variety of layouts. Some are literally the same as they would be if they were a single keyboard, while others are optimized to give you plenty of functionality with each hand.
Switches and Keycaps
Switches and keycaps vary from keyboard to keyboard. Many people love mechanical switches, and durable keycaps are always a nice feature. This is especially true with these keyboards, as they're designed for people who use their computers for long hours.
Connectivity
Connectivity is usually either wired or wireless. Both are fine and have their benefits and drawbacks. Wireless is great because it can reduce clutter on your desk and allow you to use the keyboard however you want to. However, you always have to make sure you keep the keyboard charged. You don't have that issue with wired keyboards, but more wires can make you set up more of a cluttered mess. Ultimately, it comes down to personal preference.
Bonus Features
Looking for extra bonus features is what can really set one board apart from another. Whether it's hot swapping, RGB backlighting, or something else entirely, there are little things that always go a long way.
Best Overall: KINESIS GAMING Freestyle Edge RGB Split Keyboard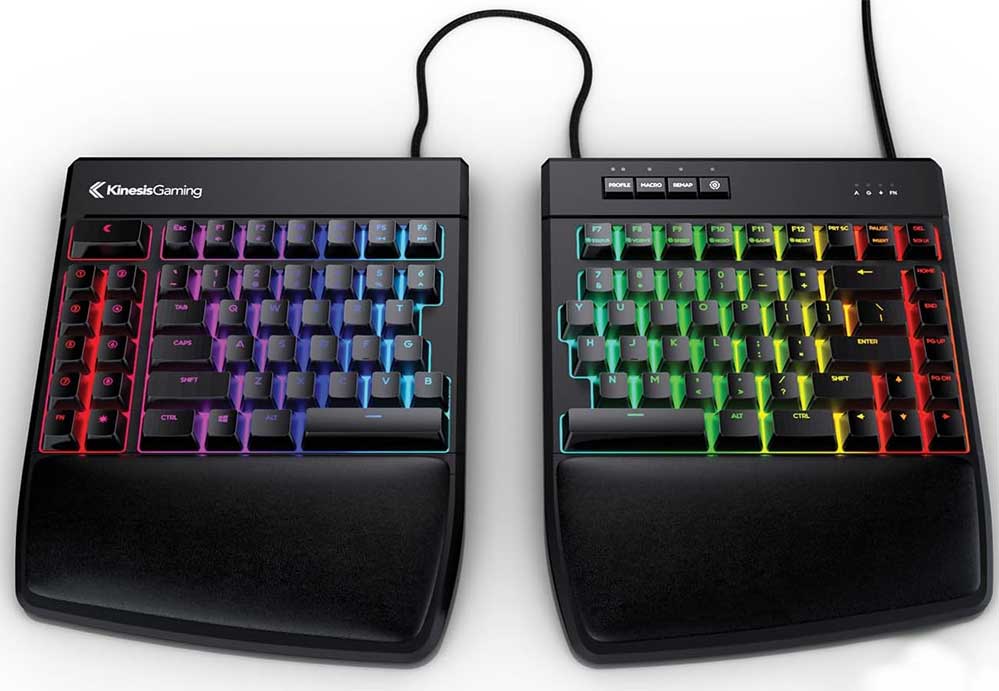 Key Features:
95 Total Keys
Per Key RGB Customization
Fully Programmable Keys
The best overall split keyboard on the market is the KINESIS GAMING Freestyle Edge RGB. This keyboard looks and functions great. It's available in a black color option, with fully customizable RGB backlighting. This backlighting is customizable on a per-key basis as well.
The layout of this board is pretty standard when compared to a traditional keyboard. The main middle areas are all the same with your standard numbers, letters, and extra keys. The main difference is the left side of the board has 10 different macro keys to customize for various functions.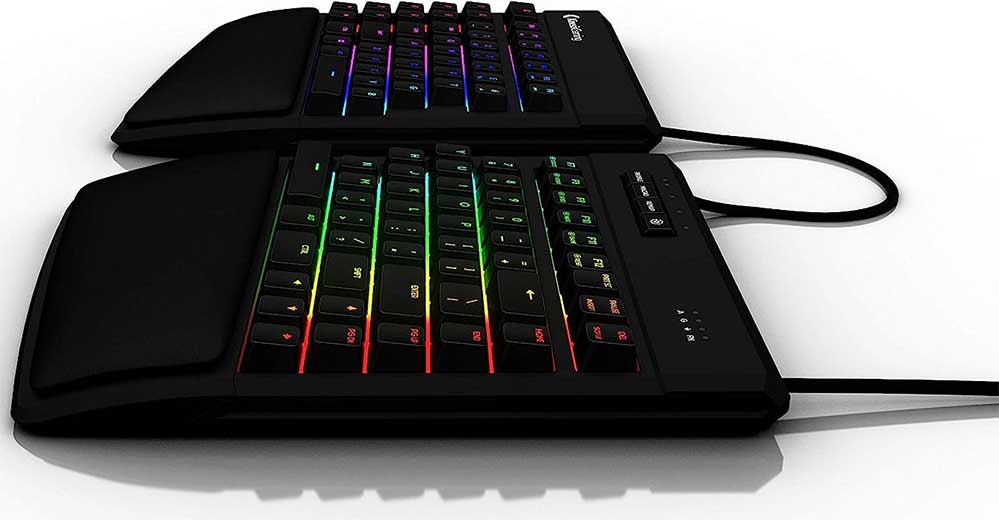 This board uses a variety of mechanical switches that you can choose between depending on your preferences. They include MX Brown, MX Blue, MX Red, and MX Silver. As for keycaps, they are durable plastic that works great for typing and gaming. To further enhance the ergonomics, there's an included padded wrist rest built in.
To connect to your computer, this keyboard uses an attached USB cable. There's also a cable that runs between the two parts of the board to provide connectivity and power.
The best bonus feature of this keyboard is the additional smartset programming engine. This engine allows you to customize all 95 keys to do exactly what you want them to do, so you can make this keyboard operate however you like it best.
Pros:
All 95 keys are programmable
Individual RGB backlighting
Four switch types
Cons:
USB Cable isn't detachable
Best Runner-Up: Mistel MD770 RGB (Wired + Wireless) Split Keyboard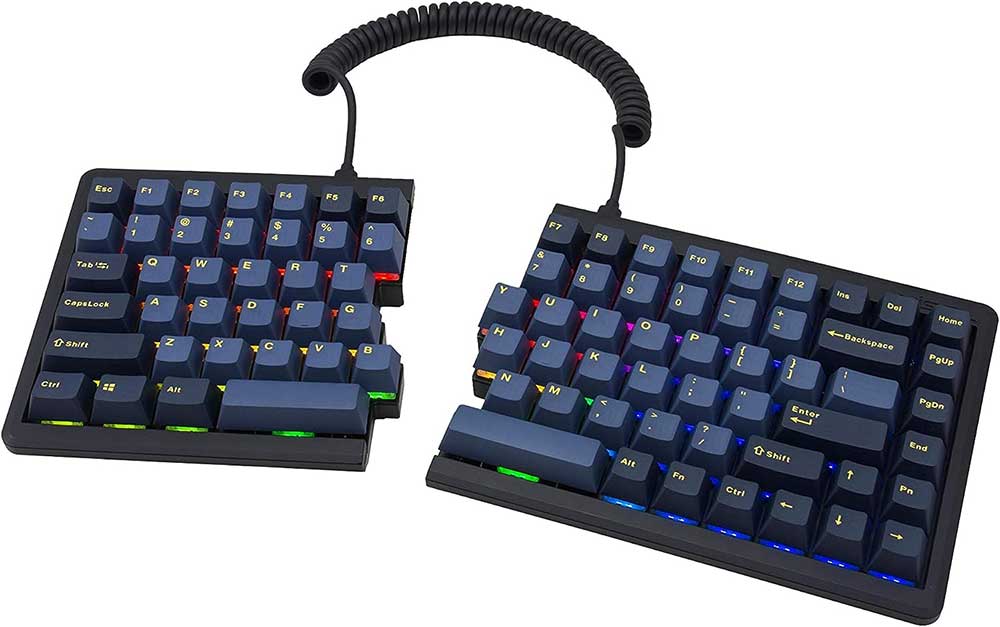 Key Features:
85 Keys
Can Fit Back Together
Unique Colorway
The best runner-up split keyboard is the Mistel MD770 RGB. This keyboard has an all-black body with blue and yellow keycaps. It also has RGB backlighting. The RGB can either be one of the preset modes that come on the board, or you can customize it to your personal preferences.
The layout of this board is a standard TKL layout. This literally looks like a board that just got broken in half, which is a cool look. Each half can also be put back against the other to make it look and function just like a normal TKL keyboard.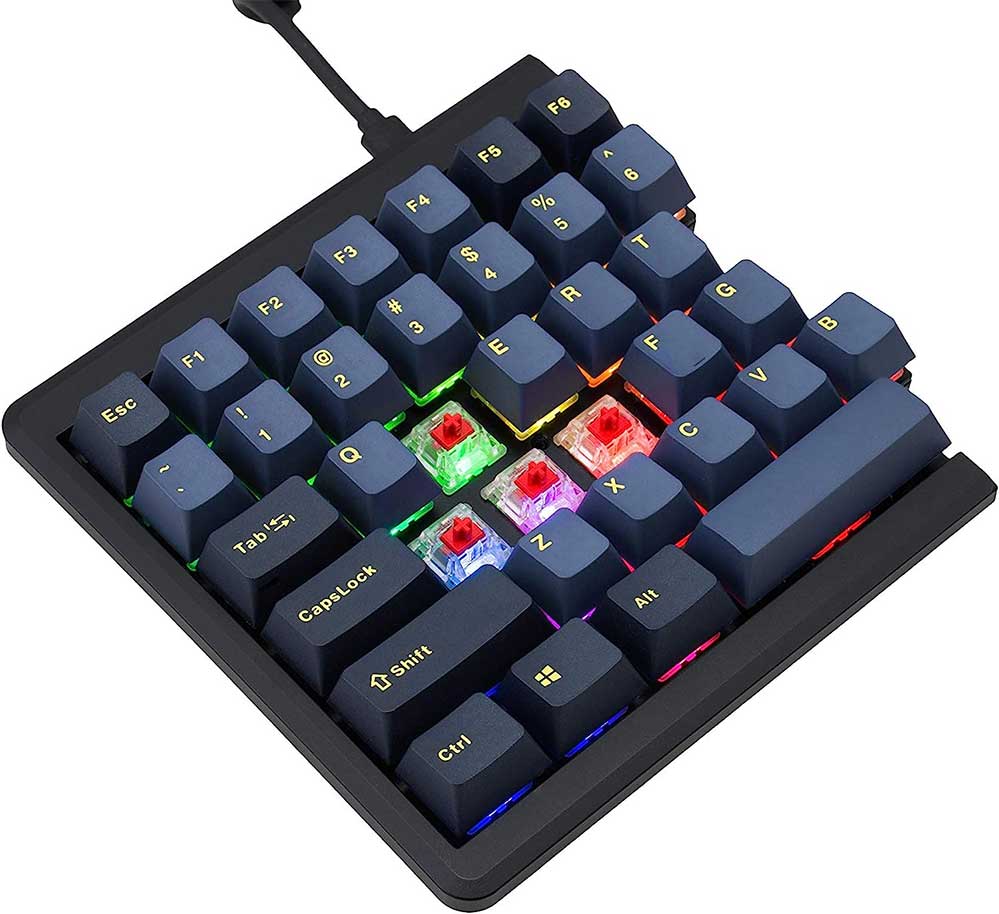 The switches used in the MD770 are mechanical. You can choose between Cherry MX Red, Cherry MX Blue, Cherry MX Silent Red, and Cherry MX Brown. Each has its own sound and feel, so make sure to do a bit of research ahead of time before choosing. The keycaps used on the keyboard are made of PBT doubleshot material to ensure they don't wear down after consistent use.
This is a wireless keyboard, so all you have to do is provide power to it and connect it to your computer. To do so, simply use Bluetooth. There is a cord that connects the two pieces of the keyboard together, so you'll have at least one cord to worry about.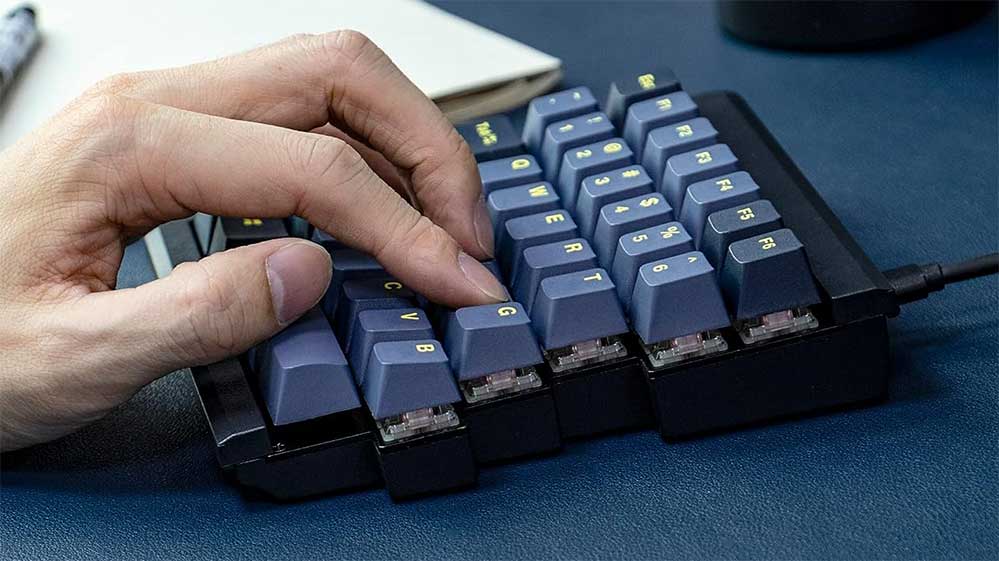 Similar to the KINESIS keyboard, this entire board is programmable by individual keys. This allows you to set custom macros, functions, and more for every key. This is great for people who want to make it as custom and ergonomic as possible.
Pros:
Fits back together into one keyboard
Fully programmable
Wireless connectivity
Cons:
Battery life only lasts a couple of days, so frequent recharging is necessary
Best High-End: KINESIS Advantage360 Professional Split Keyboard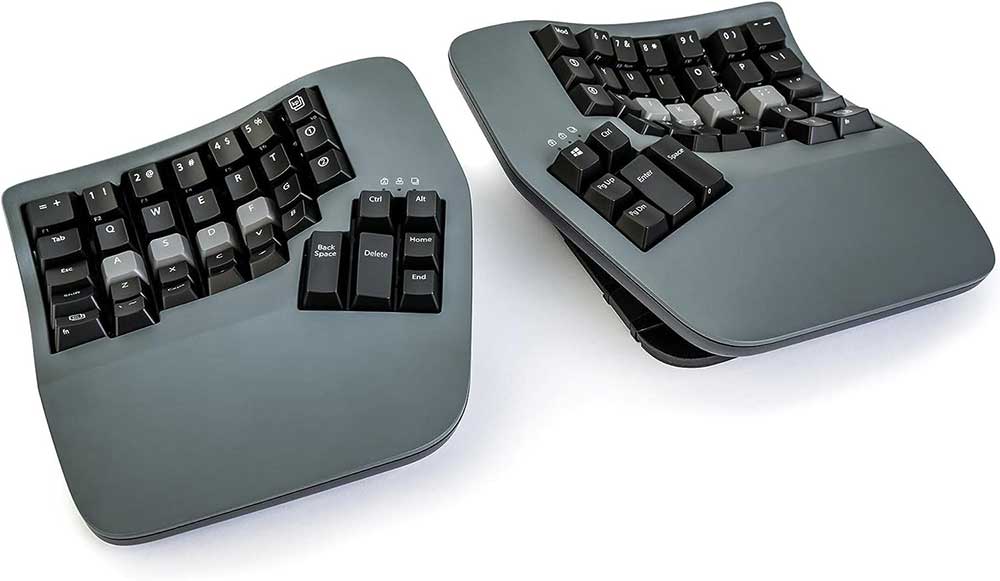 Key Features:
77 Total Keys
Extremely ergonomic design
Wireless connectivity
If you're looking for something extremely high-end, then the KINESIS Advantage 360 is for you. This is a very unique and ergonomic-looking board. The body is all grey, and it has black and grey keycaps on top. This is geared toward work settings, so RGB isn't included.
The layout is designed to perfectly fit your hands how they want to rest on a split keyboard. There are main areas for your typing fingers to lay, with additional function keys where your thumbs naturally rest in the layout. Overall, this is one of the best setup keyboards for productivity or work setup out there.

As for the switches, this still uses mechanical switches even though it's an office keyboard. They are gateron brown switches with a noticeable tactile bump. They are also extremely durable, as they're rated for up to 50 million presses. Each keycap included is made from a plastic material as well.
To connect to your computer, this keyboard uses Bluetooth. It's a great wireless option, with two additional USB-A to USB-C cords for charging. You can also connect both pieces of this board together.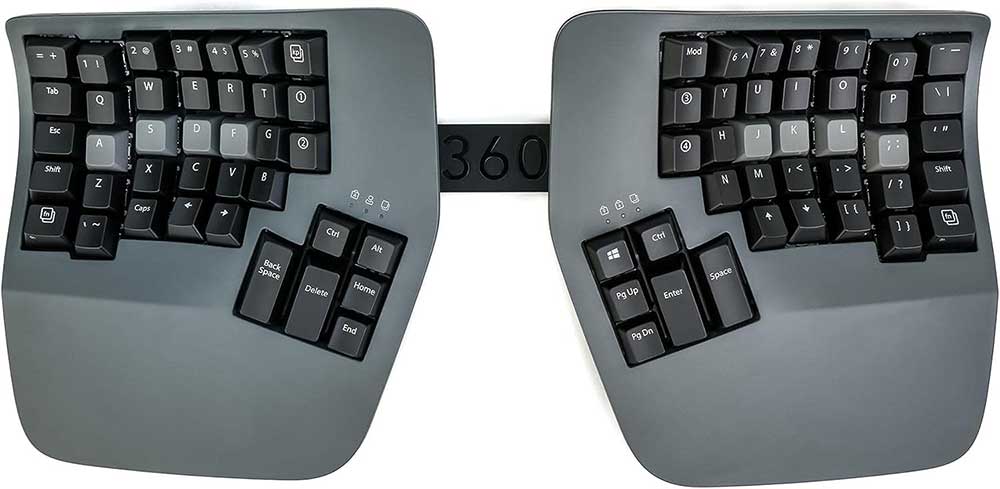 The best extra feature of the Advantage360 is the additional profiles and custom programming you can do with it. It's extremely easy to program, and it also has ZMK Open Source Engine capabilities. This allows you to have nine fully programmable profiles, with each profile having 5 different possible layers. Customization and ergonomics are the standout features of the Advantage360.
Pros:
Extremely ergonomic design
Bluetooth wireless connectivity
Nine profiles with five layers each
Cons:
Best Alternative: Cloud Nine C989M Split Keyboard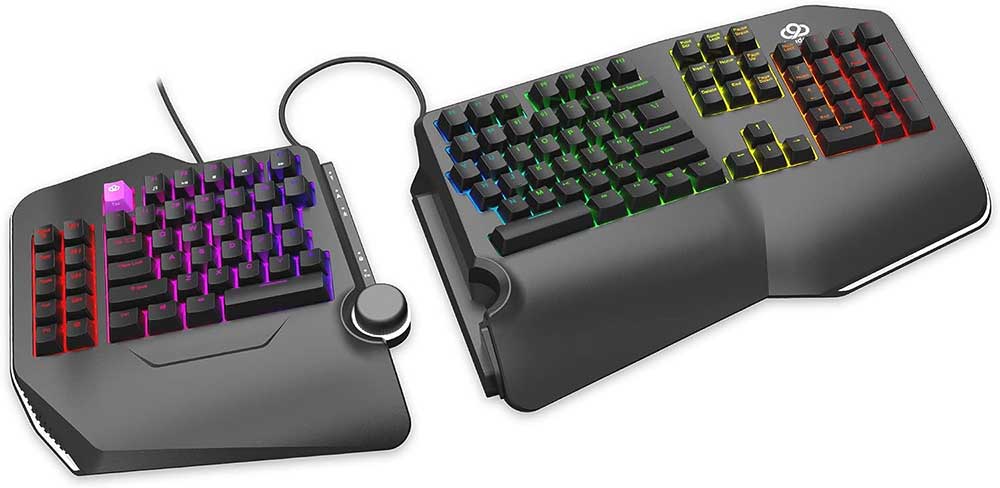 Key Features:
104 Keys
Kailh Mechanical Switches
Multimedia Dial Included
The best alternative split keyboard on the market is the Cloud Nine C989M. This keyboard is made by a gaming company, but it is great for office use as well. It's available in a black colorway with black keycaps. There's also full RGB backlighting that can be customized with the use of companion software.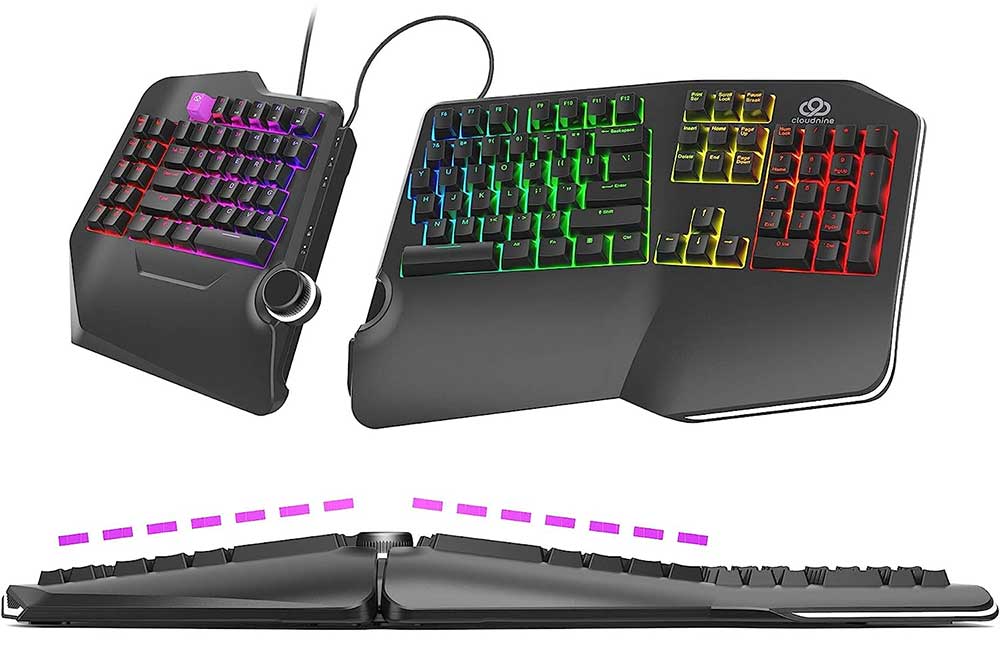 This is a full-sized keyboard broken up into two pieces. It features 104 total keys, so it can do everything you'd possibly want it to. The left side is primarily standard keys and Macros, while the right side has the remaining typing keys and functionality keys. Overall this is designed to function as a normal full-sized keyboard would.
The C989M uses Kailh mechanical switches within the board. You can choose between either Kailh Browns or Kailh Reds, depending on your personal preference. The keycaps used are a durable plastic material, with the escape key being a pink color with the C9 logo on it.
To connect to your computer, this split keyboard uses a built-in cable. There's an additional cable that connects the two pieces together to ensure it all works properly.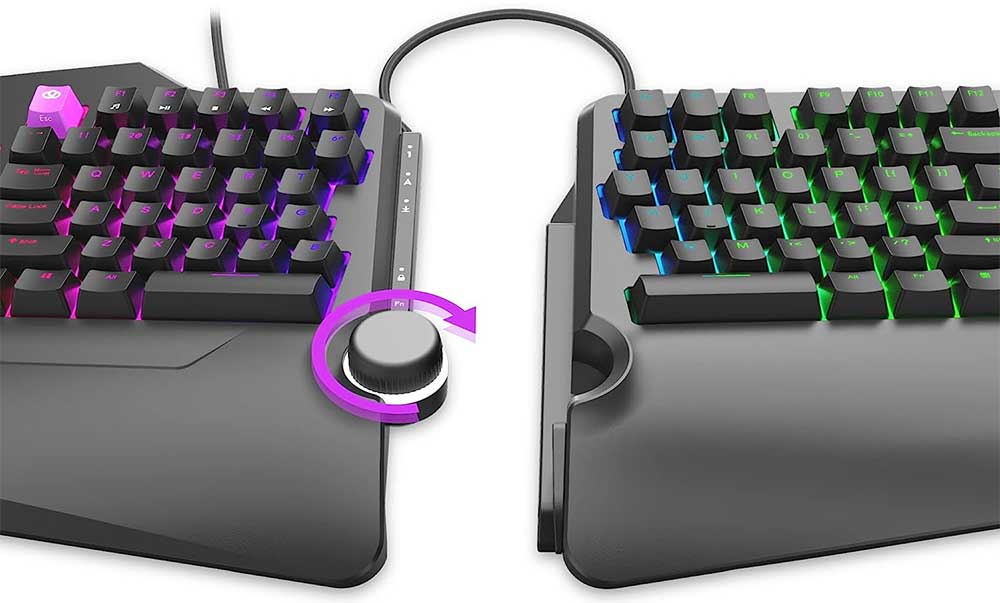 The coolest extra feature of this split keyboard is the multimedia dial. This smart wheel is located right in the middle of the board. It allows you to adjust volume, scroll web pages, switch apps, and more while using it on your computer. Overall, this is a great full-sized split keyboard.
Pros:
Multimedia scroll wheel
Full 104-key keyboard
Wired connection for reliability
Cons:
Reviewers note the software leaves much to be desired
Best 2nd Alternative: KINESIS Freestyle2 Ergonomic Split Keyboard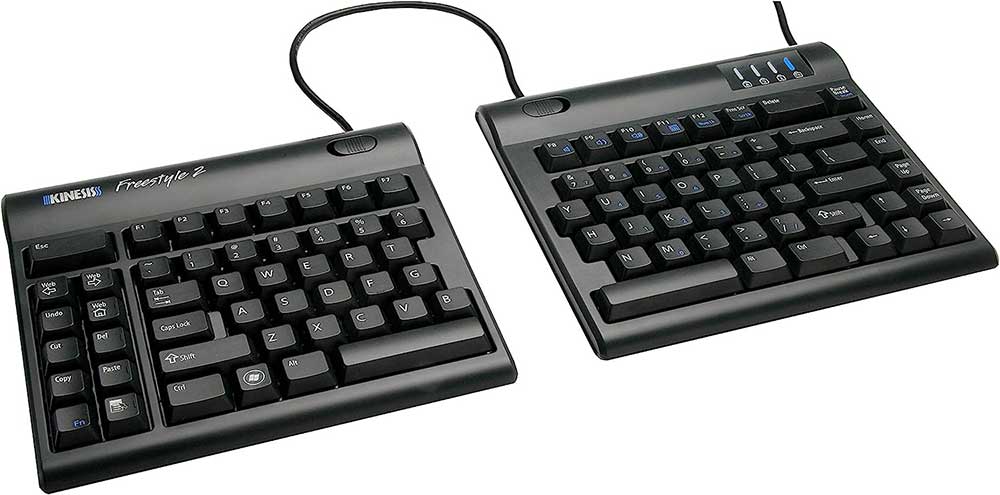 Key Features:
94 Total Keys
Plastic Body
Two Separation Length Options
Another solid alternative for an ergonomic split keyboard is the KINESIS Freestyle2. This is a pretty plain and basic keyboard that functions well. It has an all-black plastic body. One cool part about it, however, is that it can be put back together into one single keyboard.
The layout of this board is a standard TKL board featuring 94 keys. However, there are some keys that have been rearranged. Some of the function keys that are traditionally on the right side of a keyboard have been moved to the far left. This gives easier access to them with one hand.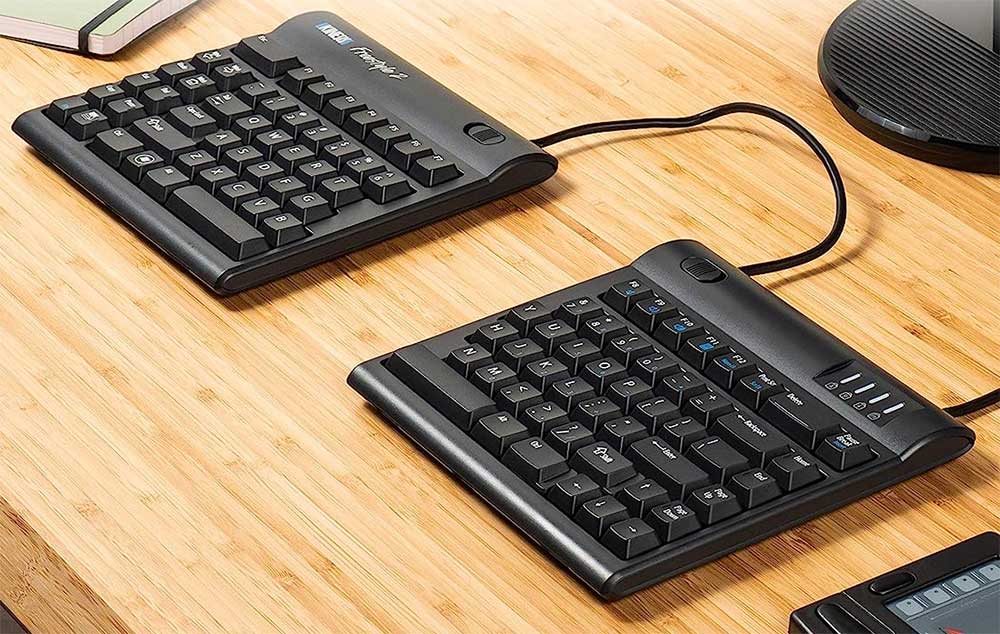 The Freestyle2 is the first keyboard on this list to feature membrane keys. This gives them a squishier and quieter typing experience than their mechanical counterparts. Some people may really like this, while others won't like it at all. The keycaps are low profile and made from plastic.
This is an easy keyboard to use; all you have to do is plug it into your computer with the attached USB cord. It's plug-and-play with Windows 7-10, Linux, and Chrome. This allows you to use it without the need for additional drivers on these systems.
The best bonus feature of this keyboard is the options you have for the connection cord. The cord that runs between the two parts of the keyboard can either be 9 inches or 20 inches long. This allows you to have options for how far apart you want the pieces, giving you the best ergonomic choices it can provide.
Pros:
9 inches or 20 inches for separation length
The keyboard can be combined into one piece
Plug and play ready
Cons:
Some users may not like the membrane keys
Best Budget: Perixx PERIBOARD-524B Ergonomic Split Keyboard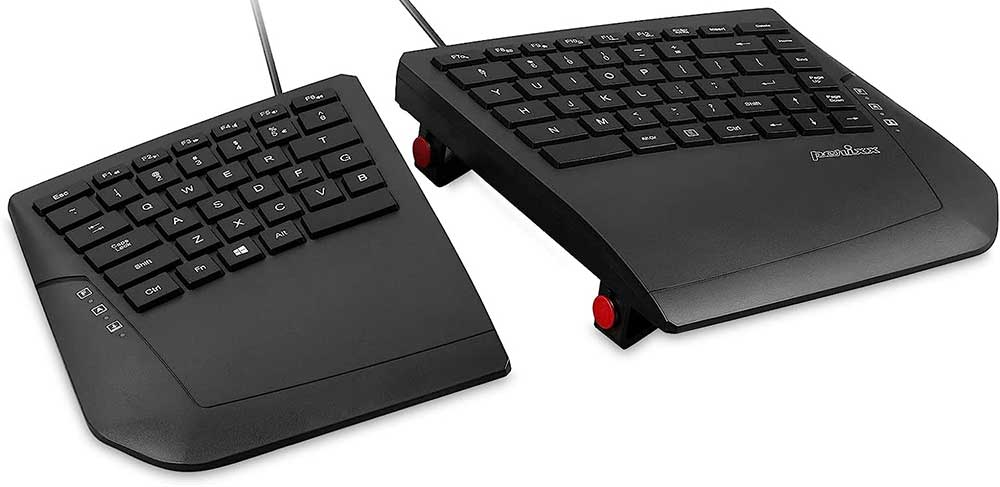 Key Features:
86 Total Keys
Plastic Construction
Wired Or Wireless Connectivity
For those who love shopping on a budget, the Perixx PERIBOARD-524B is a great keyboard. This is an all-black keyboard that blends in nicely with any setup. There aren't any fancy-looking bells and whistles, with everything on it focused on functionality.
The layout of the 524B is pretty standard for an 86-key keyboard. It has all the standard keys where you would expect them, with slim multimedia keys along the topside of the keyboard.
Similar to the Freestyle2, this is a membrane keyboard. However, rather than having a squishy type feel, this keyboard has a more tactile feel. This allows it to feel a bit more like a mechanical keyboard while maintaining its low price. The keycaps are extremely low profile and easy to type on.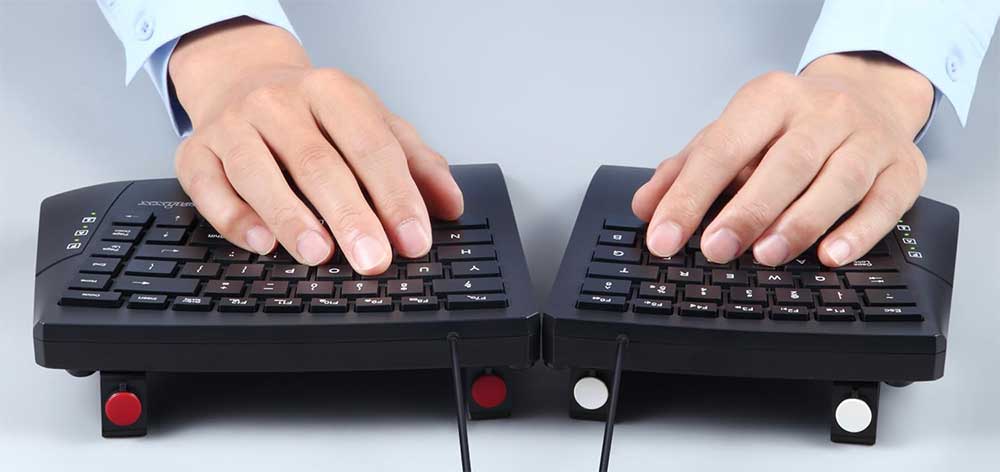 You have two choices for connectivity with this board. The first is wired. Each part of this keyboard has its own wire that runs into a single USB plug that goes into your computer. The alternative is to get the wireless version. This connects to your computer wirelessly via an included USB dongle. Both options are affordable, so you can choose whichever makes the most sense for you.
Overall, this is a great option to get into the split keyboard world. It has plenty of keys, lots of functionality, and a great membrane experience. With options for both wired and wireless, you can pick whatever makes the most sense in your setup and give this kind of keyboard a chance without breaking the bank.
Pros:
Wired or wireless options
Tactile membrane keys
Budget-friendly
Cons:
The keyboard is susceptible to ghosting