There are very few things in life that are as satisfying as coming home from a long day of work and curling up with your laptop to stream Netflix in bed. Unfortunately, many of us we're instead forced to curl up with our laptops and hammer out that overdue report.
Regardless of whether we're looking for entertainment or efficiency, the simple fact is that we often want to use our computers without having to sit at our desk. Using your laptop on your lap isn't always the most ergonomic or comfortable position. Plus, with many computers placing cooling fans on the bottom, covering these vents up with blankets can often cause damage and reduce the longevity of your computer.
Imagine a world where we didn't have to get up to use our desk. Imagine a world where we could bring our desk with us. The lap desk is attempting to do exactly that. There are many different designs and styles on the market. We'll be taking a look at the three best lap desks you can buy today. We'll explore the differences between them, and help you find the one that best suits your needs.
LapGear XL LapDesk
With a variety of lapdesks on the market, LapGear's flagship model is the XL. Including many luxuries that are rarely found on entry level models, the LapGear XL is one of the best models on the market, and the first one you should consider.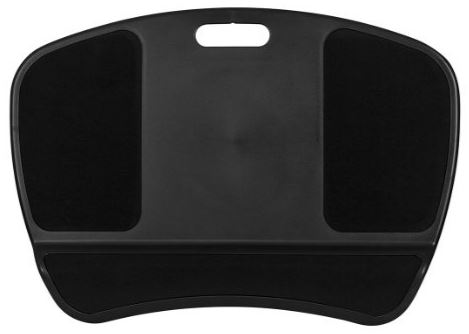 Design
The LapGear XL LapDesk is just as much of a treat to look at as it is to use. The smoothly rounded edges and gentle tapers give it a professional look. Appearance wise, it seems more like something that was carefully crafted rather than a cheap product that was hobbled together for a discounted price. But the design isn't just about looks, it's also about ergonomics. The inward slope is to allow extra support where your arms will typically be, and leaves a little room in the center for your body.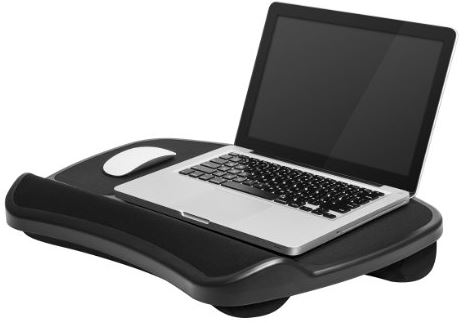 The LapGear XL is made from a high quality wood, and has a very smooth finish that feels as good as it looks. The wrist area is gently sloped up, allowing you to type with the correct wrist posture. This helps prevent wrist strain and carpal tunnel syndrome. At the top, you've got a handy handle that allows you to easily carry the desk wherever you go, making it on truly portable workstation.
Comfort
Unfortunately, we haven't yet invented floating desks. If you're going to be using a lap desk, it has to be supported somehow. Some models use legs that sit on your desk or bed, but this has the unfortunate effect of caging you in. Many find it less than ideal, to say the least. The LapGear XL has a very unique support system that we've only recently become familiar with. The bottom of the desk is actually covered with two cylindrical pillows.

No matter how you sit, the pillows are soft enough that you'll be plenty comfortable. This system manages to give a decent amount of support to the desk itself, so it's not wobbling around. But it does this without causing any pain or discomfort. We'd go as far as to say that this is one of the most comfortable lap desks that we've used, and we probably wouldn't even consider another style.
Functionality
There are a few key features that make this lap desk great. Although the wood finish is a huge asset for many people, if you use an optical mouse you know how much of a pain it can be. Optical mice detect the natural wood grain and give the user an uneven experience. To correct this, LapGear has installed two mouse pads on either side of the device. Even if you're right handed, you'll have no problems using this lap desk as intended. Additionally, the ergonomic wrist wrest is filled with strain reducing foam, giving you a soft feel and removing any unwanted pressure on your wrists.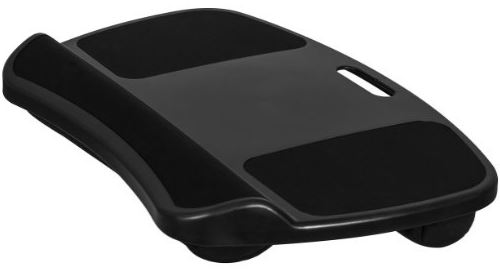 Another issue that needs to be addressed is heat produced by your computer. Those little rubber feet on the bottom are designed to lift the base of the laptop up off the surface to allow airflow to pass through. To improve air flow, LapGear has added a small cooling channel that makes it easier for cool air to flow into the bottom of the laptop, improving both performance and cooling.
Sophia + Sam All Purpose Lapdesk
Sophia + Sam are no strangers to the lapdesk industry. They've got a wide range of products in all types of shapes and sizes. In our opinion, their All Purpose Lapdesk is the best combination of form and functionality. If you're looking for a high quality unit that offers a little more in the design department, this is where you'll want to look.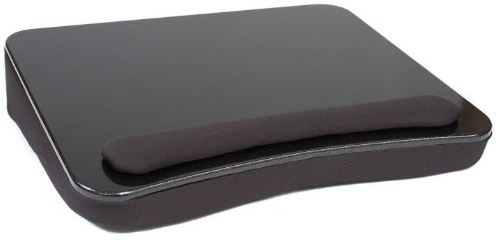 Design
The Sophia + Sam All Purpose Lap Desk gives up sweeping lines and instead goes for more subtle curves. The effects are the same, as you have space for both your wrists and your body, but the desk takes on a more professional appearance. This look is highlighted by the high gloss finish, making it appear sleek and professional under any type of lighting. The base of the desk has a skirt-like appearance, but what you're actually looking at is a memory foam base that is as stylish as it is colorful.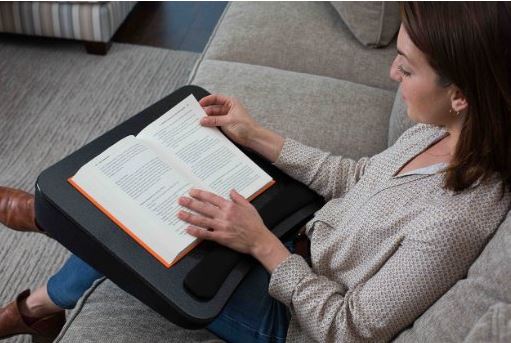 Not into black? The desk is available in a variety of colors and styles for you to choose from. The pink desk was specially designed for all the Sophias in the world, but if you're a Sam you might prefer the navy blue. This isn't just a coat of paint slapped on the same old desk. When you choose a different color, everything from the wrist wrests to the supporting pad are all colored identically. This makes the look much more cohesive.
If you're quick, there are also two special edition colors available that might tickle your fancy. Our personal favorite is the wood top model. This one uses the same black wrist wrest and skirt as the black, but the table top is instead finished with a veneered mahogany styled working surface that may very well be the most professional model we've seen. Finally, a light gray model is available for those of you who aren't into bright colors, but want something a little more unique than black.

Comfort
If you've every used a memory foam mattress, you know just how magical this material can be. Technically, the foam used on this lap desk isn't memory foam. Memory foam is actually polyurethane form with a very specific density. It's ideal for use with thick material such as a mattress. Because the foam used in this lap desk is a little thinner and denser, it doesn't fit into the memory foam category. That being said, the materials are very similar, and the denser design is much better for this application. If you had a strip this thin of true memory foam, the pressure from your wrists would quickly compress it completely flat. But this denser foam manages to remain supportive, while also being forgiving.
The same can be said for the base of the lap desk. It's extremely soft, making it feel virtually weightless in your lap.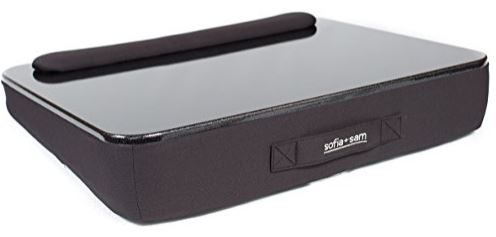 Functionality
One of the best features of the veneered top is that it's very grippy for the feet of your laptop. You're not going to have the computer sliding around at all, so even if you're on a slight angle your work space will be secure.
But what about those of us who aren't using laptops? If you're a tablet user, you'll be happy to know that there is a version available with a tablet slot. This is a small groove cut into the lap desk that your tablet simply slides into, leaving you space for paperwork or even a Bluetooth keyboard.
LapGear MyDesk
We've already sung the praise for LapDesk's range of products, but this particular model has a few simple modifications from their top of the line desk, making it suitable for different purposes.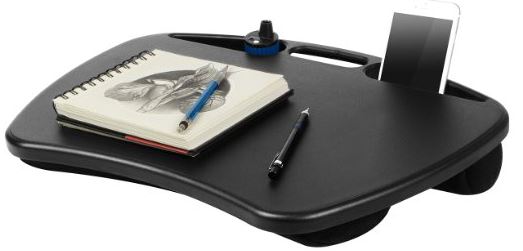 Design
If you're looking for something fun and playful, you'll love the design of the LapGear MyDesk. It comes in four fun colors: teal, black, pink, and purple. The base of the desk has the same soft pads, covering both the top and the bottom of the lower face. These pads are colored to match the workspace, making for a cohesive and attractive desk.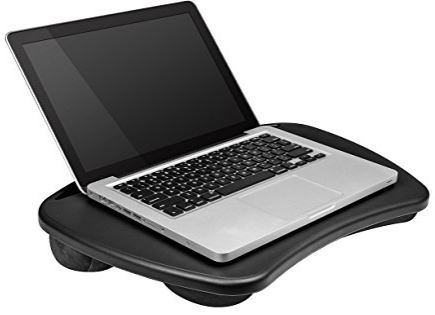 Comfort
We've already explained how comfortable the memory foam bottoms are on these desks, but the one difference between this model and the XL model is the bare face. While the XL has all kinds of padding on the top, this one is flat. The padding is nice if you're using a keyboard and mouse, but incredibly frustrating to use if you're trying to work with a pen and paper. For this purpose, the MyDesk is much comfier. You can lay your hands flat on the smooth wood surface, and enjoy a workspace that is completely unobstructed.

Functionality
When you're using a lap desk, you'll notice that it never lays truly flat. In fact, it will almost always be sloped slightly towards your body. When you're trying to store pens or art supplies, this can result in everything sliding off the desk. That's why LapGear put two handy storage pockets near the top. You can store your phone, pens, pencils, or any other handy material you need. This keeps it within arms reach at all times, making this the easiest LapDesk to use when working with paper.
Which Lap Desk is Right for Me?
For some, which lap desk you choose might boil down to the design. This is an entirely subjective matter, but that doesn't meant that there aren't a few subtle differences between these desks that will affect the way that you use them. In our opinion, the one that will work best for you depends on what you plant to use your desk with.
The LapGear XL Lap Desk is best suited for use with laptops. The dual mouse pads and comfortable wrist wrest make this one of our favorite desks.
But there are two reasons that you might want to choose the Sophia + Sam Lapdesk instead. Some people might choose it just because they like the design better, but if you're planning to use your desk with a tablet, then you'll appreciate the built in tablet stand.
Are you planning to do more written work? Most of the features in the previous two lap desks are designed specifically for use with a computer. But when it comes down to pen and paper, there is no better option than the LapGear MyDesk. This model has a much peppier design, and a nice flat surface with nothing to obstruct your work.