If you're looking to liven up your next social gathering, a Bluetooth speaker is a great way to do it. Forget about being tied to a stationary entertainment system. You can play your music anywhere you like, even using your favorite service like iTunes or Spotify. Yes, Bluetooth speakers used to be chintzy and small. But lately, they've become just as capable as hardwired speakers. And today, we're going to be looking at two of the best.
We're about to review the AOMAIS Life and the AOMAIS Go Jr. These speakers might be made by the same company, but each one has its own benefits to offer. We'll cover them all, as well as any downsides you should watch out for. Let's dig in!
AOMAIS Life
The AOMAIS Life sets a new standard for Bluetooth speakers. Earlier Bluetooth speakers were focused on quality, and on becoming competitive with wired speakers. Now that this is common, AOMAIS has set a new bar for appearance and finish. The case is mostly constructed from aluminum and covered in a lightweight black mesh. However, the front of the unit is made of bamboo. It's attractive to look at, like a piece of quality furniture. The metallic speaker cones act as eye-catching accents on the front of the Life speaker. Meanwhile, the mood will match the texture and feel of most wooden household furniture.
The Life speaker is 11.9 inches wide, 3.7 inches deep, and 3 inches high. At 3 pounds, it's a bit heavy, but it's not designed to be carried from place to place. This is a speaker that you keep in the same spot, and move only occasionally for special events. On the top of the unit, you'll find a full set of controls. You can play, pause, skip tracks, or adjust the volume with the push of a button. The charging port and 3.5mm jack are concealed by a plastic cover on the back of the speaker. As a result, they stay discreetly out of sight when they're not in use.
There's no doubt that the AOMAIS Life is easy on the eyes. But for a newer, more modern look, you'll want to ditch the wood finish. If that's what you're looking for, take a gander at the large, powerful DOSS SoundBox Pro+. Not only does it push out a lot of sound, but the ambient LED lighting is an easy conversation starter.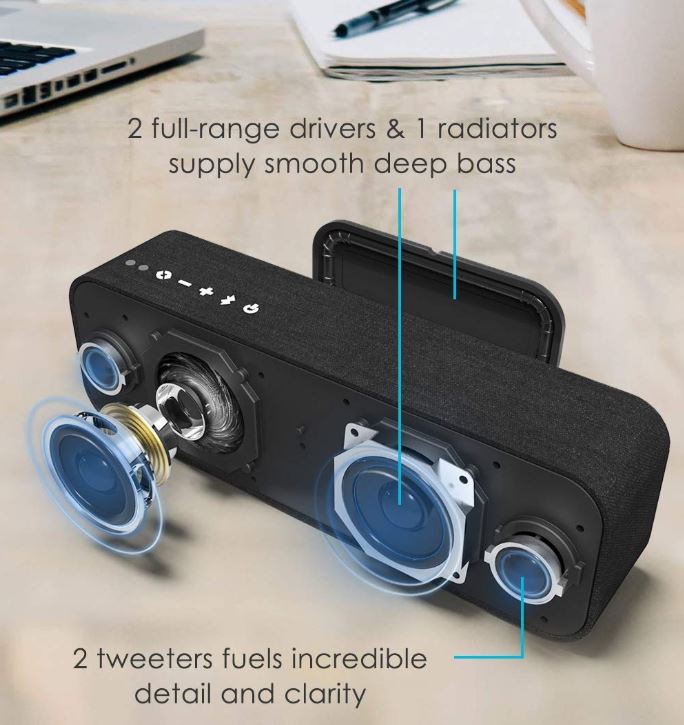 Connectivity & Power
The AOMAIS Life uses the Bluetooth 5.0 protocol. This ensures a stable, reliable connection with all of your devices. It also features an enhanced Bluetooth card, which extends the wireless range considerably. While most Bluetooth 5.0 devices only have a range of 33 feet, the Life can stay connected within 100 feet. This depends on an unobstructed line of sight, so your mileage may vary. That said, even with obstructions, the range is better than average. If you're walking around the house with your phone while listening, you'll love this feature. And there's no reason to stop listening just because the battery is dead. The Life has a 3.5mm audio jack, so you can use a wired connection to keep the music going.
In addition, you can pair two AOMAIS Life speakers to get true stereo sound. Just press the pairing buttons on both speakers simultaneously, and they'll link together. This gives you 60 watts of total sound, an impressive feat for wireless speakers. Keep in mind that we're reviewing the updated, 2020 version of the AOMAIS Life. Older versions only utilized Bluetooth 4.2, and didn't support pairing. So if you already own an older Life speaker, you won't be able to take advantage of this feature.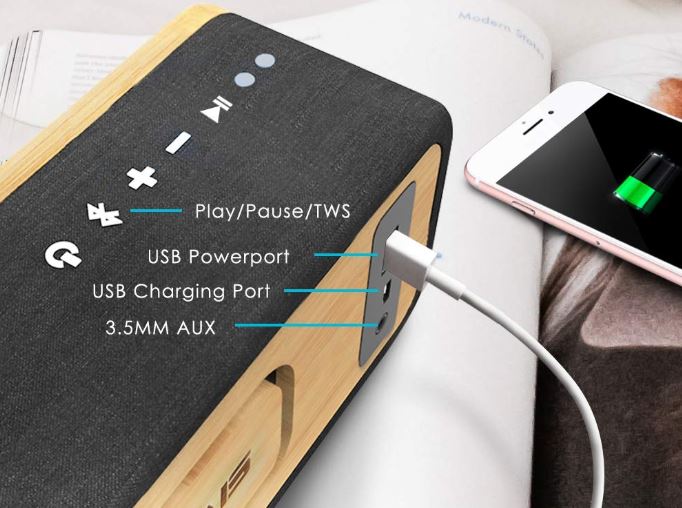 The AOMAIS Life's built-in 5000mAh battery is fairly powerful. It can operate the speaker for up to 12 continuous hours at full volume, long enough for any backyard barbecue. And it recharges in only 3 hours with the included USB Type-C charging cable. In a pinch, you can even use it as a power bank for your phone or tablet. Simply connect your device to the Life's USB port, and you'll be good to go.
Sound Quality
The Life's 30-watt speaker is fairly powerful, more so than most Bluetooth speakers. With this power, it operates 4 separate drivers. Two of them are tweeters, with to woofers to push out the bass. In addition, there's a built-in amplifier that adds warmth and atmosphere to all your favorite songs.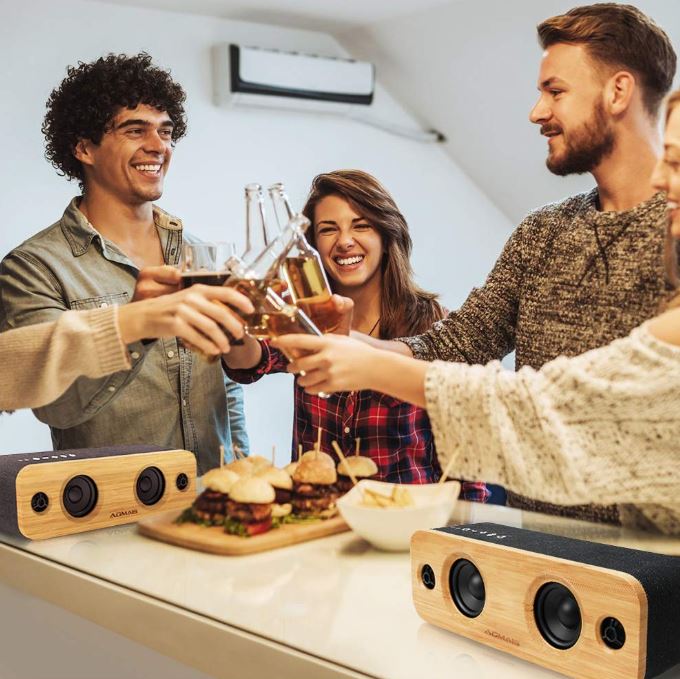 The overall sound quality is well-rounded, with a flat EQ. Regardless of what audio source you're using, you'll get excellent quality for any genre of music. That said, you'll be mostly limited to using your device's EQ. The one exception is AOMAIS' BassUp technology. With the push of a button, you can crank up the bass for punchier dance music and pop. Even at full volume, the woofers won't rattle the speaker or cause other distortion.
We're looking at big speakers today. But not every great Bluetooth speaker comes in a large package. Sometimes, you want a speaker that's as lightweight and portable as possible. If that's what you need, consider the Tronsmart Element T6. It's easy to transport, although it puts out proportionally less sound than a larger speaker.
AOMAIS Go Jr.
While the AOMAIS Life is built for good looks, the Go Jr. is a little bit more scaled back. It's designed for one thing, and one thing only: filling your home or patio with sound. Everything else is secondary. It's constructed from ABS plastic, with a tough speaker mesh that covers the entire front of the unit. At 10.5 inches long, 5.9 inches high, and 3.4 inches thick, it's no midget. And at 3.15 pounds in weight, you'll know you're carrying it. That said, it's exceptionally tough and durable. If you're looking for a rugged speaker that can take a beating, the Go Jr. is tough to beat.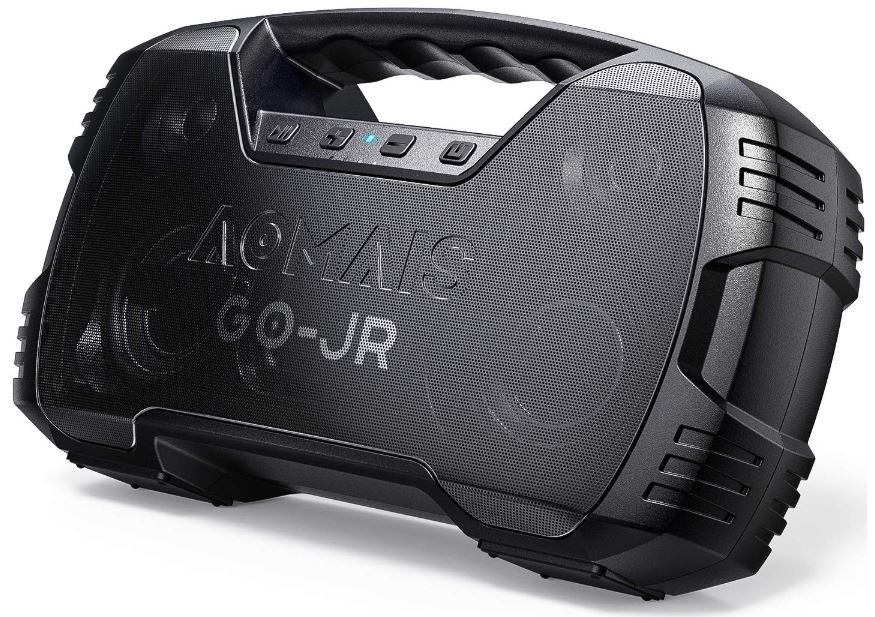 The Go Jr. is available in 4 different colors: black, white, green, and purple. In all versions, the speaker mesh and the plastic match perfectly, for a complete, unified look. At the top of the unit, there's a large handle, similar to what you'd find on an old-school boom box. The controls are located under the handle, again reminiscent of a boom box. There's a power button, a play/pause button, and volume controls. All other functions will be controlled by your audio source, so keep your phone or tablet handy.
The AOMAIS Go Jr. is IPX5-rated for water resistance. This means it can stand up to splashes or a stream of water. It's not submersible under any conditions. That said, the Go Jr. is a great choice if you're looking for a shower speaker. You can keep it right next to you while you wash, and it will keep on playing your favorite tunes.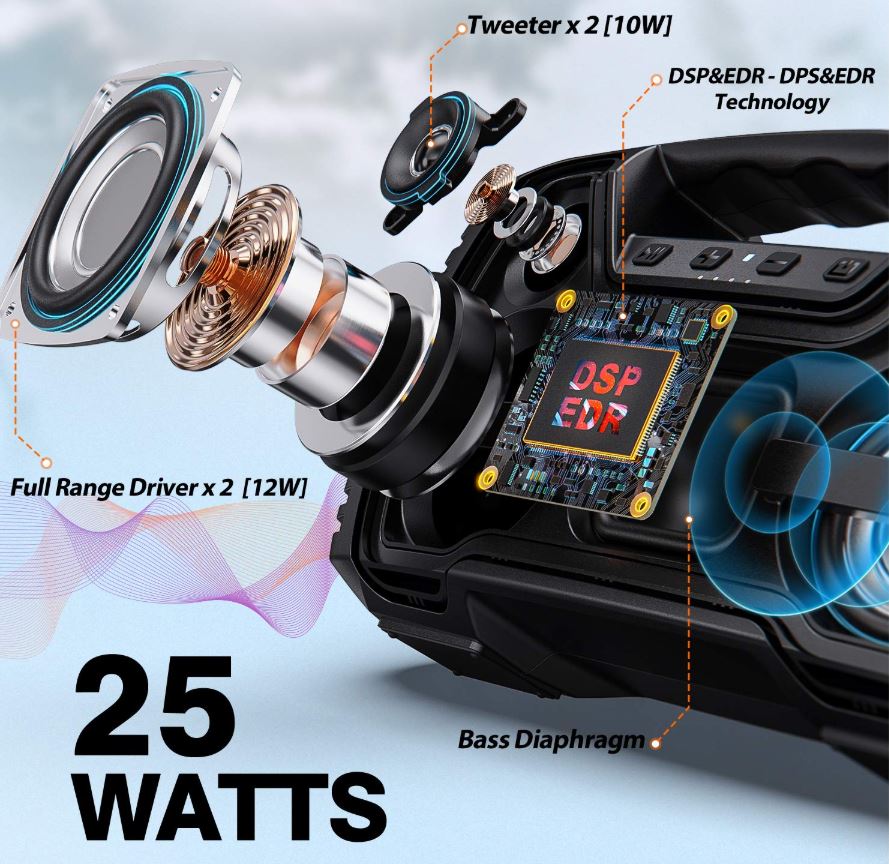 Connectivity & Power
Much like the Life, the Go Jr. features an upgraded Bluetooth card. AOMAIS seems to like this feature, and so do we. With a clear line of sight, you can connect to your device from up to 100 feet away. This is great for backyard events, but also works well indoors. Even with obstructions, you can walk into the next room without completely losing your connection.
We should point out that the Go Jr.'s Bluetooth connection is relatively high latency. You won't notice this at all if you're just listening to music. But it can quickly become grating if you're watching a movie or playing a game. In these cases, you'll get better results by using the 3.5mm audio connection. It's far from a perfect solution, but it doesn't require batteries, and there's zero latency.
Like the AOMAIS Life, the Go Jr. also supports pairing two speakers together. Holding down the play/pause buttons on both units will achieve this. Turning off both speakers will return them to standard operation. This stereo option lets you fill your entire house or yard with sound, and improves the quality and spatial sense.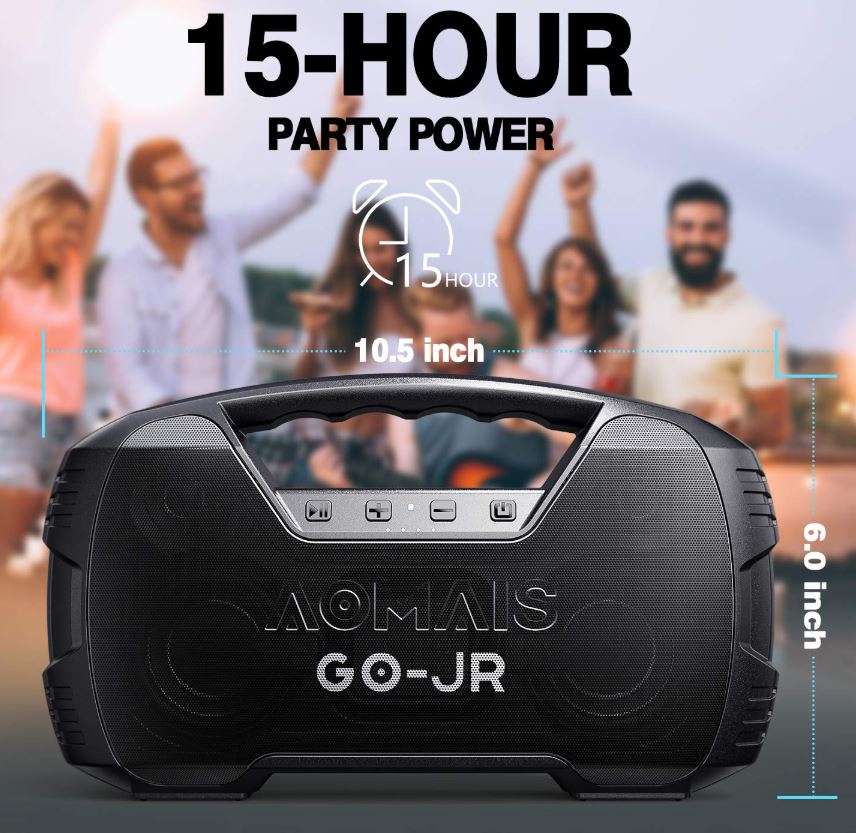 The Go Jr.'s 5000mAh battery is good for 15 hours of continuous playback. This is a manufacturer's rating, so as always, take it with a grain of salt. But even at full volume, the Go Jr. will last for well over 10 hours. When fully drained, the Micro USB charger will fully charge the battery in less than 4 hours. You can even use the Go Jr. while it's plugged into the charger, so you'll never be out of juice.
Sound Quality
The AOMAIS Go Jr. features a pair of precision tweeters, along with dual woofers. The total power is 25 watts, which is more than powerful enough for a home or backyard speaker. At full volume, you'll have more than enough sound for most purposes. The factory EQ is fairly flat, with no particular emphasis on any frequency band. No matter what genre of music you're listening to, you'll love the clear highs and mids and the punchy bass. And even at the highest volume, you won't experience any distortion, muddiness, or rattling.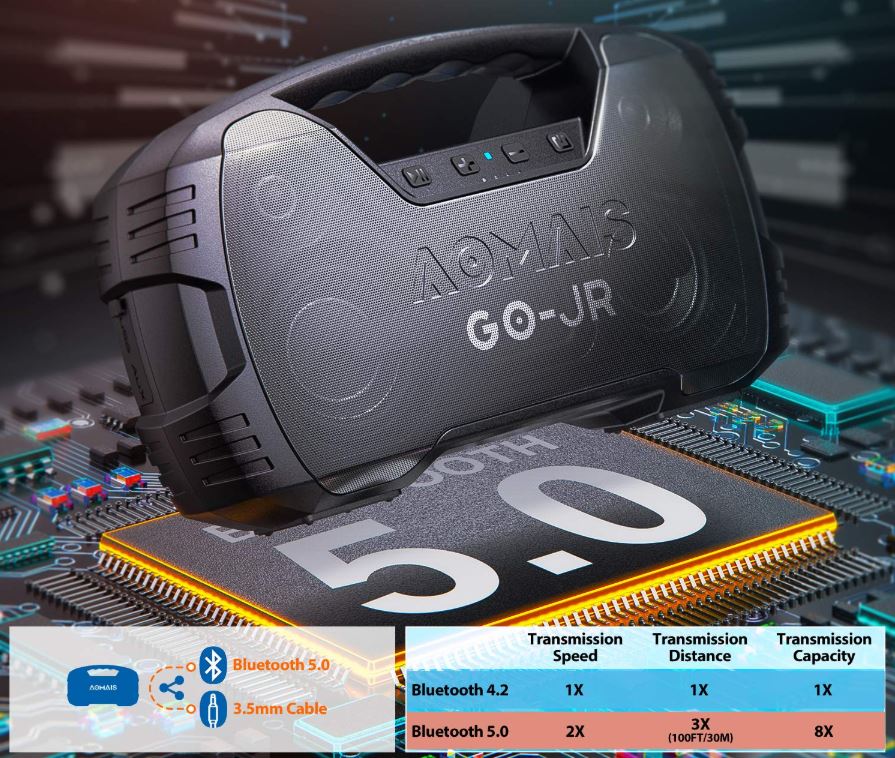 The Go Jr. also features a built-in microphone for hands-free calling. Now, there's no real advantage to using a Bluetooth speaker instead of your phone's existing speakerphone feature. But if you're already connected to the speaker, it's nice to have the option.
But suppose you have a poolside party that needs serious sound? It might be a good idea to have a Bluetooth speaker that's rated for submersion. In this case, check out the Tribit StormBox. It's a bit smaller than the Go Jr., but it's rated to withstand submersion.
Final Verdict
Both of these AOMAIS speakers have a lot to offer. And as usual, which one is the best is going to depend on your needs. The Life takes the cake when it comes to aesthetics. The mesh and bamboo case is stunningly beautiful. It also puts out pretty good sound, and offers an all-day battery life.
That said, the Go Jr. is built for maximum durability and sound quality. The large plastic case isn't going to win any beauty pageants, but it's tough and functional. The sound quality is also very good, and the battery life is good enough for most purposes.