If you've been paying any attention to the Bluetooth speaker industry in the past few months, you've likely heard about Tronsmart. While they aren't as well known as mainstream brands like Sony of Beats, Tronsmart is making waves in the industry. With their recent release of the Element T2 Plus and T6 Plus, we know they're able to create speakers with impressive sound. But the only thing that these two models lacked were ultra-portability. Simply put, they're a bit larger than some people would like. That's one of the reasons Tronsmart decided to take a different approach with their latest model – the Element T6 Mini.
The T6 Mini is much smaller – about half the size of previous models. It boasts some of the same durability, but we're ready to look at it a bit closer. Does the sound check-out, are the features up to par? Today we're going to take an in-depth look and see what this mini speaker has to offer. We'll closely examine each feature and ultimately determine whether you should skip it or own it now.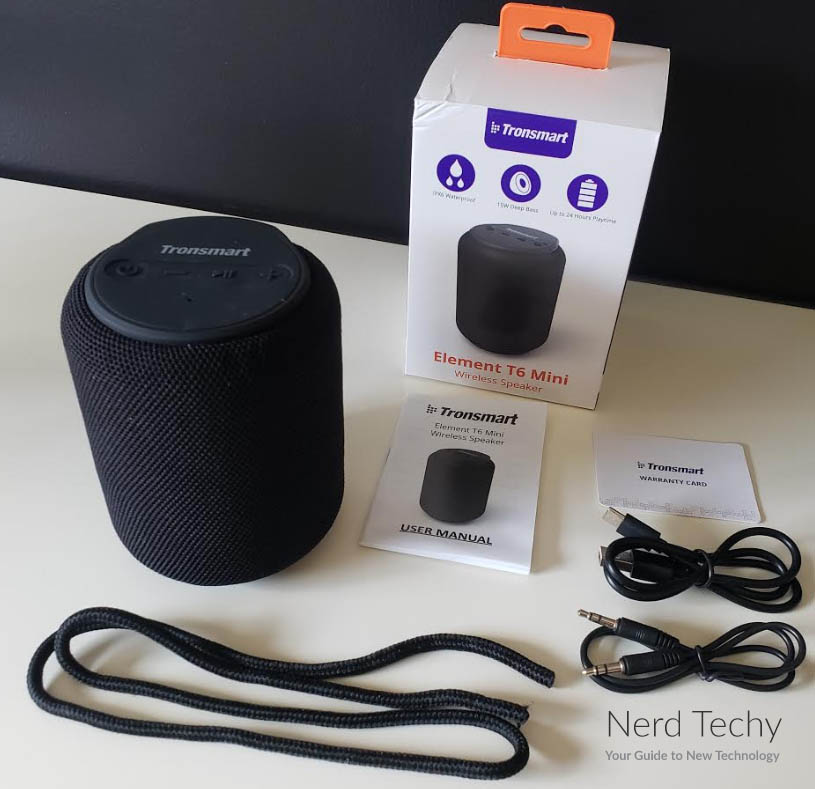 First-Look
Taking it out of the box for the first time, it's apparent how compact and robust the Element T6 Mini feels. Measuring just under 4 inches in diameter and 5 inches tall, it's a bit wider but a bit shorter than a can of soda pop. Feeling it in your hands, you'll immediately notice the same qualities as the T6 Plus. It's build in a solid form with no moving parts. Additionally, it's encapsulated in a durable fabric weave with a rubberized membrane from top to bottom.
As far as accessories go, you get a user manual, shoelace, USB-C to USB-A charging cable and auxiliary cable. This is about everything you need without much for extra bells and whistles.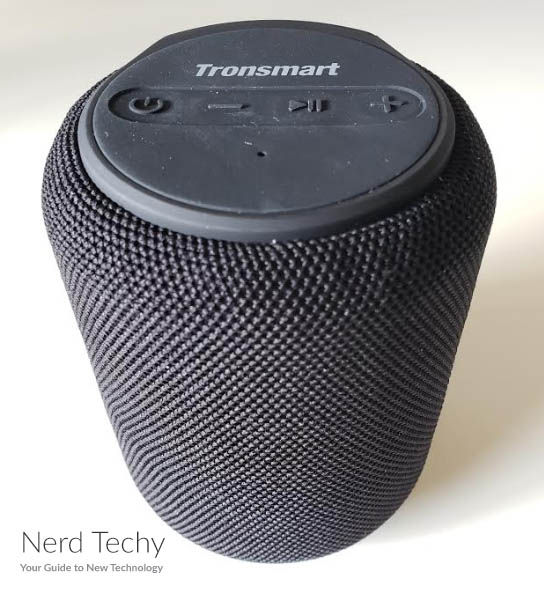 Located on the top are four functional buttons – power, volume, play/pause, paired with a tiny microphone. Spin it around and you'll see a small rubber flap that hides the TF card input, USB Type-C charging port and auxiliary input. Just underneath these ports are two small holes for attaching the included shoelace (a great way to keep it attached to something). On the underside are three slightly protruding rubber feet with the subwoofer radiator in the center.
Sound
It goes without saying that the design is incredibly similar to the full-sized T6 Plus. However, there are key differences in the output (watts) and internal battery capacity. While the T6 Plus boasts 40 watts of output power, the Mini comes in at 15 watts. In addition, the internal battery on the Plus is 6600 mAh whereas the Mini boasts a 2500 mAh capacity.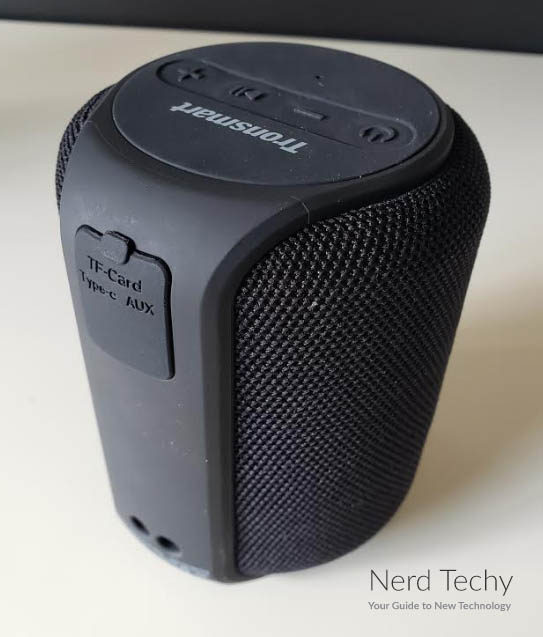 We mention the output and battery capacity since it directly correlates with sound output. Once we had the T6 Mini paired to our smartphone, it was quite impressive. Right off the bat we tested some music through Spotify. Our first song was Good as Hell by Lizzo and it felt like the perfect beat/rhythm to enjoy. The clarity of the vocals was on-point and there seemed to be enough bass to balance it all out. Next, we tested a song on the other side of the spectrum – Pantera. Cowboys from Hell was our song of choice. It's fast and has a violent-sounding rhythm to it. The Mini had no problem excelling and seemed plenty sufficient.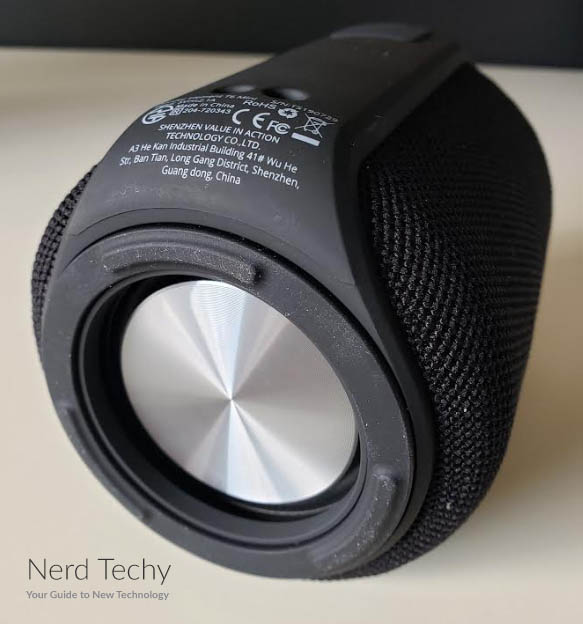 Next, we took on a track that had lots of bass – Reach for Glory by Blackmill. A bit of dubstep was a good way to thoroughly test how the subwoofer handled. We cranked up the volume to around 60% and were delighted. However, we knew that we needed to up the volume a bit more to really get it going. Once we did that, a slight bit of distortion was apparent. It wasn't all that bad, but it was clear that the T6 Mini was at its limit. The bass didn't overly vibrate or sound terrible, but it seemed a bit duller than when we had the volume turned down to around 60 or 70%.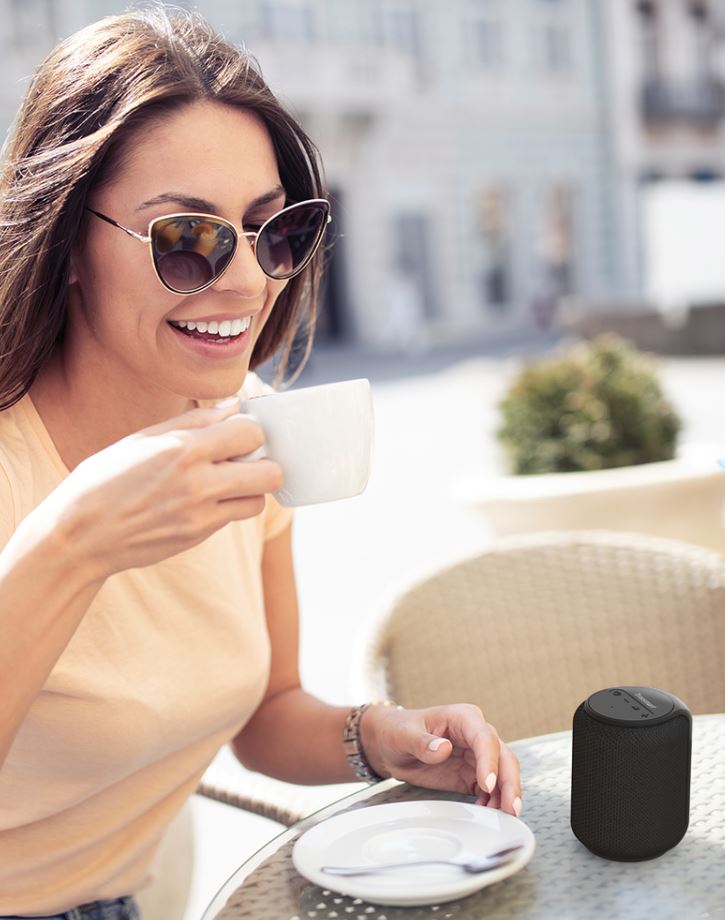 Durability
As we mentioned before, feeling the T6 Mini in your hand is quite similar to the T6 Plus. It's solid and sturdy with sealed crevasses where needed. Being that it's built to IPX6 standards like its bigger brother, you should feel confident in bringing it with you wherever you end up. IPX6 waterproofing is defined by its ability to withstand heavy sprays of water at high pressures. Additionally, it's protected by dirt and debris ingress, meaning that you can take it camping or outdoors without worry.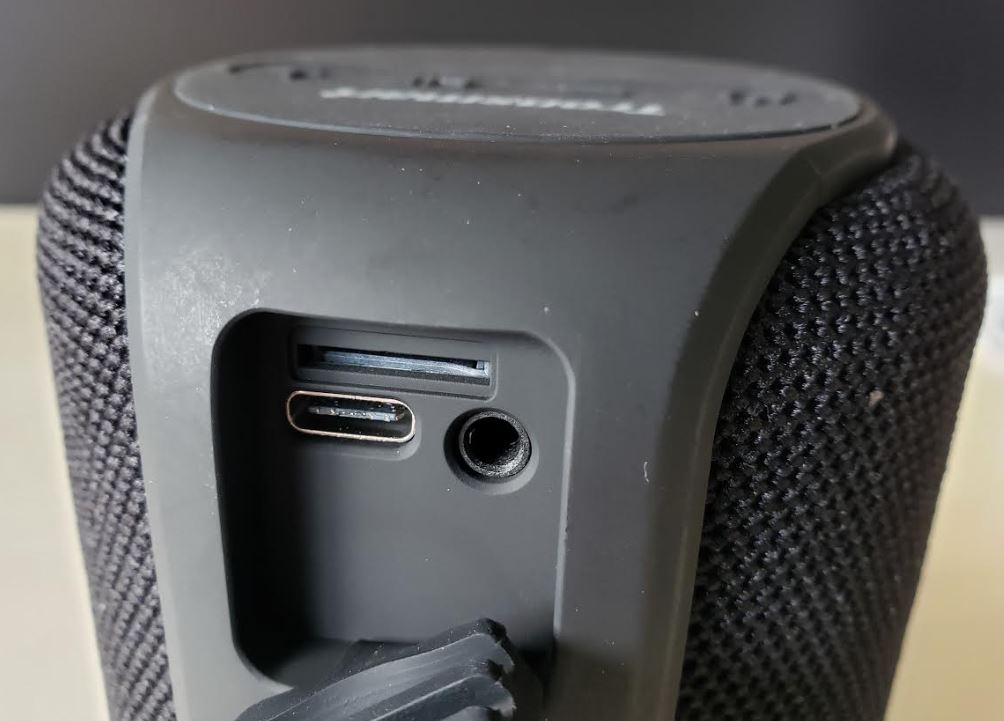 While this isn't the kind of speaker you want to take swimming, it's built with enough fortitude that virtually any element you throw at it can be withstood. It's solid feel and thoughtful waterproofing should keep it sturdy for years to come. We wouldn't hesitate to get it wet and dirty, we just wouldn't want to drop it from a tall height. Small drops are likely to be OK, but anything more than 4-5 feet onto concrete may cause some damage.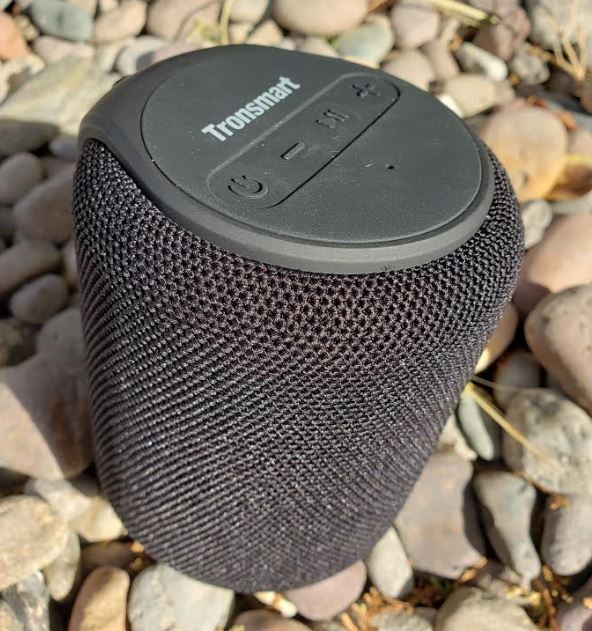 Battery Life
Internally, the T6 Mini is packed with a 2500 mAh rechargeable battery. Roughly 2.5 times smaller than that of the T6 Plus, it actually has a longer battery life than its bigger brother. Why is this? Simply because the T6 Mini has a much lower output of 15 watts. A lower output means less "umph" – lower volume and less bass, but truth be told, you don't always need the most powerful speaker on-hand.
With a single, full charge, Tronsmart advertises up to 24 hours of consistent playtime. Realistically, you can expect 18 to 20 hours when listening through it at a normal level. They make their estimates with low-volume, but most of us aren't going to listen to it at one of the lower sound settings. Even so, 18 to 20 hours is quite impressive considering the portability of the Mini.
When it comes to charging up the battery, you can easily do so with the included USB charging cable. It utilizes a USB-C connection at the speaker-port and a standard USB-A connection at the wall. Plug this cable into any USB charger and it'll achieve a full charge in a matter of 3 hours or less. Quite fast if you ask us.
Microphone
As we mentioned earlier, there's a tiny hole on the top-side of the T6 Mini. This is the microphone that comes in handy for those wanting to make or accept a phone call while they're using the speaker. Once paired to your smartphone, it's easy to accept or reject a call. Once connected, we had no troubles with this feature. Voice picked up beautifully and the person on the other end of the line could hear us crisp and clear.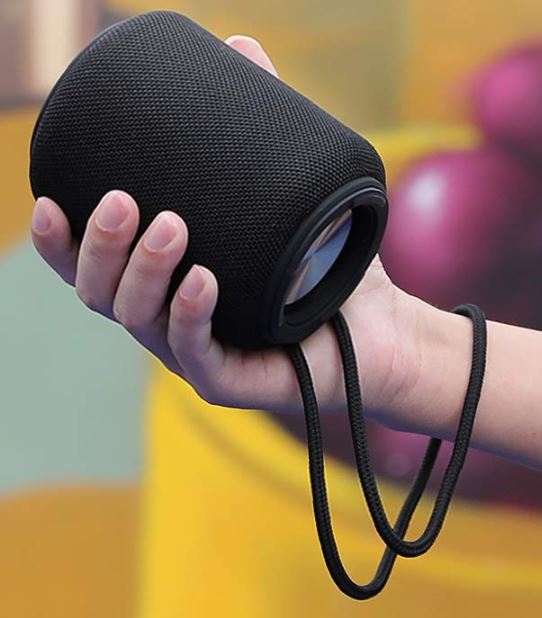 The microphone can also be used with the Voice Assistant feature. Once you tap the power button, you'll enter the voice assistant mode. At this time, you can access Siri or Google by audibly telling commands at will. While this isn't a feature everyone will utilize, we can appreciate it being included. We tested it out and found it to work flawlessly and without any issue. Commands were picked up and recognized first-try and it never became a cumbersome task.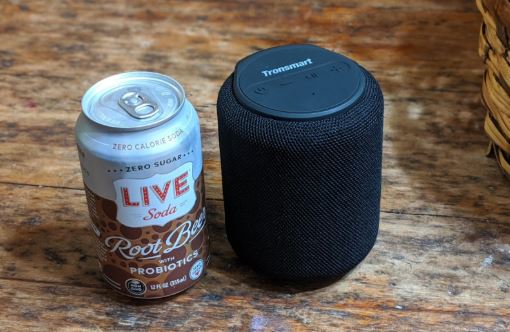 Final Thoughts
Not everyone needs a Bluetooth speaker that's the loudest and most powerful. There comes a time when a small, portable and efficient speaker comes in handy. While it may not be ideal for large parties or gatherings, the Tronsmart Element T6 Mini is perfect for days at the beach or hikes in the outdoors. Built with all the durable features you could ask for in a budget-friendly design and superb sound quality in most regards, it's impressive when it comes down to it.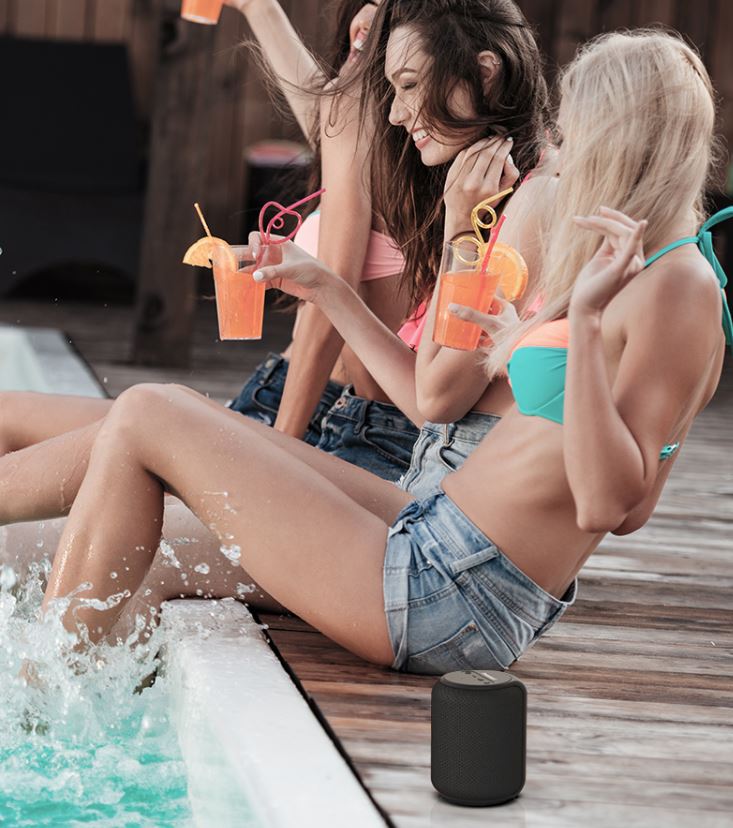 The small size keeps things simple and straightforward, without added features that bloat it down and require it to be much larger. It goes without saying that we're a big fan of it. The price-point is perfect, the sound quality is sufficient and the waterproofing keeps us all happy.
Overall, the T6 Mini should fit the bill for most situations and leaves little in the way of drawbacks. It looks nice, sounds great and comes with everything you need to add the right amount of entertainment for your next outing.
Meet Derek, "TechGuru," a 34-year-old technology enthusiast with a deep passion for tech innovations. With extensive experience, he specializes in gaming hardware and software, and has expertise in gadgets, custom PCs, and audio.
Besides writing about tech and reviewing new products, Derek enjoys traveling, hiking, and photography. Committed to keeping up with the latest industry trends, he aims to guide readers in making informed tech decisions.