If you're a frequent gym-goer, or even if you just suffer from frequent muscle stiffness, you're probably already aware of the benefits of a good massage. Massage rollers, chairs, and vibrating massagers have been available for generations, and there are plenty of them on the market. But there's a new massage technique in town: percussion massage. That's the part of a manual massage where the masseuse does karate chop motions, or applies deep pressure with a knuckle.
While percussion massage has been a staple of spa massages for a long time, it's only recently that manufacturers have started developing reliable, modern percussion massage tools that effectively simulate the real thing. Today, we'll be reviewing one of those tools, the Saluko Percussion Massage Gun. We've taken a close look at all the features and compared it to other massage tools on the market to see how it measures up. Here's what we found.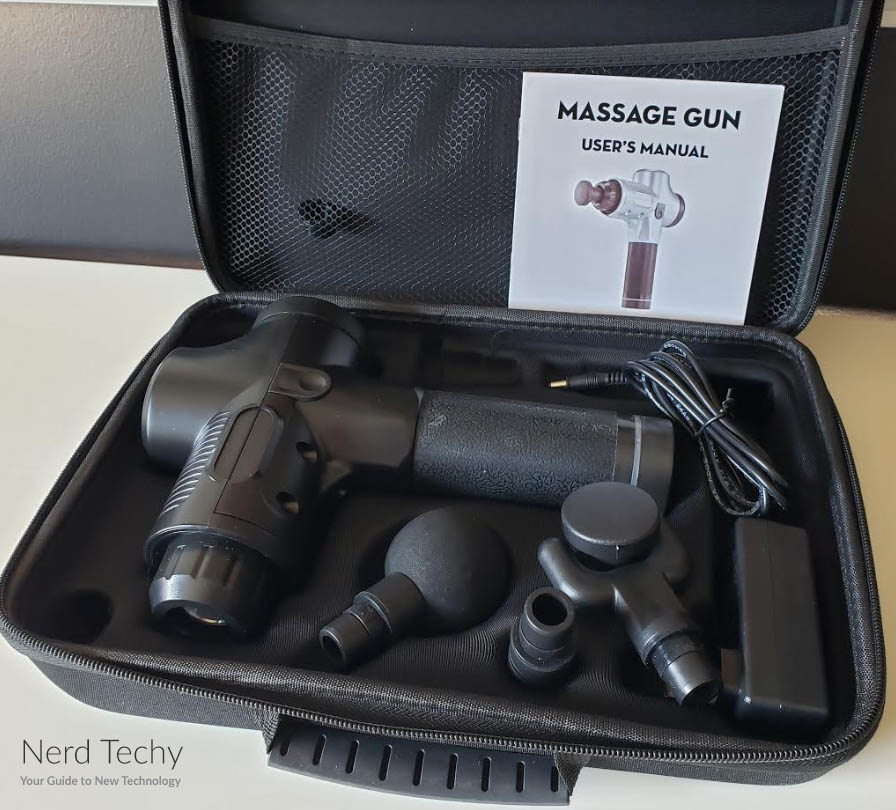 The Benefits of Percussion Massage
Before we get into the Saluko's features, some people might need to play catch-up. Let's say you already own a massage chair, or percussion massage seems like a weird method. Why is a percussion massage preferable to, say, shiatsu? To be blunt, it isn't. At least not under all circumstances. Each style of massage has its own benefits and drawbacks. The real question is, when is percussion massage preferable, and how does it fit into your personal fitness routine?
The main difference between percussion therapy and most other traditional massage methods is that it relies on up and down pressure, not side to side movement of your muscle. In other words, a percussion therapy device can apply a massage with more precision. If you've ever felt soreness in adjacent muscles after a traditional deep massage, this is most likely the reason why you were sore.
In addition, hand massage methods can sometimes run into the natural limits of the human body. For someone to dig their knuckle into your back deep enough to penetrate deep tissue, they need to put some weight into it, which can get uncomfortable for both you and your masseuse. Meanwhile, a percussion massage gun's motor can achieve the same task with a minimum of effort.
Percussion massage is effective for two reasons. First, it loosens up the muscle, which helps to reduce stiffness. It also stimulates blood flow, which helps to flush lactic acid from your muscles, reducing cramping. This makes it an excellent tool for post-workout use, since muscles can often stiffen and cramp up after a workout, slowing your healing. Percussion massage allows you to target those muscle groups – quads, calves, upper and lower back – that are resistant to many other massage methods.
In addition, percussion massage is effective for breaking down scar tissue, as well as for relaxing tendons. Both of these benefits are essential for proper healing, so it should come as no surprise that percussion massage is becoming more and more popular as a part of rehab treatment.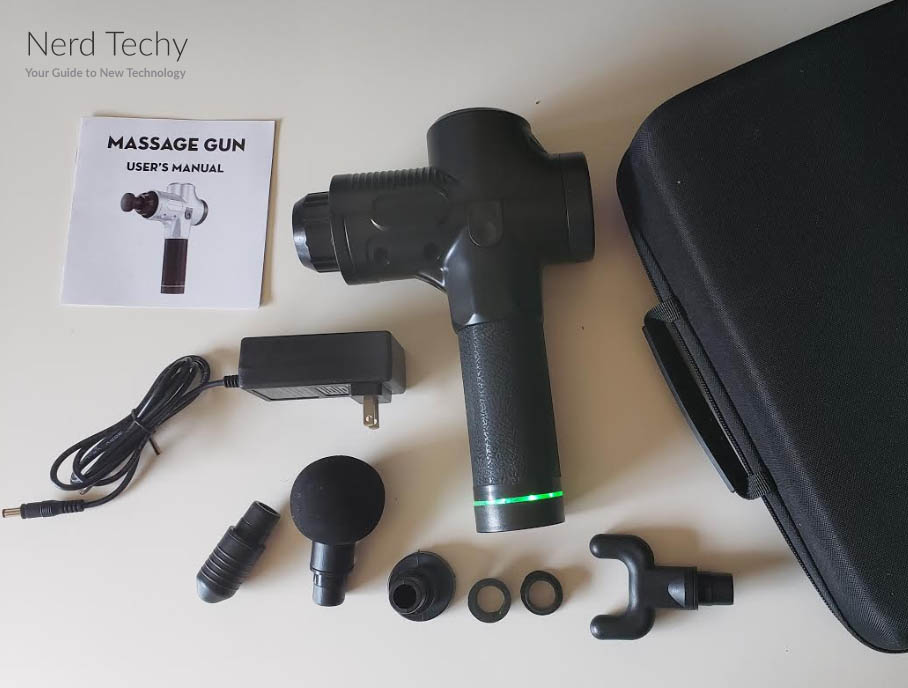 Overall Design
The Saluko itself has an L-shaped design, with the handle set perpendicular to the massage head. The handle is constructed from ABS plastic, with a textured finish that looks like faux leather at first glance, but which is hard and smooth, and doesn't get sticky if you're handling it with sweaty hands. At the bottom of the handle, you'll find the charging port, as well as the on/off switch. The port and the switch are slightly recessed, so you won't accidentally shut the massager off while you're in the middle of using it.
At the joint between the handle and the massage head, there's a large, glossy ABS plastic case. It has a smooth finish, without any awkward edges, and gentle, curved slopes that cover all the screws in the construction. All in all, it's very nicely designed, and we appreciated the fact that there were no sharp or jagged edges, since certain massages require you to hold the Saluko by the case in order to get a better angle. On the back of the case, a gentle blue LCD screen displays your massager's current status and settings. We'll talk more about the controls in a minute.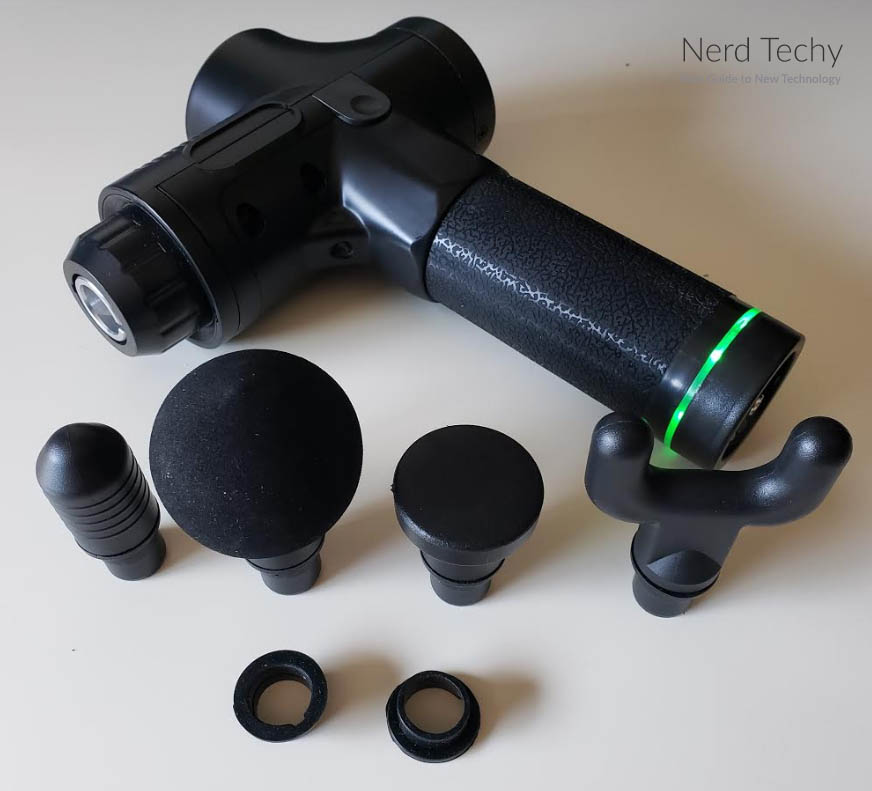 The massage head itself comes in four different varieties, all of which are easily interchangeable. They're secured into the Saluko's body by a chunky plastic collar, which is easy to tighten and loosen with a single hand. All four massage heads, the main Saluko machine, and the battery charger come in an attractive, shock-resistant case. The case has a heavy-duty foam liner, which has individual cutouts for each component. Everything packs away very nicely, which makes the Saluko a great choice for easy transport.
Controls and Operation
To use the Saluko, you'll first need to turn on the main power switch at the base of the handle. However, that switch alone won't turn on the massage head. For that, you'll need to activate the power button on the LCD screen at the back of the case. Before you do that, though, it would be a good idea to determine what settings you want to use.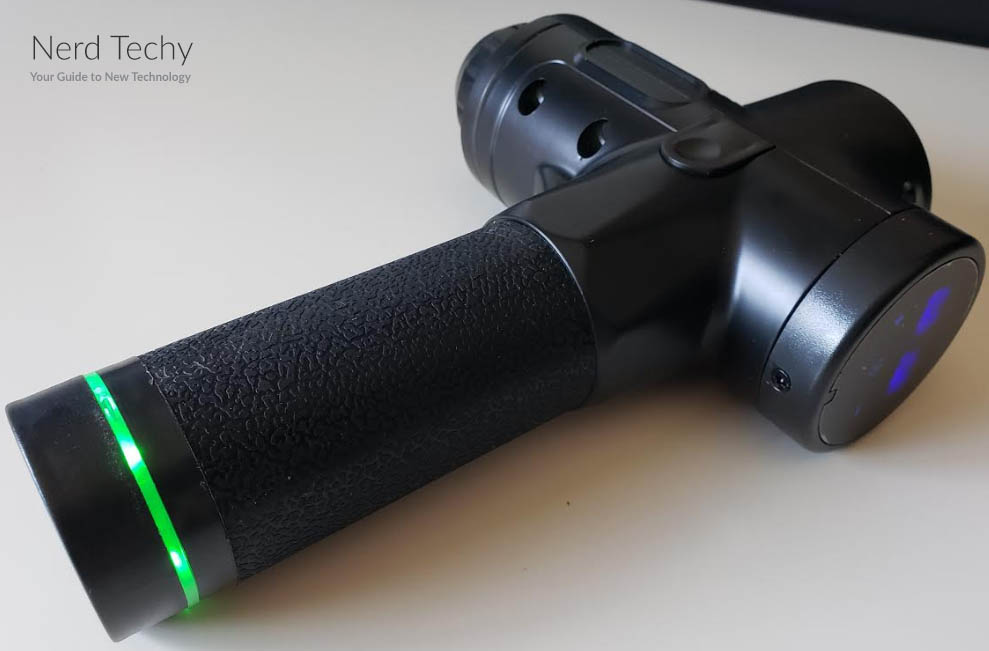 The first thing you'll notice about the LCD screen is that there are a pair of numbers displayed. On the right hand, you'll see the remaining battery life. Hopefully, you thought ahead and powered the Saluko all the way up before turning it on, so we'll assume that it says "100" right now. On the left side of the display, you'll see the Saluko's current power setting. There are a whopping 30 of these, and we're not sure why Saluko felt the need for so many. That said, it's always better to have too many options than it is to have too few, and we appreciated the fact that Saluko gives us more than the usual high, low, and medium options.
One thing you won't see on the Saluko is a timer. There's no need for one. The massager will automatically shut off after 10 minutes, to protect both the motor and the battery. Of course, if you want to keep on using it, you won't be limited to only 10 minutes. Simply press the power button again, and the Saluko will run for another 10 minutes without any further issue.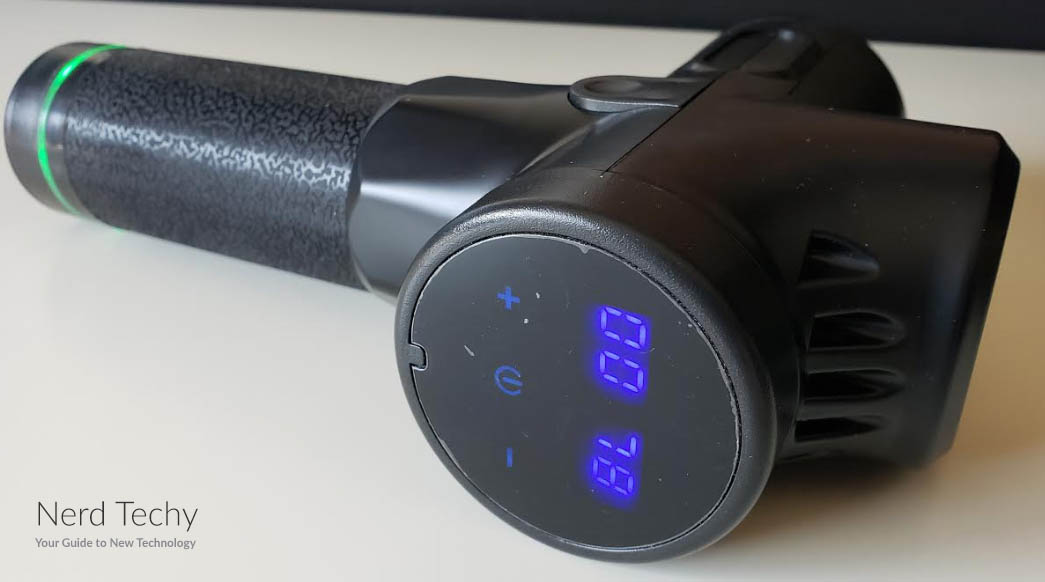 Battery and Charging
The battery on the Saluko holds up to 5 hours of charge. Now, this might not sound like a lot for an electronic device, and it wouldn't be for a phone, headphones, or even a Bluetooth speaker. But we're talking about a serious tool here, one that requires a powerful brushless motor. Even with its powerful internal battery pack, it's going to drain a lot faster than many other devices. In terms of massagers, a 5-hour battery life is quite good, and provides more than enough life for a week's worth of post-workout sessions. In addition, the battery adds a bit of heft to the Saluko's frame. It's located in the handle, so it provides a great counterbalance for the motor and the massage head.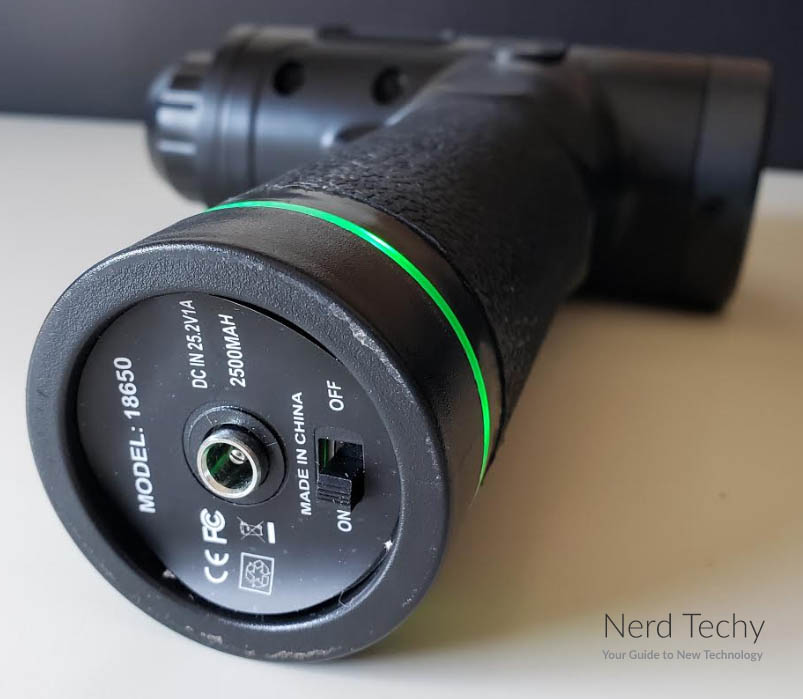 When it comes time to charge, the Saluko's power adapter will completely fill a dead battery in only 2 hours. This is impressive, considering its 2,500mAh capacity. However, a USB charger would take far too long to fill the battery that quickly. Instead, the Saluko uses its own DC adapter and charger, which has a proprietary design. This isn't a bad thing on its face. However, it can be inconvenient for travelers, since you won't be able to use the same USB charger you use for your other devices. Then again, are you really going to take your percussion massager on the road with you to begin with?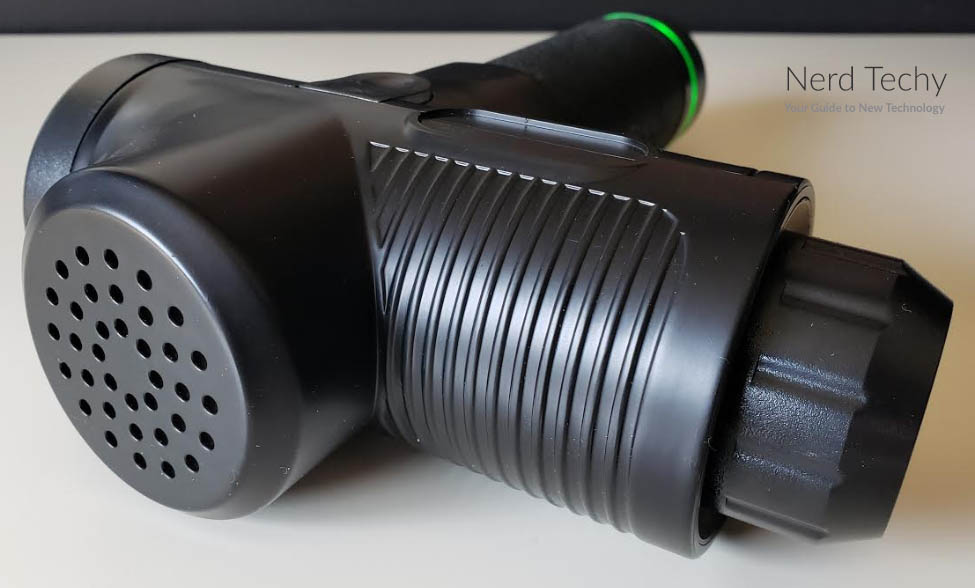 Different Tips and Accessories
A review of the Saluko Percussion Massage Gun wouldn't be complete without talking about the various tips that come with the kit. There are four of them: the fork head, the bullet head, the round head, and the flat head. Here's a quick overview of each of them, and what they're all specialized for.
The fork head is a wide, Y-shaped head that's constructed from stiff rubber. It's designed to be wider than your spine, so you can have your workout buddy work the Saluko up and down your back, digging into those muscles on either side of your spinal column.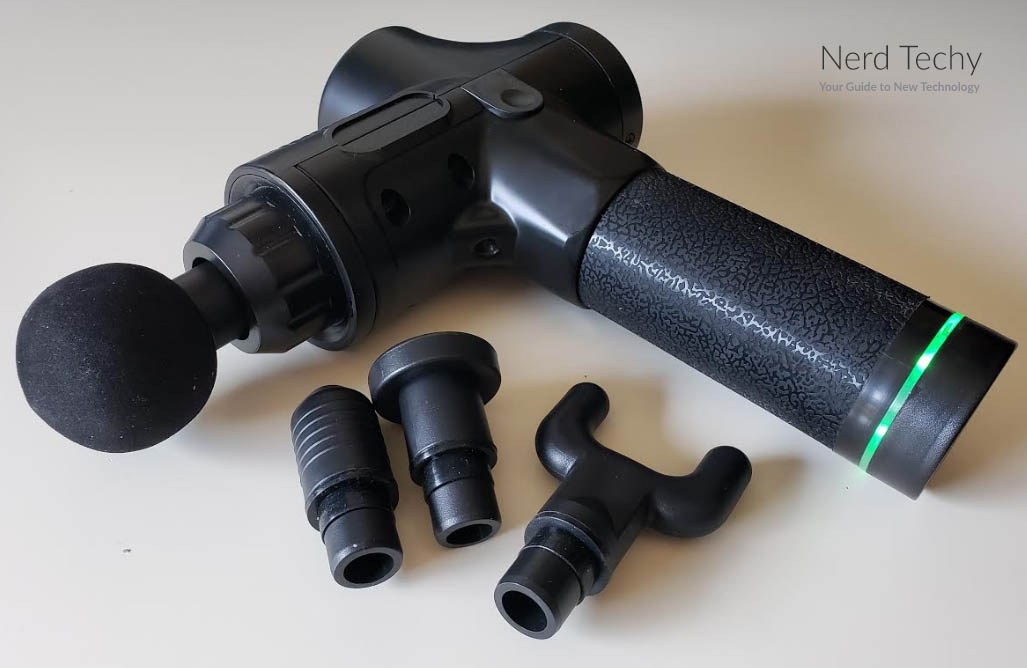 The bullet head is specialized for working on joints. It has a long shape with a rounded tip, exactly like its namesake bullet. The tip is designed to dig into joints and pressure points, to ease pain and stiffness in connective tissue. It does a great job of treating problem areas that other massage heads can't access.
The round head is spherical, and measures about an inch and a half in diameter. Because of its larger size, it's better suited for treating large muscle groups, like your chest, legs, and arms.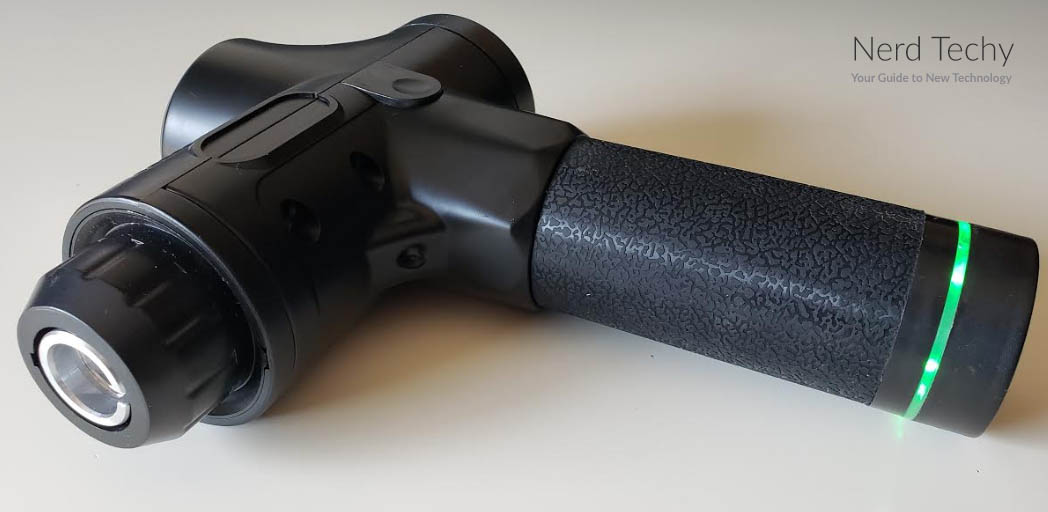 Finally, we have the flat head. This head is a multi-purpose beast, with a flattened, circular tip. The edges are flanged, which makes it a bit more forgiving than some of the other tips.
Of course, there's one major body area the Saluko isn't terribly well-suited for massaging: your feet. If you're looking to relieve foot strain and stress after a long day of work or play, read our Etekcity Smart Foot Massager review. This sturdy little tool supports your feet in comfy plush inflatable foot wells, ensuring a maximum of relaxation.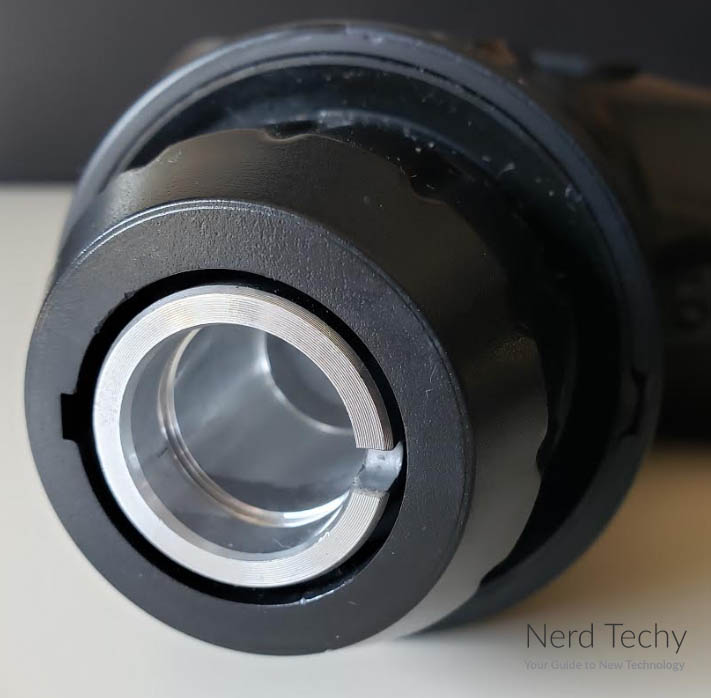 Final Verdict
If you're looking for a quality massager, it's tough to go wrong with the Saluko Percussion Massage Gun. It's not perfect for everybody. After all, it's made for deep tissue relief, not for putting you to sleep, so expect a bit more of an active experience than you'd get from a massage chair or a roller.
That said, the Saluko does a great job of getting into places that other massagers can't really help with. We particularly liked the fork head, since it's ideal for relieving stress on both sides of your spine. We also liked the powerful battery, which lasts much longer than you'd expect from a tool of this size. Finally, the carrying case was a great touch. It's a great way to carry the entire massage kit without anything getting damaged or lost.
Meet Derek, "TechGuru," a 34-year-old technology enthusiast with a deep passion for tech innovations. With extensive experience, he specializes in gaming hardware and software, and has expertise in gadgets, custom PCs, and audio.
Besides writing about tech and reviewing new products, Derek enjoys traveling, hiking, and photography. Committed to keeping up with the latest industry trends, he aims to guide readers in making informed tech decisions.