The more you understand about humidifiers, the easier it is to see why having one in your home can be highly beneficial to your lifestyle and overall quality of life. A great humidifier is great for anyone to keep for a variety of reasons. With a variety of humidifier styles, you can use a humidifier to add humidity to almost any size room, helping to alleviate a variety of ailments as well as preventing illnesses such as influenza. In fact, these are just some of the benefits you'll enjoy.
Today, we will take a look at the Levoit LV600HH Hybrid Ultrasonic Humidifier. With a staggeringly-accurate humidistat and powerful mist creation, this is by far one of the best humidifiers on the market within its price point. This is especially true for rooms that are a bit larger, as this humidifier can handle spaces greater than 150 square feet. What benefits and features can this particular humidifier offer, you ask? Well, let's find out.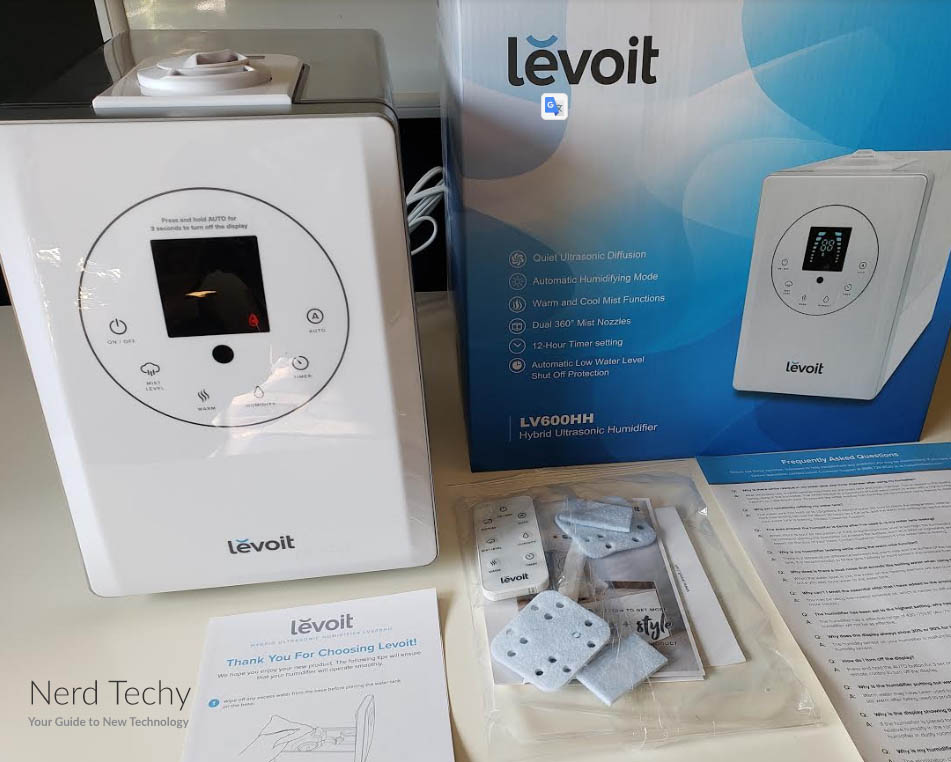 The Benefits of Humidity in Your Home or Office
Before we get started on the specifics of the Levoit LV600HH Hybrid Ultrasonic Humidifier, we should touch base on some things you may or may not be aware of regarding humidifiers. There are many ways to use a humidifier to improve your home or office, but you should keep in mind to use them properly and perform routine maintenance on them as well. Excessive or misuse of your humidifier may result in unnecessary risks.
The primary function of a humidifier is to add moisture to the air in any given space. Did you know that excessively dry air can cause moisture to evaporate from your skin and that it can accelerate and even worsen respiratory symptoms? By adding additional moisture to the air, your humidifier can alleviate or counteract many problems. These problems include, but may not be limited to dry skin, irritated eyes, dryness of the throat, allergies, asthma, bloody noses, sinus headaches, and more.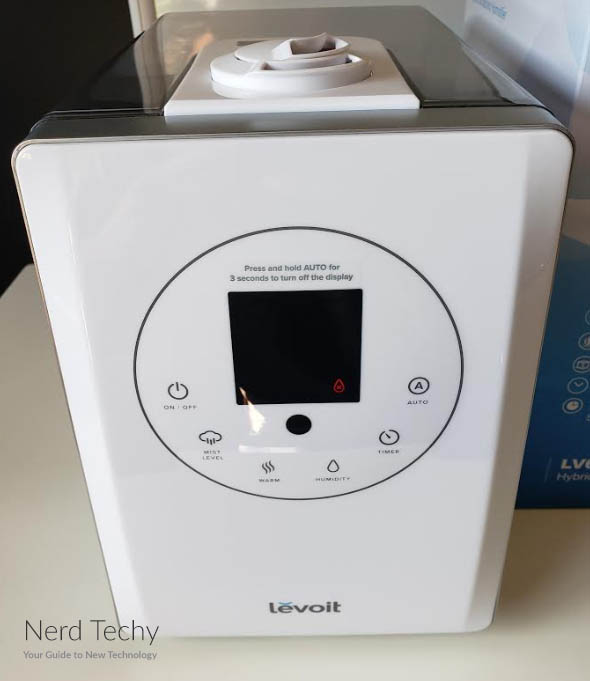 Humidifiers can also reduce the risk of catching the flu. Humidity levels above 40 percent have been found to rapidly deactivate the influenza virus particles. This makes the virus less likely to be infectious. Humidity in the air also helps to keep your airways lubricated, which can help to relieve some symptoms of snoring.
In addition, humidifiers can be used in both hotter and colder months of the year. Air conditioners or fans will dry and circulate air, as can some types of central or space heating. Some humidifiers, such as the Levoit LV600HH Hybrid Ultrasonic Humidifier, can produce both warm and cool mist, either of which can be selected for the type of humidity you need at the time.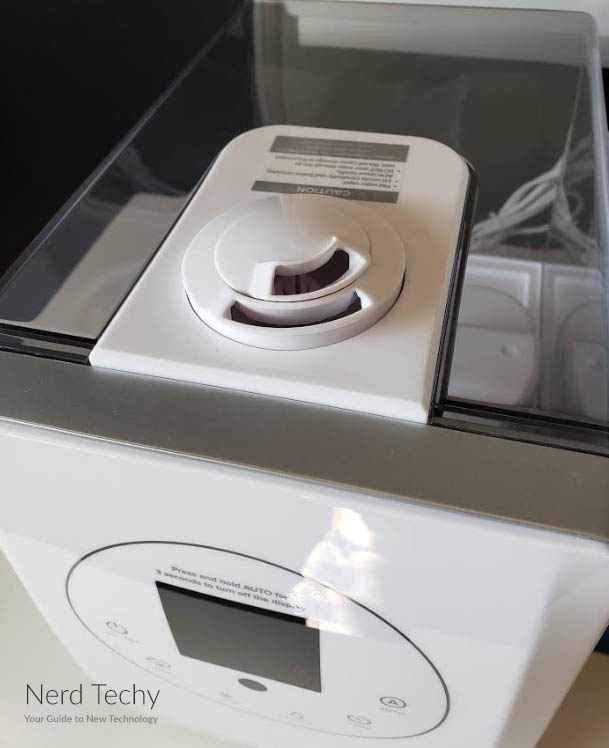 Overall Design, Controls, and Features of the LV600HH
The Levoit LV600HH Hybrid Ultrasonic Humidifier is perfect for adding moisture and humidity to large spaces. It has a large, 1.6-gallon capacity that allows for up to 36 hours of continuous use on a low mist setting. It has a mist output of up to 500mL per hour, and can easily handle any living or office space that spans up to 753 square feet.
What comes in the box when you order this unit is the humidifier itself, three aroma pads and absorption pads, of which one of each is already pre-installed, one remote control, one cleaning brush, and one user's manual.
This humidifier is nearly silent as it introduces moisture to your chosen space. It also has an LED screen that can be completely turned off at night time, so that you can have a comfortable, peaceful ambiance while you rest.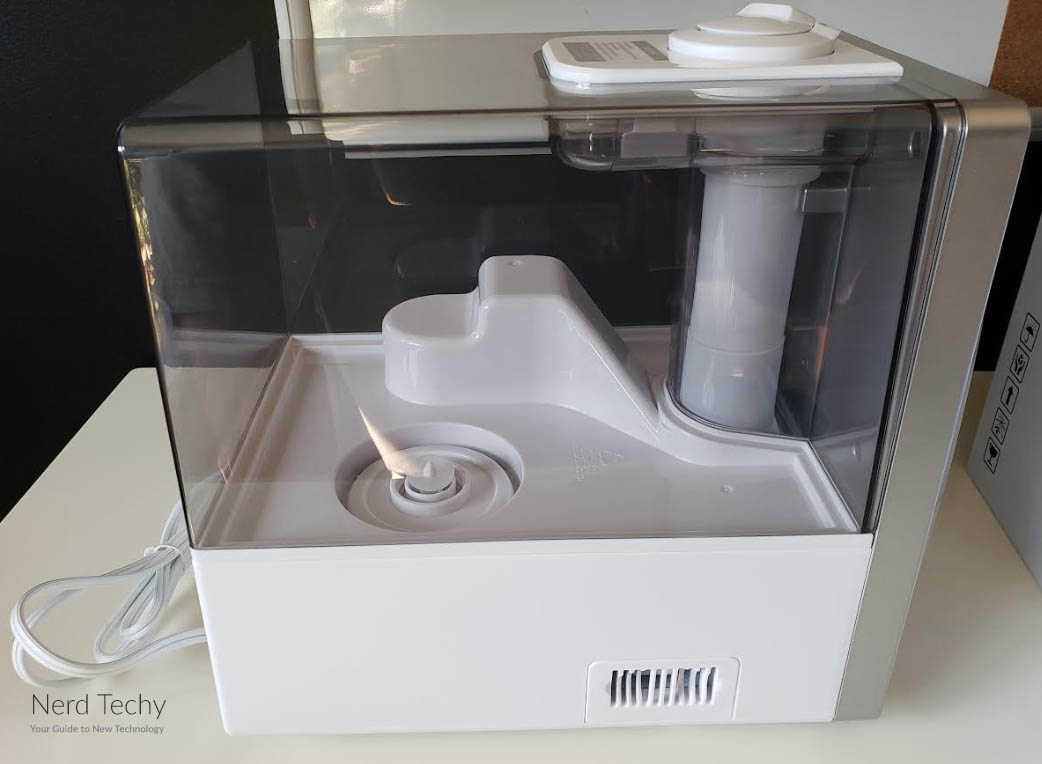 The Levoit Humidifier is fully adjustable and controllable, as well. You can manually adjust the humidity according to your needs, picking an exact percentage of humidity you would like to feel within the chosen space. This unit's humidistat is accurate to within one to two percentage points of the actual humidity in the room. Alternatively, you can allow the unit to automatically adjust the humidity output to the most comfortable, suitable level for your space. Additionally, the humidifier will automatically shut itself off when the water runs out. This is to keep you and the unit safe, as it prevents your machine from burning out unnecessarily.
Many humidifiers have only one temperature for their mist. However, this humidifier lets you choose between two mist settings that offer distinct benefits for you to enjoy. Cool mist is advisable during the summer months or hot, dry periods for your area. It's great for moisturizing skin and hair during the summer heat, as well as eliminating dry, stuffy air. The warm mist, ideal for cooler weather and the winter months, will humidify the room up to 25 percent more quickly and will help to kill bacteria in the water and air. The warm mist is also fantastic for relieving cold symptoms and will help to create a cozy, comfortable atmosphere.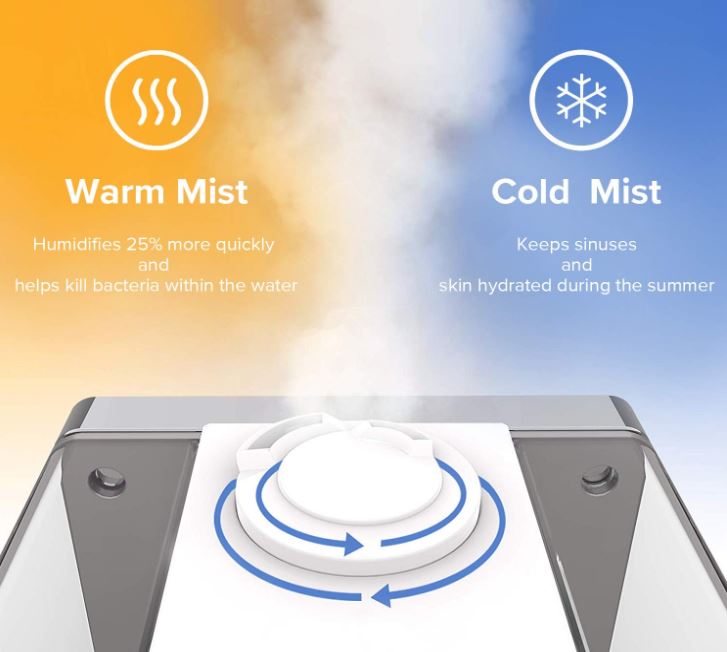 If you would like to use essential oils with your humidifier, you can without worrying about damaging your unit! Add your favorite essential oil to the aroma box to give the room the humidifier is in a fresh, clean smell. You should note, however, that you should not add any essential oils directly into the water tank or base of the humidifier, as this may cause damage and leaks within the unit.
All in all, this humidifier is easily one of the most user-friendly and customizable models on the market.
Tips for Cleaning and Maintenance
The Levoit is reportedly very easy to clean and maintain, so you won't dread cleaning it on a regular basis. Keep in mind that regular cleaning will help to keep your humidifier operating at peak performance, so it's best to keep up with it as often as recommended. Be sure to check your user's manual for an idea of how often you should be cleaning the unit.
The tank of the Levoit is large enough to provide mist for a large space but small enough to fit comfortably in most standard sinks. This makes it not only easy to refill, but also easy to clean.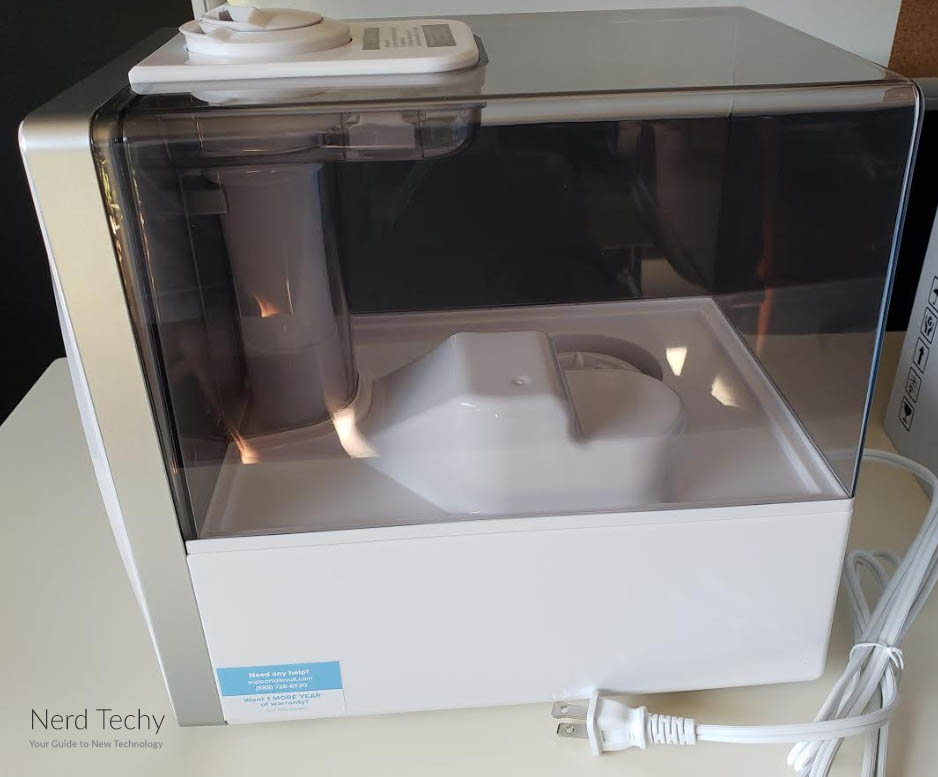 The water tank has a wide opening, which makes it easy to get in and scrub it out. The sonic agitator within the unit also doesn't have many small spaces that can hide mold or any other unpleasantries, so the hardest part of cleaning the unit is done once the tank and agitator are scrubbed clean.
The instruction manual will give you more thorough instructions for cleaning and completing a deeper clean with a white vinegar soak. The vinegar will be sure to keep your unit fresh while also killing any unfriendly germs or bacteria. With scrubbing and drying, the cleaning process should only take approximately fifteen minutes, not counting for the thirty-minute vinegar soak in between.
Depending on the frequency of use, you should only have to clean this unit once or twice a week.
Be sure to use distilled or filtered water for refilling purposes rather than hard or tap water. There are a couple of reasons for this. Primarily, unfiltered tap water can contain high levels of minerals and other particles. These minerals can build up within the humidifier, causing it to wear down and even, if unhindered, causing damage and shortening the lifespan of the unit.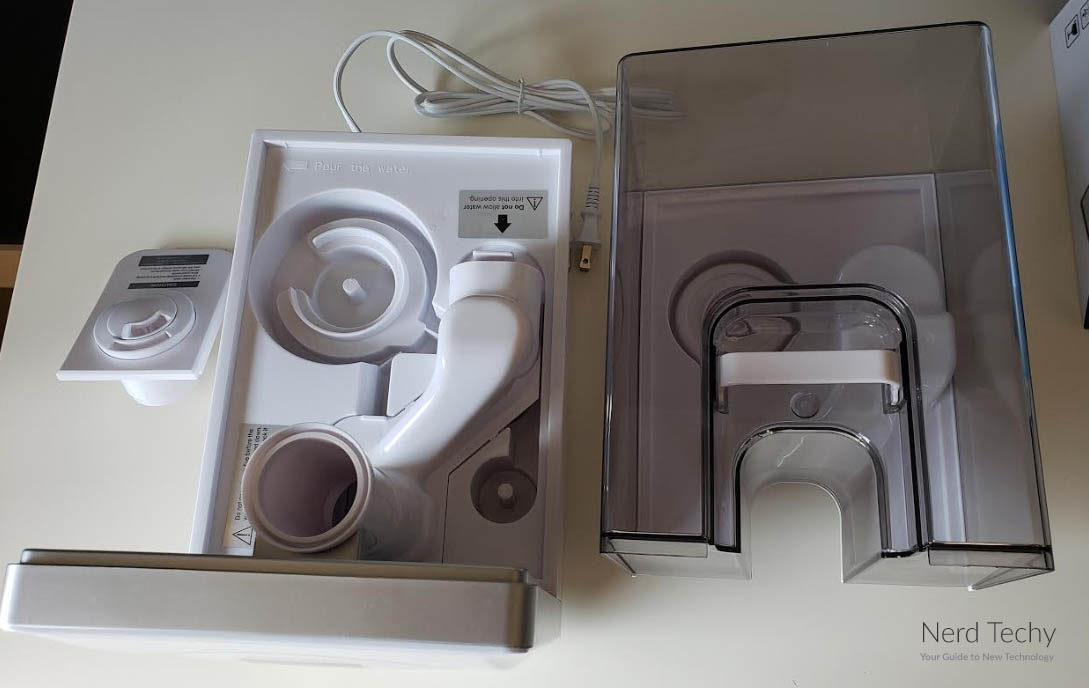 Additionally, the humidifier may also force these excess minerals into the air. This results in the room occupants inhaling these minerals, and may also cause excessive dust to settle around the room if the particles and minerals are not inhaled. Neither of these options is favorable, and are both actually counterproductive to having the unit in the first place.
Always be sure to keep track of the humidity levels within the room. While the Levoit has a humidistat, you can always invest in an extra monitor for the humidity in a room. Change the water in your humidifier regularly, and be sure to clean the tank and filters on a regular maintenance schedule.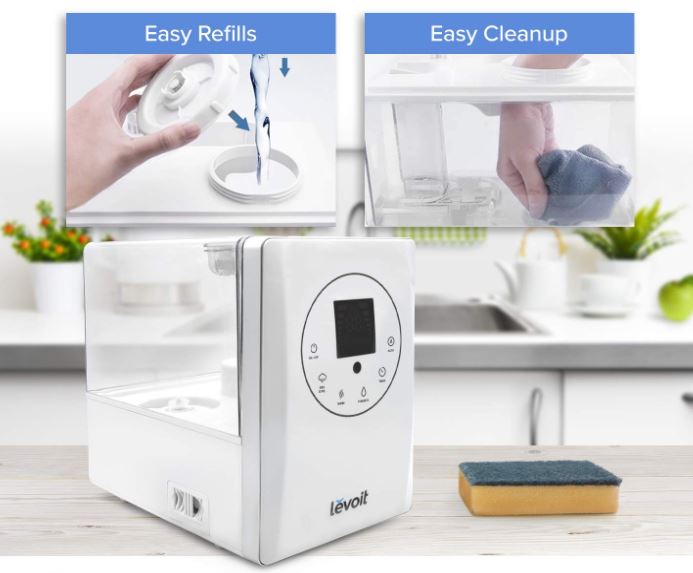 Final Thoughts
The Levoit LV600HH Hybrid Ultrasonic Humidifier compares amazingly to other humidifiers in its price range, like the Elechomes SH8820. It is one of the best humidifier units out there, with intuitive controls, a warm and cool misting feature, and the ability to add comfortable, appropriate humidity to a room of nearly any size.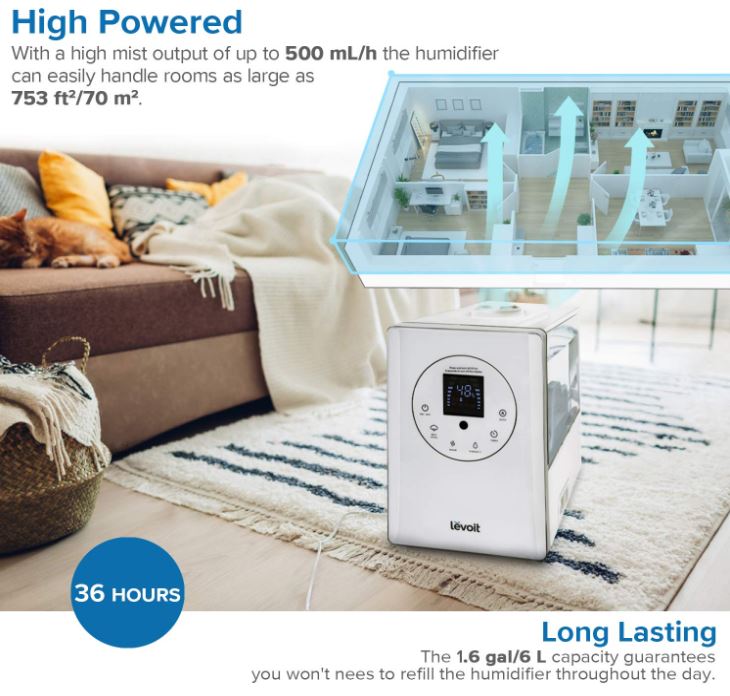 Great for hot or cold weather and any kind of dryness in the air, this humidifying wonder will not only keep you comfortable but it will improve your overall health. It will help to relieve many common ailments throughout the year, including any allergy troubles, sinus problems, asthma symptoms, and more. It will not act as a cure for asthma, however, it can alleviate some of the daily symptoms that asthmatics might regularly suffer.
The Levoit is also one of the most powerful humidifiers on the market. It can reach and maintain a humidity of 45 percent in under a half an hour. It can reach even higher humidity levels, too, topping out at approximately 70 percent humidity. However, for optimal results, you really only need to set the humidifier between 35 and 50 percent humidity in most situations. And with its cool and warm mist options, you will have a wide range of customization as well as comfort available at the push of a button.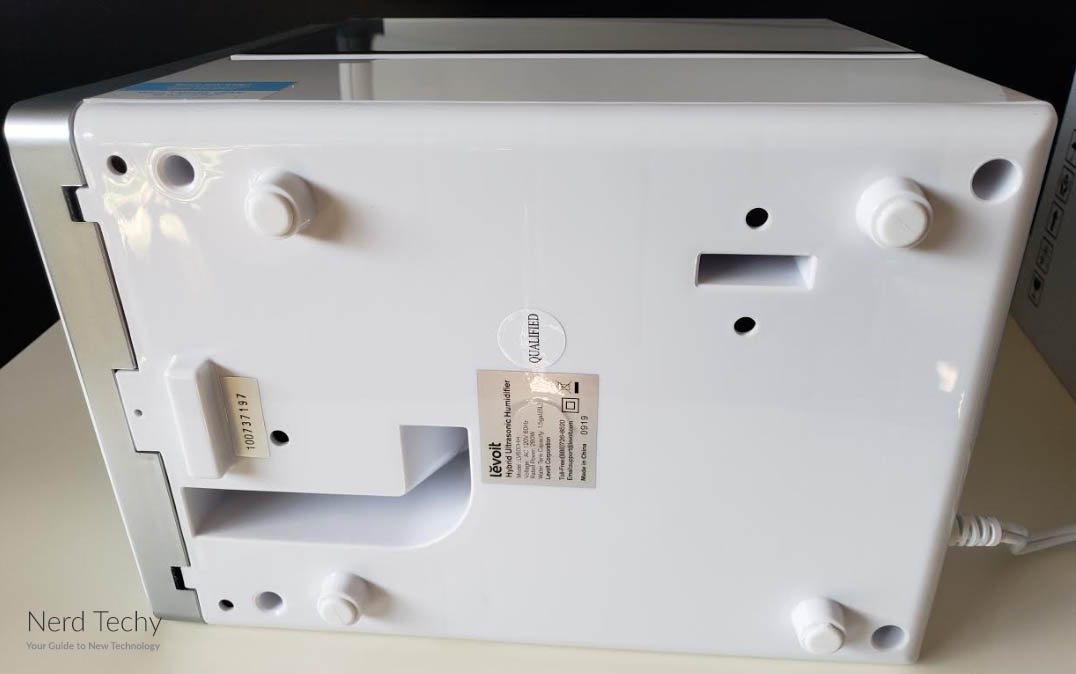 The average lifetime cost of a humidifier of equal quality is around 200 dollars, but the average lifetime cost of operating this unit is significantly less, averaging at about 150 dollars. With not only a lower operating cost, but also a low purchase price, this unit will offer all of the same benefits of a comparative humidifier but at a significantly lower price point. Providing high-end performance and impressive features at a reasonable price, this model of humidifier will meet or exceed all of your humidity needs.
With all of the features, benefits, and customization of this unit, on top of the low price point and ease of cleaning and maintenance of this unit, the Levoit humidifier provides excellent value. We definitely recommend the Levoit LV600HH Hybrid Ultrasonic Humidifier for all of your home and office misting and humidity needs!