Nowadays, we expect to be able to get quality audio wherever we go. For some people, this means slapping on a good pair of headphones. But if you're planning on sharing your music with others, a Bluetooth speaker is going to be more your speed. Bluetooth speakers are also useful in a professional setting. If you need to make a presentation in an office, or another room without wired speakers, they're a real lifesaver.
Today, we'll be reviewing two of the most popular compact Bluetooth speakers on the market. We'll be comparing the Xleader SoundAngel A8 (2 Gen) and the COMISO Go Audio. We'll tell you what we liked, what we didn't like, and how these two speakers compare with each-other. Let's take a closer look!
Xleader SoundAngel A8 (2 Gen)
The Xleader SoundAngel A8 (2 Gen) is a hockey puck-shaped Bluetooth speaker that's designed for portability. At 3.35 inches in diameter and 1.38 inches in thickness, it's small enough to fit in your pocket. And at only 6.4 ounces, it's exceptionally light. Throw it in your laptop bag for emergencies, and you're liable to forget that you're even carrying it.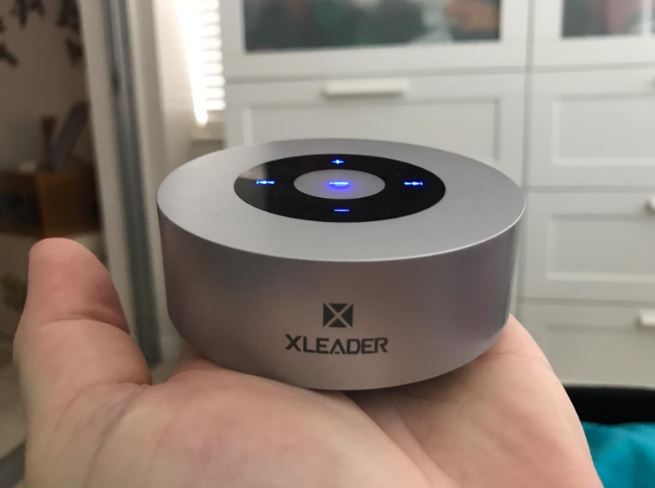 The SoundAngel is available in black, silver, gold, and rose gold. All four finishes are brushed anodized aluminum, for durability and a long operating life. The speakers themselves are located in the bottom of the unit, and project 360 degrees. Not only does this fill the entire room with sound, but it also eliminates the need for ugly speaker mesh.
The SoundAngel's controls are located on the top, and are easy to operate. The play, pause, stop, skip, and volume buttons are all marked by easy-to-read blue LED icons. Pressing them is equally simple. They have a soft touch, so just a brush of your finger is enough to operate the SoundAngel's main functions.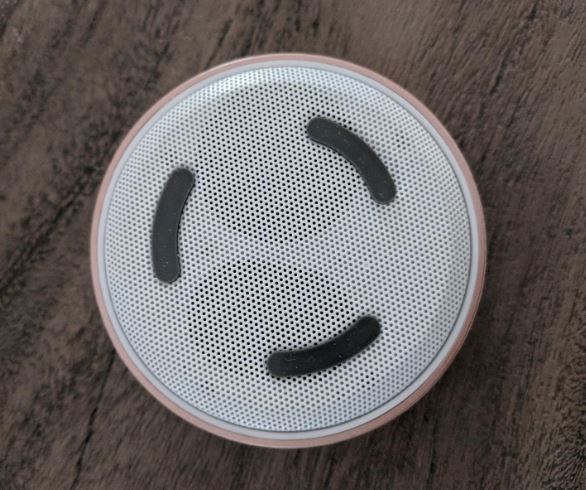 The only downside of the SoundAngel's overall design is that it isn't shock-proof or water-resistant. This means it's purely designed for office and home use, not for the shower or poolside. On the upside, it ships with a waterproof EVA zipper case. This allows you to travel with ease, even in poor weather conditions.
For another compact Bluetooth speaker that's also water-resistant, consider the Braven BRV-Mini. It packs a lot of power into a small, weatherproof package.
Connectivity & Power
The SoundAngel connects to your devices with the latest Bluetooth 5.0 protocol. It's also backwards-compatible with Bluetooth 4.2 devices, so your old tablet or PC won't be left out. Assuming that you're using a standard Bluetooth 5.0 device, your range will be about 33 feet. This depends on signal strength and obstructions, so your actual results may vary.
Pairing the speaker is easy. All you need to do is power it on, open your device's Bluetooth menu, and look for the A8. Once it's been connected with a device, the SoundAngel will automatically pair when it's powered on. It will also automatically shut off to save power. After 10 minutes without a Bluetooth connection, it will power down all by itself.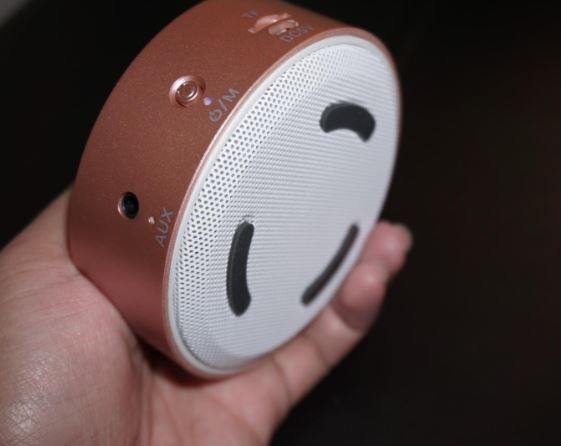 In addition to the Bluetooth connection, there are also a couple of other ways to enjoy your SoundAngel. You can use a 3.5mm audio cable, which is included in the kit. This doesn't offer the same freedom as wireless, but it lets you keep playing when your speaker battery is dead. You can also insert a Micro SD card in the slot on the bottom. This way, you can listen to your favorite tunes without burning through your phone's battery with the Bluetooth on.
When using the Bluetooth connection, you can pair two SoundAngel speakers to get true stereo sound. Simply hold the Pause button on both speakers, and they'll pair in less than a second. From there, you can control both speakers with the buttons on the right-hand speaker. Powering the speakers off will return them to single-speaker mode.
The SoundAngel's battery is a powerful, 1200mAh lithium-ion beast. At half volume, you'll get about 15 hours of playtime. At full volume, playtime drops to about 10 hours, depending on bitrate. This isn't overwhelming, but it's more than enough to get you through the day. And with the included Micro USB cable, you can charge your SoundAngel in just 2 to 3 hours.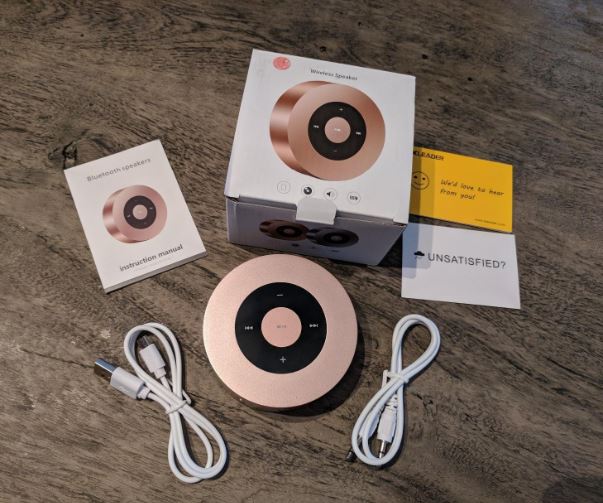 Sound Quality
The SoundAngel might be small, but this doesn't keep it from putting out big-league audio. It includes both a 5-watt, 40mm driver, as well as a built-in subwoofer. This isn't to say that it's extraordinarily powerful. At the end of the day, it's still a small speaker. But the sound profile is broad and even, with plenty of response across all frequencies. So while you might not fill a huge room with sound, the audio will have excellent quality.
One thing we would have liked to see in the SoundAngel was better call support. There's no voice assistant compatibility, so you'll still need to place calls directly from your phone. That said, the SoundAngel can receive calls, as well as redial your last number. Considering that most people aren't buying a Bluetooth speaker to make phone calls, we'll call this a wash.
For even more power, take a look at our review of the Tronsmart Element T2 Plus. Its 20-watt speakers make it a great choice for parties, barbecues, and other large gatherings.
Cosimo Go Audio
Where the Xleader SoundAngel is built for business, the Cosimo Go Audio is designed for pleasure. At 6.5 inches tall and 2.8 inches in diameter, it's about the size of a standard soda can. It tips the scales at 13 ounces, or almost twice as heavy as the SoundAngel. It's still easy to carry, though, thanks to a comfortable wrist strap that's built into the top. The edges are all slightly rounded, which eliminates sharp, square edges. You won't have to worry about the Go Audio stabbing you in the leg or back.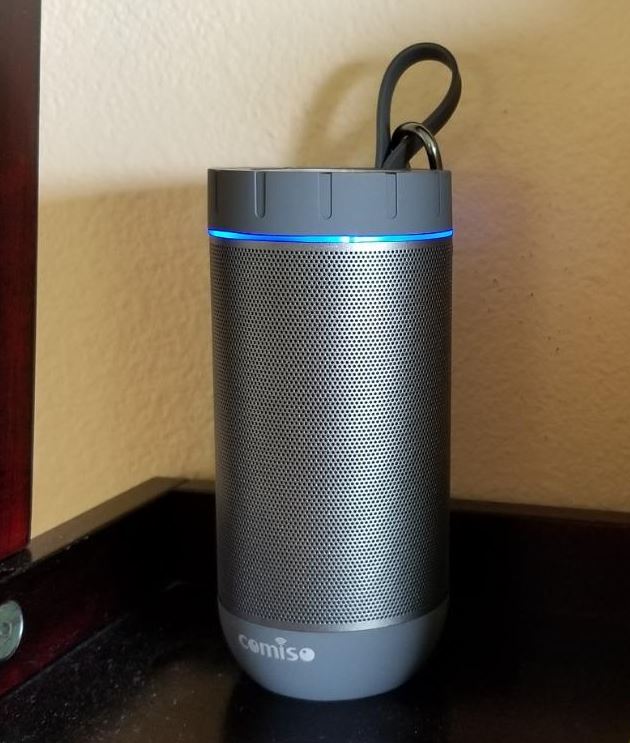 The bulk of the body consists of a speaker mesh, which wraps around the circumference. However, the top and bottom of the unit are made from ABS plastic with a rubberized finish. This gives it a little extra protection if you should happen to drop it. The Go Audio is available in 7 stylish colors, from an understated black to bright teal and coral. On all models, the plastic end caps and speaker mesh both match, for an all-around cohesive appearance.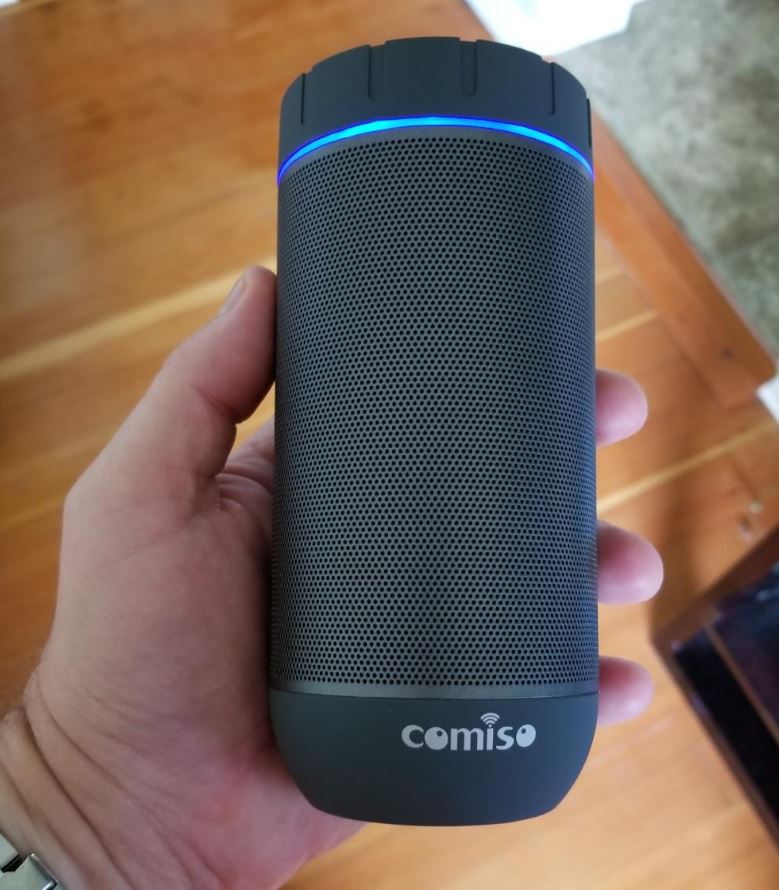 On top of the Go Audio, a round, silver control panel lets you perform most everyday functions. The buttons can be tough to read, but they let you pause, play, skip tracks, and adjust the volume. Once you're familiar with the layout, you'll be able to operate them with ease thanks to their soft touch activation. There's also an LED indicator ring that surrounds the top of the unit. When the Go Audio is powered on, the light will let you know it's working.
The Go Audio is IPX5-rated for water resistance. It's not rated for submersion, but it can withstand splashes and streams of water. Use it in the shower or by the poolside, and it will be just fine.
Connectivity & Power
The Cosimo Go Audio connects to your devices with the Bluetooth 5.0 protocol. This allows for quick, low-latency connections that are exceptionally stable. Stay inside the 33-foot range, and you won't have any issues with synchronization. Like most Bluetooth 5.0 devices, the Go Audio will automatically re-connect once it's been paired to a device. If you need more functionality, there's also a 3.5mm audio jack in the base of the unit. This way, you can connect to legacy devices, or keep on listening while the speaker is charging.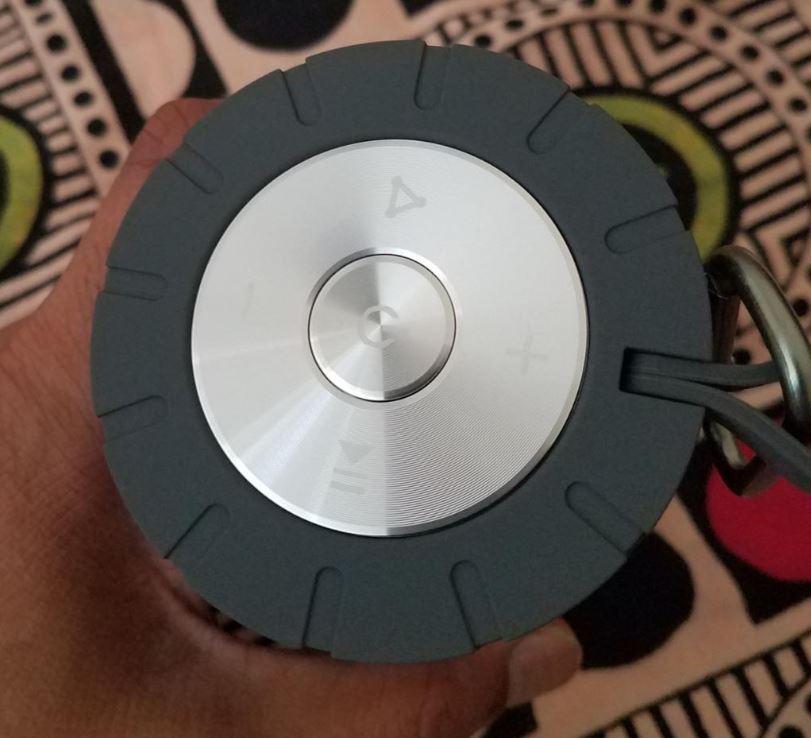 Go Audio speakers can be paired to function with True Wireless Stereo (TWS). Simply press the middle button on both speakers, and they will pair. Then you can pair them with your device, and you'll experience full 2-channel stereo. You can then control the speakers directly from the master speaker. When you're done listening in stereo, just turn the speakers off to return them to mono mode.
The Go Audio's battery holds 4400mAh of power when it's fully charged. It's factory-rated for 36 hours of playback. However, this test was performed at 2/3 volume. At more realistic volumes, the overall life can drop as far as 24 hours. That's still pretty impressive for any wireless speaker, though. And the charging time is only 3 hours, so you'll never be out of juice for an extended period.
For a compact speaker with more power, the Tribit MaxSound Plus is a solid choice. It has an upgraded Bluetooth card, which allows for a 100-foot range under ideal circumstances.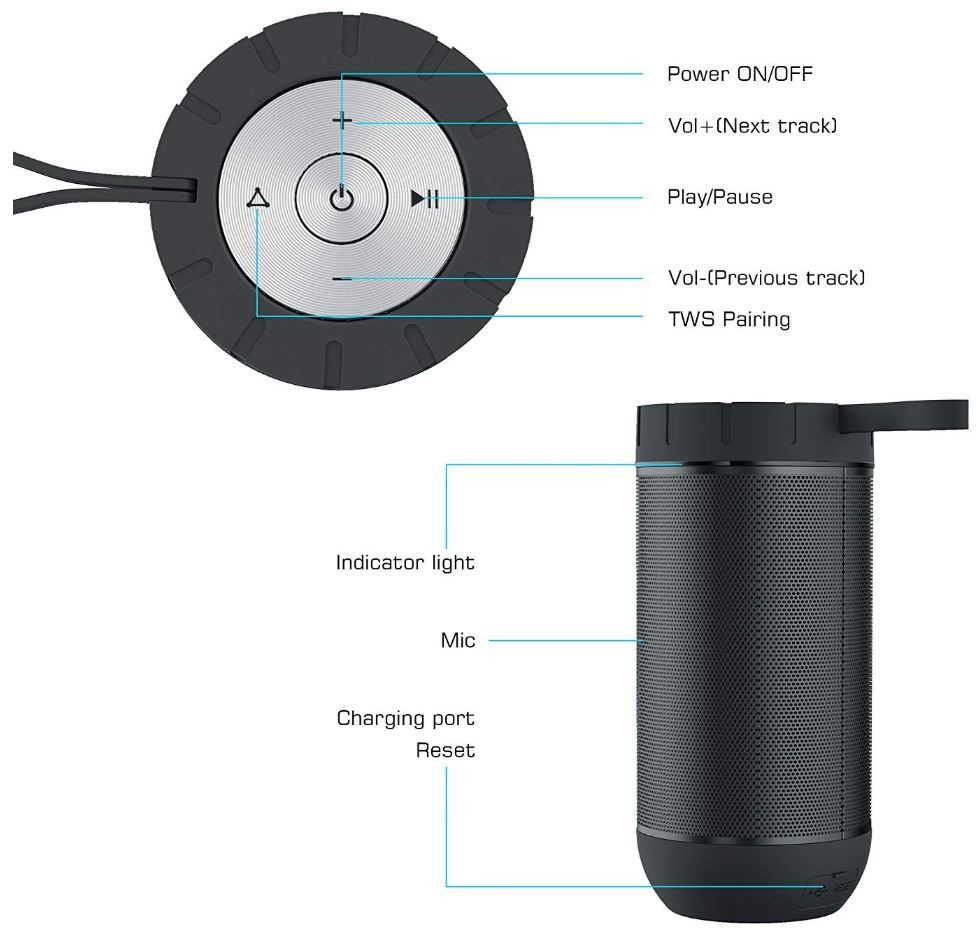 Sound Quality
As we've already mentioned, the Go Audio provides full, 360-degree sound. The 2 6-watt speakers are pointed in opposite directions, but the speaker mesh and frame direct the sound very efficiently. As a result, you'll get plenty of quality regardless of how exactly the Go Audio is oriented.
The mids and highs are particularly clear, an ideal feature for genres that are heavy on vocals or strings. The bass, on the other hand, is relatively restrained. This is not surprising, given the lack of a subwoofer. The speaker mesh is designed to distribute bass as efficiently as possible. But at the end of the day, it doesn't push as much sound as we would have hoped. That said, the speaker offers minimal distortion. Even at maximum volume, you won't get any rumble, muddiness, or other cross-frequency interference.
Final Verdict
Depending on your needs, either one of these Bluetooth speakers could be an excellent choice. We particularly like the Xleader SoundAngel A8 for business applications. It's just so darn compact that it's a good backup speaker to carry anywhere. And the small size makes it unobtrusive on a desk or a conference table.
That said, the Cosimo Go Audio has its own benefits. For one thing, it's splash-proof, which makes it a better choice for social gatherings. For another thing, it has incredibly long battery life. You can take it on a weekend camping trip without itching for a charger. Then again, the sound is less impressive than the SoundAngel's.