If you're a technophile, you know how many wireless earbuds are on the market. It seems like you can't throw a rock without hitting one. With that many options, it's hard to know what's worthwhile and what isn't. The most obvious way is to look at the brand. For example, Anker is well-known for producing quality audio gear at a reasonable price. So we've decided to review Anker's new Soundcore Life P2. We put them through their paces to see how well they live up to Anker's reputation. And now, we're going to tell you everything we know.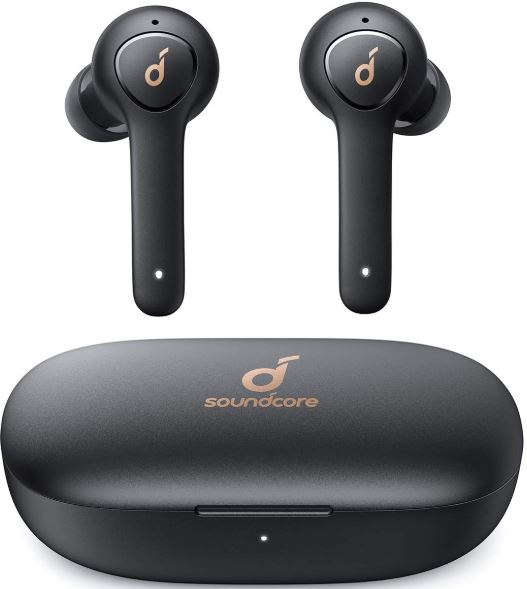 Physical Design
Like most wireless earbuds, the Soundcore Life P2 earbuds come in a clamshell-style charging case. It measures 3.15 inches wide, 2.05 inches deep, and is 1.18 inches high. At this size, it's easy to slip into your pocket. And the total weight of the package is 2.08 ounces. This is exceptionally light, and we're impressed that Anker fit their battery in a compact, lightweight package. The case has a smooth, matte finish, with a gold Soundcore logo on the top. On the front, there's a single LED light, which illuminates when the case is plugged in for charging. The USB charging port on the back is discreet, and doesn't detract from the appearance at all.
The earbuds themselves have a similar matte finish, with similar gold logos on the back. The logos are positioned on top of the buttons. The buttons have a firm feel, and click when you press them. They're used only for turning the earbuds on and off. There are no volume controls, though. You'll need to control the volume from your phone or MP3 player. That said, the lack of volume buttons keeps the weight down and simplifies the overall design. A small LED light at the bottom of each earbud indicates that it's on and connected.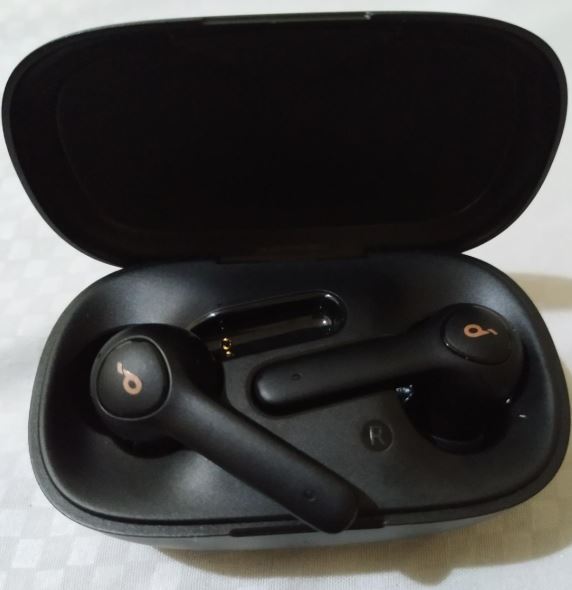 One thing that did impress us about Soundcore Life P2 buds is the IPX7 waterproof rating. As we've discussed in the past, this is the most powerful rating you'll typically see on consumer electronics. They can withstand 30 minutes of submersion at a depth of 1 meter (about 3 feet). If you drop them in a swimming pool, they'll be just fine. More to the point, they're an excellent choice if you want to use your earbuds in the shower.
Soundcore Life P2 earbuds ship with 5 sets of silicone ear tips. This allows for a more customizable fit that the 3 sets that typically ship with a set of earbuds. If you're having trouble getting your current set to fit, the choice of five options will be a big improvement. The overall fit is very comfortable, without any flaps or other parts adding bulk to the design.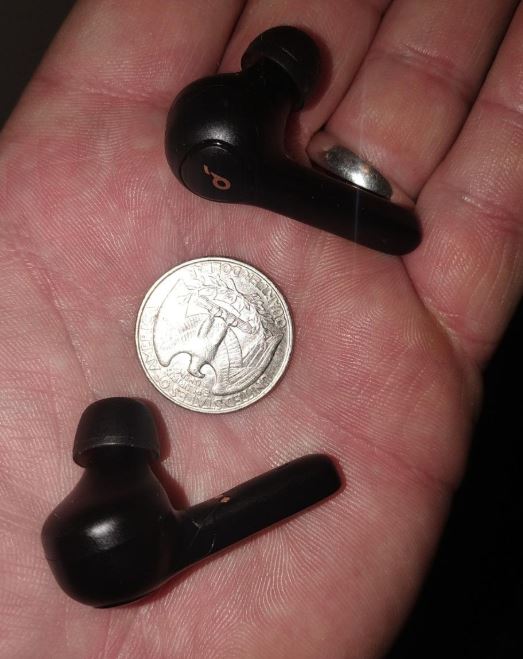 Battery & Charging
The batteries in the individual Soundcore Life P2 earbuds will run for about 7 hours on a single charge. Now, as with all manufacturer ratings, you should take this with a grain of salt.
Simply put, 7 hours assumes medium-low volume. 5 to 6 hours is a more realistic number. But that should still be plenty of longevity for most people's purposes. The charging case itself offers an additional 33 hours' worth of juice. Even if you assume a total playtime of around 30 hours, rather than Anker's rating of 40, that's still pretty good.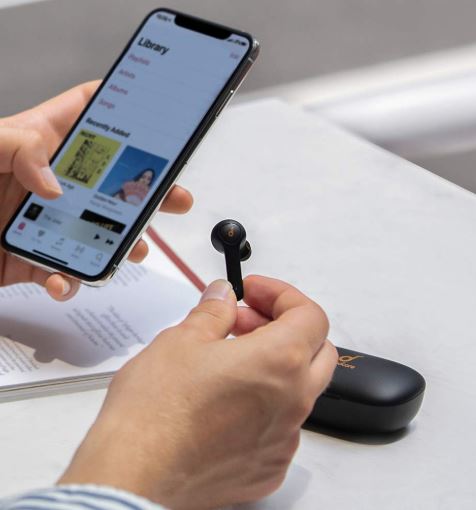 The charging case also offers a quick charge option. If you find yourself caught in a bind, you can get an hour's worth of playtime from a 10-minute charge. That's not going to last you all day, but it's more than good enough for your morning jog. The case itself charges in about 90 minutes. A 1.9-foot USB Type-C charging cable is included in the package. However, if you need an AC adapter, you'll need to provide your own.
If you need even more battery life, there are significantly more long-lasting options on the market. One of these is the Soundpeats TrueAir. They offer an impressive 150 hours of total battery life, which is just about unheard-of.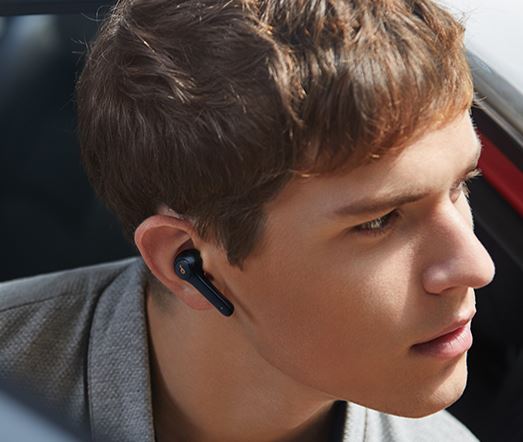 Connectivity & Control
Anker's Soundcore Life P2 earbuds are easy to pair. Simply power them on, turn on your phone's Bluetooth, and select them from your menu. Once they've been connected for the first time, they'll automatically pair when they're turned on. The only time you'll need to mess with any settings is if you want to pair them with a different device.
The Bluetooth 5.0 connection is a major improvement over older Bluetooth 4.2 technology. It provides near-zero latency, as well as a more stable connection. You'll get minimal interference from other devices, even in crowded areas. The range is about 33 feet with a clear line of sight. That's more than enough for walking around the room while your phone is on the charger.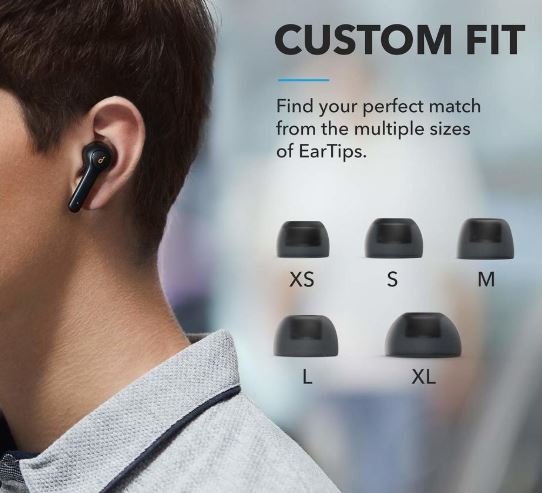 We should point out that the Soundcore Life P2 uses the aptX codec. This is one of the clearest, advanced audio codecs on the market. Sadly, Apple has decided to use their own proprietary W1 codec exclusively. As a result, these earbuds aren't compatible with the latest iPhone 11 and 11 Pro models. There's also no companion app. This was an unusual choice, since you won't be able to adjust your sound profile. You'll be limited to the controls on your Android, older iPhone, or MP3 player. Nonetheless, as we're about to discuss, the default sound profile is quite good.
Sound Quality
The Soundcore Life P2's drivers are constructed from graphene. This material provides better responsiveness and clarity than standard drivers, and it's probably these earbuds' best feature. The drivers pair well with the aptX codec, and provide clean, crisp playback. The overall sound profile is fairly flat, designed to work well with any genre of music.
Treble quality is excellent and highly accurate. You'll get shimmering cymbals, clear strings, and other high-end performance. The high frequencies are well-tuned, and won't overpower the rest of your music. Fans of country and classical music, in particular, will love these earbuds.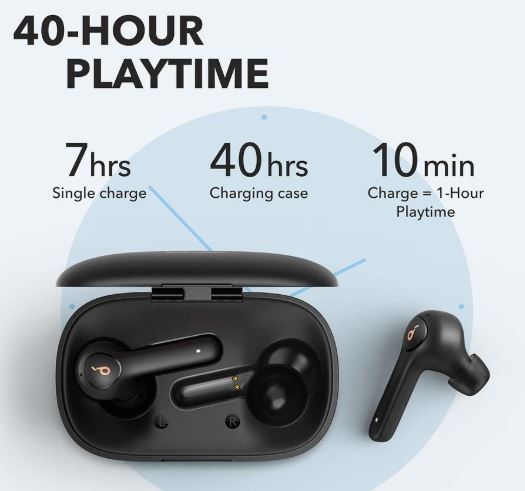 Oddly, the middle frequencies are where the Soundcore Life P2 suffers most. This is unusual for wireless earbuds, where bass is generally the biggest trouble spot. Vocals are just fine if you're listening to podcasts, audiobooks, or other vocal-only audio. But vocals can suffer when you're listening to music. They get crowded out by the treble and bass, and can sound muddy.
The bass, on the other hand, is surprisingly punchy. It's not as powerful as a pair of studio headphones, but let's compare apples to apples. Compared to other wireless earbuds, you'll be very pleased with the bass performance. You'll easily hear the bass in hip-hop, as well as heavy metal drums. It's clear, it's present, and it's not muddy or fuzzy at all.
In terms of noise cancellation, the Soundcore Life P2 is about average for a pair of wireless earbuds. They don't have active noise cancellation, which is to be expected. However, the passive noise cancellation is pretty good, provided you've chosen the right pair of ear tips. It doesn't block bass very well, which is about par for the course. However, you'll get minimal interference from other people's conversations, or from anything in the middle range. Similarly, the ear tips do an excellent job of preventing leakage. If you take a bus or train to work, you won't have to worry about bothering your neighbors.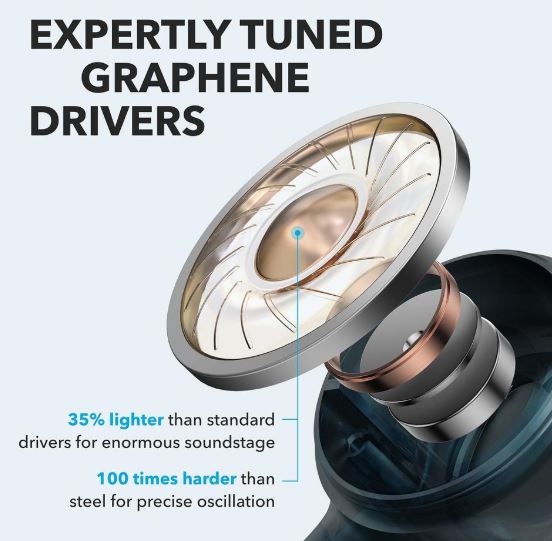 Soundcore Life P2 earbuds have two microphones on each side, with beamforming technology that chooses the microphone with the least interference. They also use the latest cVc 8.0 noise reduction technology. This ensures that your voice will come across with minimal interference from ambient noise. On the other hand, the microphones themselves are small and not very powerful. Your voice will come across clearly, but you'll also sound relatively quiet to the person on the other end.
One thing that disappointed us about the Soundcore Life P2 is that they can't be used in mono mode. This isn't something you'll typically need if you're primarily using them for music. However, if you want a simple earbud for hands-free calling, you might want to choose a different option. The Tronsmart Spunky Beat offers this feature, which makes it ideal for hands-free calls. The sound quality isn't half bad, either.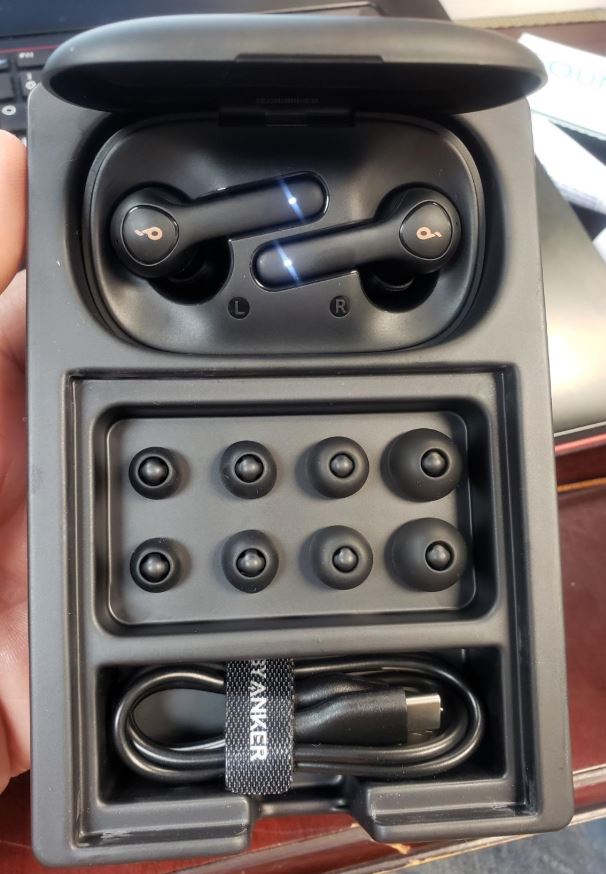 Final Verdict
In the end analysis, Anker's Soundcore Life P2 earbuds are a bit of a mixed bag. To start with what we didn't like, the mids were disappointing. Vocals just aren't as clear as they should be. Furthermore, while the aptX codec is excellent, it would be nice if they also supported Apple's W1 codec.
On the other hand, the physical construction is excellent. The IP7 water-resistance is the best in the business, good enough for showers or even swimming. And the ear tips provide enough options for maximum comfort and a secure fit. We also liked the bass. If you like to listen to dance music while you work out, you won't be disappointed. Finally, the compact case is much appreciated. It's easy to carry in your pocket, so you're never without a way to top off your batteries.