Listening to music is one of life's greatest joys. So it only makes sense that you should provide your ears with top-tier audio equipment when enjoying your favorite artists. But the fact is that the headphone market is completely saturated with subpar products. It's already difficult enough to find a good set of headphones. It's even harder to find headphones that are perfect for your needs.
The Treblab E3 Active Noise Canceling Over-Ear Wireless Headphones are a more recent release. They take after many of the high-quality Bose headphones that can cost hundreds of dollars. But unlike those headphones, these are much more affordable. If the rest of their features measure up, they might be a great alternative for those looking for a budget headphone option.
Note: At no extra cost to you, we may earn a commission for purchases using our links. Learn more.
In our detailed review, we'll examine these headphones through and through to determine their advantages and disadvantages. We'll be able to tell you whether these headphones will be a good fit for your needs. Let's dive in and see what they can do.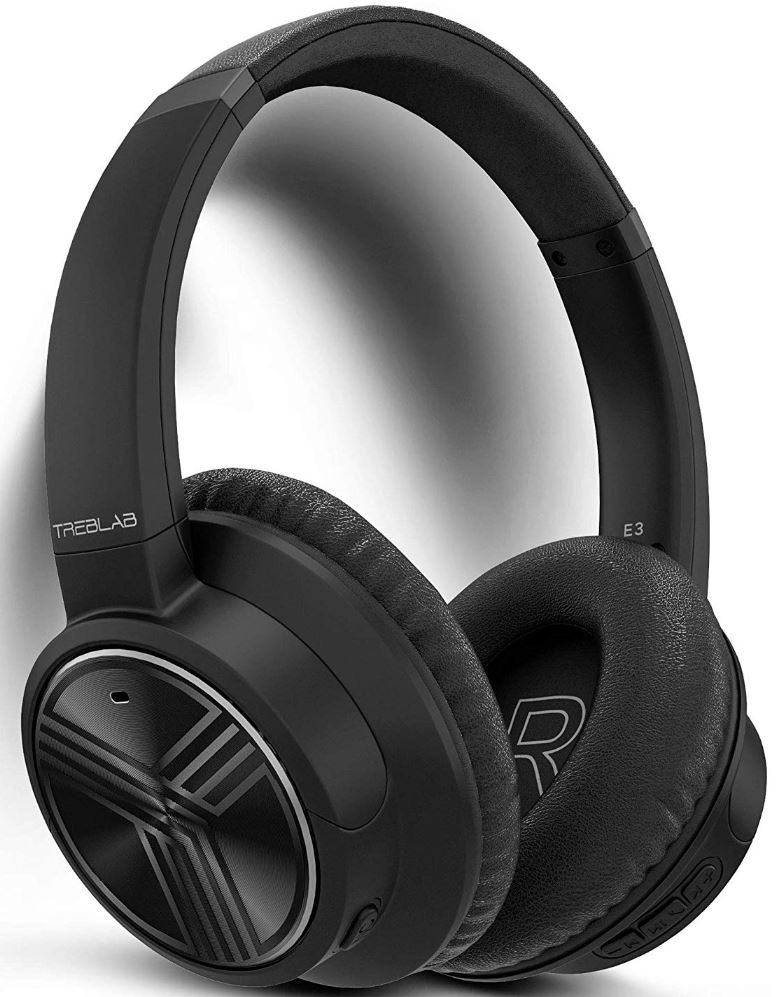 Sound Quality to Amaze
The Treblab E3's start off strong by producing incredibly high-fidelity sound. They feature a 40 mm speaker unit to project sound over a wide surface area and enable lots of range and depth. The high-fidelity sound projected is integrated with a Bluetooth 5.0 chipset. This allows you to transmit your favorite tunes straight to the intro computers of the headphones quite easily.
Once received, the drivers and speakers of the headphones project incredibly rich music. Bass sounds, in particular, are quite extraordinary even when compared to other headphones. High-end sounds are also quite nice, though they don't reach the same level of quality as lower-end ones. Ultimately, the headphones still do a great job of providing you with excellent reproductions of your favorite tracks. To make things even better, the headphones have advanced audio coding support. This standard works well for tracks that might be lower quality when played as an MP3.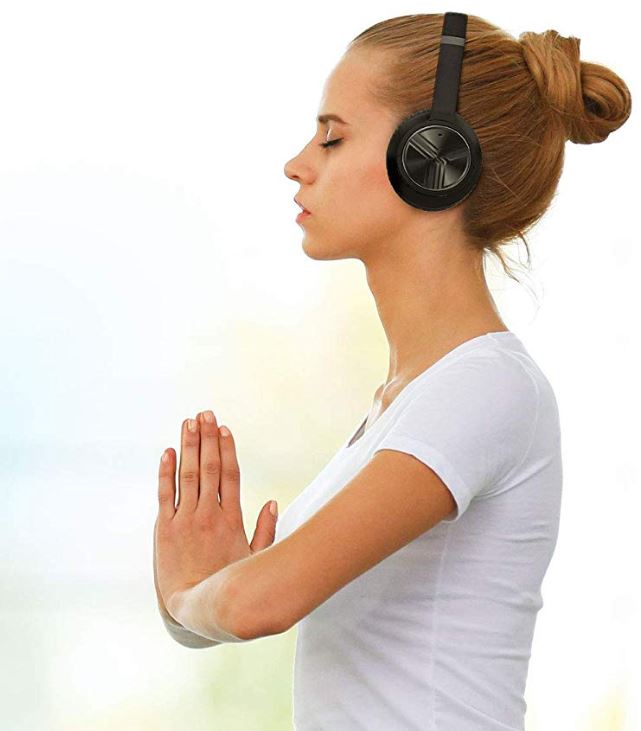 Noise-Canceling Quality and Design
In the headphone business, Bose is often considered to be the king when it comes to noise-canceling tech. The E3 headphones do a great job of challenging this idea. The headphones are equipped with a multifunctional and active noise cancellation hardware suite. They work so well because they utilize a technology called feedforward active noise cancellation.
In addition, Treblab has placed its own proprietary spin on the design to make it more effective. In a nutshell, a microphone is placed outside the earcup. This microphone absorbs ambient noise from your environment. It then processes those noises and projects a neutralizing sound into your ear. This is very similar to other types of noise-canceling tech. But we found it to be incredibly effective.
The natural, over-the-ear design of the headphones assists, too. They cover your ears entirely to physically block out sound, adding to the microphones' effectiveness. It's a double-power approach that works well.
In fact, this noise-canceling quality is so superb that you wouldn't notice someone talking right next to you in many cases. The only potential downside is its ability to overly insulate you from your environment. These headphones are definitely meant for quiet listening to music rather than wearing while walking outdoors. You won't be able to hear any environmental hazards with the noise-canceling tech engaged.
However, the E3s have that covered, too. You can engage the environmental mode built into the headphones' software. This minimizes the effects of the ANC microphone and left a little ambient noise bleed into your experience. This makes the headphones more appropriate to wear in public. You won't be easily taken off guard by someone speaking to you or other high-pitched noises like an alarm. At the same time, you'll still enjoy higher than average listening quality.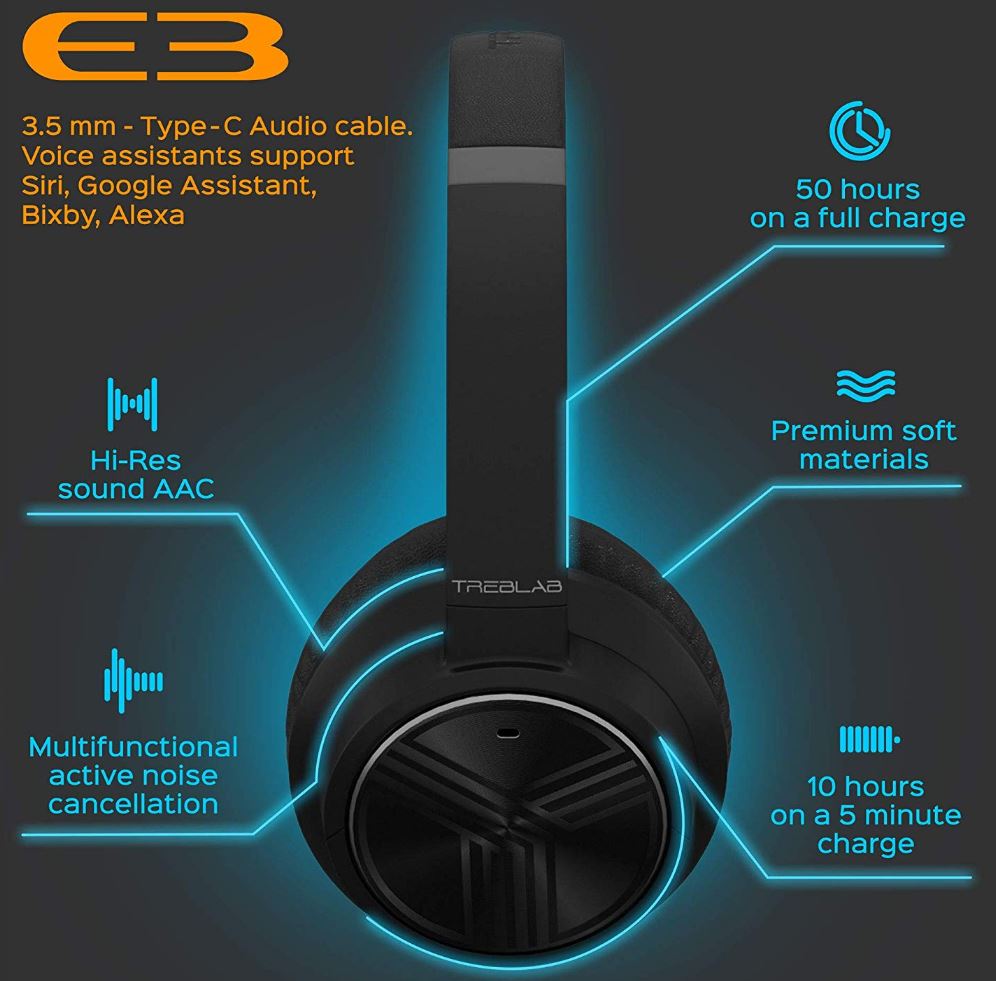 Voice Calls
In addition to the noise-canceling microphones, the E3 headphones have an additional HD microphone. This particular microphone is designed to project your voice with crystal-clear clarity. By utilizing the aforementioned Bluetooth 5.0 chipset, you can pair the headphones with your smartphone. Taking or sending calls with the headphones as your speakers is therefore possible. Compared to many other headsets, the E3's sound quality is pretty good.
Calls are clear for both speakers on either end. The lack of a microphone near the mouth does limit the wearer's volume, though. Furthermore, the E3's come with built-in voice assistant enabling. That means you can pair these headphones with Alexa, Google Assistant, or Siri depending on the operating system of your smartphone. The microphone is clear enough to let you capably control these virtual assistants as well as normal.
Overall, we'd rate this particular function highly.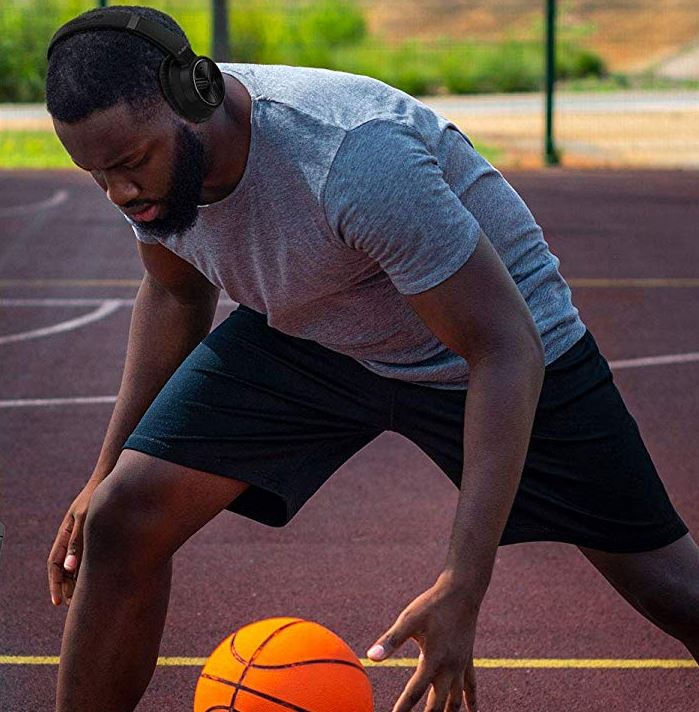 Bluetooth Connectivity and Battery Features
Speaking of Bluetooth connectivity, the E3's have some of the fastest connection times in the market. Because they utilize the latest Bluetooth chipset, they can pair with devices in less than two seconds. They also have a pretty good Bluetooth range. Expect consistent signal quality within 10 m or 33 feet. This should be more than enough distance for most users.
As you might imagine, these myriad functions will take a lot of battery power. So how to the charging aspects of these headphones measure up? On a full charge, these headphones can play music for 27 hours even with the noise-canceling engaged and volume turned all the way up. Of course, you can extend the battery life to 48 hours by moderating the volume and turning off the noise cancellation. Either way, there's plenty of time for you to enjoy your tunes or phone calls on a single charge.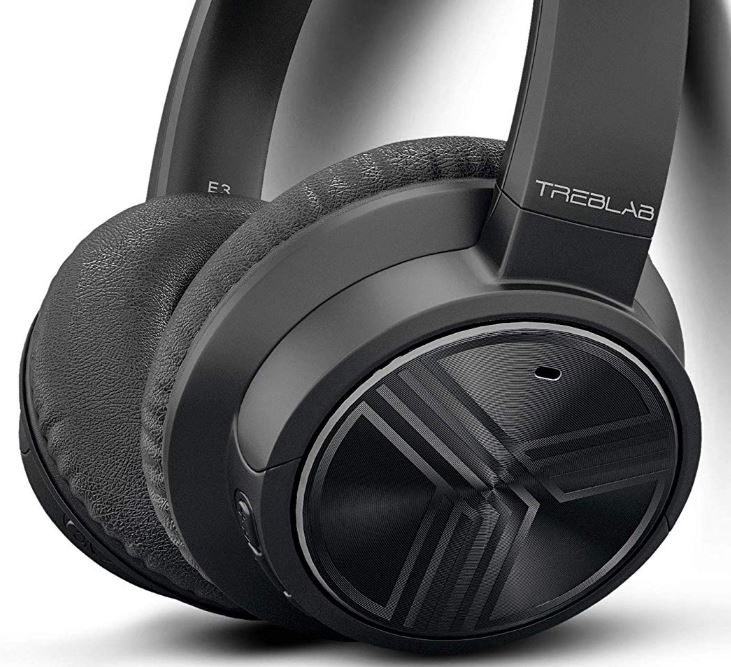 Once the battery is ready to be reset you can use the common Type-C cable to charge the headphones. You don't need to wait hours on end once your battery is dead, too. In fact, you can get seven hours of playtime at 100% volume after charging for just three minutes. That's a phenomenal charge time to run time ratio! Letting the headphones charge for a full hour will bring everything back up to maximum energy.
It's nice to be able to choose how you charge the headphones. Say you had to run to work but forgot to charge them. It's a lot easier to fit in a few minutes than a whole hour. Overall, these headphones are among the best when it comes to battery life by itself.
Comfortable for All-Day Wearing
So let's consider comfort, next. Each headphone is made with super soft materials. The earpads are comfortable even after wearing the headphones for multiple hours in a row. Most people will be able to safely wear these headphones all day without experiencing fatigue. The headphones are slightly adjustable, though the earpads themselves are only one size.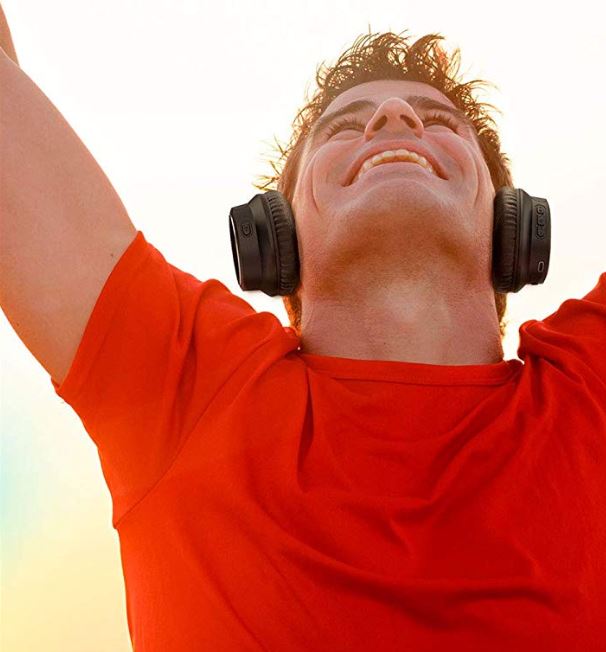 The earpads' material isn't leather, so things won't get sweaty or hard the longer you wear them. They can also swivel to significant degrees, so you can adjust them to the shape of your ears to a certain extent. As a side bonus, this makes sharing the headphones with another person much easier. We'd reckon that most users should find these headphones to be suitably comfortable, even compared to other headphones on the market.
Finally, you can't ignore the one-year warranty that comes with the purchase. This warranty covers any manufacturer defects and will replace the headphones if you experience trouble with them during normal use. Many people feel a little uneasy spending extra money on headphones. But with this warranty, you won't need to worry so much about wasting your hard-earned cash.
Final Verdict
All in all, the Treblab E3 Active Noise Canceling Over-Ear Wireless Headphones are a pretty amazing set. They do a great job of protecting high-quality bass sound. Not only can they help you listen to your favorite music, but they can also offer phenomenal noise cancellation. Their microphones and padded earpieces work in tandem to eliminate ambient noise and bring you peace and quiet. These work well with the voice call functionality of the headphones, too. If only the outgoing call quality was as good.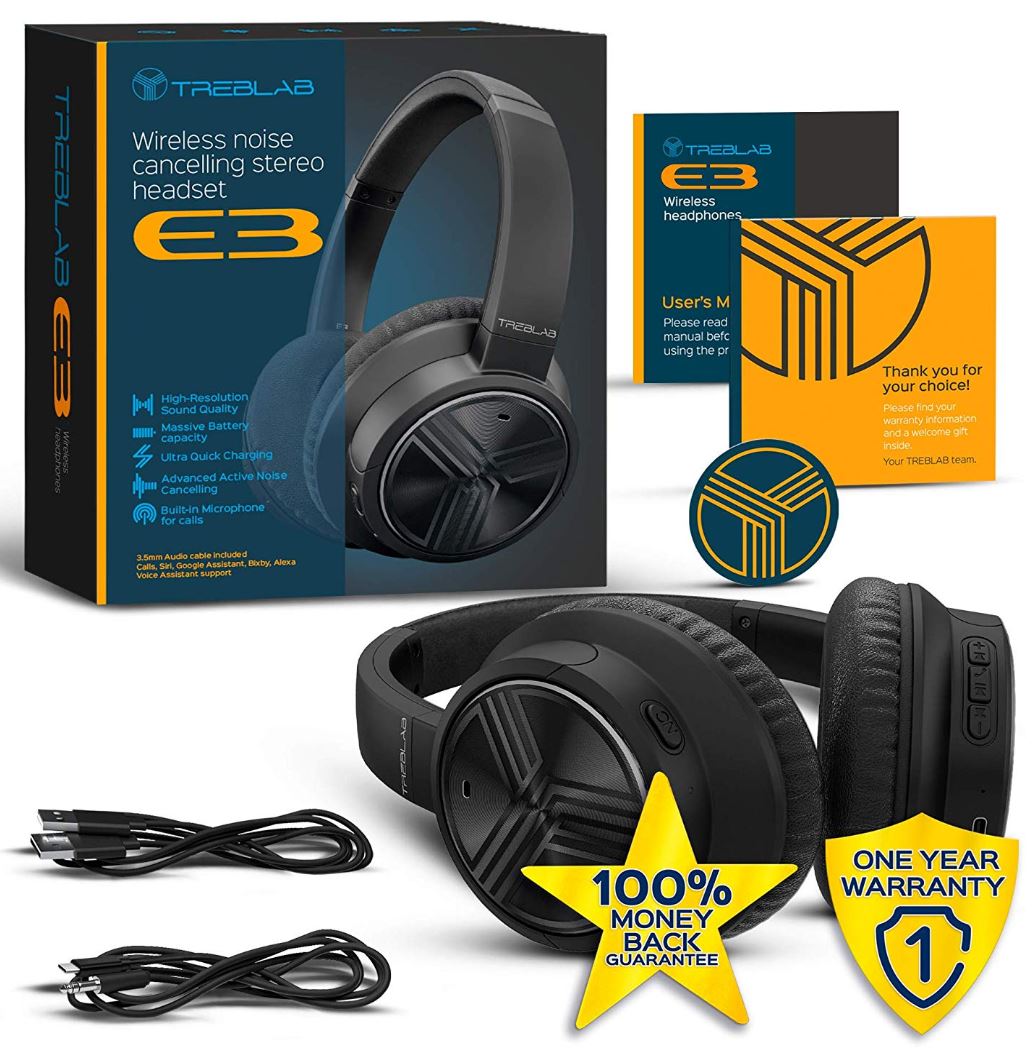 Even with that minor flaw, it's tough to discount these headphones' excellence. We really appreciate their phenomenal battery power and adjustability. You'll be able to listen to these for hours on end thanks to their comfort and charging times. They're one of the few sets of headphones that we never worry about running out of energy by accident. Given that you only need to charge them for a few minutes, awesome listening experiences are never far away.
In the end, we'd recommend these for audiophiles. Anyone who likes to listen to bass-heavy sounds in crowded environments will make the most out of their features and design.
Please consider sharing:
Note: At no extra cost to you, we may earn a commission for purchases using our links. Learn more.