When it comes to the functionality of your desktop computer, one of the most important factors is its ability to remove heat from the processor. Heat is an unavoidable byproduct of high clock speeds, but when the heat produced exceeds your computers capacity to remove it the motherboard will be forced to throttle your entire system.
If you're experiencing disappointing performance and heat problems, upgrading your CPU's air cooler is one of the quickest and easiest ways to correct the problem. Liquid CPU coolers are known to be the most powerful cooling systems on the market, but for most consumers they are overkill. Unless you're running an extreme overclock, and Air cooler can do the job just as effectively for a much lower price.
Note: At no extra cost to you, we may earn a commission for purchases using our links. Learn more.
Unfortunately, selecting an air cooler isn't quite as easy and installing one. There are hundreds of coolers available from dozens of manufacturers, and they aren't all created equally. We'll be taking a look at the three best air coolers on the market. We'll help you understand the difference between them, so you can choose the one that's right for you.
Cooler Master MasterAir Maker 8
As a manufacturer, cooler master is constantly pushing boundaries. The original MasterAir Maker came at a time when consumers figured that air cooling had plateaued. Surprisingly, the MasterAir Maker's unique design allowed it to perform better than some of the liquid coolers of the time.
Today, the market isn't quite as polarized. The upper echelon of air coolers often performs as well as entry and mid-level liquid coolers in certain conditions. But the question remains, can the Cooler Master MasterAir Maker 8 live up to the legendary status of this line?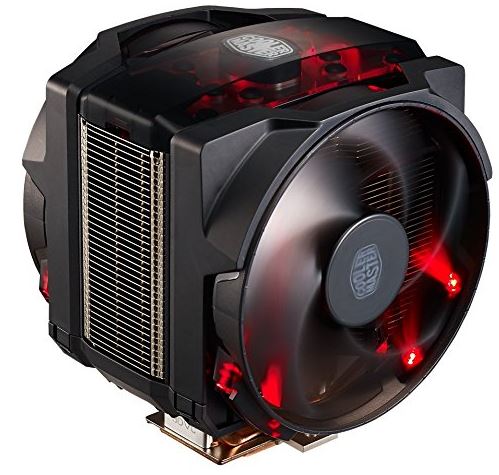 Design
Measuring a whopping 5.3 x 5.7 x 6.8 inches, this cooler has more surface area that you can shake a stick at. But despite being one of the largest options on the market, Cooler Master wanted to design it in such a way that it was both efficient and stylish. Most of the radiator is covered by plastic guards. Some of these guards help to improve airflow, but some of it is just for style. The top cover is a dusty black color, and it's semi-translucent appearance allows for the bright red LEDs to shine through. Because the cover is only partially transparent, the lighting isn't "in your face" at all. It's more of a subtle glow that ads a shade of style to your case.
The same LEDs are used in the large fan. When it's running, the fans move at such high speed that you don't see the blades, so the light really brings it to life.
Technology
If you look at the radiator of any modern vehicle, you'll find that the guard around the radiator fan looks very similar to what you'll find on this cooler. Cooler master refers to this as a "3D vapor chamber," and it drastically improves airflow. The air is more carefully directed past the fan and through the radiator, improving cooling performance by a large margin.
The radiator itself has a total 8 heat pipes, producing a combined 250W TDP. Since most CPUs produce under 100W of heat, this cooler is more than adequate for even the toughest overclocks.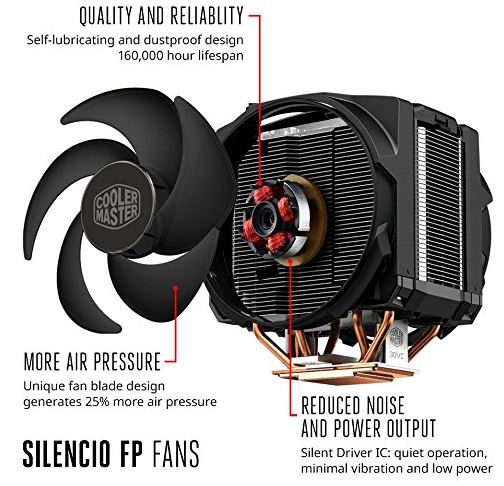 Performance
We installed this on a test system using an ASUS Z87 motherboard and an i7 4770k processor. We've used this system before and found that it runs a little on the warm side, making it the perfect test for this cooler. These test results should give you an indication of what kind of temperatures you can expect with a stock system under heavy load.
With the CPU use pinned at 100%, our temperature settled around 51.4 degrees. The stock cooler hovered around 80 in this same setup, demonstrating that the cooler is very effective at dissipating heat.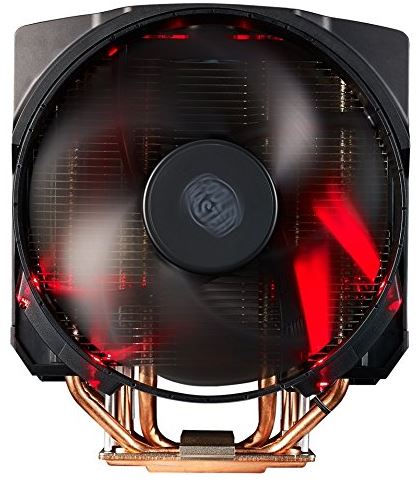 When overclocked, our temperatures hit a maximum high of 70.9 degrees. The very same overclock with our stock cooler hit the 100-degree safety threshold, and the system was shut down. While air cooling wouldn't necessarily be our first choice for an aggressive overclock, the MasterAir Maker 8 clearly performs as well as some entry level water coolers.
Noctua NH-D15
Noctua was formed when the Australian research firm partnered with a Taiwanese cooling company known as Kilink International. At the time, very few industries were putting the same level of care and design into their coolers as them. The end result was some of the biggest cooling towers consumers had seen. Today, that very same technology is found in the much more advanced NH-D15. This CPU cooler uses two fans in a "push / pull" arrangement to produce one of the most coolers we've come across.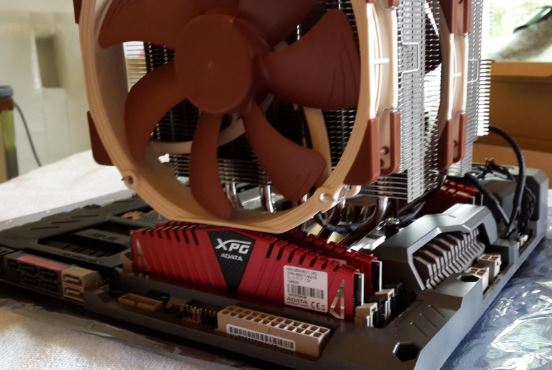 Design
If you're into ultra-compact cases and power efficient computer systems, the Noctua NH-D15 is not the cooler for you. From size alone, you can tell that this cooler was designed for people who want to squeeze every ounce of performance out of their computers that they can. The cobalt colored heatsinks holds a nice contrast against the tan and brown fans. But to truly appreciate all the engineering that went into this cooler, you need to remove the fans. The heat pipes come out of the base of the cooler like a spider stretching its legs. With a smooth gradient, they gently expand into the massive cooling fins delicately attached to the top. Despite feeling firm in the hand, you can't help but appreciate all of the precision engineering that went into this unique cooler.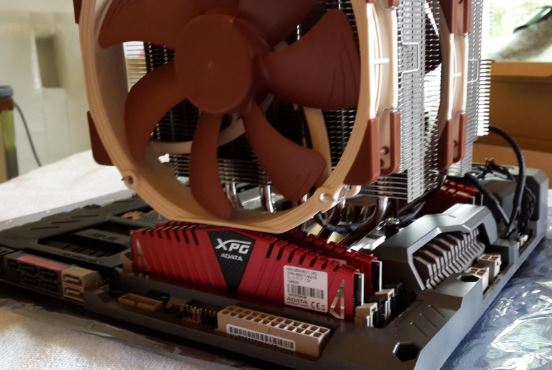 To keep the whole system whisper quiet, the fans attach to the radiators with small rubber inserts. These are able to physically isolate the fan from them and prevent any vibrations from translating into the metal structure. The end result is something that packs some serious cooling punch, but doesn't make much noise doing it.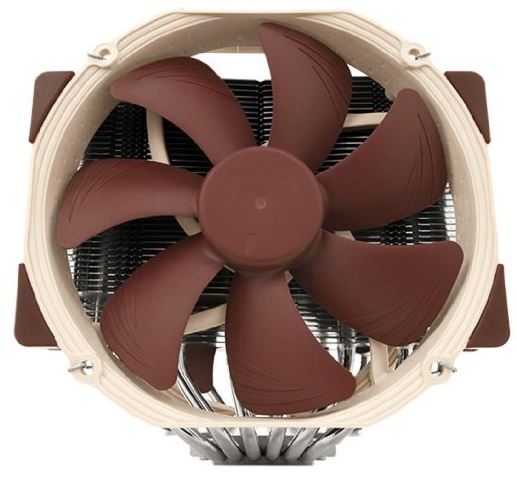 Technology
This isn't the first one we've seen with six heat pipes, but it's the first we've seen that attaches each pipe to two separate radiators. This effectively doubles the potential for each pipe to disperse heat. But just because the potential is doubled doesn't mean that the performance is twice that of a single tower system. What Noctua did was increase the space between each of the cooling fins and drop the speed of the fans. While we still expect this to work a little better than a single tower system, these changes were more about noise than they were about cooling.
Performance
We popped it into the same system as before and measured temperatures under load at the stock speed. At 52.1 degrees, this cooler was testing a little warmer than the cooler master. Fortunately, the results were close enough that we don't think consumers would notice much of a difference.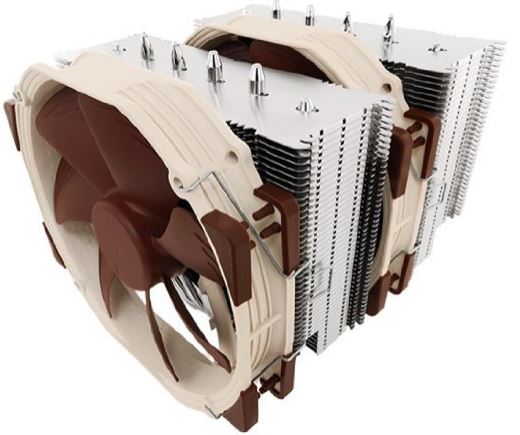 When we compared it to the overclock results, our tune really changed. Where the CoolerMaster was testing at 70.9 degrees, the Noctua came in at 67.4 This shows that the cooler performs best when under heavy load.
Noctua Dual Tower CPU Cooler
While both of the above coolers have their place in a high-performance system, many users won't be generating the heavy loads necessary to warrant a high-end cooler. The Noctua Dual Tower CPU Cooler is a stripped-down version of the cooler we tested above designed for people with just want to reduce throttling in a stock system.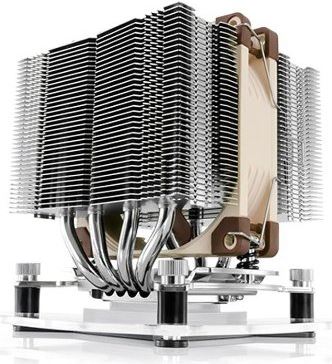 Design
Although this cooler has the same height and width as the radiator on the NH-D15, this one is much shorter. This allows it to fit comfortably in mAtx cases, and its reduced weight puts less strain on the mounting bracket.
The two compact radiators are used to disperse the heat generated by four separate heat pipes. Noctua's iconic brown and tan fan is sandwiched between the cool coolers, pulling air through one radiator and pushing it out the other. Personally, we really like the look of the squared off radiators, so we were happy to see them displayed prominently in your case.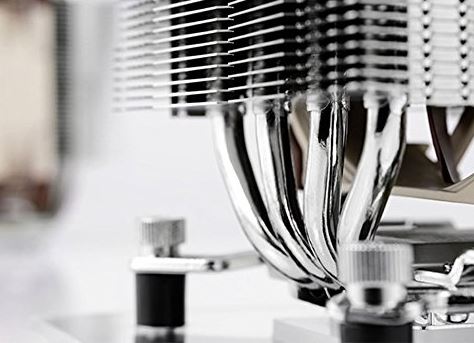 Technology
When building this cooler, Noctua put a lot of time into considering the direction of air flow in your case. Most coolers are blowing the hot air directly toward your motherboard. This creates a pocket of hot air around the CPU, and can significantly reduce cooling performance. Since the air is blowing perpendicular to the board, this cooler is most effective when you have an exhaust fan somewhere in the airflow's path. This will either be the top of the case for a tower system, or the side of the case for a rackmount system. The two metal brackets that hold the fan in place can be reversed, allowing you to change the airflow to suit the design of your case.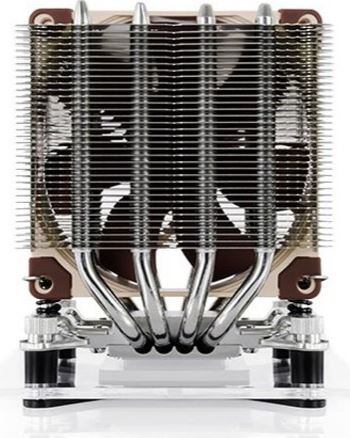 Performance
Considering that this one is half the price of the other two, we weren't expecting super impressive numbers. In the stock system, our CPU temperatures averaged out to 55 degrees. When overclocked, we were hitting top temperatures of 74 degrees. While this is the upper range of what we'd consider acceptable, this is still very close in performance to the others. For a 50% drop in price, we're seeing a 10% drop in cooling capacity. You'll have to do the math if this works out for you, but in our eyes this is pretty good value.
Which CPU Air Cooler is Right for Me?
The one thing that all of these CPU coolers have in common is that they provide you with a drastic improvement in performance when compared to the stock air coolers. The one that you choose for yourself will depend heavily on the size of your case and the performance of your computer.
Most cases on the market are designed for either water cooling or air cooling. It's rare to see a case that will be effective with both. If you're planning a heavy overclock, you should definitely consider the Noctua NH-D15. This cooler performs best under load, and is incredibly effective at dispersing very large thermal loads.
If you're running your computer stock, or under a mild overclock, the Cooler Master MasterAir Maker 8 is the prime candidate for your cooling needs. This particular model uses a high-end airflow direction system that will drastically reduce your temperatures under load, allowing you to keep your base clocks high and your frame rates higher.
If you're looking to save a few dollars, you can drastically cut your bills without cutting your performance. We found that moving to the Noctua Dual Tower Cooler only resulted in a mild performance drop, making it the best bang for your buck. As an added bonus, it's compact size allows it to be used in rack mount or mAtx cases.
If you've looked through all of these coolers and haven't found one that meets your needs, it's possible that air cooling isn't for you. You might be surprised to learn how affordable water cooling can be. We've recently compiled a list of the best liquid CPU coolers, so we'd highly recommend that you check it out before making up your mind.
Please consider sharing:
Note: At no extra cost to you, we may earn a commission for purchases using our links. Learn more.