Whenever we build computers, picking the case is the part we look forward to the most. Visually, the case represents your entire build. You want something that looks classy and powerful, but not gaudy or over-the-top. For many people, case selection can be a very personal choice.
But computer cases aren't just nice looking accessories for your PC. They actually perform several key functions that are essential to your PC's health. Cooling is among the most important. If your case can't effectively exhaust internal heat, then your performance will suffer. You also need a case that is easy to assemble, and has mounting points for all of the hardware you'll ever need in your system.
Every year, more and more companies are manufacturing enthusiast grade mATX sized motherboards. Although they're a little smaller than standard boards, they're often just as powerful. Going Micro ATX can save you a bit of money in the long run, but the compact size makes cooling even more important. With so many mediocre Micro ATX cases on the market, we've gone and found the best ones for you.
Corsair Obsidian Series 350D
An industry leader in computer cases, Corsair has something for almost every possible application. The Obsidian series cases are directed at enthusiasts, and have all the features you need for your high end gaming build.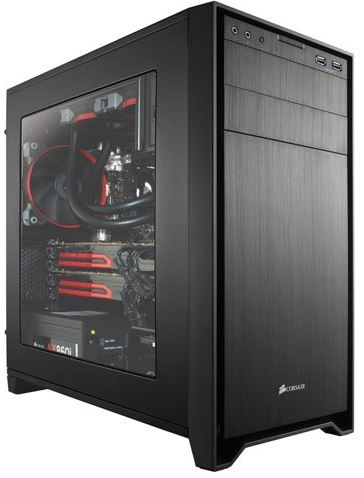 Exterior Design
If you're looking for a refined, elegant case that doesn't skimp on features, the Corsair Obsidian Series 350D will probably catch your eye. Featuring a premium brushed aluminum face, this case leaks class from every corner. Despite the somewhat minimalist look, it's still got plenty of great features. You've got two USB 3.0 ports on the front, audio ports, and a button that can be used to change the cooling mode. Corsair cases are often purchased by enthusiasts who stuff them with the latest and greatest hardware, so they've given you an acrylic window on the side that lets you show off your internals.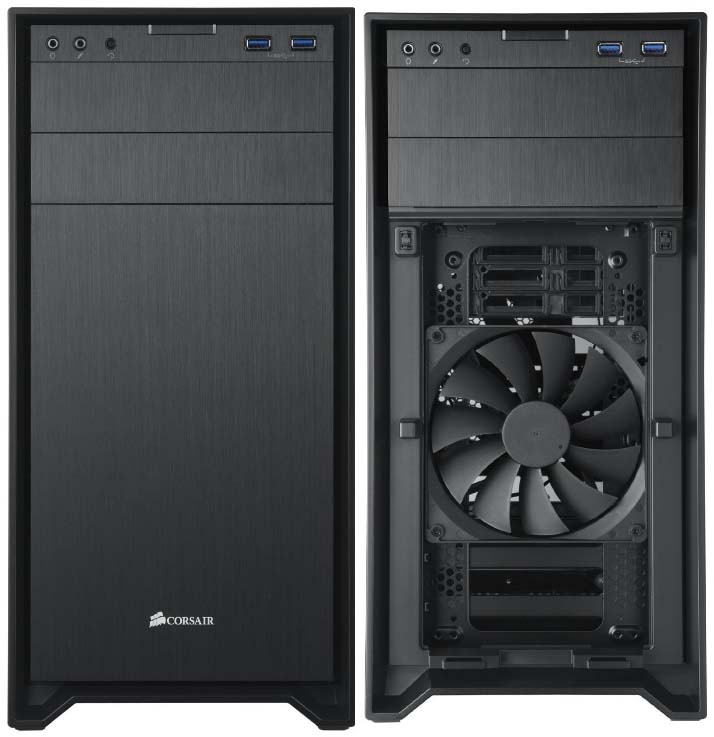 Assembly
Since space is at a premium with Micro ATX cases, you'll want one that's easy to put together. Nobody wants to find themselves struggling to fit a square peg into a round hole, so Corsair thought the entire process through to ensure that your build day goes swimmingly. Inside, you've got a total of four side-facing mounts for your internal drives. Two 2.5" mounts for SSDs and two 3.5" mounts for HDDs. If you still use optical drives, you've also got two front-facing 5.25" mounts for those as well.
The case is just a little larger than many other mATX boards, but they used this space wisely. You've got a few extra inches to fit all your components inside, something that enthusiasts with high end hardware will love. This makes it the perfect system for gamers who want to run two graphics cards in SLI, or media buffs who want to use multiple storage devices.
Overall, we found that the Corsair 350D was incredibly easy to assemble. Much more so than any other mATX case we've used.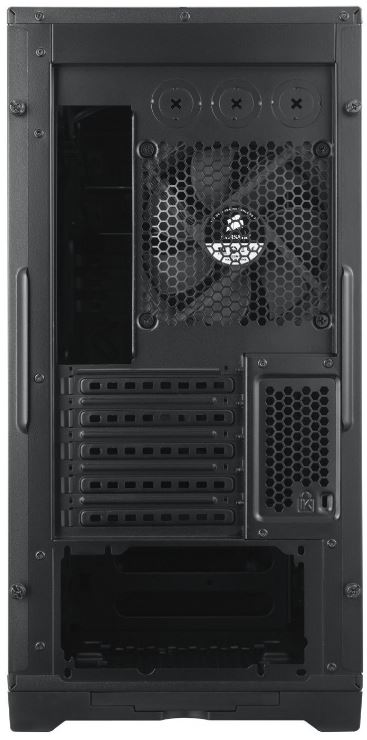 Noise and Cooling
Many enthusiasts like to push their hardware to the limit, and liquid cooling is the only way to do so. The 350D case was specifically designed with liquid cooling in mind, making it the first choice for many. There is a mounting space designed specifically for a large 240mm radiator. There is a fan port right next to it, so you'll be able to improve the efficiency of your liquid cooling system. Many design elements, such as the placement of the drive cages, are done intentionally in order to make it easier for you to route your cooling system, saving you a lot of headache during installation.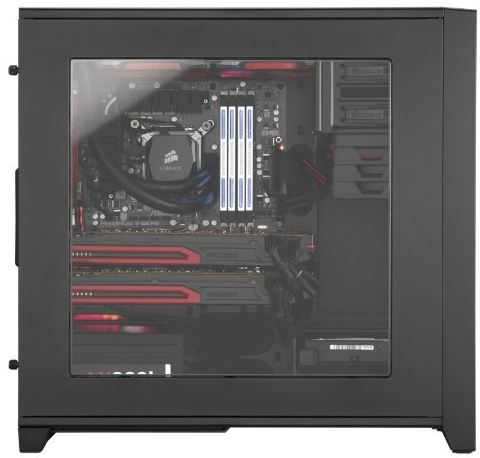 There are two fans installed in the case: a 140mm fan in the front, and a 120mm fan in the rear. If you're not using water cooling, they do a decent job of keeping things cool. Most of the airflow is directed over the GPU, which is great for gamers.
The fans are not particularly high output, which makes the case incredibly quiet. It's not silent, but as close as we've seen with an mATX case.
Corsair Carbide Series SPEC-M2
Although we've already shown you one capable Corsair branded case, we just couldn't make a list of the best Micro ATX cases without covering the Carbide series. Similar cases have been on the market for a while, but this most recent version has some important changes that will certainly impact your performance.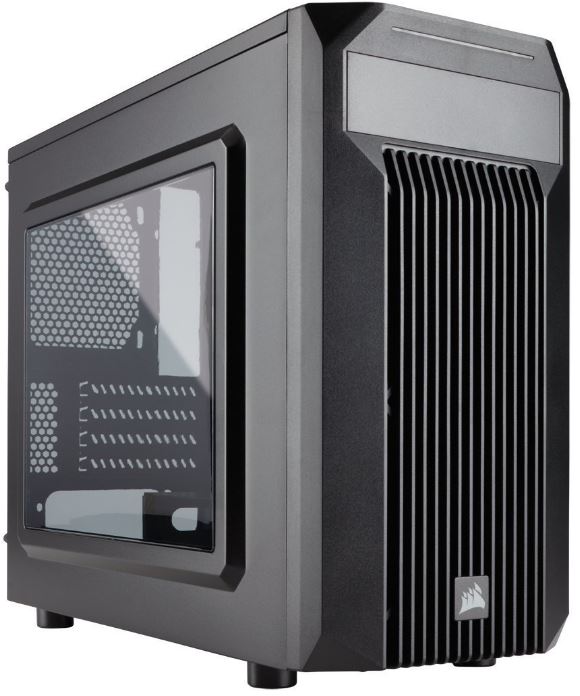 Exterior Design
If you're looking for a modern, elegant case to sit on your desk while you fill out Excel spreadsheets, look away. Just by looking at the front, you can tell that the Corsair Carbide Series SPEC-M2 means business. The massive front grille is both imposing and functional, serving as a major part of the cooling system. The matte black design makes the case look almost utilitarian. You wouldn't have to see inside to know that the computer was a powerhouse. But if you'd like to look anyway, the raise window on the side gives you the option.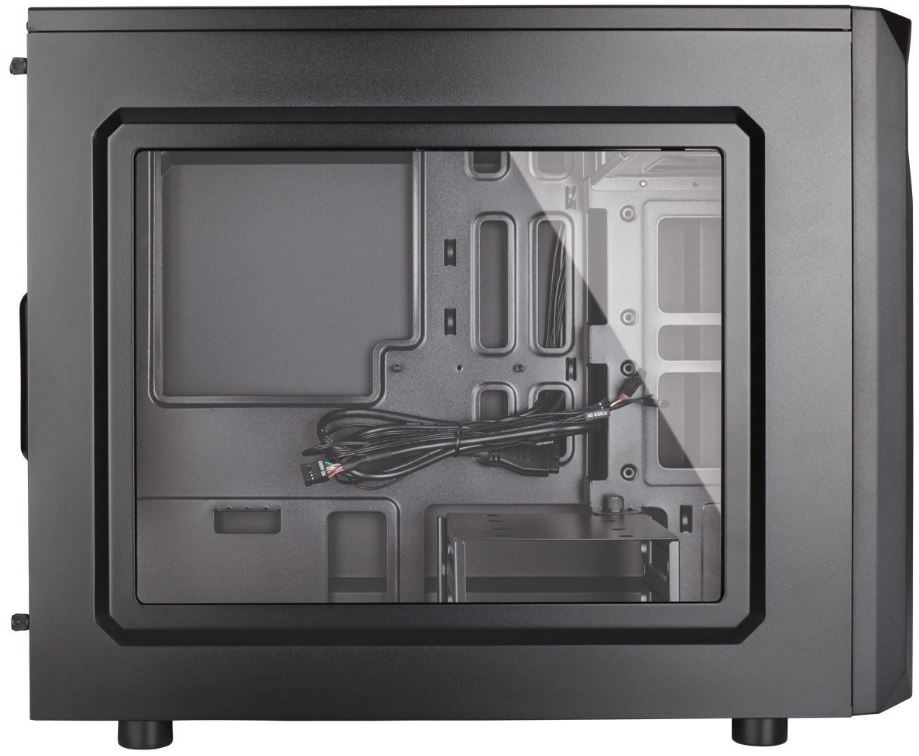 All of your ports are actually located on top of the case. You've got a single USB 3.0 port, a USB 2.0 port, 3.5mm headphone and microphone jacks, the power button, and the reset button. If you keep your case on the floor, you'll be glad to have them tilted up this way. This will save you plenty of time feeling around trying to determine if your USB is facing the right way or not.
Assembly
As is usual for Corsair, the Carbide series case makes assembling your computer easy. Almost the entire process can be done without tools, thanks to the handy features in this case. Drives click into place in the plastic mounts, and all of your components can be installed using the included thumb screws. Although this is still a compact case, we found installation to feel luxurious and roomy, primarily due to the smart internal layout.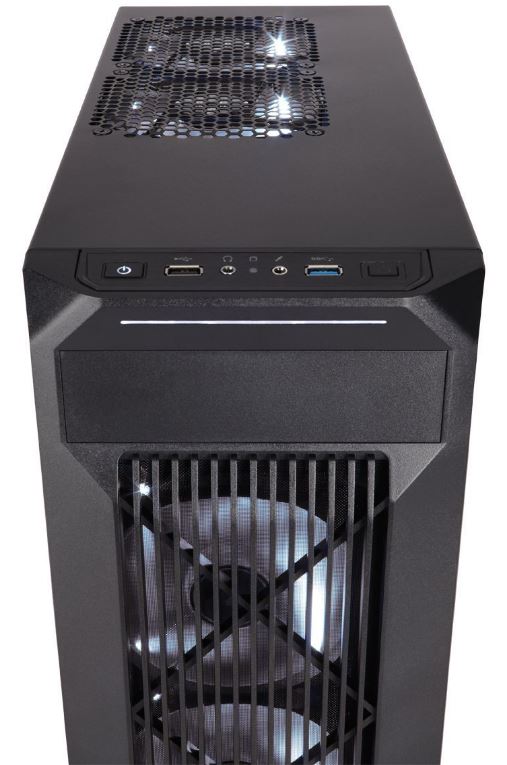 The case can fit a total of four hard drives. It doesn't matter if you're using 2.5" SSDs or 3.5" HDDs. The included spacers mean that the mounting points are universal, and easy to use.
Cable management is an important part of your build, and the Carbide makes this easy. The motherboard is actually mounted a few inches above the side of the case, so you can run all of your cables behind the panel. There are plenty of ports on the motherboard tray where you can route the cables back up, so everything can be kept nice and tidy.
Corsair has included some handy dust filters with the case. These go in front of your fan, and prevent them from sucking up dust. Dust can harm the performance of your PC by clogging up the cooling system, so these filters will likely keep you from having to open the case again. At least, until it's time for an upgrade.
Noise and Cooling
The air flow in this case is intelligently routed to keep a consistent gust of wind flowing over your GPU and CPU. As far as air cooling systems go, this is the best performing mATX case you can buy. Believe it or not, the impressive cooling is accomplished using only a single 120mm fan. But the air flow is planned so well that it just works right out of the box.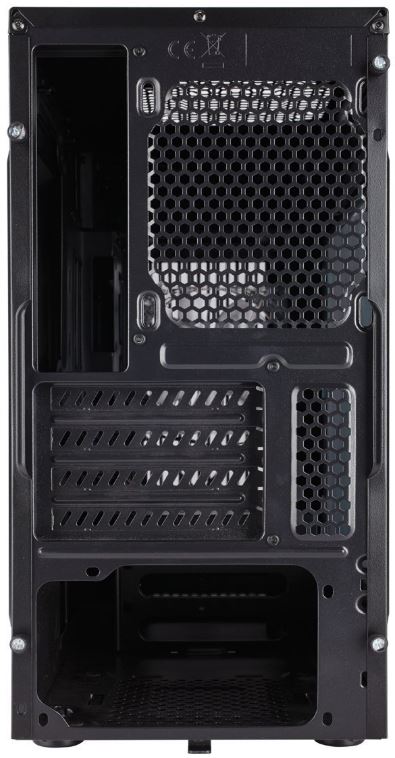 If you're an enthusiast, then "stock" cooling probably doesn't work for you. Not only does the raised window allow for larger CPU coolers, but the case has mounting points for 5 additional 120mm fans. This means that no matter how hot your system gets; this case can be upgraded to keep it cool.
What is it about case design that causes some to be noisy, and some to be quiet? The primary factor is the number of obstructions blocking the air flow. Trying to pump air through a tiny billeted vent is guaranteed to make some extra noise. But this Carbide case is designed to be as quiet as possible. The large front grill and oversized holes at the other mounting points make this case whisper quiet. Because it's so unobtrusive, it's a great choice even if you are using it in your bedroom.
Rosewill Micro-ATX Mini Tower Computer Case
Known to some as the king of affordability, Rosewill makes cases for people that don't need any extra frills. If you're the type that wants a simple case that works well, Rosewill is likely your first choice.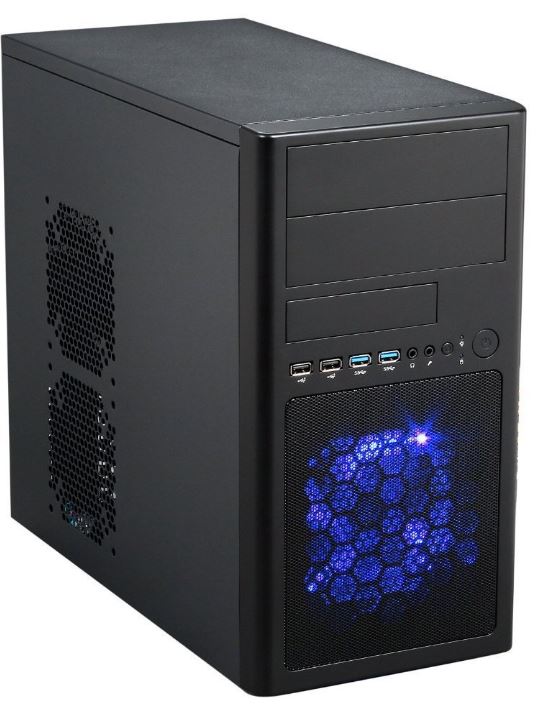 Design
When it comes to fashion statements, Rosewill doesn't have much to say. But what they do have is an intelligently laid out case that is easy to use. On the front of the Rosewill Micro-ATX Mini Tower Computer Case, you've got two 5.25" bays for optical drives. Although the 3.5" bays disappeared along with floppy drives, there are still some liquid cooling systems or hot-swappable hard drives that use them, so it's nice that there is one included on this case. You've also got a plethora of ports on the front of the case: two USB 2.0s, two USB 3.0s, headphones, microphones, and a button that can be set to control either your cooling system or your lighting.
Beyond the functional elements, there is nothing particularly striking about the case. Let's see if the inside is as functional as the outside.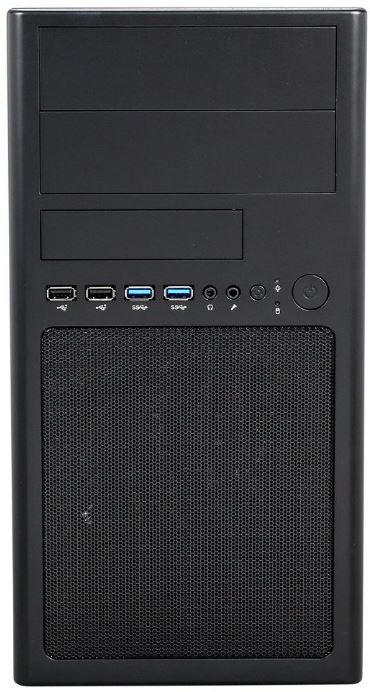 Assembly
This is one of the most compact mATX cases on the market, so that can make assembly a little trickier. For example, the 5.25" drive bays extend out over the motherboard, so you have to tilt it at an angle to get it in place. Some of the screws are also in awkward positions, creating a few awkward moments during assembly. But once you build your computer, it's done. So really, this is only a matter of minutes out of the entire life-cycle of your computer. If you aren't going to be changing components on a weekly basis, the tricky assembly is probably a fair trade off for the smaller size.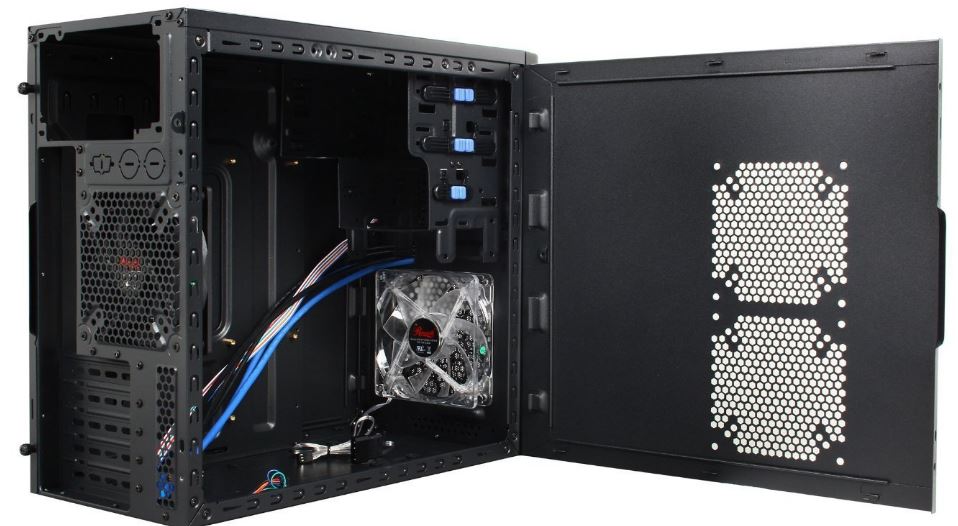 Noise and Cooling
Considering its incredibly affordable price, we didn't expect a whole lot from the Rosewill. But what we found was that cooling performance was exceptional right out of the box. There are two fans included. One to push air over the CPU, and another to pull it past the GPU. This means that, at least in terms of cooling, the case can keep up with models that are significantly more expensive.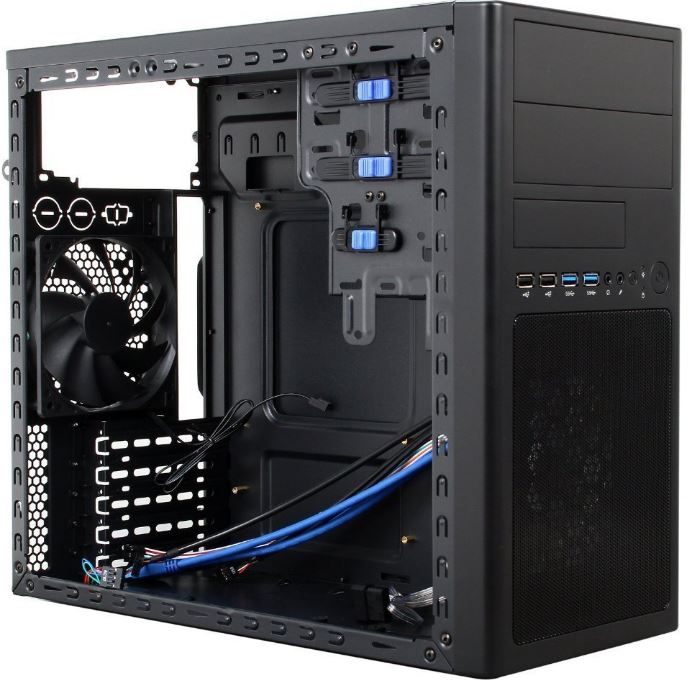 The only downfall to this impressive performance is the noise. These fans move a large volume of air, so they are a little louder than what we've seen. There are three solutions to this. First, if you use a higher end motherboard with fan voltage control, they'll run at a lower speed most of the time. Second, you'll be able to replace them, if you like, with any cheap 120mm fan. Finally, you don't have to plug the rear one in unless you're running some seriously powerful hardware, which will also cut down on noise.
Which is The Best Micro ATX Case for Me?
If you really care about the looks of your machine, any one of these three cases would perfectly. The differences are relatively minor in terms of real world performance. But if you're the type that wants to push your computer to the limit, then your usage should be considered.
For water cooled computers, the Corsair Obsidian Series 350D is the obvious choice. It's designed just for that purpose, taking the stressful job of installing water cooling and turning it into a simple one.
For air cooled computers, the Corsair Carbide SPEC-M2 would be a better choice. The case is designed to not obstruct your cooling in any way, giving you superior performance to anything on the market.
If you're not planning to overclock your computer, and you don't really have any interest in the looks, then you might as well save yourself a few bucks with the Rosewill case. It performs just as well as the others, for a fraction of the price.