If you want to build a great PC in a mid-sized form factor, Micro ATX motherboards are the way to go. Smaller than their larger ATX counterparts, they can offer most of the same benefits. And while they're not as small as Mini ITX boards, they have extra PCIe slots and other connectivity. This means that Micro ATX boards can be used with larger GPUs, sound cards, capture cards, and other essentials. If you're just doing office work, you can get away with a Mini ITX machine and enjoy the itty-bitty size. But if you're gaming or doing content creation, you're going to need a motherboard with a little more oomph.
A motherboard is the heart of a PC build, simply because it's not terribly upgradeable. When you get to the point where you need a new motherboard, you need to buy or build a new PC. For home builders everywhere, choosing a good case is almost as important as getting the right motherboard. Yes, you can technically upgrade your case, but it means disassembling and reassembling your entire PC. Meanwhile, a case without enough vents, or with poor cable management, can limit your other upgrade options. That's why it's so important to get things right the first time, and choose the best case for your needs.
Note: At no extra cost to you, we may earn a commission for purchases using our links. Learn more.
To help you find the right one, we're about to review three of the best Micro ATX computer cases available. We'll start with the Cooler Master MasterBox Q300L. This is an affordable case, but still comes with some slick features like a separate cable management channel. Next, we'll review the Thermaltake S100. This case is a bit larger, but has space for four drive bays, as well as sporting a tempered glass side panel. Finally, we'll look at the MUSETEX MESH. It also has glass and four bays, but also comes with four RGB fans, and support for liquid cooling. Which one is the best of the bunch? Let's dig a little deeper, and see how they compare.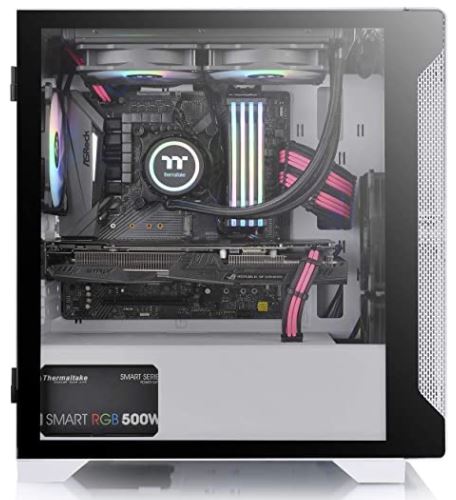 What to Look For in a Micro ATX PC Case
Perhaps the most important feature to look for in a Micro ATX PC case — or any PC case — is drive space. Modern drives come in 2.5-inch and 3.5-inch variants, as well as 5.25-inch optical drives. HDDs are normally of the 3.5-inch variety, while SATA drives can come in either form factor. In Micro ATX cases, you'll typically see one or 2.5-inch drive bays, and one or two 3.5-inch bays. It's important to note that many Micro ATX cases can still accept a 5-inch optical drive. However, it will need to be a special, low-height drive designed for this purpose. It will need to install vertically, and it will almost certainly block at least one 3.5-inch drive bay.
Good cable management is another plus. Gone are the days when you had to find a spare rail in your case to zip-tie your cables to. Many modern cases have routing channels or other convenient ways to run your cables. You may even have a separate power supply compartment where cable slack can be stowed away out of sight.
I/O panel location and connectivity is another important feature, and one that's often overlooked. But the location of your I/O panel affects where you can position your PC. For example, if it's on one side of the tower, the tower can't be laid down on that side. Similarly, USB 2.0 ports are slower than 3.0 ports, which in turn have different capabilities than USB Type-C. You may even have a button on the front for an RGB controller. This might all sound trivial, since your motherboard will have a bunch of ports of its own. But when you want to plug in your smartphone, do you really want to have to reach around behind your PC?
Many cases come with a fan or three, which is all well and good. But more important than fans is the amount of cooling your case is capable of. For instance, many cases have only one or two built-in vents. Stack as many fans as you like inside, there's only so much air that can get sucked through. It's better to look for a case with lots of vents on more than two sides. This allows for enough airflow to cool even the most powerful rigs. If the case can support liquid cooling, so much the better.
Tempered glass panels are a great cosmetic touch, but it's important to make sure it's actual tempered glass. Cheaper glass is too easy to break, and can become brittle when exposed to heat. Keep in mind that a tempered glass panel is going to cost some extra money. But if you want to install a bunch of LEDs and other cosmetic features, you're going to want one. And speaking of lighting, an RGB controller is always a good added value. If nothing else, your controller will at least match your case.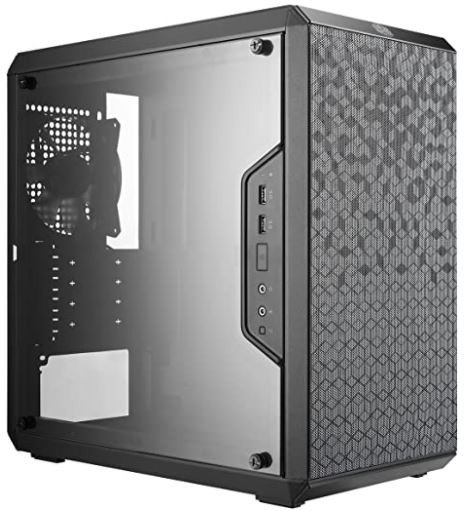 Cooler Master MasterBox Q300L
To fans of computer technology, Cooler Master requires no introduction. They've been making parts for over a generation, supplying everything from fans to gaming mice. The MasterBox Q300L is a continuation of that same tradition of quality. It comes in two different patterns, which are different variants of grey-on-black. The housing itself is constructed from aluminum, although many trim pieces and corner panels are plastic. On one side, you'll find an acrylic panel. It's not quite as attractive as tempered glass, but it still looks pretty sharp. And considering the price point, we were excited to see any kind of transparency.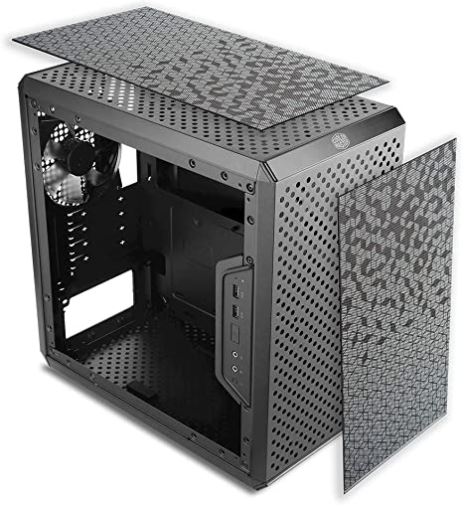 The Q300L's most unique feature is its I/O panel, which is mounted in a removable frame. This frame can be repositioned on the left or the right, with controls on either side or at the front. As a result, you can ensure that the two USB 3.0 ports are available in any position. Inside, there's room for three drives: one full-sized 3.5-inch drive, and a pair of 2.5-inch SSDs. Keep in mind that if you're using a full-sized HDD, you won't have space for an optical drive.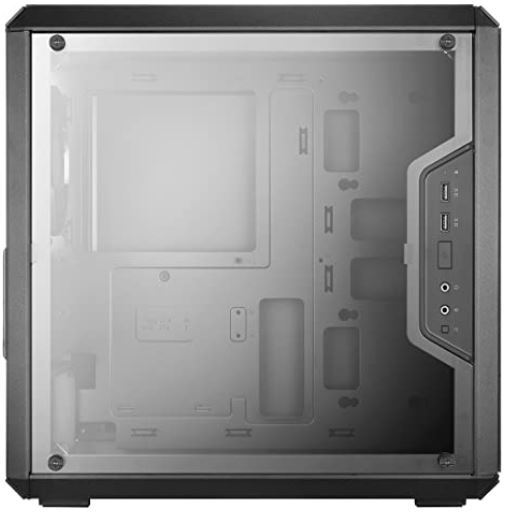 In the non-transparent side of the case, there are a variety of cutouts, with an air gap behind. This provides space for you to run all your cables. In all, the space is 28mm in width, just over an inch. That's enough to accommodate any ordinary connector, so you can keep the main housing free of cables. Further improving airflow are a set of magnetic vent filters. Keep them clean, and you won't have to worry about a lot of dust buildup inside your machine.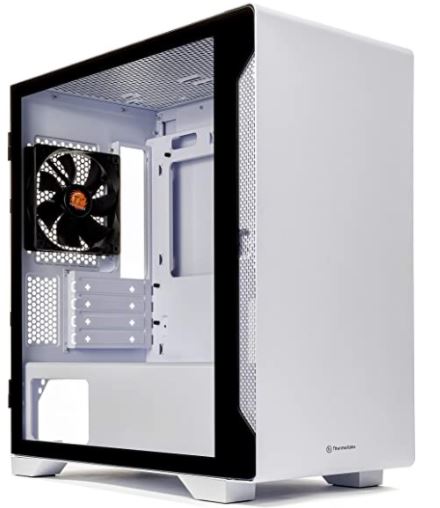 Thermaltake S100
Thermaltake is another manufacturer you may already be familiar with. We've reviewed their PWM fan controllers in the past, and we liked what we saw. The Thermaltake S100 is a Micro ATX case that's constructed entirely from aluminum, and comes in black or white. Both colors have a high-gloss finish, and look sharp when they're sitting on your desk.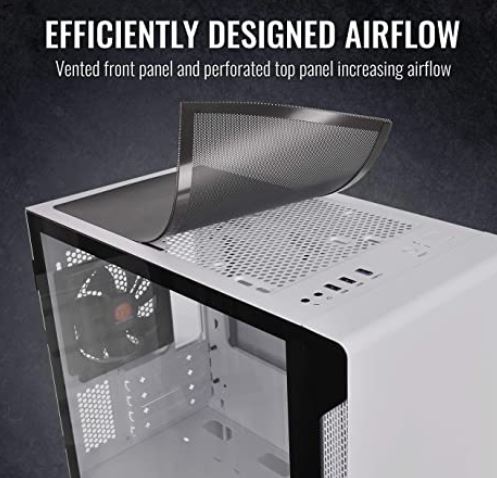 Like the Cooler Master, cable management is a key part of the design, but Thermaltake uses a different approach. Your power supply is mounted in a separate compartment in the bottom of the case. All the wires run down into that compartment, which houses your connectors as well as any slack. Zip tie the cables in place in the rest of the case, and your cable woes will be solved.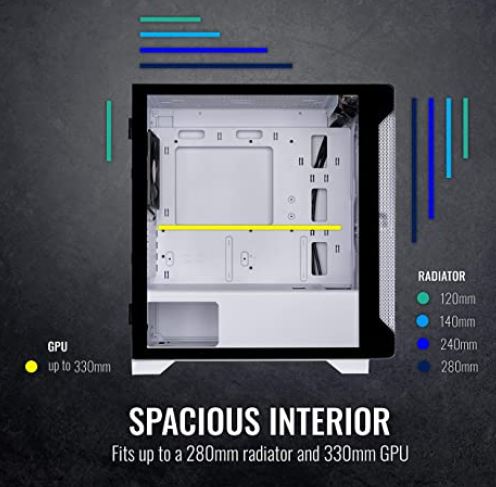 The upper half of the housing has enough space for a pair of 2.5-inch drives, and another pair of 3.5-inch drives. You can install two SSDs, an HDD, and an optical drive if you really want that much storage. There's actually an HDD bracket behind the motherboard tray, for better concealment and cooling. The I/O port is located on top of the housing, and includes a USB 3.0 port, as well as two USB 2.0 ports.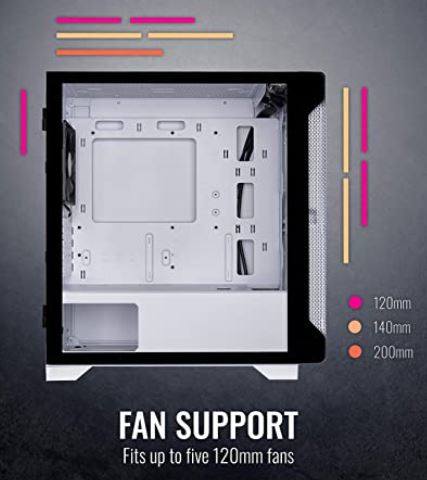 The S100 boasts a tempered glass side panel, which provides a crystal clear view of the machine's inner workings. It also comes with a single 120mm rear fan installed. That's one less part you'll need to scrounge up before you make your purchase. A pair of magnetic vent filters completes the package.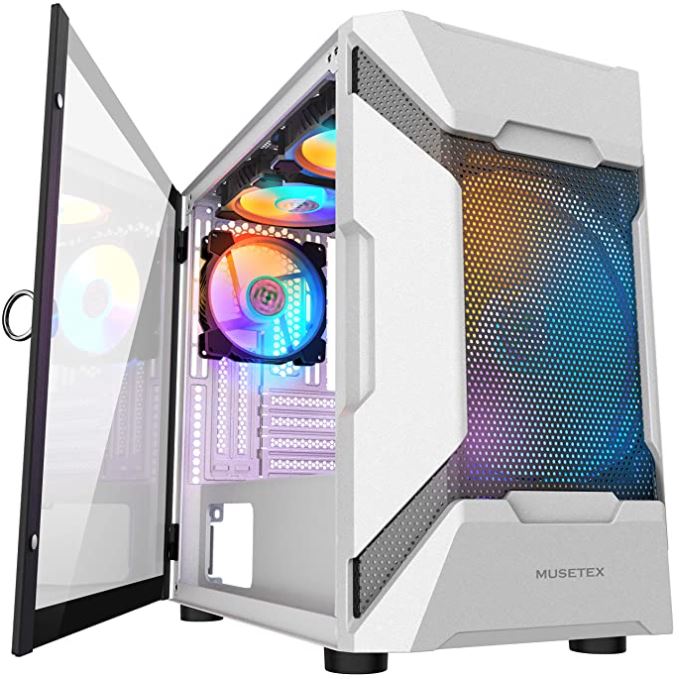 MUSETEX MESH
The MUSETEX MESH is the premium choice of our three options. While it comes at a steep price, there's a lot of added value that's well worth your while. For starters, you get not one, but four pre-installed ARGB fans. These include a rear fan and two top fans, all in 120mm, along with a huge 120mm front fan. These fans are cable-managed, and a small ARGB controller is included. They'll need to be plugged in and configured, but that's part of the excitement of the building process! In addition, the MESH is compatible with liquid cooling systems. So if you want to ditch air cooling altogether, you're well set up.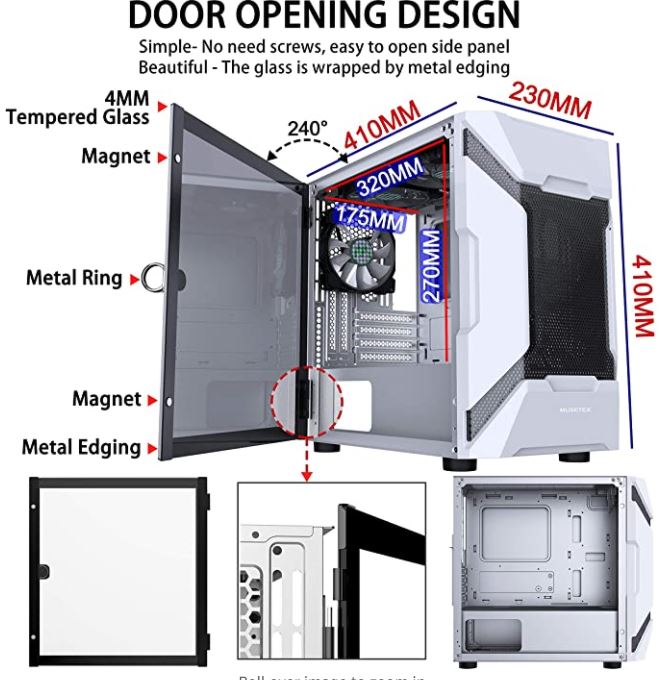 The MESH housing is available in black or white, and is partly plastic with primarily aluminum construction. It's also available without fans for a steep discount. The I/O panel is located on top, which is probably the only drawback to its design. That said, it has a pair of USB 3.0 ports, as well as a separate on/off button for the RGB lights. Like the S100, it has bays for four hard drives: two in 2.5-inch, and two in 3.5-inch. You can also install an optical drive in one of the larger slots if you so desire.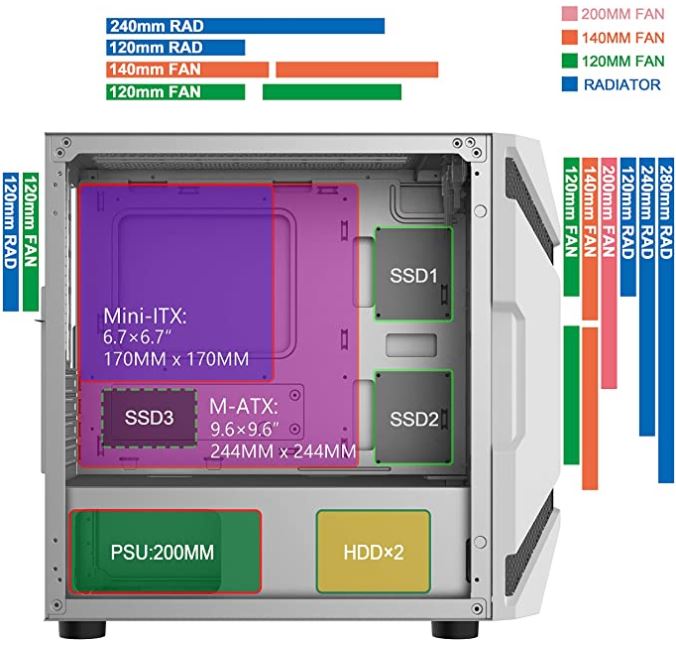 One side of the case is a 4mm tempered glass panel, which is reasonably thick. It gives a clear view of the inside, and lets you show off your rig to best effect. When your friends look inside, they won't see a bunch of messy cables. There are cable routing channels built into the housing, complete with velcro retaining straps.
Final Verdict
So, which Micro ATX case is the best of the bunch? As is often the case, it depends what you're looking for. If you're on a budget but still want a good case, the Cooler Master MasterBox Q300L is an excellent choice. The large cable space makes it easy to set up your PC and install all your parts. It also means there won't be a huge web of cables blocking your air flow. The repositionable I/O panel is also a nice touch, since the controls and plugs will always be available. That said, the acrylic side panel isn't as nice as tempered glass, and there's only one 3.5-inch drive bay.
The Thermaltake S100 is a good choice if you're looking for a solid mid-sized option. By keeping the PSU separate from the rest of the computer components, it helps prevent overheating. It also supports better cable management, since you can keep the slack and connectors stowed away. There's room in this case for four drives, including both a full-sized HDD and an optical drive. You also have a tempered glass side panel, and the fan is a nice added value. The only potential drawback is the top I/O panel, which could be awkward to access in some positions.
Last but not least, we reviewed the MUSETEX MESH. This case has space for four drives, as well as drive mounting available under the motherboard. There are cable management channels, just like the Cooler Master, so you can keep your wires out of sight. There's also a heavy-duty tempered glass side panel that allows for plenty of visibility. Like the S100, the top I/O panel is a minor drawback. That said, the included RGB fans are a great added value. Even considering the MESH's price, you're basically getting it for free if you factor in the cost of the fans. And if you just want a beefy case without the lighted fans, you can always pay less for the fanless variant.
Please consider sharing:
Note: At no extra cost to you, we may earn a commission for purchases using our links. Learn more.