Slow computers are incredibly frustrating, and there's really no debating that. Speeding up the performance of your system is crucial if you want fast load times, smooth gaming, excellent video/photo editing, or if you just love having the fastest computer possible.
Investing in high quality DDR4 RAM can increase your speeds ten-fold if you've neglected an upgrade for some time or if you're putting together a brand new custom build. By upgrading to DDR4, you'll be amazed by how much faster your system will run. However, it's very important that you only get the best memory for your money. We've put together this all-inclusive guide to finding the Best DDR4 Memory for 2018-2019. Let's start with a few basics about DDR4 and what it has to offer.
Which Motherboards Support DDR4?
Although the technology is still quite new, DDR4 has been gaining a wealth of popularity this year since it's capable of better power efficiency, more capacity, and higher mega transactions for an overall improved computing experience. Whether you're building a new system or simply upgrading an existing one, it's important to know that both X99 Motherboards and Skylake Motherboards are the only ones that can utilize DDR4's full potential.
Which Brands are Worth Considering?
In the past few months, the prices of DDR4 continue to become more reasonable, making the upgrade a more justifiable option for those looking for value. When it comes to quality memory, a four brands come to mind – Corsair, Kingston, Crucial, and G.Skill. Each manufacturer now offers quality DDR4 RAM that's built with top of the line performance in mind.
Corsair Vengeance LPX Series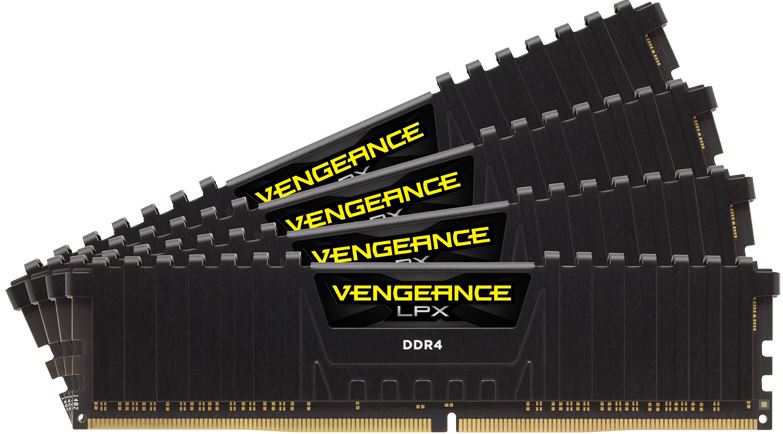 Designed specifically for high-performance overclocking, the Corsair Vengeance LPX DDR4 RAM is a popular option that's very reasonably priced. Available in a wide variety of capacities and speeds, it looks just as great as it performs. As one of the top 100 RAM kits on Amazon, you can select from either 2400 MHz, 2666 MHz, 3000 MHz, or 3200 MHz.
Cooling
With a unique heatspreader that's made out of solid, 100% pure aluminum, heat won't be anything to worry about with Corsair's cooling design. The high performance eight-layer PCB assists to manage heat and provides an ample amount of cooling capability for those who want to push it to the limit. Overclocking is handled just fine because the effective heatspreader performs without any flaws.
XMP 2.0 Support
Thanks to XMP 2.0 support, users can perform automatic overclocking without any configuration. Although you're still welcome to manually overclock your RAM, XMP 2.0 can be turned on to adjust to the fastest speeds without pushing it over the limit – all automatically. This way, there isn't ever any question of stability or reliability.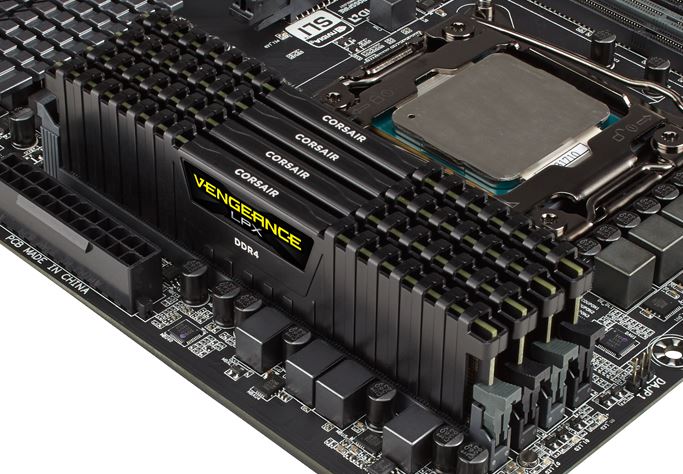 Low Profile Design
The Corsair Vengeance LPX Series offers a slimmed down, low-profile design that works great in all kinds of cases. Although the first mini-ITX and micro-ATX DDR4 supported motherboards aren't even out yet, the slim profile of these modules assures that there will be plenty of space for tight situations.
Rigorously Tested
As with any memory that Corsair manufacturers, they put it through a series of advanced and thorough tests to assure the best quality control. You can rest assured knowing that they've already tested it with virtually every x99 motherboard that's currently available.
Kingston DDR4 HyperX FURY Black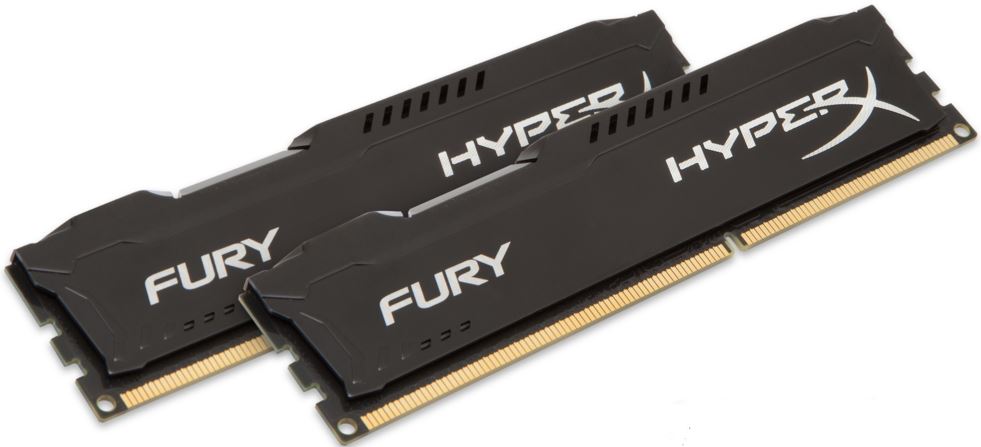 Kingston is well known for their top of the line memory, the HyperX FURY Black DDR4 Memory provides a substantial upgrade with automatic overclocking right out of the box. It's easy to install with total plug and play functionality. When paired with Intel's 100 Series and Haswell-e X99 chipsets, your gaming, video editing, 3D rendering, and AI processing can be brought to an entirely new level.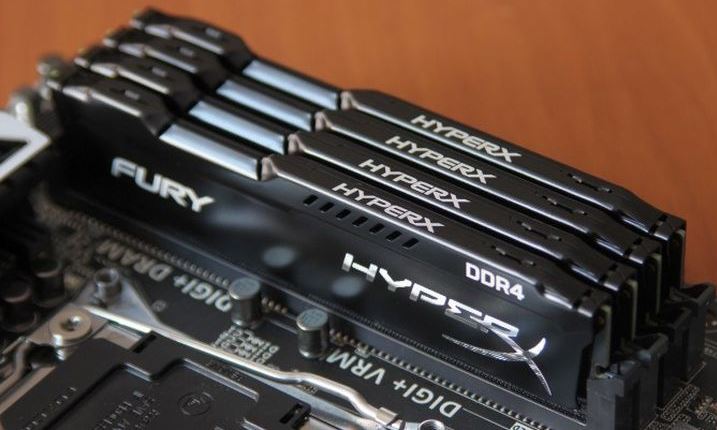 Designed with a low profile and sleek look, both the PCB and signature FURY heatsink appear in a fantastic black color. From the factory, this memory is 100% guaranteed for life. The unlimited lifetime warranty is paired with fantastic customer support that Kingston is known for.
Priced very reasonably, Kingston HyperX FURY is the perfect combination of overall value and leading performance. Plus, DDR4 uses less power than the older DDR3 version, which will in-turn create less heat and give it an added boost of reliability. In fact, each stick draws just 1.2 volts.
Corsair DOMINATOR Platinum Series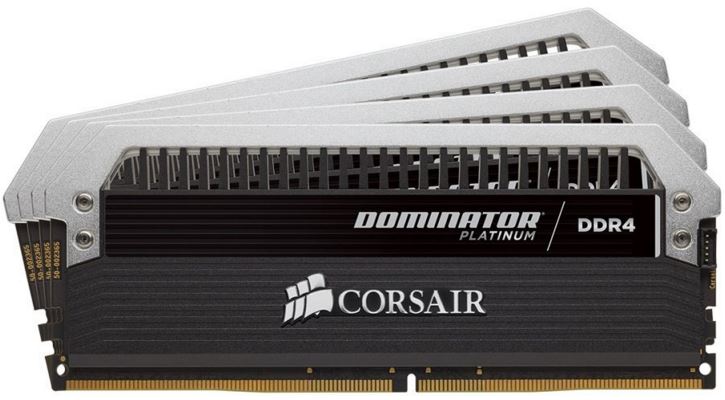 The Corsair DOMINATOR DDR4 Platinum Series is designed specifically for top of the line Skylake and x99 custom builds. For reliable performance, it has DHX cooling that does a fantastic job keeping the heat dissipated at all times. It's built with hand-screened ICs and each module undergoes a series of performance standards testing before it leaves the factory. Additionally, the built-in XMP 2.0 support offers automatic overclocking for those who want to push their system to the limit.
XMP 2.0 Support
XMP 2.0 Support offers automatic clocking right out of the box, without any troubles. When you plug it into your motherboard and boot up your computer, it'll automatically adjust itself to the fastest speeds that your system can handle. You're assured performance that's amazing with the stability and reliability you need for years to come.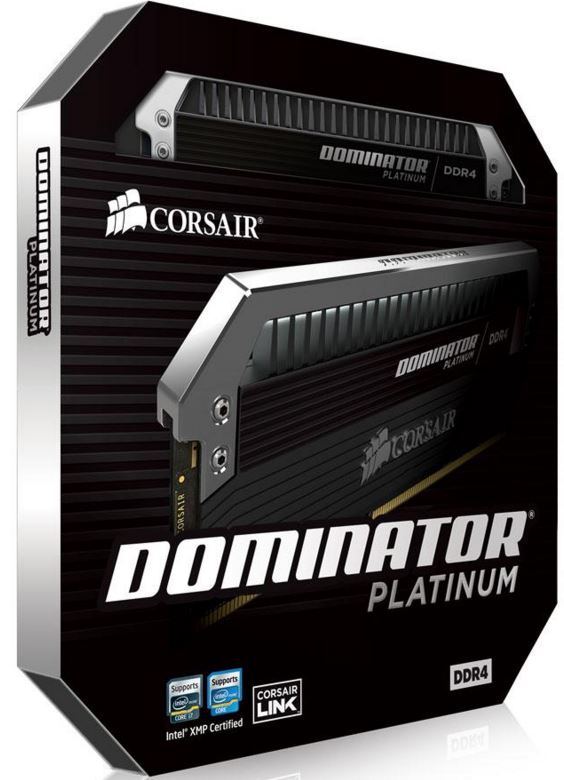 Platinum LED Fan Available Separately
Corsair's Dominator Series are fully comptaible with their very own "Link System" for in-depth temperature monitoring. Additionally, you can opt to purchase a variety of different LED Light Bars with any of the kits that Corsair sells separately. It gives an added customized look with a beautiful light glow inside your case. Perfect for cases that have a window to the interior.
Compatibility Testing
The Corsair Dominator Platinum Series RAM has been rigorously tested across a massive range of x99 Series motherboards to make sure it's fully compatible. During the testing process, they look carefully into the performance and compatibility. Ideal for world class, top of the line builds, there aren't many manufacturers who perform as thorough of tests like Corsair does.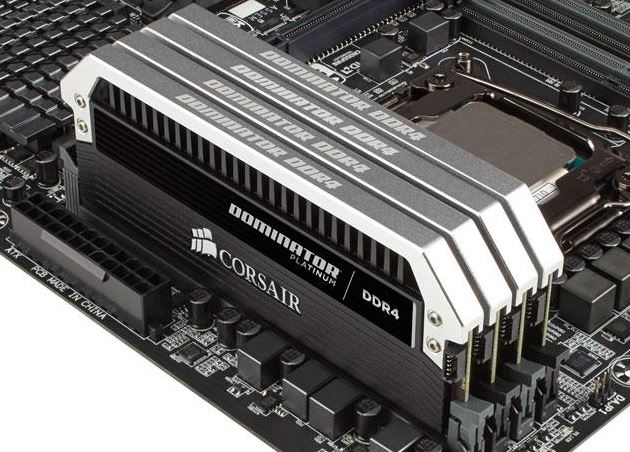 Reliability and Performance
If you're looking for true reliability and performance, the Corsair Dominator Platinum Series memory for DDR4 builds is a worthy consideration There's a real reason why the most professional gamers trust Corsair for their top of the line, high-performance memory. Regardless of what kind of user you are, if you're building your very own dream machine, the Dominator Series is hard to pass up.
G.Skill Ripjaws V Series

Available in a wide range of different capacities and configurations, the G.Skill Ripjaws V Series is one of the latest DDR4 releases that comes in great style. Available in either red or black, it has a sleek and sexy style to match it's incredibly fast capabilities. It comes in 4GB, 8GB, and 16GB modules with speeds ranging from 2133 MHz all of the way up to 3200 MHz.
Cooling
At first glance you'll notice it's appearance. The heat spreader is a new design that hasn't been seen before, but we're impressed with it. Over time, it seems to do very well with properly dissipating heat while offering a unique flare of style to your custom build.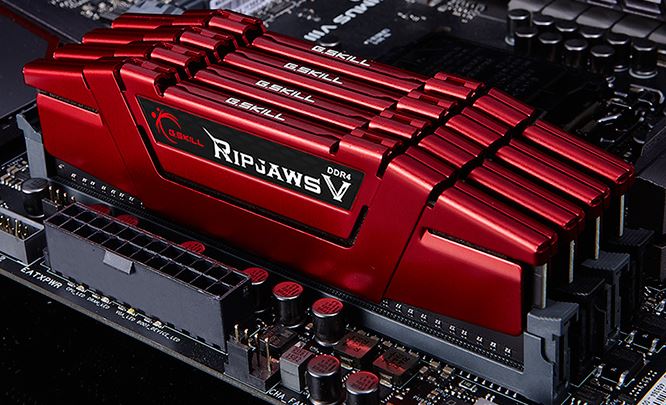 Chips
Rather than using generic chips, G.Skill opted to use only the finest hand-selected Samsung IC memory chips that offer the best performance in every module. With top of the line Samsung chips, you're assured the best stability and smoothest performance for a variety of high-end applications.
XMP 2.0 Ready
As with most DDR4 RAM on the market, the G.Skill Ripjaws V Series is fully compatible with XMP 2.0 to offer careful and precise tuning. All of the fine tuning and adjustments can be made through the BIOS within seconds.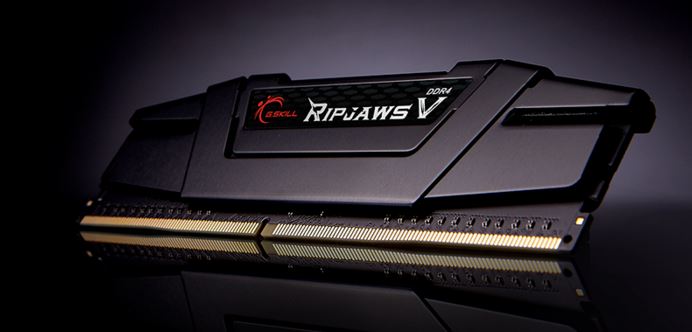 Quality Tested
G.Skill makes sure that no memory module leaves the factory before undergoing a series of rigorous tests. With a variety of different motherboard manufacturers and software combinations, the Ripjaw V Series DDR4 Memory is thoroughly tested in a range of scenarios for the best stability, compatibility, and overall performance. This assures that each and every module is given a second look rather than blindly shipped away to consumers.
Crucial Ballistix Sport Series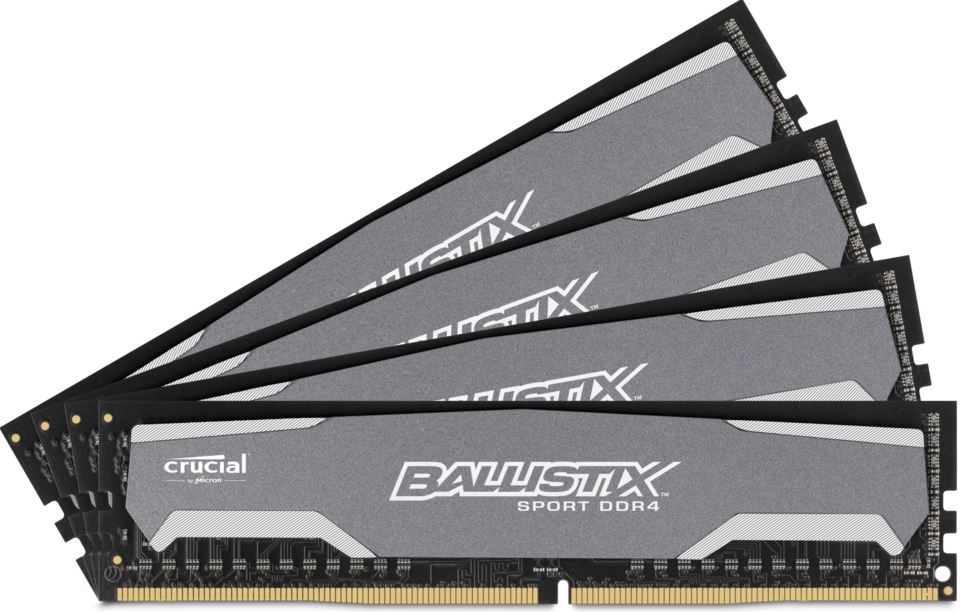 Ideal for those who want unmatched quality without any comprimises, the Crucial Ballistix Sport Series offers a generous amount of value. Priced at just around $5 per gig, it offers one of the most inexpensive and budget-friendly DDR4 upgrades for the year. Available in a wide range of capacities, it delivers speeds up to 2400 MHz while giving users the ability to overclock without any setbacks. Crucial is a trust name when it comes to value – their Ballistix Sport DDR4 series is a worthy consideration in our opinion.
Micron Quality
Crucial has been around for over 35 year, and in that time they've gained a well-earned reputation for their quality. As a brand of the Micron corporation, Crucial memory is designed specifically to give a higher rate of performance over standard or generic brands.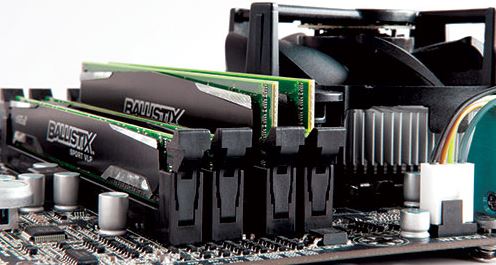 Lifetime Warranty
Each memory kit comes included with Crucial's very own and impressive limited lifetime warranty. With any computer part or accessory, a life-long warranty like this is incredibly nice to have if you plan on using your memory for years to come.
Automatic Setup
Regardless of whether you're upgrading an existing system or building a brand new one, Crucial incorporated easy plug and play installation that works just fine right out of the box. There isn't any need to go into your BIOS and configure your new memory, it's plug and play to offer the easiest upgrade possible.
Final Thoughts
Building a fast, top of the line system with DDR4 is your best bet on achieving the best possible performance. Whether you're a hardcore gamer, a graphic designer, video editor, or rendering in 3D or virtual reality, this newest standard of memory has the speeds to take your computer to the next level.
Concluding from our research, we've gone over the best DDR4 RAM upgrades for 2016-2017 and have offered both top of the line choices and budget-friendly options. Before you purchase memory, make sure you look into our specific recommendations from Kingston, Corsair, G.Skill, and Crucial.
If you need any further assistance on choosing which is the right choice, let us know and we'll be happy to help you in your decision.
Meet Derek, "TechGuru," a 34-year-old technology enthusiast with a deep passion for tech innovations. With extensive experience, he specializes in gaming hardware and software, and has expertise in gadgets, custom PCs, and audio.
Besides writing about tech and reviewing new products, Derek enjoys traveling, hiking, and photography. Committed to keeping up with the latest industry trends, he aims to guide readers in making informed tech decisions.