If you're looking to build an elite gaming computer with an Intel Extreme processor, you'll need a super-fast, reliable, and well-built motherboard. Utilizing the latest Intel X99 Chipset with the Socket 2011-v3, you're assured the best speeds and highest performance that the latest technology can deliver.
We've scoured the market and determined the best X99 Motherboards for 2017-2018 from our two favorite manufacturers – Asus and MSI. Each of the ones we've chosen would make a wise investment if you don't want to compromise with slow or under-powered performance.
ASUS TUF SABERTOOTH X99 Motherboard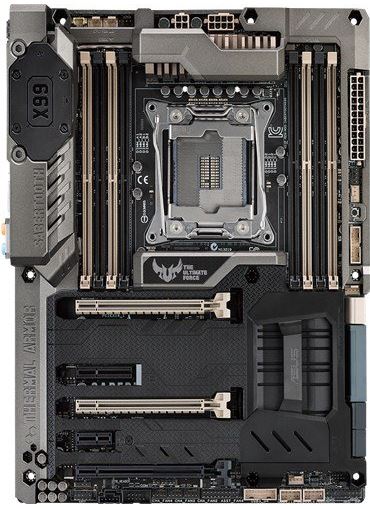 Specially designed for speed, reliability and stability, the Asus TUF Sabertooth X99 Motherboard is packed full of high-end features that excel with gaming and overclocking.
Built with Asus's very own patent-pending socket design that pushes DDR4 to reach higher frequencies than ever before, thus lowering latency and load times. This socket is perfect for those who need overclocking capabilities, plus it's compatible with all Haswell-E CPUs for stellar performance.
The TUF Detective feature gives you all the essential system information right away. Using your smartphone and the free companion app, you can connect your phone with a USB cable right into the USB port on the mobo. It'll give you instant insight by giving you POST codes, diagnostic information, and essential data.
Looks great, perfect for those who want the best of the best. Built with Thermal Armor for optimal cooling and airflow. There are integrated heat pipes that constantly work to dissipate heat from the most important parts of your computer like the CPU. This alone has the ability to lower overall temperature by 50 degrees Fahrenheit.
Expandable up to 64 GB of DDR4 Memory.

The motherboard dashboard known as Thermal Radar 2 gives you total insight into the speeds of all the fans on your system. From this dashboard, you can even control the cooling on ASUS video cards. Additionally, the motherboard is equipped with an array of sensors that constantly give accurate readings into the current and maximum temperatures.
Comes included with Dust Defenders that keep out unwanted particles when you aren't using a certain slot. This keeps everything running without collecting massive amounts of dust slowly over time.
Super durable design with TUF Fortifier located on the back side. It protects against any heat related issues that can occur over time if left unchecked. The construction is made from a specialized SECC material that resists corrosion and dissipates heat.
With the onboard USB 3.1, you can easily achieve transfer speeds up to 10 Gigs per second.
MSI X99A SLI PLUS Motherboard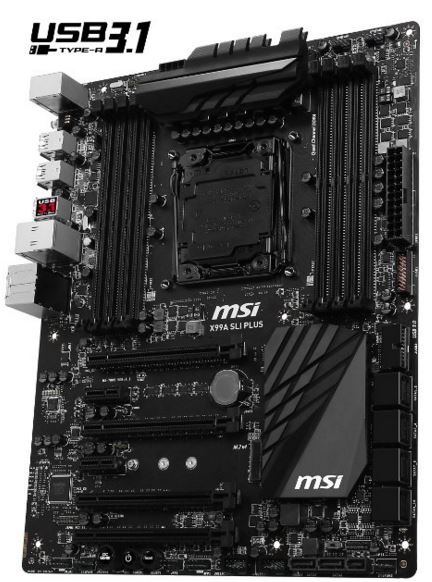 The MSI X99A SLI PLUS Motherboard was designed for speed, reliability, and high performance. It's known as MSI's "complete powerhouse" that's packed with a multitude of advanced features that push your system to the limits with plenty of stability for overclocking.
With the OC Engine feature, you can push your CPU right to the limit without any issues. It's equipped with internal clocks that are linked through the 100 MHz, 125 MHz, and 167 MHz straps for the best overclocking capabilities possible. These prevent any crashes when your system is achieving the highest possible OC speeds.
Built with the new "ECO Power" feature that lets you take advantage of the recent upgrades in efficiency. It can reduce overall power consumption by 19% with it's unique ability to disable hardware automatically if it's not in use. Additionally, if less hardware is running, you can expect cooler temperature levels.
MSI's latest BIOS page, known as "Click BIOS 4" is designed to run smoother and quicker than it's previous version. It's packed with a wide array of UEFI Bios settings that are optimized for the latest Operating Systems.
Expandable up to 128 GB of DDR4 Memory – wow!

Incredibly quick boot speeds thanks to the latest M.2 and SATA Express high speed storage support. It offers a 67% performance upgrade over it's predecessor and is compatible with 3 sizes to fit a wide range of the latest Solid State Drives.
Onboard USB 3.1 enables you the latest data transfer speeds at up to 10 Gigs per second – 20 times faster than USB 2.0 and 2 times faster than USB 3.0.
Through the BIOS you can enable OC Genie 4, a utility that gives your system an extra shot of speed and performance. With the single click of a button it can easily be enabled.
ASUS X99-PRO Motherboard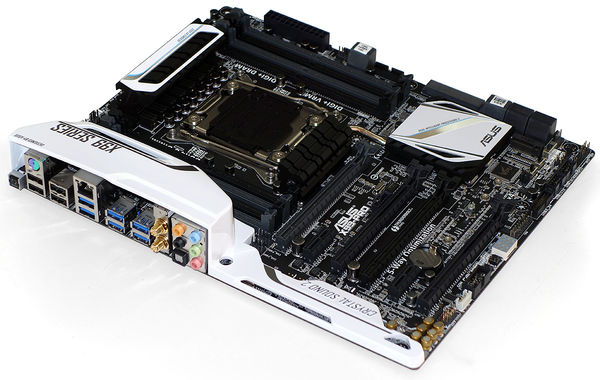 The Asus X99-PRO Motherboard offers unmatched performance for overclockers, hardcore gamers, or extreme computer users. Paired with Asus's latest technology for both speed, performance, stability, and reliability, it makes a great investment for those who don't want any compromises.
With the patent pending OC Socket feature, you can push your CPU to the next level with advanced, easy to use overclocking. It uses extra pins to create a better circuit on the LGA socket to make DDR4 perform even better at a higher frequency with lower latency and added stability.
With Asus's 5-Way Optimization, you can dynamically optimize your components based on real-time usage. This way, games run much quicker since they're tailored for performance bandwidth priority and incredible sound.
Built with Fan Xpert 3, a feature that gives you control of all the cooling fans in a single place. You can configure custom settings for specific fans or control them to adapt to the changing temperatures with the integrated thermal sensors.

Comes included with one of the smoothest, best looking BIOS control panels on the market. The BIOS can be controlled with your mouse and it's setup in a way to ensure ease of use to the wide assortment of adjustments and features you can take advantage of.
Onboard M.2 offers up to 37 Gb/s data transfer speeds so there's less wait time and more do time. This new Gen 3 x4 platform is essential for those looking to use their system as fast as possible.
Specifically optimized for professional computer users or elite gamers. With an assortment of "boosts" you can push everything to it's limit. Networking boost gives an added priority to your computer and making the most out of the available bandwidth. Speed boost excels for easy overclocking and gaming performance. Sound boost gives off crystal-clear audio that sounds great in-game and through the mic. Last but not least, fan boost gives you full control over the fans so you can optimize them to run exactly how you'd like them to.
With the onboard USB 3.1, you can easily achieve transfer speeds up to 10 Gigs per second.