No matter where you look, you'll find plenty of accessories that promise to turn our phones into better cameras. For the most part, they attempt to replace the actual "camera" part and simply use your phone as nothing more than a fancy interface. The DxO ONE, for example, is an incredible choice for phones that have poor quality image sensors. But the latest generation of iPhones don't really need updated image sensors. In fact, the latest iPhone 7 camera has been shown to compete with modern DSLRs in certain conditions.
The main problem is that phones are simply not as ergonomic as real cameras. Good photography requires careful, precise motions that don't interfere with the positioning of the camera. But mashing your fingers into the face of the phone will move it around, causing issues with your composition. Miggo believes they have the solution. Their Pictar Camera Grip is designed to "DSLR your phone" by moving the controls away from the display and onto its own unit. Let's take a look and see how it performs in the real world.
Note: At no extra cost to you, we may earn a commission for purchases using our links. Learn more.
First Look
If you couldn't see the entire grip, you'd likely think that the Pictar Camera Grip was just a cropped image of a real prosumer grade camera. But despite its cutaway appearance, it really is designed to fit perfectly onto your iPhone. Holding it, the first thing you'll notice is the premium feel. The soft textured grip contrasts with the brushed aluminum to create the feeling of precision and accuracy. While it looks quite minimalist, we were incredibly impressed with how accurately it recreates the feel of using a real camera.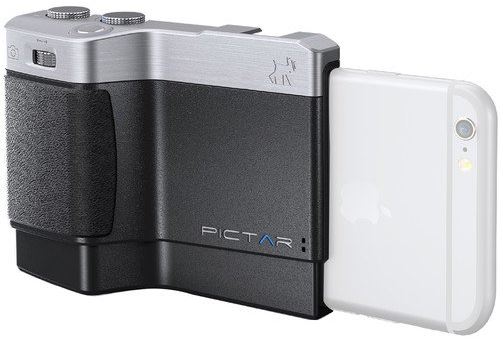 Build Quality
If you were to hold this camera grip in your hand, you'd be surprised to learn that it was built around a foundation of plastic. The entire grip is coated with a special "anti-slip" material, that gives it a very solid, rubbery feel. It's only about 64 grams in weight, so despite the durability it won't add a whole lot of heft to your phone. This lightweight build also means that it can survive a drop from moderate heights without sustaining any damage. However, it doesn't protect the upper half of the phone like a proper case would, so we'd advise against this.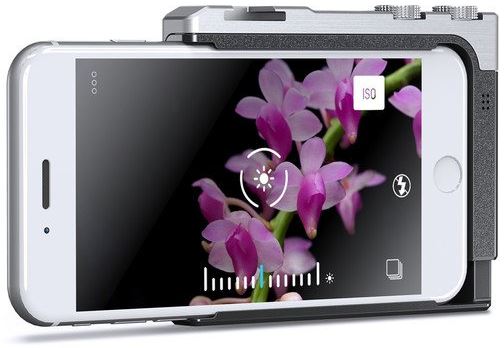 The buttons themselves are clearly made with premium components. The shutter has a solid half press that you can feel, while a full actuation provides you with a solid "click" that you'll be sure to notice. The wheels are also quite well made. They move smoothly, but have a little rigidity that allows you to operate them with precision. Overall, the impressive build quality that Miggo put into the Pictar Grip really gives an accurate representation of a real camera.
Controls
This camera grip promises to "DSLR your phone", but can it really live up to the immense level of control you get with a true DSLR? Well, it certainly comes pretty close.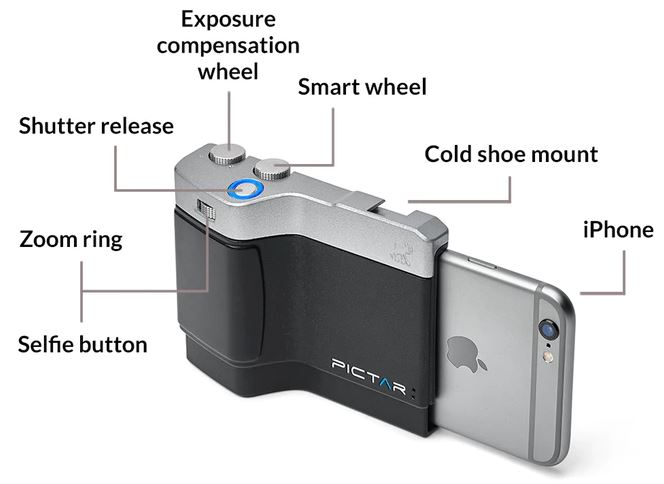 The most important button on any camera is the shutter. The shutter button may only have one simple task with a smartphone, but Pictar worked to replicated the additional functionality found in DSLRs. There are two actuation points – a half press and a full press. Before you push down on the shutter, the camera will constantly be adjusting the exposure and focus to keep your subject visible. Once you push the shutter button down half way, these settings are locked. This allows you to lock on to a moving subject. You can follow along with your camera while you wait for the right moment to take the shot. This shutter is nice and large, so it will work even with gloves on.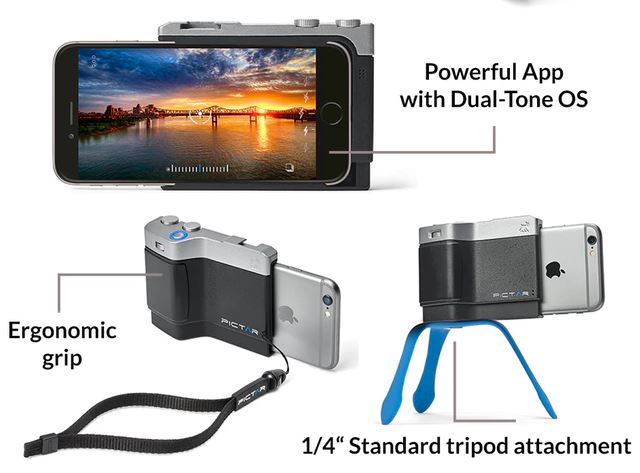 Just below the shutter is the zoom ring. Straight out of the box, it controls only the digital zoom. Because many serious photographers dislike digital zoom, it can also be reprogrammed to control white balance, flash level, or another setting of your choice. Pushing the ring in, instead of to the side, will act as the "selfie mode" shutter. This takes a photo using your phones front camera, instead of the rear.
The top right contains the exposure compensation wheel. The placement is very convenient, making it easy to adjust using your thumb. Each step in the rotation adjusts exposure by 1/3 aperture, giving you a lot of control over your image. If you've chosen to manually control the exposure, then the wheel will instead control your ISO speed. The second wheel on the top of the grip is called the "smart wheel". This dial can be programmed to modify any function you like, allowing the camera grip to adapt to your needs as you see fit.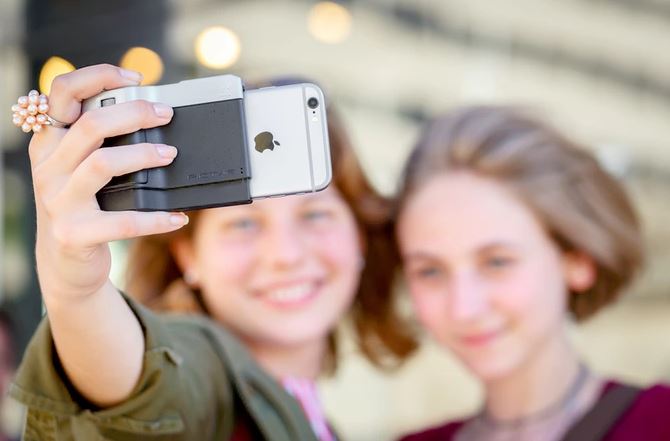 Feel
While the controls and build quality are excellent, one thing that truly stands out about this camera grip is the feel. You truly feel as if you are holding a real camera. The texturized material that covers the well-shaped grip adds a lot to the effect. While the grip itself is quite lightweight, the iPhone adds a little heft. This leads to a well-balanced feel, allowing you to keep your hands steady. One handed shots are a breeze, and the included wrist strap adds a little security to those riskier situations.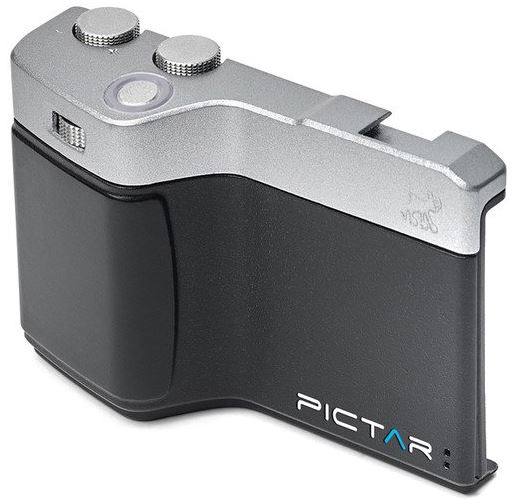 Application
Because the Pictar Camera Grip has so many advanced features, they had to make their own camera app. Often, we resist the idea of manufacturers who force you to use their own proprietary software. But the Pictar app is very well made, and adds plenty of great features that wouldn't otherwise be found in the stock camera app.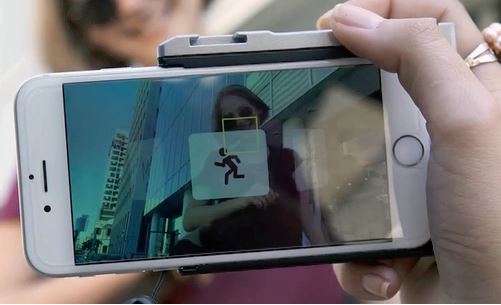 For starters, you're given much more precise control over how the various elements of the camera operate. You can control even the most minute change to the aperture, shutter speed, sensitivity, and white balance. On top of that, you've given another area of control – the soft wheel. The soft wheel can be accessed simply by dragging your thumb up and down the base of the display, and you can assign it to any feature you like.
Communication
Getting accessories to talk to your phone can be a bit of a challenging task. The most common choice is Bluetooth, which comes with two major disadvantages. First, Bluetooth tends to drain your battery quite quickly. Second, there will be a few moments of lag with Bluetooth devices. This might be acceptable in some scenarios, but when you've got an accurate method of control like the Pictar camera grip you need everything instantly.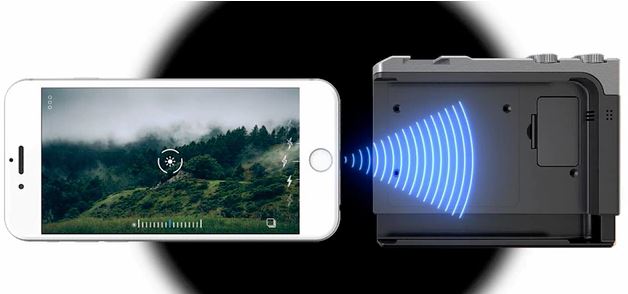 The next option would be the lightening connector, but these can be expensive to install and have the potential of breaking. Instead, Miggo used a special high frequency sound to send the shutter times. Each button or motion you can perform on the camera grip will play back a tone. This tone cannot be heard by humans, but can easily be picked up by your phone. This allows for lag literally as fast as the speed of sound. But one of the best parts is the battery life. The grip only takes a single CR2032 battery, but can last 4 to 6 months.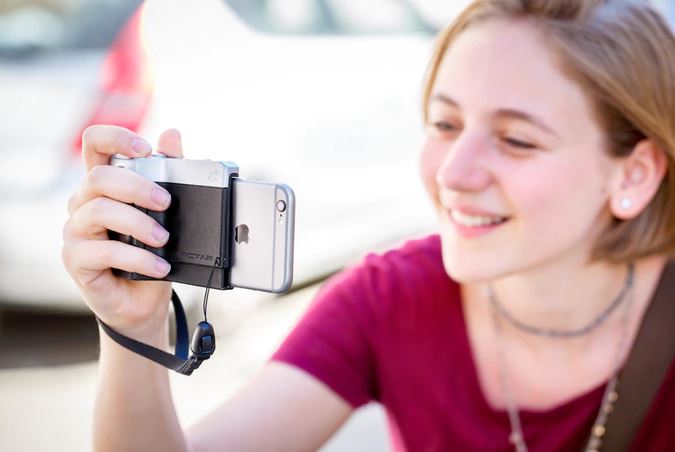 Compatibility
There are two models of the Pictar that you can pick up today. The basic Pictar is designed for use with compact iPhones. It can be used with the iPhone 6, iPhone 6S, and iPhone 7. The Pictar Plus is designed for use with the iPhone 6 Plus and iPhone 7 Plus. The grip is custom designed to fit the exact design curves of the iPhone, so it's not compatible with any other smartphone. However, since the iPhone 7 currently has the best camera on the market, the pair would make a pretty good combination.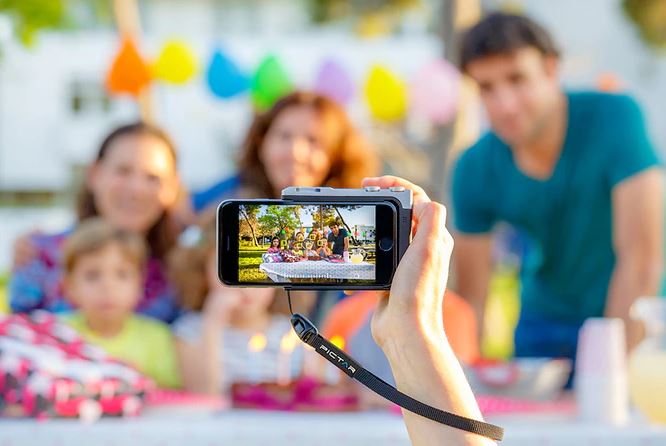 Final Thoughts
The Miggo Pictar Camera Grip provides you with several key benefits that you just can't get with any other phone accessory. Primarily, you'll be able to say goodbye to a clunky touch interface and have immediate, ergonomic access to every important camera function. You'll find your phone is both easier and more comfortable to hold, no matter how you're taking your shots.
Can the Pictar camera grip turn your phone into an SLR? The answer to this question really depends on your use. Obviously, a $3000 DSLR camera with piles of additional lenses will have an edge on this system. But the latest iPhones currently have some of the best image sensors on the market, but the camera app is really just guessing at how the image should be composed. If you just point and click with it, your photos won't look any better. But even if you make just a few small adjustments, you'll be able to take incredible photos that look better than anything taken with a smartphone before.
Please consider sharing:
Note: At no extra cost to you, we may earn a commission for purchases using our links. Learn more.