Investing in the new Skylake processor is a smart choice if you want to have the fastest computer around. But with the purchase of your new processor, you'll also need to upgrade a few other hardware components. Likely, you'll need to purchase some DDR4 memory, since this is the new standard. Also, and most importantly, you'll need a new 1151 Z170 Skylake Motherboard, and if you're a gamer, you'll want one that's dedicated to perform exceedingly well for gaming.
We took the time to research and review five fantastic choices if you're in the market for the best 1151 Z170 Skylake Gaming Motherboards from top brands like Asus, MSI, Gigabyte, and ASRock. We took a few things into consideration such as value, features, reliability, and of course – speed. Below you'll find each one outlined in detail with the best features highlighted.
ASUS ROG MAXIMUS VIII Hero Intel Z170 ATX Motherboard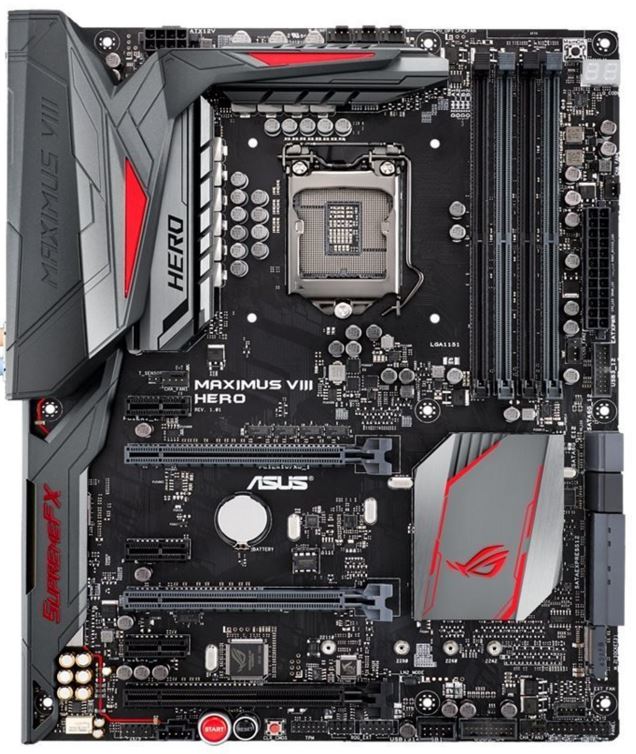 The ASUS ROG MAXIMUS VIII Hero provides you with top of the line performance with all of the latest features that you're likely looking for in your new motherboard.
Perfectly developed for gaming desktop PCs that require the fastest speeds possible, all at a decent price. This motherboard is in it's third generation, and has been honed and tweaked to offer 5 way optimization with a completely redesigned way to tune the performance of your system.
Equipped with Asus's "Pro Clock Technology" in order to extend the BCLK overclocking range. This will give you a massive amount of flexibility if you are wanting to overclock it to it's full potential. It's fully capable of booting 3600 MHz with XMP at launch.
Able to handle 4.8 GHz with 3600 MHz on the memory. Additionally, there's a built in feature that enables users to store their gamer profile to their exact liking.

SupremeFX Audio offers a dedicated DAC for amazing sound clarity and power. In fact, it has enough power to have your headset achieve a range of 36 to 600 ohms for studio quality sound.
Equipped with Gamefirst III that understands your network signal and gives all of the game-related packets an added priority. This will help eliminate lag and give your game the most priority when you're running it on your system.
Excellent fan control thanks to the added controls that give gamers the added ability to fine tune the fans to your exact preferences. Additionally, all of the ports on the motherboard are in PWM and capable of DC mode.
It looks awesome! One look, and you'll likely be a fan. The sleek and stylish look is brought on by a dark black design with silver, gray, and red undertones. There's also LED lighting for an added flare.
Built in USB 3.1 with one Type A and one Type C for maximum data transferring and multi-use functionality.
MSI M7 Z170A Gaming Motherboard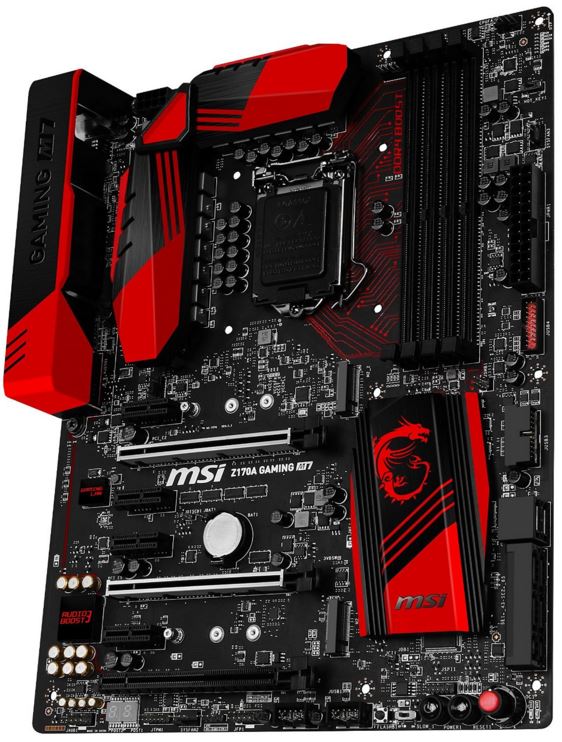 The MSI M7 Z170A Gaming Motherboard offers exceptional features that's built for maximum stability, all while delivering the best features for speed and gaming at a competitive price point.
Comes included with some of the most sought after features such as USB 3.1, Gen2, Twin Turbo M.2, and dual SATA Express.
Packaged with helpful software that will tailor the motherboard to your specifications, geared around gaming.
Exceeds with overclocking thanks to the "Game Boost Knob". All you need to do is twist a small dial to adjust the overclocking settings with ease.

Integrated automatic clocking options and additional features for manually fine tuning the exact overclocking specifications that you desire.
Equipped with Dual-Phase DIMM VRM for high density DIMMs in all available slots. This guarantees that your system will always perform at the fastest speeds possible.
Superb sound quality with Realtek ALC1150 7.1 channel surround sound for lifelike audio performance that comes at you from all angles. Also supports S/PDIF output.
Supports multiple kinds of graphics including AMD's 3-way CrossFireX and NVIDIA's 2-way SLI Technology.
Very cool look to it. Dark throughout with silver and red highlights for a sleek and sexy style that's built to exceed expectations.
Gigabyte GA-Z170X-GAMING G1 Motherboard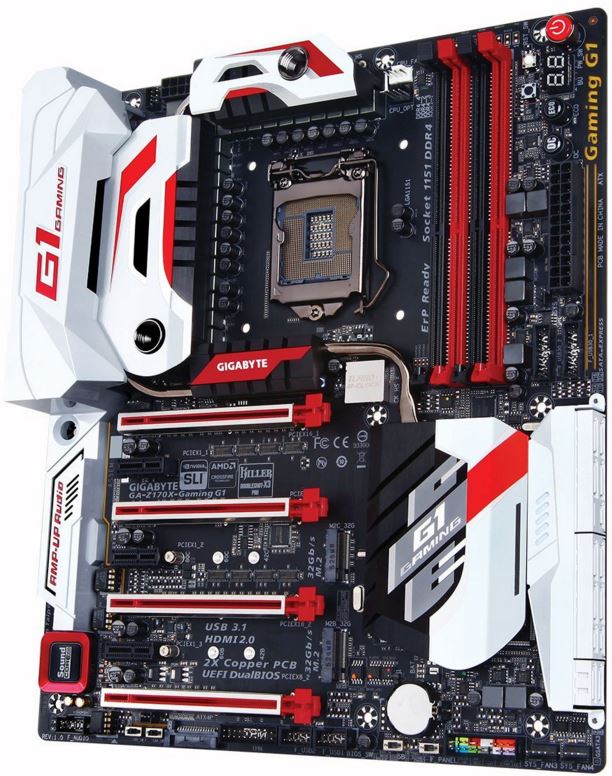 Although priced at a pretty penny, the Gigabyte GA-Z170X-GAMING G1 Motherboard provides gamers with world-class features and maximum performance capabilities thanks to a wide range of advanced features.
As one of Gigabyte's latest release, the GA-Z170X is an Intel Thunderbolt 3 Certified Motherboard that supports the 6th generation Intel processors with ease.
Loaded with many built in options for overclocking and power saving. Built heavier and thicker than most motherboards which does a great part in reducing the heat that it outputs.
Max out your graphics with it's capability to support up to 4 full length VGA cards. This way, you can enjoy your favorite games with the settings maxed out completely. You'll achieve the smoothest frame rates with high resolutions up to 1440p.

Equipped with ultra-fast Intel 750 Series 2.5″ SSD Support via a M.2 to U.2 Add-in-Card. Insanely fast data transfer speeds are achieved this way.
Integrated "Turbo B-Clock" to give overclockers the ability to configure their BCLK frequency to whatever they please. THe linear range is from 90 to 500 MHz so that there's really no limitations as to the incremental ranges it must be set at.
Achieve data transfer rates up to 16 GB per second with SATA Express. This higher bandwidth will come in handy to optimize boot times and program start up times.
Comes included with all of the overclocking and performance software that you'll need to customize the board to your specifications. This "App Center" offers features like "Easy Tune" and "Cloud Station" for a great deal of customization abilities.
Looks amazing. You can even personalize the LEDs to glow your choice of seven different colors. It'll match your system and give it a sleek and stylish look.
ASRock Fatal1ty Z170 K6 Gaming Motherboard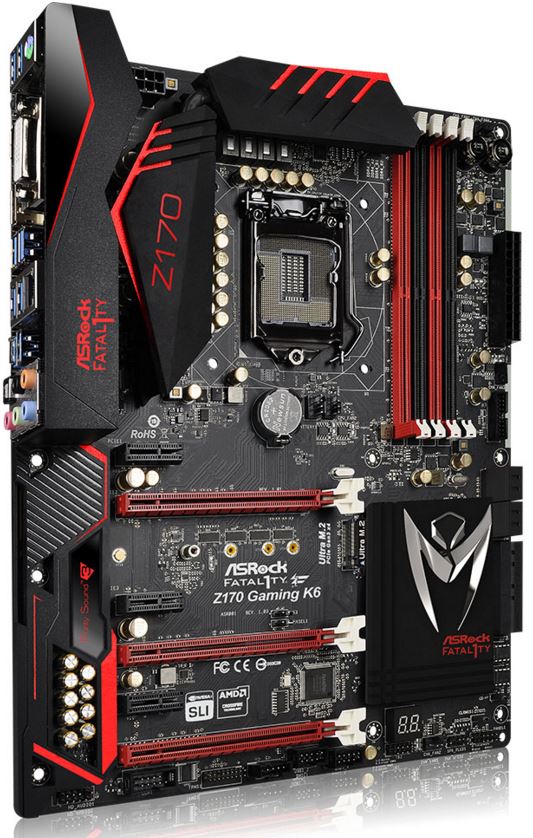 The ASRock Fatal1ty Z170 K6 Gaming Motherboard is another great option for those who want to upgrade to the new Skylake processor.
Specifically geared towards gaming with "Gaming Armor", a set of features that make your video games excel with performance.
Coated with a 15μ Gold Contact in the DIMM Slots and the VGA PCIe Slots (PCIE2) to provide the best connection possible.
Equipped with an XXL aluminum alloy heatsink heat pipe design that dissipates heat appropriately away from the vital parts and chips inside.

AsRock integrated the world's fastest M.2 socket (PCI Gen3 x4) to provide 6 times faster speeds. With it, you can expect to achieve up to 32 GB/s.
Overclockers are given a wide range of customization thanks to the integrated Hyper BCLK Engine. This gives precise control as to what frequency you have it set at.
Fully supports DDR4+ 3866+ (OC) so you can finally use the latest memory to it's full potential.
The PCIe slots are now fully flexible to support all sorts of different add-on cards that you'd like. However, do keep in mind that the bandwidth of your devices will be limited to PCIe Gen3 x1.
Comes with a wide range of highly usable software to keep it running the way you'd like it to. This includes live update, ASRock Cloud, XSplit, F-Stream, Win 7 USB Patcher, and more.
MSI M3 Z170A Gaming Motherboard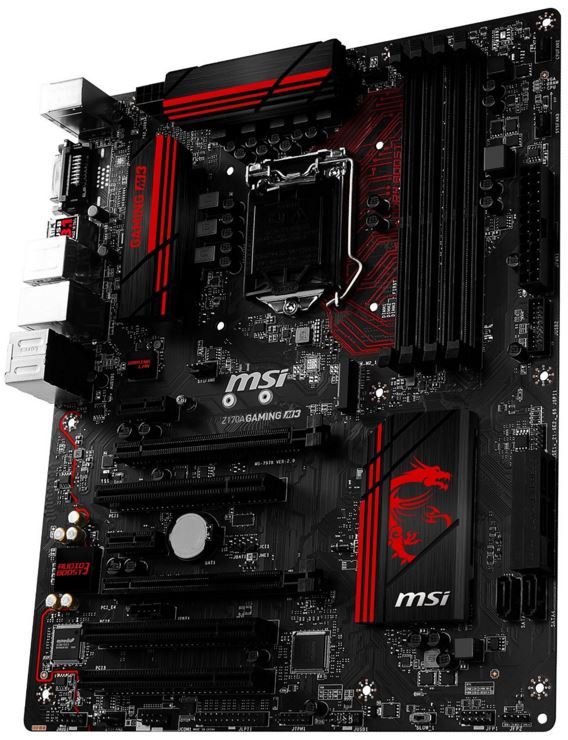 As the most affordable on this list, the MSI M3 Z170A Gaming Motherboard provides a wealth of value with high-end features at a fantastic price.
Using the Intel Z170 Express chipset, it offers the speed you need and the overclocking capabilities that you crave. Supports DDR4 3600+ (OC) Memory and is equipped with DDR4 boost to give an additional performance upgrade when you need it most.

Insanely clear and vibrant sounds thanks to Audio Boost 3 and the Nahimic Audio Enhancer. It pushes the envelope in realistic audio and provides 7.1 channel surround sound that excels with high end video games and motion pictures.
Multiple graphics support thanks to AMD's 2 way CrossFireX Technology. Achieving smooth gameplay is a norm, right out of the box.
Ready with the award winning Click BIOS 5 that's also gaming certified. It's been rigourously tested by eSports players for the most ideal gaming conditions.
Final Thoughts
As you can see, there are a few different options for the best 1151 Z170 Skylake Gaming Motherboards for 2016. Each of the above options make a fantastic choice for a custom PC build that's geared toward gaming performance. Achieving the overclock that you desire is now easier than ever with some of the new integrated settings that a lot of these manufacturers have built into their motherboards. Asus, MSI, Gigabyte, and ASRock are all top manufacturers, but it's up to you to decide which features and options matter the most to you.