The signal strength and overall latency of your home or office network can be improved in a simple and effective way by investing in a high quality Wi-Fi range extender. These devices work effortlessly to eliminate any dead-zones or black spots in your network by boosting and repeating the signal wherever you need it.
One of the latest to be released is the Linksys AC750 BOOST Wi-Fi Range Extender (RE6300). It's equipped with the essential features that keep your network running smoothly, no matter where you require a strong Wi-Fi signal. Whether you have a large home, or a lot of infrastructure in the way, the RE3600 clears up all of the dead-zones, and is incredible easy to setup and install.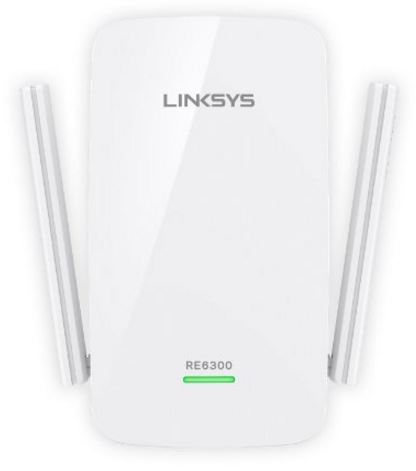 Compatability
The Linksys AC750 BOOST Wi-Fi Range Extender (RE6300) is compatible with all routers that are out there. It can achieve a signal strength to populate up to 6500 square feet with a strong Wi-Fi signal. Although it's not weather resistant itself, this little device can boost your signal outdoors, upstairs, downstairs, etc. – basically anywhere, as long as it can be plugged into an available outlet.
Very Easy to Use
Whether you have a wealth of knowledge about networking and computers, or you know very little, Linksys has made the setup of the AC750 BOOST and easy task. All you need to do is press the "push button connect" function and it will automatically sync to your router or access point. After it's syned, remove the extender from the outlet you set it up at, and move it to anywhere in your home or office where dead spots need to be eliminated. If done correctly, the small LED will emit a green glow to let you know that the signal is great. If you see the LED turn to an amber color, you'll need to place it a little bit closer to your router or access point.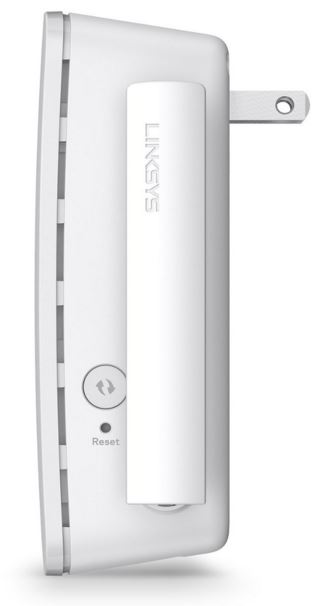 Additionally, you can utilize Linksys's own "spot finder technology" to use your smartphone, tablet, or laptop to check the location of your extender. This is a browser based application that gives you a clear insight as to the distance from the router to your extender.
System Requirements
As with anything new that you add to your computer or network, it's very important to check the compatibility. The Linksys AC750 BOOST Wi-Fi Range Extender (RE6300) requires an 802.11 a/b/g/n/ac wireless router or access point to connect and sync to. Since it's backwards compatible with just about every router that's out there, there usually isn't any trouble with setup. Along with a decent router, you'll need an AC power outlet to plug the unit into, as well as a Wi-Fi enabled PC, Mac, smartphone, or tablet with the your favorite internet browser.
Uninterrupted Signal
Since the AC750 BOOST range extender uses dual bands, you'll never have to worry about interruptions when you're using your network to it's full potential. Suitable for streaming, video gaming, uploading, or downloading, this little device uses "crossband technology" to achieve incredibly fast data transfer rates up to N300 + AC433 Mbps.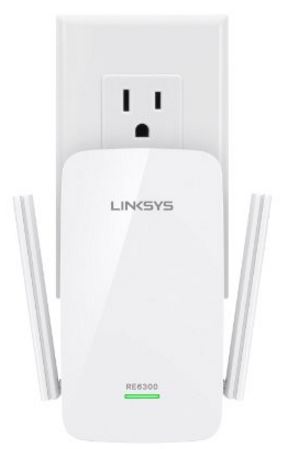 Beamforming
Linksys integrated a snazzy feature known as "beamforming technology" to help focus and strengthen any weak signal on your network. It will increase the efficiency by enabling multiple clients to enjoy high-bandwidth activities at the same time. Streaming, gaming, uploading, and downloading on multiple devices won't lag down the network to a crawl. Beamforming works in a way to prioritize certain devices that need the signal the most.
Wired Connection
Equiped with a Gigabit Ethernet port, the Linksys AC750 BOOST Wi-Fi Range Extender (RE6300) makes it easy to connect any wired device into the unit itself. Located on the underside is this port that's often used when Gigabit transfer speeds are a necessity. Devices like smart TVs, Blu Ray players, IP security cameras, or certain gaming consoles may suck up bandwidth like no other. Some people prefer a wired connection in these scenarios, so Linksys made sure it was equiped with one. With it, you can enjoy data transfer speeds up to 10 times faster than any fast Ethernet port out there.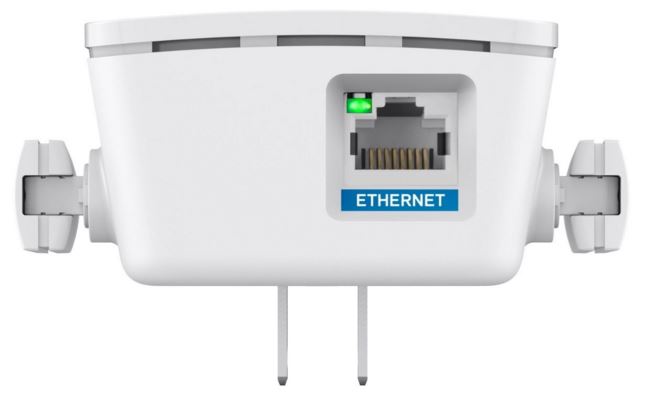 Final Thoughts
Improving the speeds and latency of your home or office network is now simple and very possible with the small investment that's required to own this wonderful gadget. Priced on Amazon.com for $89.99, the Linksys AC750 BOOST Wi-Fi Range Extender (RE6300) can work wonders for a network that is struggling to provide all the available bandwidth and signal strength that you require. Setup is a breeze, and configuration takes a matter of minutes – you literally just need to plug it in, press a button to sync to your network, and you're good to go. The compatibility is all there as it works with old and new routers, so you won't have to update all of your hardware to make sure everything works together.
It's nice to see some of the latest technology come from Linksys at such a good price-point. The investment it'll take to get the Linksys AC750 BOOST Wi-Fi Range Extender (RE6300) working on your network is very little compared to the amount of efficiency it can boost for those who enjoys blazing fast speeds.