We've rarely reviewed a Thrustmaster product that we didn't like. Gamers all over the world use their controllers to add a sense of realism to their favorite games, and it's no wonder why. With plenty of high quality materials and realistic components, there are no better controllers to recreate the actual experience of driving a car.
If you haven't had the pleasure of playing a racing game with dedicated controllers, we can't recommend it enough. Most racing simulators are designed to re-create the actual driving experience as much as possible. When playing with a keyboard or controller, you simply can't appreciate it. With a proper pedal set, you'll be able to take the most tactile aspect of driving the world's fastest cars and recreate it in your living room. Let's take a look at the Thrustmaster T3PA and see how it performs.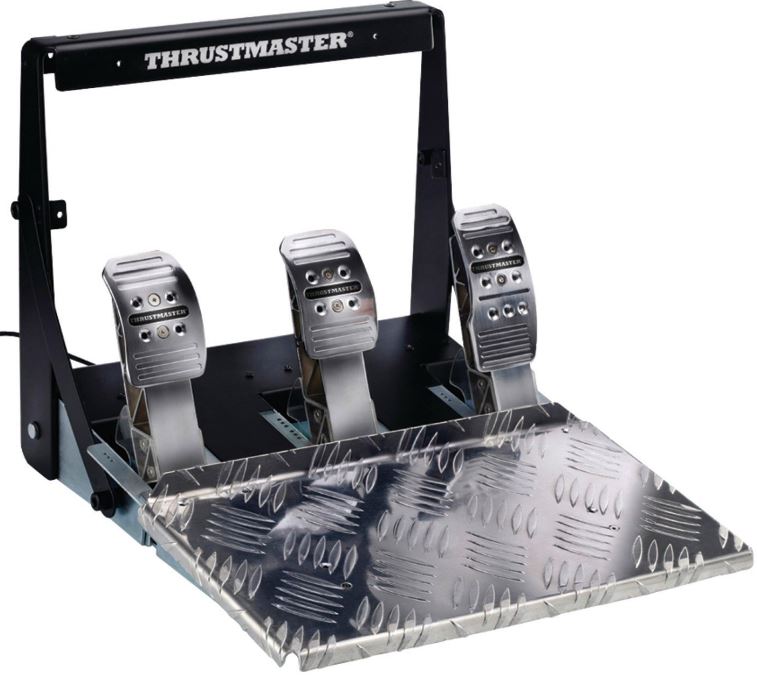 First Looks
As soon as you remove the Thrustmaster T3PA-PRO 3-Pedal Add-On Set from the box, you'll realize what a serious piece of hardware this is. It looks like they simply took a pedal set from a work truck and plunked it in the box. The footrest is built from diamond plate, a lightweight metal that has a textured face. Each of the pedals have a firm feel to them, and are also made of metal. Additionally, the frame adjusts so you can change the orientation, changing the feel of the pedals. There's a lot to this controller, so we had to review it from several different angles.
Build Quality
You'll rarely see a controller built like the T3PA. But then again, you'll rarely be stepping on your controller either. Racing simulators provide an intense gaming experience, and require you to respond quickly to changing conditions. This means that your pedals are likely going to be stomped on, making durability key. Fortunately, Thrustmaster doesn't disappoint. Every component that your foot touches is made from metal. From the diamond plate footrest to the aluminum pedals, you couldn't break this if you tried. The frame itself is also made from metal, using heavy bolts to hold everything together. However, the pedals require a little pressure to move, just like a real car. After testing each one, we couldn't feel any loose connections or find any weak-points.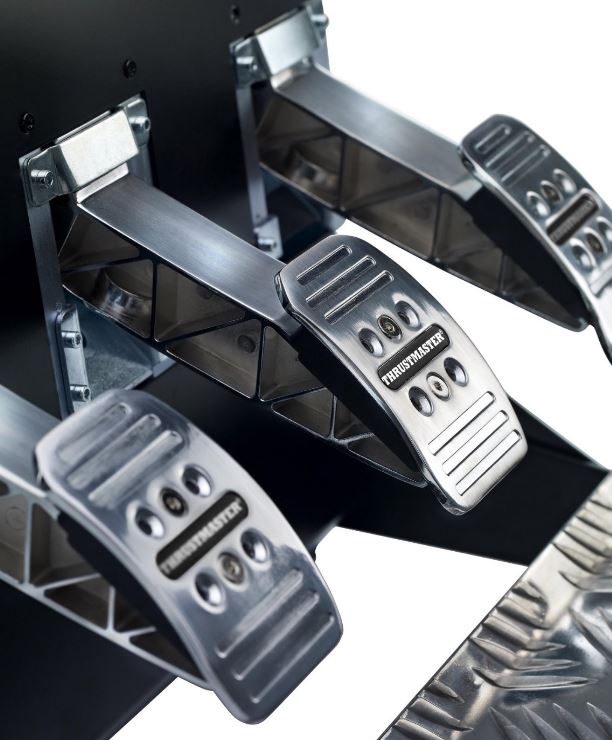 Positioning
One of the biggest advantages about modern racing simulators is that they give you the chance to drive cars you normally wouldn't come across. Each of these cars are designed a little differently, and the pedals can be located in different places. Fortunately, the T3PA is adaptable to replicate the arrangement of a variety of different vehicles.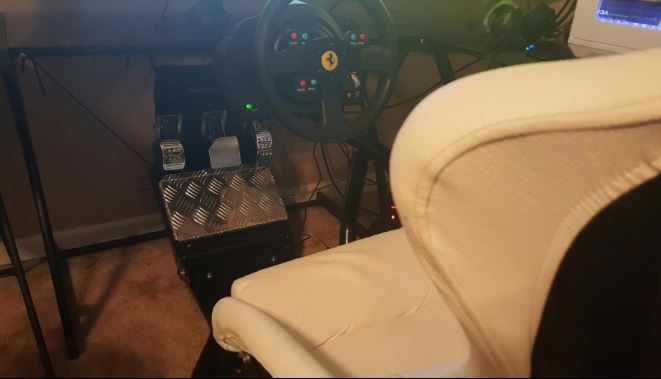 None of the pedals can be locked in place. The brake and clutch have three possible height positions, two inclination positions, and three spacing positions. The gas pedal has four height positions, but is otherwise the same. Smaller vehicles will have the pedals located lower to the ground and closer together, while larger ones will have them higher.
The biggest adjustment for the pedals comes from the primary mounting point. Formula 1 cars have what they call "suspended" pedals that are located much higher than those of a standard vehicle. Instead of pushing the pedals down, you actually push them forward. The entire mount will rotate up, causing the pedals to be oriented in the same manner. This is a very unique feature. At most, you might find another pedal set that has a few comfort related settings, but very few that attempt to create a more realistic layout.
Feel
All of the pedals require a bit of force to move, making it feel just like a real car. They're spring loaded, so you can actually feel the pedal pushing back up into your foot. The clutch is a little lighter than the gas. The force required to move these pedals can be adjusted from 7kg to 10kg, but the most realistic pedal is the brake.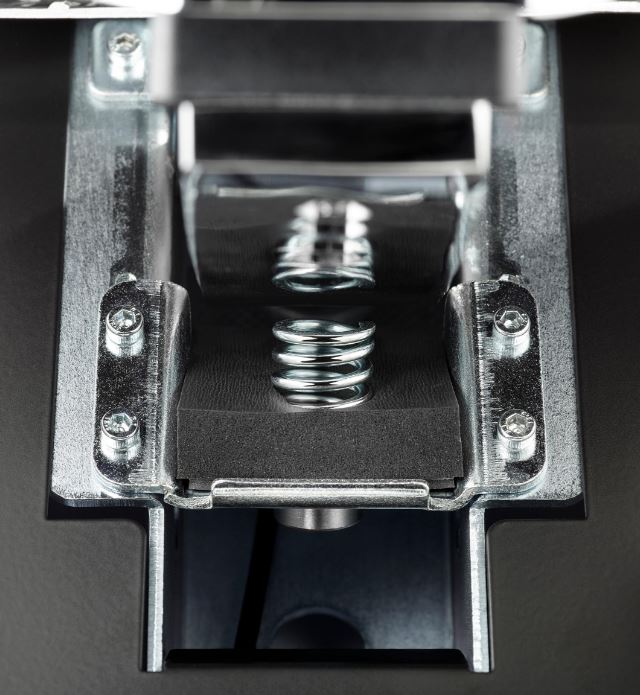 Brakes tend to vary from vehicle to vehicle, so there is no specific "feel" that would accurately represent all of them. When you first take it out the box, the brake will feel just a little firmer than the other two, but still not as tight as a real brake pedal. This setting is excellent if you want your game to be a little easier, as it's incredibly responsive. But if you want it to feel more realistic, you'll want to use one of the included modifications.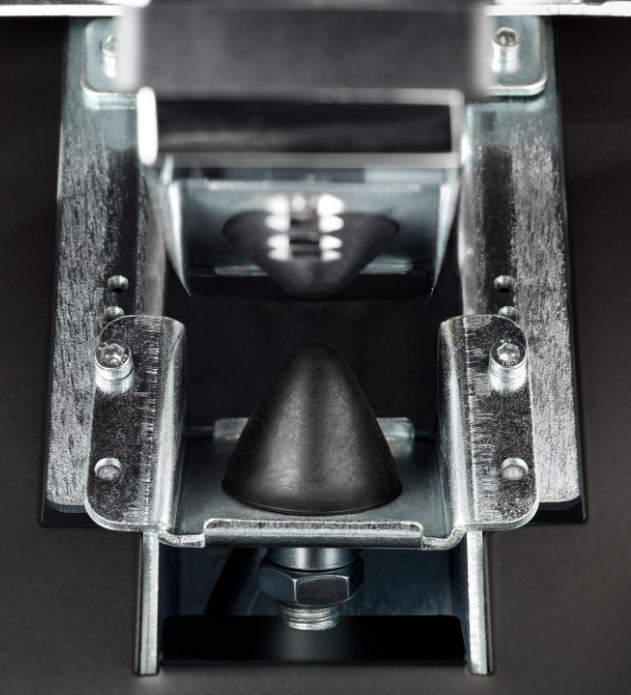 The first mod is an additional spring. This is a high compression spring that slips in, making the brake a little tighter. As you push the brake further down, the pressure increases a little. If this still doesn't feel quite realistic to you, you can put in the rubber dome mod. With most vehicles, you'll push on the gas and feel the brakes make contact. But you can usually push just a little harder and increase the force. This rapid increase in resistance is common to all vehicles, and the rubber dome mod recreates this very well. It's a cone shaped nub that clicks on to the end of the pedal, making it impossible to fully depress it. When you really need to slam on the brakes, you're going to have to put a lot of pressure on it. This feels very realistic, probably the best we've seen.
The actual pedals themselves also feel quite realistic. In fact, you might find it a little odd to use them without shoes on. But if the design isn't exactly to your liking, this controller uses the same mounts that can be found on real vehicles. You can head down to your local auto parts store and pick up any pedal cover you like. It will mount right in place with just a couple quick bolts.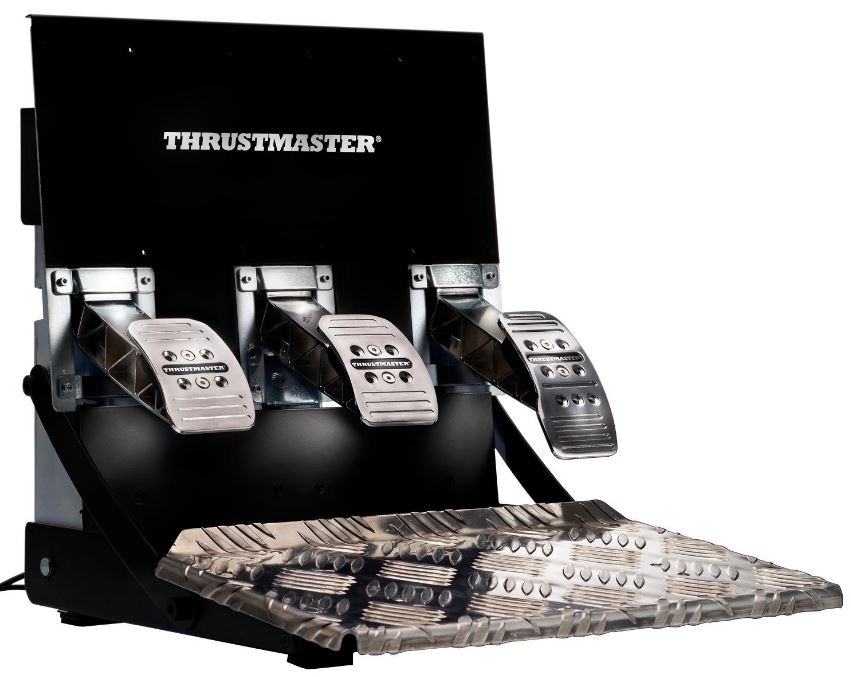 Compatibility
This pedal set can be used with almost any gaming system. PC, Xbox One, and PS4 will work perfectly. But you can't use the pedals on their own. You'll need a steering wheel to go with them.
If you own any Thrustmaster steering wheel, you're in luck. It's compatible with their entire modern lineup. The T300, T500, TX, TMX, and T150 are all supported right out of the box. Future racing wheels will likely be compatible, although the models haven't been announced yet.
Buying into the Thrustmaster eco-system also makes your pedal set compatible with their other racing accessories. One of the most popular additions is the VG TH8A, which we recently reviewed as the best gearbox shifter for racing games.
If you own a racing wheel from another manufacturer, you're unfortunately out of luck.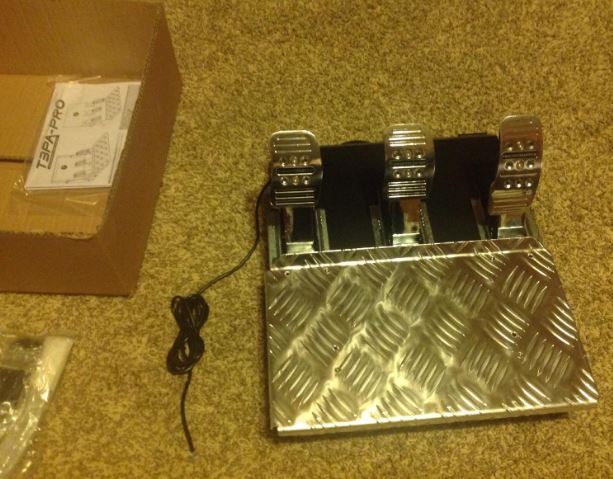 Usage Options
Using the T3PA pedal set is simple. All you have to do to set it up is plug the included cable into the accessory port on your racing wheel, and put the pedals on the ground. One of the biggest issues with pedal sets is that they tend to slide around, forcing you to readjust or reduce the pressure. But this set is very heavy, so it doesn't move unless you apply a lot of force.
If you want to create the most realistic driving experience possible, you'll probably want to mount all of your equipment in a cockpit. These are readily available online and in motor sports stores, giving you the ability to mount your gaming hardware in the exact same positions as they would be in a car. This pedal set is fully compatible with all standardized cockpits, mounting in place with four solid bolts. This allows the pedal set to be locked in place, so it won't move when you really step on it.
So, Should I Get the Thrustmaster T3PA PRO?
If you own a Thrustmaster racing wheel and don't have a pedal set, you're simply missing out. The Thrustmaster T3PA-PRO upgrade adds a whole new dimension to the racing experience. Combined with the Thrustmaster TH8A gearbox shifter, you'll have created the most realistic possible racing simulation money can buy.
If you don't own a Thrustmaster racing wheel, the value may not be as obvious. You'll have to replace an expensive controller, and some may not be able to justify the expense. If you are a casual gamer who doesn't really care about realism, then this might not be for you. If you do, then you'll probably find that a Thrustmaster racing wheel is a worthy upgrade.
Overall, this is the best pedal set that money can buy. Considering is comparatively low cost, Thrustmaster has once again offered unbeatable value to gamers who want to get the most from their experience.