When it comes to office equipment, a printer is usually the one thing you can't live without. While it performs a simple task, finding the right one isn't always so simple. You want a printer that's reliable, durable, and affordable to run. You need a low up-front cost, and a wide range of additional features that will make your life easier.
When it comes to printers, Canon is probably the first brand you think of. With a wide range of printers ranging from the simple household inkjets to advanced office document stations, Canon seems to have a solution for every possible business need.
While many of their products are designed for a niche market, the imageCLASS MF236n appeals to a much wider audience. It aims to cover all of your business needs from printing to faxing to scanning. For such a low price, you might be inclined to think that they cut corners somewhere. But with Canons impressive track record of reliable, high-quality printers, we were excited to see what they came up with.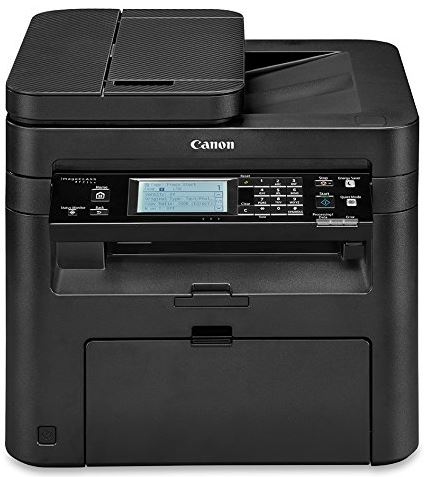 First Look
Just from the size and complexity alone, we could instantly tell that the Canon imageCLASS MF236n was a serious printer. They didn't take many design risks when making it. Instead, they went with the tried and true layout that consumers are familiar with. It's able to print, scan, copy, and fax either wirelessly from your portable devices, or locally from the convenient control panel. Additionally, it's designed for businesses that print exclusively documents. It uses black and white laser toner, which is known for low per-page print cost and crisp text.
Setup
Getting your printer up and running is a pretty straightforward process. The first thing you'll need to do is lug it to your desk and remove the packaging. You then have to lift the lid, followed by the scan tray. The toner drum can be easily installed into the front-facing port after you remove the protective film. Once you've completed that process, you can pull out the paper tray and load up to 250 sheets. You can then plug the printer in, and use the large control panel to select the language, connection type, and printer size.
The next step is where things become a little more complicated. You'll need to choose your communication type from the menu. This process is not as straightforward as other printers, but their standardized system doesn't require any special software to be installed. This means that a little extra configuration on your printer will save you from having to go and change any settings on every other device on your network.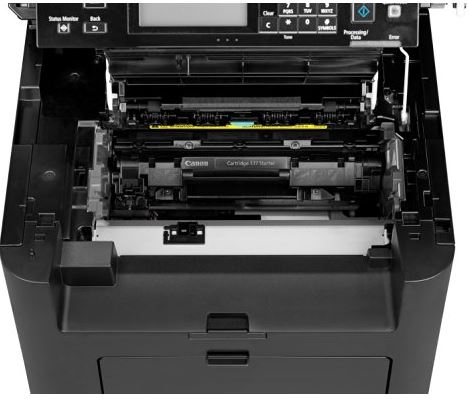 Communication
The imageCLASS MF236n can communicate with your computers through either USB or a local network. Although there is no direct wireless connectivity, you'll find that this functionality is still possible with any router. While other printers require specialized software and drivers to be installed in order to communicate with it, this one has a built in print server. Once it's connected to your router, every Windows PC will automatically see it under "devices and printers" from the start menu. Regardless of whether you are connected to your home network via Wi-Fi or LAN, printing over the network is a very simple process.
Whether you have an Android, iOS, or Windows device, all of your phones and tablets can print directly to the imageCLASS MF236n. This can be done through one of the popular cloud printing services. Apple AirPrint, Mopria Print Service, and Google Cloud Print are all supported, right out of the box. If you've never used a cloud printing service before, you can install the Canon PRINT business app and start printing instantly, with no setup needed.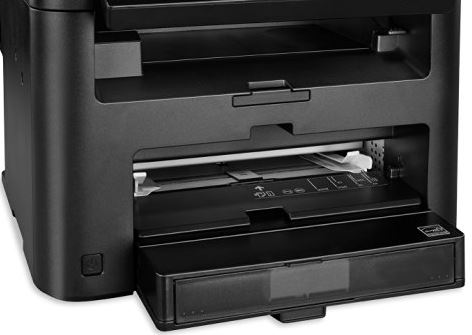 Printing
When you're printing text, there are few better print technologies than black and white laser. Text comes out ultra-crisp, there is no risk of smudging, and you get a deeply defined black that is not possible with inkjets. To top it off, laser printers are often much faster for large volume prints. The imageCLASS MF236n is capable of printing up to 24 pages per minute, with each page taking a little over two seconds. There is a small warm-up period, so the first page out of each job will take about 6 seconds. Compared to most inkjet printers, this is some seriously impressive speed.
The paper tray is capable of holding up to 250 sheets, saving you from the hassle of reloading all the time. But one of the biggest features of the imageCLASS MF236n is the cost per print. With each toner producing over 2400 prints, your cost will average about 3 cents per page.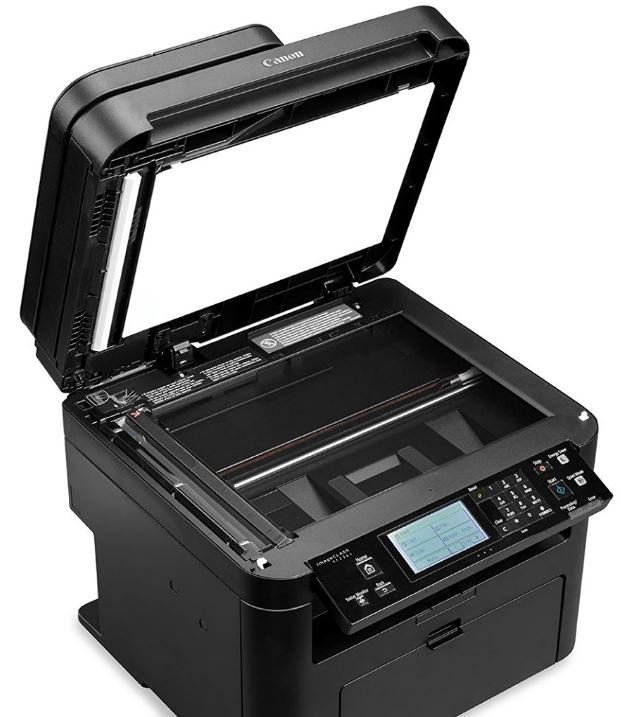 Scanning and Copying
The scanner supports TWAIN, allowing you to use any standardized software without the need for any additional programs or applications. If you don't have any scanning software installed, Canon has included theirs for you. Once installed, you can either initiate a scan from your computer itself, or directly on the face of the printer.
With both scanning and copying the document resolution is 600 DPI. For business purposes, this is perfect. Text comes through clear and sharp, graphics are well defined and accurate, and you'll see very little noise or distortion.
You've given a lot of options to change the layout of your copies, should you need them. You can adjust the image settings such as contrast and detail. You can also change the layout. For example, four scanned documents can be shrunk to 25% of their size and printed on one page. Or, you can enlarge business cards and identification cards to take up an entire page.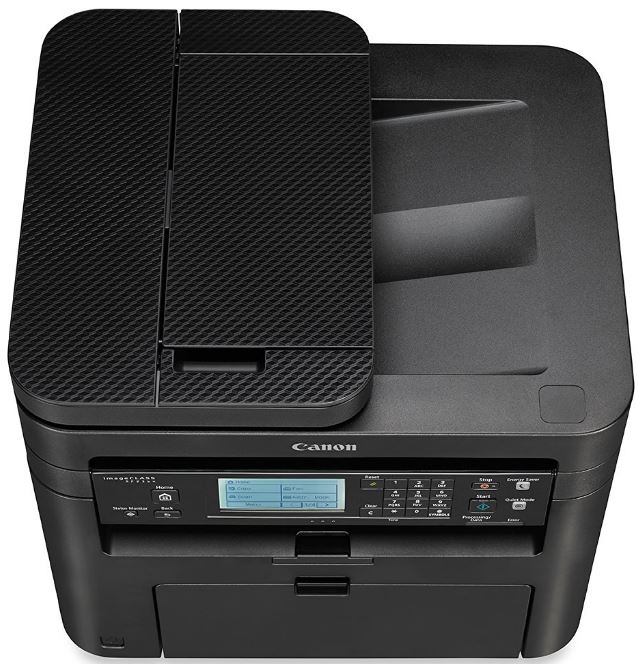 Faxing
The fax feature gives you two ways of transmitting documents to remote destinations. You can plug it into your phone line and have it dial the destination manually, or you can use the PC Fax software. The PC Fax program is suitable only for sending, and cannot receive. The main benefit to this system is that faxes can be delivered to email, which is much more common in the modern business environment.
Documents are sent using the "ultra-fine" setting, giving you a resolution of 200×400 DPI. It can transmit up to 256 pages in one go, but be warned. With a 3 seconds per page transmission time, you might be waiting for a while.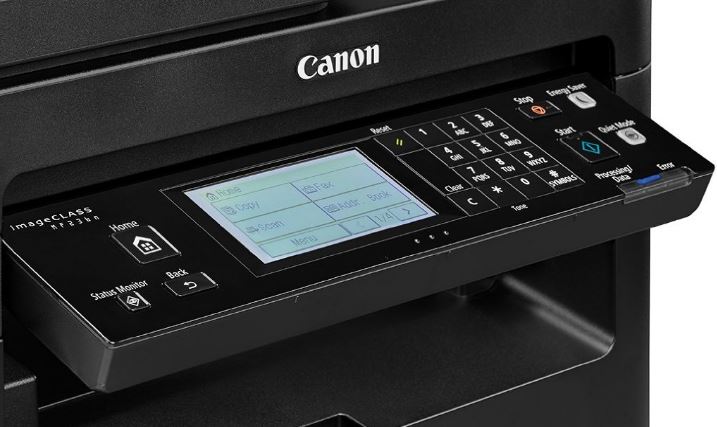 Interface
All of the advanced features in this printer are controlled using a combination of touch-screen input and button presses. The large panel on the front gives you access to a large number of controls, making the printer feel intuitive from the very moment you start using it.
The display is a black and white touchscreen that can display up to six lines of text, along with simple graphics and diagrams. While this isn't the most modernized interface on the market, it's clear and easy to use. You'll find that most tasks do not require you to use the interface, aside from the start button. Common options are made simple. For example, making a copy simply requires you enter the number of copies you want, and hit "scan." It's only things like changing paper size, creating double sided prints, enlarging or shrinking documents, and similar changes that require user input.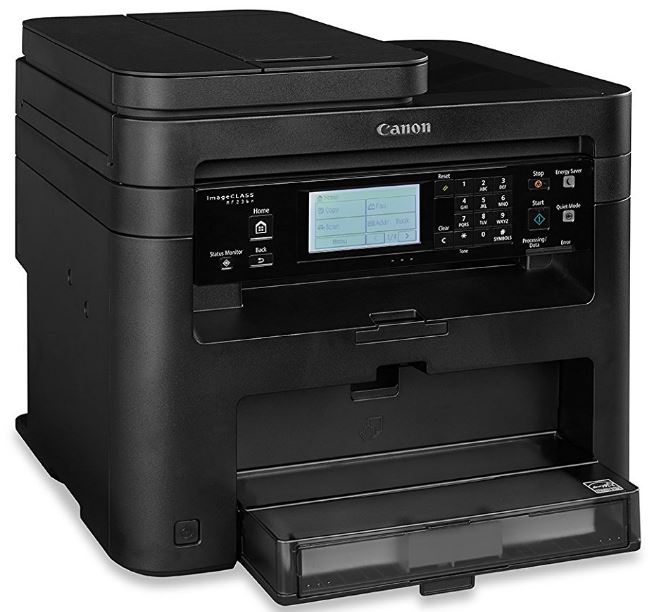 So, Should I Get the Canon imageCLASS MF236n?
The Canon imageCLASS MF236n clearly a product designed for business use, but some consumers will also benefit from it. The two primary factors in selecting this printer would be your print volume, and the number of devices on your network.
Monochrome laser printers are ideal for high volume settings. If you're printing over 1000 pages per week, you shouldn't even consider an inkjet. The toner used with this printer is pretty affordable, and capable of printing 2400 pages. This averages out to a cost of around 3 cents per page, less than half the cost of a black and white inkjet.
Next, you'll want to consider how many computers are going to need to access this printer. Although the setup procedure is a little more involved, the startup guide tells you everything you need to know. The built in print server means that there are no extra drivers required, so users can simply print with a couple quick clicks of the mouse. Since driver installation can take 10 to 15 minutes, any office with more than 4 computers can surely see the benefit of the print server.
If you want to be able to print color, or you print less than 100 pages per month, you will probably want to consider an inkjet. Toner tends to dry out and stop working after a year, so if you're printing under 200 pages per month you get good value from a laser. The OfficeJet Pro 7740 is a prefect business printer, with lower per page print costs than most other inkjets.