If there's one thing that can be considered essential to an office environment, it's a printer. Documents are an important part of business. Without the ability to print, you may find that several essential functions grind to a halt.
Of course, printing isn't the only thing you can do with documents. You're also going to want to scan them so you can keep a digital copy on hand. Other times you might need to make a quick copy, or fax it off to another business.
All in one printers can handle every aspect of document handling. You'll only have one compact machine to tend to, giving you plenty of extra room. But choosing an all in one printer is a difficult choice. Laser printers offer high print speed, but have significant upkeep costs. Inkjet printers are much less expensive, but tend to be slow and produce lower quality text. With the OfficeJet Pro 7740, HP has attempted to change that. This printer is said to lower print costs and high speeds, so let's take a look and see how it performs.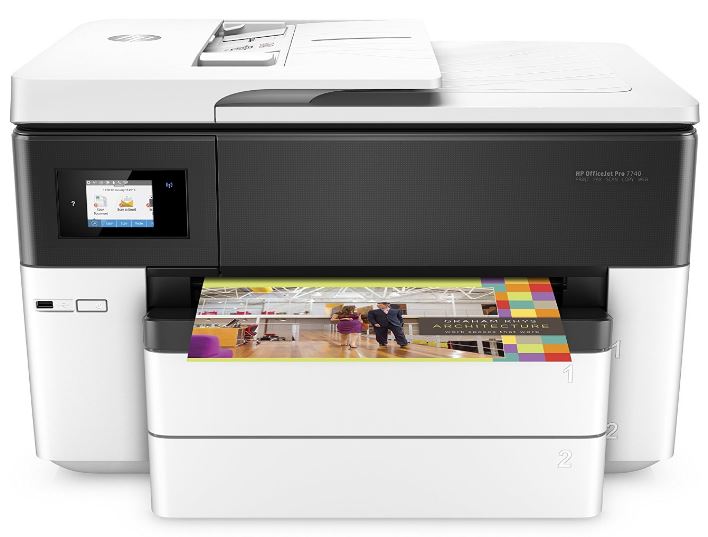 First Impression
This is certainly one of the sleekest looking office printers we've seen. It's got large, flat edges and sharp lines that would look great in a modern office. It's surprisingly compact for an all in one printer, showing that HP put some serious time into designing it for efficiency. The paper tray can hold up to 35 pages of freshly printed or faxed documents, and yet you barely notice it tucked below the fax table. But we'll have to dig a little deeper to see if this compact printer can perform as well as the massive office models.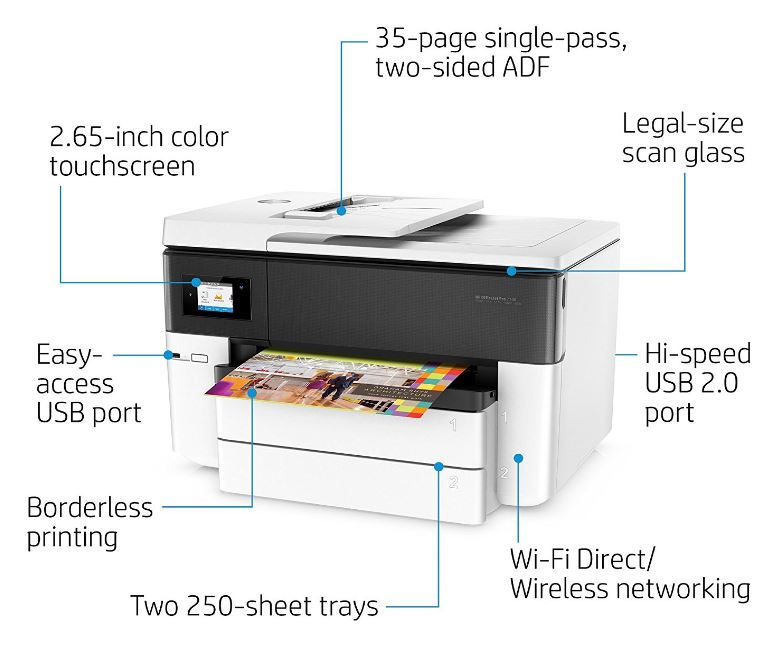 Setup
Getting the HP OfficeJet Pro 7740 running is a breeze. You'll be able to make your first print within 10 minutes of removing it from the box. Simply plug in the power supply to the wall and the USB cable to your computer. Insert the four ink cartridges into the front panel, and place up to 250 sheets of paper in the tray. Pop the included CD into your computer, and HPs setup assistant will open. This easy to follow guide configures everything you need to get your printer running, including print settings and wireless networking. After answering a few simple questions, your first test page will be ready to print.
Communication
In order to print, you'll have to send a document to the printer. Gone are the days where users would be forced to physically plug their computer in every time they needed a print. Now, HP gives you plenty of ways that you can connect to the printer.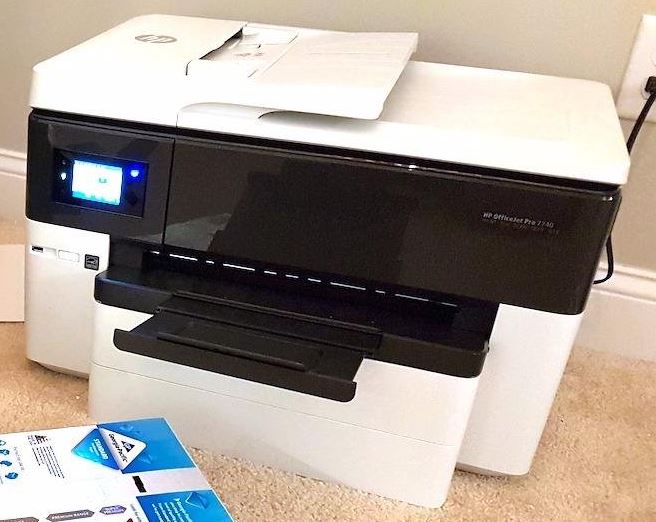 The easiest is Wi-Fi printing. Once the printer has been set up, every windows PC on your network will automatically see the printer under "devices and printers". Once it's been set as default, anyone on the network can transmit documents wirelessly to be printed. No more frustrating configuration with print servers, and no more time spent lugging your laptop around.
We're using our mobile devices more and more every day, so perhaps you may want to print from them as well? This printer supports NFC, making printing from your phone easy. Simply open your document in the HP ePrint app on an android phone, or any AirPrint enabled app on the iPhone. Everything will be automatically detected, so you'll be able to print right away.
If you've got documents on a flash drive, you can simply plug it right into the front of the printer. You'll be able to access all your files directly from the interface, bypassing the need for a computer at all.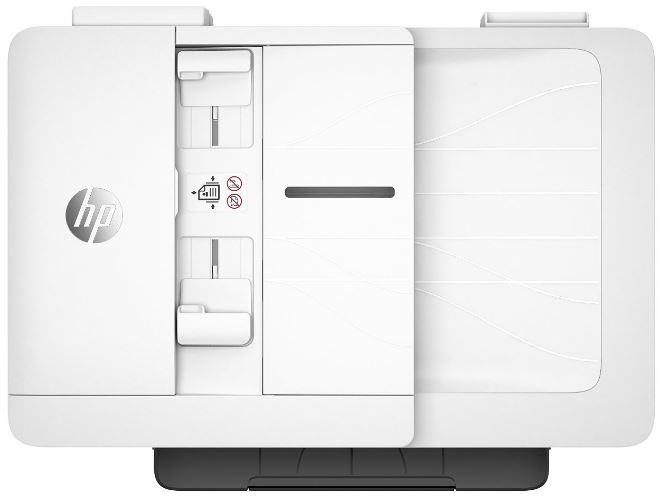 Printing
There's no doubt that inkjet printers have come a long way, but the HP OfficeJet Pro 7740 seems to be a cut above the rest. The printer is capable of creating vibrant colors, deep blacks, and razor sharp contrast on almost any document it prints. Both photos, presentations, and plain text look amazing, helping it stand up to the sharpness of monochrome laser printers. The standard resolution is 1200 DPI, which is above standard for office documents. With special photo paper, resolutions of up to 4800 DPI are possible, making this office printer competitive with household models.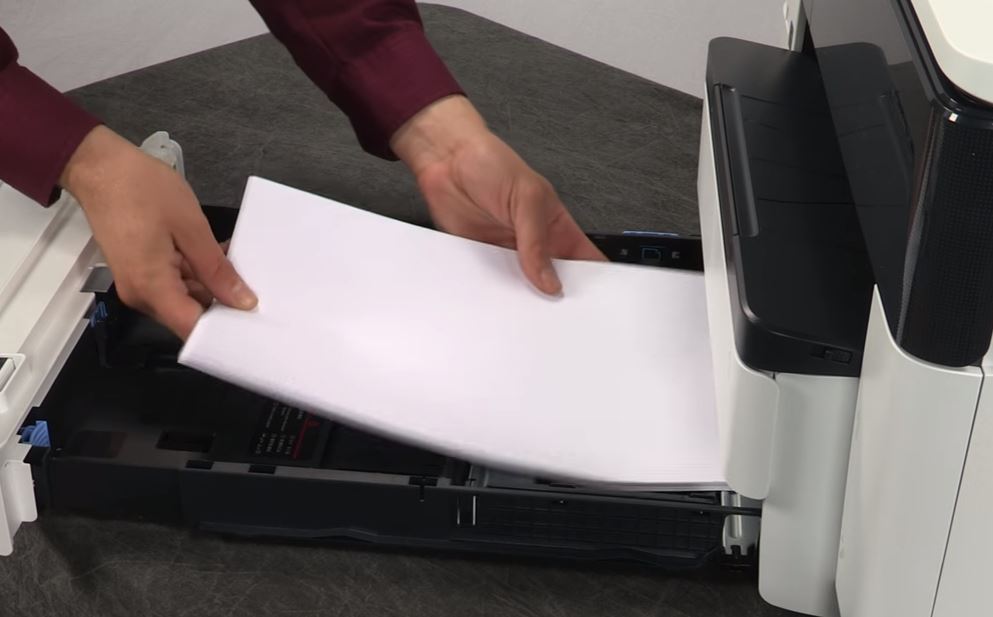 The one thing that surprised us most about this printer was the rate at which print jobs completed. Most office printers have a long delay, often up to 30 seconds, between the time a job is started and the completion of the first page. With the OfficeJet Pro, your prints will start in a matter of seconds. Up to 22 pages can be printed each minute. This is almost as fast as an entry level laser printer.
You're not restricted to the standard 8.5×11 paper size. The large tray supports wide format printing, allowing for massive 11×17 inch prints.
Scanning, Faxing, and Copying
The scanner is capable of reading documents in the same high quality 1200 DPI that the printer can produce. This is perfect for documents, as it produces the nice clear image required by OCR (optical character recognition) to convert printed text into an editable document. Using the included HP scanning software, you're able to scan a document and have it open in word in under 20 seconds. The scanner can save your images to a flash drive, or send them to an email provided it's connected to your home network.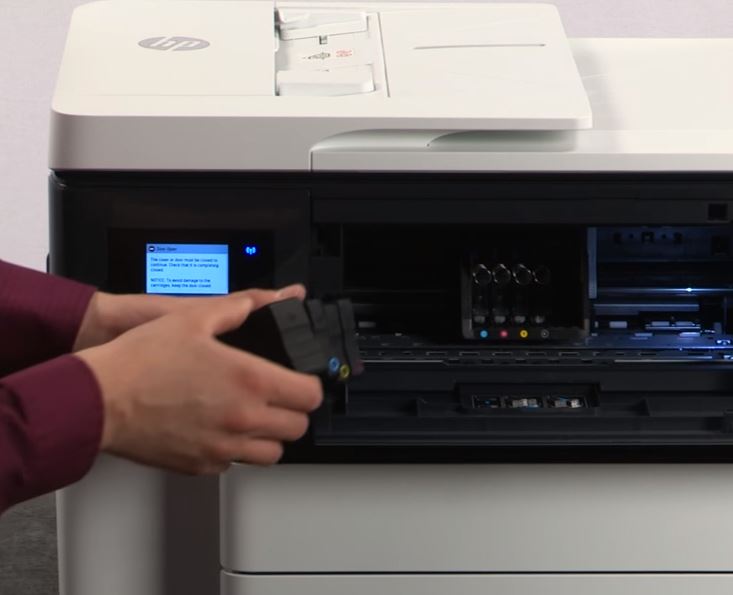 The fax functionality is fairly basic. Images are transmitted at a standard 300×300, and a total of 100 pages can be faxed at time. Transmission time is about 4 seconds per page. You aren't likely to find a faster fax, as design limitations prevent higher data transfer rates.
Copying is just as simple as you'd expect. Place your documents on the bed or in the tray, punch in the number of copies you want, and wait for the results. Because of the high DPI scanner, copied documents remain true to the original. With color images we noticed that there was a very slight shift in tone, as is to be expected with photocopies. Text documents, on the other hand, were barely distinguishable from the original.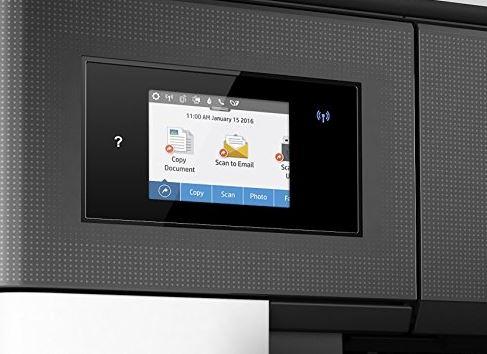 Interface
The best printer in the world is only useful if you know how to use it, and that's why we love the front mounted touchscreen. The screen is reasonably large, and very responsive. HP's interface is intelligently designed, clearly representing all of the various functions with large icons and descriptive titles. You'll never be confused about what to do next, as every step is intuitive. Changing color mode, print size, scan options, or any other feature seems to come naturally.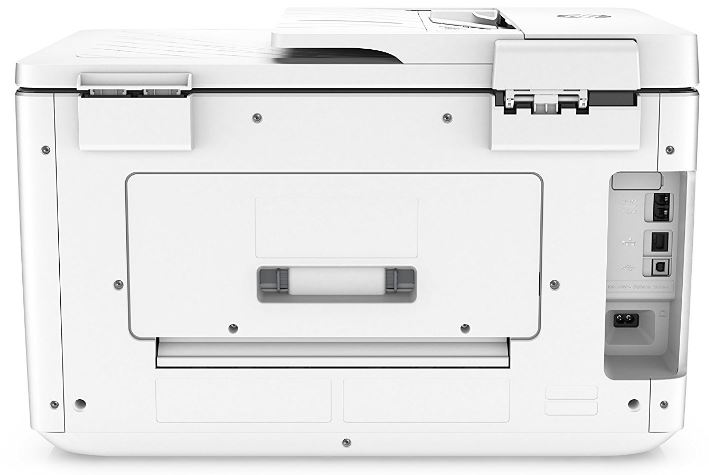 Cost of Ownership
Depending on the volume of prints you make, printer ownership can be an expensive endeavor. Laser printers are often purchased for their low per-page cost, but the toner is often sold for hundreds of dollars. Most inkjet printers offer terrible value, as a single cartridge can only last a few hundred sheets. With the HP OfficeJet Pro, you'll get higher yield per cartridge than almost any other comparable printer. The 952 black cartridge is capable of printing 2,000 pages, while the 952XL color cartridges can produce 1,600. Color comes in three separate cartridges: cyan, magenta, and yellow. This way, you'll never be wasting good ink just because a single color has run out.
So, Should I Get The HP OfficeJet Pro 7740?
For small or medium sized businesses, the HP OfficeJet Pro 7740 will save you money. Anyone with an average monthly print volume of less than 1000 pages will enjoy a lower cost-per-page with the HP than with an expensive high volume printer. If you have multiple people using it, you'll enjoy the fact that jobs are executed quickly, freeing it up for someone else to use. There will be no frustrating learning curve that just wastes everyone's time.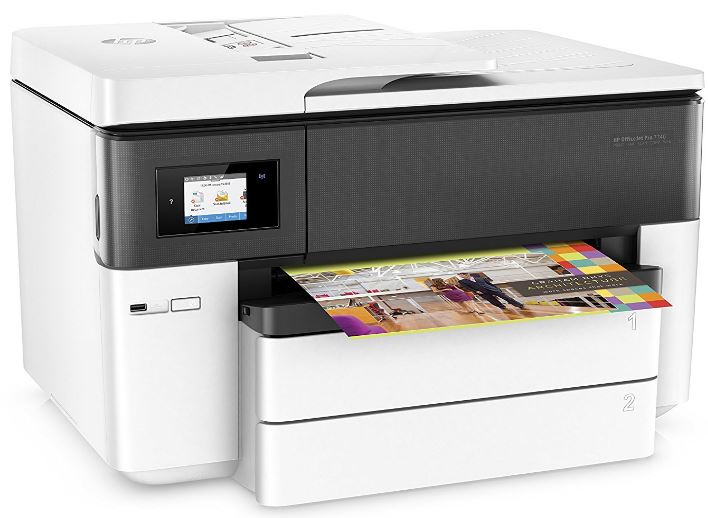 But is this printer for everyone? Not necessarily. If you don't really think that you'll use the fax and want to print a lot of photos, you may be better off with the Epson XP-640. This HP printer can print photos, but there is no sense in paying extra for features you don't really need. If you have a print volume exceeding 1000 pages per month, laser printers start to become more economical. In that case, you might want to check out our review of the HP LaserJet Pro M452D.
For everyone else, we can't recommend this printer enough. You get a great printer for a great price, giving you a much more pleasant experience than some clunky old machine.