Although wireless networking is now more advanced than ever, there are two major issues impeding its functionality. The first is bandwidth, although technologies like MU-MIMO and 802.11ac have taken some impressive strides in the right direction. The second is range. Wi-Fi signal can only go so far, and depending on the obstructions, often this signal won't cover your entire house.
If you've got a large home, an apartment with concrete walls, or an office space, you have likely struggled with wireless coverage. There are a few solutions, but they are often expensive, cumbersome, and require a great deal of technical knowledge to correctly configure. The AmpliFi LR (long range) and HD (high density) is a solution that promises to fix your range issues once and for all. The mesh technology used has shown to be incredibly effective in some solutions, and disappointing in others. It all boils down to the implementation. Let's take a look at it and see how it performs in the real world.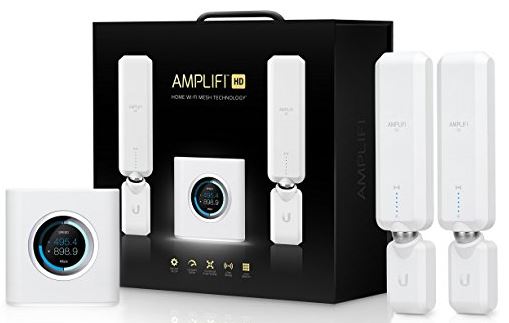 First Look
The AmpliFi LR & HD Home WiFi System is made up of two different components. First you've got the router, or base station as they describe it. This router is designed with a modern appeal, looking like no other router you've seen before. While the smooth white exterior brings everything together, the focal point of the unit is the high-tech LED display on the face. It's perfectly round, and gives you at-a-glance access to your current networks performance. Both upload and download speed are shown through an interface that looks like something outside of a science fiction movie.
The second component are the extenders. They're compact in nature, and have a rounded design that allows them to be discreet. On the face you've got an LED bar that shows you the signal strength, making it easy to use and always visually see your connection status.

Difference Between HD and LR
AmpliFi offers two different versions of their home WiFi system; one being HD (high density) and the other being LR (long range). Visually, they look identical, but you'll notice that the HD version retails for $50 more. Why is this and what's the different you ask? AmpliFi HD has a bit more power behind it, letting it deliver transfer speeds of up to 5.25 Gbps. rather than 2.35 Gbps. with with the LR version.
Design
The AmpliFi WiFi System is one of the most attractive on the market. But it's design elements aren't just for appearance, they also add to the functionality of the device. When you first turn it on, the large display will give you directions regarding the setup procedure. If there's any functional issues, it will indicate the problem in a clear manner, directing you to the app for further assistance.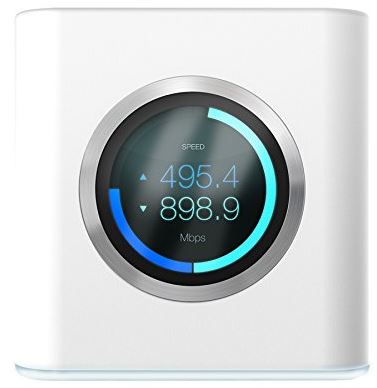 Once things are working as intended, the display will provide you with relevant information. With no users on the network, it gives you the date and time. The interface is certainly striking, surely more attractive than your alarm clock. When there are live connections to the router, you'll be shown information such as your WAN IP, the Router IP, and the number of users currently online. When there is a large amount of bandwidth in use, you'll be given an attractive graph that shows current upload and download speed.
The display isn't the only functional design element. When the router is fully operational, a ring around the base will glow white. If there are problems, the router will not glow. This is an easy way to check and see that you network is up, and can help you troubleshoot issues such as one of the extenders becoming disconnected.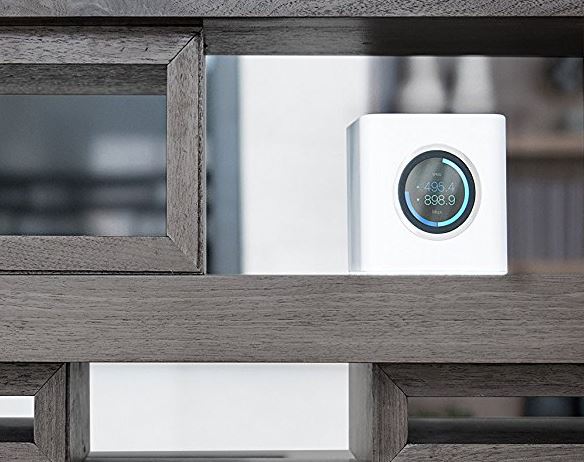 Ease of Use
Although there are many solutions for extending your wireless network, most are incredibly complex and cumbersome to set up and use. The AmpliFi LR & HD is one of the few mesh networking systems designed for the plug and play consumer. Setting it up really is that simple. All configuration takes place through and Android or iOS compatible app. Simply plug in the router, connect it to your modem, and open the app. It will locate the router in a matter of seconds, and allow you to enter your networking information such as access point name, and desired password.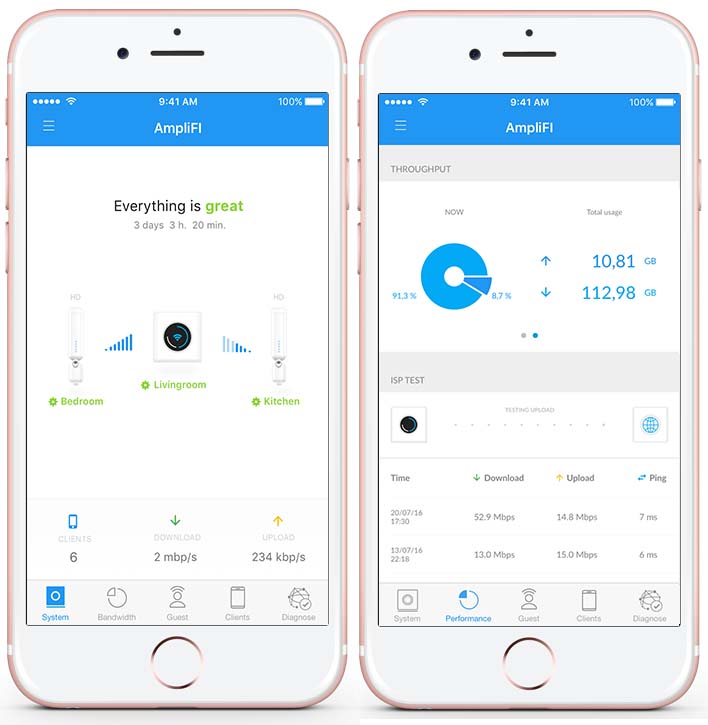 At this point, you've got the network up and running. You'll receive confirmation through a series of beeps that are emitted by the router. You can now go and plug the extenders into any electrical outlet in your house. They'll blink for a moment or two, before the get a connection and indicate the signal strength on the face of the device.
Changing settings is also quite easy on this router. Unlike most, you're not required to log into a web interface or memorize IP addresses. Everything can be configured from the mobile app, making changes simple.
Features
Just because the router is easy to use, doesn't mean that it's lacking in features. It's running on a powerful installation of Busybox Linux, offering services that are often only found in the most advanced routers.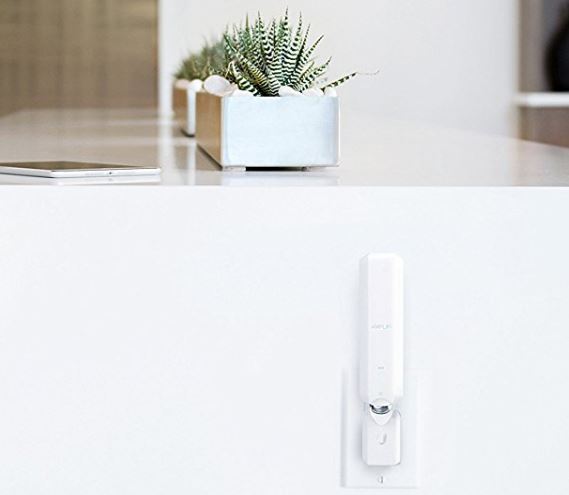 Two of the post powerful features are band steering and router steering. Band steering will attempt to force clients onto the 5Ghz network, when available. 5Ghz networks tend to have higher bandwidth, and are often less crowded than the 2.4Ghz band. Since so many devices default to 2.4 Ghz, this can be a great way to improve your bandwidth. Router steering attempts to force devices to connect to the base station first, only relying on the extenders if the connection is poor. Because there is no rebroadcasting taking place, you'll likely get a slightly faster connection when you are going directly to the router.
If you're technically inclined, you can still change many of the advanced features to further optimize your network. Channel width can be change for both bands. You can also forward ports, narrow channels, set up custom DHCP rules, and all of the standard filtering and access restrictions.
If you're using this system in a public place, the router gives you the option to set up a separate public network. You can restrict the number of users, the maximum time they can use your network for, and content restrictions specific to the network. This feature alone means that the router is suitable for both home and business purposes.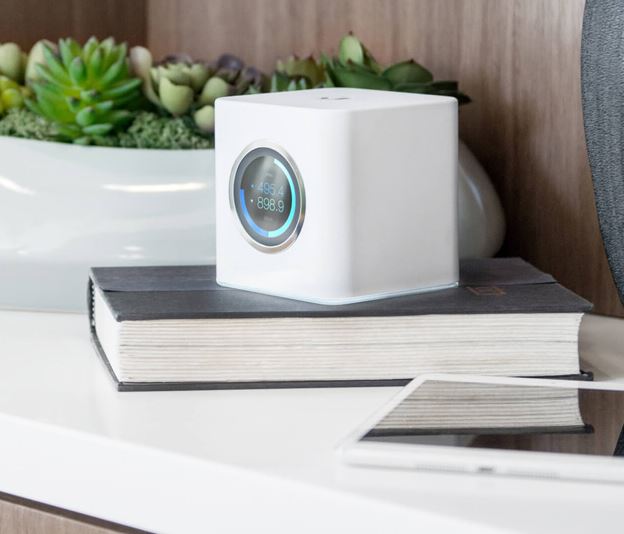 Bandwidth & Range
Thanks to 802.11ac, AmpliFi offers incredible performance. Our transfer rates for locally shared files average around 850 Mbps. Normally, we'd do this test both far away from the router and at close range. But thanks to the extenders, speed remains pretty consistent. When you are connected to one of the extenders, your bandwidth remains about the same. It's worth noting, however, that the additional hope adds a slight delay to your connection. You can expect a 5ms increase in ping times. This won't be a factor for most users, but online gamers may want to try and connect directly to the router when possible.
The coverage is advertised as 20,000 square feet. After testing it out, we certainly believe it. Our connection was strong from all parts of the house, and we couldn't find a single dead spot. One factor you may want to consider is the construction of your home. If you're in a large apartment with concrete walls, or an old brick loft, you'll likely see distances of about half the advertised value. Of course, it's unlikely to find an apartment that's over 10,000 square feet, so you probably won't find any issues with this.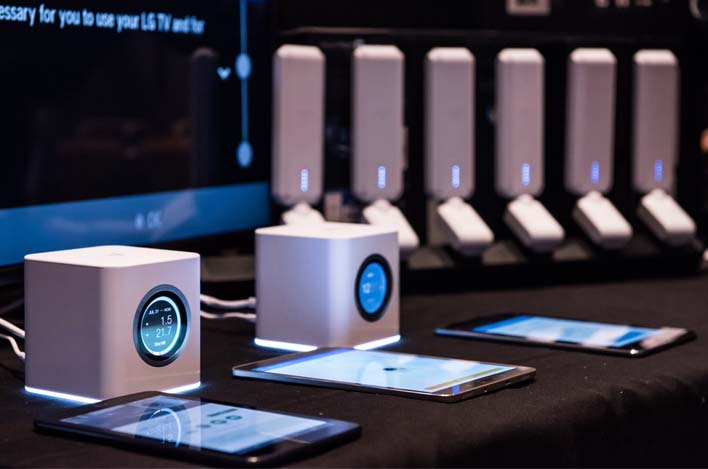 Final Thoughts
There are plenty of routers on the market that offer long range, but it's important to consider signal roll-off. If you have a high speed 802.11ac router that can cover a 5000 square foot area, how good do you think your signal will be at the end of that range? What if the signal has to go through several walls? Likely, you're find the bandwidth disappointing. For this reason, the AmpliFi Home WiFi System has two key benefits. First, you'll be able to cover a large area with wireless internet. Second, your bandwidth will be consistent throughout the house. Sure, there aren't many people who really need the 20,000 square feet of coverage offered by this system. But there are many people who could benefit from the stable connection speed.
Of course, not everyone will love this home wireless system. Those who want to use advanced features like access control, but don't have the technical know-how will like the Amped Wireless ALLY System. If you only have a single dead spot in your house, you may be able to cancel it out with the Netgear Orbi. But if you find yourself struggling with multiple dead spots in your home and poor bandwidth, the AmpliFi is the choice for you.
This is one of the first Wi-Fi systems we've seen that doesn't restrict configuration in any way. If you're technical and know how to set up your own router, then you'll appreciate the way that the AmpliFi is laid out. Business users will certainly love the way that they can prioritize connections, and configure a separate public hot spot with its own set of access restrictions. Not only is this system affordable, but it's one of the most feature rich we've seen on the market.
Meet Derek, "TechGuru," a 34-year-old technology enthusiast with a deep passion for tech innovations. With extensive experience, he specializes in gaming hardware and software, and has expertise in gadgets, custom PCs, and audio.
Besides writing about tech and reviewing new products, Derek enjoys traveling, hiking, and photography. Committed to keeping up with the latest industry trends, he aims to guide readers in making informed tech decisions.