When it comes to smartwatches, you've got plenty of options. While most smartwatch makers attempt to be a "jack of all trades" by cramming tons of features into one compact device, they usually come up a little short in each department. Polar takes a different approach to watch technology. They focus on a few core features, making sure that they are the best in class.
Polar products are used primarily by runners. When you're training, you want to keep track of your heart rate, distance, and time. Small variances in any of those metrics can have a pretty major impact on the success of your run. The main issue is that very few smartwatches can measure heart rate accurately. Sure, they can make a pretty close guess. But when you're who fitness program is designed around that reading, you can't afford any errors.
We've already taken a look at their M600 GPS Smartwatch and determined that it was the best smartwatch for runners. Today, they've decided to slim this premium model down and create a fitness tracker that has all the essential features you need, at a price you can afford. Let's see if this budget-friendly product can live up to the high standard set by Polar.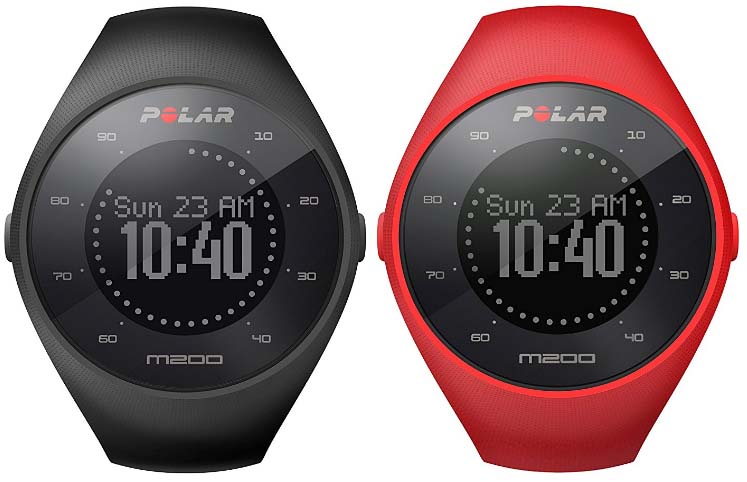 First Look
With its smooth rubbery band, the Polar M200 GPS Running Watch certainly looks durable. The design is unassuming, focusing on simplicity rather than opulence. The black model looks no different than any other standard runners watch, while the red model stands out a little more. The watch face features a black bezel with heart rate values indicated around the face, while the center contains a circular LCD display. The entire watch face is black, and the inverted LCD certainly adds to the sleek appearance. Flipping it over will expose the impressive looking optical heart rate monitor. Let's take a look and see how it performs.
Comfort
The band is simple and well designed. It's made from a soft rubber material that feels surprisingly good on the wrist. There is certainly a bit of pressure, but not much more than you'd expect from a standard watch. Some may shy away from a rubberized watch band after the unpleasant experience of having their arm hairs torn out by inexpensive rubber watches. Fortunately, Polar used a much softer rubber, so the watch feels great on the arm. Because it's a little stretchy, you're able to get it a little bit tighter than other watches, if you like. This is great for high intensity workouts, and you won't have a loose watch sliding around your wrist.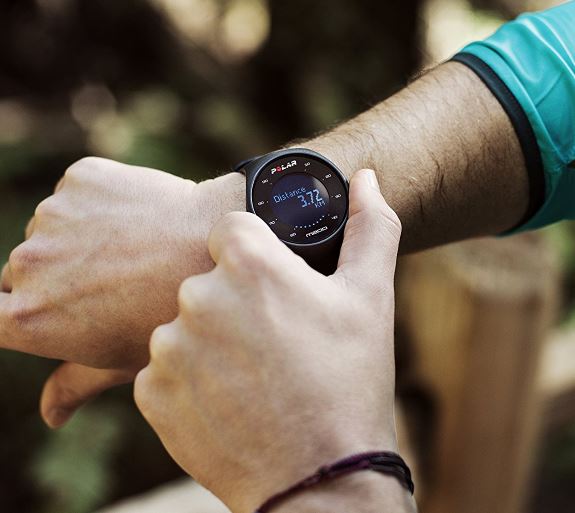 Controls and Interface
Using the Polar M200 is simple. There are two buttons located on the left and right side of the watch. The right button works just like the "enter" button on your computer, while the left performs navigation functions.
From the main screen, you can scroll through all of the different modes. To select any of the modes, all you need to do is press the right button. Any time you want to leave, you'll need to long press the navigation button to go back to the main menu. Since each mode has different functions you can choose, the long press allows you to interact with your watch without accidentally closing your current workout.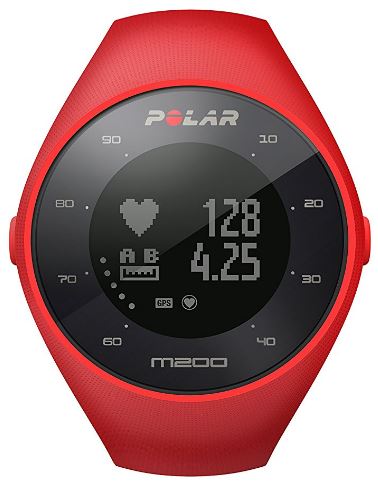 The display is very clear, even in bright lighting conditions. Large fonts are used, so you'll always be able to see your current heartrate even during a run. The interface is pretty simple due to the low resolution screen. Fortunately, using the watch is simple enough that you'll never get confused.
Polar Flow
The running watch is excellent at tracking all of your data, but only provides you with very simple information. Once you connect it to the Polar Flow software, it's clear how useful this running watch is.

You can go through all of your previous workouts and see incredible detail about them. You'll see a map, with your running path marked out. Your run will be broken down into laps or miles, which will allow you to see the changes in your heart rate and speed overtime. You'll be given breakdowns showing how much time was spent performing low, mid, or high intensity exercise. The app will use this data to help you see your progress over time, and give you in depth access to every detail of your workout.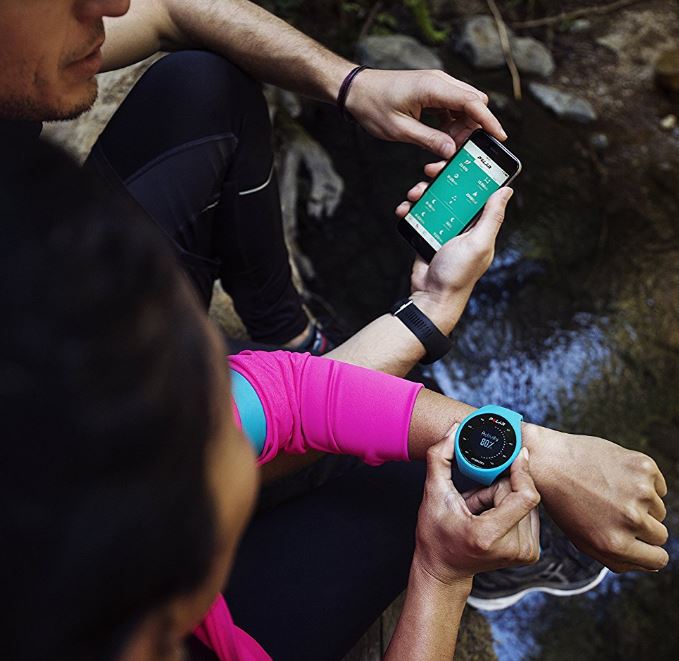 The Polar Flow application can also be used to customize your interface. The watch can display two values in each mode. For example, you might want to show the number of miles you've run and your current heart rate. But you can change this display to almost anything you want from calories burned, speed, total time, average heart rate, etc. The list goes on forever, and it's great that they allow you to find the information you need at a quick glance.
Heart Rate Monitor
Almost every fitness tracker on the market uses an older heart rate monitoring technology that produces pretty mediocre results. But optical trackers are a little more advanced. Two LEDs are illuminated against your skin, and an advanced optical sensor measures how the light is scattered by your blood flow. This means that even if the sensor is moving around, it will still be able to measure your heart rate accurately instead of misreading environmental factors.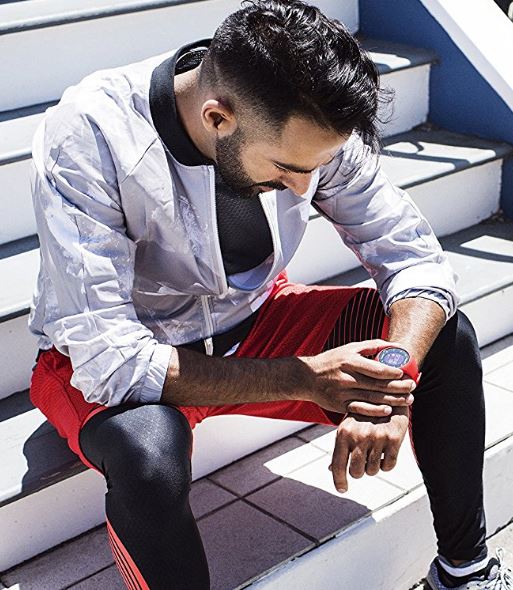 Having the sensor pressed against your skin is important, which is why this watch is worn a little tighter. But the technology still needs to be able to filter out noise and make sure it's only reading the correct information. If any company can do this, it's Polar. They've been making heart rate monitors for years, some of them even being sold for medical purposes. The combination of the well-designed sensor and their proprietary filtering software means that this is the most accurate heart rate sensor on the market.
Modes
There are several ways that the Polar running watch can improve your fitness, and each of these ways can be found in the main menu. You're given 5 different modes to choose from: training, activity tracking, history, and My HR.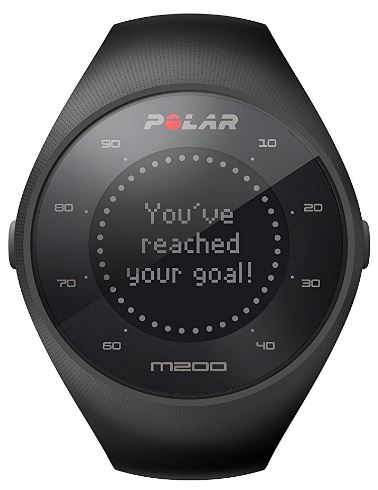 Training is probably the most impressive and useful feature on the watch. From the Polar Flow application, you can use one of their pre-designed training programs or create one on your own. For example, a training program might require you to start off with moderate intensity running, increase to high intensity, then go to low intensity for a cool-down. Others, like burst training, require you to run as fast as you can for short amounts of time, followed by a rest period. When in training mode, your watch will show you the objective and your current measurement. This can be distance, time, or any other metric set by your program. This is a very motivating way to run, and can be a strong incentive to push yourself.
Activity tracking simply shows your current heart rate with no particular objectives or goals. You can choose another metric to be shown at the top of the display, such as time or number of laps. History allows you to compare your current heart rate, distance, or time to the one from your last workout. My HR mode simply displays your current heart rate, and is used only as an indicator.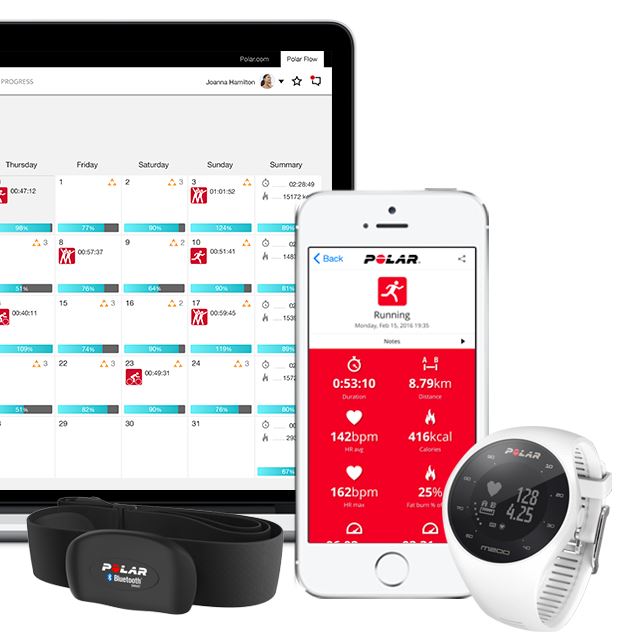 So, Should I Get the Polar M200?
If you want an accurate heart rate measurement, the Polar M200 GPS Running Watch is the most affordable way to get it. The training features are a great motivator, and the GPS is certainly a bonus. Thanks to Polar Flow, all the data that's collected can be used to help you better understand your workouts, and identify ways that you can improve them. Polar may not be one of the most well-known smartwatch brands, but they're a very well-known fitness brand. People from all over the world turn to Polar products when they take their health seriously. Thanks to the M200 GPS running watch, their top grade heartrate monitor is now available to everyone.
If you're looking for the full smartwatch experience, then the M200 may disappoint. This watch sticks to the basics, without many additional features. For a more luxurious experience, you might want to check out their M600 version. It takes everything that makes the M200 great, and adds the full blown Android Wear experience.
Regardless which one you choose, you'll certainly appreciate the high level of quality. Personal fitness trackers are often built just to be "good enough", but the M200 refuses to take shortcuts with your health.