Bluetooth is quickly becoming the connection method of choice for the smart homes of the future. Bluetooth offers you a high bandwidth connection with quick data transfer rates and low power draw. If you've spent any time looking at smart devices, you've surely noticed that there is a huge range of products. Everything from speakers to lighting to device power controls are readily available.
But there are two key disadvantages of this system. The first is interconnectivity. You might have a NEST thermometer, Kwikset smart lock, and maybe even a Beddi Smart Radio. But these devices won't always communicate with each other, leaving you with several different apps you need to control the various aspects of your home. Plus, Bluetooth will only work over a short range. If you left something on in the living room, you won't necessarily be able to switch it off while you're in bed.
The Cassia Hub system is able to directly address both of these problems. With the Bluetooth router, you can control any device from anywhere in your home. You can connect your existing Bluetooth devices, or use Cassia's impressive devices that extend the functionality of your router. Let's take a look at see if this home system is revolutionary, or disappointing.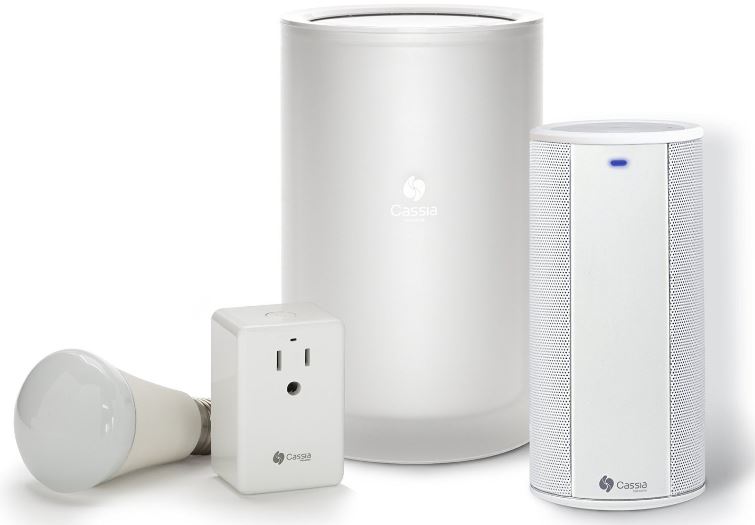 First Look
The Cassia Hub Connected Home Kit is composed of four separate devices, and an app. The heart of the system is the Bluetooth router. It manages connections between up to 22 different Bluetooth devices. They offer three different self-branded products: a smart plug, an LED light, and a Bluetooth speaker. But you aren't just restricted to these objects, as the hub will communicate with any Bluetooth device within its 1000-foot range. Their entire product range is designed with a very sleek, modern look. The flat white gives it a premium appeal, while remaining neutral as a form of décor. It's clear from the design that Cassia was focused on the experience first, and design second. Each and every one of their devices has an impressive feature set, so let's take an in-depth look at them.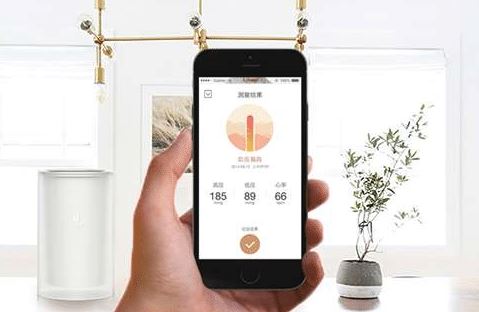 App
At the heart of the entire system is the Cassia Hub app. This is your primary point of interaction with every aspect of the system, and defines your entire experience. Upon first opening the app you'll see a sleek splash screen with a single button. Tapping on it opens up your list of connected devices. You are able to categorize them into groups. For example, you can have a group for each room of your house. Or you could have a group for lighting, another for music, and so forth. Adding a device is a simple as pairing it with your phone, tapping the add button, and selecting the type. Cassia devices will be typed automatically, while the rest can be defined as lighting, audio, switches, temperature, and several other options. You can also link multiple devices together. For example, multiple lights can be entered as a single lighting instance. Anytime you change the color or brightness, the command will be applied to all of them at the same time.
Once all of your devices are added, it only takes a few taps to change any setting you want. You can change the lighting, start your favorite Spotify playlist, and set the rooms temperature. If you move to another room, it only takes another tap of your phone to shut down all the connected devices and move your settings into the new room. The app may be simple in nature, but it's very well designed and easy to use.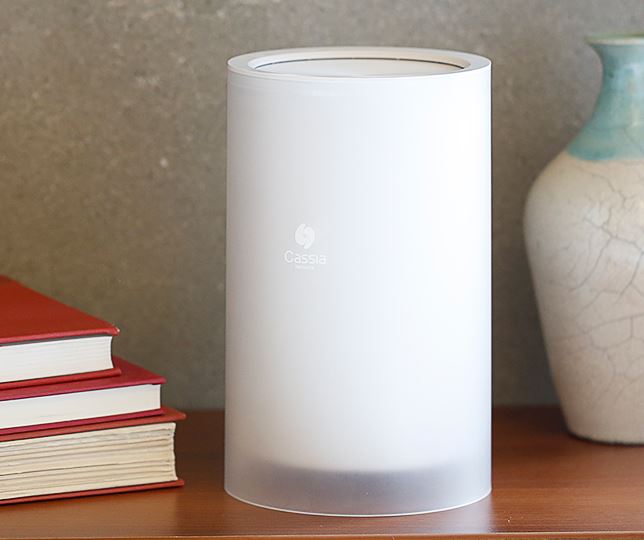 Router
The Cassia Hub Bluetooth Router is the silent engine driving your entire home automation system. Through the app, setting it up is incredibly simple. All you have to do is connect it to your home Wi-Fi network, and pair all of your Bluetooth devices. They'll automatically be detected by the router, and can be assigned functions from the app.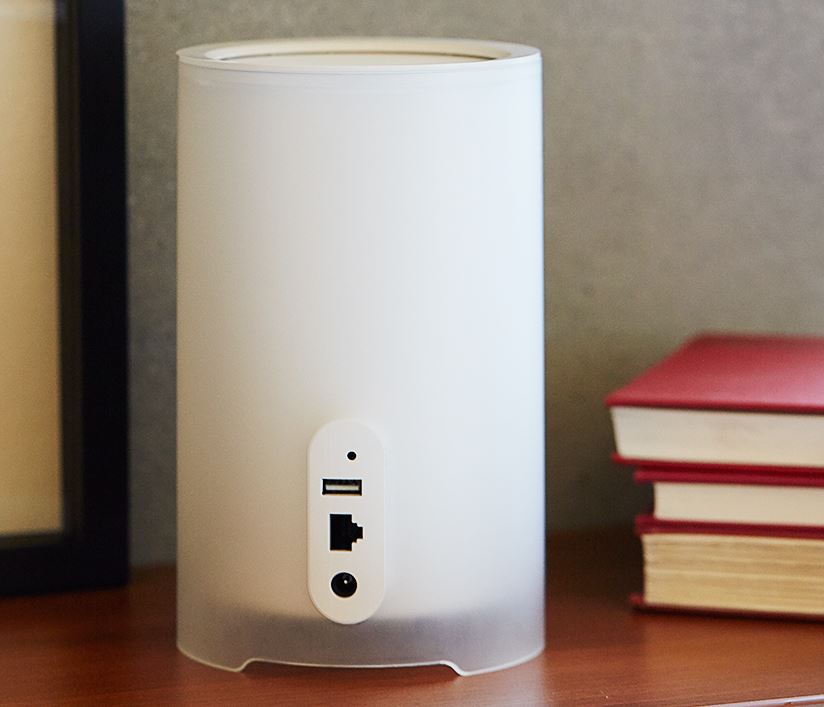 The Cassia Hub Bluetooth Router has an advertised range of 1000 feet in open air. In our experience, this is closer to 700 feet in each direction when positioned in the center of the house. It's important to clarify that this is the range of communication between the router and your Bluetooth devices. Your connection with the phone is virtually range less. Because it pairs to your Wi-Fi network, you're able to access it from anywhere – even over mobile data while you're out of the home. This makes it incredibly useful, and you really can make sure you turned off all the lights while you're at work.
Cassia Bluetooth Speaker
The Cassia Hub Bluetooth Speaker is certainly one cool looking device. It's completely cylindrical, just like the router. There are two speaker grills on each side, and a single blue light indicating that it's in use. But you won't find any controls on this speaker, as everything is done from the mobile app.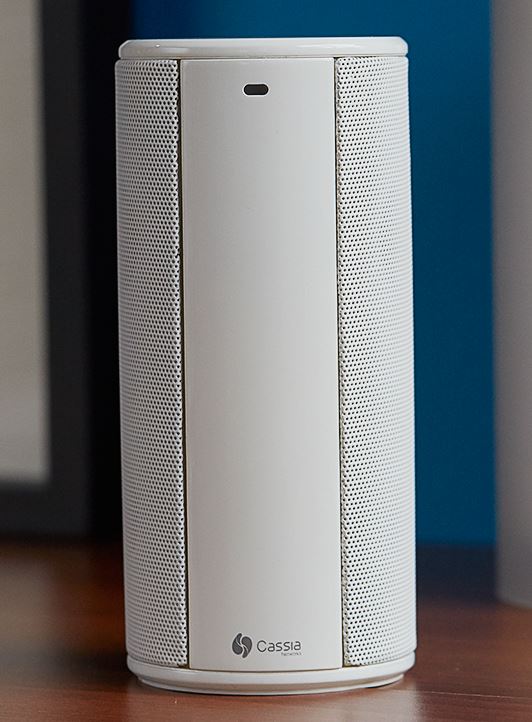 Generally, you'll want to leave the speaker plugged in. But if you want to take your music with you, the rechargeable Lithium Ion battery gives you up to 10 hours of music playback. The speaker is a little larger than most Bluetooth speakers on the market, but the size is compensated for with the extra-long battery life and impressive sound quality.
Although it's just a single speaker, you are actually getting full 2.1 surround sound. You've got speakers arranged each side of the device in a radial pattern that creates 360-degree sound you can enjoy from everywhere. Two passive radiators improve the bass performance, giving you a music experience you didn't think was possible from a Bluetooth speaker. If you receive a call, you can actually use the speaker to complete the call thanks to the built in microphone.
It can be used in almost any environment, thanks to its incredibly durable case. Accidentally knocking it over is unlikely to damage it, as the construction is incredibly solid and tight. It's fully water resistant, so there is no reason to worry about the occasional splash.
You're given full control as to how the speakers can be set up. You can use two of them at the same time, filling even the largest rooms with impressive sound quality. To activate them, you don't even have to open the app. NFC, or near field communication, is embedded in the top of the speaker. Just place your phone near the top for a moment, and your favorite Spotify playlist will start streaming. NFC can also be used to transfer your music from one speaker to the other, a great feature to have if you're changing rooms.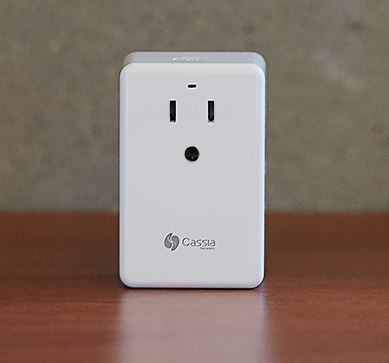 Cassia Smart Plug
The smart plug is a simple device that allows you to convert your standard appliances into smart appliances. Its functionality is very simple. You just plug it into the wall, and then plug any 120V or 240V device into it. It will then operate like a switch, allowing you to turn it on or off from the Cassia Hub app.
You're not just restricted to one device either. You can easily plug a power bar into it, and use the Smart Plug to turn every connected device on or off at the same time. With a 25,000-hour life expectancy, you can be sure that this will last you for a very long time.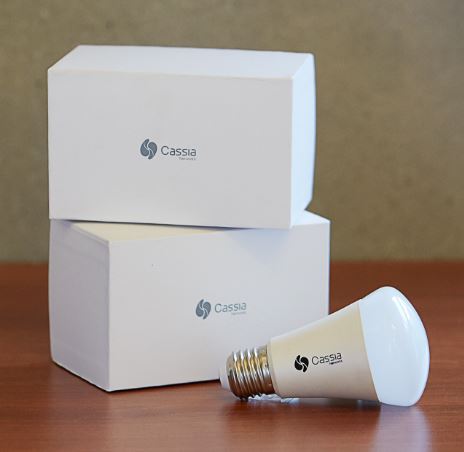 Cassia Bluetooth Multi-Color LED
This smart bulb can be screwed into any standard light socket. It produces just as much light as a standard 100 watt incandescent bulb, but only uses 6.5W of power. The bulb uses special four color LEDs that can produce red, blue, green, and white. This allows you to set the exact color and brightness you want, setting the mood however you see fit.
This LED bulb has an expected life of 25,000 hours. How much do you think you would spend on standard light bulbs after 25,000 hours? Not only does this work out to be a cheaper option, but it will cut power use by 80%. In short, this bulb pays for itself.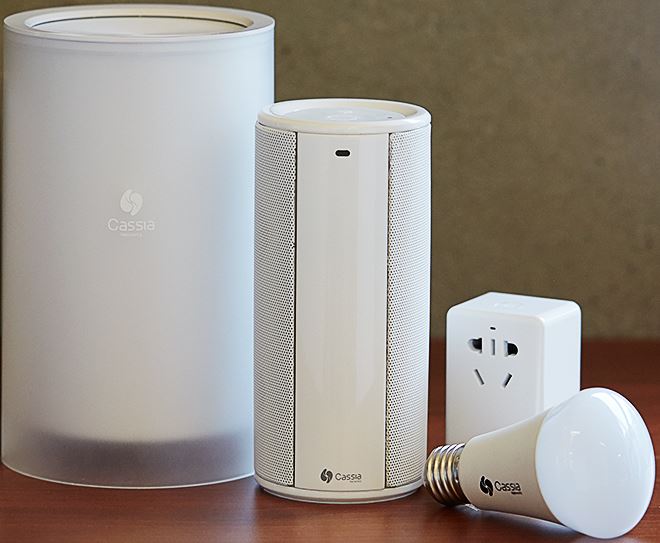 Final Thoughts
As far as smart apps are concerned, the Cassia system is an excellent way to make all of your devices operate cohesively. You can use the bundled hardware, or purchase existing hardware from another manufacturer. It's great to see a company that's focusing on making their products easy to use, with a focus on consumer choice. But the Cassia Hub is available in several different kits, and which one is right for you?
The Cassia Hub Bluetooth router extends the range of your Bluetooth devices, and allows you to use the Cassia Hub app to control them. If you've already got a number of smart devices in your house, the router is the best way for you to make them work together.
The Cassia Hub Audio Kit I bundles two of their best products, giving you more of the experience. Bluetooth speakers are generally designed for portability, at the sacrifice of audio quality and battery life. But we strongly believe that this is one of the best Bluetooth speakers for household use, and would highly recommend this kit for any music lovers. If one speaker isn't enough (and really, is it ever?) then you can upgrade to the Audio Kit II and get a pair of them. This is great for filling large rooms, or having multiple audio sources in different areas of your house.
If you want the full package, then the Cassia Hub Connected Home Kit gives you access to the entire ecosystem of the Cassia Hub. You'll get the light bulb, the smart plug, the router, and the speaker to enjoy everything this company has to offer. If you don't have any smart devices at home, this is the perfect way to get started.