Buying wireless networking hardware can be a pretty complicated process. The speeds advertised on the box are only possible under ideal conditions, and hard to replicate. How frustrating is it to purchase a router that advertises a specific speed, then realize that the real-world performance is a fraction of that? Technically, manufactures are not lying about their products. They are simply presenting information in a way that is easy for consumers to misinterpret, creating the illusion that their product is superior to another.
Amped Wireless believes that customers should have the right to make informed decisions about the products they purchase. With their newly released Ally Whole Home Smart WiFi System, everything from the box to the software is designed to be clear and easy to understand. By reading through the product page, you can tell that Amped Wireless's marketing is based on honesty. They clearly explain what the system can do and how it's used. The target market probably has a lot to do with this marketing. Although Ally is a premium router, it's not designed for techies who want to squeeze every last drop of performance out of their hardware. Instead, it's designed to be used by parents who want to control and regulate how the internet is used within their home. Let's take a look and see how the Ally Wireless System performs in the real world.
First Impressions
The Ally Whole Home Smart WiFi System comes in two different packages. The Ally is a single unit, looking a lot like your standard router. The Ally Plus has two units that look identical, but perform different functions. One is a router and the other an extender. With the Ally Plus you can get coverage of up to 15,000 square feet, or place them closer together to get rid of dead-zones.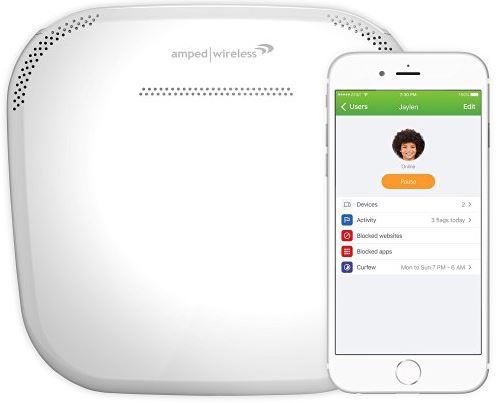 In terms of appearance, Ally really isn't anything special to look at. It has a simple, modern design that will be easy to hide in your home. Should you want to leave it out in the open, it certainly won't capture any unwanted attention. But Ally wasn't built around design, it was built around functionality. Amped Wireless has taken every little feature of a wireless router and made the settings easy to change from the palm of your hand. Let's take a look and see how it's used.

Setup
From the moment you open the Ally Whole Home Smart WiFi System, you'll be using your smartphone to control every aspect of your wireless network. The app is available on both Android and iOS, so you'll be able to use it on almost any mobile device. If you don't have a smartphone or tablet, you can still control the router by logging in through your browser. However, doing so would limit the best features of it.

Upon first opening the app, it instructs you to connect the modem and power source to the Ally. Moments after plugging it in, we received a notification that our wireless network was being automatically set up for us. We chose a name for our router and entered our password, and set up was complete.
As some of you know, setting up a new router isn't always that easy. If your ISP (Internet Service Provider) or network has an unusual connection, many routers will need to be configured before they will work. With Ally, the app will guide you through the entire process. If it doesn't find a connection, it will ask you questions about your connection, and give you visual diagrams to verify the cables are attached correctly. Although we didn't encounter any issues, an automated troubleshooting system like this could save you from waiting on hold for your ISP.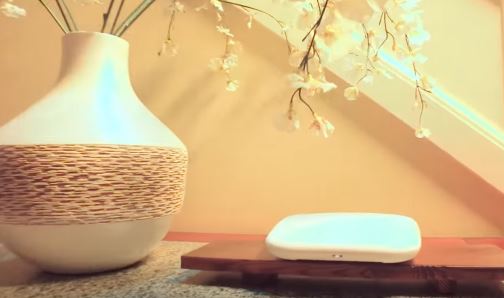 Controls
Once your internet is up and running, the router works just as you'd expect. It's not until you open the companion app that you realize what this WiFi system can do. There are four primary ways you can control your home network: Parental controls, scheduled access, activity logging, and notifications.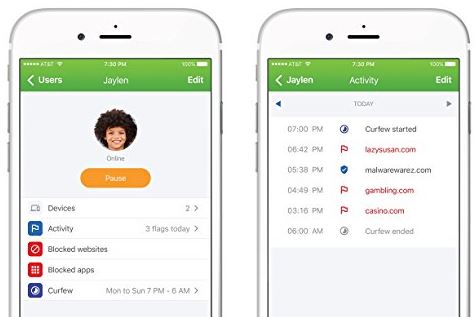 Parental Controls
Parental controls let you decide exactly what type of content your children are able to access. You can set different restrictions for each device in the house, should you desire. There are several pre-configured settings for content restriction. You can block content by type, such as pornographic materials, sites with profanity, and much more. If you want to get specific, you can create a whitelist. This means that every website will be blocked, unless you specifically approve it. Websites aren't the only thing you can block. You are also able to ban specific apps that you don't want your children to have access too.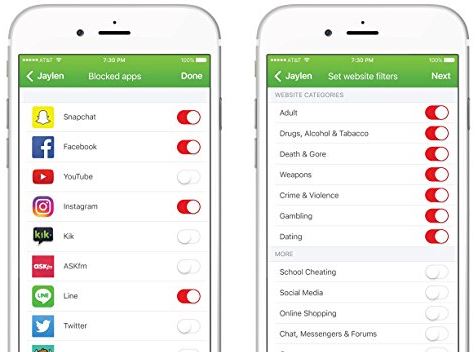 Scheduled Access
Scheduled Access sounds simple at first. You choose what times devices can or cannot access the internet. When combined with the parental controls, it's much more advanced. For example, you could block social media websites after bed time. Alternately, you could block online gaming at pre-defined times of the day. No matter what the rules of the house are, you can easily instruct Ally to enforce them.
Activity Logging
It's impossible for content filters to be 100% effective. Even if they have blocked hundreds of thousands of mature websites, there are likely a few that were missed. How can you ensure that your children are using the web responsibly? With activity logging, you'll be able to review the websites and apps that your children have accessed. This will allow you to quickly add a website to the block list with the tap of the finger.
Notifications
This is a gentler way to enforce the rules. Instead of these rigid schedules where 4:59 is acceptable but 5:00 is not, your settings will behave more like a guideline. During scheduled times, your children will have to request internet access. You'll get the notification on your phone instantly, allowing you to approve or deny the request in real time. Outside of your "restriction" times, you'll still be kept aware of what is happening on your network. You'll be notified when a device connects or disconnects from the router, and a quick tap can tell you what app or website is being accessed.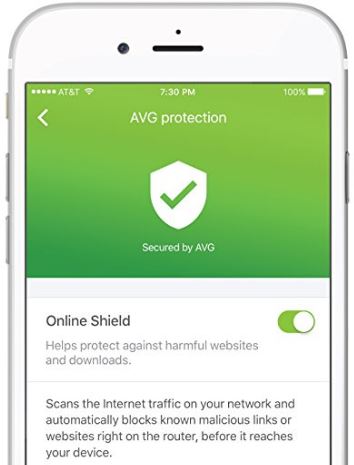 Security
Regulating your children's access to the internet is one thing, but computer security is entirely another. You'll want to keep your network protected from spam, viruses, malware, and fraudulent websites. Setting up an independent security system on each of your mobile devices is a lot of work, and with Ally it's completely unnecessary. The router has AVG internet security built right in. It can stop viruses before they get to your device, prevent you from being tricked into visiting a fraudulent website, and restrict the ability of hackers to break into your network.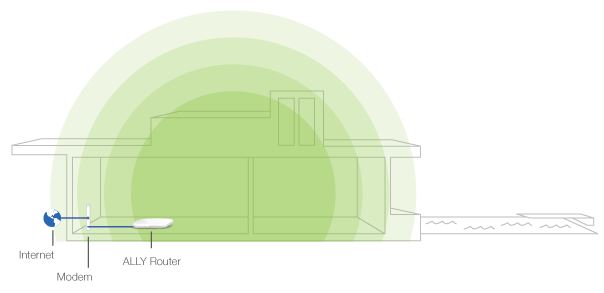 Range
Ally is sold as a router that offers superior range with no dead-zones or dropouts. This is truer of the Ally Plus than the base model, although both are competent devices. It offers 802.11AC, a technology that operates simultaneously on the 2.4 GHz and 5 GHz frequencies. This is currently the best wireless technology on the market, but it's only useful if you have newer devices that support it. In our tests of the single Ally router, we found that it adequately covered our entire home with no dead spots. If you have a massive house, or live in a multi-story building made from concrete, then you may have a need for the Ally Plus. But for the rest of us, the basic model should suffice.
Bandwidth
Ally supports a maximum throughput of 1300 Mbps on the 5 GHz channel and 600 Mbps on the 2.4 GHz channel. This may not be the best on the market, but it's plenty fast enough for most users. Unless you have a fiber optic internet connection that exceeds 100 Mbps download speed, you're likely never going to have a problem with the speed.
Bandwidth isn't really the biggest issue with modern routers. Instead, the problem is that they tend to get bogged down when too many users are on the same network at the same time. This would be completely unacceptable in a product that was designed for a large family, so MIMO technology was installed. MIMO stands for Multiple Input, Multiple Output. This means that there are actually several separate wireless channels inside the router. To be exact, there are 4×2.4 GHz channels and 3×5 GHz channels. If your home internet connection is slow, MIMO won't be much help. But if you have a fast connection, MIMO is the only way that you'll be able to share the bandwidth.

So, Should I Get the Amped Wireless Ally Whole Home Smart Wi-Fi System?
There are no components inside the Ally Whole Home Smart WiFi System that aren't in hundreds of other routers. And yet it's still a groundbreaking product. Although many routers and competing "WiFi Systems" sound simple in functionality, access restrictions, data logging, and scheduling can be incredibly complex to implement in the real world. Amped Wireless has taken all of these complex, difficult to use features and wrapped them up in a package that is accessible to users who don't have any technical experience. Plus, the way that these features are handled in the app add an entire new layer of functionality that would not be possible with any other router. If the access controls are the most valuable feature to you, then the Ally is hands-down the best router on the market.
If you're not interested in parental controls, you won't find a lot of value in the Ally. Beyond the access controls, there is nothing else that can justify the additional cost of the Ally. If all you need is a simple, competent home router, you'd save a few bucks by going with something like the TP-LINK AC3150. Or, perhaps you were looking at this router because you wanted a long range, high bandwidth wireless network that used cutting edge technologies. Provided your equipment is capable of taking advantage of such advanced features, the TP-LINK Talon or the Linksys EA9500 router will offer you better range and bandwidth than the Ally.
If you're someone who is new to setting up a home network or a novice with computers, there are a few other "whole home WiFi systems" that are worth considering. The eero, Luma, or Orbi are all specific models that come to mind.
Meet Derek, "TechGuru," a 34-year-old technology enthusiast with a deep passion for tech innovations. With extensive experience, he specializes in gaming hardware and software, and has expertise in gadgets, custom PCs, and audio.
Besides writing about tech and reviewing new products, Derek enjoys traveling, hiking, and photography. Committed to keeping up with the latest industry trends, he aims to guide readers in making informed tech decisions.