These days, it's easy to get caught up in all the bells and whistles on modern printers. Photo, scanning, and online options are all the rage. And there's certainly nothing wrong with having any of those features! But sometimes, all you need is a printer for running off documents. In fact, that's the bulk of what most people are doing in their offices. A plain, monochrome printer can save you a bundle compared to a similar printer with full color. And there's no need to skimp on other features. Modern monochrome printers can offer the same online and other options as their full-color counterparts.
Today, we'll be looking at three of the best monochrome laser printers that money can buy. We'll start by reviewing the HP Neverstop 1001nw. This is a big, beefy printer that accepts envelopes and legal paper as well as standard 8 ½" x 11" sheets. Next, we'll check out the Lexmark B3340dw. This blazing-fast printer can put out 40 pages per minute, doubling the performance of most others. Finally, we'll examine the HP Laserjet Pro M118dw. This app-enabled printer can act as a WiFi hotspot, so you can print wirelessly even without access to a wireless network. Which one of these printers is the best choice for you? Let's look closer, and see how they compare!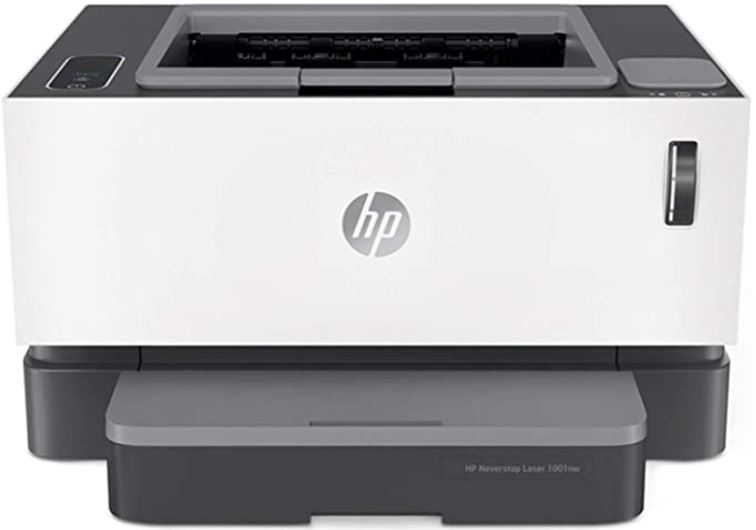 HP Neverstop 1001nw
The HP Neverstop 1001nw is a high-capacity printer that nonetheless maintains a mid-sized form factor. The footprint measures 14.63 inches each, and just a hair under 15 inches wide. It's not tiny, but it can still be used on an ordinary desk. It's also reasonably short, measuring a mere 8.31 inches in height. This means it can fit under cubicle cabinets and other common office obstructions. The housing is an off-white ABS plastic, with black trim on the top and around the bottom tray. This makes it suitable for most offices, without any loud or unnecessary bells and whistles.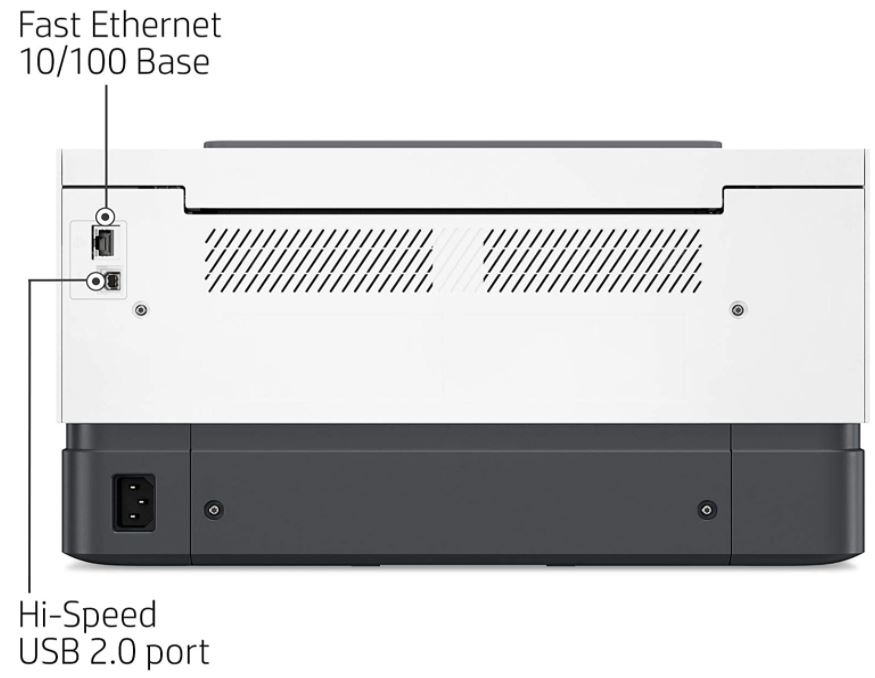 The input hopper is located at the bottom of the printer, and has a 150-page capacity. The hopper opens from the front, with a grey lid that flips open and closed easily. Finished pages are dispensed on top of the printer, and collect in their own separate tray. Next to the tray, you'll find the black tempered glass control panel, which is very easy to operate. Without any scanning or copying capability, there are only a few buttons. There are also "low toner" and "low paper" lights for convenience.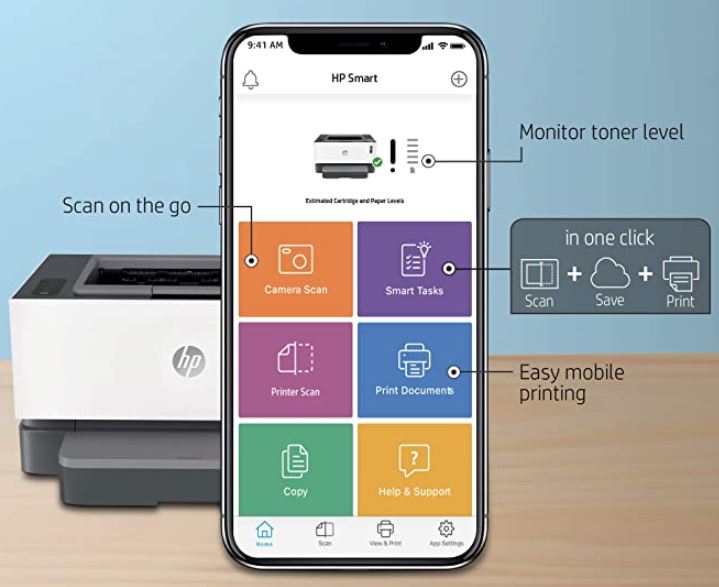 The printer comes with a few essentials to help you get started. To begin with, there's an AC power supply and a USB Type-B to Type-A data cable. These are all you need to get the printer up and running. In addition, the kit includes a large toner refill bottle with enough toner for 5,000 pages. In theory, this toner refill system doesn't just provide massive capacity, it's also cleaner to refill. Instead of messing around with cartridges and their dirty contacts, you just connect the injector and dispense. A quick wipe with a paper towel is all that's required for cleanup.
All of this is covered by HP's 12-month manufacturer's warranty. This warranty covers any defects in materials or workmanship. If there's a defect with your printer, HP will either replace it or repair it for free. In addition, they provide 24/7 technical support, so you can get help with any configuration issues.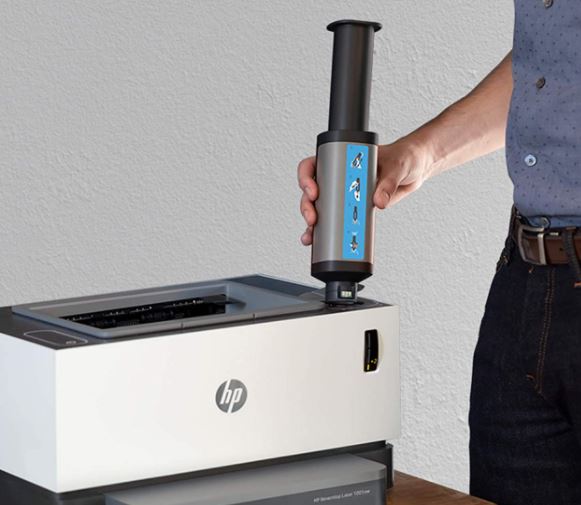 Print Quality & Extras
The Neverstop 1001nw is a more-or-less straightforward office printer. It's greyscale-only, and there's no duplex printing support. On the other hand, it's well-equipped to handle most office tasks. It can print on small 4×6 or larger envelopes, and can support up to 8.5" x 14" legal paper. The maximum print speed is 21 pages per minute, fairly typical for an office printer. At this rate, you'll still get reasonably good quality, at least for print. Even small text will be more than legible.
That said, there are times when a black and white printer can't do the job. If you want to print photos or brochures in your office, you'll need a color printer. In that case, consider the HP Deskjet 3639 Wireless All-in-One. It prints full-quality photographs just as well as any photo printer, albeit at a slower rate than the Neverstop.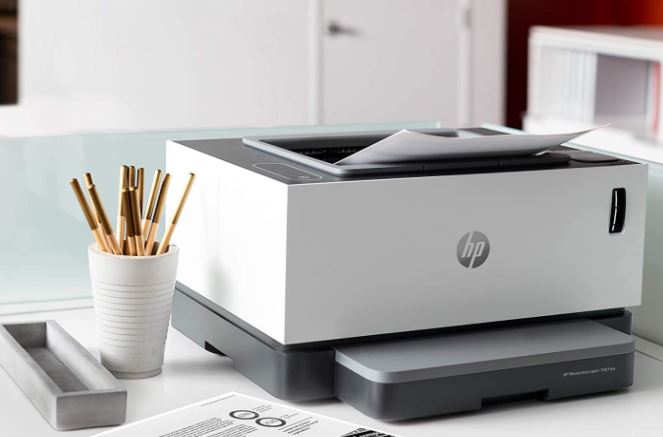 The 1001nw can be hardwired or connected wirelessly. For hardwiring, there are both USB Type-B and Ethernet connections. USB is ideal for connecting to a single PC or directly to a router with a USB slot. However, Ethernet is better-suited to most other network printing applications. Ethernet typically allows for a more streamlined setup, without a lot of faffing about.
Then again, why use wires at all when you have a wireless network? The Neverstop can be connected to your WiFi network, negating the need for wires entirely. With a wireless connection, you can also take advantage of the HP Smart app. This app allows you to print from your phone, including from cloud services like Dropbox. It also allows you to use your phone as a scanner, and converts scanned images directly to PDF. In addition to all that, the printer can also be configured as a WiFi hotspot. This lets you connect directly, even in the absence of a WiFi network.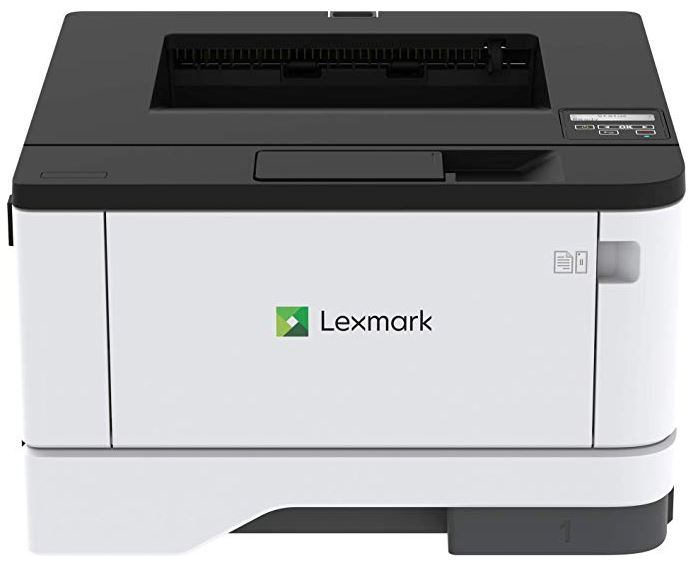 Lexmark B3340dw
The Lexmark B3340dw is one of the more solidly-built printers on today's market. With a square, 14 ½ x 14 ½-inch profile and an 8.7-inch height, it's blocky and mid-sized. But its inner steel frame provides it with durability that few printers can muster. Admittedly, the frame also contributes significantly to the heavy, 23.3-pound weight. But unless you need a portable printer, the weight shouldn't be much of an issue.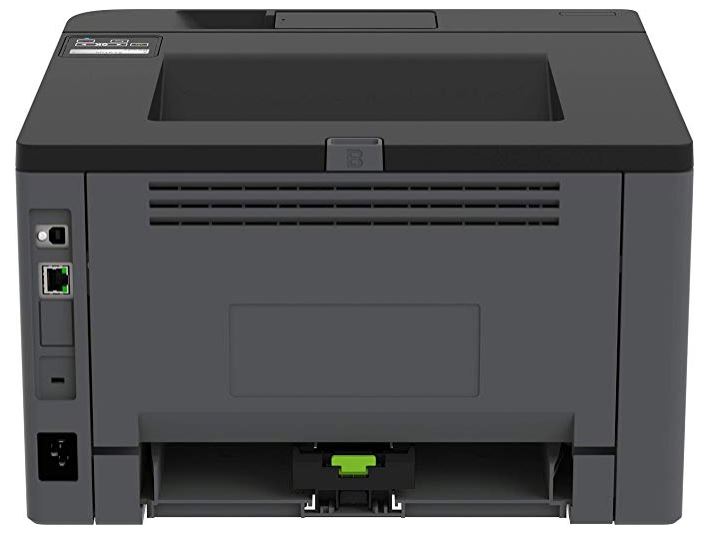 The base printer has an outer ABS plastic housing, with an adjustable feeder on the front. However, this feeder is simply a low-capacity tray, and isn't suitable for feeding large quantities of paper. If you need more capacity, you can attach an optional oversized hopper that's sold separately. This hopper has a 550-page capacity, enough to drop in a whole ream of copy paper with room to spare. Completed documents are dispensed on top into a spacious, sloped tray. The tray has a high capacity, which makes it a good choice for running off long documents. The soft, rubbery controls are located to the right of the output tray, along with an easy-to-read LED display.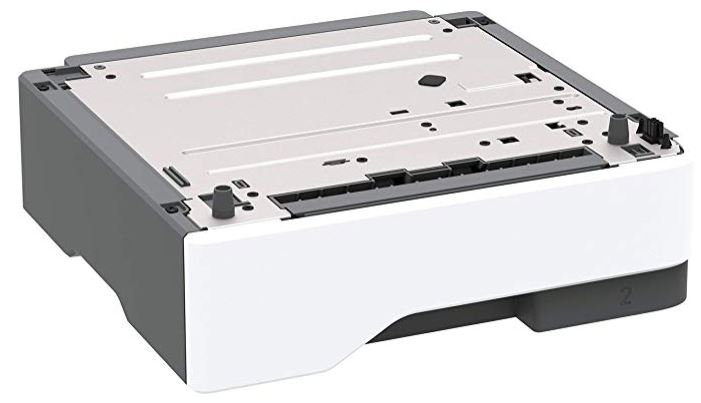 Print Quality & Extras
Perhaps the B3340dw's best feature is its blazing speed. It can print at up to 40 pages per minute, about twice as half as the average office printer. Once again, you're looking at a great feature for printing longer documents. A 200-page legal brief can be printed in a mere five minutes, for example. Duplex printing can be used to save paper, and for more binder-friendly printouts. That said, remember that the duplex printing process will inevitably lower your print speed.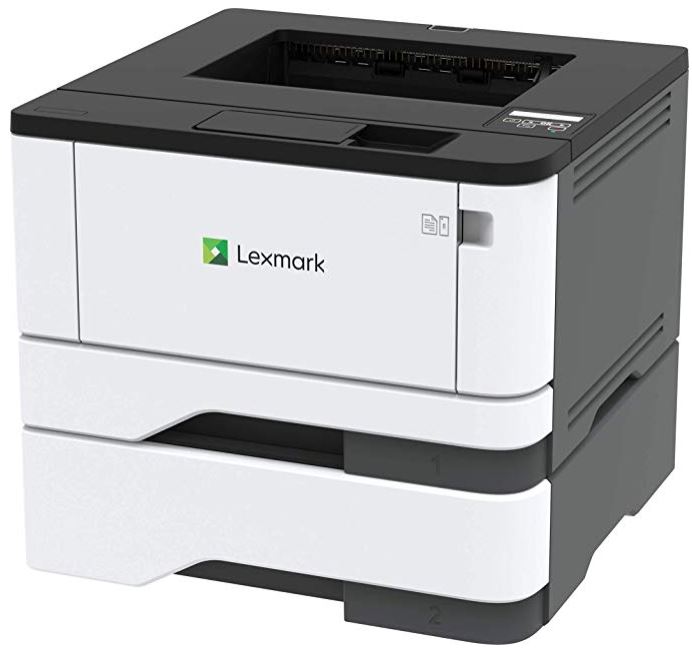 If all of that isn't enough, there are a couple of additional features that help you with long documents. First, there's a 1GHz processor and 256MB of internal memory. This means faster processing speeds and less time spooling. Second, there's a 3,000-page toner cartridge, so you'll only have to replace your toner periodically.
There are three different ways of connecting the B3340dw to your network. For wired connections, you can connect either via USB Type-B or Ethernet. Cables are included in the package, so you've got everything you need to get started. Alternatively, you can also connect the printer via WiFi. This makes it easier to set up network printing, as well as reducing cable clutter.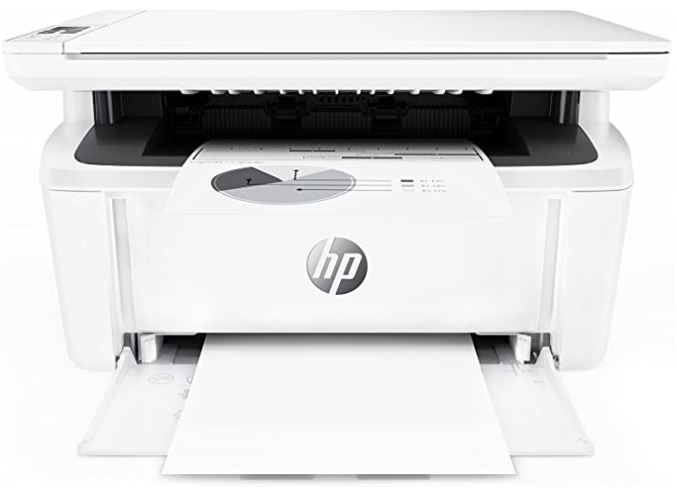 HP Laserjet Pro M118dw
The HP Laserjet Pro M118dw is the smallest and most compact of today's offerings. It measures 14.2 inches wide, 10.4 inches deep, and an ultra-slim 7.8 inches in height. At only 11 pounds, it's also today's lightest offering, and very easy to tote around. At this size and weight, you might expect it to have a small capacity, but it's surprisingly robust. The hopper is located in the bottom, and has a respectable capacity of 150 pages. The upper, output tray has a capacity of 100 pages, which still isn't bad at all considering the size.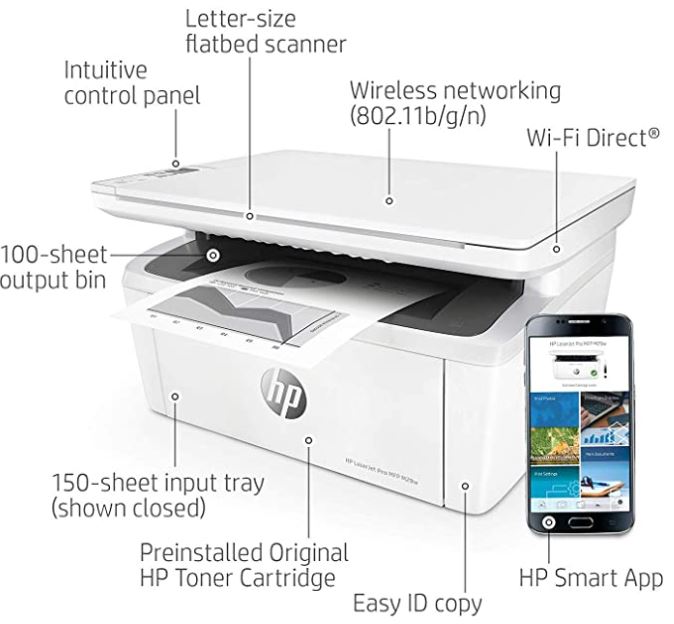 The housing is an attractive white ABS plastic, with a satin finish that's both easy to clean and fingerprint-resistant. A set of arms on the sides support the scanner tray, which is located on the top of the unit. It's a simple flip-open design, much like you'll see on most office scanners. The controls are located to the left, and consist of a set of hard plastic buttons. The display is a simple black LED screen, with a number display for page and copy count. A power cord and USB Type-B to Type-A connection cord are included in the kit. Everything is covered by a limited 12-month parts warranty, enough to ensure there are no defects.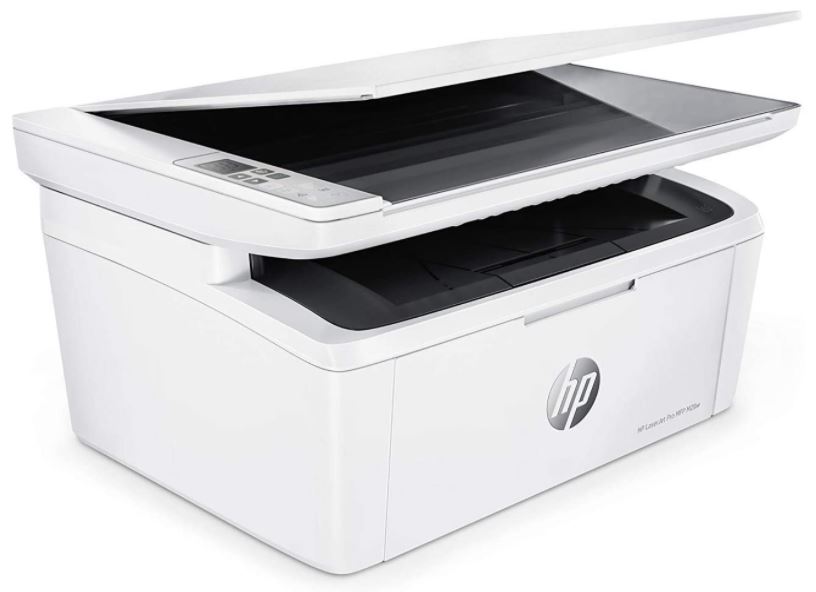 Print Quality & Extras
The M118dw can print normal black and white pages at a rate of 19 per minute. This makes it slower than the Lexmark, but roughly comparable to most office printers on the market. The print quality is reasonably good, and you certainly won't have any issues reading text, even small fonts. Graphical clarity isn't that good, but that's not what this printer is for to begin with.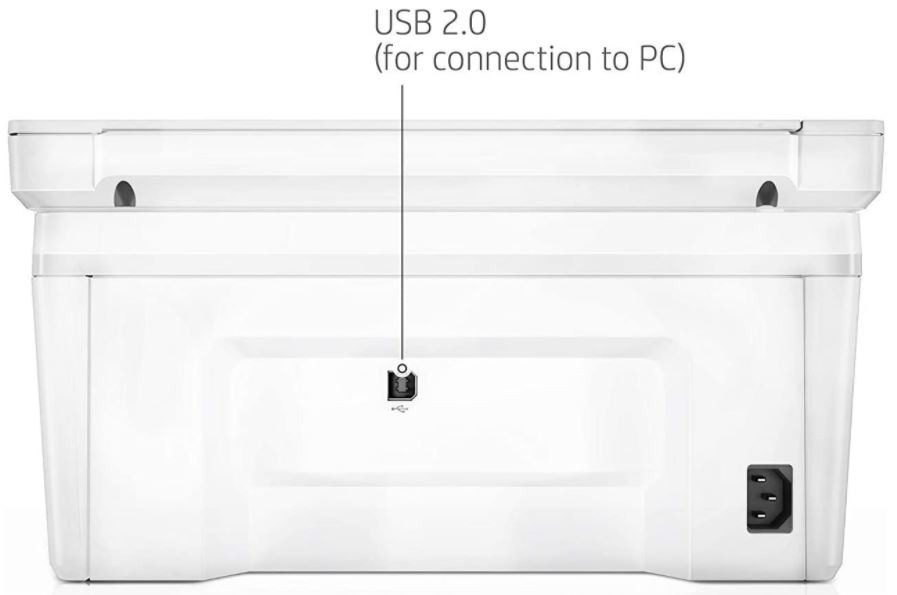 Perhaps the most useful feature is the M118dw's ability to function as its own WiFi hotspot. You can print to it wirelessly even if there's no other local WiFi network. Simply search for the HP Laserjet Pro in your WiFi menu, click "connect," and start printing. Of course, if you do have ordinary WiFi access, you can also print that way. Finally, for use with a single computer, you can simply connect via the USB cord. There's no Ethernet connection, though.
To make wireless printing as easy as possible, the printer is compatible with the HP Smart app. With the app, you can use your smartphone as a scanner or print from the cloud. Google Drive, Dropbox, and iCloud are all supported. You can even view your current toner level and order more toner, directly from your phone. In addition, the printer's on-board physical scanner can scan directly to a PDF file. This saves you the time of converting files yourself — or of paying for a software license.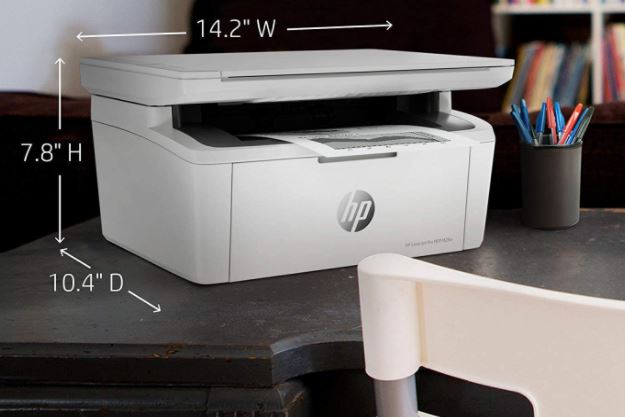 As an added bonus, the M118dw is compatible with Amazon Alexa. This means you can print using voice commands, in addition to all of the above methods. This probably isn't a game-breaking benefit for most people. Even so, it's yet another reliable way to control your printer.
Final Verdict
So, which of these printers is the best of the bunch? The HP Neverstop 1001nw offers the widest array of options. With the ability to print envelopes and legal paper, it's certainly versatile. And with a refillable ink cartridge, it's easy to keep topped off without making a mess. Finally, it works with the HP Smart app, unlocking an array of other features. All in all, it's a solid option for anyone who needs to print on more than one type of paper.
The Lexmark B3340dw is what you make out of it. Out of the box, it's a blazing-fast printer with a relatively limited capacity. With the optional paper hopper, it can also hold over a ream of paper. Combined with a rock-solid steel frame, these features make it an excellent choice for busy offices.
The HP Laserjet Pro M118dw is the lightest-duty of our three options, but only in the physical sense. In terms of online and software offerings, it has a lot to bring to the table. First, it acts as a WiFi hotspot, so you can print wirelessly even in the absence of a network. Second, it comes with an app for cloud printing, easy supply ordering, and more. And with a small profile, it won't take up a ton of desk space.
Meet Derek, "TechGuru," a 34-year-old technology enthusiast with a deep passion for tech innovations. With extensive experience, he specializes in gaming hardware and software, and has expertise in gadgets, custom PCs, and audio.
Besides writing about tech and reviewing new products, Derek enjoys traveling, hiking, and photography. Committed to keeping up with the latest industry trends, he aims to guide readers in making informed tech decisions.