Sometimes, you don't need a color printer. Many times, you don't even want one. For example, in an office environment, the last thing you want is for everybody to print family photos at work. In this case, when you just need to print documents, a monochrome printer is more than good enough. Monochrome printers can also save you money. With fewer moving parts, they can give you plenty of document printing performance at a lower price point.
Here, we're going to look at three of the best monochrome laser printers on the market. The Lexmark B3340dw, the Brother HL L2390DW, and the HP LaserJet Pro M15w all have a lot to offer. But there are important distinctions between the three. Let's take a closer look, and find out their features, benefits, and, yes, even their drawbacks.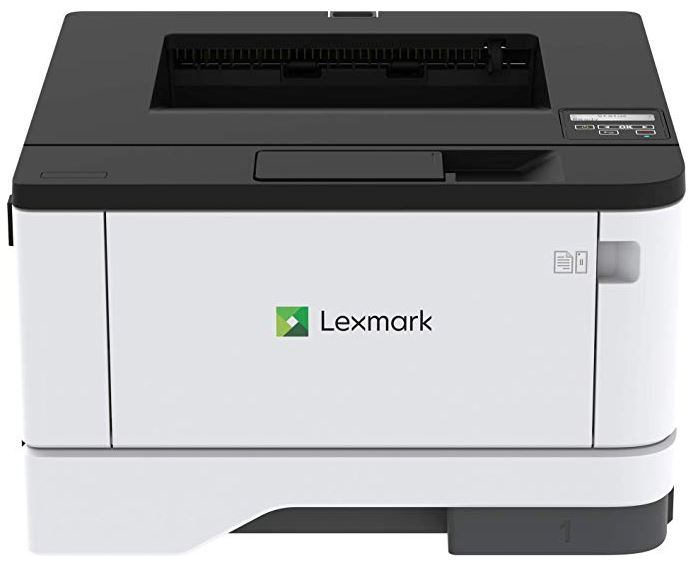 Lexmark B3340dw
Originally slated for release on March 10th, the B3340dw is the latest in Lexmark's growing line of monochrome laser printers. It's relatively compact, measuring 14 ½ inches on each side, and only 8.7 inches in height. The case is constructed from ABS plastic, and is mostly black, although the front panels are white. However, it's more durable than your typical ABS device. The inner frame is constructed from steel, so it can take a bit of a beating. That said, the frame also makes the B3340dw a bit heavy, at 23.3 pounds. Then again, how often are you actually going to be moving your office printer from place to place?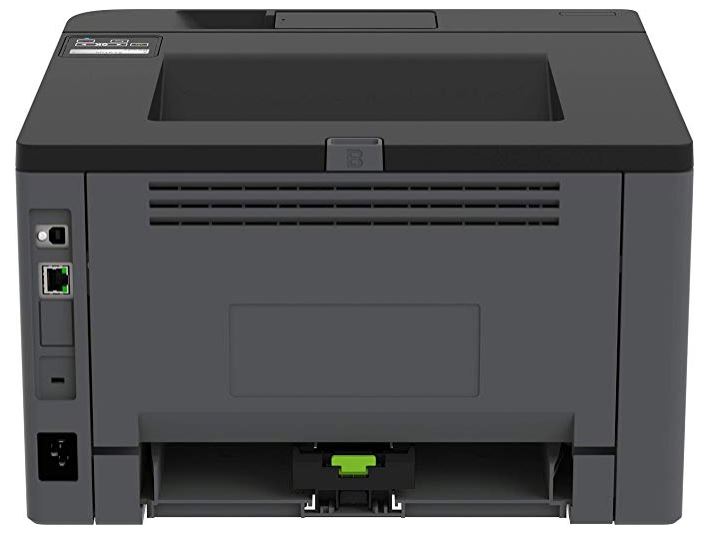 The standard model has a multipurpose feeder on the front, which can be adjusted to accommodate various paper sizes. This is just fine for light household use. However, for office use, you're probably going to want more capacity. In this case, there's an optional 550-sheet hopper that can be mounted on the bottom. This is more than a whole ream of paper, and a great choice for printing off larger documents.
Printed documents dispense through the top of the device, which can support hundreds of pages. In other words, you're not going to have to babysit the B3340dw while printing long documents. The controls are relatively simple, and are located on the top. They're soft to the touch and colorful, so they're both easy to read and easy to operate.
The B3340dw connects in three different ways. For home use, the USB and Ethernet connections should generally be sufficient. If you want even better connectivity in an office environment, you can also connect via WiFi.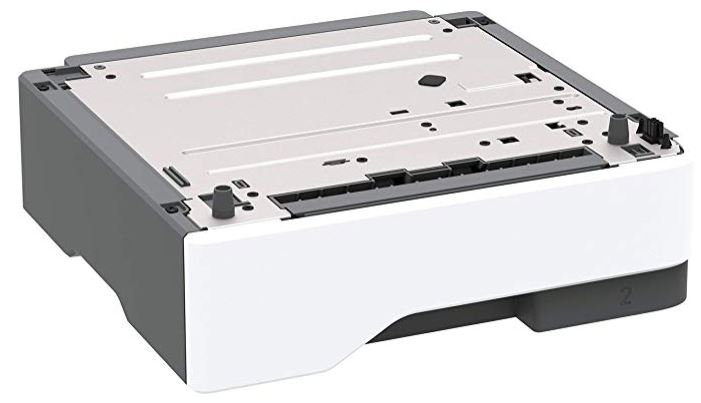 Print Quality & Extras
In terms of performance, the B3340dw can operate at up to 40 pages per minute. This allows for rapid printing of even very long documents. That said, take this rating with a grain of salt. The more text there is on a page, the slower the printer will operate. Nonetheless, performance is still pretty speedy even with very dense documents with a lot of text. The B3340dw also supports duplex (2-sided) printing, which can save you a lot of paper. Keep in mind, though, that duplex printing with somewhat slow down the speed of your printing.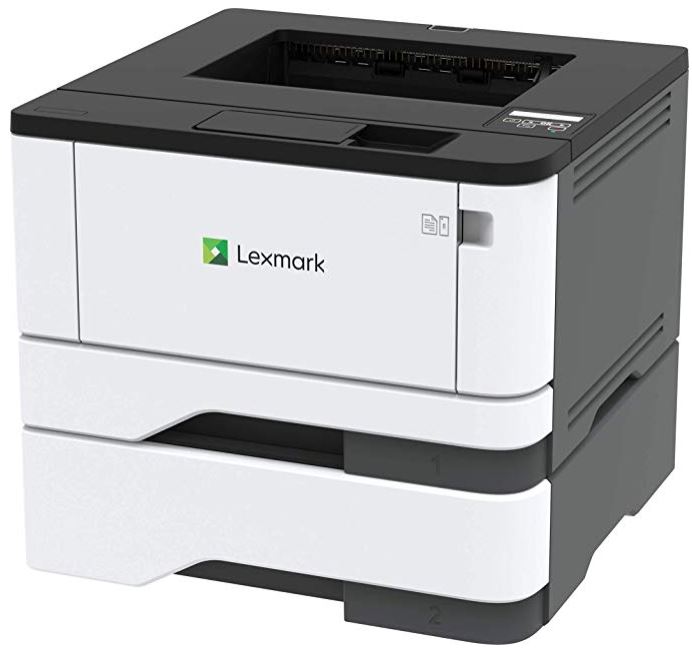 One challenge for office printers is handling the long print queues that can come from several users printing at once. The B3340dw has an internal 1 GHz processor to quickly manage these queues. No need to stand around waiting for your document to spool. It also has 256 MB of internal memory. This would be insufficient for a color or photo printer. However, it's excellent for a basic document printer, enough for thousands of pages of text. The toner cartridge is also purpose-built for long documents. With a 3,000-page capacity, it offers a lot of performance.
Lexmark has also secured their B3340dw against network intrusion. At first glance, security may seem like a silly concern for a printer. But WiFi devices like printers can be used as an entry point for hackers to attack your system. The fact that the B3340dw has a full security suite makes us more confident in its overall design.
Brother HL L2390DW
The Brother HL L2390DW is a bit chunkier, measuring 15.3 inches tall, 14.7 inches deep, and 11.3 inches wide. It's also a bit heavier than the Lexmark, tipping the scales at 26.3 pounds. This is due to the inner steel frame, as well as to the large, 520-page paper hopper. If you want even more capacity, you can upgrade the L2390DW with an extra-large hopper. This will increase the overall capacity to 1,610 sheets of paper. There's a small window on the front of the hopper, which allows you to see how much paper is remaining.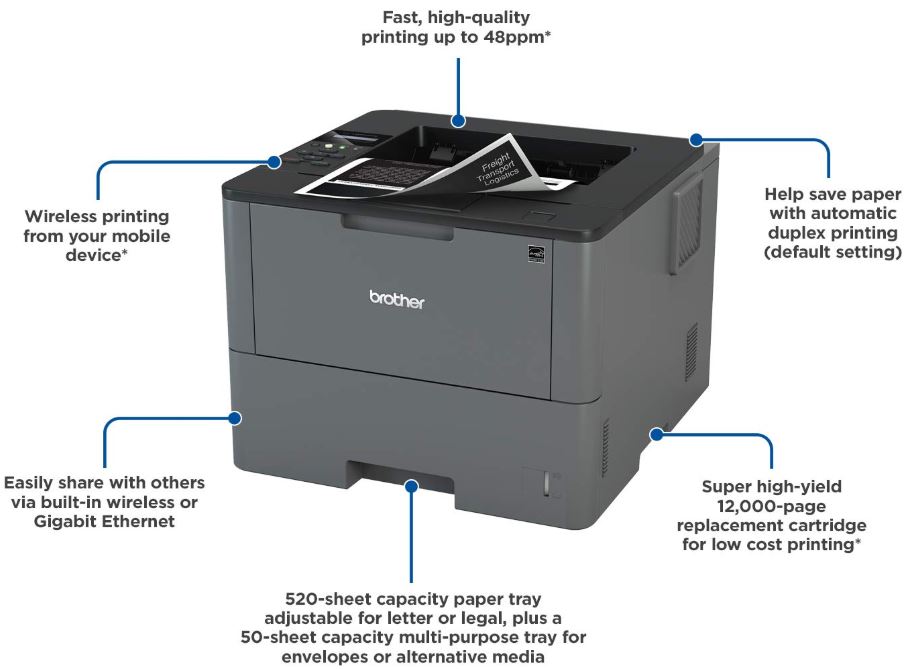 Paper dispenses from the top of the L2390DW, into a deep tray that has a very large capacity. Next to the tray, you'll find a small control panel with several buttons. In addition to the standard functions, there's also a lock button, which we'll talk about more in a second. The top of theL2390DW is a flat black, while the front and sides are a dark gray. This was an odd choice, since it doesn't match most ordinary office equipment. That said, it's well suited to spaces where the general color scheme is on the dark side. A small tray on the front of the printer can be opened for printing on non-standard paper, such as envelopes.
There are several ways to print to the HL L2390DW. For home users, the easiest way is simply to use an Ethernet cord to connect it to your home network. Alternatively, you can also use the WPS button to easily connect to your home or business WiFi network. The printer also supports printing from mobile devices via AirPrint or Google Cloud Print 2.0. You can also use Brother's free iPrint&Scan app to print from any mobile device.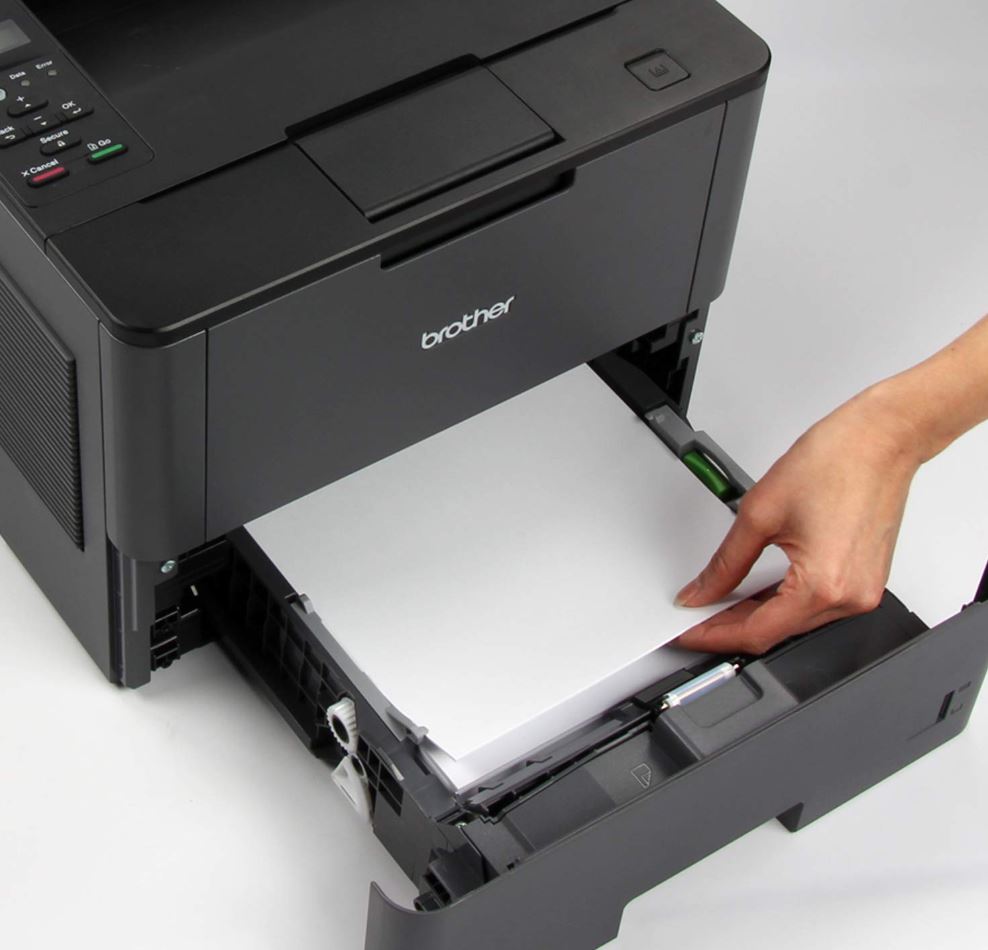 Print Quality & Extras
The HL L2390DW has an impressive output rate of 48 pages per minute. This is enough for printing large quantities of documents in a short period of time. As always, your exact performance is going to depend on how dense the text is. It will also depend on whether or not you're using duplex printing, which is enabled by default on the L2390DW. The toner cartridge is also designed for high volumes of printing. With enough toner for 12,000 pages, you'll spend less time fiddling with cartridge replacements and more time printing.
The L2390DW is also enabled for Amazon Dash Replenishment. This service allows the printer to automatically track when the toner is starting to get low. At this point, it will automatically order replacement cartridges. This way, you don't have to worry about running out of toner because your office manager forgot to order any. If you'd rather not use this service, no worries. You have to set it up and authorize it in order for it to work.
There are also several unique locking features that make the L2390DW stand out. To begin with, you can set a PIN number when you print a document. In this mode, you'll need to enter the PIN on the printer in order for it to start printing your document. Another locking function allows an administrator to set limits for up to 100 unique users. This way, you can ensure that employees aren't abusing the company printer to print personal documents. Finally, you can lock out the settings on the printer itself. This will ensure that only authorized users can adjust the printer settings.
All of this is great, but there's one missing feature: a copier. If you need to copy black and white documents, consider the Brother MFCL5800DW. It has a built-in copier, but it's slightly slower than the L2390DW, and has slightly less paper capacity.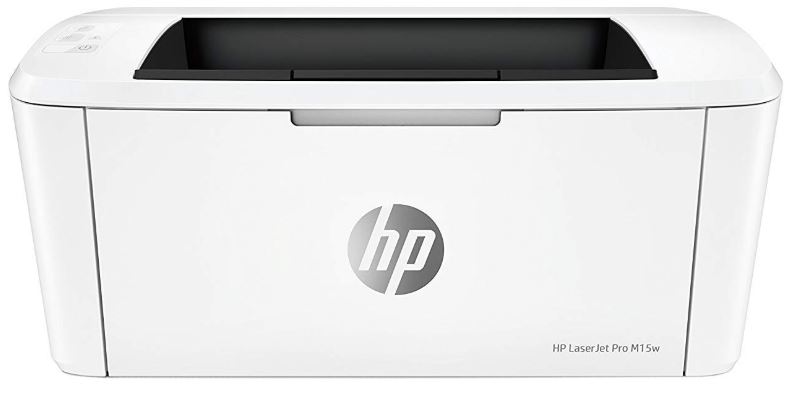 HP LaserJet Pro M15w
The HP LaserJet Pro M15w is one of the most compact printers on the market. It's only 13.6 inches wide, 6.3 inches high, and 7.5 inches deep. And at only 8 pounds, it's also exceptionally lightweight. The body is constructed from white ABS plastic, with an attractive, silver HP logo on the front. The top of the unit is also white, with a black output bin that has a 100-page capacity. That's fairly impressive for such a small printer. The top of the printer also has a small control panel, including a WPS button for easy setup.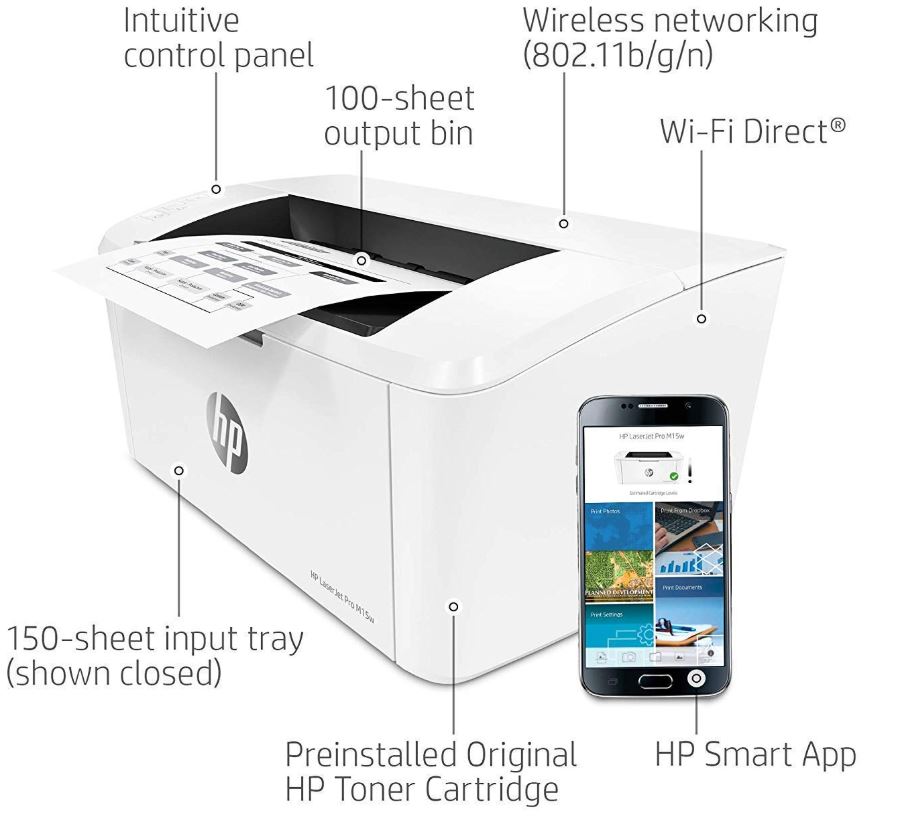 The input tray is designed for lower-volume operations, with a 150-sheet capacity. However, it has to be folded down from the front of the printer. Needless to say, this is not an ideal feature for any office printer. The LaserJet Pro M15w is best-suited for home use, or for small businesses that don't print very much.
The LaserJet Pro M15w is designed to connect in two ways. It can be connected either by USB or via WiFi. The USB option is the most straightforward choice for home offices. But if you need a network printer, Ethernet isn't an option; you'll have to use WiFi.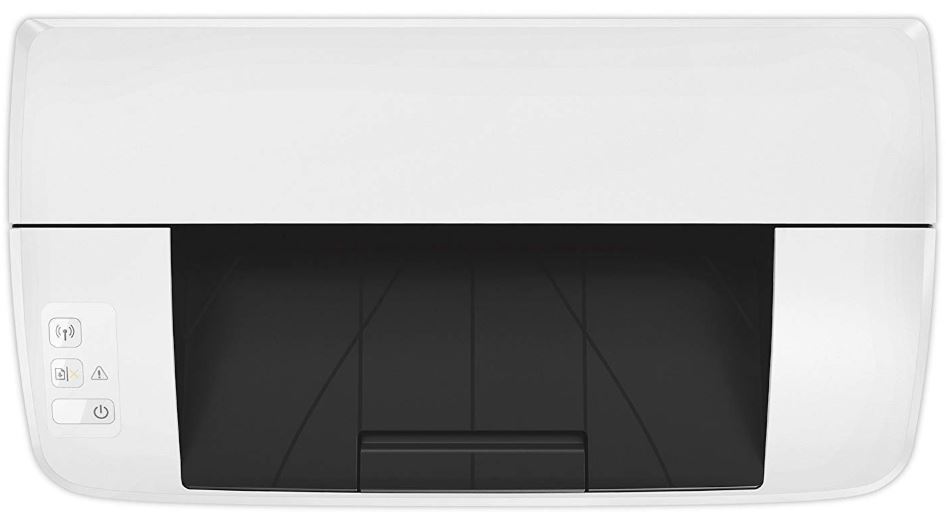 Print Quality & Extras
As befits a low-capacity printer, the LaserJet Pro M15w's print cartridge has enough toner for 1,000 pages. Once again, you're looking at a relatively poor choice for high-volume offices. On the flip side, a 1,000-page capacity is plenty for most homes and small businesses. The print rate is also slower than the other two printers on our list. At 19 pages a minute, it's enough for small documents. But if you regularly print hundreds of pages at a time, you're going to need a beefier printer.
That said, the LaserJet Pro M15w comes with Amazon Dash Replenishment, much like the Brother L2390DW. As a result, the small toner capacity isn't as big of an inconvenience as it sounds like. You might have to change the cartridge more frequently, but you won't have to drive to Staples constantly.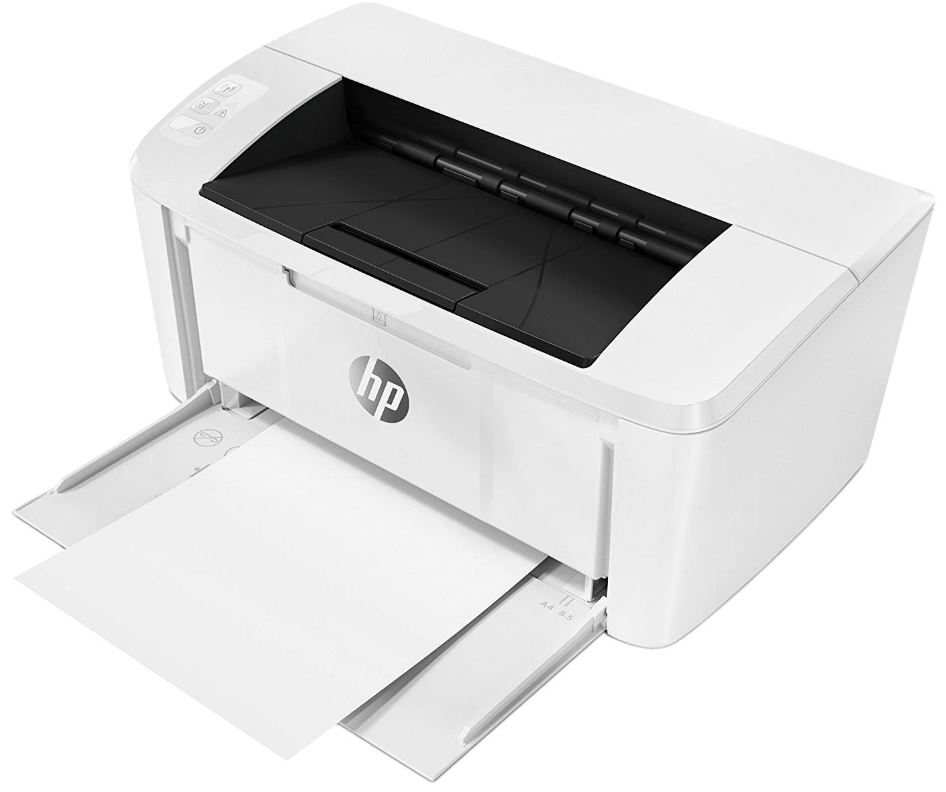 In addition to the other printing options, the LaserJet Pro M15w also supports cloud printing. When it's connected via WiFi, you can print from iCloud, Google Drive, Dropbox, and other online services. This makes it easy to print off emails and other short documents directly from your smartphone.
If you like the idea of a small printer but need to print in color, there are options available. For example, we recently reviewed the HP DeskJet 3639. It's compact and lightweight, and offers photo-quality performance. That said, it's slow, just like the Pro M15w.
Final Verdict
So, which one of these printers is the best? That will depend on your exact needs, and how you plan on using your printer. To begin with, the Lexmark B3340dw offers fantastic speed and capacity. With its 1 GHz processor and 256 MB cache, it's also a great choice for long queues and large documents. We also appreciated the beefy internal frame, which makes it resistant to damage. The only serious drawback about the B3340dw was the lack of cloud printing support. That and the fact that you won't be able to buy one until next month.
The Brother HL 12390DW is the best choice for large offices with many users and high demand. There's a lot to like here, especially the 1,610-page capacity when it's equipped with the expanded hopper. However, the 48 page per minute print rate also stood out. You'll have no problem printing long documents, or printing thousands of pages per day. The toner cartridge impressed us, too. With its 12,000-page capacity and automatic re-ordering, it's exceptionally long-lasting. Finally, there were the security features. The ability to restrict users and lock out the settings is a major plus for office pools.
Meanwhile, the HP LaserJet Pro M15w is the best choice for homes and small businesses. It's a bit small for large office pools, but it's compact, affordable, and easy to use. With WiFi connectivity, you can still use it as a network printer. And the cloud printing support is second to none. The toner cartridge has a fairly low capacity, but the automatic re-ordering makes this less of an issue than you'd think.