Ortizan X10
Pros
Good sound quality for the price.
LED light show gives it a unique flair.
TWS function lets you pair two speakers together.
Decent battery level.
Fully waterproof.
Cons
Bass distorts at maximum volume.
Sound isn't truly 360 degrees.
Only available in black.
Bluetooth speakers have come a long way over the past decade. Gone are the days of clunky, battery-intensive designs with tinny sound. Today, there are literally hundreds of various makes/models to choose from; all from well-known name brands to inexpensive knock-offs. Ranging from ten bucks all the way up to several hundred, there's something for everyone.
If you're like most, you may have already checked out Amazon. It's a great place to start if you're in the market for a new Bluetooth speaker. One of the latest trending speakers that we've noticed gaining traction is the Ortizan X10 Portable Bluetooth Speaker. It's quite affordable and currently labeled as one of "Amazon's Choice" as a top-pick in the sub-$40 price range. Today, we'll look into it in greater detail. We're here to examine its features and how "good" it actually is. Is it actually deserving of the "Amazon Choice" badge, or a cheap knock-off that should be avoided? Let's find out.
Note: At no extra cost to you, we may earn a commission for purchases using our links. Learn more.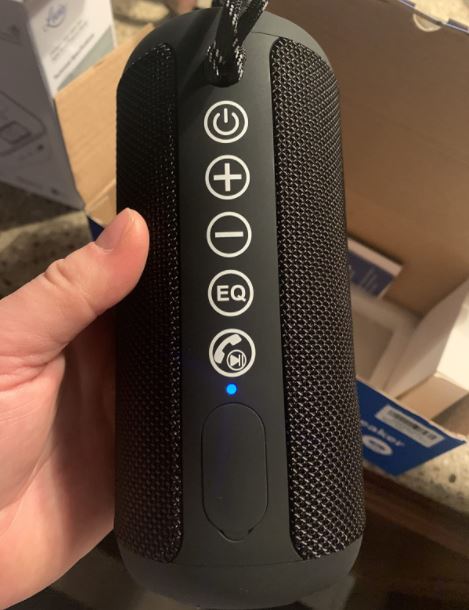 First Look
From first glance, you'll notice the round, cylindrical shape of the Ortizan X10 Bluetooth Speaker. Weighing just over 1 pound and measuring roughly 9 inches tall with a diameter of 3 inches, it's quite similar in size and shape to a "tall can". Holding it in your hand, it has a nice, solid feel comprised mostly of woven fabric and tough plastic. On the side are five separate buttons along with a single LED. On top is a radiator-style subwoofer that's paired with LEDs to give it a unique flair.
Pairing it up to your smartphone or other Bluetooth-enabled device is simple. Turn it on and instantly, the LED will begin intermittently flashing. At this time, the speaker is ready for pairing. Select "Ortizan" from your smartphone's Bluetooth settings and wall-ah, you're good to go!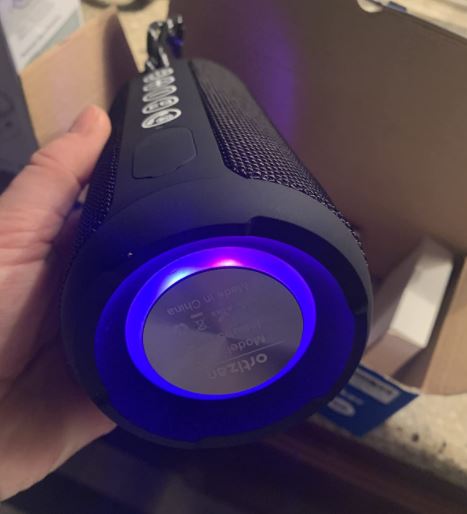 Sound Quality
Playing music through the X10 speaker for the first time, we were actually quite surprised. The internal 24w driver seems to produce plenty of power, considering its size. At first, we opted to play our favorite Spotify playlist. This shuffled through a wide variety of genres from bass-rich hip hop to old school jazz music. Surprisingly, the sound quality was nice and crisp. High and mid tones were favorable with a nice separation between the two. When it came to low bass tones, they felt present, but not super vivid or rich. The clarity was right where we wanted it to be, but the low tones could have shined through just a bit better.
There seemed to be plenty of power. 24w doesn't seem like a lot, but the volume it's capable of is downright impressive. You can crank it up pretty loud, but you may experience a slight bit of distortion. Honestly, we only had issues with distortion in the upper 10% of the volume-range. So as long as you don't crank it up to the absolute maximum volume, you're probably never going to notice.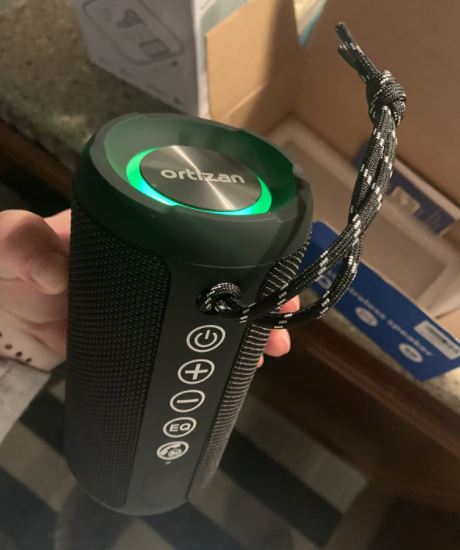 Ortizan claims 360 degree sound, however, we felt a bit "tricked" in all reality. What we mean by this is about 1/4 of the speaker doesn't truly emit sound in that specific direction. For example, where the row of buttons are, the sound doesn't seem quite as powerful in that direction. We would argue that it provides 270 degree sound, not true 360 degree. If you want true 360 degree sound, you're probably going to have to spend a little bit more. Checkout the new Tribit StormBox Pro. Yes, it's much more expensive, but the sound you get is much more vivid and actually emitted in all directions.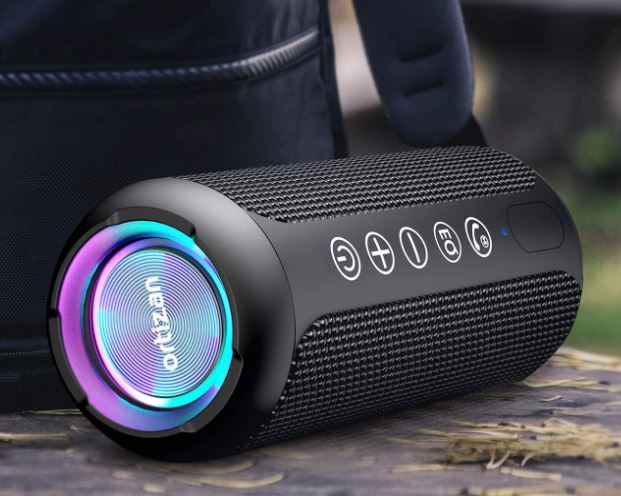 EQ Function
One of the buttons on the side is the "EQ" button. Press it and it'll toggle through three different equalizer settings. These are; vocal, 3D deep bass and extra bass. Each one offers its own unique twist that either lets vocals shine through or provide the sound with an added bass effect. We could definitely tell a difference between each one yet opted to keep it on "extra bass" most of the time. It seemed to give the low tones a deeper resonation whereas the vocal EQ would increase the high and mid tones a bit more.
Press and hold the EQ button for three seconds and it'll activate Siri or Google Assistant, depending on the smartphone you have it paired with. Once you activate, you can verbally command the speaker to play certain tracks, adjust volume, etc. It's a pretty standard feature these days, so it's nice to see Ortizan included it. Not something we found ourselves using much, but definitely nice to have.
TWS Function
One cool feature of the Ortizan X10 is the TWS function. It lets you pair two Ortizan speakers together so sound emits from both, simultaneously. This way, you're able to place one speaker in one corner of the room, with the other on the opposite side. This will give you sound that's truly coming from all directions. There's only one caveat; you must buy two speakers.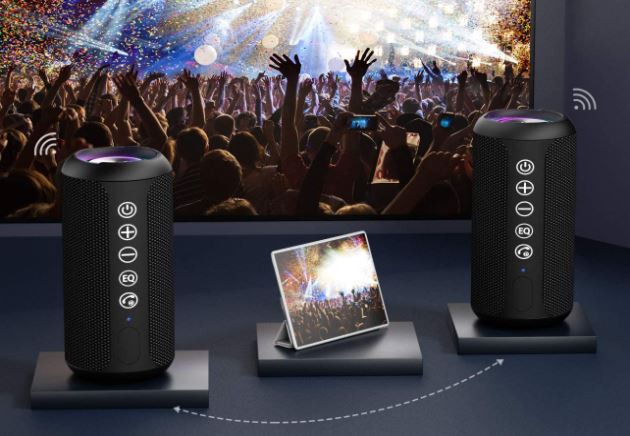 We tried the TWS function and felt it was a nice addition. But at that point, you're spending upwards of $80, where you could simply spend that on one single speaker of higher quality and likely be happier. For example, the Tronsmart Mega Pro is another option that comes in at around the $50 mark. With it, you're getting a much more-powerful speaker, although it's not quite as compact.
LED Light Show
One of the first unique features of the X10 is the colorful LED. Located on the top and bottom is a set of LEDs that emit all colors of the rainbow. It brings a fun flair to the table that seems to set it apart from similar speakers in the same price-range.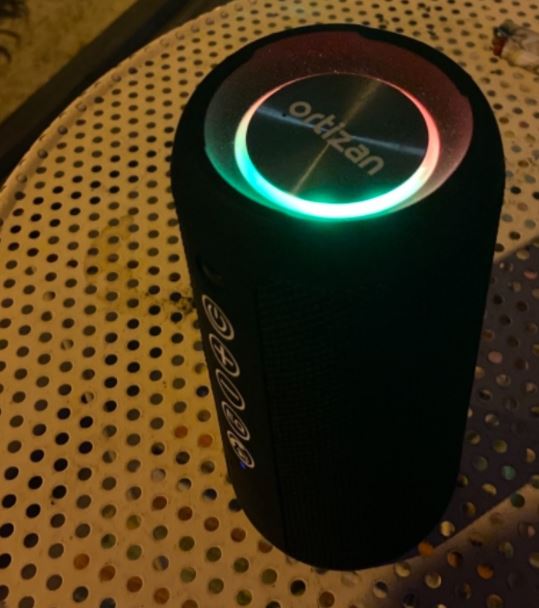 The LED feature is pretty neat. You're able to toggle through a wide variety of presets that pulses and glows to the beat of whichever song you're playing. It plays along in a way that matches the rhythm while emitting a glow that almost gives off a futuristic party-vibe. Simply put, it's not revolutionary, but it's definitely a nice addition that makes it stand out. If nothing else, it's a good conversation starter!
Battery Life & Charging
Although it's unclear as to the actual capacity of the internal battery, Ortizan claims that you can achieve 30 hours of playtime on a single charge. To test this, we fully charged the speaker and let it play music for the entire day. At the end of the 24 hour period, we heard a "low battery" warning. After 25 hours, the speaker was dead – no juice left in the battery. To be clear, we left the volume at around 50% and let it repeat our lengthy playlist just over two times. Knowing this, it's probably not at all likely that you'll be able to achieve a full 30 hours, but still; 24 hours of playtime is actually pretty good.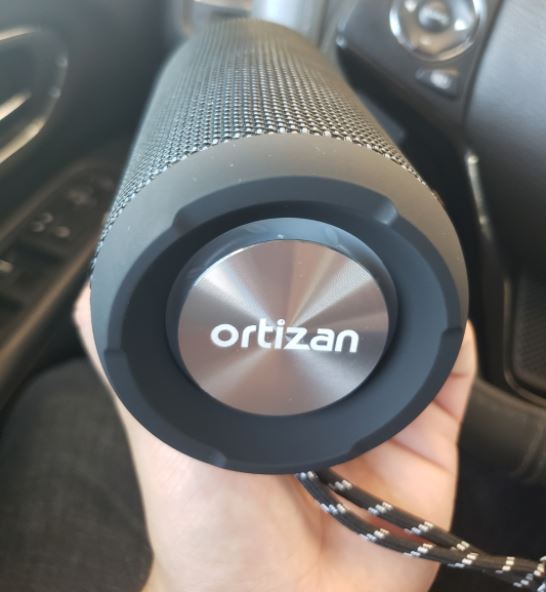 Keep in mind, however, that you're going to get less longevity out of the battery if you play music at a high volume. In addition, cold ambient temperature may also have a negative effect on the battery performance. Something to be aware of; cold weather isn't going to necessarily permanently damage the rechargeable battery, but it will shorten the duration it can play before you need to charge it up again.
Durability
Holding the Ortizan Portable Speaker in your hands, it feels solid, well-built and nice. There's really nothing that gives it a cheap or low-quality feel. The buttons are responsive, the outer fabric material seems durable and the radiator on top feels like it should – a bit fragile. Realistically, the radiator is inset and never seems to get in the way, but you're going to want to avoid touching it.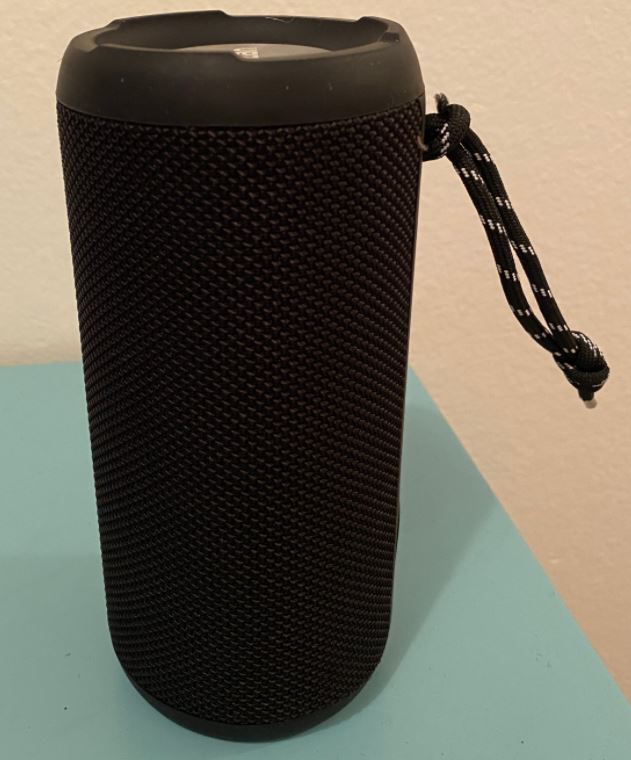 Being that it's IPX7 rated, it's fully waterproof. What this means is that it's been rated to protect against moisture, dust and dirt ingress. In fact, IPX7 literally means that you can submerge it into water up to 3 feet deep for 30 minutes. While we wouldn't recommend you use it underwater, you can drop it in a puddle or a shallow lake and not worry about it. Taking it with you outside, you'll feel good to know you don't have to "baby" it too much.
One thing that's not included that we would have liked to see is a carrying case or bag. It would have been a nice addition to the whole package just to have a dedicated way to store it while transporting it or while not in use. Not that big of deal, however.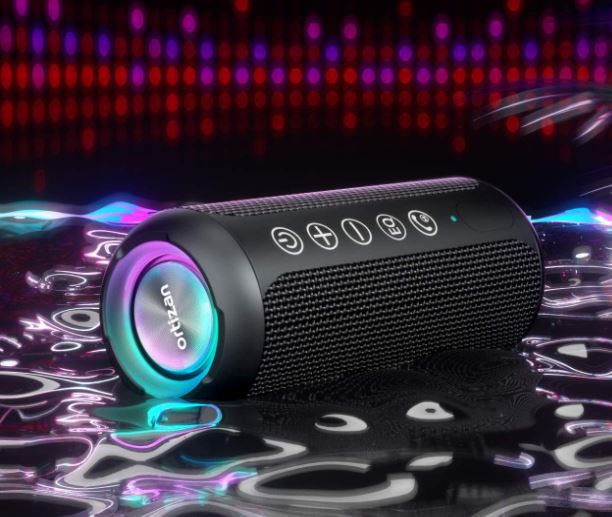 Final Words
As you can see, the Ortizan X10 Bluetooth Portable Speaker is a decent all-around, affordable pick. You're getting a bunch of favorable features with acceptable sound quality for the money. Yes, the sound does tend to distort at the highest volume level and we wouldn't call it "true 360 degree sound", however, the sound is nice enough for the sub $40 price-point.
It's built well and feels solid without cheap or tacky qualities. The battery life isn't quite as good as "30 hours" but we still believe 24 hours of actual runtime is pretty acceptable. With the LED light show feature and the TWS ability, you're getting some added bonus features that we don't usually come across in this price-range.
For an affordable, feature-rich portable speaker, the Ortizan seems to deliver on most fronts. We wouldn't hesitate recommending it to anyone looking for nice sound on a budget.
Please consider sharing:
Note: At no extra cost to you, we may earn a commission for purchases using our links. Learn more.