Tribit StormBox Pro
Pros
Beautiful, vivid sound with powerful bass.
Gorgeous build quality that feels solid.
Impressive 24 hour battery life.
Can be used as a power bank.
Fully waterproof.
Cons
Only available in black.
Handle cannot be removed.
Slightly expensive compared to other speakers.
For several years here at NerdTechy, we've tested and reviewed many of Tribit's offerings. From wireless earbuds like the FlyBuds C1 to their miniature Bluetooth speaker, the StormBox Micro, we're well-versed in their lineup.
Just last week, their newest portable wireless speaker was released – the StormBox Pro. It aims to deliver bigger sound, better bass and more "oomph" compared to anything they've built before. With a beefy design and a modern, simplistic style, we were pretty excited to get our hands on it.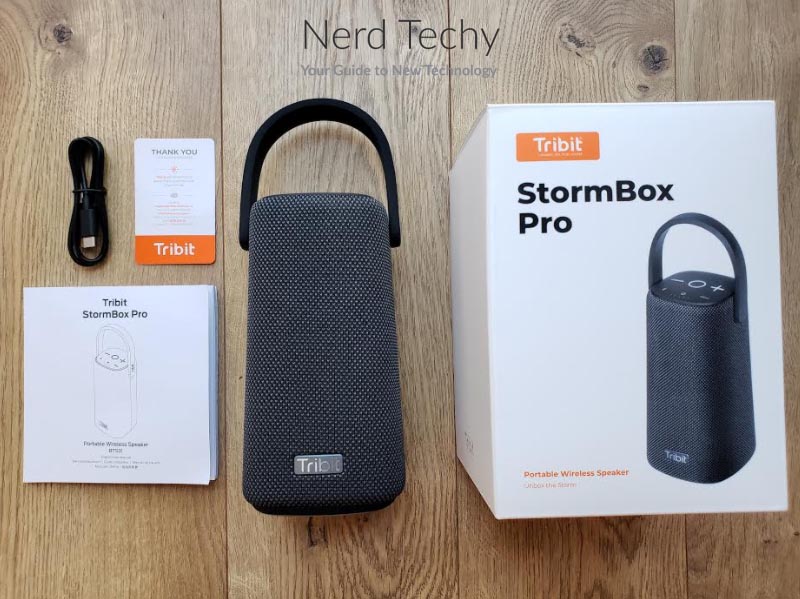 First Glance
As you can probably tell from the looks of it, the StormBox Pro appears much burlier than the original StormBox that was released almost two years prior.
Opening up the box you'll find an instruction manual, thank you card, a USB-C charging cable and of course – the speaker itself. It's packed with everything you need and nothing more. Although it'd be nice to have a carrying pouch or case included, it's not. But truthfully, that's not really a big issue!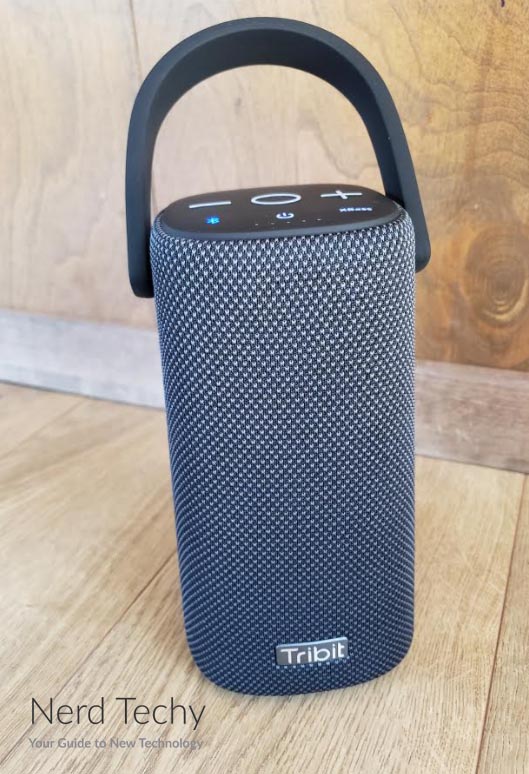 Size and Shape
Weighing in at 2.1 pounds and measuring 7 inches tall by 3.5 inches wide, it's still fairly compact. Don't let our description of "burly" make you think it's ginormous – what we mean by that is the solid and high quality feeling it has when holding it. There's really nothing cheap or low-quality about the way it's comprised.
The entire exterior of the speaker is covered in a mesh-woven nylon fabric on all sides. The fabric isn't loose or saggy – it's tightly wound and contains nearly microscopic perforations to emit the sound from within. On the back is a small rubber flap. Open it up to expose the USB-A and USB-C charging ports.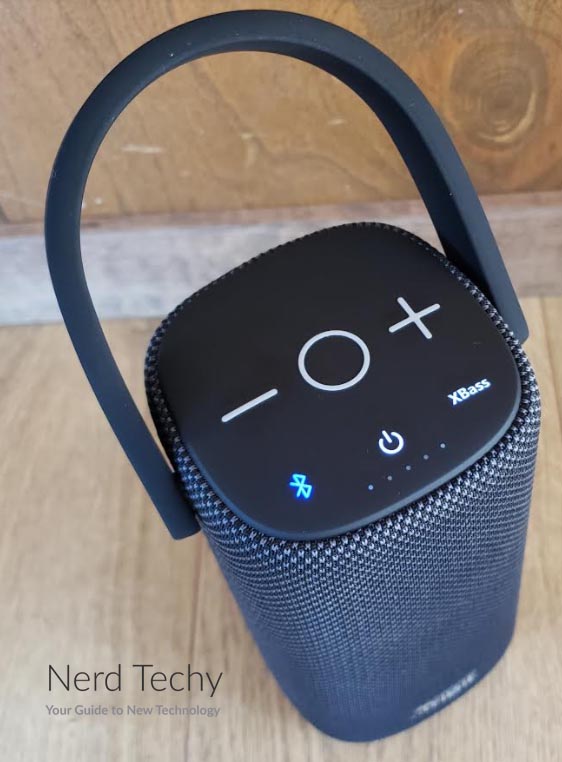 On the top, you'll notice a looped handle for carrying purposes. It's comprised of an ultra-soft silicone material that's pliable and grippy. Although it swivels from front to back, it's permanently fixed without the ability to remove it (if you ever desired). The handle provides a simple way to carry and we're huge fans of the way it feels.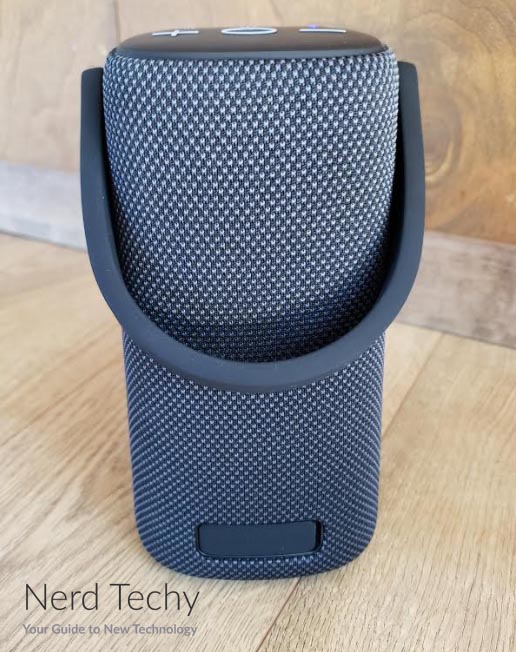 Moving on, the top panel is where all the functionality is at. There's a giant plus and minus button that controls the volume, with a circle between it. This circle is the MFB or multifunctional button that lets you choose various music modes and phone call functions. Beneath these are three additional buttons that control the Bluetooth pairing, power and XBass (extra-bass setting). Additionally, you'll see five tiny LEDs that indicate the current battery level.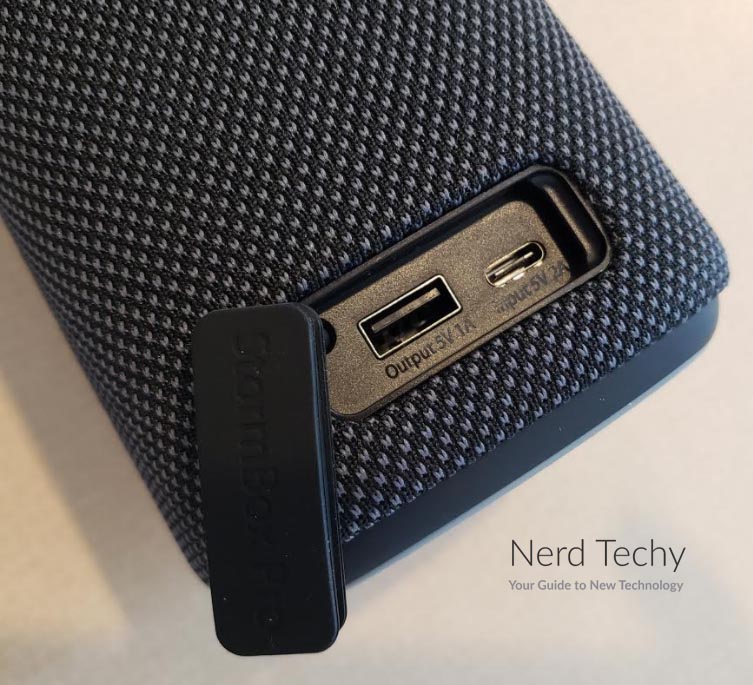 Turn the speaker over and you'll notice that the base is equipped with a rubber ring that gives the speaker a non-slip grip when placed on a hard surface. In addition, the soft, rubbery material assures that there's no need to worry about vibration or rattling from becoming problematic.
Sound Quality
The Tribit StormBox Pro is thoughtfully designed to deliver vivid sound with a full experience. Equipped with a single independent 3-inch subwoofer that's paired with dual mid-high frequency drivers and two passive radiators, it provides an authentic 2.1 channel sound system in all directions. What truly sets it apart is the 360 degree audio that it's capable of emitting. Simply put, sound comes out of every side of the speaker.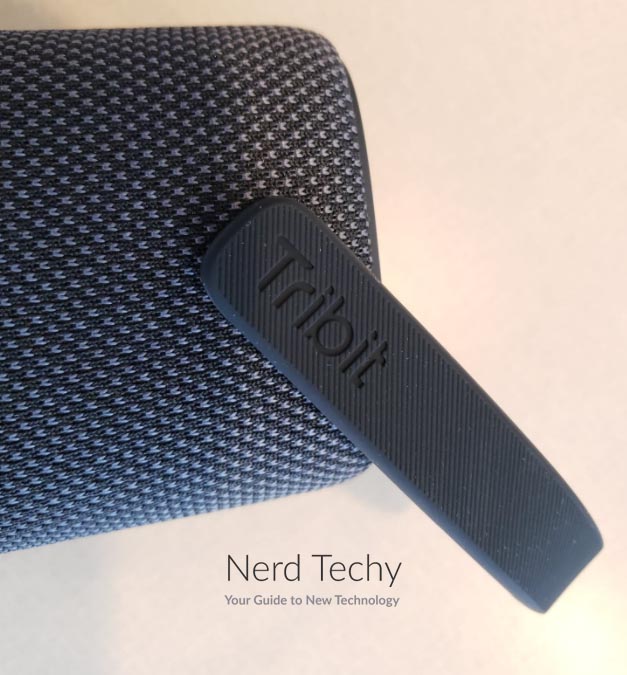 Turning it on for the first time, we immediately noticed a crisp and beautiful spectrum of sound, no matter what audio track we played. The clarity of vocals with beautiful mid and high tones shined through with ease. In our opinion, none of the sound felt weak or lackluster in any regard.
The second distinctive thing we noticed was how loud and powerful it was! It was literally thumping and booming at half volume. Turned up to its maximum volume level, the sound was ridiculous – in a good way. The volume and power that the StormBox Pro provides is downright impressive. Most speakers seem to stutter a bit at max volume – not here. The true 0.5% distortion level kept the music crisp and enjoyable – perfect for parties and gatherings in an outdoor setting.
Best of all, if you want an extra "boost" of low tones, tap the XBass button to crank up the subwoofer. This effect gives the added "oomph" we were initially looking for. In fact, we kept it on at all times – there's no need to turn it off unless you're trying to conserve battery life. XBass makes the sound much deeper and more alive.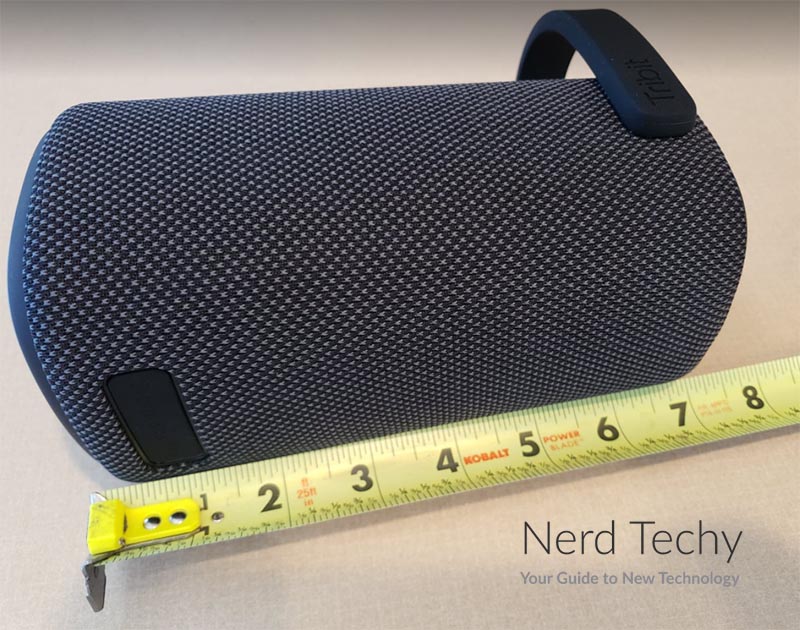 Connectivity
Utilizing Bluetooth 5.0, the StormBox Pro pairs the internal Qualcomm Bluetooth chip with advanced AptX decoding to give excellent wireless connectivity without negatively affecting the sound quality.
With its ability to be paired with any Bluetooth compatible device, it boasts an impressive 100 foot wireless range. But is it truly capable of a range that far? We thoroughly tested the wireless range and found it to be mostly true. What we mean by that is yes, 100 feet of range is possible with line of sight between your paired device and the speaker. Line of sight, meaning no walls or obstructions in the way. Once you put a few walls and objects into the equation, the wireless range is drastically affected. Realistically, in most scenarios you're going to have plenty of range without connection issues.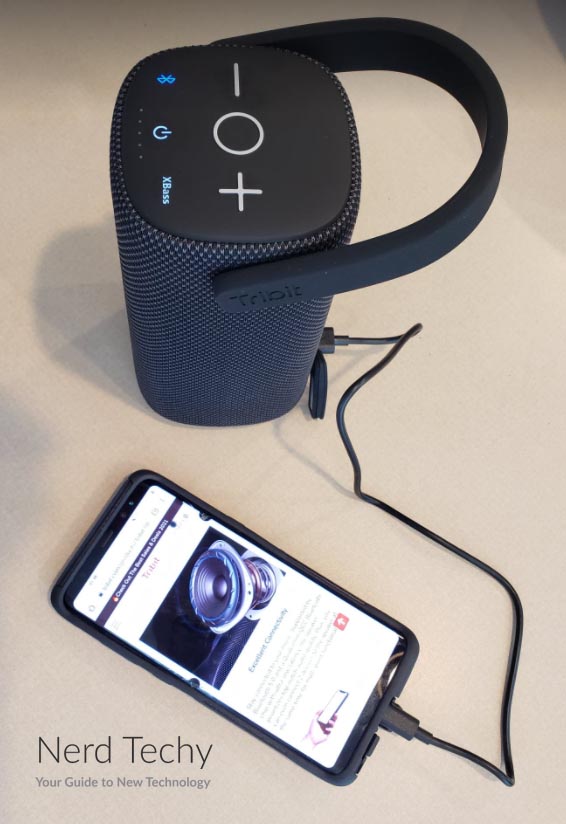 Moving on, another feature worth mentioning is the multi-point functionality. What this means is that you can connect two devices to the StormBox Pro at the same time. This way, you can play certain music from one smartphone and a different playlist on another. Not always particularly useful but a nice bonus for sure!
Last but not least, if you're lucky enough to own two speakers, you can utilize "Party Mode" to simultaneously pair them to play together. Place one StormBox Pro in one corner of the room and the other across the way –
Durability
As we mentioned earlier, the StormBox Pro has a very nice build quality. With its solid feel, it's not surprising that it's equipped with an IP67 water resistance rating.
But what exactly does this mean, you ask? It guarantees that it's 100% protected from dust, sand and moisture. In addition, it's been fully tested to work for at least 30 minutes at a depth of 1 meter underwater. While we don't recommend you use the StormBox Pro as an underwater speaker, it's nice to know that it's durable enough to prevent water ingress.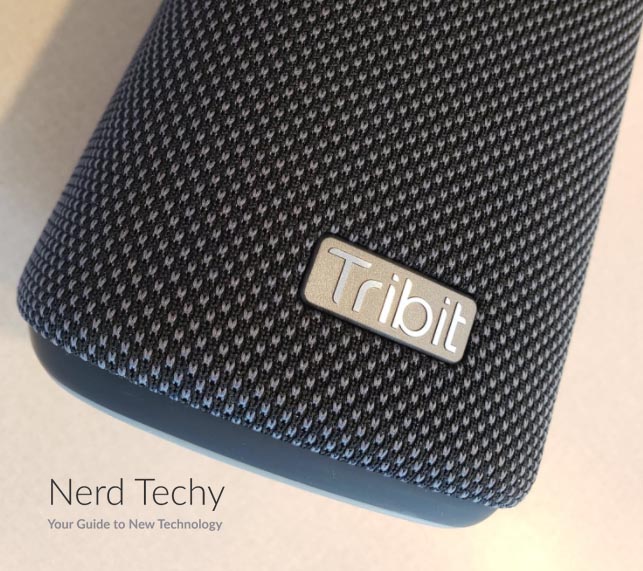 Charging & Battery Life
Inside the speaker is an integrated 10,000 mAh lithium-ion battery. Rechargeable with the included USB-C cable, it has enough capacity to last up to 24 hours on a single full-charge. However, don't go thinking that you can get 24 hours on every occasion. Some factors can lessen the battery duration. For example, if you play it at a loud volume or in a cold environment, you won't see the speaker achieve a duration like this. But even so, 16-20 hours of battery life is still plenty and honestly quite impressive.
On the back is a rubber flap that can be popped open to expose a USB-C and USB-A port. Plugging the charging cable into the USB-C port will let you charge-up the internal battery. Plugging in the charging cable into the USB-A port will make the speaker act as a power bank. That's right, it'll let you charge your smartphone or other devices. You can literally share power with this feature. In all reality, this can be pretty useful if you're out and about and you forgot to charge your phone or other gadget.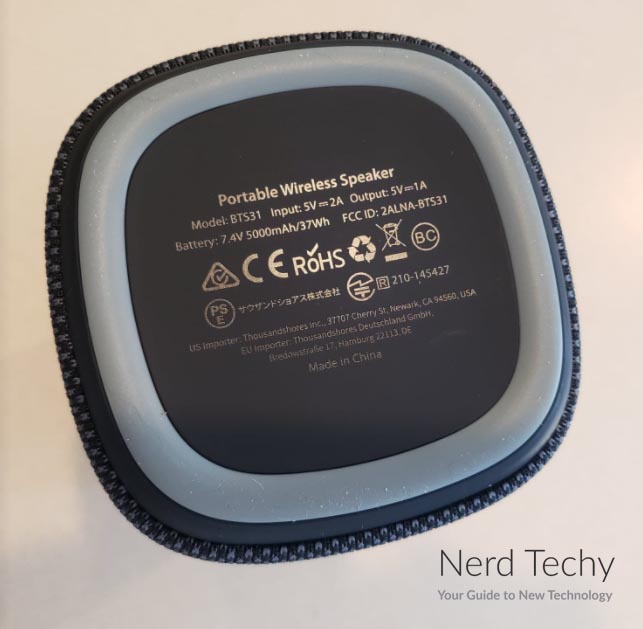 Final Thoughts
All in all, the Tribit StormBox Pro is one of the most impressive new-release portable speakers currently available. The sound is truly high-fidelity as it provides crystal-clear, distortion-free sound at any volume level. The XBass feature really cranks it up to the next level with booming bass and deep low tones – a favorable feature for almost any music-lover out there.
We're in love with the design; boasting a unique, solid-feel with an integrated handle. Although it's not available in any other color scheme than black, we would highly recommend it to anyone looking for quality sound around the $120 price-point.