If you're searching for a new pair of wireless earbuds, you're entering the market at a confusing time. On the one hand, there are more options than ever before. On the other hand, you have to be more careful than ever before. Perversely, this is precisely because there are so many choices. Not that long ago, your options consisted of Apple AirPods and a handful of other reliable brands. Now, for every reasonably good pair of buds, there's a pair of knockoffs ready to trip you up. If you're not careful, you could find yourself with a less-than ideal set.
The reason there are so many options is that it's only recently become possible to make good wireless buds. The AirPods weren't just famous because you needed them for the iPhone 7. They were famous for being the first to properly utilize a new technology: True Wireless Stereo (TWS). Prior to TWS, wireless audio was only capable of low quality playback, and only in mono. With TWS, you could suddenly get the wireless audio we all know and love. This opened the floodgates to virtually any electronics manufacturer, and the race was on. Today, it seems like everyone is making their own pair of branded buds.
But some brands come with a little more clout than others. If you want to avoid trouble, it helps to stick with one of those brands. Tribit has a long track record of producing quality earbuds and headphones. So we were eager to review the Tribit Flybuds C1 True Wireless Earbuds. These are vertical, AirPod-style buds with an innovative control scheme. But a cool design alone isn't enough to make a pair of earbuds worth your while. They also have to perform well. We're about to take a close look at all aspects of the C1 buds, from the build to the batteries. Let's get started, and see what we learn!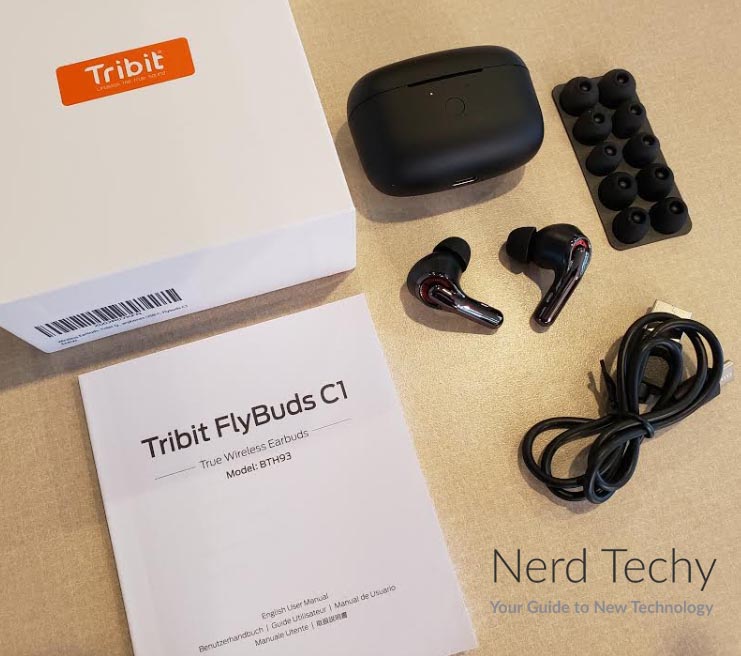 Overall Design
The Tribit Flybuds C1 True Wireless Earbuds take the AirPods' tried-and-true style and put their own spin on it. The earbuds have a vertical design rather than sitting entirely inside your ear. The batteries hang down in roughly-cylindrical studs that make the earbuds bottom-heavy. The result is that they stay securely in your ear, even during physical activity.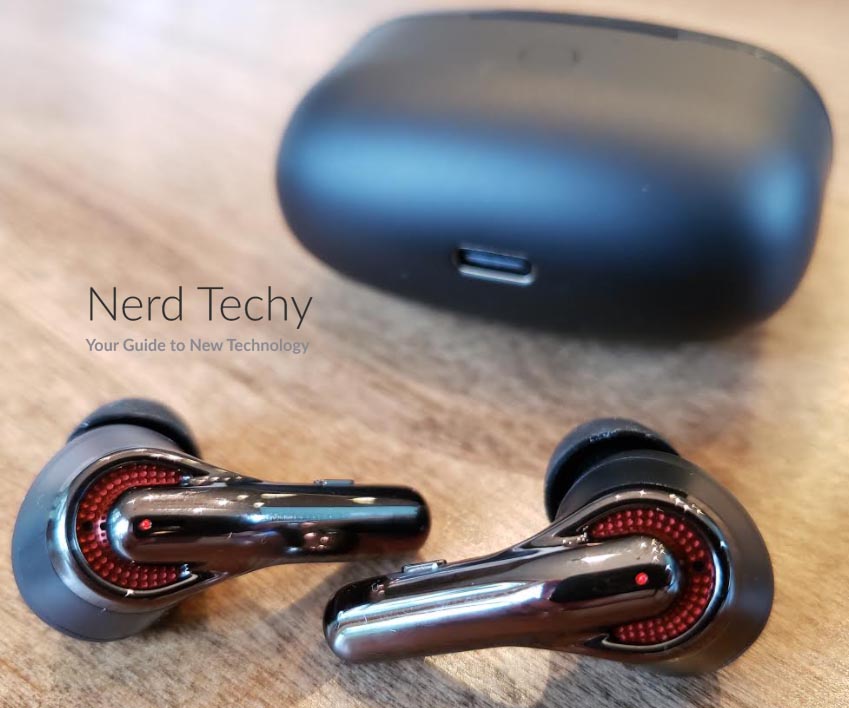 This is fortunate, since the ear tips are shallow, and don't provide as much security as some. That said, there are six different pairs of silicone tip sizes in the package. For most people, you'll be able to find a snug fit that's also comfortable. The shallow design means they aren't as effective at noise isolation as many other earbuds. This can be a good thing if you're concerned about maximizing your situational awareness. On the other hand, it can be problematic if you want to block out ambient noise in your environment. In addition to the silicone tips, you can also use soft foam tips. These are a bit larger, but provide excellent isolation. You'll need to remove them for charging, though, since they're too big to fit in the case.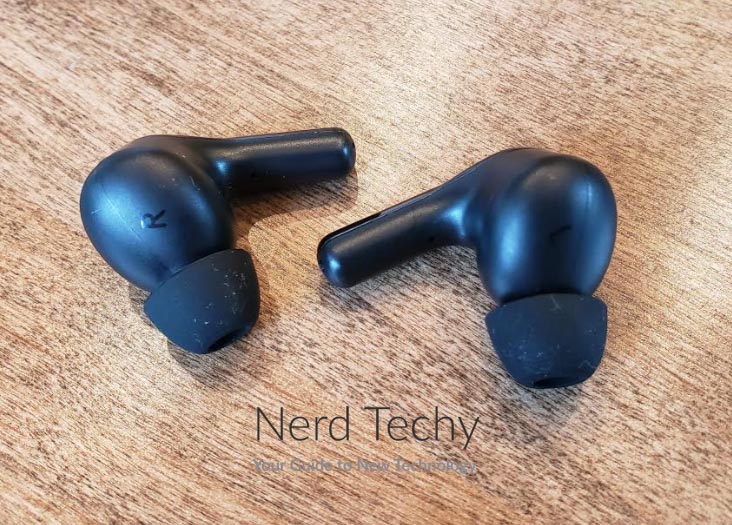 If you want the maximum possible noise isolation and an entirely different design, consider the Tribit QuietPlus 72 ANC Headphones. As the name implies, these have active noise cancellation. Their over-ear fit also makes them exceedingly secure, but they're ill-suited for workouts or everyday commutes.
The bulk of the shells are black, but the backs of the in-ear portions are a bright scarlet. This adds a touch of color, but don't confuse this general area with a soft touch button. The buttons are actually located on the battery studs, a little bit further down. These buttons are physical, not soft touch, so they're hard to actuate by accident. Normally, physical earbud buttons are uncomfortable to operate, since you have to press into your ear. But because these buttons are on the vertical studs, there's no pressure against your ear. You're getting the best of both control schemes, in a truly innovative design. We expect that more earbud manufacturers may start using this design in the future.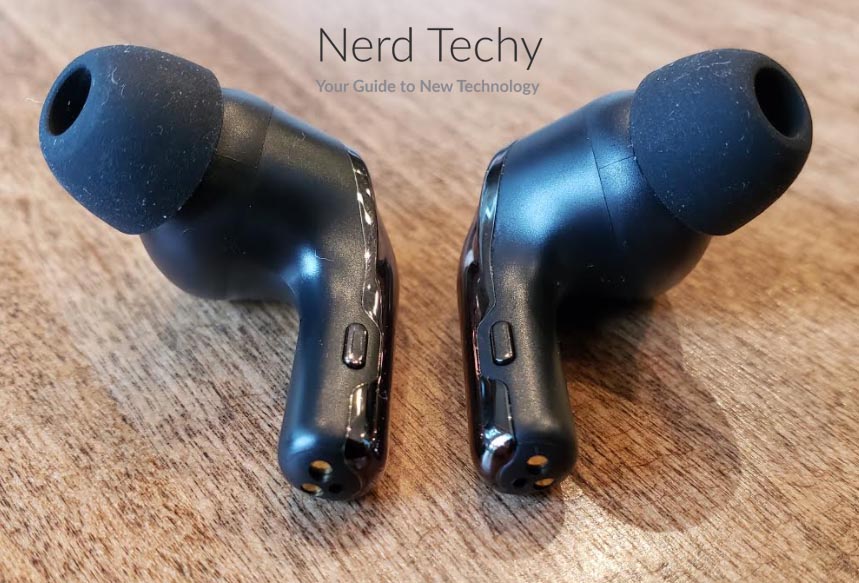 The C1 True Wireless Earbuds come with an IPX5 rating for water-resistance. This means they can withstand a steady, low-pressure stream of water. Should you wear them in the shower? It would probably be unwise. But you can wear them in the rain, or during an intense, sweaty workout. You don't have to worry about them getting damaged from everyday sources of moisture.
When you're not wearing the C1 earbuds, they go in a matte black plastic case that matches the earbud shells. The case is roughly rectangular, with the edges and corners rounded off to keep it from jabbing you. It's small enough to easily carry in your pocket, and the spring-loaded lid stays shut reliably in a backpack. All in all, it's a nifty carrying solution.
The case isn't just for transport and storage; it's also for charging your earbud batteries. On the front, under the lid, you'll see a row of four LEDs, which light up when the case is plugged in. These indicate the battery level. For charging the case itself, you use a USB Type-C cable, which is included in the package.
For a different design altogether, take a look at the original Tribit FlyBuds. These come in a flat case rather than a vertical one, and have a compact, in-ear design. On the other hand, they offer less than half the total battery life of the Flybuds.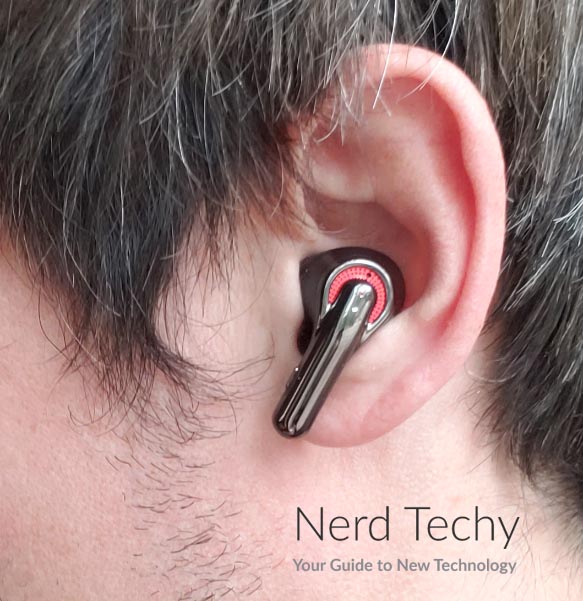 Battery & Connectivity
One area where the Flybuds C1 earbuds excel is their battery life. Battery technology is constantly advancing, and this year's best is oftentimes next year's average. But for now, these are the longest-lasting earbuds we've seen. They'll last for up to 12 hours on a single charge, which is simply outstanding. To be fair, this is a manufacturer's rating. If you're listening at full volume, you can expect more in the neighborhood of eight or nine hours. Still, that's some exceptional performance, especially considering the compact size of the earbuds themselves.
The charging case complements this with enough battery power to recharge the buds a little over three times. The total battery life, including the charging case, is around 50 hours at half volume. Furthermore, you won't have to wait long for it to fill up. The earbuds, as well as the case, will both charge in two hours or less. Finally, a pair of empty earbuds will charge enough for 90 minutes in the first 10 minutes. If you wake up with dead batteries, it won't take long for your buds to be ready for your morning workout.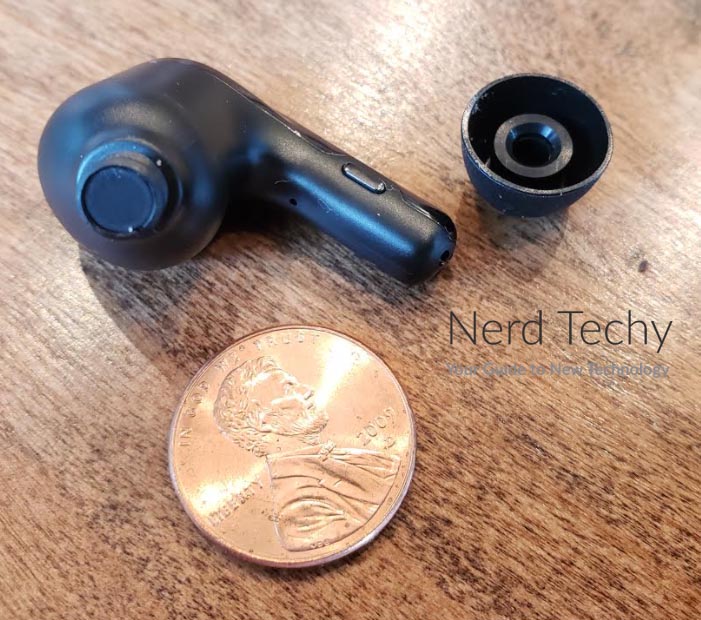 The C1 earbuds connect to your phone, tablet, or other device via Bluetooth 5.2. This is a newer variant of the Bluetooth 5 protocol that allows for some significant upgrades. This means higher audio bandwidths and a more stable signal. In addition, you get very low latency, even lower than with Bluetooth 5.0. This means you can watch movies or play games and not worry about desynchronized audio. Furthermore, Bluetooth 5.2 offers reduced power consumption, which is a big factor in the C1's battery life.
The main benefit of Bluetooth 5.2 as opposed to Bluetooth 5.0, though, is that it uses dual-channel transmission. With normal TWS, the signal is sent directly to one primary earbud. It is then forwarded to the secondary earbud. In a dual-channel transmission, the signal for each earbud is sent directly to each bud. This is a big part of why the C1 buds have such low latency and long battery life. Not only that, but they can be used individually. If you want to use just the right or just the left bud, you can. You'll cut down on battery usage and maintain situational awareness at the same time. To return to dual mode, simply put both buds in the case and remove them both again.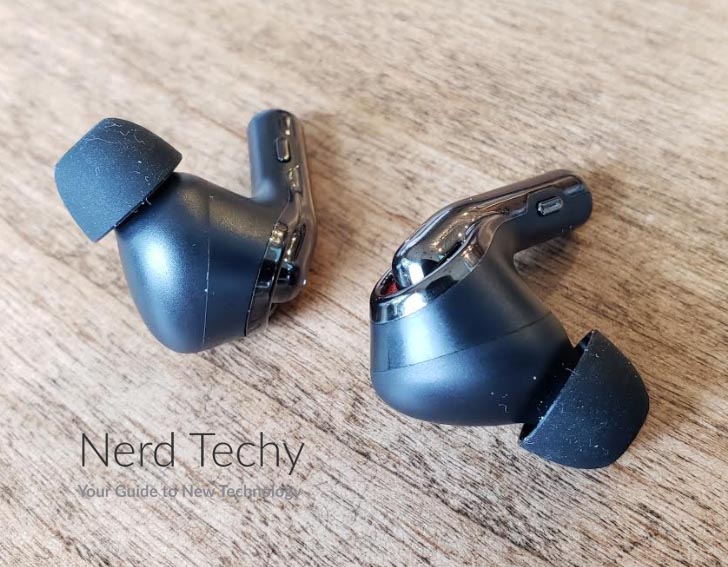 Audio Quality
The Flybuds C1 True Wireless Earbuds utilize aptX high-quality audio decoding. This allows for very high-bitrate playback, with frequencies of up to 48KHz. You're literally able to enjoy CD-quality audio on your earbuds, without shortcuts or additional compression. Of course, this only refers to the software itself. You're still dealing with earbud-sized drivers, not full-sized cans.
That said, the C1 buds actually sound very good, for just about any genre of music. The bass is nice and punchy, which makes it suitable for workouts and dance music. However, it doesn't overpower the rest of the music like it will on some cheaper earbuds. Instead, the audio is well-rounded. If you're listening to country, you'll hear the twang. If you're listening to classical, the strings and brass will be rich and shimmery. Essentially, you're getting excellent quality across the spectrum, along with a wide soundstage.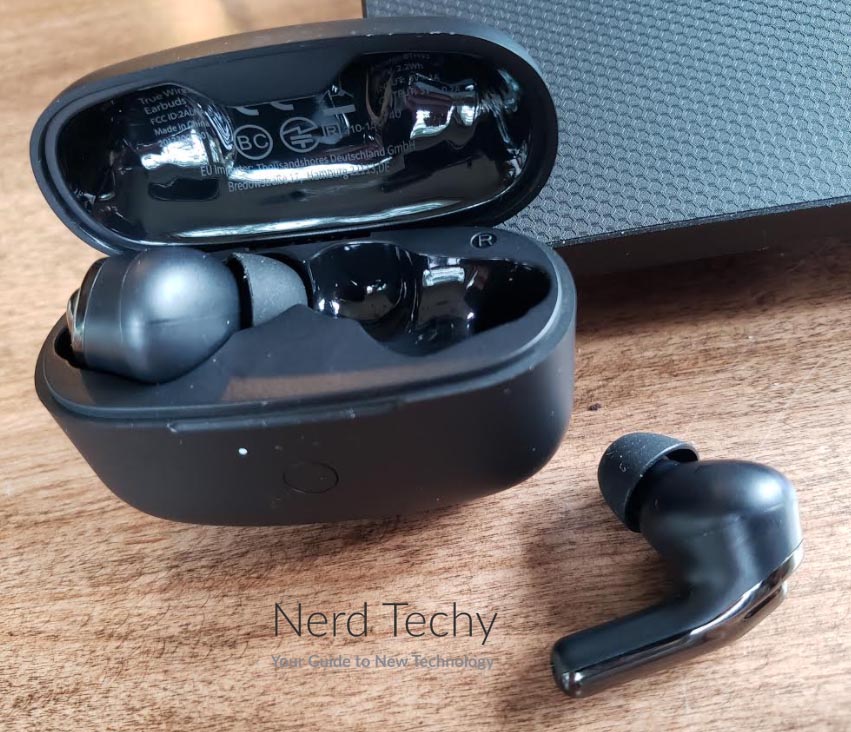 If you do want the ultimate experience of full-sized studio cans, look no further than the Tribit QuietPlus 78. They deliver better quality than anything else without a wire, for true studio quality sound. On the downside, they're not optimized for hands-free calling, and the call quality is downright awful.
The C1 earbuds, on the other hand, are designed with phone calls in mind. Four external mics work with an internal Qualcomm CVC 8.0 chipset to focus on your voice. Background noise is kept to a minimum, for noise-free phone calls. Of course, noise reduction on the other end will depend on the other person's equipment.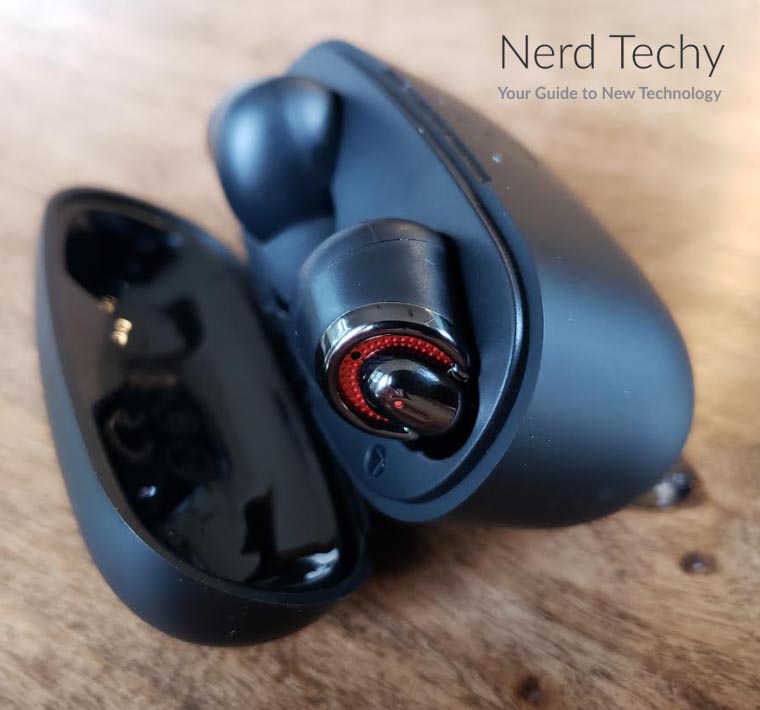 Final Verdict
Clearly, the Tribit Flybuds C1 True Wireless Earbuds have a lot to offer. Are they perfect? Nothing is. The controls, while innovative, don't have an "off" function, and the noise isolation is poor. On the other hand, that same "poor" isolation is what many people need for better situational awareness. The battery performance is impressive to say the least, the best we've seen so far on standard wireless earbuds. The audio quality also exceeded our expectations, with top-tier performance across all frequencies. Along with a Bluetooth 5.2 connection, you're looking at the complete package.