Quick Analysis
Pros
Excellent ANC and improved sound from original QuietPlus.
Comfortable, ergonomic design.
Reasonable battery life.
Supports dual connections and 3.5mm aux audio.
Cons
Power-saving Bluetooth auto-shutoff can be problematic.
Only available in black.
There's never been a better time to buy a new pair of wireless headphones. In the past few years, the market has been flooded with options, so you've got more to choose from than ever. Better yet, a flurry of intense competition has driven down prices. This means that for a moderate price, you can get headphones that were top of the line just recently.
So, why has there been this massive influx of new headphones? The answer is True Wireless Stereo (TWS). TWS is a technology that allows for higher audio bitrates, as well as true stereo audio over Bluetooth. Before TWS, wireless headphones were only good for spoken word podcasts and phone calls. With TWS, you can listen to your favorite musical album without being tethered by a wire. Some were skeptical, but Apple CEO Tim Cook jumped on board. When Apple released the iPhone 7 without any wired headphone option, the market changed forever.
Over the past few years, we've reviewed a number of wireless audio options, and we've learned a lot. One thing we've learned for is to look for a reliable brand before you invest. In that regard, Tribit is one of the best. They produce everything from wireless earbuds to Bluetooth speakers, and we've liked what we've seen.
A while back, we reviewed Tribit's original QuietPlus headphones. These were some promising headphones, but some people were underwhelmed by the ANC performance. The sound quality was also a bit underwhelming, given the price point. But Tribit has made some improvements, and now we're going to review the Tribit QuietPlus 72 Bluetooth Headphones. So, are these updated wireless cans worth the wait? Or should you stick with a different model? Let's take a closer look, and see what we learn!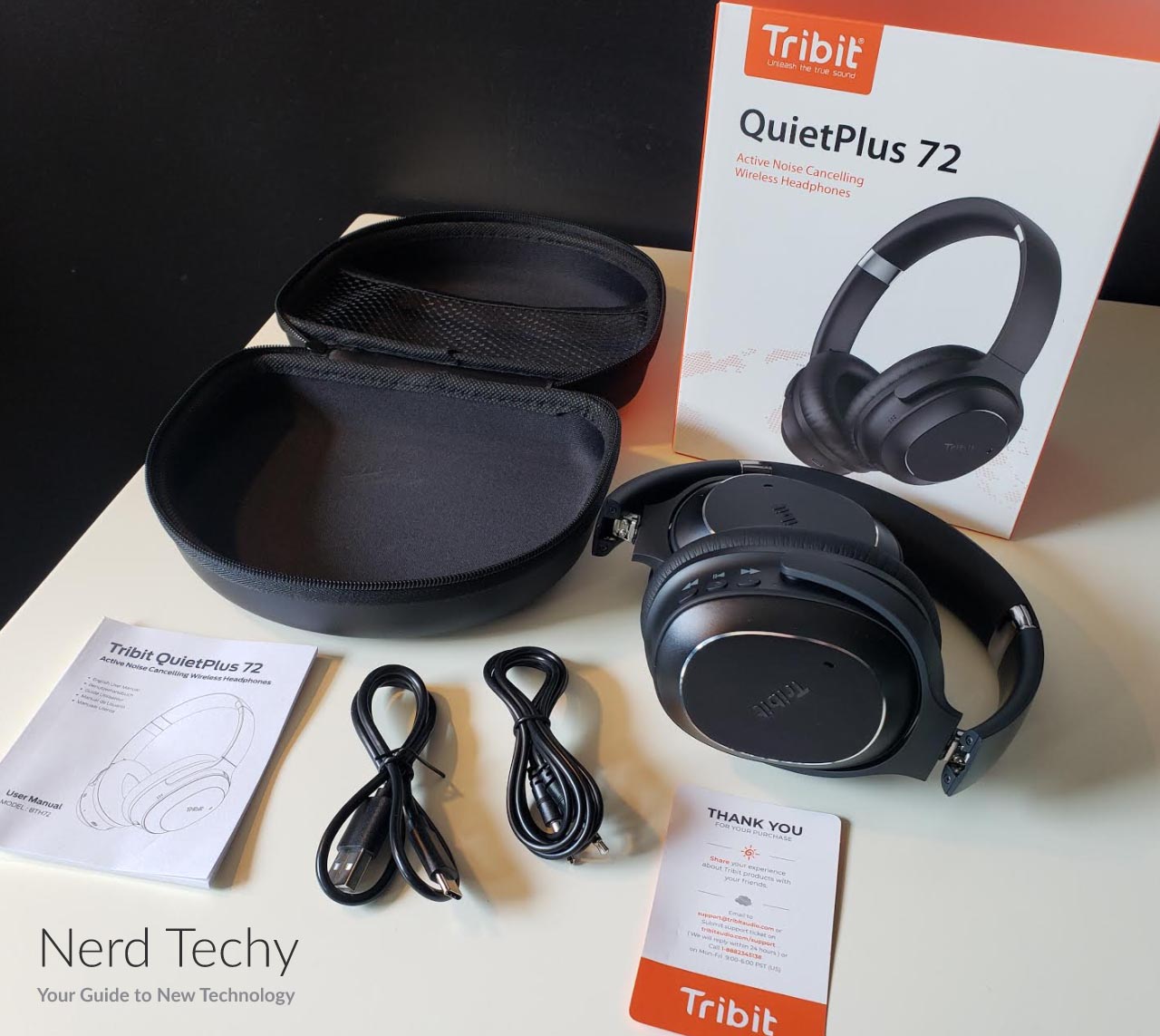 Overall Design
One thing that many users and critics loved about the original QuietPlus headphones was the form factor. Tribit has taken note, and has hardly touched the outer design. This is a good thing. Like any good manufacturer, Tribit has taken the best parts of their design and stuck with it. To begin with, this means a slim design. A lot of over-the-ear headphones look like giant Mickey Mouse ears. This used to be necessary to get good sound. But unless you're actually in the studio with Miley Cyrus, you don't need that kind of headphone. A 40mm driver is more than capable of delivering excellent audio quality. So you get relatively flat ear cups as a result.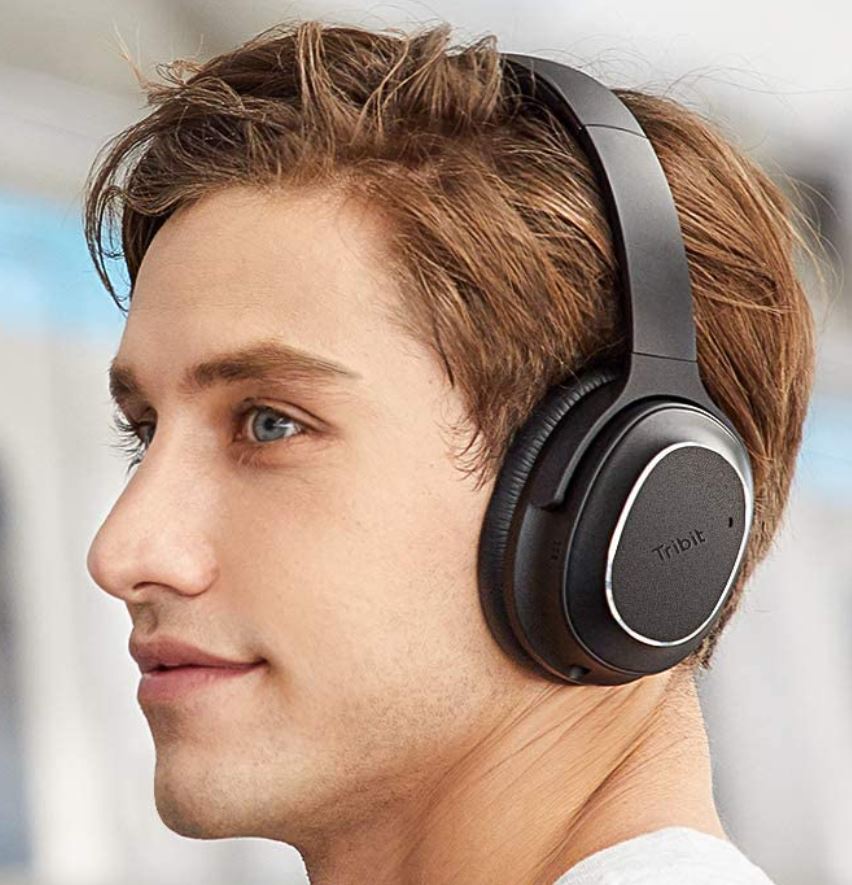 Even so, the cups are reasonably wide. Again, this design isn't overly lavish. The cups don't cover half of your head like some others. But they're generous enough to accommodate most ears. For comfort, they're sealed with lush, memory-protein ear pads that are soft and form fitting. This seal also breathes well, so sweat isn't an issue. Even if you're listening for a long time, the faux leather finish won't get slick or rubbery. An adjustable headband allows for an easy fit on most heads. A mid-weight fit also ensures plenty of comfort. At 15.2 ounces, the QuietPlus 72 headphones are nice and chunky, but not too heavy for comfort.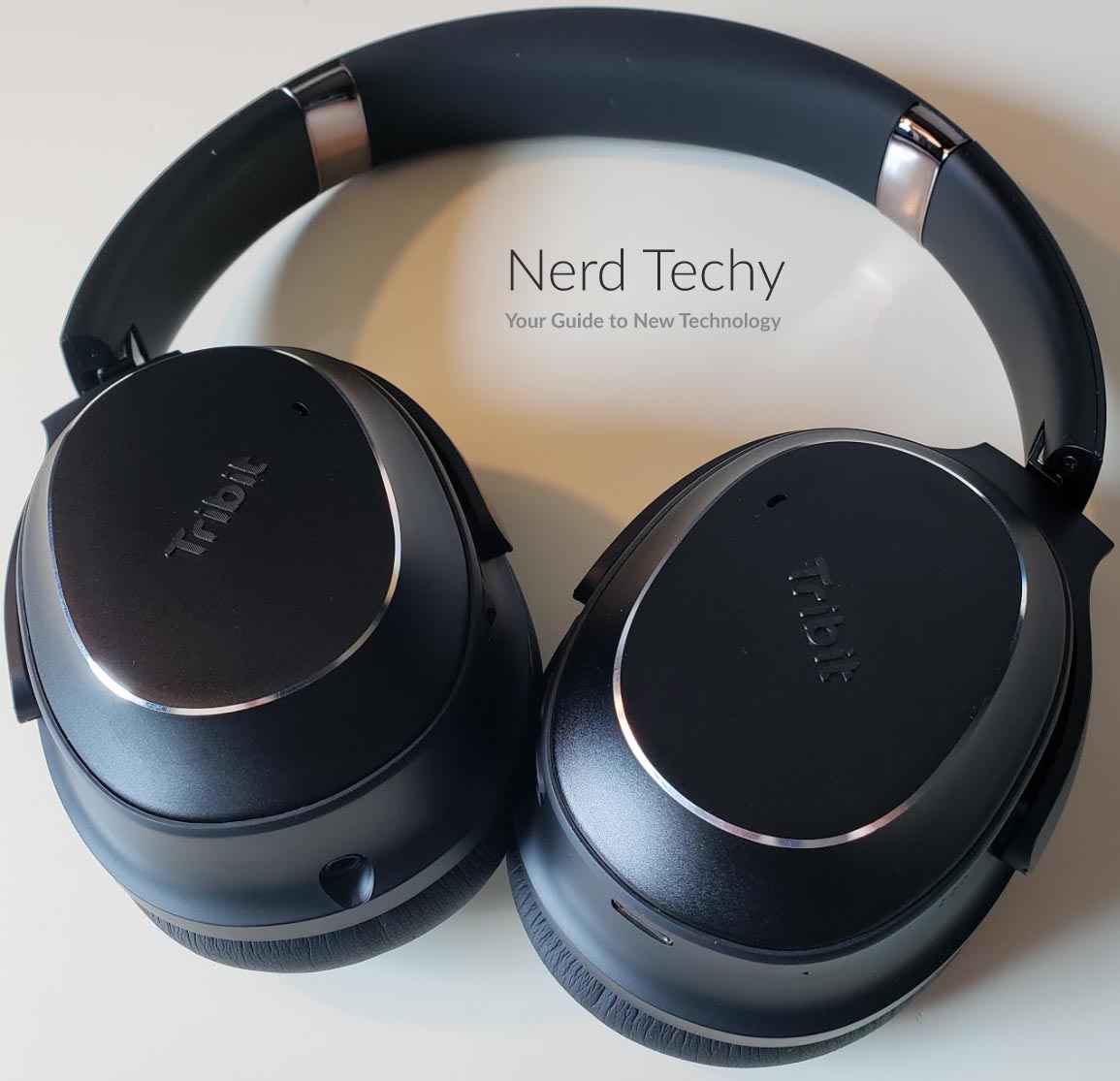 The outer casing is a charcoal black, with a matte finish that's easy to keep clean. The plastic shell bleeds seamlessly into leather padding and back again. This is particularly noticeable on the head band. When collapsed, it looks like one solid piece. You have to squint to see the breaks in the material. This makes for an exceptionally comfortable, flush fit, even when the head band has been extended.
In addition to all of these adjustment options, the QuietPlus 72 headphones are also fully rotatable. They pivot side to side as well as up and down, providing for easy adjustment. This isn't just a matter of comfort. It's also useful for storage, since the headphones are collapsible. A hard fabric carrying case is included in the kit. It's nothing especially fancy, but it's scratch resistant.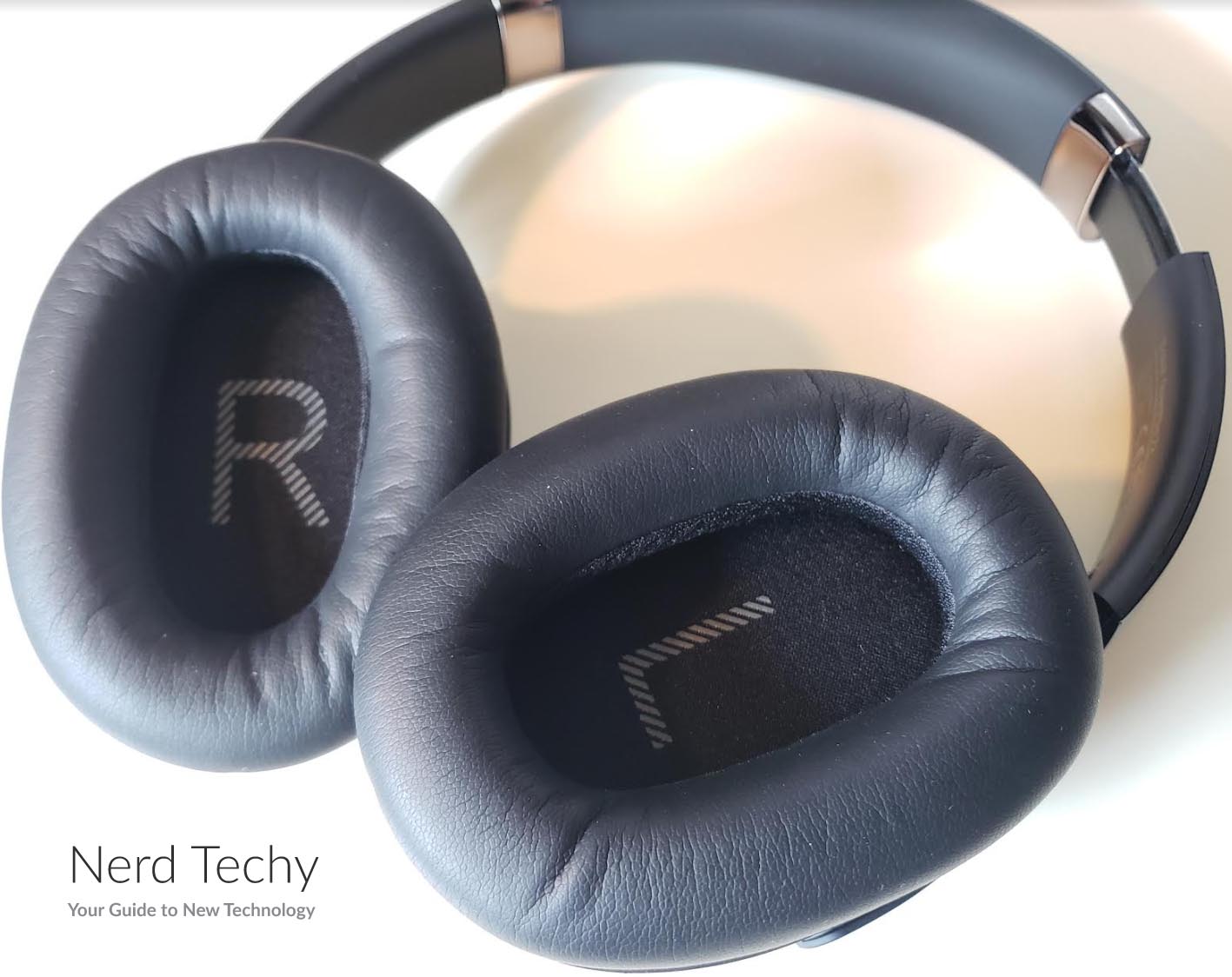 The left ear cup sports three control buttons on the bottom. These buttons allow you to skip tracks, play and pause music, answer and end calls, or adjust the volume. Next to these buttons, you'll find the USB Type-C port for charging and connectivity. On the right ear cup, a single toggle switch activates or deactivates the active noise cancelling (ANC) function. There's also a recessed port for a 3.5mm audio cable. 3.5mm and USB Type-C charging cables are included in the kit, so you have everything you need to start listening.
Battery & Connectivity
The Tribit QuietPlus 72 Bluetooth Headphones offer up to 30 hours of total battery life. This is par for the course with full-sized headphones, and it's nothing to sneeze at. Keep in mind, though, that this is just a manufacturer's rating. They typically test at half volume, so your results will vary based on how loud you listen. In addition, the 30-hour rating assumes that you're listening with ANC turned off. If ANC is active, battery life will be approximately halves. Even with ANC and full volume, you get more than a full day's listening, which should be plenty for anybody. When it comes time to charge, the USB Type-C charger will fill the battery in about 2 hours.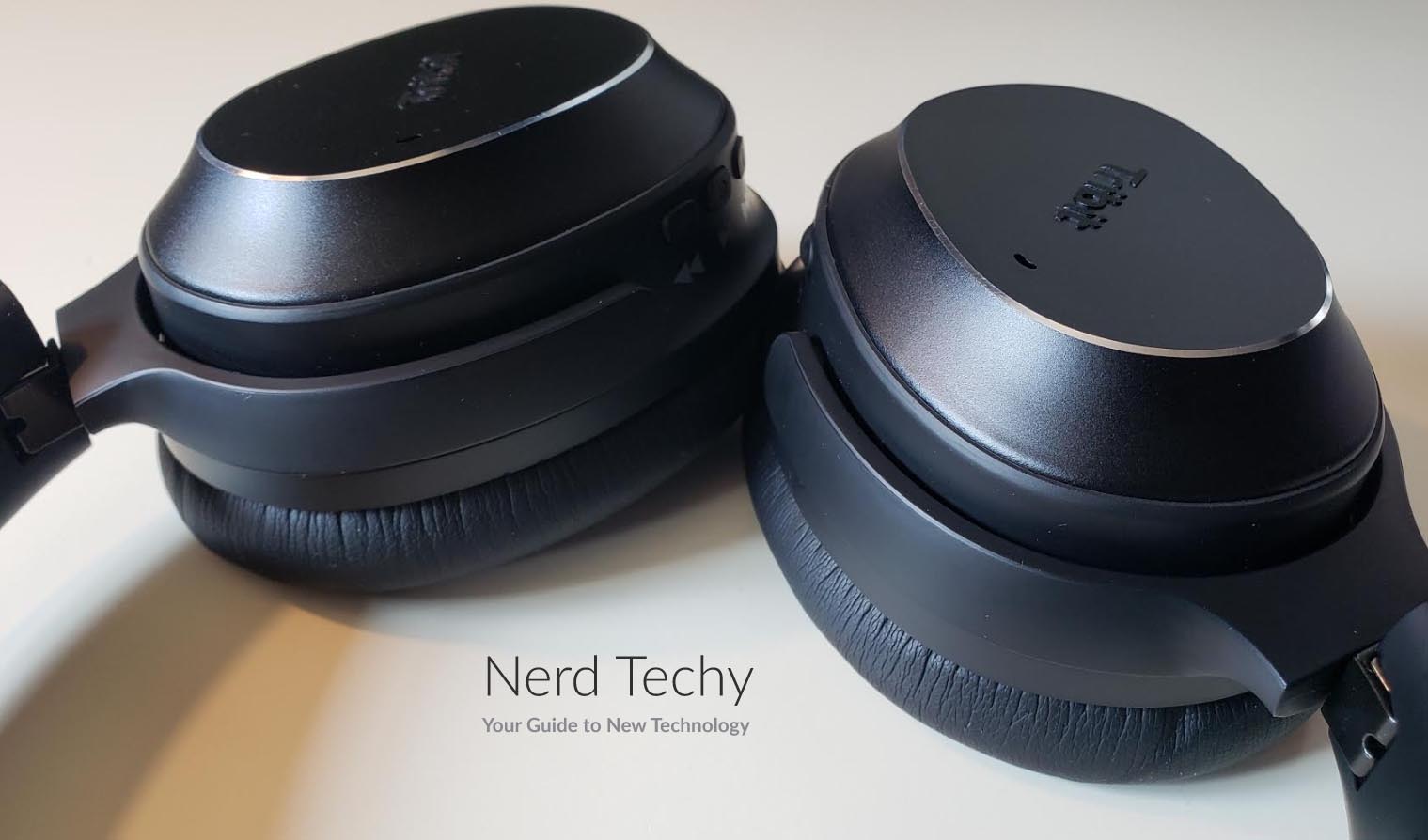 The QuietPlus 72 Bluetooth Headphones connect via the Bluetooth 5.0 protocol. This is the latest Bluetooth protocol, and offers the most advanced options. You get access to high-bitrate audio, as well as a more stable connection. Bluetooth 5.0 also provides near-zero latency. As a result, these headphones are great for gaming or watching movies. The audio and video will sync just fine, unlike with older Bluetooth versions. The total range is 49 feet, which is quite generous. You can walk around freely without worrying that you'll get too far from your phone.
The QuietPlus 72 headphones also take advantage of Bluetooth 5.0's ability to connect to more than one device. You can pair with two phones simultaneously, or with a phone and an MP3 player. This is great for business customers who use more than one phone. It's also a great option if you're old school and prefer to keep your phone and MP3 player separate.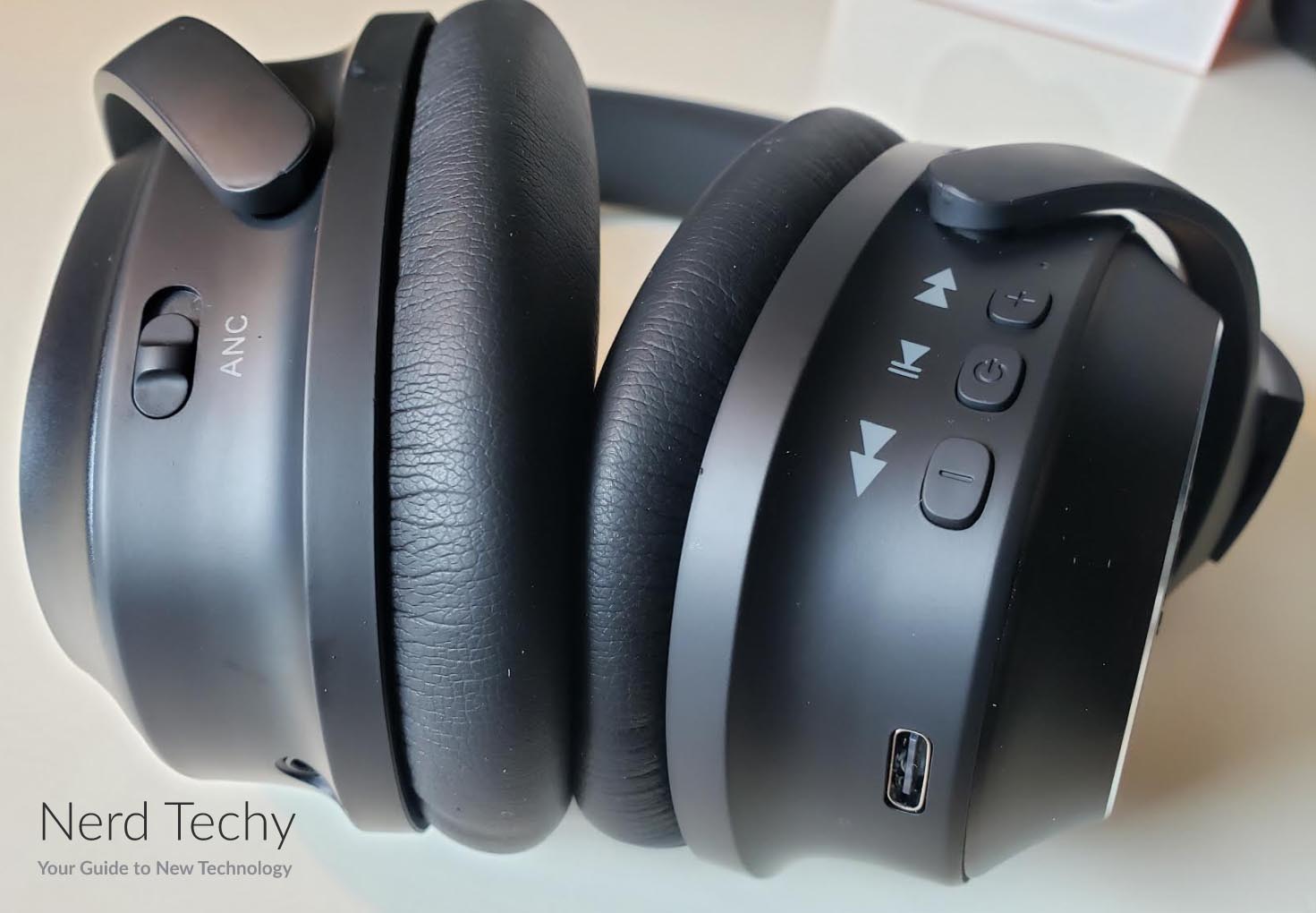 The downside of the Bluetooth connection is that Tribit has built in a power saving option. In theory, this saves your batteries by shutting off when there's no audio signal. In practice, though, it can get serious. For instance, suppose you just want to read a book and be available for hands-free calling. The headphones will shut off while you're not listening to anything, and you'll be caught off guard. Similarly, some apps like Duolingo rely on periods of silence to wait for user input. If the headphones shut off during this time, you're going to get annoyed.
Alternatively, you could just connect with the 3.5mm aux cable. To be fair, you won't be able to use the ANC function. But you won't have to worry about your battery life, either. You can listen indefinitely in wired mode.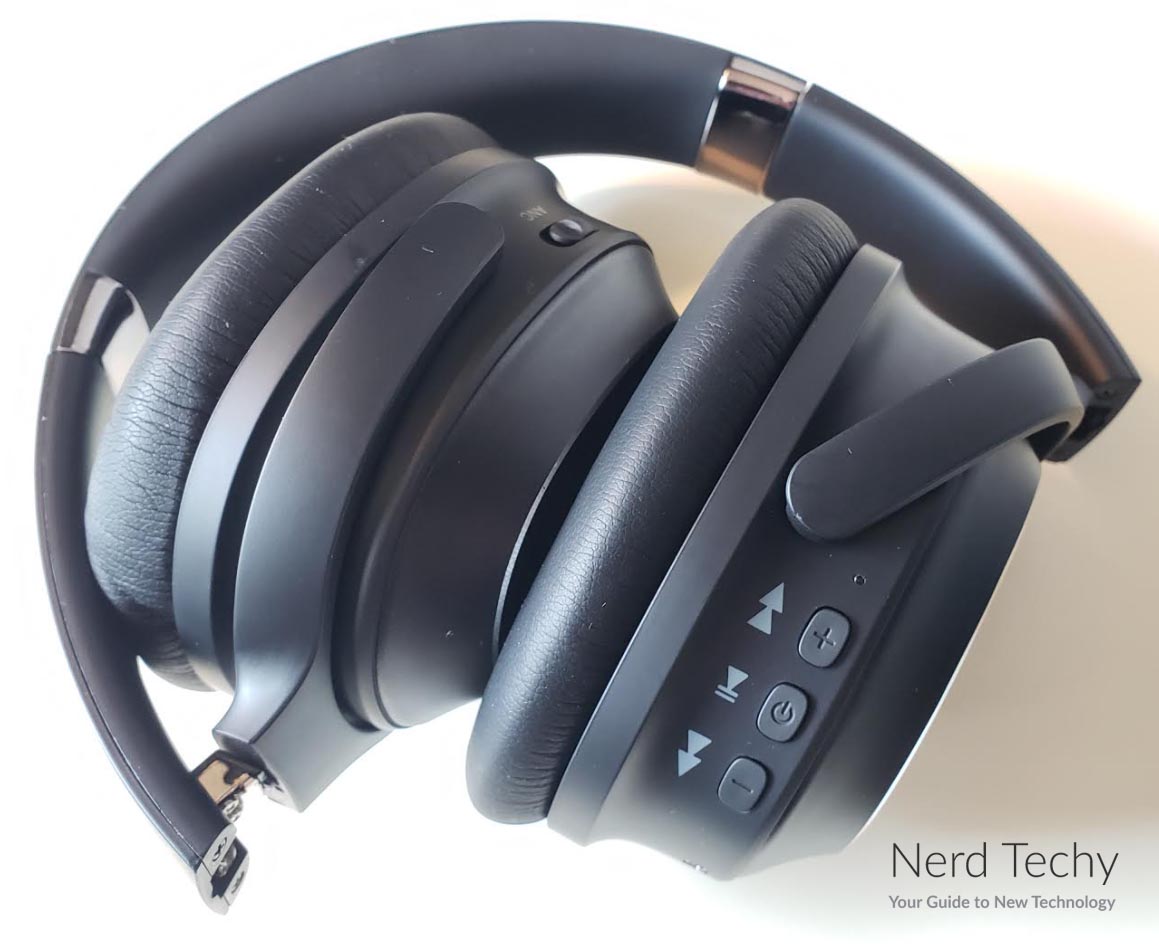 Sound Quality
The Tribit QuietPlus 72 Bluetooth Headphones feature a pair of built-in 40mm drivers. As we mentioned, these are the modern standard for headphones, and the size can deliver good results. Of course, your actual results will depend on the construction of the individual driver. In that regard, the QuietPlus 72's drivers works very well. They provide excellent clarity across the spectrum. You can enjoy shimmering highs and clear mids. You also get driving, thumping bass, much better than most comparable headphones. The difference in bass quality is night and day between this and the original QuietPlus headphones.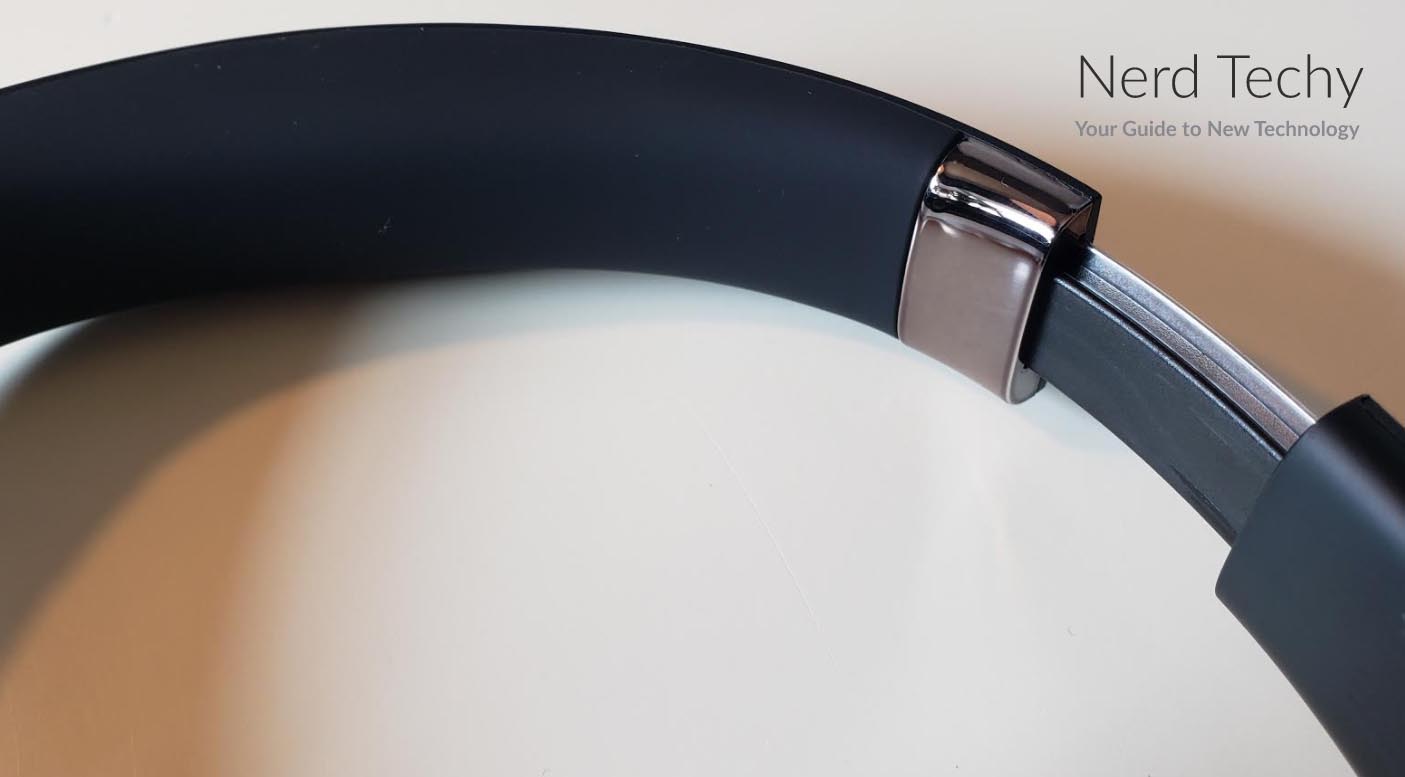 But as audiophiles will know, good frequency response is only half of the equation. Just as important is a wide soundstage, or separation between different instruments. Once again, the QuietPlus headphones deliver. You can hear each instrument and vocalist clearly, even in very complex pieces. As a result, you're looking at a solid pair of headphones for any genre of music.
The ANC function has also been improved from the original QuietPlus headphones. The original ANC was praised for having good across-the-spectrum performance. But it was criticized for only working effectively at relatively low decibel levels. The improved QuietPlus 72 ANC function will reduce ambient noise by an impressive 32dB. This will reduce the roar of a jet engine to the hum of an air conditioner. As with any ANC headphones, the function is reactive, not proactive. It works far better on steady background noise than it does on sharp, sudden sounds.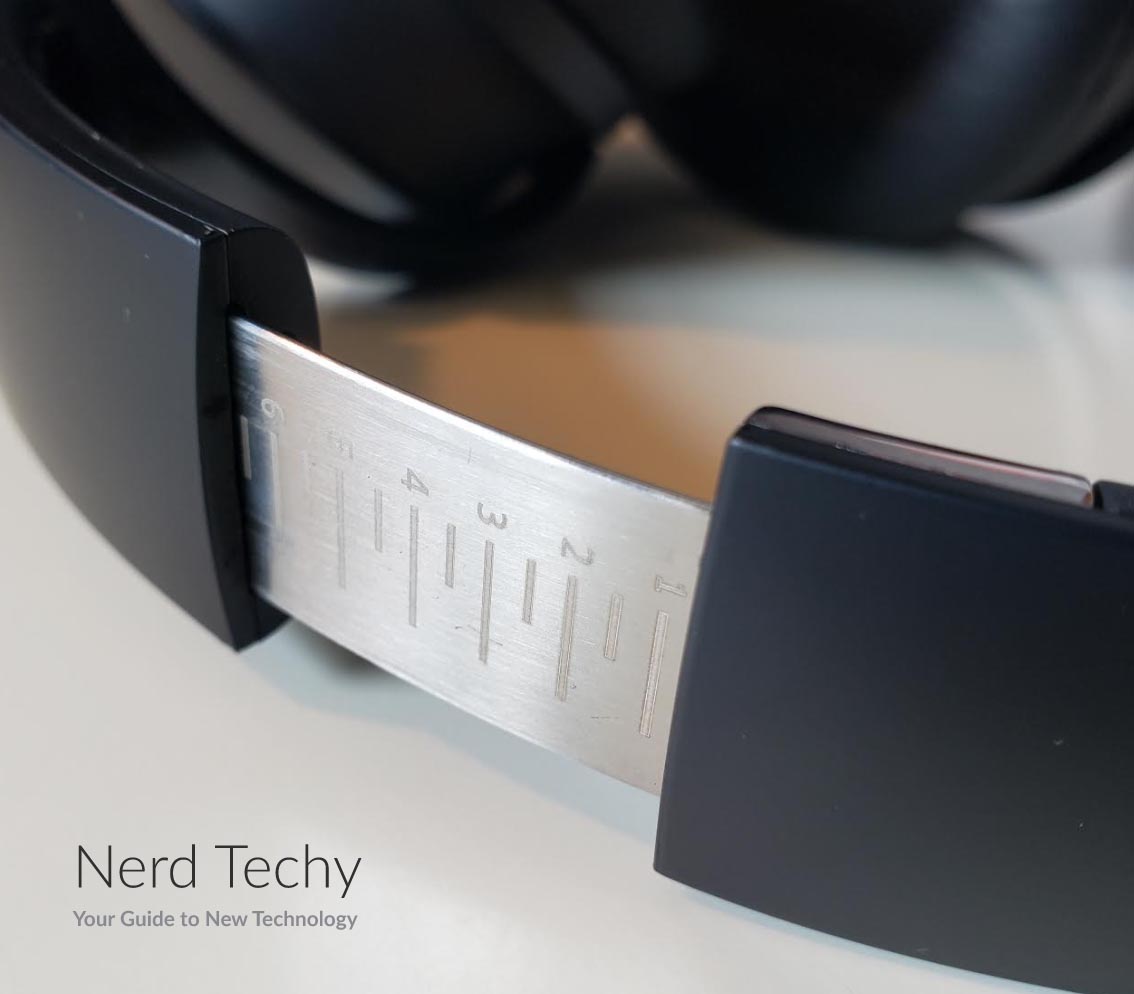 In addition to the speakers, the mics also feature noise cancelling. The QuietPlus 72's dual mics use CVC 8.0 technology to reduce background noise to a minimum. This function won't help you hear the other person better; that depends on how good their mic is. But it will bring your voice to the forefront on their end, so it will be easier to hear you. This is very useful if you often have phone conversations in a crowded or noisy environment.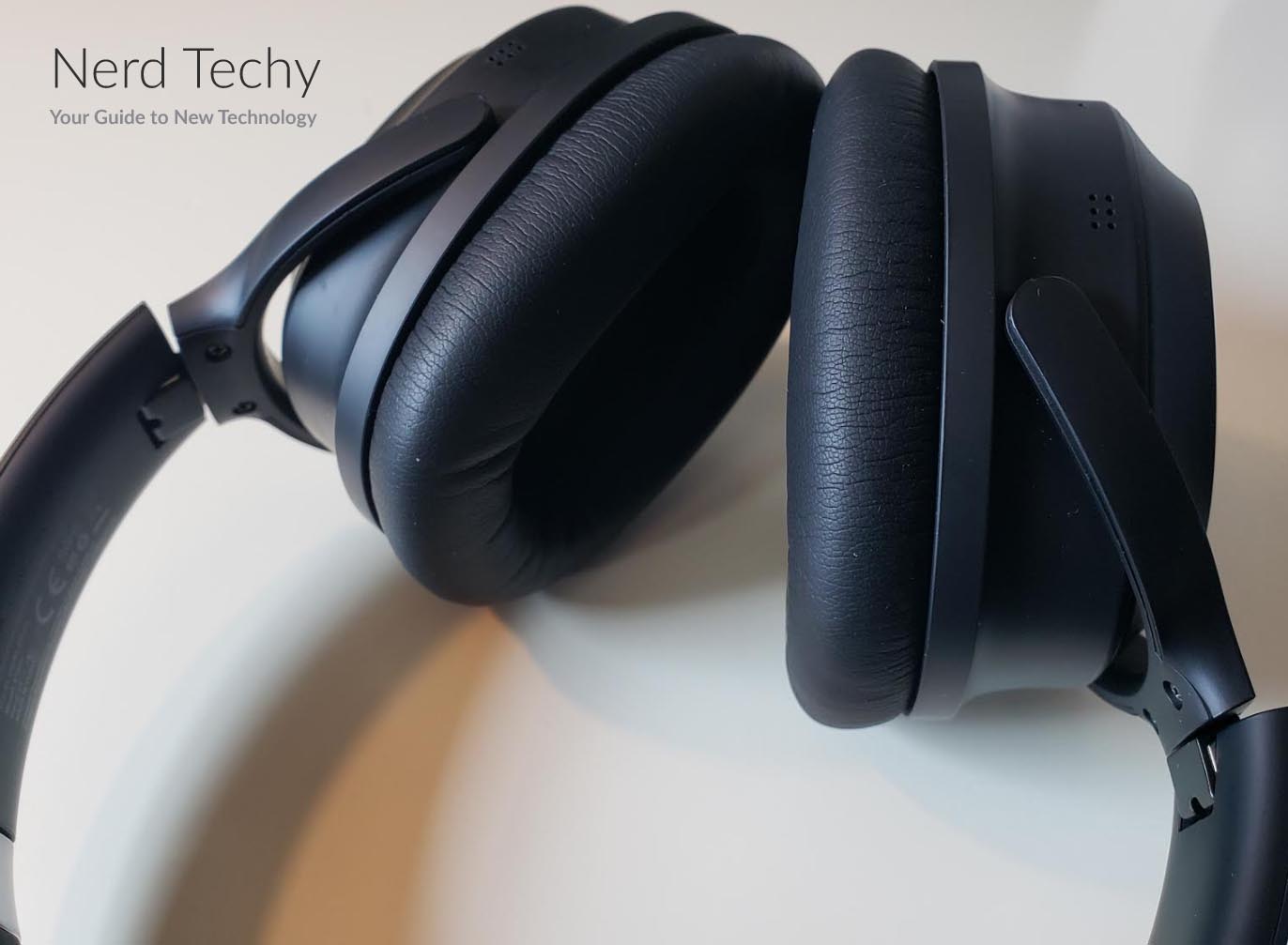 Final Verdict
The Tribit QuietPlus 72 Bluetooth Headphones are a worthy improvement over the original. They offer excellent audio quality, with a wide soundstage and solid full-spectrum response. They also offer improved ANC, with the ability to filter out even very loud background noises. To be fair, there are still a few issues. The auto-shutoff feature isn't terribly useful, and the way it's been implemented is a bit annoying.
Even so, the QuietPlus 72 headphones are a great value for the money. In large part, this is because they maintained the slim, ergonomic design of the original QuietPlus cans. Tribit has taken what was good about the original and improved upon it. The result is a mid-priced pair of headphones that offers a fantastic value for the price. If you want good sound quality, comfortable ergonomics, and reasonable battery life, you're looking at a solid headphone option.