Quick Analysis
Size and Aesthetics
8.5/10
Pros
Slim, compact design.
Wide device compatibility.
Includes all the accessories you'll need.
Wide field of view.
Cons
In bright rooms, display can look washed out regardless of your settings.
Menu navigation is overly complex.
When the history of our times is written, a lot will be said about the development of the computer. But it wasn't just the PC – or the Mac – that has changed our entire world. It was also the laptop. Laptop computers allowed you to use your computer where a full-sized PC would be impractical. They didn't change technology, but they changed how people thought about the technology. Instead of a computer being a single, fixed workstation, a computer was a personal device that traveled with you.
But just as laptops have continued to develop, so have other aspects of how we use computers. Back in the 1980s, a single PC could barely handle a single, low-resolution display. But advancements in power have allowed you to use two or more screens with your PC. This is a great feature if you need more real estate. Gamers, coders, and content creators all regularly work with multiple displays.
Today, we'll be reviewing the Dragon Touch S1 Portable Monitor. We've reviewed Dragon Touch's digital picture frame in the past. So we were excited to see what their portable monitor has to offer! A portable monitor lets you use your laptop the same way you use your desktop, with multiple displays. So, does the S1 perform well enough to be worth your money? Or should you keep looking for a different option? Let's take a closer look, and find out!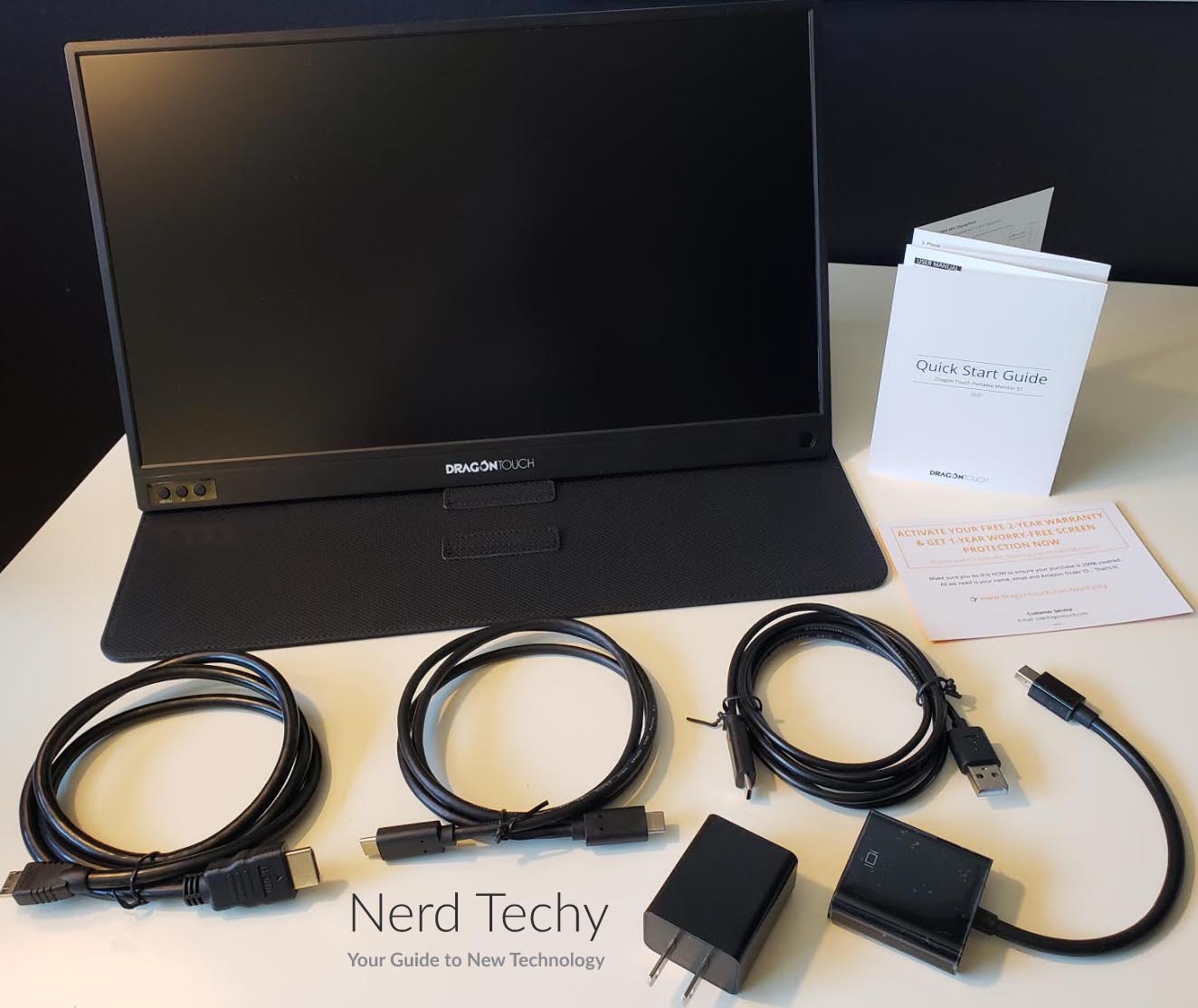 Design and Size
The Dragon Touch S1 Portable Monitor is about as compact as they come. It measures less than half an inch thick, with a 15.6-inch screen. This makes it very easy to slip into your laptop bag or carry-on bag. Moreover, it weighs just 22 ounces, so it doesn't add a whole lot of extra weight. As a result, it's an excellent choice for frequent flyers.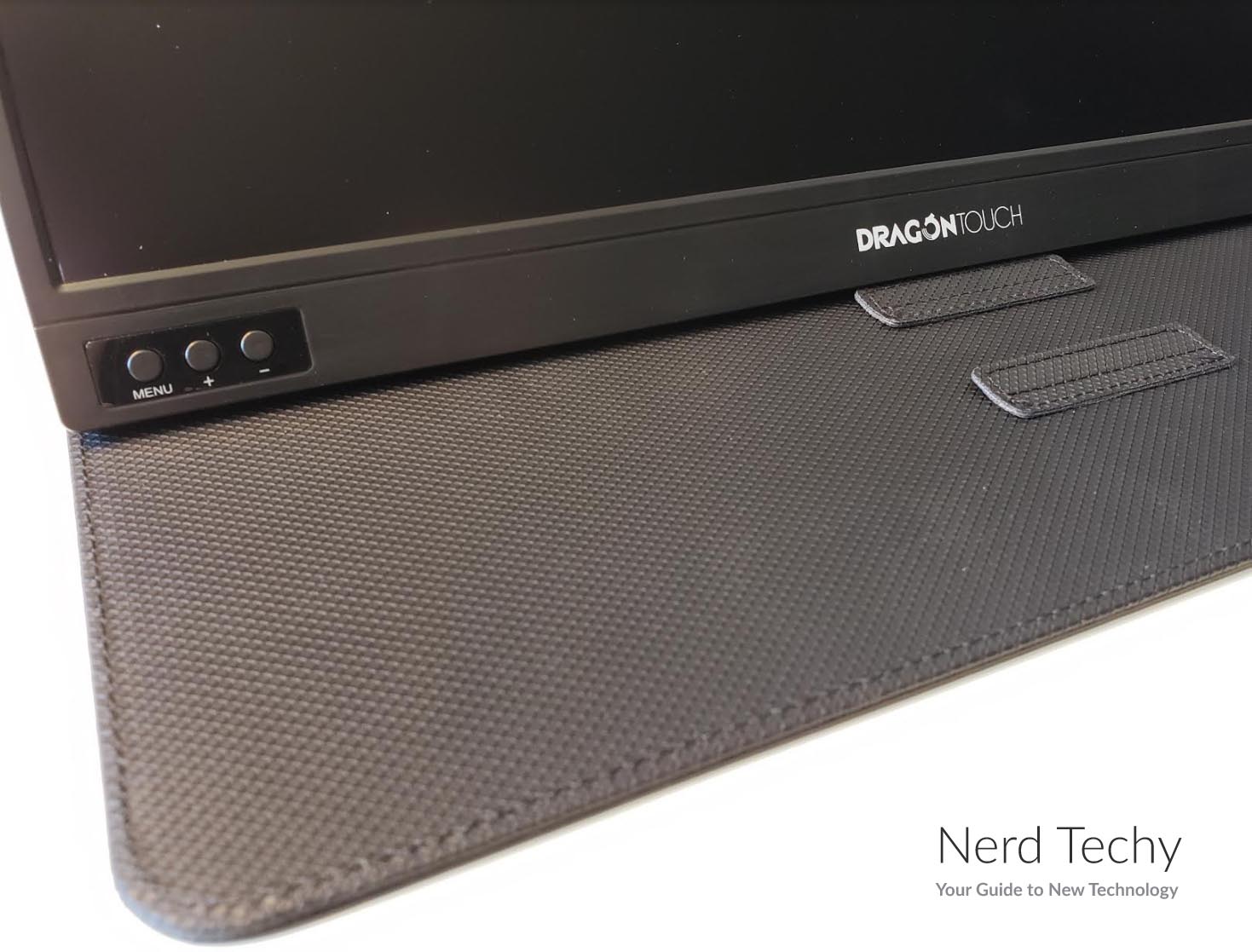 The screen itself makes the best possible use of the real estate, with a slim black bezel that's very stylish. Like most portable displays, the S1 has a collapsible, folding design. A built-in folding nylon panel performs dual functions. When you're on the go, it folds forward over the screen, protecting the display from any damage. When it's time to work, it folds backward under the screen, creating a simple A-frame stand. This design isn't just convenient, it's also adjustable by its very nature. Just prop the screen up at the most comfortable angle. To make things easier, Dragon Touch has built three short strips into the panel that provide a stable base. The nylon panel itself is well-engineered, with a stiff, soft design and reinforced stitches at the edges. It closes with a simple snap closure, so it won't pop open by accident during travel.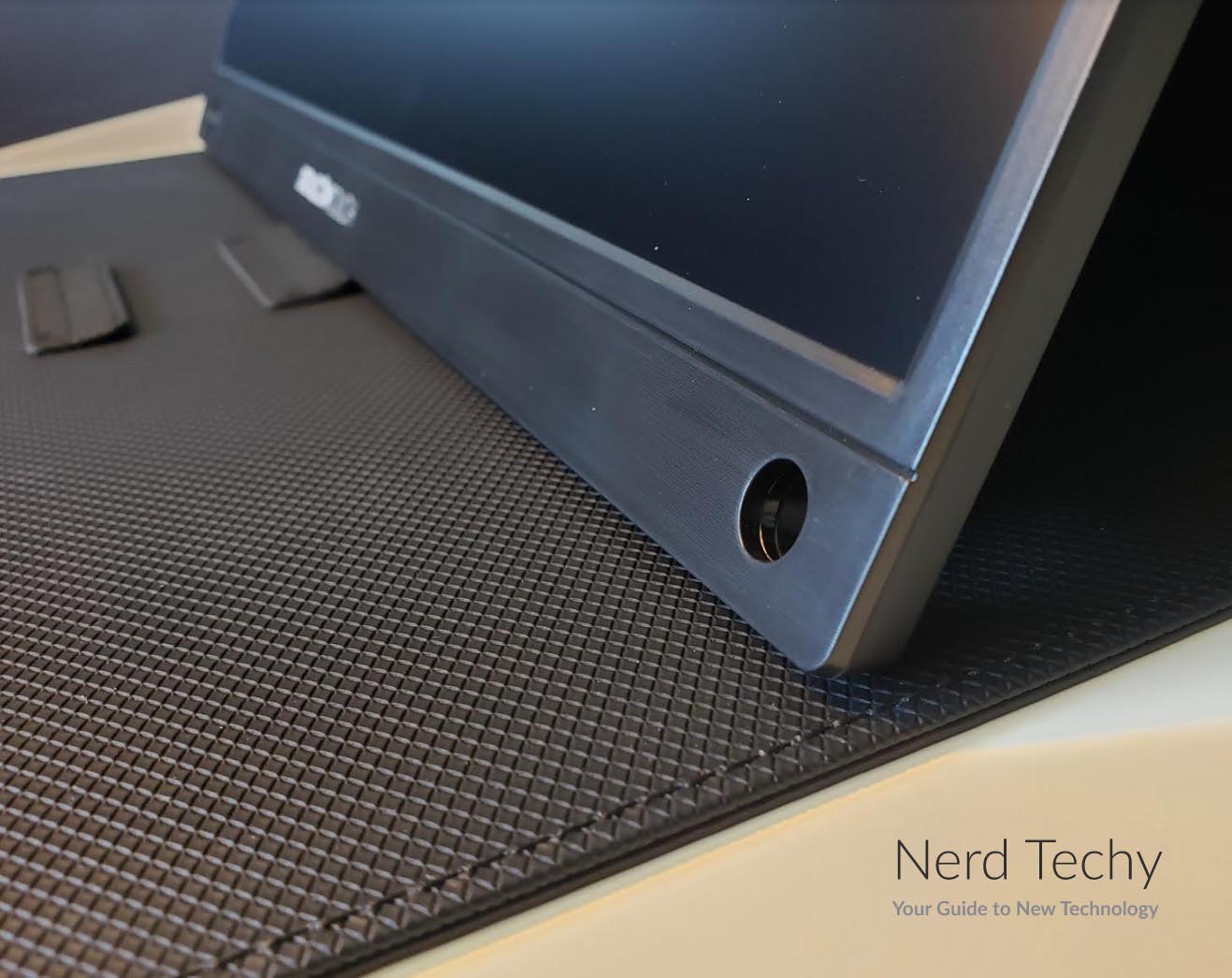 The power supply and other inputs are all located on the lower left side of the frame. This makes cable management easy, since everything plugs into the same place. Also near the lower left, you'll find a row of three rubber menu buttons. The buttons themselves are nice and soft, and are easy to operate. Unfortunately, the same can't be said for the menu system. It's unnecessarily Byzantine and difficult to understand. Obscure options are right in your face, while commonly-used functions are buried three submenus deep. Hopefully, Dragon Touch improves their menu system in future releases, because the rest of the design is pretty nice.
Along with the S1 monitor itself, you also get all the accessories you need to get started. You get a USB Type-C power cable, along with a wall charging block. There's also an HDMI to Mini DisplayPort adapter. As a result, you're ready to connect almost any device right out of the box.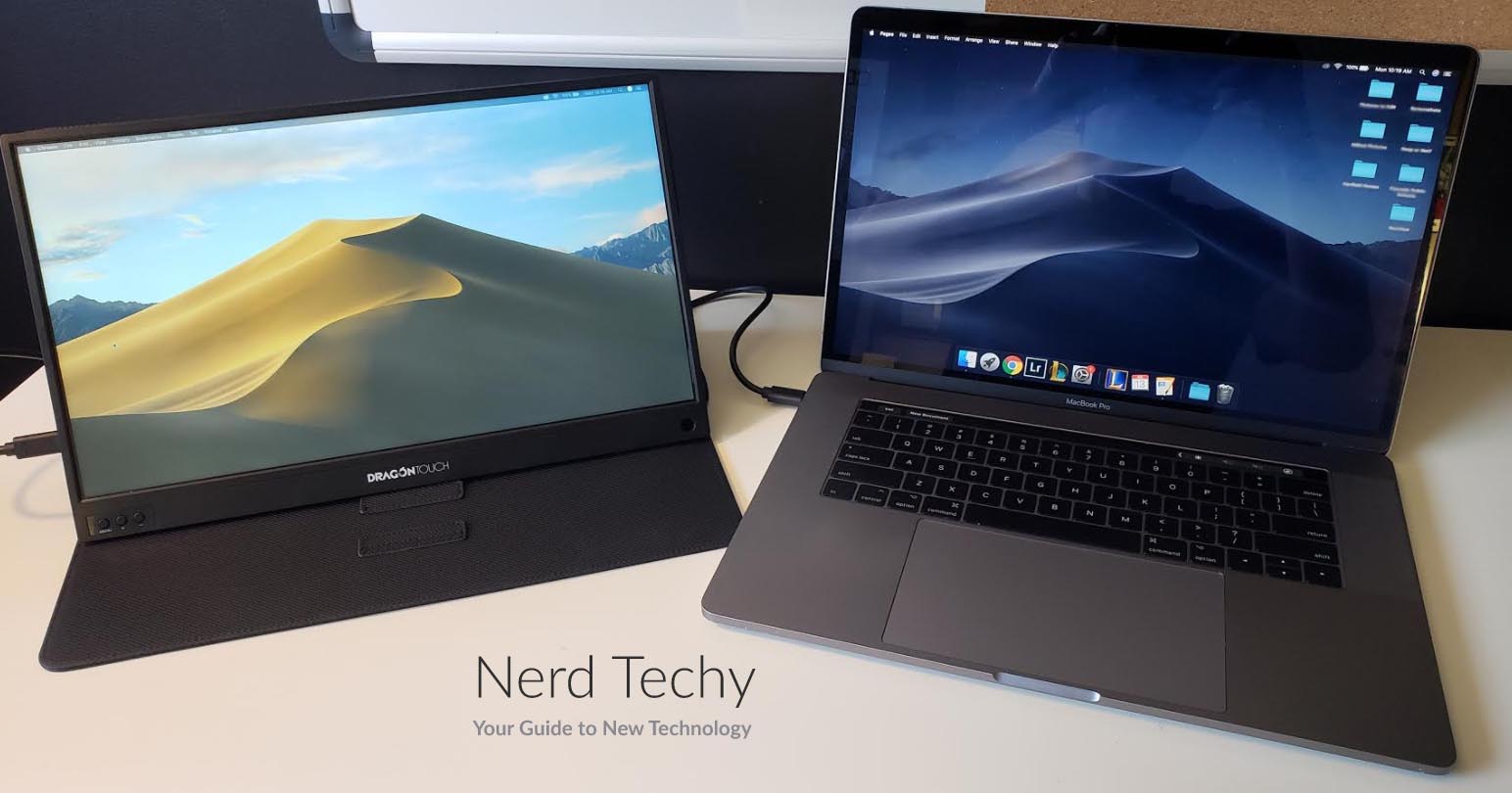 Resolution and Picture Quality
The S1 Portable Monitor has an aspect ratio of 16:9. This is the standard display ratio for a modern monitor, and will provide universal support. In addition, the screen resolution is 1080p. To be fair, industry standards are starting to push past 1080p and towards 4K. But in a monitor of this size, there's not going to be a noticeable difference between these resolutions. Your eyes simply won't be able to distinguish pixels that are that small and densely packed. In other words, for a small, portable display, 1080p is all you're ever going to need.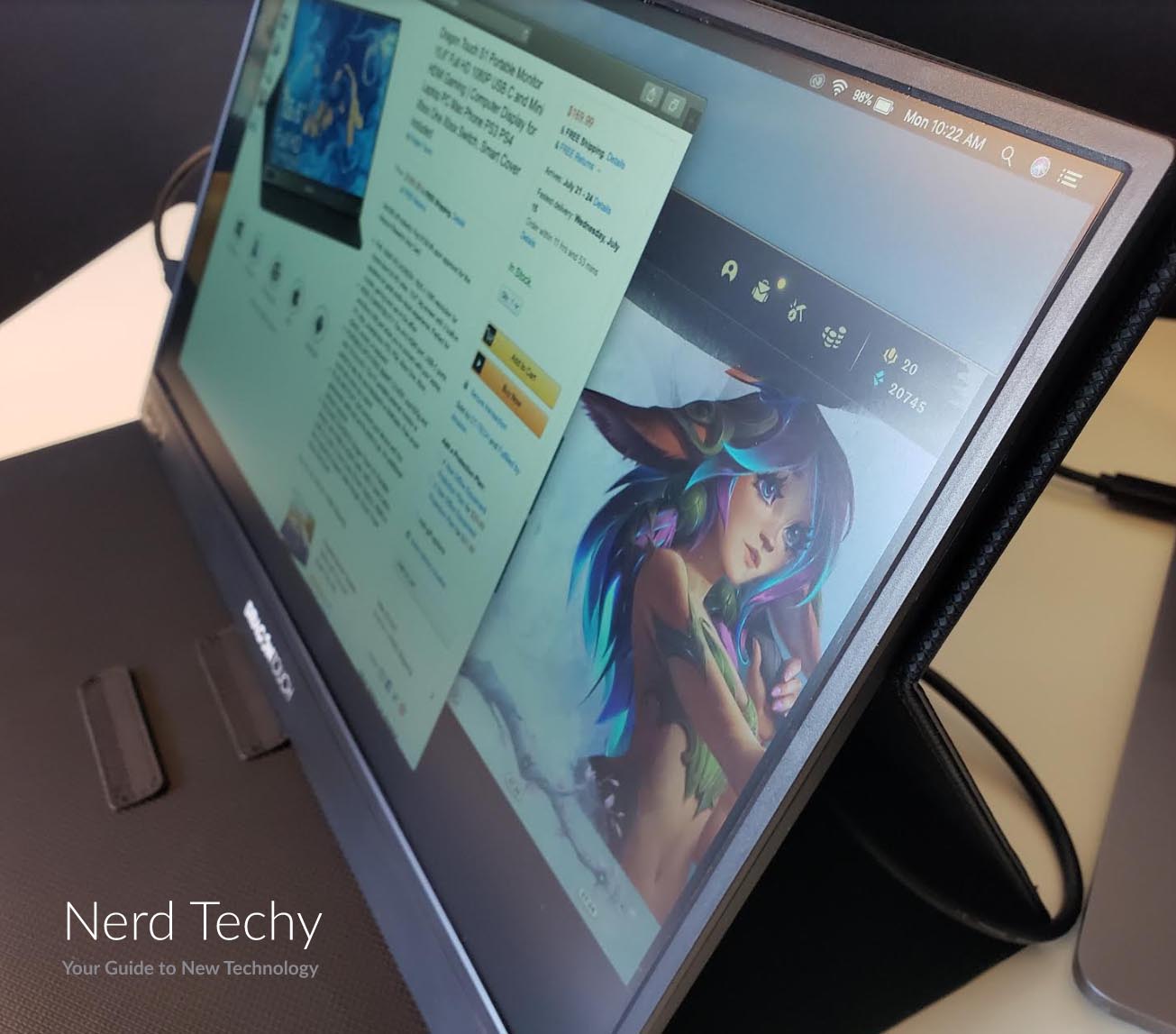 The screen is an IPS panel, which means it's designed for a wide field of view. You certainly get one, with a 170-degree viewing angle. This is slightly less than some IPS panels, which can allow up to 178 degrees of visibility. Regardless, you're getting a great viewing angle for team projects. People will be able to read for right next to you with ease. Of course, if you're presenting for a large group, you're going to want a larger screen.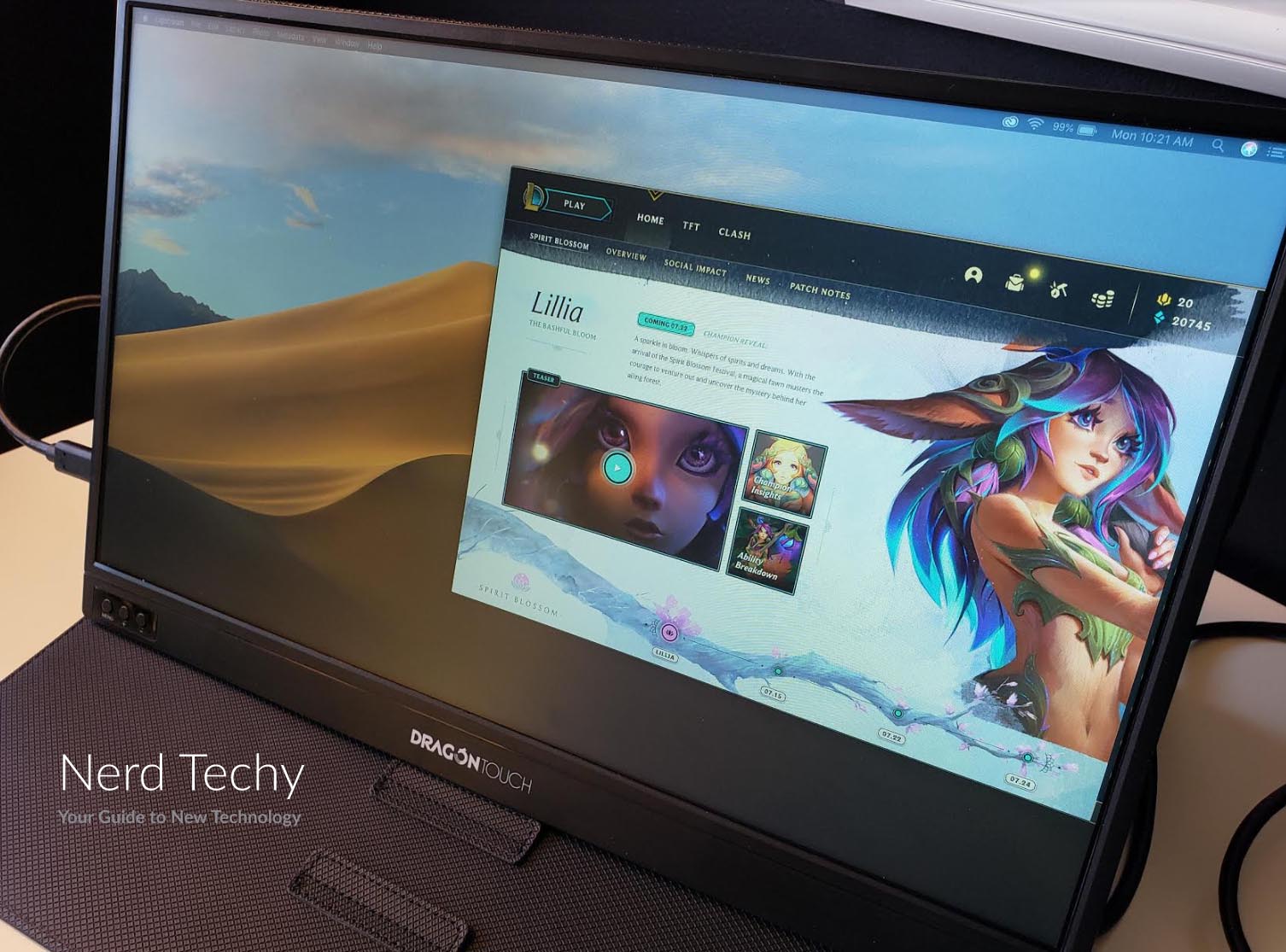 Dragon Touch does not provide any specific ratings for contrast ratio or brightness. In and of itself, this isn't a big deal. The more pressing question isn't "What official rating does it have?" but "How does it look?" If it looks good, then we don't really care what numbers the manufacturer is throwing out. Conversely, if the picture quality doesn't hold up, a bunch of impressive numbers don't mean much.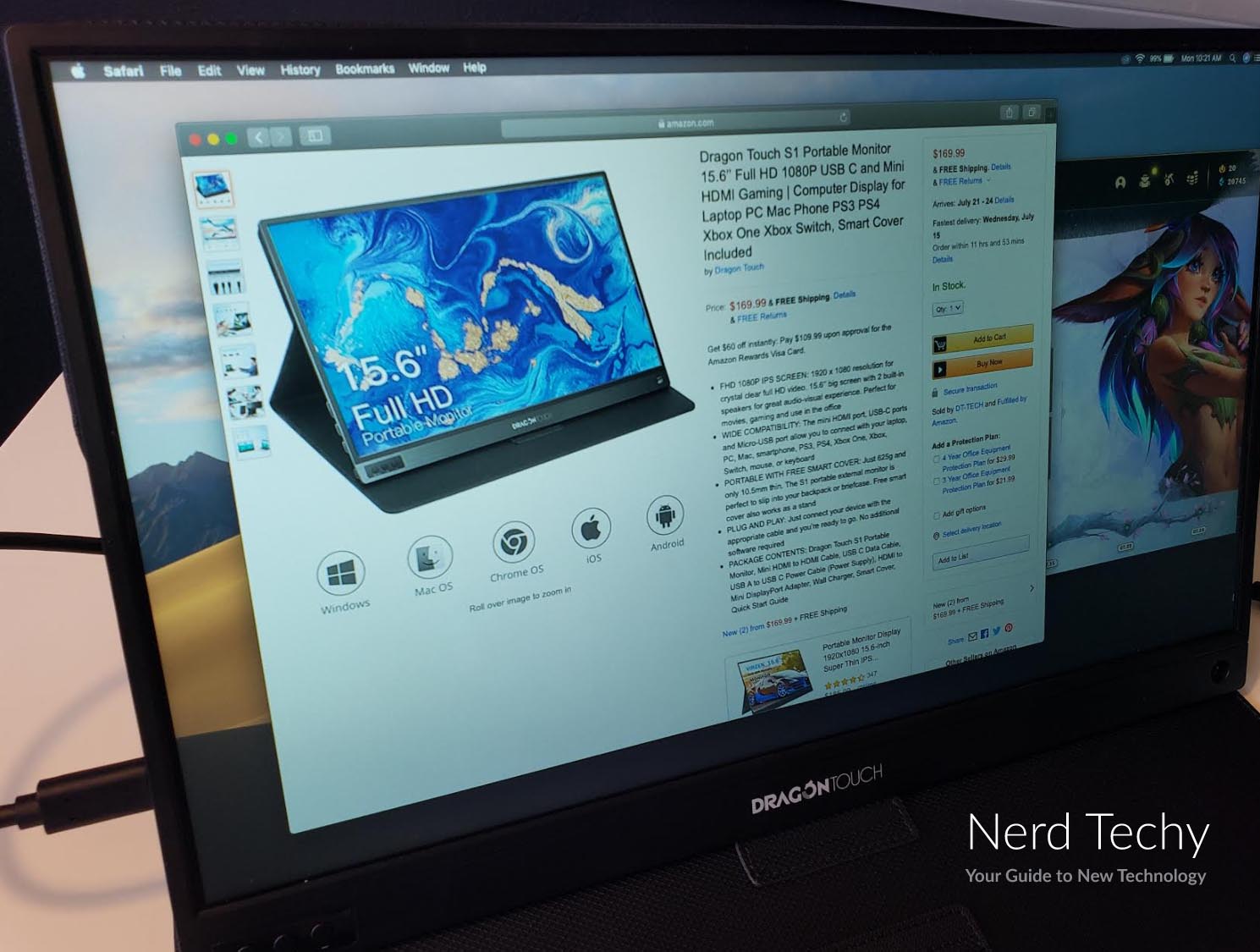 Sadly, the S1 display is slightly lacking both in contrast and vibrancy. It's more than bright enough for viewing even with a lot of backlight. But in bright rooms (and outdoors) with a lot of natural light, colors can seem washed out and faded. As a result, the S1 may be a poor choice for graphic designers, or for gamers who want 100% true color. But for coding and business applications, it's more than good enough to get the job done. One neat benefit for coders is that the S1 is easy to configure in portrait mode. This is very helpful for navigating longer files.
Connectivity
The Dragon Touch S1 can be connected to just about any device on the market. To begin with, it sports a pair of USB Type-C inputs. One of these is for the power supply, but the other is for connecting your devices. This is the easiest way to connect most modern tablets and laptops. It's also a viable method for many tablets and newer smartphones. If you have an older smartphone or tablet, you can use a Micro USB connection instead. Finally, you can use a Mini HDMI cable or DisplayPort to Mini HDMI adapter to connect to Mini HDMI. This makes it easy to connect game consoles, as well as some oddball PCs and laptops.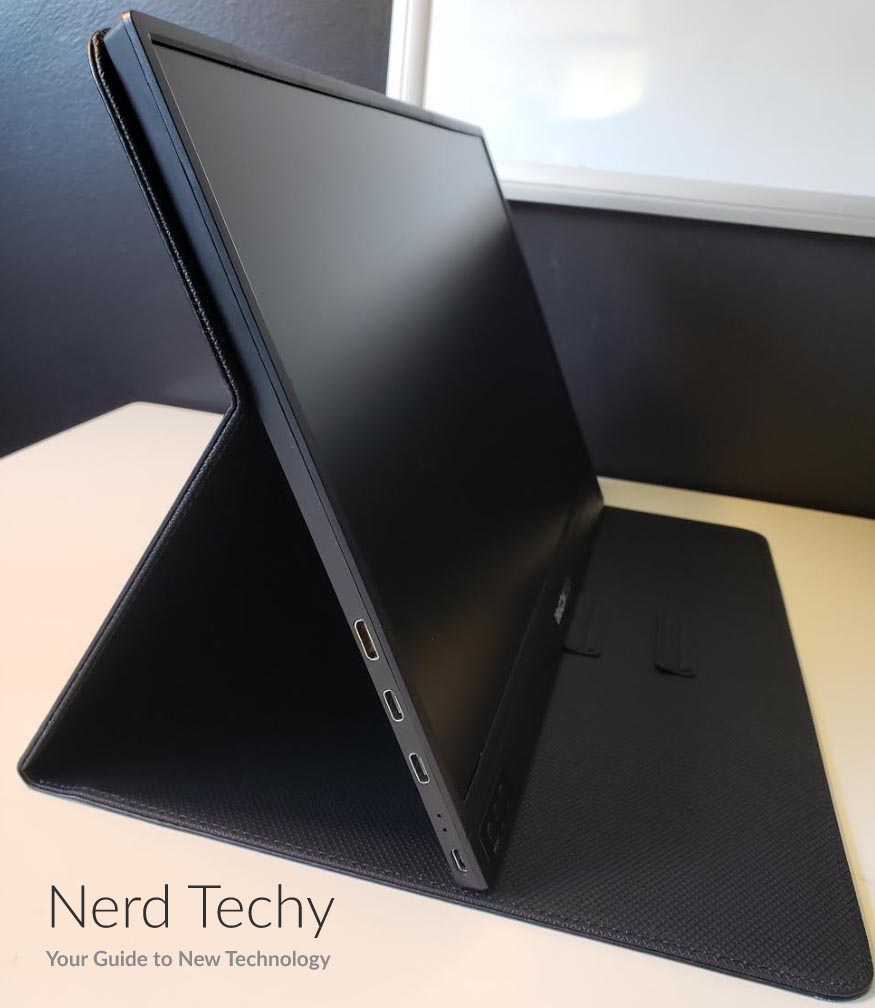 The S1 supports three different display modes. In mirror mode, it will simply show what's being displayed on your main display. This mode is typically used for presentations, which isn't that useful on a screen this size. On the other hand, it's also great for making your phone display easier to read. You can blow up the screen to full size for easily typing emails and larger documents.
Even so, most users are probably looking for a true second display. In that case, you've got two additional options. The first is a screen extend mode, so you basically widen your existing display. This is ideal when you need a The other is a second screen mode. This is ideal for running multiple applications. For instance, you could play a game on your main display, and use the S1 for displaying benchmarking software. Once again, this is a great feature for programmers, who often have to switch windows.
Audio and Extras
The Dragon Touch S1 has a pair of built-in speakers. Let's be clear; these are teeny tiny speakers that have to fit in a very small space. Considering the size, they sound just fine. The sound is well balanced, clear, and easy to understand. Conference calling, or just watching Netflix by yourself, you won't need anything else. That said, the volume is very limited. If you're playing audio for an audience, you'll probably want a pair of external speakers.
Another thing we should point out is that there's no 3.5mm jack. If you want to plug in a pair of headphones, you'll need to plug into your laptop, phone, or tablet. For most setups, this won't be a problem, but it's something you should be aware of nonetheless.
The S1 comes with a one-year screen protection program. This isn't the same as a full warranty. It won't cover you, for instance, if the case gets cracked. That said, the screen is the most likely part to break and one of the most expensive to fix. So getting some coverage, even if only screen coverage, is a good added value.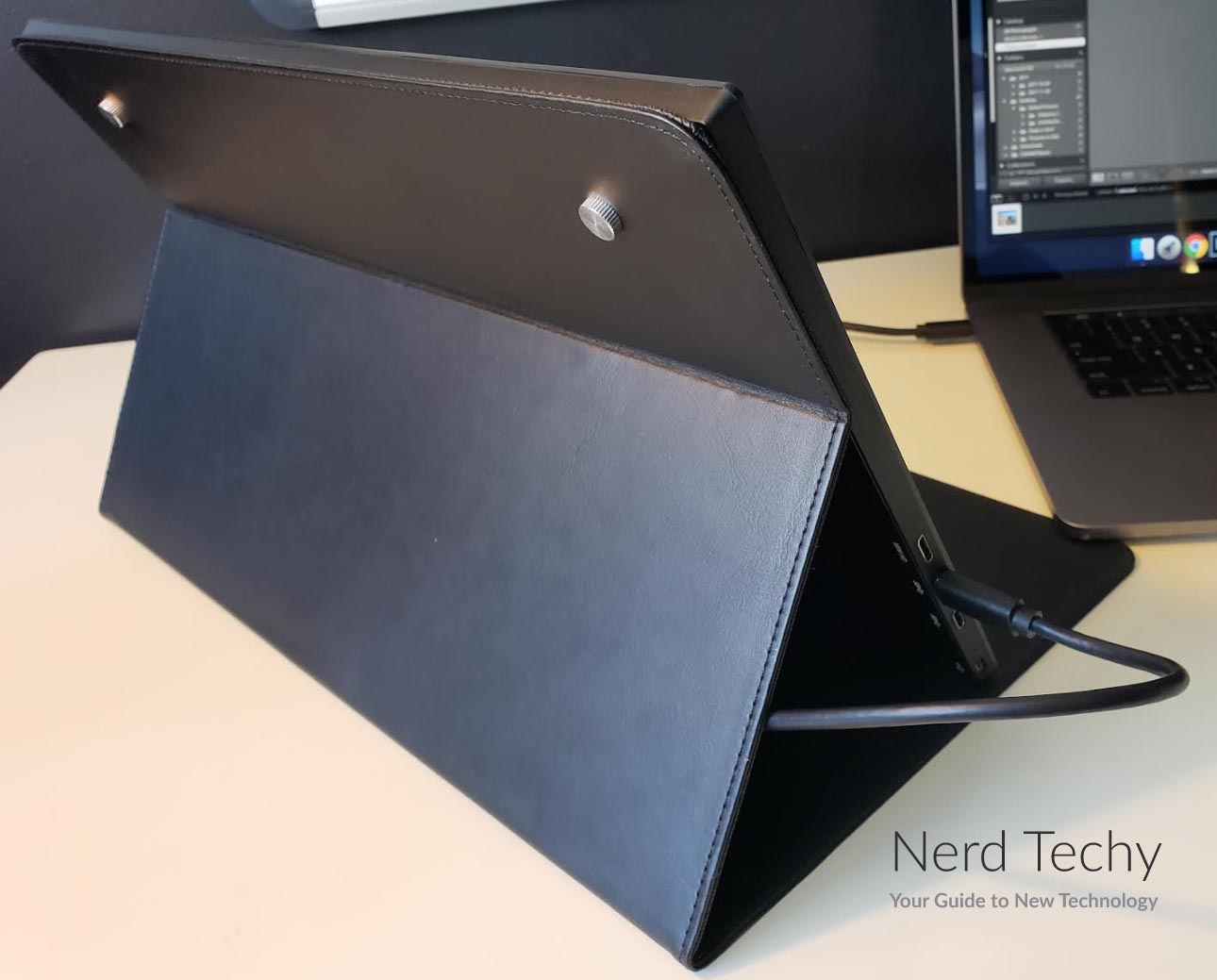 Final Verdict
If you're in the market for a portable market, the Dragon Touch S1 is one you should seriously consider. To begin with, we were most impressed by the portability and quality of construction. You're looking at one of the slimmest, lightest monitors on the market, that's easy to take anywhere. For the frequent business traveler, this is a major benefit.
To be fair, the S1 has its share of issues. The menu system is needlessly confusing, and we're not sure why. More concerning, the image quality is slightly sub-par. Colors can look washed out, as if you'd washed bright clothing and faded them. This is unfortunate, since the screen brightness and sharpness are actually quite good. Whether or not the display is a problem depends on what you're doing. For office apps and programming, it doesn't really matter whether colors are rich. On the other hand, content creators are going to need a monitor with more color trueness.
The S1 can be used with just about any device. You can connect to USB Type-C, Mini HDMI, and Micro USB right out of the box. With an adapter or two, you'll be able to plug in any computer, tablet, phone, or console. From there, you can use the S1 to extend your display, or to provide an entire separate screen. This makes it ideal if you want a single monitor for multiple devices.