If you're looking for a fun way to spice up your living room, a mini projector is an excellent option. Yes, you've probably got an enormous TV, but let's face it: everyone's got one of those. What most people don't have is a sweet home projector that provides a fun, retro feel.
If you go back a couple generations, projectors were big, clunky, and mechanical. They were also the only way to watch movies at home. VHS changed that, and projectors were relegated to hobbyists who liked old-school reel-to-reel film. With image quality improvements in DVD and Blu-Ray, digital video has improved, and old-school film is now almost unheard-of. But projectors themselves are starting to make a comeback, thanks to more affordable technology.
Note: At no extra cost to you, we may earn a commission for purchases using our links. Learn more.
Over the past few years, we've reviewed many projector models, so we have a good idea of what to look for. Besides which, they're just fun to play with and test. First off, we looked at the Poner Saund Mini Projector 2020. This compact projector offers excellent video quality for the price, along with wide device compatibility. Next, we examined the AuKing Mini Projector 2020. This is a slightly more affordable mini projector with a commensurate drop in video resolution. Which one is the best choice for you? Let's take a closer look, and find out!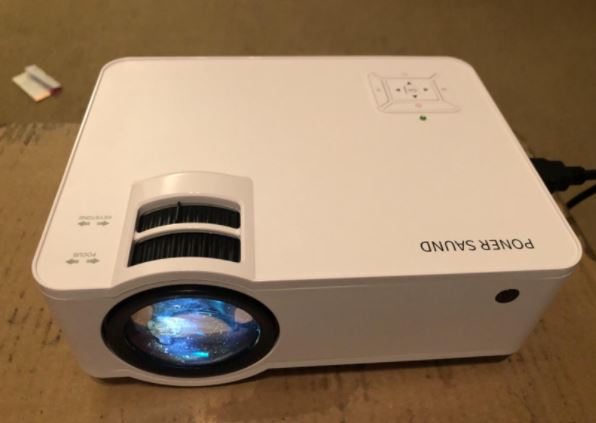 Poner Saund Mini Projector 2020
The Poner Saund Mini Projector 2020 is a lightweight, 2.86-pound projector that's designed for maximum portability. At only 8.66 inches wide, 6.54 inches deep, and 3.7 inches thick, it's exceptionally small. You can slip it in a backpack or even a laptop bag for easy transport, so it's great for vacations. It's also great just for using in your backyard.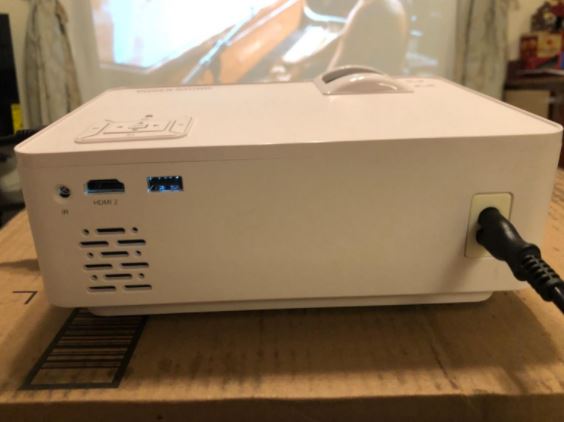 The case itself is sleek and rectangular, with a white ABS plastic construction that's reasonably durable. The edges are rounded for comfortable carrying, with vents down both sides for air flow. These vents are very large, and allow for dual fans to operate almost silently. In truth, not much air flow is required, since the LCD bulbs run fairly cool. Still, the fans keep them as cool as the other side of the pillow, resulting in a 52,000-hour bulb life.
Towards the front, just behind the lens, there are a pair of clearly-marked dials for focus and keystone adjustment. At the opposite corner of the top, you'll find a simple control panel with rubbery buttons. For most functions, it's simpler to use the remote, which has a neat white shell that matches the main unit.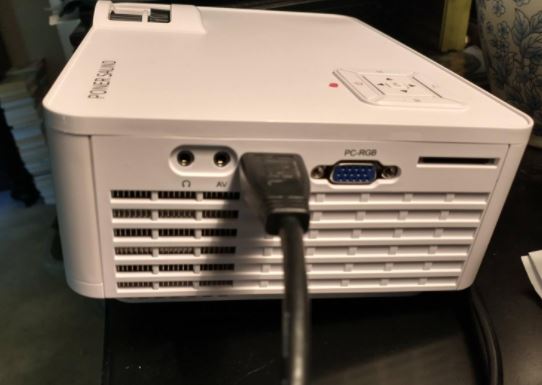 All of the Poner Saund projector's inputs are located on the back of the projector for easy cable management. To make things as simple as possible, a pair of HDMI cables are included in the kit to get you started. They also include an RCA to AV adapter for connecting older devices like DVDs or legacy game consoles. All of this comes protected by Poner Saund's 2-year manufacturer's warranty. If anything goes wrong, simply contact them for a free repair or replacement.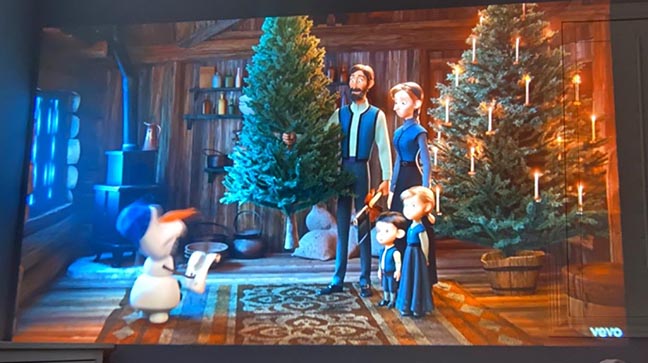 Video Quality
The Poner Saund Mini Projector 2020 will provide a screen size of 40 to 210 inches. The smallest size is small enough for bedroom use, while the largest can cover your living room wall. To change the size, simply move the projector further or closer to the display. It can be focused between 5 feet and 15 feet, although Poner Saund recommends 6.5 feet for best results. A keystone adjustment of +/- 15 degrees makes placement easy. You can position the projector at an angle, or even on the floor, and still get a clear image.
This projector supports inputs of up to 1080p, so you can watch any modern movie. Unless you're trying to force a 4K signal through, anything else will play. Keep in mind, though, that the Poner Saund's native resolution is 720p. As a result, anything in 1080p or higher resolution will be downscaled. Regardless, 720p isn't bad, and it's the current standard for home entertainment projectors.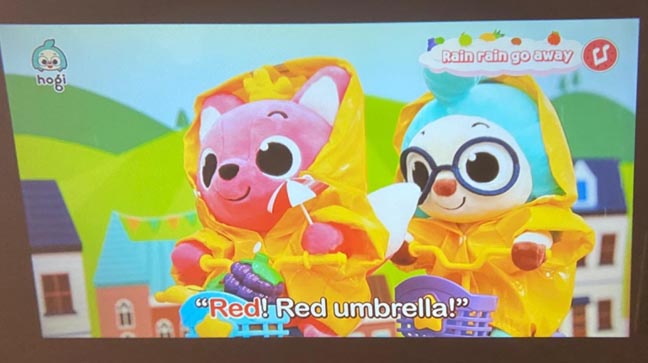 In terms of brightness, you're looking at 5,500 lux, which is slightly more than average at this price point. It's not super-bright, but it's more than enough to watch a movie with ordinary indoor lights on. The only time you'll run into an issue is if you're shining fluorescent light or daylight on your display. The contrast ratio, which determines the difference between the brightest and darkest parts of the screen, is 3,000:1. This means you'll be able to see dark scenes just fine without cranking the brightness way up.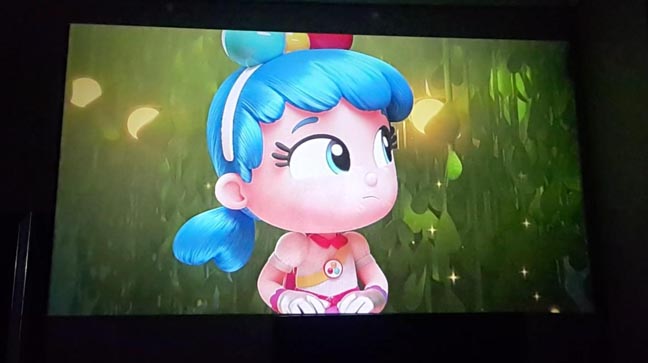 The Poner Saund Mini Projector also sports a pair of built-in speakers. The sound quality is reasonably good, but you'll get some rattle at high volumes. This is normal for home projectors. If you want big sound, just connect a pair of external speakers and be done with it.
Compatibility
Of course, even the best projector won't be much use if you can't connect to it. In this regard, the Poner Saund projector is well outfitted. To begin with, there are a pair of HDMI ports. These are your workhorses, and will connect to most devices such as DVD players and game consoles. For older devices, you get a VGA port, as well as an AV port and adapter for RCA devices.
A USB port allows you to connect an external hard drive or thumb drive. You can also insert an SD card to watch photos or videos from a phone or camera. The only kind of connectivity we seriously missed was WiFi and Bluetooth. Without wireless support, there's no way to directly cast video from your phone or tablet. Instead, you need to connect with a USB Type-C to HDMI adapter, which is not included in the kit.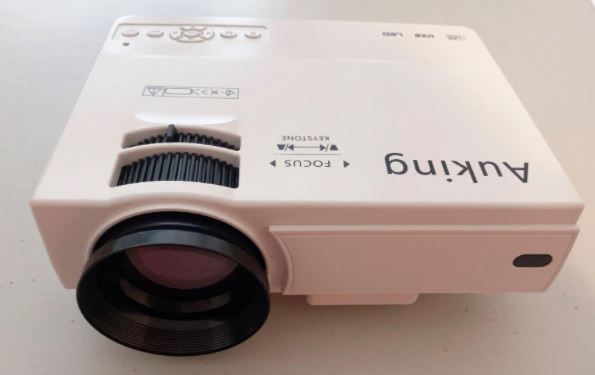 AuKing Mini Projector 2020
The AuKing Mini Projector 2020 is even more compact than the Poner Saund projector. It's only 7.7 inches wide, 6 inches deep, and an impressive 2.7 inches thick. As portable as the Poner Saund is, the AuKing is even more so. At 2.86 pounds, it's about the same weight, but the tiny profile is so portable it's absurd.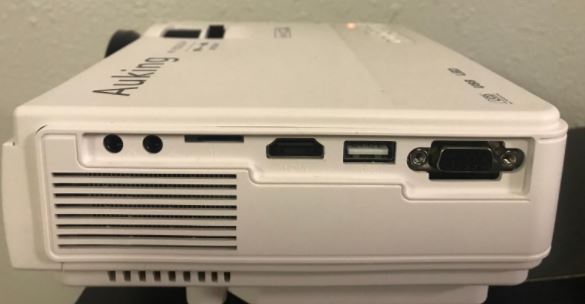 The overall design is actually kind of cute, with the lens housing protruding from the unit like R2-D2's eye. There are fewer vents than on the Poner Saund, but the placement is smarter. There are dual intake and outtake vents on the back, with a pair of dedicated fans. There's also a small vent on the left side of the unit. This makes the cooling system surprisingly quiet and effective. In total, the lamp is rated for 55,000 hours, which is long enough that you don't have to worry about it. This projector will be obsolete long before you ever use it that much.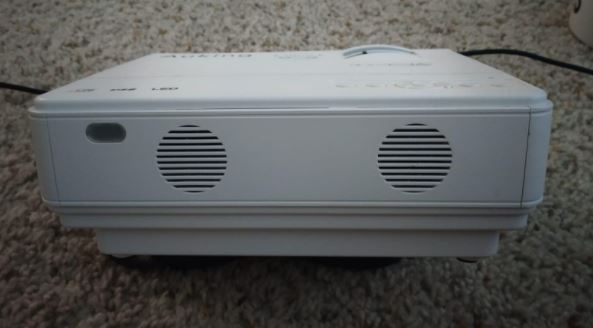 The focus and keystone adjustment on the AuKing projector are located just behind the lens. There's a power input on the right, HDMI on the back, and VGA, AV, and headphone inputs on the left. This haphazard placement makes cable management a pain, but it's understandable considering the small profile. A remote, HDMI cable, and RCA to AV cable are included in the box. You also get a 2-year manufacturer's warranty, similar to what Poner Saund offers.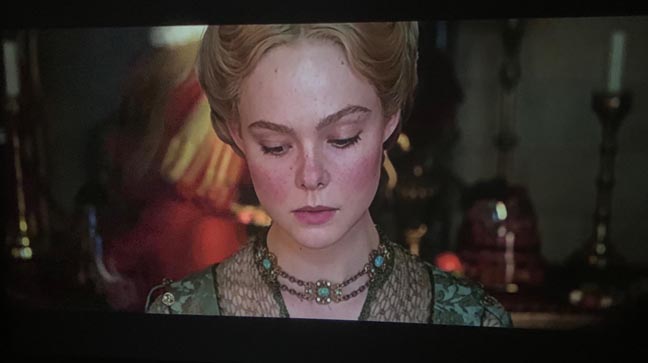 Video Quality
The display size of the AuKing Mini Projector is 32 to 170 inches depending on distance. This is similar to the Poner Saund, if slightly smaller, with a correspondingly shorter 3 to 15-foot distance. You get identical video support for anything up to 1080p. Unfortunately, the AuKing's native resolution is somewhat limited, at only 480p. This is noticeably lower quality, particularly at larger display sizes. On the other hand, placement is easy, with +/- 15-degree keystone adjustment.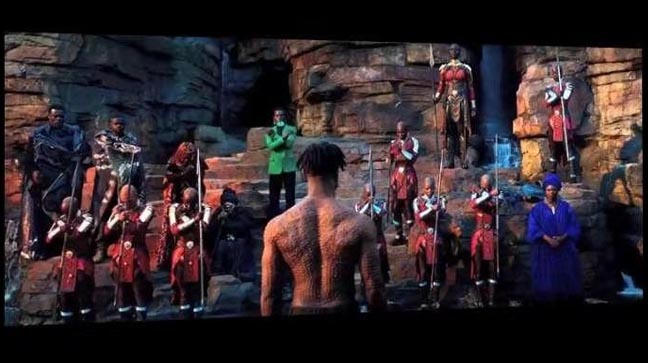 The contrast ratio of the AuKing projector is 2,000:1. This isn't as impressive as the Poner Saund's 3,000:1, but it's still pretty good. Industry standard is anywhere from 1,000:1 to 3,000:1, so it's actually right in line with what we'd expect. The downside here is a relatively dim, 2,600-lux bulb. If you want good video quality, you'll need to shut the lights and draw the curtains. Otherwise, you'll get significant interference with your picture.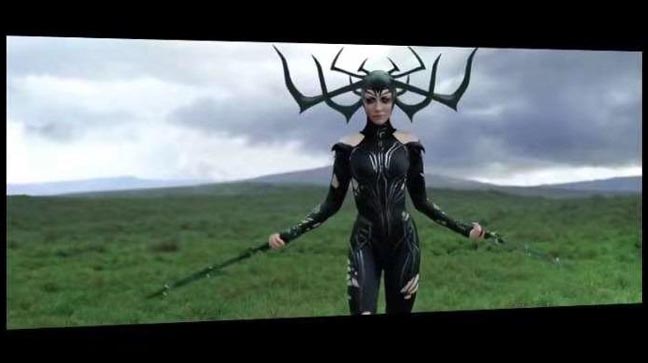 Just like the Poner Saund projector, the AuKing also has small built-in speakers. They're fine for watching a movie by yourself, but you'll need external speakers if you want room-filling volume.
Compatibility
As we mentioned, the AuKing Mini Projector 2020 has an HDMI, AV, and VGA port. These allow you to connect most newer devices, and the RCA to AV adapter adds good legacy support. Finally, you can use a USB slot for connecting a flash drive or external hard drive. The USB drive is also required for casting from a smartphone, since there's no WiFi or Bluetooth support. Instead, you'll need to use a USB to HDMI adapter.
A 3.5mm aux jack makes it easy to plug in headphones for watching by yourself. For watching with more people, you can use the same jack to connect a pair of external speakers. Unfortunately, there's no SD card support on the AuKing projector. This means you won't be able to use it with most digital cameras, or with Micro-USB smartphones.
Final Verdict
Clearly, each of these mini projectors comes with a lot of great features. But which one should you buy? To begin with, let's give credit where it's due. The Poner Saund Mini Projector 2020 is a more complete package. First off, its native resolution of 720p is far better than the alternative, and meets industry standards. Second, it has a brighter bulb, which means you can use it under a wider variety of conditions. There really aren't any downsides, save for the lack of a direct RCA input.
The AuKing Mini Projector 2020, on the other hand, is a better choice for portability. Its pint-sized profile makes it ideal if you need a digital display that you can take with you on the go. Admittedly, this smaller profile comes with some limitations. The 480p display is a bit dated, and the 2,600-lux bulb isn't as bright as we would have liked. Still, it's one of the highest-quality projectors you'll find with this small a form factor.
Please consider sharing:
Note: At no extra cost to you, we may earn a commission for purchases using our links. Learn more.